Wilmington Chapter
National Railway Historical Society
The National Railway Historical Society (NRHS) is an exciting way to become involved with railroading past and present. The Wilmington Chapter has put together this site to provide information about their chapter. Why not consider joining the NRHS today. Railroading is fun for the whole family.
CHRISTMAS LIGHTS CHARTER: DEC. 5, 2015
Tickets Available Soon
The trip is scheduled to leave from Elmwood Depot at 5 PM, and will last approximately four hours. Two types of tickets will be offered: Ride & Photograph--$50, and Ride Only--$25. A link will be provided here when tickets are available for sale.
SUPER SATURDAY PCC CHARTER: JAN 31, 2015
Another Success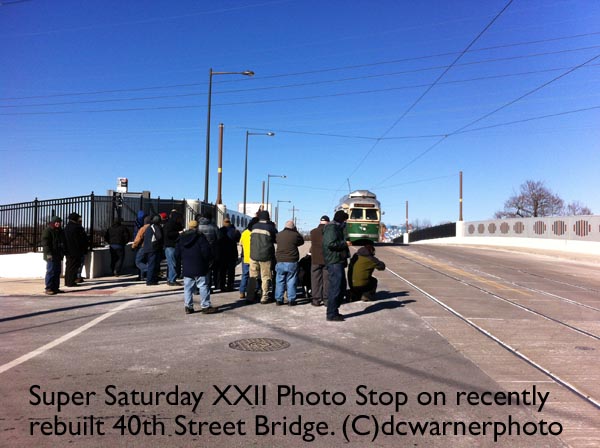 Available Books:
Richard E. Hall of the Wilmington Chapter of the National Railway Historical Society has authored two books which are now available:
Locomotives and equipment Of The Wilmington & Western Railroad

COMPANY SERVICE CARS OF THE PW&B, PB&W and PRR Railroad
$26.00 each (price includes shipping and handling)
Proceeds support the Wilmington Chapter.
FALL 2011 NRHS CONFERENCE AND
BOARD OF DIRECTORS' MEETING
The Fall 2011 NRHS Conference and Board of Directors' Meeting held on October 27-30, 2011 was a great success.

Click here to see a video of the West Chester Railroad excursion.