NOTE: The Lite Version is our electronic version which is available for free from this web site. It has limited content but gives you a taste of what is offered in our Full Version.
The Full Version is our printed newsletter which is mailed to you. It contains everything in the Lite Version along with many other reprinted pages from other NRHS newsletters, railroad publications, and flyers that contain photographs, drawings, and maps. The full version is just another benefit of joining our chapter.
THE TRANSFER TABLE
The Wilmington Chapter NRHS Official Newsletter
Internet Edition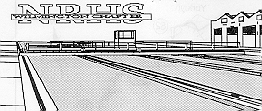 | | |
| --- | --- |
| VOLUME 36 NUMBER 03 | MARCH 2013 |
Back To Wilmington Chapter Web Site
February MEETING MINUTES
The February meeting of the Wilmington Chapter of the National Railroad Historical Society was call to order at 7pm on February 21, 2013 by President Mike Burkhart. The January meeting minutes were read by secretary Dan Frederick and accepted as read. Dave Warner was absent so President Burkhart provided a Treasurer's report. Mike reported an ending balance was $6,990.33. The Prez also noted that the chapter should clear about $500 from the 2013 Super Saturday trolley trip.
Chapter Representative Tom Posatko reported that this year's National convention would be in September in Fairbanks and Anchorage, AK. There will also be a quarterly Board of Director's meeting April 6 in Cincinnati, OH. Tom then told us that all Rail Camps were cancelled due to a lack of housing at the two sites.
In other news Mike Burkhart said nothing has been finalized for a possible trip on the Maryland & Delaware. Mike also spoke about a former LV SW-1 has been rescued, brought to the BR&W and may be available for a future chapter trip/photo shoot. Frank Ferguson said Kermit Geary, our May program presenter is in the hospital suffering from complications from a prior surgery. We all wish him well. Tom Posatko reported that Bert Eisenberg of Philadelphia will be guiding a tour/Philadelphia Rail Circle trip in early May. Tom will have contact information at a future meeting. Tom also noted that the Spring Thaw train show is Feb 23 and 24 in Allentown. In local rail news, Dave Waterston reported CSX derailed at Singerely, MD this morning.
The business portion of the meeting was adjourned at 7:21pm and we immediately went into Frank Ferguson' program "2012 in review". In what has become an annual 2-part tradition Frank presented digital photos of a B&LE freight in Greenville, RJ Corman in Allentown, DL Alco's in Scranton, including Nay Aug Tunnel, and WNY&PA Alco's struggling at Keating Summit, and NYS&W on Starucca, all in PA.
Frank continued with CP at Delanson, NY The Vermont Railway (Guess Where?), the Aberdeen & Rockfish in NC, and a Maryland Midland working the Savannah, GA area. Also seen was Georgia Central U-Boats in Lyons, GA, CSX street-running in Ashland, VA, and CSX passing a tower in Terre Haute, IN. In Missouri Frank shot UP in East St. Louis, Amtrak with the Missouri state capitol in the background and yellow Kansas City Terminal engines. Rank also had numerous shots of all the trips associated with the 2012 Iowa NRHS Convention. Unfortunately, the secretary became so interested in the show he stopped taking notes, of course running out of writing space was also a factor. We all appreciated Frank keeping an eye on and photographing railroad action and then showing it to us. Respectfully submitted, Secretary Dan Frederick.
---
From The Editor
The Editorial Staff has noted at the file folder with Chapter Member authored articles bears a strong resemblance to a black hole. Chapter Members are encouraged to share their bits of wisdom, distant memories, and recollections of old friends, adventures, and trips. The Editor would greatly appreciate an electronic file or e-mail, but the Publications Department has even promised to typeset handwritten manuscripts (although without any promise of timing or delivery). And, if you have that one really, really great photo, the Layout Department has also promised to do it's best at reproduction. Looking forward to your contributions.
---
NEWS BITS
Today it operates an extensive schedule of historic and scenic trains in Southeast Tennessee and Northwest Georgia, supported by its East Chattanooga shop facility. TVRM is the largest operating historical excursion railroad in the Southeast. In 2012, more than 100,000 people visited the museum or rode on TRVM-sponsored 21st Century Steam excursions.

The Fort Wayne Railroad Historical Society was formed in 1972 with the goal of saving Nickel Plate Road steam locomotive 765 from rusting away in a city park. The organization was successful in restoring the locomotive to operation. The engine first ran again on Sept. 1, 1979. Since then, NKP 765 has operated on over a dozen different railroads from New York City to Rock Island, Illinois, hauling more than 250,000 passengers on excursion trains covering over 50,000 miles of operation. In 1986 FWRHS bought the locomotive from the City of Fort Wayne.

21st Century Steam is a partnership between Norfolk Southern and TVRM to operate steam-powered excursions throughout the territory Norfolk Southern serves. More information is available on the 21st Century Steam website at www.21stcenturysteam.com. [NS Press Release]
Harris Tower Railroad Museum located in downtown Harrisburg at the corner of 7th and Walnut Streets (across from The Forum), will be open for visits on March 16, 2013. The Museum is a railroad control tower built by the Pennsylvania Railroad in 1930 to control all train movements through downtown Harrisburg, PA. Listed in the National Register of Historic Places, the tower once controlled the switches and signals that routed more than 100 passenger trains a day through the Central Pennsylvania area. The tower was used by the PRR, the Penn Central Railroad and Amtrak until closing in 1991. Upon closing, the Harrisburg Chapter of the National Railway Historical Society purchased the building and began the process of restoration. After an extensive restoration project spanning more than 15 years and thousands of volunteer hours, Harris Tower opened to the public as a living history, interpretive rail museum in 2008. The centerpiece of the exhibit is the tower's Interlocking Machine and Model Board, both of which are fully operable. Visitors to Harris Tower can actually operate the levers of the Interlocking Machine and see what happens by way of the lighted Model Board display, exactly as it was done decades ago. The Interlocking Machine and Model Board have been tied into a computer simulation system that is programmed with the actual Pennsylvania Railroad train schedules from the early 1940's. It is then up to the visitor to throw the proper levers to route the trains to their correct destinations. In this way, rather than simply viewing a static display, visitors to Harris Tower can actually operate the equipment and experience for themselves what it would have been like to work for the Pennsylvania Railroad in its heyday. To the best of our knowledge, there is no other exhibit like Harris Railroad Switch Tower anywhere in the world. From the Union Hall, go downhill on Gibson Street and right on Rt. 230 (Cameron St.). Proceed underneath two bridges to Market St. Turn left on Market. Immediately after the next bridge (railroad), turn right on Fifth, then right at the light on Walnut. Harris Tower is directly ahead; the parking lot is just past the Tower. Admission is free. [from show flyer]

Norfolk Southern has purchased a trio of F7 locomotives from National Railway Equipment. These units include F7A 407 (Former Coe / CNW), F7B 1019 (Ex CP 1019), and F7A 9177 (Ex CN 9177). Plans are to ship the units to the railroad's Altoona, Pa. locomotive shop for overhaul. They will see service become part of the NS fleet for use on office car and other special passenger trains. [Railpace Hotnews.com 1/4/13 via The SUSQUEHANNOCK]

Morning Glory Station opens in Selinsgrove: On January 14, the recently restored PRR freight depot in Selinsgrove was opened as a restaurant. Renovations which began in 2011 were completed and currently the restaurant is open Monday through Friday from 7 am to 2 pm for breakfast and lunch. In March, they intend to open on Saturday's and on Friday evenings for dinner. Diners are served in the station office area that has been converted to an open area. The former freight storage room has been converted to a private dining room area for up to 40 persons that can be used for private parties and or meetings. Talking with the owners, the Central PA Chapter has decided to have a chapter meeting and dinner in Selinsgrove on TUESDAY, MAY 21 beginning at 6:00 pm. You will note the date change to a Tuesday instead of Wednesday. This is so that we may "possibly see, and photograph" the Norfolk Southern local H5Wthat traverses the S&L on Tuesday's and Thursday's between Selinsgrove Junction and Kreamer. At that meeting, one of their 25 year members will also present the program that evening as well on the S&L. [The SUSQUEHANNOCK]

North Shore Railroad acquires operating easement on PPL Susquehanna trackage: North Shore Railroad Company (North Shore), a Class III rail carrier, has filed a verified notice of exemption under 49 CFR 1150.41 to acquire a rail operating easement over approximately 7 miles of rail line (the Line) in Luzerne County, Pa., that PPL Susquehanna, LLC (PPLS), and Allegheny Electric Cooperative, Inc. (AEC), the owners of the Line, had acquired previously from the Pennsylvania Department of Transportation (PennDOT). The Line, a portion of the former Bloomsburg Branch, extends from the eastern terminus of North Shore's existing rail line at milepost 176.97 at Berwick, to milepost 170.00 at the PPLS nuclear power plant near Hicks Ferry Road at Beach Haven. From the point of connection with the Line, North Shore's line extends to an interchange with Norfolk Southern Railway. North Shore states that it provides the only connection between the PPLS nuclear power plant and any Class I railroad, and that it has operated the Line since 1984 for PennDOT and then for PPLS. North Shore certifies that the projected annual revenues as a result of the transaction will not exceed $5 million and will not result in North Shore's becoming a Class I or Class II rail carrier. The parties intend to consummate the transaction on the effective date of the exemption (30 days after the exemption is served and published. (STB decision on 12/11/12 and published 12/14/12 on STB site) [The SUSQUEHANNOCK]

Star Reporter Dave Watterson phoned into the writing staff that some Wilmington, DE city fire trucks have five chime Nathan air horns that they used when mentally challenged drivers fail to clear aside for the blaring sirens and flashing lights.

NRHS Cancels 2013 RailCamp Season. NRHS has made the difficult decision to suspend the 2013 season of "RailCamp," a summer orientation program for students. The annual program -- which takes place in Scranton, Pennsylvania, and Tacoma, Washington -- gives hands-on railroad experience to high school boys and girls. NRHS is committed to resuming the program at both locations in summer 2014.
The problem is new liability insurance demands for university housing, which are being imposed on NRHS and similar organizations around the country. In past years RailCamp has provided student lodging and meal service at the University of Scranton and at Pacific Lutheran University.Our first priority is maintaining a quality experience for students while ensuring a safe and effective program." "RailCamp has successfully served over 480 youth campers in its 15-year history and we are fully committed to its return," Molloy added. "NRHS members have been very generous in supporting RailCamp scholarships, and any scholarship funds that have not yet been distributed will be held for use in 2014 and beyond."

Future announcements will be posted on www.nrhs.com; members with questions are invited to e-mail the society at info@nrhs.com. A RailCamp notification list will be established for the 2014 season when details are finalized. Additional program enhancements are being planned.
Association of American Railroads announced that America's major freight railroads expect to hire 11,000 people and invest $13 billion in their rail networks and equipment this year. Further, they expect to continue most of that hiring regardless of what the economy is doing because 22% of railroad workers are eligible for retirement within the next five years. (from Wire Services)

The Virginia Museum of Transportation announced today that it is studying the feasibility of returning the iconic Norfolk & Western Class J 611 Steam locomotive to operating condition. "The Class J 611 locomotive embodies both beauty and power," says Beverly T. Fitzpatrick, Jr., executive director of the Virginia Museum of Transportation. "Since her retirement from excursion service in 1994, fans have been clamoring, hoping and dreaming of a day when she once again blows her whistle and thunders across the landscape." The study - called Fire Up 611! - will determine what it will take to restore, maintain and operate the locomotive. A committee of experts has been formed to conduct the study. The committee will consult with specialists in steam locomotive operations and restoration, engineers and experts on Federal Railroad Administration and safety. Fitzpatrick says that a thorough study is needed if the Class J 611 Locomotive is to ever run again. "Before we can promise our 611 fans that she will indeed return to service, we need to know what it will take to fix and maintain her," he says. Fitzpatrick adds that rail fans will ultimately decide if the Class J 611 can run again. "We will need to raise the funds for the study and restoration," he said. "We don't have a third party to help us. Her restoration will ultimately depend on financial support from her fans around the world."

About the Fire UP 611 Study
The Fire Up 611! Committee will determine what work is needed for the locomotive to be operationally restored, as well as identifying the experts and facilities that can handle the restoration work. The Study will also outline preliminary cost estimates. These estimates will be based on the 611's past repair history, current Federal Railroad Administration guidelines and an external inspection. The Committee will also develop a business plan for the 611 Locomotive. Within 90 days, the committee will present its findings to the Museum. Based on the estimated costs and feasibility of restoring this spirited locomotive, the Museum and committee will decide if she can be restored to her original glory. 611's fans are invited to visit fireup611.org to learn more and to donate to the Fire Up 611 study. They can also visit the Fire Up 611 Facebook page and YouTube channel. The Museum urges 611 fans to fill out a survey about the restoration of the 611 at fireup611.org.
About the N&W Class J 611 Steam LocomotiveThe Norfolk & Western Class J Locomotives were a marriage of beauty and power. The teardrop nose, modern lines, graceful curves and deep-throated whistle combined with unbridled power to make the engine the iconic symbol of modern steam locomotives.

The Class J Locomotives came to life in the era of war by the steel and guts of our forefathers. Our No. 611, the last of her kind, is known as the Spirit of Roanoke . She holds the sweat and blood of the men and women who molded her, who created her low rumbling whistle and who stoked her fire. The Norfolk & Western Class J Locomotives were designed, constructed and maintained in Roanoke, Virginia. These streamlined locomotives have captivated the hearts of rail fans worldwide since they first rolled out of the N&W Roanoke Shops, beginning in 1941. The Class J 611 Steam Locomotive was built in 1950, a time when men wore hats and ladies wore gloves and smartly dressed porters served lunch on real china in the dining car. The 611 Locomotive pulled the Powhatan Arrow, the famed passenger train, from Norfolk to Cincinnati. Her whistle woke sleepy towns. The rumble of her wheels made people wonder what was around the next bend or over the next mountain. She helped unite families long separated by war, took freshly minted high school graduates out into the world and brought long lost sons home again. The Class J 611 retired from passenger rail service in 1959. In 1962, she was moved to the Virginia Museum of Transportation in Roanoke, Virginia. In 1981, Norfolk Southern pulled her out of retirement and restored her to her original glory. Once again, she blew her whistle to sleepy towns and thundered across the landscape. She was retired from excursions in 1994 and moved back into the Virginia Museum of Transportation, where she sits today, greeting tens of thousands of her fans who visit from across the globe every year. Since her retirement, rail fans have clamored, hoped and dreamed that she return to the rails, to blow her whistle and steam over the Blue Ridge and Appalachian mountains once again. [VMT Press release]
March 4 marked the 100-year anniversary of the completion of the modern version of Norfolk Southern's bridge over the Ohio River between South Point, Ohio, and Kenova, W.Va. The bridge, on NS' Pocahontas Division main line, carries essential freight rail traffic and supports economic development in the Tri-State region and Ohio River Valley. Said Mickey Runyon, NS assistant division superintendent, Bluefield, W.Va. "it handles a steady amount of grain, coal, and general merchandise. With some 35 trains a day, and double-stack clearance, it's a workhorse."Although the bridge is 100, its durability is unquestioned. NS bridge forces monitor and maintain it for reliability and safety. "The bridge has undergone major upgrades several times over the past century, and its excellent condition is a reflection of the industry's continual investment - without taxpayer dollars - to give the nation Major river crossings by railroad bridges are relatively few in number across the country. NS' Ohio River bridge is nearly 4,000 feet long and 82 feet above normal water level, and it creates a memorable scene, especially as the early-morning sun reflects downstream.
The bridge originally was designed with a single track in 1892 by NS predecessor Norfolk and Western Railway, although it was constructed with piers wide enough to accommodate future double-track.

As nearby coal fields developed and the demand for coal in the Midwest grew, traffic increased, meaning more wear and tear. So, N&W rebuilt the bridge with double-track and a stronger overall structure. Updates included pier modifications and new trusses, completed entirely around the existing structure to allow train traffic to continue during construction.

It was on March 4, 1913 - 100 years ago - that work crews met in the middle to connect the ends of the main channel truss. The first train crossed the newly completed double-track at 10 a.m., June 9. The bridge was "completely finished" in September, when workers finished painting. It was the longest structure on the railroad and had taken 21.6 million pounds of steel and $1 million to upgrade. Its importance was not just physical but strategic. As N&W's gateway to the West, the bridge was said to have been one of the Germans' targets on American soil during both World Wars. During WWII, saboteurs were caught nearby, and a Coast Guard unit was detailed to protect it. "Had any of these dastardly efforts come to fruition, it would have impeded the movement of coal, vital war materials, and soldiers traveling to military and manufacturing installations," said Tim Hensley, a noted railway historian who lives within walking distance of the bridge's West Virginia approach.

One of the more unusual sights on the bridge occurred Nov. 15, 1967, when the world's longest, heaviest freight train traversed it. With 500 loaded coal cars and six locomotives, this five-mile train was operated by N&W in a contest with the Pennsylvania Railroad. [NS Press Release]
---
Amtrak Brakes - Past, Present and Future from the collection of Ed Thornton
Chapter Member Ed Thornton has, in his collection, a copy of a paper that was presented at The Air Brake Association Annual Meeting on 24 September 1980. The presentation was made by George M. Cabble and Ross D. Higginbotham, then working in the Mechanical Department of Amtrak.
As you read this presentation, remember that Amtrak was only nine years old when it was presented. Another thirty plus years have passed since! In that time, note how even the "Future" has become history.
Parts I & II Intro & "Past" (appeared in the January 2013 issue of The Transfer Table)Part III covers the "Present" (AMTRAK circa 1980) (Sub Sections 1 & 2 appeared in the February 2013 issue of The Transfer Table)
III. THE PRESENT - What We Have
3. NEW CARS
In addition to the present conventional cars mentioned under Section III, 1, b, Amtrak has purchased three groups of new cars. The orders called for 492 Amfleet cars, 284 Superliners and 10 LRC cars.
a. AMFLEET - All 492 Amfleet cars were delivered, but two have been destroyed. They come in various configurations: 88 passenger coaches, 60 passenger leg-rest coaches, snack bar coaches, full parlor called club, half club and half coach with a snack bar, half coach and half dinette with a snack bar, and three half dinette half pub with a snack bar. The Amfleet cars were built by Budd and have a Metroliner shaped shell; that is, curved sides. They ride on Pioneer-type trucks using inside bearings.

The cars were originally intended for the Northeast Corridor, but have been put in service all over the country including overnight runs. Since these cars are head-end powered, when they run in overnight trains, they must have baggage cars and sleepers that are equipped for HEP. As described earlier, we have a number of such cars.

A WABCO CS-1 electro-pneumatic air brake system is provided on these cars. It is an electric overlay of the standard 26-C air brake system, capable of completely compatible operation pneumatically when used with conventional air brake equipment on other cars and locomotives. The normal operation of the brake system from the locomotive is by means of a brake valve which will exhaust or charge the brake pipe and in addition will energize "Application" or "Release" trainline wires to apply or release the brakes through magnet valves on each car. It is so arranged that in event of failure of any part of the electrical control, including trainlines, the conventional all pneumatic control functions will be unaffected, and no further action on the part of the engineman will be required for any braking function (service or emergency application and release). The system is self-lapping and incorporated a brake pipe pressure maintaining feature.

In addition to the brake pipe, a main reservoir pipe is provided on each car to supply main reservoir air from the locomotive to each car for rapid charging of the brake system, as well as to provide air for auxiliary systems.

Two self-ventilating brake discs, approximately 27-1/2" diameter, are mounted on each axle inboard of the journal bearings. Braking is developed by air actuated calipers (one for each disc) with automatic slack adjusters, together with composition type brake pads. The actuators are truck frame mounted.

The slip-slide system is WABCO's E-5 Decelostat. The system is designed to prevent damage to wheel treads when braking effort exceeds the level of adhesion and random or synchronous wheel slide occurs. It will operate under all service and emergency braking commands. This is accomplished by speed sensors, located on each axle, which detect variations of axle RPM in excess of allowable maximum speed differential on a per car basis of a predetermined deceleration rate. When an axle rapidly decelerates upon entering a slide condition, the sensor signal, through the Decelostat Control Unit, triggers the Decelostat air valve. The air valve momentarily reduces brake cylinder pressure on the affected truck, permitting the wheels on that truck to resume normal rotation and normal braking. If, due to equipment malfunction, the Decelostat air valve release is extended beyond 5 seconds, wheel slide protection will be nullified on the affected truck, and the brake cylinder pressure restored. This is accomplished by a timer relay in the safety protection circuit. Reset of this timer and restoration of wheel slide protection will automatically resume after initiation of a full brake release by the engineman.

Amfleet cars have a brake indicator system. Three indicator lights are provided on the exterior of both sides of the car at diagonal corners, below the roof line. These are an amber light, a green sight, and white light at each location. The exterior amber lights, when lit, indicate the air brakes on that car applied. The green lights, when lit, indicate the air brakes are released. These brake indicating lights are actuated by pressure switches. The switches operate on change in brake cylinder pressure. The amber applied lamp will light above 23 psi and will remain so until brake cylinder pressure drops below 10 psi at which time the green release lamp will light and remain so until brake cylinder pressure exceeds 23 psi.

In the event the brakes will not release or apply on a car during a terminal air brake test, or in normal operation, the indicating lights on that car, and the indicator lights in the locomotive cab, will not be lit.

The function of the white exterior light is to indicate if the application and release magnet valve is working properly. Obviously, if the electro-pneumatic brake is not in use, the white lights will not function. During an electro-pneumatic brake application, a pressure switch, actuated by exhaust air from the application portion of the valve, senses the change, closes the circuit, and the white lights are lit.

When a brake release is made, a second pressure switch senses the reduction of air pressure in the release portion of the magnet valve, opens the circuit, and the lights go out. In the event the white lights do not light when an application is made or go out as a brake release is made, a malfunction of the magnet valves is indicated. If a single light does not function, it may be a defective bulb.

Each handbrake is equipped with a micro-switch. When all handbrakes are released on a train, the switches are closed, completing the brake release circuit to the locomotive cab. The engineman will not obtain a green release light until: (1) all handbrakes are released, (2) the jumpers are connected between all cars and the locomotive, (3) the 27 point jumper cable at the rear of the train is coupled to the adjacent dummy receptacle, (4) the pneumatic train brakes are in release position, (5) brake indicator circuit breaker in the rear car is ON.

b. SUPERLINER - There are 284 Superliners on order from Pullman-Standard. At the time of writing (June 1980), Amtrak had received 117 cars. They are 100 coaches, 2 baggage-coaches, 9 diners and 6 sleepers. Delivery has not been received of any Lounge-Cafes.

The Superliners are be-level cars with center door access on the lower level. The lower level consists on an equipment room over each truck and useable space between trucks on either side of the center access door. The coaches have toilet facilities on one side and coach seats on the other side. The baggage coaches have toilet facilities and baggage space. The sleepers have toilet facilities and sleeping rooms. The diner has a full kitchen with no passenger access from the ground.

Car to car movement of passengers takes place at the upper level. Movement to single level cars is accomplished through a transition car which has high level access at one end and low level access at the other.

The Superliner cars are for use in the West where height restrictions such as small tunnels and overhead catenary are not a problem. The Empire Builder between Chicago and Seattle is the first long distance train to be equipped with Superliners. The Desert Wind between Los Angeles and Ogden is operating with Superliner coaches and soon to add a sleeper. The next train to be equipped is the San Francisco Zephyr between Oakland and Chicago.

The brake system supplied for the Superliners by New York Air Brake is the GSX-3 system. The basic functions of the GSX-3 and the CS-1 are the same. They are both electric overlays of the standard 26-C air brake system. The actual hardware is arranged a little differently. NYAB system has all possible portions, valves and devices mounted on a manifold under one end of the car. This eliminates a great deal of car body piping. A second difference is the use of a second vent valve instead of an emergency portion. The third difference is the method of operating the white indicator lights. In the GSX-3 brake, the white lights are operated by the actual movement of the magnet valve armature.

The wheel slip system is New York Air Brake's Electronic digital system. It receives and compares pulse counts supplied by each of the four Magnetic Sensor Assemblies. If the pulse count between any pair of axles becomes sufficiently different, the Wheel Slip Dump Valve on the affected truck is energized and the brakes on that truck are released. When the wheels on the subject truck regain proper rational speed and return the pulse count to normal, the Wheel Slip Dump Valve is de-energized.

The system includes provisions to prevent synchronous slip of all axles by monitoring the deceleration rate of one axle. If this rate exceeds a set value of 8 mphps, brake pressure is released on that truck and the synchronism is broken. Also, a safety circuit will restore braking in the event that a Dump Valve is continuously energized for more than three (3) seconds. Compensation is provided to adjust the Detector for wheel size variations due to wear.

In the event of uneven wheel wear, there could be a time when the wheels on one truck would be significantly different in diameter from the wheels on another and as it really a comparison of wheel travel that is being made, the sensitivity of the slide system might change. In order to guard against this, four 4-position counting switches are included on the electronics. Each of these switches has positions lettered A, B, C and D and a gage is supplied which in appearance is similar to a wheel inspector's rim thickness gage, except that instead of measuring rim thickness, it measures wheel diameter. This gage has corresponding letters A, B, C and D. When the car is in the wheel shop, and only at that time, after returned wheels are placed under the car, the inspector takes the gage, notes whether the wheels are in the A, B, C or D range individually, and then sets the corresponding switch to the position of each axle.

c. L.R.C. - Amtrak has leased ten LRC (light, rapid, comfortable) cars from Canada where they were built by Bombardier. Tentatively they will operate out of Boston. The significant difference about these cars is their active suspension. That is, these cars bank into a curve, thus allowing higher speeds through curves because passenger discomfit will be lowered.

The air brake system is the same as on Amfleet, WABCO's CS-1 electro-pneumatic using 26-C and E-5 Decelostat. This system has previously been described. The WABCO foundation brake equipment consists of two disc brake actuators acting on two 21-1/2 inch discs and two tread brake actuators operating on the 30 inch wheels of the truck axle. Both the disc brake and tread brake actuators use hydraulic pressure to apply braking force.

There is one air over oil converter per axle located between the discs. This converter, by the means of a differential piston-diaphragm arrangement multiplies the hydraulic output pressure relative to the input air pressure. The hydraulic pressure is passed to the disc and tread actuators through high pressure hoses. The disc and tread actuators are sized so that each disc does approximately 30 percent of the work and each tread approximately 20 percent. Results have shown that this ratio keeps reasonable temperature on both the discs and the wheels. Two disc actuators on two axles of one truck are equipped with a mechanical handbrake mechanism.
4. NEW TRAINS
In the category of new trains, we are not including the LRC because it is really a locomotive and cars, each of which has been described separately. The two varieties of turbine-powered trains and the self-powered vehicle will be included in this section.
a. TURBINE POWERED TRAINS

THE RTG - In 1974, Amtrak acquired six five-car RTG trains manufactured by ANF-Industrie of France. These trains all operate out of Chicago and are serviced at Brighton Park, Chicago.

The brake equipment is French-Westinghouse and in many ways similar and, at the same time, different from American air brake practice. One difference is the large number of other pneumatic subsystems taken off the basic air system. In addition to the pneumatic brake system, the tread and disc systems, the pneumatic regulated control of the hydrodynamic brakes and a parking brake system, the basic system also supplies power control system, sanding system, lubrication system, air horns and Toilet flushing system. All this is successfully handled by two 35cfm compressors and two 15,000 cubic inch main reservoirs. There have been no problems with air shortage.

Each power car has a Knorr motor driven, two stage air compressor of approximately35cfm capacity, a French-Westinghouse SC-50 air dryer and one main reservoir of about 15,000 cubic inch volume. The main reservoirs of the two power cars are directly connected by a pipe through the train. If one compressor should fail, the other has sufficient capacity to maintain normal operation until the faulty unit can be repaired.

Main reservoir air pressure is maintained between 120 to 130 psi and brake pipe is approximately 75 psi. Since the primary brake system is electro-pneumatic, the PBA-1 brake valve, controlled electrically, varies brake pipe pressure. Air is then supplied to brake pipe pressure controlled JMR pressure regulating, distributor valve which transmits air from a car mounted auxiliary reservoir to the disc brake system. A second JMR valve is used to feed the tread brake system. The JMR valve reads the brake pipe pressure and acts as both a control valve and relay valve.

The disc brake system provides one disc per axle on trailer car trucks and two discs per axle on the non-powered truck of each power car. The brake cylinder includes an automatic slack adjuster. The system is of Knorr manufacture. The tread brake system consists of one French-Westinghouse P-60 tread brake unit per wheel with cast iron shoes. The parking brake is spring applied-air released operating on one tread brake unit per truck. It will apply when operated by the switches on the control deck, or if the main reservoir pressure drops to zero. In addition to the air release, it can also be released mechanically. The hydro-dynamic brake acts on the Voith transmission and provides braking to the powered axles only. Wheel slip control is electric on the whole train.

THE RTL - Shortly after the French trains, Amtrak acquired seven five-car RTL trains which were Americanized versions built by the Rohr Corporation in Chula Vista, California. These trains operate in New York State and are serviced in Rensselaer, New York.
The WABCO 26-RE-TT Brake Equipment, which is somewhat related to the modern CS-1 Brake Equipment recently specified for new Amtrak passenger train operation, was designed and developed to special requirements set forth by Amtrak for Turbo-Liners built by Rohr Industries similar to those already in Amtrak service which are of French construction. These trains consist of two powered control cars separated by three coach type cars, the latter equipped with standard 26-C brake equipment.

Each power car brake system uses a primary electro-pneumatic brake control with full time all-pneumatic "back-up" brake control for so called "limp-in" service requirements, but having excellent sensitivity and operational simplicity which belies its secondary role. Either mode of operation makes use of a common pneumatic network controlling the increase or decrease of brake pipe pressure. The electric portion is controlled by a pin type, three position handle that has apply, lap and release positions. This provides decrease, lap or increase of brake pipe pressure. The change in brake pipe pressure is transmitted to the 26-C control valve either electrically through magnet valves, or directly through the brake pipe.

The air system in each power car begins with a Knorr air compressor producing 37cfm for use when the turbine power is in operation. When the train is in electric mode operating in the Grand Central Terminal area, the compressor used is a WABCO D-4 producing 24cfm. There are two main reservoirs of approximately 13,000 cubic inch each. Between #1 and #2 main reservoirs is a Salem dryer. Backing up the electric portion is a pneumatic, automatic brake valve A-10-A.

Each wheel on the train is fitted with a French-Westinghouse P-60 tread brake unit with composition brake shoes. The pressure on the power cars is raised above the pressure on the trailer cars by use of a J-1.3-13 relay valve. All non-powered axles on the train have one Knorr disc brake per axle using a CK-6 brake cylinder. The train is also equipped with a spring applied - air released parking brake somewhat similar to that on the RTG.

The RTL train has a hydro-dynamic brake which acts on the transmission providing braking to the powered axles only. The wheel-slide control is a WABCO E-5-A Decelostat for control in powering, as well as braking.

b. SPV-2000 - Amtrak will operate twelve Budd-built SPA-2000 diesel engine cars which will operate separately, as a train of SPV's, or as a car on an Amfleet train. These cars belong to the Connecticut Department of Transportation and are expected to operate Springfield, MA; Hartford, CT and New Haven, CT with at least some continuing into New York City as part of an Amfleet train.

The No. 26 SPV Brake and Throttle Control System incorporates controls for direction control, propulsion and braking on the Budd Company's new SPV-2000 high speed rail passenger car. The unique application of standard components is extensively used to provide the engine and brake control systems with the ultimate in safety, reliability and performance.

The system permits the operator to control both acceleration and braking of the car by moving a single handle. This regulates the air pressure in the trainline pipe, called the Traction Control Pipe (TCP). Each car in the train responds to TCP pressure to produce power or braking as required. The equipment may be operated in either of two modes - "Self Propelled Vehicle" or "Automatic Brake". This equipment is compatible with standard brake equipments presently in use in North America, including the latest Amtrak brake equipment.

The single handle engineman's Traction Controller includes a locking key which performs the functions of direction control and control cut-out. When one controller in a train is "keyed in", all others are locked out, and all cars in the train assume the SPV mode. When the key is removed from the Traction Controller, all cars automatically return to the "Automatic Brake" mode of operation. The cars can then be operated in a normal train under control of a non-SPV type of car or locomotive. In the "Automatic Brake" mode, no power can be produced by the car's engines, and the TCP services in all respects as a brake pipe would on other that No.26 SPV Equipment.

In addition to its unique brake and throttle control system, the SPV-2000 car is equipped with an automatic spring applied parking brake under trainlined control from the operating cab. This system eliminates the possibility of handbrakes left inadvertently applied. It provides increased safety by permitting the train to be halted, even if the air pressure is lost. Manual operation of the parking brakes is also provided. This can be used in switching or locomotive hauled operations to provide those functions normally provided by a mechanical handbrake.

A load weighing system is provided to modify emergency brake pressure according to car weight, but is not operational for other than emergency brake rates. The load weighing system uses Knorr leveling valves to adjust car height and to provide a signal to adjust emergency brake cylinder pressure.

Wheel slide control is WABCO's E-5-A Decelostat Controller which provides per truck control rather than per axle basis because the axles on each truck are coupled. Indicator lights are provided on the outside of each car: amber for brakes applied, green for brakes released, and red for parking brakes applied.

Since the brake pipe provides control, the brake pipe pressure valves are 90 psi for coasting, increase for power and decrease for brakes. The dynamic brake is not electrical. It uses the engine for retardation using a Jacob's brake. This is blended with the air brake system to provide consistent braking.Each vehicle has a WABCO two stage, two cylinder, air cooled D-4-A air compressor delivering 30cfm. Integral with the compressor is a C-l Vapolex air dryer. The air goes to two main reservoirs, one of approximately 7,700 cubic inch capacity and the other of about 23,800 cubic inch.

The truck mounted components are SAB tread brake units provided by New York Air Brake and composition shoes.
The final installment will cover the "Future".
---
SCHEDULE NOTES
Notices, announcements, schedules, etc. are provided here as a service to the members. The Chapter has no affiliation with any commercial operation, museum, or tourist line.
Until April 19, 2013 Frank Furness: Working on the Railroads Library Company of Philadelphia, 1314 Locust Street, Philadelphia, PA 19107 (215) 546-3181, Free and open to the public
Until May 30, 2015 Civil War 150th Anniversary: The War Came By Train@ B&O RR Museum in Baltimore. Monday - Saturday (10:00 a.m. - 4:00 p.m.), Sunday (11:00 a.m. - 4:00 p.m.) Between April 19, 1861 (The Baltimore Riot of 1861) and April 21, 1865 (Lincoln's funeral train leaving Baltimore for Illinois), the B&O stood witness and participant in the greatest conflict the U.S. has ever faced and changed the course of American history. The War Came By Train serves as the B&O Railroad Museum's primary attraction for the five year commemoration of the War's sesquicentennial. The National Landmark Roundhouse will exhibit the largest assemblage of Civil War railroad equipment in the world featuring locomotives and rail cars that served during the war, significant military and personal artifacts that will change annually to portray each year of the war (some artifacts never before on public display), and a narrated train ride to the original site of Camp Carroll, the largest Union encampment in Baltimore.
Saturday, March 16, 2013 27th Annual Harrisburg RAILROAD SHOW & COLLECTORS MARKET 9 AM-3PM Steelworkers Union, 200 Gibson Street, Steelton, PA 17113, donation $5 at door, Harris Tower open this day
Sunday, March 17, 2013 Gilbertsville Toy Train Show 8:30 AM-1:30 PM, Gilbertsville Fire House, 1454 E. Philadelphia Ave. Gilbertsville, PA admission $3
Sat-Sun-March 23-24, 2013 Greenberg's Train & Toy Show 10AM-4PM, Wilmington, DE, Chase Center on the Riverfront, operating train layouts and slot cars
Sat-Sun-March 23-24 & Sat - March 30 West Chester Railroad EASTER BUNNY EXPRESS Hop Aboard for a Ride with the Easter Bunny to Glen Mills and Back-All Children Receive a Special Treat Featuring live musicians Trains Depart Market Street Station at 12:00 pm and 2:00 pm Adult: $22.00 Children (ages 2-12 yrs) $16.00
Sunday, April 7, 2013 Leesport Farmers Market Train Meet 9 AM-2 PM, Reading Company Technical & Historical Society, Farmers Market, Leesport, PA admission $4
April 10, 2013, 7 PM Keeping Time/ Poets and Musicians Honor Grand CentralVanderbilt Hall, Grand Central Terminal - Billy Collins, Aracelis Girmay, and Jeffrey Yang, among others poets featured in the newly re-launched Poetry in Motion program join performers from Music Under New York for an evening performance honoring Grand Central Terminal in its centennial year. During its 100 year history, Grand Central's vaulted main concourse has served as a glorious stage for the pageant of daily lives, with the clock at its center, bearing witness to countless moments and stories over time. Join us as we celebrate this magnificent building - its architecture, crowds, iconography, and poetics - by keeping time with its grand narrative. Presented by MTA Arts for Transit and the Poetry Society of America.
Saturday & Sunday, April 13-14, 2013 Great Scale Train Show Sat. 9AM-4PM, Sun 10AM-4PM, $9, State Fairgrounds, Timonium, MD
Sun-May 12 West Chester Railroad MOTHER'S DAY EXPRESS Take Mom for a Scenic Spring Train Ride from West Chester to Glen Mills and Back Trains Depart Market Street Station at 12:00 pm and 2:00 pm Special Rate for Mom: $5.00 Adult: $15.00 Children (ages 2-12 yrs) $13.00 Toddlers ride free!
May 16-19, 2013 Pennsylvania Railroad Pennsy Days @ RR Museum of PA Discover rich heritage of famous Pennsylvania Railroad, "Standard Railroad of the World." This traditional program highlights the history of this major railroad.
May 25, 26 and 27 NS Steam Trip - Lewistown to Gallitzen, Pa. (Horseshoe Curve) Steam locomotive no. 765 will march between Lewistown and Gallitzin, Pennsylvania, climbing the famous Horseshoe Curve on Memorial Day Weekend. For the first time in over 30 years, ride a steam-powered passenger train through the Allegheny mountain range, enjoying the sights, sounds, and experiences of timeless American industry. Three 160-mile round-trips excursions of the Horseshoe Curve Special will traverse one of the busiest routes in the country over the former Pennsylvania Railroad's "Middle Division," and through Altoona, the railroad capital of the Standard Railroad of the World. All round-trips depart the historic Lewistown station in the morning (approximately 8AM), turn at Gallitzin, and arrive Lewistown in evening (approximately 6PM.) Each trip will include a 2.5-hour layover in Altoona. Built in 1944, steam locomotive no. 765 was one of thousands of steam locomotives that sped the country to victory during World War II. Today, it's a supercharged good-will ambassador, bringing to life a dramatic era of innovation to thousands each year since being restored in 1979 by the Fort Wayne Railroad Historical Society. All Sold Out.
Sun-May 26 West Chester Railroad MEMORIAL DAY SPECIAL Trains Depart Market Street Station at 12:00 pm and 2:00 pm Adult: $15.00 Children (ages 2-12 yrs) $13.00 Toddlers ride free!
Sunday, June 2, 2013 Hamburg Dutch Train Meet 9 AM-1:00 PM, Hamburg Fire Co. Field House, Pine St. Hamburg, PA
Sundays June 2 through Sept. 22 West Chester Railroad SUMMER SUN PICNIC SPECIALS Pack a Lunch and Enjoy our Picnic Grove at Glen Mills with Family and Friends. Trains Depart Market Street Station at 12:00 PM only. Adult: $15.00 Children (ages 2-12 yrs) $13.00 Toddlers ride free!
June 7-9, 2013 Conrail Days @ RR Museum of PA The Consolidated Rail Corporation arose from a federal bail out of the railroad industry in the 1970s to become a profitable and successful private enterprise. The equipment, history & spirit of Conrail will be highlighted, in partnership with the Conrail HS.
Sun-June 16 West Chester Railroad FATHER'S DAY EXPRESS Take Dad for a Scenic Spring Train Ride from West Chester to Glen Mills and Back Trains Depart Market Street Station at 12:00pm and 2:00pm Special Rate for Dad: $5.00 Adult: $15.00 Children (ages 2-12 yrs) $13.00 Toddlers ride free!
Saturday & Sunday, June 22-23, 2013 Great Scale Train Show Sat. 9AM-4PM, Sun 10AM-4PM, $9, State Fairgrounds, Timonium, MD
July 2-7, 2013 Reading Railroad Days @ RR Museum of PA Regular Museum hours. Enjoy the remarkable Reading Railroad trains of eastern Pennsylvania history through tours of Reading Company equipment, a huge, operating model railroad and special presentations.
Saturday & Sunday, July 20-21, 2013 MODEL TRAIN and RAILROAD SHOW Sat. 9AM-4PM, Sun 9AM-1PM, WILLIAMS GROVE HISTORICAL STEAM ENGINE ASSOCIATION, Williams Grove, PA, Steam train rides, model train display, stands with collector items to purchase, Directions: Rt. 15 to Rt. 74, Rt. 74N 1.2 miles to Williams Grove Rd.
July 27, 2013-November 3, 2013 The Next Level: Photographs by Hiroyuki Suzuki New York Transit Museum Gallery Annex & Store at Grand Central - The future of how New Yorkers will travel over the next decades is happening at Grand Central Terminal - 18 stories beneath our feet. Join us for a behind-the-scenes look at the East Side Access project with captivating images by photographer Hiroyuki Suzuki. Presented by the New York Transit Museum. Sunday, July 28, 2013 Hamburg Dutch Train Meet9 AM-1:00 PM, Hamburg Fire Co. Field House, Pine St. Hamburg, PA
Sunday, July 28, 2013 Hamburg Dutch Train Meet 9 AM-1:00 PM, Hamburg Fire Co. Field House, Pine St. Hamburg, PA
Sunday, Sept. 15, 2013 Gilbertsville Toy Train Show 8:30 AM-1:30 PM, Gilbertsville Fire House, 1454 E. Philadelphia Ave. Gilbertsville, PA admission $3
Sun Sept 29; Oct 6, 13; Nov 3, 10, 17, 24 West Chester Railroad FALL FOLIAGE EXPRESS See Upper Chester Creek Valley in its Entire Fall Splendor and Color Trains Depart Market Street Station at 12:00pm and 2:00 pm Adult: $15.00 Children (ages 2-12 yrs) $13.00 Toddlers ride free!
Saturday & Sunday, Oct. 26-27, 2013 Great Scale Train Show Sat. 9AM-4PM, Sun 10AM-4PM, $9, State Fairgrounds, Timonium, MD
November 2-3, 2013 Troops & Trains @ RR Museum of PA Greet our guys and gals in uniform, experience many splendid railroad and military archival displays, enjoy the patriotic spirit.
December 7 & 14, 2013 Home for the Holidays @ RR Museum of PA Take a nostalgic glimpse at holiday rail travel. Meet costumed engineers, conductors, ticket agents and passengers representing the past century and enjoy seasonal music, festive decorations, more, among our world-class collection of trains.
---
CHAPTER EVENTS
Thursday March 21, 2013 7 PM Chapter Meeting program by a Frank Ferguson program entitled "2012 Part 2"
Thursday April 18, 2013 7 PM Chapter Meeting program by an Mike Burkhart program entitled "Various Travels"
Thursday May 16, 2013 7 PM Chapter Meeting program by Special Guest Kermit Geary, Jr.
Thursday June 20, 2013 7 PM Chapter Meeting program by Allen Tweddle "More From the Archives Continued Part III"
Thursday July 18, 2013 7 PM Chapter Meeting program by Someone
Thursday August 15, 2013 7 PM Something or Other in lieu of normal monthly meeting
Thursday Sept. 19, 2013 7 PM Chapter Meeting program by Another Someone
Thursday Oct. 17, 2013 7 PM Chapter Meeting program by Son of Someone
Thursday Nov. 21, 2013 7 PM Chapter Meeting program by Grandson of Someone
Sunday Dec. 8 ?, 2013 5 PM Annual Holiday Dinner in lieu of normal monthly meeting program probably by Steve Barry
The Wilmington Chapter of the National Railway Historical Society (NRHS) meets at 7:00 PM on the third Thursday of each month [except August & December] in the Darley Room at the Claymont Community Center on Green Street in Claymont, Delaware. Visitors are always welcome. Admission to regular meetings is free. Check out our Website (thanks to Russ Fox) at: http://www.WilmingtonNRHS.com
---
The Transfer Table is published six to ten times per year as the newsletter of the Wilmington Chapter of the National Railway Historical Society. Items in this publication do not represent the official position of either Officers or Members of the Wilmington Chapter or the Editor of this publication.
Permission to reprint articles and news items appearing herein is granted to NRHS Chapters and other newsletters provided appropriate credit is given.
Contributions are always welcome and should be sent to the editor at SD40GMA@aol.com or send to: P.O. Box 1136, Hockessin, DE 19707-5136.
Deadline for entries is the 25th of the month.
Chapter Officers
President: Mike Burkhart
Vice President: Dave Watterson
Treasurer: Dave Warner
Secretary: Dan Frederick
National Director: Tom Posatko
Trip Director Steve Barry
Editor: Greg Ajamian
Web Master: Russ Fox