NOTE: The Lite Version is our electronic version which is available for free from this web site. It has limited content but gives you a taste of what is offered in our Full Version.
The Full Version is our printed newsletter which is mailed to you. It contains everything in the Lite Version along with many other reprinted pages from other NRHS newsletters, railroad publications, and flyers that contain photographs, drawings, and maps. The full version is just another benefit of joining our chapter.
THE TRANSFER TABLE
The Wilmington Chapter NRHS Official Newsletter
Internet Edition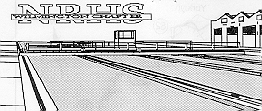 | | |
| --- | --- |
| VOLUME 36 NUMBER 05 | JUNE 2013 |
Back To Wilmington Chapter Web Site
May MEETING MINUTES
President Mike Burkhart called the Wilmington Chapter NRHS meeting to order at 7PM. The Treasurer's report was approved as read by Treasurer Dave Warner. The minutes were approved as read by Secretary Dan Frederick. Chapter Representative Tom Posatko provided an update on NRHS National. After a short break . . .
Our Guest Speaker, Kermit Geary started off his program with a few short safety and railroad videos. His computer presentation then shifted to images on the history of the Sperry company and its equipment and how they test track. We got to see a wide variety of historic Sperry inspection cars from EMC, Winton, Brill, and Hildebrant = the newest cars #142-149 (circa 1976). We saw ex-Lehigh Valley #114 that became Sperry #123. We saw #125 coming back from Europe. We saw the East St. Louis shops and the R32 Sudbury car that was retired in Australia. We found out Sperry #142 was renumbered to #200 for Europe. We even got to see the #402 Subway car used in New York City and Philadelphia and finally the newest Ford trucks. We were also treated to walking track in India, bridges, tunnels, and street running. We then got to see a huge variety of track defects and finished up an amazing show with video of an actual track inspection. Special thanks to our guest, Kermit!
---
Rockhill Trolley Museum
Rockhill Trolley Museum is Celebrating 50 Years of Electric Trolley Operations at Rockhill Furnace, PA on July 6, 2013 - the event starts at 11:00AM. The Rockhill Trolley Museum officially began trolley operations on July 6, 1963. The museum, operated primarily by volunteers throughout its entire existence, is celebrating 50 years of operating electric trolleys in Rockhill Furnace. The museum has been in operation longer than many for-profit trolley systems, such as those that operated in Lewistown, Huntingdon, Harrisburg, and York, PA.
The museum has assembled a collection of many one of a kind special trolleys from Johnstown, York, Scranton, Philadelphia, Harrisburg as well as an old open summer trolley (like Mr. Rogers' Trolley) from Brazil. Rides will be available on many of these trolleys for scenic three-mile rides along the Blacklog Creek passing the Rockhill Iron Furnace remains enroute to Blacklog Narrows. Other trolleys in the collection including a snowplow, snowsweepers, a freight motor and a Bullet trolley can be seen and photographed.. See the 100-year-old interurban trolley undergoing restoration. Visit the museum store for trolley-related gifts. Learn about the history of the museum as well as its future and long term goals.
Fares are only $7.00 for all riders over 2 years of age; those under age 2 are free. Tickets are good for unlimited rides all day long. The Museum is located on PA 994 just west of the US 522 / SR 994 intersection at Rockhill Furnace/Orbisonia, PA, and 25 minutes north of the Fort Littleton turnpike exit. Signs along US 522 guide visitors to the adjacent East Broad Top Railroad. Maps, directions, and more information are available at our website www.RockhillTrolley.org or call 814-447-9576 (weekends).
The Rockhill Trolley Museum is Pennsylvania's First Operating Trolley Museum, founded in 1960 and operating for public education, enjoyment, and entertainment each season since 1962. The museum is a 501(c)3 non-profit educational corporation. Interested visitors are invited to join the museum as a member and volunteer to preserve old electric trolley cars for future generations to see and ride. [Press Release from Bill Monaghan via both Eds Thornton & Mayover]
---
Fantastic Filler Factoid:
A railroad car can be thrown from the tracks if braking is too forceful or by heavy cars pushing on lighter cars. For example, a train might safely pull 8,000 tonnes behind an empty car on straight, level track but only 3,000 tonnes safely on curvy, hilly track. [The Economist Technical Quarterly Q2 2013.]
---
NEWS BITS
U.S. Transportation Secretary Ray LaHood today announced he is providing $30.2 million to Amtrak to repair damage caused by Hurricane Sandy along its heavily-traveled Northeast Corridor. The funding comes from the Disaster Relief Appropriations Act of 2013 and is being provided by the Federal Railroad Administration.
The grant reimburses Amtrak for $20.1 million for expenses associated with pumping water from tunnels and debris removal and for immediate and on-going repairs to vital infrastructure needed to operate more than 2,000 trains along the Northeast Corridor each day. The balance of the grant money will fund repairs to the East Tunnel that connects Manhattan and Queens, the North River Tunnel that connects New Jersey and New York City, and other facilities.
Following Hurricane Sandy, four of the six tunnels between New York City and New Jersey flooded with seawater. Immense amounts of water and debris were removed from the tunnels and system-wide repairs had to be completed before service could be restored. The most critical damage was to electrical systems, particularly the Kearney substation, located in Kearney, New Jersey, plus signals, lighting, mechanical rooms, and emergency call boxes. The damage was caused by wind, heavy rains and saltwater.
Additional repairs to rail, ties, ballasts, third rail signal systems, pump stations, circuit breakers, and vital infrastructure are still on-going and are expected to continue throughout the summer months. The appropriations measure was signed into law by President Obama on January 29, 2013. The total appropriation related to Amtrak's recovery from Sandy was $32 million. [DOT Press Release via Ed Mayover]
++++++++++++++++++++++++++++++++++++++++++++
AMTRAK PRESS RELEASE May 21, 2013LONG DISTANCE TRAINS ARE FEDERAL RESPONSIBILITY
Congress in charge of intercity passenger rail since 1971WASHINGTON - The operation of long distance trains is a core federal responsibility since 1971 and a federally-funded national system is the best way to keep costs low, provide customer choices that build ridership and develop economies of scale, Amtrak President and CEO Joe Boardman told a Congressional committee today.
"Congress is clearly 100 percent in charge in directing how long distance train service is provided in the United States and has been ever since it created Amtrak more than 40 years ago," Boardman said. "Should Congress again decide in the next passenger rail reauthorization to continue a national system, Amtrak is dedicated to ensuring that long distance trains are sustained and run as efficiently and effectively as possible."
Boardman explained that federal law requires Amtrak to operate a national passenger rail system that includes long distance routes. The current law also includes a "Sense of Congress" statement that declares "long distance passenger rail is a vital and necessary part of our national transportation system and economy."
He noted that long distance trains are a public service, provide national connectivity and mobility, feed riders onto the rapidly growing state-supported corridor services and deliver about half a million passengers to the Northeast Corridor each year. Since 2006, ridership on long distance trains is up nearly 27 percent and in FY 2012, six of the 15 routes set new ridership records. In addition, Amtrak long distance trains serve 40 percent of America's rural population and are the only remaining scheduled intercity transportation in many places as intercity bus and airline service disappear from smaller communities.
Boardman stressed that a focus on improving financial performance is achieving results for America's Railroad¨, including: setting new records for ridership, revenue and on-time performance; covering 88 percent of operating costs with ticket sales and other revenues; reducing federal operating support to just 12 percent; and significantly paying down debt.
He also stated that making Amtrak better is not solely about controlling and cutting costs. For example, in FY 2012, about 50 percent of Amtrak expenses were for labor costs-an amount not unique for the service industry and lower than the 55 percent average for the manufacturing sector in the U.S.
Boardman said that the national intercity passenger rail network delivers a huge public benefit and that every penny made is reinvested in Amtrak with an overwhelming majority of revenues and funding spent in America.
A copy of the full written testimony is attached and can be found here [http://www.amtrak.com/ccurl/30/421/Amtrak-CEO-Boardman-House-T&I-testimony-May-21-2013.pdf]. Also attached is the language of the "Sense of Congress Regarding the Need to Maintain Amtrak as a National Passenger Rail System" found in the Passenger Rail Investment and Improvement Act of 2008.
About Amtrak¨: Amtrak is America's Railroad¨, the nation's intercity passenger rail service and its high-speed rail operator. A record 31.2 million passengers traveled on Amtrak in FY 2012 on more than 300 daily trains - at speeds up to 150 mph (241 kph) - that connect 46 states, the District of Columbia and three Canadian Provinces. Amtrak operates intercity trains in partnership with 15 states and contracts with 13 commuter rail agencies to provide a variety of services. Enjoy the journey¨ at Amtrak.com or call 800-USA-RAIL for schedules, fares and more information. Join us on facebook.com/Amtrak and follow us
++++++++++++++++++++++++++++++++++++++++++++
Passenger Rail Investment and Improvement Act of 2008
Public Law 110-432 / Division B - Amtrak
SEC. 228. SENSE OF THE CONGRESS REGARDING THE NEED TO MAINTAIN AMTRAK AS A NATIONAL PASSENGER RAIL SYSTEM.
(a) FINDINGS.-The Congress makes the following findings:
(1) In fiscal year 2007, 3,800,000 passengers traveled on Amtrak's long-distance trains, an increase of 2.4 percent over fiscal year 2006.
(2) Amtrak long-distance routes generated $376,000,000 in revenue in fiscal year 2007, an increase of 5 percent over fiscal year 2006.
(3) Amtrak operates 15 long-distance trains over 18,500 route miles that serve 39 States and the District of Columbia. These trains provide the only rail passenger service to 23 States.
(4) Amtrak's long-distance trains provide an essential transportation service for many communities and to a significant percentage of the general public.
(5) Many long-distance trains serve small communities with limited or no significant air or bus service, especially in remote or isolated areas in the United States.
(6) As a result of airline deregulation and decisions by national bus carriers to leave many communities, rail transportation may provide the only feasible common carrier transportation option for a growing number of areas.
(7) If long-distance trains were eliminated, 23 States and 243 communities would be left with no intercity passenger rail service and 16 other States would lose some rail service. These trains provide a strong economic benefit for the States and communities that they serve.
(8) Long-distance trains also provide transportation during periods of severe weather or emergencies that stall other modes of transportation.
(9) Amtrak provided the only reliable long-distance transportation following the September 11, 2001, terrorist attacks that grounded air travel.
(10) The majority of passengers on long-distance trains do not travel between the endpoints, but rather between any combination of cities along the route.
(11) Passenger trains provide transportation options, mobility for underserved populations, congestion mitigation, and jobs in the areas they serve.
(12) Passenger rail has a positive impact on the environment compared to other modes of transportation by conserving energy, reducing greenhouse gas emissions, and cutting down on other airborne particulate and toxic emissions.
(13) Amtrak communities that are served use passenger rail and passenger rail stations as a significant source of economic development.
(14) This division makes meaningful and important reforms to increase the efficiency, profitability and on-time performance of Amtrak's long-distance routes.
(b) SENSE OF THE CONGRESS.-It is the sense of the Congress that-
(1) long-distance passenger rail is a vital and necessary part of our national transportation system and economy; and
(2) Amtrak should maintain a national passenger rail system, including long-distance routes, that connects the continental United States from coast to coast and from border to border.
++++++++++++++++++++++++++++++++++++++++++++
TESTIMONY OF JOSEPH H. BOARDMAN - PRESIDENT AND CHIEF EXECUTIVE OFFICER, AMTRAK - BEFORE THE SUBCOMMITTEE ON RAILROADS, PIPELINES and HAZARDOUS MATERIALS
"Understanding the Cost Drivers of Passenger Rail" TUESDAY, MAY 21, 2013 1:00 P.M. in RAYBURN HOUSE OFFICE BUILDING
Good morning, Mr. Chairman, and thanks for the opportunity to testify today. We appreciate the Committee's interest in this topic. We appreciate the Committee's interest in the question of what drives Amtrak's costs, and I think the best way for us to examine them is through the prism of one of our trains. We've decided to use our California Zephyr, which connects Chicago with Denver, Salt Lake City and the San Francisco Bay area. At 2,438 miles, it traverses seven states in the course of a trip that requires 2 days and 2 hours, and it covers the longest distance of any Amtrak train. We want to use it to explain to you not only the nature of our system, but to help you visualize the form our efforts to improve it are taking. I have just returned from a trip across American on the Zephyr as part of National Train Day, which was celebrated in 259 communities across the United States.
Over the last decade, we have worked hard to realign Amtrak and transform the company into a modern business. We've made a determined effort to transform Amtrak, addressing the company's culture, strategic plans, and day to day operations in an integrated effort designed to deliver a better financial performance. We've engaged our workforce through programs designed to involve them in the leadership of key safety programs, and shape the culture to build a better integrated team so that our workforce can contribute more effectively to the company's efforts. We've created a strategic plan, and mapped out plans and strategies for fleet replacement, station facilities (accessibility and station master plans), and the construction of projects of national significance, such as the NEC Master Plan, Gateway Project and the NextGen High Speed Rail system. All of these initiatives are designed to address the behaviors and attitudes that cause employees to disengage, and to bolster and encourage employee engagement. This strategy has implications for every aspect of our work and our culture - for safety, efficiency, and customer service - and it will play a major role in preparing the next generation of employees for leadership roles at Amtrak.
These efforts are designed to help our people realize the natural efficiency opportunities that are inherent in rail transportation. If you look at our basic unit of production (the passenger-mile) and our overall operating costs, you will see that our production of passenger-miles has risen steadily, while overall operating need has fallen (Fig 1). Concurrently, we've pursued debt reduction opportunities that will save the taxpayers tens of millions of dollars on debt service payments in coming years. We've developed technologies like Julie, Amtrak.com, mobile applications, and eTicketing to allow our passengers to purchase their tickets in easier and more cost-effective ways.
Over the longer term, we've pursued investment strategies to build ridership on our existing routes and services. I would note parenthetically, that while rail enjoys natural energy efficiencies, Congress has decided that railroads ought to bear certain additional costs and has created a separate regime that includes FELA, Railroad Retirement, and Railroad Unemployment. When it comes to railroad labor and benefits, the market rate has for decades been determined the Congressionally-mandated processes of the Railway Labor Act. These influence costs significantly.
While we are focused on improving our financial performance, it's important to keep in mind that our goal isn't just cost cutting - it's improving financial performance, which is why we're pursuing strategic initiatives designed to maximize the revenues we can develop from ourexisting workforce and asset base - the people, trains and infrastructure that make Amtrak what it is.
So let's take a look at what these improvements translate into, in concrete terms.
To start with, we've set nine ridership records in the last ten years, and the growth in ridership isn't confined to one segment of our business: since 2006, the ridership for the long distance (LD) trains has risen by almost 27%, a higher rate of growth than the Northeast Corridor (NEC) has enjoyed. These improvements in ridership translate into improved revenues that help Amtrak to leverage its Federal investment into an even larger investment in the American economy. To illustrate the magnitude of this "multiplier effect," over the last three fiscal years (FY 10-12), Amtrak took a total of $4.4 billion in Federal investment and returned more than $12.6 billion to the American economy in the form of wages and salaries, procurement (99% of which was spent to buy American products), tax payments, and contributions to Railroad Retirement.
Not only are we focusing on what we invest in the Federal economy - we are trying to ensure that we obtain the best value for every dollar the Federal government invests in Amtrak. We've cut our debt to less than half the 2002 level and saved the taxpayers millions of dollars that can be spent on new equipment and infrastructure, rather than servicing debt. System on-time performance reached a record high of 83% last year, and this year we're doing even better. It's still too early to predict our annual results, but our performance exceeded 85% at the end of April, a bit better than last year. All of these qualities have helped us to reduce our need for Federal operating support by almost half, in constant value terms, and last year we covered 88% of our operating costs with Amtrak-generated revenue.
These are significant achievements - and they should serve as a reminder that Amtrak's integrated national system is a tremendous asset that allows us to realize economies of scale while connecting the nation. The NEC and the LD trains are fundamentally different businesses, but they are deeply interdependent. Seven of the 15 LD trains use the NEC for some part of their run, and they bring about half a million passengers onto the NEC every year. The LD trains also help feed riders onto our rapidly growing state-supported services. Figure 3 shows a chart of the passenger traffic flows move for those California Zephyr passengers who passed through Chicago Union Station, one of the train's termini. These riders constitute about 36% of the train's total ridership. You can see that 43% of those riders connected to or from another train at Chicago. We chose the Zephyr as an example because it is a good case study in some of the challenges of long distance train service. It has the longest run of any of our trains, covering more than 2,400 miles in a trip - which takes 50 hours. That means we can have up to 6 trains labeled "the California Zephyr" out on the railroad simultaneously, which means we need to maintain six complete trains (each with two locomotives and up to ten cars at the peak season) to sustain a daily service. Each train can accommodate 365 passengers at a time (that's about 7.3 busses or 2.6 Boeing 737s), but the average number of passengers carried per trip in 2012 was 512 - so that while the peak load is considerably lower, we come close to filling each seat twice in the course of a trip. This train is supported by 6 crewbases, 4 of which exist specifically so that the changes of train and engine crews (which are mandated by the Hours of Service Act) can be accomplished reliably - because of limitations imposed by the Hours of Service Law, it takes 27 engineers and conductors to move the train from Chicago to California. It also takes 10 onboard service staff to man each train, making a total of 37 employees who work on that train in the course of its trip. Amtrak needs a total of 140 onboard service employees, divided into 14 crews, to operate this daily service.
These long distance trains are vital, and they represent a vital contribution to mobility, particularly rural mobility. In 23 of the 46 states we serve, the only Amtrak train is a long distance train. Amtrak serves about 40% of America's rural population, and in many places we are best tangible reminder for people of the Federal government's investment in transportation. If the Auto Train (which does not serve any intermediate points between its termini at Lorton, Virginia and Sanford, Florida) is excluded, 48% of long distance train riders are traveling to or from a station that is not within the top 100 metropolitan areas; in the case of the California Zephyr, this figure is 63%. Although these trains typically link major metropolitan areas, their principal role is not necessarily moving people between cities several thousand miles apart; only about 15% of California Zephyr passengers rode the train for the full length of the trip. Their major role is instead the linking of rural areas and smaller communities with major urban areas, which serve as either an endpoint destination or a transfer point to another train.
People appreciate the range of travel alternatives an integrated national system can offer, and these services are well patronized; long distance ridership has risen 27% since 2006, and today the average long distance train has the same peak load factor as Acela; some 43% of our total FY 2012 passenger-miles are generated by long distance services. In addition to the role these trains play in supporting rural communities, they carry substantial numbers of senior citizens and passengers with disabilities; about 43% of the identified passengers with disabilities who used Amtrak in FY 2012 rode on a long distance train.
Finally, while it is often claimed that these trains are "poster children" for poor financial performance, their financial performance does not vary significantly from the performance of other passenger services. As you can see in Figure 4, our long distance train farebox recovery ratio (48% in 2011, the most recent year for which comparative data is available) is similar to the average American commuter rail operation (52%) and close to our short distance corridor trains (56% farebox recovery), once state support payments are deducted. The revenues generated by our Northeast Corridor trains exceed operating costs, but that calculation excludes the substantial capital need of the NEC, a 363 mile high density railroad with a large state of good repair backlog.
This is not to gainsay the importance of capital investment, because our fleet and infrastructure require it, and Amtrak will have significant capital needs in the coming years if we are to deal with the challenges of an aging fleet and infrastructure. These are capital investments of the kind that every transportation system - and viewed from the perspective of energy efficiency (see Figure 2), it's clear that our rising ridership and natural efficiencies offer the country a transportation policy solution that addresses fuel costs, congestion, and land use challenges in a single package.
I think the basic vision for the most efficient and effective intercity passenger rail service was realized in the original Rail Passenger Service Act, which created Amtrak 42 years ago. It freed the private sector to concentrate on profit-making freight services, but ensured that private carriers retained some residual responsibility to the public to move our trains. It integrated almost all of the nation's intercity passenger rail services, so they could be operated more efficiently. It brought numerous advantages to the customer in a unified ticketing, reservation, scheduling and service package - which has allowed us in turn to upgrade those systems in an integrated manner that allowed us to bring innovations like eTicketing to the entire national system within a coordinated and efficient manner. It eliminated a lot of facility duplication, which has saved uncounted taxpayer dollars over the years. All of these structural advantages, combined with a strong focus on the bottom line, have helped Amtrak to improve its efficiency, and to pass those efficiencies on to the American taxpayer.
I want to close with a word of caution. We often find lately that it is increasingly possible for companies to offer rail-related services to passenger carriers - including operating trains - without meeting all of the legislated railroad requirements. Contract operators can undercut us because in many cases, they can set up new companies to run intrastate trains without being deemed "railroads" under Federal law, which allows them to avoid the collective bargaining provisions of the Railway Labor Act, and to avoid paying into the Railroad Retirement and Railroad Unemployment systems. Because they are not organized as railroads, these companies can compete effectively for business on the basis of price. Another trend we are increasingly seeing is the acquisition of rail lines and the operation of commuter services by state agencies, often through private contractors, who claim that their state laws preclude them from entering into or honoring agreements with Amtrak to bear liability risks attributable to their commuter rail services. This provides the appearance of savings, but it effectively transfers risk from the agency to Federal taxpayers. 8
For all of these reasons, I believe that the national intercity passenger system should continue to be a publicly owned and funded railroad. As I have said, the national system is complex and richly interconnected. It delivers a huge public benefit - and at the end of the day, every penny we make is reinvested in Amtrak, and the overwhelming majority of our revenues and funding are spent in America. We are America's Railroad, from beginning to end, and while we are working hard to run it economically, you can rest assured that our first concern is provision of safe, economical, and comfortable passenger rail transportation - and not just making a profit.
Appendix - Selected Figures
Fig 1. Amtrak operating efficiency, 2003_2012
Fig 2. Energy efficiency of selected intercity travel modes
Fig 3. California Zephyr passenger flow through Chicago
Union Station
Fig 4. Comparative Farebox Recovery Data, 2011
---
SCHEDULE NOTES
Notices, announcements, schedules, etc. are provided here as a service to the members. The Chapter has no affiliation with any commercial operation, museum, or tourist line.
Until May 30, 2015 Civil War 150th Anniversary: The War Came By Train@ B&O RR Museum in Baltimore. Monday - Saturday (10:00 a.m. - 4:00 p.m.), Sunday (11:00 a.m. - 4:00 p.m.) Between April 19, 1861 (The Baltimore Riot of 1861) and April 21, 1865 (Lincoln's funeral train leaving Baltimore for Illinois), the B&O stood witness and participant in the greatest conflict the U.S. has ever faced and changed the course of American history. The War Came By Train serves as the B&O Railroad Museum's primary attraction for the five year commemoration of the War's sesquicentennial. The National Landmark Roundhouse will exhibit the largest assemblage of Civil War railroad equipment in the world featuring locomotives and rail cars that served during the war, significant military and personal artifacts that will change annually to portray each year of the war (some artifacts never before on public display), and a narrated train ride to the original site of Camp Carroll, the largest Union encampment in Baltimore.
Sundays June 2 through Sept. 22 West Chester Railroad SUMMER SUN PICNIC SPECIALS Pack a Lunch and Enjoy our Picnic Grove at Glen Mills with Family and Friends. Trains Depart Market Street Station at 12:00 PM only. Adult: $15.00 Children (ages 2-12 yrs) $13.00 Toddlers ride free!
Saturday & Sunday, June 22-23, 2013 Great Scale Train Show Sat. 9AM-4PM, Sun 10AM-4PM, $9, State Fairgrounds, Timonium, MD
July 2-7, 2013 Reading Railroad Days @ RR Museum of PA Regular Museum hours. Enjoy the remarkable Reading Railroad trains of eastern Pennsylvania history through tours of Reading Company equipment, a huge, operating model railroad and special presentations.
Saturday & Sunday, July 20-21, 2013 MODEL TRAIN and RAILROAD SHOW Sat. 9AM-4PM, Sun 9AM-1PM, WILLIAMS GROVE HISTORICAL STEAM ENGINE ASSOCIATION, Williams Grove, PA, Steam train rides, model train display, stands with collector items to purchase, Directions: Rt. 15 to Rt. 74, Rt. 74N 1.2 miles to Williams Grove Rd.
July 27, 2013-November 3, 2013 The Next Level: Photographs by Hiroyuki Suzuki New York Transit Museum Gallery Annex & Store at Grand Central - The future of how New Yorkers will travel over the next decades is happening at Grand Central Terminal - 18 stories beneath our feet. Join us for a behind-the-scenes look at the East Side Access project with captivating images by photographer Hiroyuki Suzuki. Presented by the New York Transit Museum. Sunday, July 28, 2013 Hamburg Dutch Train Meet9 AM-1:00 PM, Hamburg Fire Co. Field House, Pine St. Hamburg, PA
Sunday, July 28, 2013 Hamburg Dutch Train Meet 9 AM-1:00 PM, Hamburg Fire Co. Field House, Pine St. Hamburg, PA
Sat-Sun-August 3-4, 2013 Greenberg's Train & Toy Show 10AM-4PM, Maryland State Fairgrounds, operating train layouts
Sunday, Sept. 15, 2013 Gilbertsville Toy Train Show 8:30 AM-1:30 PM, Gilbertsville Fire House, 1454 E. Philadelphia Ave. Gilbertsville, PA admission $3
Sun Sept 29; Oct 6, 13; Nov 3, 10, 17, 24 West Chester Railroad FALL FOLIAGE EXPRESS See Upper Chester Creek Valley in its Entire Fall Splendor and Color Trains Depart Market Street Station at 12:00pm and 2:00 pm Adult: $15.00 Children (ages 2-12 yrs) $13.00 Toddlers ride free!
Saturday & Sunday, Oct. 26-27, 2013 Great Scale Train Show Sat. 9AM-4PM, Sun 10AM-4PM, $9, State Fairgrounds, Timonium, MD
November 2-3, 2013 Troops & Trains @ RR Museum of PA Greet our guys and gals in uniform, experience many splendid railroad and military archival displays, enjoy the patriotic spirit.
December 7 & 14, 2013 Home for the Holidays @ RR Museum of PA Take a nostalgic glimpse at holiday rail travel. Meet costumed engineers, conductors, ticket agents and passengers representing the past century and enjoy seasonal music, festive decorations, more, among our world-class collection of trains.
---
CHAPTER EVENTS
Thursday June 20, 2013 7 PM Chapter Meeting program by Dan Frederick
Thursday July 18, 2013 7 PM Chapter Meeting Do-It-Yourself program bring your own slides, prints, e-files, and/or just interesting 'stuff' to share !
Thursday August 15, 2013 6:30-9:30 PM Chapter Members Only Memorial Trip
Thursday Sept. 19, 2013 7 PM Chapter Meeting program by Allen Tweddle "More From the Archives Continued Part III"
Thursday Oct. 17, 2013 7 PM Chapter Meeting program by Dave Warner
Thursday Nov. 21, 2013 7 PM Chapter Meeting program by Frank Ferguson
Sunday Dec. 8 ?, 2013 5 PM Annual Holiday Dinner in lieu of normal monthly meeting program probably by Steve Barry
The Wilmington Chapter of the National Railway Historical Society (NRHS) meets at 7:00 PM on the third Thursday of each month [except August & December] in the Darley Room at the Claymont Community Center on Green Street in Claymont, Delaware. Visitors are always welcome. Admission to regular meetings is free. Check out our Website (thanks to Russ Fox) at: http://www.WilmingtonNRHS.com
---
The Transfer Table is published six to ten times per year as the newsletter of the Wilmington Chapter of the National Railway Historical Society. Items in this publication do not represent the official position of either Officers or Members of the Wilmington Chapter or the Editor of this publication.
Permission to reprint articles and news items appearing herein is granted to NRHS Chapters and other newsletters provided appropriate credit is given.
Contributions are always welcome and should be sent to the editor at SD40GMA@aol.com or send to: P.O. Box 1136, Hockessin, DE 19707-5136.
Deadline for entries is the 25th of the month.
Chapter Officers
President: Mike Burkhart
Vice President: Dave Watterson
Treasurer: Dave Warner
Secretary: Dan Frederick
National Director: Tom Posatko
Trip Director Steve Barry
Editor: Greg Ajamian
Web Master: Russ Fox