NOTE: The Lite Version is our electronic version which is available for free from this web site. It has limited content but gives you a taste of what is offered in our Full Version.
The Full Version is our printed newsletter which is mailed to you. It contains everything in the Lite Version along with many other reprinted pages from other NRHS newsletters, railroad publications, and flyers that contain photographs, drawings, and maps. The full version is just another benefit of joining our chapter.
THE TRANSFER TABLE
The Wilmington Chapter NRHS Official Newsletter
Internet Edition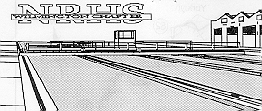 | | |
| --- | --- |
| VOLUME 36 NUMBER 01 | JANUARY 2013 |
Back To Wilmington Chapter Web Site
NOTICE: IN CASE OF BAD WEATHER
If our normal "THIRD THURSDAY" NRHS meeting is canceled due to inclement weather, it will be postponed and held on the FOURTH THURSDAY.
If it must again be canceled, it will NOT be rescheduled. We will simply wait for the next month's normal "third Thursday" meeting. If the weather looks bad or is predicted to be bad, you may telephone the Claymont Community Center to see if it will be open that evening for our meeting.
---
Message from the President
As 2012 draws to a close, I want to take the time to reflect on the past year and look ahead to 2013.We saw the unfortunate passing of several long-time members in 2012. I want to especially take a moment to remember Ron Cleaves, who served as vice president and other roles for many years. Ron was always active with Chapter events, often bringing to meetings classic photos from the Wilmington area. It was good to take a moment of silence at the Chapter banquet in remembrance.
The banquet on Dec. 9 saw 19 members and guests in attendance. We were treated to the traditional buffet and year-end wrap-up show featuring Steve Barry's travels. It was a great evening to come together and share in a meal and camaraderie.
In October, we ran a very successful bus trip for National to the Black River & Western, where 2-8-0 number 60 pulled a train from Ringoes to Three Bridges, NJ and return. It was one of the first outings for the steam locomotive since its rebuild that was completed in the fall. The trip also included a stop at the New Hope & Ivyland.
We have several items in the works for 2013. Our finances are in great shape and will allow us to take a look at getting back into sponsoring full-scale rail excursions. We are investigating a handful of rare mileage and photographers' specials on area shortlines. We hope to have more information soon.
There are still slots available for the Super Saturday XX Streetcar Special on Feb. 2, 2013. We will depart Callowhill at 10 a.m. for a five-hour trip around the city. Fare is $45 for Chapter members and $50 for non-members. We have had quite a bit of interest from patrons outside the Chapter this year, so go to www.therailroadphotographer.com to sign up. These trips are a hallmark of our Chapter and are a great time.
Special thanks also goes to all those who made the past year a success, from serving as officers to putting the newsletter together to acting as hosts on our trips. Wishing all a safe and happy holiday season. -Mike
---
Message from the Treasurer
We'd like to remind you that if you have not paid your 2013 chapter and national dues, now would be a very good time to submit them. Dues forms were sent to everyone last fall, with a due date of 12/31/2012. As of that date, we have received only about half of our dues. We hope you wish to retain your membership in the NRHS for another year, and continue receiving this fine publication. Please take a moment while you're thinking about this to send your membership dues to our treasurer, Dave Warner. His address is on the dues form you received. Thank you.
---
In Memory of Ron Cleaves by Phil Snyder
Ron Cleaves was my good friend and side kick. He was a quiet, shy hard working person who got great joy from his dog Rosie and took pride in maintaining his house inside and out.
Every job he worked, he took seriously and always worked as hard as he could. He enjoyed working at Maximillian's where the biggest benefit were the trains surrounding the building.
Ron's spare time was spent running model railways and taking pictures of trains wherever he went. He always had a camera with him.
One of the first long trips that Ron and I took was a three day trip to New England. We ended up in Oniana, New York. While driving listening to Rock and Roll stations on the radio, Ron could name every song, the group, each member of the group, and even what season the song was released in. It was a real gift. Ron could recall details of any event relating to railroads, again even down to what the weather was doing on each occasion.
One of the most enjoyable trips Ron and I took was to Gettysburg with his father who was a Civil War enthusiast. We left him at the visitor center while we rode the trains. Another great trip was to the grand opening of Steamtown. Ron's father was with us again, but this time they both were happy.
Another time, five or six people went to the B&O museum in Baltimore where we walked all day looking at engines. One was from the Octararo Railroad which was particularly special because Ron operated them for a short time.
When Ron was elected Secretary of the Chapter, he took the job seriously and helped in any way he could. Ron jumped right in helping serve refreshments on the train to Harrington Fair and helping the Chapter on Transportation Day at the Wilmington Station, bringing pictures and other memorabilia to display. Ron must have taken over 10,000 pictures over his 25 years in the Chapter. When he became Vice President, he continued his job with excellence.
Towards the end, Ron attended meetings whenever he could, but because of his illness, he could not go on trips for the last year. Ron's illness took him quickly and he did not suffer in the end.
Ron & I got along well. He was easy to get along with. I will miss my buddy.
---
DUES DUE
If you have already paid your 2013 dues, thank you. If you have not paid yet, there is a RED mark on your address label. It would be wonderful if you could send your check to our Treasurer as soon as you can.
David Warner
301 W. Lea Blvd
Wilmington DE 19802-1235.
---
NEWS BITS
AMTRAK ADVANCES PLANS TO ACQUIRE NEW HIGH-SPEED TRAIN SETS FOR NORTHEAST CORRIDOR Next-generation equipment best option to meet growing ridership demand. WASHINGTON - In order to better meet strong and growing ridership demand on the Northeast Corridor (NEC), Amtrak is advancing plans to acquire new next-generation high-speed train sets and ending its plans to purchase 40 additional high-speed passenger cars to add to the existing Acela Express fleet.
In early 2013, Amtrak will issue a Request for Information (RFI) to formally start the process that will replace the existing 20 Acela Express train sets and add additional train sets to expand seating capacity and provide for more frequent high-speed service on the NEC.

"Moving directly to new high-speed train sets is the best option to create more seating capacity, permit higher speeds, and maximize customer comfort all while improving equipment reliability and reducing operating costs," said President and CEO Joe Boardman.

He explained that the previous plan to add 40 new passenger cars with newer technology to the older Acela train sets was a stop-gap measure, posed technical challenges and was determined not to be cost effective and insufficient to handle new ridership growth projections.

Boardman made the announcement before a Congressional committee saying that in the past two years Amtrak has moved forward a number of major proposals designed to address the NEC's growth and development needs.

The proposals are detailed in the Amtrak Vision for the Northeast Corridor 2012 Update Report. First, is the NEC Upgrade Program to bring the corridor up to a state of good repair, add additional capacity to allow limited service growth, and make targeted trip-time improvements for all existing intercity, commuter and freight services. Among the elements is the Gateway Program to build vital track, tunnel and station capacity into the heart of Manhattan to support Amtrak and commuter rail growth.

Second, is the next-generation high-speed rail program to provide America's economic, political and cultural capitals in the Northeast with the world-class 220 mph high-speed service the region deserves. With possible operating profits over a billion dollars annually and ridership well into 40 million riders a year upon full build-out, Amtrak expects that private capital, probably in the form of a public-private partnership, could play a significant role in this project.

Boardman said the international experience with high-speed rail projects is that "only after the public sector has allocated significant funding and committed itself to a project of this magnitude that the private sector is willing to enter the deal and deliver value for money." Adding that, "[o]nce these services are generate revenue streams, these projects can and will attract private funding that can help repay initial capital costs." He went on to say he is certain Amtrak has been a good steward of the NEC noting that he is "confident that we have mapped out a workable plan, and that our search for a truly regional solution to the challenges of capacity will be successful."

In FY 2012, Amtrak set a national ridership record of 31.2 million passengers, including a new record of 11.4 million riders on its Northeast Corridor services. In addition, the introduction of high-speed Acela Express service in 2000 has transformed the air-rail market in the Northeast. Today, Amtrak carries three passengers for every one airline passenger between New York and Washington, and carries more passengers between New York and Boston than all the airlines combined—making Amtrak not simply an alternative, but a preferred choice. [AMTRAK Press Release via Ed Mayover]
At NS, replacing older wooden structures represented the bulk of the 2012 bridge program. But next year, the railroad plans to start some "fairly major projects," including the replacement of the Portageville Bridge that crosses the Genesee River in Letchworth State Park in New York, says Jim Carter, NS' chief engineer of bridges and structures. With the New York State Department of Transportation, NS plans to build a new, 963-foot- long bridge with a 493-foot steel arch span on a parallel alignment south of the existing bridge, an 819-foot-long steel viaduct with a single track. Built in 1875, the bridge is on NS' Southern Tier Route. As of mid-October, design of the new bridge was being developed and NS was "working through" the environmental impact statement, Carter says. NS officials hope construction can begin in 2013 and be completed in 2015. What will become of the historic bridge after the new one is finished hasn't been determined. The current project cost estimate is $68 million, but all funding sources haven't yet been identified, he says. [from Progressive Railroading via Lackawanna & Wyoming Valley RHS's Laurel Lines]

Hagley Museum and Library released its first podcast today, Friday, November 30. The podcast is a lecture by Dr. Albert J. Churella on his recently-published book, The Pennsylvania Railroad, Volume 1: Building an Empire, 1846-1917. The full lecture can be streamed or downloaded as a podcast by going to http://www.hagley.org/library/center/Churella_lecture.htmlHagley hosted Dr. Churella's lecture on November 15, 2012, and it drew a record crowd of 270 people.
Churella, who teaches history at Southern Polytechnic State University in Georgia, built his talk around the claim that the Pennsylvania Railroad was the "unique railroad of the world." The Pennsylvania Railroad, Volume 1: Building an Empire, 1846-1917 will be part of a multi-volume account from the University of Pennsylvania Press.Dr. Albert J. Churella is associate professor in the Social and International Studies Department at Southern Polytechnic State University in Marietta, Georgia. His first book, From Steam to Diesel: Managerial Customs and Organizational Capabilities in the Twentieth-Century American Locomotive Industry (1998) was a finalist for the George W. Hilton award in railway history. Churella is completing the first of a two-volume history of the Pennsylvania Railroad, with extensive treatment of the business, technological, labor, public policy, ethnic, and gender issues related to that company. [Hagley Museum Press Release]
Norfolk Southern has completed a major upgrade to its Lamberts Point export coal transload facility in Norfolk, positioning it to remain the largest and fastest coal transload facility in the Northern Hemisphere. More commonly known simply as Pier 6, the facility transfers coal hauled by train from Appalachian coal fields to ships bound for world markets. The $18-million upgrade, completed on schedule over a 90-day period beginning in August, involved major overhauls of the facility's dumper system, which transfers coal from rail cars to a conveyor system, and its two loaders, massive rolling structures that deliver the coal to the ships. The dumper system consists of two pairs of dumpers, each pair handling two coal cars at a time, that rotate the cars 135 degrees and dump their contents into a conveyor system that transports the coal to the pier. The upgrade consisted of replacing the structural steel that supports the north set of dumpers and the hopper bins that funnel the coal onto the conveyor belts. The dumpers, at 500,000 pounds each, were lifted by cranes and placed on the ground. While the steel support structure was being replaced, the dumpers also received a complete electrical and mechanical overhaul. The south set of dumpers will receive the same upgrade in the spring of 2013. New solid-state drives replaced the generator sets on the north dumper car pushers, which push loaded coal cars into position to be hoisted up onto the dumpers. Concurrently with the dumper overhaul, both loaders received complete electrical overhauls, including replacement of the main generator sets with solid-state drives and new power transformers and control and monitoring systems. The loaders received other significant overhauls, including a new braking system for their numerous moving parts. The upgrades coincide with the 50th anniversary of Pier 6, which began operations on one loader in December 1962. The second loader came on line in the Spring of 1963. Norfolk Southern is planning an anniversary celebration in April 2013. Pier 6 has an annual throughput capacity of 36 million tons of coal. With both sets of dumpers and both loaders operating, Pier 6 can handle up to 8,000 tons of coal per hour. It takes an average of 30 hours to load one ship with a typical load of 80,000 tons. In January 2012, Pier 6 loaded a record 159,941.45 net tons of coal onto a ship bound for China, completing the job in less than 48 hours. Much of the coal handled by Pier 6 is metallurgical coal, prized worldwide by steel manufacturers for its high-BTU and low volatile content, but has the capacity and capability of trans-loading thermal coal to the world's coal fired power plants as well. [NS Press Release]

Norfolk Southern has acquired 24 EMD SD40-2s from National Railway Equipment in exchange for an unknown quantity of older Norfolk Southern four-axle and six-axle power. The newly acquired SD40-2s are being renumbered into the No. 3468-3491 series on Norfolk
Southernpriortoshipment. The SD40-2s being acquired are former BNSF and had been stored at NRE's Silvis, Ill., plant and at VMV in Paducah, Ky. The first group to arrive on Norfolk Southern property included Nos. 3468, 3469, 3484, 3486, and 3490. All five locomotives were forwarded to the railroad's Chattanooga, Tenn., shop. They reportedly will be repainted and placed into service. A hospital train of Norfolk Southern locomotives moved west from Altoona, Pa., consisting of 13 locomotives for National Railway Equipment.

The locomotives all have NREX reporting marks and included EMD SD9s Nos. 55 and 56; EMD SW1500s Nos. 2215, 2221, and 2232; EMD SD38s Nos. 3800, 3805, 3811, 3816, 3817, 3818, and 3819; and RP-A4u slug No. 945. [TRAINS News Wire via Lancaster Dispatcher]
Amtrak recently launched a new website promoting the company's history by opening its corporate archives to the public. The site is viewable at http://history.amtrak.com Readers can browse through or search the archives containing image, PDF, and video files on the company's history. Documents available include old brochures, company photos, historic press releases, and promotional films. Future updates are planned to add annual reports, Congressional testimonies, and ridership and revenue figures. Users can sort the files by geography, decade, or route name. The collection archives have been complied and organized in cooperation with the Special Collections Research Center at The George Washington University. [TRAINS News Wire via Lancaster Dispatcher]

Exelon Power has donated a locomotive from the company's retired Cromby Generating Station to the West Chester Railroad, a non-profit organization which preserves and operates vintage trains in Chester County, a suburb of Philadelphia. The railroad plans to restore the locomotive, number 7706, and use it to supplement their existing fleet.
Locomotive 7706, a GP38 model with a 16 cylinder, 2000 horsepower diesel engine, was built in 1969 and purchased in the mid-1990s for use at Cromby Station. A two-unit power plant in Phoenixville, Chester County, Cromby Station retired at the end of 2011 after 57 years of generating electricity. At Cromby, the locomotive was used to pull railcars of coal across the Schuylkill River to the power plant where the coal was used as fuel to generate electricity. On average, every week the locomotive would pull between 75 to 100 railcars, each filled with 100 tons of coal. "Locomotive 7706 did a lot of hard work at Cromby Station and we're happy to see it get a new lease on life with the West Chester Railroad," said Bill Swahl, director of Performance Operations for Exelon Power. Swahl was general manager of Cromby Station from 2008 to the plant's retirement in 2011.

After several weeks of preparation and transport, the locomotive arrived at the West Chester Railroad's yard just before Thanksgiving. The estimated value of locomotive 7706 is $140,000. "We're very appreciative to Exelon for this donation and we're so excited to restore this locomotive," said Derek Slifer, director of Passenger Operations for the West Chester Railroad. The railroad expects their restoration efforts to take two years, with a majority of their work focused on restoring the exterior.

"Since the locomotive was in use and needed to run nearly every day, it still runs really well," added Slifer. "The railroad provides a unique service to Chester County, helping residents and visitors appreciate the beauty and history of the county," said Swahl. "Cromby Station and its employees were very active in the community and giving back is very important to Exelon and something we take a lot of pride in." ( Exelon Generation - posted 12/19 via HDBtrains)
Grand Central Terminal opened its doors to the public at midnight on February 1, 1913. First train left at 12:20 AM. The Centennial year celebration begins 100 years later on February 1, 2013, with a birthday party and historic exhibition that kicks off a year-long series of events.

The new Centennial logo (which will become the Terminal's official logo) is designed by a team from the firm Pentagram, led by partner Michael Bierut.

The logo takes as its inspiration one of Grand Central's most well-known icons - the clock atop the main hall information booth. Its hands are positioned at 7:13, which is 19:13 in military time used by the railroad and a nod to the opening year.

Centennial events are planned in four thematic areas: Rededication & Birthday Celebration; Preserving a Landmark, Creating a Legacy; Parade of Historic Trains/Transportation Month; and Grand Central: The Next 100 Years.

New York Transit Museum will curate five exhibitions throughout 2013 and release a beautifully illustrated coffee-table-style Centennial book.

Grand Central Terminal - A Century Of Key Dates

February 2, 1913 New Terminal opens

January 28, 1919 Commodore Hotel opens adjacent to Grand Central Terminal

April 16, 1919 Park Avenue Viaduct opens

September 1928 Park Avenue elevated drives completed with opening of eastside over Depew Place

February 16, 1930 World's largest power substation opens 100 feet below Commodore Hotel to supply electricity for Grand Central Terminal buildings

1946 Grand Central Terminal handles 65 million passengers in its busiest year of operation to date

March 7, 1963 59-story Pan Am Building completed above former locations of baggage rooms and escalators added leading to Grand Central Terminal's main concourse

August 2, 1967 Landmark designation by New York City Landmarks Preservation Commission

August 2, 1967 Terminal designated a National Historic Landmark

June 19, 1968 55-story Marcel Breuer-designed skyscraper proposed over main concourse and main waiting room

September 26, 1968 New York City Landmarks Preservation Commission denies skyscraper permission

June 26, 1969 59-story Marcel Breuer-designed skyscraper proposed over Grand Central that would preserve main concourse but destroy faćade

August 26, 1969 New York City Landmarks Preservation Commission again denies permission

October 7, 1969 Penn Central files lawsuit against New York City, challenging validity of landmark law following Preservation Commission denial for both skyscrapers

January 17, 1975 Terminal added to the National Register of Historic PlacesJune 26, 1978 U.S. Supreme Court upholds landmark status of Grand Central Terminal

January 1, 1983 Metro-North Commuter Railroad, created under MTA, takes over operation of Conrail lines

August 11, 1983 Park Avenue Viaduct added to the National Register of Historic Places

1988 Metro-North Railroad commissions master plan for Terminal revitalization

April 7, 1991 Long-distance train service ends with Amtrak move to Pennsylvania Station

1994MTA adopts Grand Central Terminal Revitalization Plan

1996-1998Grand Central Terminal undergoes renovations

October 1, 1998 Terminal fully opens after restoration

August 18, 1999 Grand Central Terminal North opens, providing underground access to new entrances as far uptown as 48th Street

February 1, 2013 Terminal rededicated to mark start of its Centennial Celebration[from http://www.mta.info/gct/keydates.html ]
SEPTA plans to close the 101-year-old Bridgeport Viaduct (a 3,175-foot-long bridge) next summer. It carries Norristown High-Speed Line trains over the Schuylkill.
The will be closed next summer, when warmer temperatures cause tracks to expand and to pull free of steel spikes in rotted wooden ties. The bridge carries about 2,400 passengers a day to and from the Norristown Transportation Center. Buses will be used to carry passengers over an adjacent highway bridge while the rail bridge is closed. [Paul Nussbaum, Philadelphia INQUIRER, via Ed Thornton]
The Historical Society of Pennsylvania [1300 Locust Street Philadelphia, PA 19107 telephone: (215) 732-6200] offers on on-line history of the J.G. Brill Company and the website allows access to many of the historical photographs. See the website: http://hsp.org/history-online/exhibits/jg-brill-company-photographs
The J.G. Brill Company and its various incarnations dominated the world of trolley and undercarriage manufacturing for most of its seventy-year history. Based in Philadelphia, Brill was founded in 1868 by a German immigrant and held in family hands well into the 1930s. At its height, The J.G. Brill Company owned plants in six states as well as in Canada and France.

Records of the J.G. Brill Company include approximately 16,000 photographs, 6000 glass-plate negatives, 10,000 acetate negatives, and thirteen order books documenting the wide array of products manufactured by Brill. The photographs include interior and exterior views of railroad cars, trolleys, buses, ambulances, and trucks, as well as images of undercarriages, small parts, and seats. The collection also documents the factory grounds at 62nd and Woodland, particularly for World War I. Order books provide information on the quantity and types of items purchased, the companies purchasing them, and their dates of order and delivery.
---
Amtrak Brakes - Past, Present and Future from the collection of Ed Thornton
Chapter Member Ed Thornton has in his collection, a copy of a paper that was presented at The Air Brake Association Annual Meeting on 24 September 1980. The subject was "Amtrak Brakes - Past, Present and Future." The presentation was made by George M. Cabble and Ross D. Higginbotham, then working in the Mechanical Department of Amtrak.
This paper has been transcribed and stated in context (sic) with only minor punctuation changes for readability. It will be presented in The Transfer Table over the course of multiple issues.
As you read this presentation, remember that Amtrak was only nine years old when it was presented. Another thirty plus years have passed since! In that time, note how even the "Future" has become history.
Amtrak Brakes - Past
I. INTRODUCTION
On May 1, 1971 the National Railroad Passenger Corporation started in business under the name of Amtrak which had been changed from the short-lived name of Railpax. On that day, a large number of trains that had been operated by the various railroads were discontinued and only a greatly reduced network of trains continued to be scheduled. This left numerous passenger cars and passenger locomotives unused by many different railroads which had previously owned and operated them.

With the help of consultants, the fledgling passenger railroad began to pick out what were judged to be the best cars and locomotives. These were purchased or leased from the owning railroads and the balance of the vehicles were returned. It is these cars and locomotives chosen to be part of the new railroad in which we are interested.
II. THE PAST - What We Inherited
1. LOCOMOTIVES
In sections a. and b. following, we discuss the locomotives which Amtrak's records clearly show were purchased or leased for Amtrak use. When Amtrak first began running, the various railroads hauled Amtrak's train using their own motive power which they also maintained. We have not attempted to include any of that early operation in our discussion. Our research indicates that we purchased or leased 302 road-haul electrics and diesels. Our switcher acquisitions were so varies in type and brake equipment that we did not include switcher units of any kind in the scope of this paper.

a. GG1 ELECTRICS - We obtained 40 GG1 electric locomotives whish weighed approximately 477,000 lbs., each from Penn Central Transportation Company. This is considered by many experts to be the finest electric locomotive ever built. It came in both passenger and freight gearing.

Unfortunately, it is an old locomotive. The first was built in 1934 and the last of the 139 locomotives in 1943. Conrail took the freight units. Later, the remaining 13 passenger units were obtained by New Jersey Department of Transportation for use in New Jersey Shore commuter service. The classic GG1 is gradually being scrapped. Recently, the original locomotive, No. 4800, was obtained by a railroad museum to be displayed as it so richly deserves.

The brake equipment on the GG1 originally was number 8 EL equipment. Early in 1953, the brake valve was changed to number DS24H with a timing valve, A-1 suppression valve and speed governor control. About 1960, the control valve was changed to the 26-F with a J-18 relay valve. Most freight units received this change, and approximately 12 units that later became Amtrak's and all 13 that later became NJDOT's also received the 26F control valve.

b. USED DIESELS - It was decided early in Amtrak's existence that the spare parts problem was going to e extremely severe due to the tremendous variety of passenger equipment in service on the nation's railroads. For this reason, only EMD locomotive units were purchased or leased. In all, 262 EMD units were obtained from eleven different railroads. They were broken down as shown in Table I.

Table I - List of Locomotives

RR
E-8
E-9
FP-7
FL-9
Total
B&O
12
4
16
BN
21
15
36
C&O
1
1
IC
1
1
MILW
13
13
L&N
4
4
PC
70
12
82
RF&P
11
11
SCL
25
1
26
SP
19
19
UP
12
41
53
Total
157
59
34
12
262
Average
Weight
lbs.
336,000
342,000
258,000
290,000
It is interesting that of all these 262 locomotives obtained, only one had 26L brake equipment; all others had 24RL. Of course, the 24RL came in many slightly different assortments, but at least, they were basically the same equipment. The varieties included such things as speed governor control, pressure maintaining, dynamic brake and even some differences in the automatic brake valve. Even the one 26L was a hodge-podge in that it consisted on only a 26-C brake valve with a D-24 control valve. The problem with all this variety of equipment was more in maintenance than operation. Trying to maintain a stock of parts at the proper locations as motive power was shifted around was a difficult undertaking.
2. CARS
Over a period of several years, Amtrak took over approximately 2200 conventional passenger train cars, although there were never more than about 2000 on the roster at any one time. At one period, when Amtrak had 1969 conventional cars on record, they were broken down as shown in Table II.

Table II - List of Cars

| | |
| --- | --- |
| Baggage, Dormitory and Miscellaneous | 266 |
| Sleepers | 388 |
| Diner or Lounge | 265 |
| Coach | 917 |
| High-level | 85 |
| United States Army | 48 |
| Total | 1969 |

Of the cars in Table II, 96 were dome cars.

Since the records kept of the exact components on all cars were not complete, we were able to establish the control valve types on 1880 cars and the rigging type and brake shoes on 1706 of those cars.

a. CONVENTIONAL CARS WITH D-22 EQUIPMENT - The records show that the vast majority of our cars came to us equipped with D-22 control valves, namely 1795 out of 1880 cars. The D-22 valves came in a variety of types including AR and BR, with and without speed governor, with F-1864, F-1, F-6, B-3 relays and with numerous other variations. None of the speed governor equipment is used anymore, but we are still left with the necessity of trying to return the same valve and accessories to the car from which it was removed. Actually, it is probably too late to try to maintain the integrity of a tuned system.

b. CONVENTIONAL CARS WITH 26-C EQUIPMENT - The number of conventional cars with 26-C control valves was only 81 out of the 1880 cars on the roster at that time. These cars were primarily from the Santa Fe and the Union Pacific. There were, of course, numerous variations of chokes and other tuning methods, but these variations have caused no noticeable problems with this equipment.

c. CONVENTIONAL CARS WITH US EQUIPMENT - Amtrak took over four cars that had UC equipment on them. It is sufficient to note that these were quickly eliminated from the fleet.

d. CONVENTIONAL CARS WITH DISC BRAKES - Of the 1706 cars on which we could tabulate records, 862, or just over half, had wheel mounted disc brakes. These are the former Budd disc brakes, now manufactured by Westinghouse Air Brake Division.

A breakdown between CFM and TFM was not made, but currently the "C" frame mountings are being replaced by truck frame mountings, primarily because of maintenance and multiplicity of truck designs. All disc braked cars are equipped with slip-slide control.

e. CONVENTIONAL CARS WITH CAST IRON SHOES - Of the 1706 cars tabulated, 453 had clasp tread brake rigging with cast iron brake shoes. These cars, except for baggage cars, were braked at 250% braking ratio, based on 100 psi control line pressure, using an F-1864 relay valve and speed governor control. With speed governor inoperative, the braking ratio became 150% based on 100 psi control line pressure using an F-6 relay or an F-1864 relay operating as an F-6. These cars were hard on wheels due to thermal problems. The cars that have not been retired have been completely converted to composition brake shoes.

f. CONVENTIONAL CARS WITH COMPOSITION SHOES - Of the 1706 cars tabulated, 391 had tread brake rigging with composition brake shoes. This number included 252 cars with clasp brake rigging and 139 cars with single shoe rigging or tread brake units. The clasp brake cars excluding baggage cars were braked at 51% braking ratio based on 100 psi control line pressure using an F-6 relay valve or an F-1864 operating as an F-6. None of our composition shoe braked cars are operating with speed governor control. The single shoe cars were normally braked 10 to 20% higher than the clasp braked cars, although this figure varied somewhat with the railroad which made the conversion. This was done to try to bring the brake performance of the single shoe car up to the performance of clasp braked cars.
3. TRAINS
In the category of trains, we include self-propelled cars because they also must have a complete brake system including brake valve as well as control valve and so forth.

a. TURBO-TRAINS - Amtrak had three United Aircraft Turbo-Trains, two five car trains from the U.S. Department of Transportation and one four car train from Canada. These trains were not operated for very long and are now stored in 30th Street ZYard, Philadelphia. Their braking system was a Westcode electro-pneumatic brake controller. There was an all pneumatic back-up brake system. Individual brake units by ASF were used at each wheel, utilizing composition brake shoes.

b. METROLINERS - There were 61 Metroliners put in service in 1969. Since each car is a complete entity, they were, in fact, trains or self-propelled vehicles, although they would not go anywhere without 11,000 volts in the overhead catenary, or a locomotive to haul them as ordinary cars. In 1979 and 1980, there were 34 of these cars retrofitted, 30 General Electric and 4 by Amtrak. However, the brake system was not changed.

The Westinghouse RT-5B brake system on these cars is an electronic control system operated from a combined power and brake controller. This system operated from a combined power and brake controller. This system controls 26-C pneumatic system utilizing individual tread brake units. The 26-C pneumatic equipment is used as the pneumatic portion of the RT-5B, and also has a separate brake valve in the cab if it is needed. The 26-C can be used as a standard automatic air brake if the cars are locomotive hauled because it is conventional brake pipe system, merely activated electronically.

c. RAIL DIESEL CARS - The RDC is also listed under "trains" because it is completely self-contained including power. There were 24 RDC's sold to Amtrak, 17 by the Penn Central and 7 by the Burlington Northern. Not all of these cars saw service. Most that did, operated on the former New Haven Railroad out of New Haven or Boston.

These cars were equipped with "HSC" brake equipment for self-propelled cars. They had double end control and were equipped for multiple unit operation. The brake valve was an M-38-C and they had D22BR control valves.
Part III will cover the "Present" (AMTRAK circa 1980)
---
SCHEDULE NOTES
Notices, announcements, schedules, etc. are provided here as a service to the members. The Chapter has no affiliation with any commercial operation, museum, or tourist line.
Until April 19, 2013 Frank Furness: Working on the Railroads Library Company of Philadelphia, 1314 Locust Street, Philadelphia, PA 19107 (215) 546-3181, Free and open to the public
Until May 30, 2015 Civil War 150th Anniversary: The War Came By Train@ B&O RR Museum in Baltimore. Monday - Saturday (10:00 a.m. - 4:00 p.m.), Sunday (11:00 a.m. - 4:00 p.m.) Between April 19, 1861 (The Baltimore Riot of 1861) and April 21, 1865 (Lincoln's funeral train leaving Baltimore for Illinois), the B&O stood witness and participant in the greatest conflict the U.S. has ever faced and changed the course of American history. The War Came By Train serves as the B&O Railroad Museum's primary attraction for the five year commemoration of the War's sesquicentennial. The National Landmark Roundhouse will exhibit the largest assemblage of Civil War railroad equipment in the world featuring locomotives and rail cars that served during the war, significant military and personal artifacts that will change annually to portray each year of the war (some artifacts never before on public display), and a narrated train ride to the original site of Camp Carroll, the largest Union encampment in Baltimore.
GRAND CENTRAL CENTENNIAL EVENTS from http://www.mta.info/gct/gct_events_list.html
November 21, 2012 - February 10, 2013 New York Transit Museum's 11th Annual Holiday Train Show New York Transit Museum Gallery Annex & Store at Grand Central - Grand Central Terminal turns 100 in 2013 and we're starting the party early with our 11th annual Holiday Train Show! In a brand new layout by Lionel, model Metro-North and New York Central trains depart from a miniature Grand Central on their way North on a 34' long, two-level "O" gauge layout. Vintage model trains from the Museum's collection are on display joined by stunning New York Central railroad posters harkening back to the Terminal's heyday as the nexus of long distance and commuter train travel. Presented by the New York Transit Museum.

February 1, 2013 Happy Birthday Grand Central! On February 1st, celebrate the Terminal's 100th birthday with us. The Terminal will entertain visitors and guests with performances, celebrity appearances, photo opportunities, and the opening of the New York Transit Museum's exhibition, "Grand By Design." More details on how you can participate will be announced as the historic anniversary approaches.

February 1, 2013 - March 15, 2013 Grand by Design: A Centennial Celebration of Grand Central Terminal Vanderbilt Hall, Grand Central Terminal - A dramatic, multi-media installation on Grand Central's century long lifespan will be the centerpiece of the Centennial celebration revealing how the iconic building, on the verge of changing the way New Yorkers travel over the next decade, shaped modern New York and determines its future. Presented by the New York Transit Museum.

March 6, 2013 - July 7, 2013 On Time / Grand Central at 100New York Transit Museum Gallery Annex & Store at Grand Central - To celebrate Grand Central's 100th birthday, MTA Arts for Transit and Urban Design will present an exhibition featuring the work of more than a dozen contemporary artists who capture and reimagine moments in Grand Central Terminal - the site of the beginning and end of countless journeys for millions of travelers over the past century - and connect them with the present. This is an exhibition about Time and about the people who move and live through it, who are connected to the past and future through their experience in this iconic, romantic place. Presented by MTA Arts for Transit and the New York Transit Museum.

April 10, 2013, 7 PM Keeping Time/ Poets and Musicians Honor Grand Central Vanderbilt Hall, Grand Central Terminal - Billy Collins, Aracelis Girmay, and Jeffrey Yang, among others poets featured in the newly re-launched Poetry in Motion program join performers from Music Under New York for an evening performance honoring Grand Central Terminal in its centennial year. During its 100 year history, Grand Central's vaulted main concourse has served as a glorious stage for the pageant of daily lives, with the clock at its center, bearing witness to countless moments and stories over time. Join us as we celebrate this magnificent building - its architecture, crowds, iconography, and poetics - by keeping time with its grand narrative. Presented by MTA Arts for Transit and the Poetry Society of America.

April 11, 2013 Grand Central Talks Vanderbilt Hall, Grand Central Terminal - A series of panels exploring the history and heroes of Grand Central Terminal.

May 11 - 12, 2013 Grand Centennial Parade of Trains Historic Trains come back to the Terminal for a weekend filled with kid- friendly family fun, performances, and a show of "railroadiana" for avid collectors. More details will be announced as they become available.

July 27, 2013-November 3, 2013 The Next Level: Photographs by Hiroyuki Suzuki New York Transit Museum Gallery Annex & Store at Grand Central - The future of how New Yorkers will travel over the next decades is happening at Grand Central Terminal - 18 stories beneath our feet. Join us for a behind-the-scenes look at the East Side Access project with captivating images by photographer Hiroyuki Suzuki. Presented by the New York Transit Museum.
Saturday & Sunday, Jan. 26 & 27, 2013 2013 Railroad Hobby Show - Amherst Railway Society at the Eastern States Exposition, 1305 Memorial Ave., West Springfield, Mass. 01089. Info: www.AmherstRail.org.
Sunday, Jan. 27, 2013 Hamburg Dutch Train Meet 9 AM-1:00 PM, Hamburg Fire Co. Field House, Pine St. Hamburg, PA
February 2, 2013 TWENTIETH ANNIVERSARY !! Super Saturday Streetcar Special XX Join us for the 20th running of this Wilmington Chapter tradition. Our chartered PCC-2 will depart Callowhill Depot at 10:00 (Malvern Loop at 10:15) for a five-hour tour including all of Route 15 (with the new loop) and our usual eclectic mix of regular service and diversion trackage. The fare for this trip is $50. A combination ticket for this trip and the Christmas Lights charter is available for $85 (save $10; expires October 30, 2012). Visit http://www.railroadphotographer.com/gallery/10879119_QBo9f to order tickets or to get more information. Paying by mail? Make checks payable to "Wilmington Chapter NRHS" and send to: Wilmington Chapter NRHS c/o Steve Barry 117 High Street Newton, NJ 07860
Saturday & Sunday, Feb. 2-3, 2013 Great Scale Train Show Sat. 9AM-4PM, Sun 10AM-4PM, $9, State Fairgrounds, Timonium, MD
Sunday, March 17, 2013 Gilbertsville Toy Train Show 8:30 AM-1:30 PM, Gilbertsville Fire House, 1454 E. Philadelphia Ave. Gilbertsville, PA admission $3
Sunday, April 7, 2013 Leesport Farmers Market Train Meet 9 AM-2 PM, Reading Company Technical & Historical Society, Farmers Market, Leesport, PA admission $4
Saturday & Sunday, April 13-14, 2013 Great Scale Train Show Sat. 9AM-4PM, Sun 10AM-4PM, $9, State Fairgrounds, Timonium, MD
Sunday, June 2, 2013 Hamburg Dutch Train Meet 9 AM-1:00 PM, Hamburg Fire Co. Field House, Pine St. Hamburg, PA
Saturday & Sunday, June 22-23, 2013 Great Scale Train Show Sat. 9AM-4PM, Sun 10AM-4PM, $9, State Fairgrounds, Timonium, MD
Saturday & Sunday, July 20-21, 2013 MODEL TRAIN and RAILROAD SHOW Sat. 9AM-4PM, Sun 9AM-1PM, WILLIAMS GROVE HISTORICAL STEAM ENGINE ASSOCIATION, Williams Grove, PA, Steam train rides, model train display, stands with collector items to purchase, Directions: Rt. 15 to Rt. 74, Rt. 74N 1.2 miles to Williams Grove Rd.
Sunday, July 28, 2013 Hamburg Dutch Train Meet 9 AM-1:00 PM, Hamburg Fire Co. Field House, Pine St. Hamburg, PA
Sunday, Sept. 15, 2013 Gilbertsville Toy Train Show 8:30 AM-1:30 PM, Gilbertsville Fire House, 1454 E. Philadelphia Ave. Gilbertsville, PA admission $3
Saturday & Sunday, Oct. 26-27, 2013 Great Scale Train Show Sat. 9AM-4PM, Sun 10AM-4PM, $9, State Fairgrounds, Timonium, MD
---
CHAPTER EVENTS
Thursday Jan. 17, 2013 7 PM Chapter Meeting program by a Allen Tweedle. Program entitled "William Finley Collection Images - Part 2"
Saturday Feb. 2, 2013 10 AM Chapter Trolley Trip Super Saturday Streetcar Special XX
Thursday Feb. 21, 2013 7 PM Chapter Meeting program by a Frank Ferguson
Thursday March 21, 2013 7 PM Chapter Meeting program by a Frank Ferguson
Thursday April 18, 2013 7 PM Chapter Meeting program by an Mike Burkhart program entitled "Various Travels"
Thursday May 16, 2013 7 PM Chapter Meeting program by Special Guest Kermit Geary, Jr.
Thursday June 20, 2013 7 PM Chapter Meeting program by Someone Else
Thursday July 18, 2013 7 PM Chapter Meeting program by a Friend of Someone
Thursday August 15, 2013 7 PM Something or Other in lieu of normal monthly meeting
Thursday Sept. 19, 2013 7 PM Chapter Meeting program by Another Someone
Thursday Oct. 17, 2013 7 PM Chapter Meeting program by Someone's Son
Thursday Nov. 21, 2013 7 PM Chapter Meeting program by Unknown's Friend
Sunday Dec. 8 ?, 2013 5 PM Annual Holiday Dinner in lieu of normal monthly meeting program probably by Steve Barry
The Wilmington Chapter of the National Railway Historical Society (NRHS) meets at 7:00 PM on the third Thursday of each month [except August & December] in the Darley Room at the Claymont Community Center on Green Street in Claymont, Delaware. Visitors are always welcome. Admission to regular meetings is free. Check out our Website (thanks to Russ Fox) at: http://www.WilmingtonNRHS.com
---
The Transfer Table is published six to ten times per year as the newsletter of the Wilmington Chapter of the National Railway Historical Society. Items in this publication do not represent the official position of either Officers or Members of the Wilmington Chapter or the Editor of this publication.
Permission to reprint articles and news items appearing herein is granted to NRHS Chapters and other newsletters provided appropriate credit is given.
Contributions are always welcome and should be sent to the editor at SD40GMA@aol.com or send to: P.O. Box 1136, Hockessin, DE 19707-5136.
Deadline for entries is the 25th of the month.
Chapter Officers
President: Mike Burkhart
Vice President: Dave Watterson
Treasurer: Dave Warner
Secretary: Dan Frederick
National Director: Tom Posatko
Trip Director Steve Barry
Editor: Greg Ajamian
Web Master: Russ Fox