NOTE: The Lite Version is our electronic version which is available for free from this web site. It has limited content but gives you a taste of what is offered in our Full Version.
The Full Version is our printed newsletter which is mailed to you. It contains everything in the Lite Version along with many other reprinted pages from other NRHS newsletters, railroad publications, and flyers that contain photographs, drawings, and maps. The full version is just another benefit of joining our chapter.
THE TRANSFER TABLE
The Wilmington Chapter NRHS Official Newsletter
Internet Edition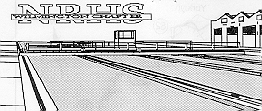 | | |
| --- | --- |
| VOLUME 36 NUMBER 02 | FEBRUARY 2013 |
Back To Wilmington Chapter Web Site
NOTICE: IN CASE OF BAD WEATHER
If our normal "THIRD THURSDAY" NRHS meeting is canceled due to inclement weather, it will be postponed and held on the FOURTH THURSDAY.
If it must again be canceled, it will NOT be rescheduled. We will simply wait for the next month's normal "third Thursday" meeting. If the weather looks bad or is predicted to be bad, you may telephone the Claymont Community Center to see if it will be open that evening for our meeting.
---
JANUARY MEETING MINUTES
The meeting was called to order by President Mike Burkhart. Secretary Dan Frederick was present but there were no minutes were not approved as not read. Treasurer Dave Warner's report was approved as read. He noted that eight members had not yet renewed their memberships. In other news, it was noted that the Wilmington Greenberg Show will be held on March 23.
After some other discussions, the evening's show was Part II of Allen Tweddle's [mis-spelled in last month's newsletter] computer presentation of historical archive photographs - part II. First, we saw a motion picture from ~1968-1970. Then came more scans of old photos including Edgemoor in1972, a genuine Metroliner, as well as Safe Harbor, MD on the Port Road for a rail train and a wreck. There were views at Perryville, Havre de Grass, and Safe Harbor. We saw an E44 with piggybacks and a caboose. We also got to see the "fireless cooker" at Holtwood. Then there were many detailed photos on the scene of the wreck at Chase, MD on January 4, 1987. Just before we had to leave, we saw great shots of the B&O's EM-1s. A great show of reminders from long ago. We will have to wait until June for the next installment.
---
OTHER NEWS
Vice President Dave Watterson recently found out that former Chapter Member Ken Berg passed away last year. Ken had been a radioman aboard seagoing Coast Guard cutters and shore installations. In 1987, he became a dispatcher for the Maryland State Police. He recently moved to work as a Public-Safety Dispatcher at the Naval Base Kitsap, in Bremerton. He died November 28, 2012. His obituary stated, "He loved trains whether the ACELA, old fashioned narrow gauges or model, even testifying before Congress on railroad matters. His model train layout was an ever expanding project." [from http://www.legacy.com/obituaries/delawareonline ]
Treasurer Dave Warner kicked off this year's semi- official membership drive on board the Wilmington Chapter's TWENTIETH ANNIVERSARY - Super Saturday Streetcar Special XX by handing out some past issues of The Transfer Table with a flyer about the Chapter and an NRHS Membership form. He reported that, "They were a big hit" - so we might have some new faces at the next meeting!
---
from the EDITOR
The mail room staff finally got off their *** and caught up on some of the reading backlog. The ultimate result of that activity generally results in a larger-than-usual assortment of magazines, clippings, and exchange newsletters showing up at the next meeting. Just another reason to come to the next meeting - even if it is a little cold out. Also, if your New Year's resolution included clearing out some piles of railroad-related stuff in YOUR house, bring in along and watch the "FEF" (free exchange frenzy) !
---
DUES DUE
If you have already paid your 2013 dues, thank you. If you have not paid yet, there is a RED mark on your address label. It would be wonderful if you could send your check to our Treasurer as soon as you can.
David Warner
301 W. Lea Blvd
Wilmington DE 19802-1235.
---
NEWS BITS
Ace Staff Reporter and Vice President Dave Watterson has reported that the Ringling Brothers Circus Train (either the red or blue one) is due to depart 12-Feb. from South Carolina and should be unloading in the yard in Philadelphia on 13-Feb-2013.

The Surface Transportation Board announced 20-Dec- 2012 that it has approved the acquisition of RailAmerica, Inc. (RailAmerica), by Genesee & Wyoming Inc. (GWI), subject to conditions. In reaching its decision, the Board found that the proposed acquisition is unlikely to cause a substantial lessening of competition, create a monopoly, restrain interstate trade, or enhance market power. The operating plans currently governing each railroad involved in the transaction-including those at locations where a GWI railroad interconnects or interchanges with a RailAmerica railroad-would remain unchanged; all railroads would continue to operate and compete in their own local markets in the same way they do today. The Board's conclusion that the transaction would not adversely affect competition was reinforced by the agency's analysis of the comments that participating parties submitted to the public record. [STB announcement via Ed Thornton]

Gettysburg Railroad update for Fall 2012 by Mark Eyer - Editor/Historian, Central PA Chapter NRHS The Gettysburg Railroad which operates from Gettysburg to Mt Holly Springs, PA on the ex Reading RR Gettysburg Branch no longer operates excursion trains but is very busy with new freight customer's, and for the past 3 months has operated ex Algoma Central F9A # 1755 in freight service frequently on its daily train that departs from Gettysburg. The opportunity to see an F9A leading a shortline freight train is a treat, and with the Gettysburg Railroad's parent company, Pioneer Rail also operating F7A's on its Peoria & Western RR, this may continue. The Algoma Central F9's on the Gettysburg were originally planned for their excursion trains and were only used when one of the freight units were down for maintenance. This past fall, F9A 1755 was used on the daily freight throughout October and into November. Other engines on the Gettysburg include ex PRR GP9 # 107, ex PRR 7005 and ex Illinois Central GP 10 # 1001, the 107 was built in 1955 so it certainly is historic as well. If you wish to follow the Gettysburg some day, the best way to do so is to be in Gettysburg around 8 am at Mummasburg Road and wait for the train to depart along the battlefield. The Gettysburg RR interchanges with CSXT in Gettysburg, and Norfolk Southern in Mt Holly Springs, and is fortunate to have interchange by both Class I's. The train will work at Biglerville first with box car traffic for Inland Container. Before the train arrives at Inland, a neat location is the existing Reading Station in Biglerville at the PA 234 crossing. The next stop for work is the Mott's facility in Aspers, and there tank cars of corn sweetners is the primary traffic, and most of this traffic is from NS. The crew will then head north to Gardners and switch a transload facility that is very active, and which is based in the ex-Reading RR freight station in Gardners. The crew will switch out the transload and work cars on several sidings in Gardners. This generally occurs in the 10:30 am to 11:30 am timeframe. Following that work, the crew will "generally" continue north to Mt Holly Springs to interchange with NS on Monday/Wednesday/Friday's arriving there sometime around 12 noon or so. Below is Gettysburg 1755 just south of Mt Holly Springs, PA near Toland Mines with 12 cars for interchange to NS on October 12, 2012. The crew will drop any cars for NS on the north end of the NS Mt Holly Springs just south of the NS Lurgan Branch near CP Carl interlocking along Zion Road, and pick up any outbound cars and proceed back south usually within 30 minutes. They will usually work a storage track near Toland along PA route 34 going south of cars that are destined for Gardners and this track is also used to stage that traffic. The crew will again work at Gardners and Aspers going south as required dropping off any inbound NS cars. At Biglerville, the crew will pick up outbound empties for CSX and return to Gettysburg. On days the train runs to Mt Holly Springs, a return to Gettysburg can be as late as 4 pm. The southbound train has the best light for photography in the spring, fall and winter months and the tracks follow PA route 34 most of the way with several side roads offering excellent locations near Peach Glen, and Aspers. From Aspers to Biglerville, several side roads are used to follow the tracks, and a Pennsylvania Atlas with county roads is your best bet to follow the railroad. The Gettysburg Railroad has a speed limit of 25 mph making following the train very easy and enjoyable. During the summer months, excellent light is available on the morning run northbound in many locations. Below is a photo of the Gettysburg RR train switching the transload facility in Gardners, PA on October 12, 2012 with the original Reading Railroad freight station still being used. (Mark Eyer via The SUSQUEHANNOCK)

Building on the progress achieved during the past year, Amtrak is moving forward in 2013 with more upgrades to Lancaster Station including major work to rehabilitate the main waiting room by repairing the plaster walls and ceiling, repainting it with historic colors, restoring historic light fixtures and relocating the sprinkler pipe. Other station improvements planned for the coming year include repairing and repainting the foyer and the hallway near the restrooms, refinishing all remaining doors and doorways, and modifying the bus turning area from McGovern Avenue to provide easier access to the bus canopy located at the side entrance. "Since the start of the project a year ago, Amtrak and our partners have made significant progress and passengers will see more improvements underway this year," said Marilyn Jamison, Amtrak Senior Director, Major Projects and Partnerships. During 2012, 14 wooden benches that date back to the station's opening in 1929 were fully refurbished to their historic appearance. The stairwells leading from the platforms to the station concourse were repainted and the skylight that brings natural light into the main station concourse was cleaned and broken or missing panes of glass replaced. Also in the past year, the yellow warning strips that alert passengers of the platform edge were repaired and the platform canopies repainted. Three pairs of doors leading from the main waiting room to the bridge were refinished and repaired. In addition, the plaster walls and ceiling in the men and women restrooms have been repaired and repainted. Throughout it all Amtrak is consulting with federal and state agencies on the renovation and rehabilitation efforts to preserve the historic nature of the station while also improving accessibility for passengers with disabilities. To support the improvement project, the Lancaster Station Advisory Committee is keeping the lines of communication open between Amtrak, the Pennsylvania Department of Transportation and the Lancaster community. The Committee now includes local, state and federal representatives and elected officials all working together to make sure the project goals are achieved. Lancaster Station is the third busiest Amtrak station in the state and serves the Keystone Service (Harrisburg - Philadelphia - New York) and Pennsylvanian (Pittsburgh - Harrisburg - Philadelphia - New York). For fiscal year 2012 (ending September 30), 559,364 train passengers arrived or departed from the station, up 3.7 percent over the prior year. About Amtrak¨ Amtrak is America's Railroad¨, the nation's intercity passenger rail service and its high-speed rail operator. A record 31.2 million passengers traveled on Amtrak in FY 2012 on more than 300 daily trains - at speeds up to 150 mph (241 kph) - that connect 46 states, the District of Columbia and three Canadian Provinces. Amtrak operates intercity trains in partnership with 15 states and contracts with 13 commuter rail agencies to provide a variety of services. Enjoy the journey¨ at Amtrak.com or call 800- USA-RAIL for schedules, fares and more information. Join us on facebook.com/Amtrak and follow us at twitter.com/Amtrak. [AMTRAK Press Release via Ed Mayover]

February 1 marks the opening of "Grand by Design: A Centennial Celebration of Grand Central Terminal," a major new exhibition produced by the New York Transit Museum that showcases, in dramatic multimedia fashion, the history and impact of Grand Central in its first century (the exhibit will be open Feb. 1 from 8 a.m. to 3 p.m.). Filling Vanderbilt Hall with projections and larger-than-life photography, free-standing installations, authentic artifacts and digital docents-as well as new and historical audio and video-"Grand by Design" reveals how the iconic building shaped modern New York and still determines its future. The exhibit runs through March 15, 2013 A companion book, Grand Central Terminal: 100 Years of a New York Landmark, by New York Transit Museum staff and author Anthony W. Robins, will be published February 1. It traces the Terminal's history and design, showcasing public and hidden wonders from the well-trod Main Concourse to the massive power station hidden ten stories below ground. More than 200 photographs - some archival, some by retired Metro-North Railroad photographer Frank English - capture nearly every corner and major moment of the world's most famous railroad terminal. With an introduction by author and historian Tony Hiss, the book will be available at the "Grand by Design" exhibit store, the New York Transit Museum Gallery Annex and Store in the Terminal, and at numerous retailers. Retailers throughout Grand Central Terminal will participate in Centennial celebrations February 1, offering free giveaways and special deals to shoppers throughout the day, as well as select items sold at 1913 prices (i.e. five-cent cups of coffee). More details about these offers will be available at http://www.grandcentralterminal.com/ [Press Release via Ed Mayover]

MTA Metro-North Railroad, which operates the Terminal, has teamed up with Orpheo USA, one of the world's most experienced producers of audio tours, to give tourists, travelers and locals alike a history of the terminal filled with interesting details and insights. Orpheo's state-of-the-art audio device and headset comes with a map of the terminal for just $7 for adults, with discounts for seniors and the disabled at $6, and students and children at $5. THE AUDIO TOUR IS AVAILABLE SEVEN DAYS A WEEK (CLOSED ONLY ON THANKSGIVING DAY AND CHRISTMAS DAY) AT SPECIALLY-MARKED "GCT TOUR" WINDOWS ON THE MAIN CONCOURSE. HOURS ARE 9 A.M. TO 6 P.M., BUT MAY BE EXTENDED DURING THE HOLIDAYS. The tour focuses not only on the architectural highlights of the Terminal but provides a real story about little known secrets, anecdotes, archival material and the History of the Terminal, with a capital H. Visitors will not see Grand Central with the same eyes after taking the tour. The tour also has an introduction by New York City's own mayor, Michael Bloomberg. Listeners can take the "local" or "express" tour. And if visitors are interested in more in-depth information, there are options for additional material at the push of a button. The self-guided tour can last as little as 30 minutes to just over an hour. http://www.grandcentralterminal.com/info/tours

Norfolk Southern opened its third Crescent Corridor intermodal facility, a new $97 million terminal in South Central Pennsylvania that advances the company's multi- state rail infrastructure initiative connecting the Southeast and the Northeast. The Franklin County Regional Intermodal Facility, located on 200 acres south of Greencastle and less than a mile from I-81, will connect Central Pennsylvania, Western Maryland, and Northern Virginia to domestic and world markets while creating some 126 jobs at the site. The facility, a public-private partnership involving $52 million in NS funds and supported by a $45 million investment by Pennsylvania, is part of railroad's Crescent Corridor series of projects, a 2,500-mile network of rail and terminals that helps moderate truck traffic on congested roadways and reduce carbon emissions. The new terminal, with its 670 paved trailer/container parking spots, will be a major gateway for freight in the Mid- Atlantic. NS projects with this facility, combined with other NS terminals in the state, as many as 800,000 long-haul trucks in Pennsylvania will be diverted off roadways in the commonwealth and onto trains by 2020. Pennsylvania has long backed NS' efforts to expand intermodal opportunities in the commonwealth. In addition to the $45 million for the new Franklin County facility, Pennsylvania also has provided or pledged a total of $30 million for expanded operations at NS' Harrisburg and Rutherford intermodal terminals. Additionally, the commonwealth successfully applied for a $15 million USDOT TIGER grant to further support the Rutherford expansion project. NS constructed the facility's administration building to meet Leadership in Energy and Environmental Design (LEED) certification standards. The railroad is incorporating low-emission cranes and hostler tractors as well as the latest gate and terminal automation in order to maintain air quality and support truck drivers. The Franklin County Regional Intermodal Facility is the third Crescent Corridor intermodal terminal NS has opened since mid-2012, with facilities in Birmingham, Ala., and Memphis, Tenn., having started operations within the past six months. Construction of a fourth Crescent Corridor-related intermodal terminal, located in Charlotte, N.C. is underway. [NS Press Release]

NJ Transit commuter rail services took over operation of all commuter rail service in New Jersey from Conrail on January 1, 1983 = 30 years ago. NJ Transit is now the largest statewide public transportation system in the US providing more than 895,000 weekday trips on three light rail lines, 12 commuter rail lines, and 261 bus routes. [TRAINS News Wire via Ed Mayover]
---
Amtrak Brakes - Past, Present and Future from the collection of Ed Thornton
Parts I & II Intro & "Past" (appeared in the January 2013 issue of The Transfer Table) Part III covers the "Present" Locomotives (AMTRAK circa 1980)
III. THE PRESENT - What We Have
1. OLD EQUIPMENT
a. LOCOMOTIVES -
Not all of the equipment described above is still in service or even on the roster, for that matter. For instance, six of Amtrak's 40 GG1 electric locomotives have been retired. The roster is down to 34 of which only 29 are in service. Eventually, within a year or two, these also will be replaced. No more changes have been made in the brake equipment.

Of the old diesels, only 80 are still on the roster, and only 24 are still in service. The quantities are respectively: for E-8's 15 and 11, for E-9's (including rebuilt E-8's) 56 and 7, for FP-7's 2 and 0, and for FL-9's 7 and 6 which are either in service or being rehabilitated - four with head-end power. Again, no basic change has been made in brake equipment.

b. CARS -
As of June 1980, the car roster has decreased to 1,416 cars owned of which 973 cars are active. Of these active cars, approximately 300 are equipped to operate in "head-end power" trains. The conventional cars are predominantly equipped with D- 22 brake equipment with less that 100 cars having 26-c equipment. Approximately 800 of these cars on the roster have disc brakes. Of the cars that have disc brakes, we are converting all "C" frame mounted units (CFM) to truck frame mounted (TFM) as the cars go through the head,-end power (HEP) car conversion program. At the same time slip-slide devices are being changed to WABCO's new E-5. It is anticipated that most of the cars on the roster will go through the HEP car conversion program.

The balance of the cars have tread brakes, either clasp of single shoe, and use composition brake shoes. None of our cars are supposed to be using cast iron brake shoes.

At this point, although it has nothing to do with brakes, it might be appropriate to expand a little on the HEP or head-end power car conversion program. Head-end power means that heating, air-conditioning, diner kitchen and all the accessories are operated by electricity which is supplied by the locomotive - thus "head-end power. Power could be supplied by an auxiliary power car. All of our new equipment is head-end power and we are as quickly as possible converting much of our conventional car fleet. By the end of 1980, our total HEP ownership should exceed 1,000 cars of old and new equipment.

c. TRAINS -
With regard to "trains": the old Turbo-Trains, as previously mentioned, are stored in Philadelphia with no further use on Amtrak contemplated. Secondly, the Metroliners have 34 rehabilitated and 27 unreworked cars, as mentioned. There have been no major changed in the RT-5B brake equipment. Early in 1980, there were eleven RDC's active, all operated out of New Haven. They are being replaced by SPV-2000's, but many will continue to see service under lease to the Connecticut Department of Transportation.
2. NEW LOCOMOTIVES
Since its inception, Amtrak has purchased 328 new locomotives plus the conversion and rebuilding of 79 of those with four or more rebuilds on order. The breakdown is shown in Table III.
TABLE III - LOCOMOTIVES
| | | | | | |
| --- | --- | --- | --- | --- | --- |
| TYPE | PURCHASED | DELIVERED | REBUILT | DESTROYED | ON-HAND |
| SDP-40-F | 150 | 150 | -79* | 4** | 67 |
| P-30-CH | 25 | 25 | 0 | 2 | 23 |
| E-60-C | 26 | 26 | 0 | 0 | 26 |
| F-40-PH | 78 | 50 | +79 | 0 | 129 |
| AEM-7 | 47 | 3 | 0 | 0 | 3 |
| LRC | 2 | 2 | 0 | 0 | 2 |
| TOTAL | 328 | 256 | 79 | 6 | 250 |
*SDP-40-F's were rebuilt as F-40.PH's
**Four wrecks to be rebuilt as F-40-PH's
Each of the above types of locomotives will be discussed separately.
a. SDP-40-F -
Beginning 1973, Amtrak received its first new locomotives, 150 SDP-40-F's from EMD. These are 6 wheel truck locomotives with all axles powered. All 150 units had steam boilers. They were somewhat similar to a design EMD had made for the Santa Fe so there were no innovations with regards to the brake equipment as the units were delivered. They weighed 396,000 lbs.

During their service, a problem developed with freezing in the brake equipment. One solution was to add additional main reservoir capacity from 49,000 cubic inches to over 60,000 cubic inches. At the same time, we tested Salem and WABCO air dryers on two units. These systems worked very well after some preliminary problems with regeneration timing and freezing of the drain valve.

The brake equipment is 26-L brake schedule including self-lapping independent and standard 26-F control valve portions. Dynamic brake is included. A two stage, three cylinder, water cooled, direct coupled are compressor displacing 254 cubic feet per minute at 900 rpm is used. The foundation rigging provides one composition brake shoe per wheel with two shoes operating from one brake cylinder; and one brake shoe from another brake cylinder on each side of each truck.

b. E-60-CP -
In 1975, Amtrak began receiving 26 electric locomotives, of 6,000 nominal horse power, designated E-60-CP built be General Electric. Of these, 20 were equipped for head-end power and weighing 366,000 lbs. Six were steam boilered weighing 387,000. They were immediately put to work in the Northeast Corridor between Washington, New York and New Haven.

Any one of the six steam equipped E-60's could haul a train that would require two GG1's, which have been downgraded by age. As a result, they usually haul the Washington-New York legs of the trains to and from the South.

The twenty E-60's equipped with head-end power are also used to haul the Amfleet trains on the electrified portion of the Corridor between Washington and New Haven.

The E-60's are equipped with 26-L Brake schedule including dynamic brake, self-lapping independent and special 26-F control valve. The equipment includes WABCO's CS-1 electro-pneumatic interface units to provide electrically train-lined brake application and release signals. This, of course, requires cars equipped with compatible brake equipment. This system is not an electric brake system, but merely an electrical overlay on a 26-C pneumatic system.

The E-60's also include an automatic combination of pneumatic and dynamic braking called blended braking provided through the use of a New York Air Brake Blending valve. This occurs when the throttle is in idle, and the automatic brake valve handle is applied. This device and its operation was described in a paper presented to this association at the Annual meeting on October 3, 1978 by the Central Air Brake Club. Dynamic braking is also available separately. The foundation rigging consists of one composition brake shoe per wheel. Each side of each truck has one brake cylinder applying two brake shoes and another brake cylinder applying one brake shoe.

c. P-30-CH -
The P-30-CH locomotives were obtained in 1975 and were the first new diesels received with head-end power. The "P" stands for passenger, the "30" for 3,000 horse power, the "C" for the three powered axle truck, and the "H" for HEP. Twenty five units of this type were purchased and immediately put to use hauling Amfleet cars because of the HEP. Their territory was the balance of the country other than the Northeast Corridor. They weigh 386,000 lbs.

These units are equipped with 26-L brake schedule including dynamic brake, self-lapping independent and 26-F control valve. The equipment includes New York Air Brake's GSX-3 electric assist interface to electrically control electro-pneumatic braking of properly equipped trailing cars.

Also included is blended braking provided by New York Air Brake's blending valve which gives an automatic combination of pneumatic and dynamic braking. The foundation rigging consists of one composition brake shoe per wheel. Each side of each truck has one brake cylinder applying two brake shoes and another cylinder applying one brake shoe.

d. F-40-PH -
The first of the F-40-PH's were built in 1976. The units were completely new. There were thirty in the first order, and ten each in two later orders for a total of 50 new units received. There are 28 more new units now on order and still to be delivered this year. In addition to the new units, Amtrak has returned 79 SDP-40-F's to EMD to be rebuilt into F-40-PH's and four more SDP-40-F's that have been wrecked are being returned for rebuilding this year. At the end of 1980, Amtrak should have 161 of these units weighing approximately 262,000 lbs.

These are being used all over the country to haul HEP cars such as Amfleet, Superliners and the recently rehabilitated cars for the Broadway and the Lake Shore Limiteds They run in the San Diego-Los Angeles Corridor and the Boston-New Haven portion of the Northeast Corridor. They haul all the East and Midwest trains. They run as the lead unit on the New York-New Orleans Crescent, the steam being provided by the trailing E-units. They operate the Chicago-Seattle Empire Builder and Los Angeles- Ogden Desert Wind as well as the Ogden-Seattle Pioneer. These are just some of the assignments this versatile locomotive is handling.

The brakes on the F-40-PH are 26-L brake schedule including self-lapping independent and standard 25-Fcontrol valve. The main reservoirs provide a capacity of 49,000 cubic inches on the first 30 of these units, but all following units have a main reservoir capacity of 60,000 cubic inches. Approximately half the F-40-PH's have a Salem desiccant air dryer. Most units are equipped with electrically heated, automatic drain valves that are timer actuated.

The units have dynamic brake which allows blended brake. This blended brake is EMD's offering which is electronic in operation providing control of both automatic air and dynamic by-use of the automatic brake handle. Proper set up is required for operation. For instance, the blended brake switch must be "on" and the throttle must be in "idle". The blended brake is an excellent addition to the locomotive's brake rate upward to approach the performance of the cars it is hauling.

The F-40-PH is equipped with WABCO's CS-1 interface unit to provide electrically train-lined brake application and release signals to properly equipped trailing cars.

The first 30 units were equipped with a two stage, six cylinder, water cooled air compressor having a displacement of 401 cubic feet per minute at 900 RPM. This compressor was required for the flow capacity, but because of a torsional vibration problem. On all following F-40-PH units, the use of controls eliminated the need for the large compressor and a smaller one was substituted. The air compressor used now is a two stage, three cylinder, water cooled unit displacing 254 cubic feet per minute at 900 RPM.

The foundation brake rigging consists of one brake cylinder on each side of each truck. Each brake cylinder is connected by levers to two brakes, one per wheel.

e. AEM-7 -
This is a lightweight (201,500 lbs.) nominal 7,000 HP , electric locomotive to replace the GG-1 and, on shorter trains, the E-60. In 1976 and 1977, Amtrak tested a Swedish ASEA RC-4a locomotive. As successful bidder to subsequent Amtrak specifications, EMD designed and built the higher horse power, higher performance version which was designated AEM-7. Amtrak has received three of these locomotives as of June and 44 more are on order. The first on the three has gone to Pueblo for extensive testing by the FRA, the second is in revenue service and the third is being acceptance tested.

The brake schedule is 26 LIC/CS-1 which consists of the 30-CDW brake valve and a new control equipment brake rack with a 30- CW module, a 26-F control valve and all the major air brake devices mounted on the rack. The independent brake has the "bail- off" feature rendered inoperative to prevent "power braking".

The 30CDW is placed on a desk console with the other controls. Description and pictures of the device and its operation are in a paper presented to this association at the Annual Technical Conference in September 1979 by F. R. Yeager of the Westinghouse Air Brake Division. The 30-CDW brake valve features fore and aft motion of both the automatic and self lapping independent handles. Dynamic brake allows the use of EMD's blended brake. The CS-1 electro-pneumatic interface unit provides electro- pneumatic operation if the cars are compatible.

The Gardner Denver rotary air compressor is powered by a 35 HP, 1,200 rpm motor. It displaces 135 cubic feet per minute at 140 psi. Thus, although the capacity is relatively small, its operation at full speed when in use supplies sufficient air. The main reservoir air capacity is 60,000 cubic inches.

The foundation brake is unusual for this country. It consists of two discs, one mounted on each side of the outer portion of the plate of the 51.2 inch diameter wheel. A pair of tongs brings two brake pads in contact with the discs. This is called a "cheek" disc. There is also a single cast iron brake shoe applied to the tread of each wheel. The tread brake does approximately 15% of the braking excluding dynamic braking. The main purpose of the tread brake is wheel cleaning as is shown by the fact that wheel temperatures do not exceed 300 degrees F under any conditions.

This type of brake, in its entirety, has provided this locomotive with the finest locomotive brake in this country, in our opinion. The full service brake, air only, stopping distance from 120 mph is under 6,400 feet and using blended brake is under 5,900 feet. These stop distances for locomotive only are better than the locomotive and seven cars.

f. LRC -
Amtrak is leasing two LRC trains. One has been delivered. The other is back at the manufacturer's plant since it ran into a truck during its testing. It should be delivered by the time this paper is presented.

We are including the two LRC locomotives in the locomotive category because they can be separated from the LRC cars and run with other equipment. It is not necessary that they stay together as trains.

These locomotives will be tested and if accepted, will be put in service. However, it is not definitely known where. It will probably be in some territory with many curves because the cars have active banking suspension.

The brake equipment on the LRC locomotive is 26-L with the 30CDW brake valve, self lapping independent and 30-CW module. The 30-CDW brake valve is desk console mounted. The unit has dynamic brake and blended brake is provided by a WABCO Servotrol blending unit. This locomotive not only has the CS-1 interface unit but is equipped with electro-pneumatic magnet valves. The "bail-off" feature is inoperative on this locomotive also.

Other details include 60,000 cubic inches of main reservoir supplied by a WABCO two stage, three cylinder air cooled unit called 3CDCBL. The air dryer is WABCO's D2A model. The foundation rigging is one tread brake per wheel also by WABCO. Their weight is approximately 250,000. Part IV will cover the "Present" Cars (AMTRAK circa 1980)
---
SCHEDULE NOTES
Notices, announcements, schedules, etc. are provided here as a service to the members. The Chapter has no affiliation with any commercial operation, museum, or tourist line.
Until April 19, 2013 Frank Furness: Working on the Railroads Library Company of Philadelphia, 1314 Locust Street, Philadelphia, PA 19107 (215) 546-3181, Free and open to the public
Until May 30, 2015 Civil War 150th Anniversary: The War Came By Train@ B&O RR Museum in Baltimore. Monday - Saturday (10:00 a.m. - 4:00 p.m.), Sunday (11:00 a.m. - 4:00 p.m.) Between April 19, 1861 (The Baltimore Riot of 1861) and April 21, 1865 (Lincoln's funeral train leaving Baltimore for Illinois), the B&O stood witness and participant in the greatest conflict the U.S. has ever faced and changed the course of American history. The War Came By Train serves as the B&O Railroad Museum's primary attraction for the five year commemoration of the War's sesquicentennial. The National Landmark Roundhouse will exhibit the largest assemblage of Civil War railroad equipment in the world featuring locomotives and rail cars that served during the war, significant military and personal artifacts that will change annually to portray each year of the war (some artifacts never before on public display), and a narrated train ride to the original site of Camp Carroll, the largest Union encampment in Baltimore.
GRAND CENTRAL CENTENNIAL EVENTS from http://www.mta.info/gct/gct_events_list.html
March 6, 2013 - July 7, 2013 On Time / Grand Central at 100. New York Transit Museum Gallery Annex & Store at Grand Central - To celebrate Grand Central's 100th birthday, MTA Arts for Transit and Urban Design will present an exhibition featuring the work of more than a dozen contemporary artists who capture and reimagine moments in Grand Central Terminal - the site of the beginning and end of countless journeys for millions of travelers over the past century - and connect them with the present. This is an exhibition about Time and about the people who move and live through it, who are connected to the past and future through their experience in this iconic, romantic place. Presented by MTA Arts for Transit and the New York Transit Museum.

April 10, 2013, 7 PM Keeping Time/ Poets and Musicians Honor Grand Central Vanderbilt Hall, Grand Central Terminal - Billy Collins, Aracelis Girmay, and Jeffrey Yang, among others poets featured in the newly re-launched Poetry in Motion program join performers from Music Under New York for an evening performance honoring Grand Central Terminal in its centennial year. During its 100 year history, Grand Central's vaulted main concourse has served as a glorious stage for the pageant of daily lives, with the clock at its center, bearing witness to countless moments and stories over time. Join us as we celebrate this magnificent building - its architecture, crowds, iconography, and poetics - by keeping time with its grand narrative. Presented by MTA Arts for Transit and the Poetry Society of America.

April 11, 2013 Grand Central Talks Vanderbilt Hall, Grand Central Terminal - A series of panels exploring the history and heroes of Grand Central Terminal.

May 11 - 12, 2013 Grand Centennial Parade of Trains Historic Trains come back to the Terminal for a weekend filled with kid- friendly family fun, performances, and a show of "railroadiana" for avid collectors. More details will be announced as they become available.

July 27, 2013-November 3, 2013 The Next Level: Photographs by Hiroyuki Suzuki New York Transit Museum Gallery Annex & Store at Grand Central - The future of how New Yorkers will travel over the next decades is happening at Grand Central Terminal - 18 stories beneath our feet. Join us for a behind-the-scenes look at the East Side Access project with captivating images by photographer Hiroyuki Suzuki. Presented by the New York Transit Museum.
Saturday & Sunday, Feb. 23-24, 2013 Spring Thaw Train Meet Sat. 9AM-4PM, Sun 9AM-3PM, $7, Allentown Fairgrounds Agricultural Hall, 302 N. 17th St., Allentown, PA 18104
Sunday, March 17, 2013 Gilbertsville Toy Train Show 8:30 AM-1:30 PM, Gilbertsville Fire House, 1454 E. Philadelphia Ave. Gilbertsville, PA admission $3
Sat-Sun-March 23-24, 2013 Greenberg's Train & Toy Show 10AM-4PM, Wilmington, DE, Chase Center on the Riverfront, operating train layouts and slot cars
Sat-Sun-March 23-24 & Sat - March 30 West Chester Railroad EASTER BUNNY EXPRESS Hop Aboard for a Ride with the Easter Bunny to Glen Mills and Back-All Children Receive a Special Treat Featuring live musicians Trains Depart Market Street Station at 12:00 pm and 2:00 pm Adult: $22.00 Children (ages 2-12 yrs) $16.00
Sunday, April 7, 2013 Leesport Farmers Market Train Meet 9 AM-2 PM, Reading Company Technical & Historical Society, Farmers Market, Leesport, PA admission $4
Saturday & Sunday, April 13-14, 2013 Great Scale Train Show Sat. 9AM-4PM, Sun 10AM-4PM, $9, State Fairgrounds, Timonium, MD
Sun-May 12 West Chester Railroad MOTHER'S DAY EXPRESS Take Mom for a Scenic Spring Train Ride from West Chester to Glen Mills and Back Trains Depart Market Street Station at 12:00 pm and 2:00 pm Special Rate for Mom: $5.00 Adult: $15.00 Children (ages 2-12 yrs) $13.00 Toddlers ride free!
Sun-May 26 West Chester Railroad MEMORIAL DAY SPECIAL Trains Depart Market Street Station at 12:00 pm and 2:00 pm Adult: $15.00 Children (ages 2-12 yrs) $13.00 Toddlers ride free!
Sunday, June 2, 2013 Hamburg Dutch Train Meet 9 AM-1:00 PM, Hamburg Fire Co. Field House, Pine St. Hamburg, PA
Sundays June 2 through Sept. 22 West Chester Railroad SUMMER SUN PICNIC SPECIALS Pack a Lunch and Enjoy our Picnic Grove at Glen Mills with Family and Friends. Trains Depart Market Street Station at 12:00 PM only. Adult: $15.00 Children (ages 2-12 yrs) $13.00 Toddlers ride free!
Sun-June 16 West Chester Railroad FATHER'S DAY EXPRESS Take Dad for a Scenic Spring Train Ride from West Chester to Glen Mills and Back Trains Depart Market Street Station at 12:00pm and 2:00pm Special Rate for Dad: $5.00 Adult: $15.00 Children (ages 2-12 yrs) $13.00 Toddlers ride free!
Saturday & Sunday, June 22-23, 2013 Great Scale Train Show Sat. 9AM-4PM, Sun 10AM-4PM, $9, State Fairgrounds, Timonium, MD
Saturday & Sunday, July 20-21, 2013 MODEL TRAIN and RAILROAD SHOW Sat. 9AM-4PM, Sun 9AM-1PM, WILLIAMS GROVE HISTORICAL STEAM ENGINE ASSOCIATION, Williams Grove, PA, Steam train rides, model train display, stands with collector items to purchase, Directions: Rt. 15 to Rt. 74, Rt. 74N 1.2 miles to Williams Grove Rd.
Sunday, July 28, 2013 Hamburg Dutch Train Meet 9 AM-1:00 PM, Hamburg Fire Co. Field House, Pine St. Hamburg, PA
Sunday, Sept. 15, 2013 Gilbertsville Toy Train Show 8:30 AM-1:30 PM, Gilbertsville Fire House, 1454 E. Philadelphia Ave. Gilbertsville, PA admission $3
Saturday & Sunday, Oct. 26-27, 2013 Great Scale Train Show Sat. 9AM-4PM, Sun 10AM-4PM, $9, State Fairgrounds, Timonium, MD
---
CHAPTER EVENTS
Thursday Feb. 21, 2013 7 PM Chapter Meeting program by a Frank Ferguson program entitled "2012 Part 1"
Thursday March 21, 2013 7 PM Chapter Meeting program by a Frank Ferguson program entitled "2012 Part 2"
Thursday April 18, 2013 7 PM Chapter Meeting program by an Mike Burkhart program entitled "Various Travels"
Thursday May 16, 2013 7 PM Chapter Meeting program by Special Guest Kermit Geary, Jr.
Thursday June 20, 2013 7 PM Chapter Meeting program by Allen Tweddle "More From the Archives Continued Part III"
Thursday July 18, 2013 7 PM Chapter Meeting program by Someone
Thursday August 15, 2013 7 PM Something or Other in lieu of normal monthly meeting
Thursday Sept. 19, 2013 7 PM Chapter Meeting program by Another Someone
Thursday Oct. 17, 2013 7 PM Chapter Meeting program by Son of Someone
Thursday Nov. 21, 2013 7 PM Chapter Meeting program by Grandson of Someone
Sunday Dec. 8 ?, 2013 5 PM Annual Holiday Dinner in lieu of normal monthly meeting program probably by Steve Barry
The Wilmington Chapter of the National Railway Historical Society (NRHS) meets at 7:00 PM on the third Thursday of each month [except August & December] in the Darley Room at the Claymont Community Center on Green Street in Claymont, Delaware. Visitors are always welcome. Admission to regular meetings is free. Check out our Website (thanks to Russ Fox) at: http://www.WilmingtonNRHS.com
---
The Transfer Table is published six to ten times per year as the newsletter of the Wilmington Chapter of the National Railway Historical Society. Items in this publication do not represent the official position of either Officers or Members of the Wilmington Chapter or the Editor of this publication.
Permission to reprint articles and news items appearing herein is granted to NRHS Chapters and other newsletters provided appropriate credit is given.
Contributions are always welcome and should be sent to the editor at SD40GMA@aol.com or send to: P.O. Box 1136, Hockessin, DE 19707-5136.
Deadline for entries is the 25th of the month.
Chapter Officers
President: Mike Burkhart
Vice President: Dave Watterson
Treasurer: Dave Warner
Secretary: Dan Frederick
National Director: Tom Posatko
Trip Director Steve Barry
Editor: Greg Ajamian
Web Master: Russ Fox