NOTE: The Lite Version is our electronic version which is available for free from this web site. It has limited content but gives you a taste of what is offered in our Full Version.
The Full Version is our printed newsletter which is mailed to you. It contains everything in the Lite Version along with many other reprinted pages from other NRHS newsletters, railroad publications, and flyers that contain photographs, drawings, and maps. The full version is just another benefit of joining our chapter.
THE TRANSFER TABLE
The Wilmington Chapter NRHS Official Newsletter
Internet Edition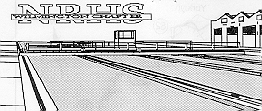 | | |
| --- | --- |
| VOLUME 36 NUMBER 04 | APRIL 2013 |
Back To Wilmington Chapter Web Site
MARCH MEETING MINUTES
President Mike Burkhart called the Wilmington Chapter NRHS to order at 7:01 p.m. on March 21 at the Claymont Community Center. The minutes from the February meeting were approved with one correction - Frank is still shooting slides, not digital. The treasurer's report was read by David Warner for $7015.30 and approved.
It was noted that we still are looking for dues from five members for 2013. In other news, the Chapter will not be able to do a trip on the Maryland & Delaware this year, largely for insurance reasons. The Chapter will take a look at partnering with another society and take a look at doing this in the future. On another trip front, we are speaking with Delaware Coast Line about a trip from Georgetown to Lewes sometime this summer.
Frank Ferguson presented Part 2 of his 2012 show. He started in Ashland, Va. He started the show as he headed to Spencer for the big Norfolk Southern 30th anniversary display. We saw the 20 heritage locomotives around the turntable, where photographers vied for position. Several historic locomotives were on display, including Southern high hood GP30, FP7 passenger cabs, "original" Norfolk Southern Baldwin 1616 and Southern "Crescent" E8. Next stop was Thomasville, NC, the "furniture capital of the world" for North Carolina DOT and Norfolk Southern freights.
A night photo session was held the same day at Spencer, featuring various locomotives under flood lights. The next day - July 4 - featured roster shots of all the locomotives in an open field at the old Southern shops, and another night session.
We saw before and after shots of the overpass construction in Lebanon, Pa. along the NS Harrisburg Line. The overpasses have also opened up some new shots that weren't available before. He also had shots of Middletown & Hummelstown, Strasburg.
Frank also shot CSX, Septa, NJ Transit, NS and Amtrak around Newark, Baltimore, Chase, Trenton, Morrisville and Fleetwood. Also seen were the new crude oil trains to Delaware City, leasers, geometry train and East Penn at Wilsmere, a work train at Newark, and the final days of CPL signals at Baltimore.
Another trip was Downstate for NS, as well as the gun off USS Missouri headed to display at Lewes. He also chased the NS "Pennsy" heritage unit to Strasburg, a "hopper jet" excursion and night photos on the Reading & Northern. We saw night shots in Altoona, as well as a day on the Middle Division.
Another heritage unit on the road was the Wabash unit in Clayton, Del., and Nickel Plate 765 on employee trips at Harrisburg. Frank spent a day in the Scranton area chasing the PT-98 Delaware-Lackawanna train with two Alco RS3s, and freshly-painted Susquehanna SD60s between Syracuse and Binghamton. We saw night shots at SMS in New Jersey, Black River & Western number 60 in Flemington, NJ, Maryland & Delaware, and much, much more. We finished up on a trip to Florida in February 2012 with First Coast; Florida Northern; Auto Train; Tavares & Eustice Gulf; and Florida East Coast. Frank always gives a good show, and this was no exception. Respectfully submitted, Mike Burkhart.
---
From The Editor
Do you want anything different? The Editorial Staff is looking for constructive comments about any changes that the Chapter Members would like to see in future newsletters. Are you OK with the current "EMM" (Eclectic Miscellaneous Mix) or would you like to see more current stuff? more historical stuff? or the always popular, "other?" (please specify)
---
NEWS BITS
On Thursday, March 14, 2013 - Mr. Linn Moedinger, President of the Strasburg Rail Road Company, Railroad Museum of Long Island President, Don Fisher and Vice President and Counsel Dennis DeAngelis, signed an agreement to restore and OPERATE the LIRR G5s Steam Locomotive #39!
RMLI's Board of Trustees voted unanimously on Tuesday, March 12, 2013 to partner with the Strasburg Rail Road Company. The agreement culminates five and one half months of talks and negotiations between the two principals.Terms of the contract provide for the Railroad Museum of Long Island to raise $900,000.00 in FY 2013 and transport the G5s locomotive to the Strasburg property, the Strasburg Rail Road will add $1,086,861.00 to the project, complete restoration of the steam engine in three years and then operate the locomotive on their property for a period of forty-eight years.

Fisher stated that "this partnership is the best way to get the locomotive restored and into operation. After thirty three-years of trying, New Yorkers and others living in the Pennsylvania Railroad region may finally ride behind this historic steam engine. We need to complete this project with a grass- roots effort. I believe the interest and support for restoring this locomotive will be there."The Railroad Museum of Long Island officially begins efforts to raise $1,000,000.00 for the move and restoration of the locomotive today. Tax-deductible donations may be made to "RMLI Engine 39" at P.O. Box 726, Greenport NY 11944-0726.

The Railroad Museum of Long Island (the Museum), was founded in 1990. The Museum is chartered by the Board of Regents of the State of New York, and is an IRS 501(c)3 non profit organization. The Museum is run by a Board of Trustees made up of members throughout Long Island. The goal of the Museum is to preserve and display Long Island's railroad heritage. All of the work of the Museum is done by volunteers. The Museum operates two locations; Greenport, NY at 440 Fourth Street by the tracks and Riverhead, NY at 416 Griffing Avenue just north of the tracks. [Press Release]
On Saturday, May 11, 2013, Amtrak will join communities across America to celebrate the importance of trains to their town at the sixth annual National Train Day. More than 200 communities are expected to host events at local train stations, railroad museums and other locations commemorating this year's theme "trains matter.""National Train Day invites communities big and small to share the importance of trains as a vital transportation option and engine of economic development and employment," said Amtrak Chief Marketing & Sales Officer Matt Hardison.
In addition to events in Philadelphia, Washington, D.C., Chicago and Los Angeles, Amtrak is expanding its efforts to support events in many local markets across the country served by America's Railroad¨. Event offerings will vary to include train equipment displays, family-friendly activities and local dignitaries.

Details on National Train Day events and information on how to host a National Train Day event is available at NationalTrainDay.com. Additional events and information will be added to the website frequently.
Phil Snyder reported at the March meeting that a robot was brought to the Wilmington Train station on that same day to investigate a "suspicious package."

Dave Watterson reported later in the month that Dwight Eisenhower's ten-car funeral train was designated "MAIN 200" when it left Washington, DC on March 31, 1969 for Abilene, KS. The route was mostly on the C&O [DC, Charlottesville, Cincinnati, St. Louis, Abiline].

In its FY 2014 funding request to Congress, Amtrak is emphasizing the need for more federal capital investment to improve and expand intercity passenger rail while requesting significantly less in federal operating support.
Boardman explained Amtrak ridership, revenue, on-time performance and other leading indicators are at record levels or improving. Since 2010, for every dollar of federal investment, America's Railroad¨ has placed nearly $3 back into the economy. These achievements, he said, provide "tangible evidence of the public benefit federal investment in Amtrak delivers to the taxpayer, the traveling public and the American economy."

He stressed that since the federal government established Amtrak as the foundation of a national intercity passenger rail system, the modernizing and maintaining of that system is a significant federal responsibility, including the operation of long-distance routes.

For FY 2014, Amtrak is seeking $373 million in federal operating support or about 17 percent less than it requested in FY 2013. This is made possible by an improved financial position where last fiscal year Amtrak covered 88 percent of its operating costs with ticket sales and other non-federal revenue sources, up from 85 percent the prior year. In addition, if current service levels are maintained, Amtrak's state revenues in FY 2014 should increase by approximately $85 million as Amtrak and the states implement a Congressional requirement on cost allocation for short-distance routes.

Also for FY 2014, Amtrak is requesting $2.065 billion in federal capital support to: maintain the Northeast Corridor and other Amtrak-owned or maintained infrastructure and equipment; advance the Gateway Program to expand track, tunnel and station capacity between Newark, N.J., and New York Penn Station; acquire new equipment; and improve accessibility for passengers with disabilities. Amtrak is also requesting $212 million for debt service. Boardman noted that some of the growth experienced by Amtrak today is the result of federal capital investments made 15 to 20 years ago such as the Acela Express high-speed rail program and service quality and reliability improvements. He also said the federal funding provided over the past decade to improve the resilience of the Amtrak tunnels and other infrastructure in the New York area proved vital to reduce the recovery period and provide faster restoration of intercity and commuter rail service following Superstorm Sandy. "In recognition that the Amtrak network is a national asset operated on behalf of the federal government, the highest imperative of passenger rail legislation should be to provide dedicated, multi-year operating and capital funding to support existing intercity passenger rail services and assets, and the development of new ones," Boardman stated. He further explained that if Congress acted to provide the needed capital funds it will greatly increase Amtrak's ability to efficiently and effectively deliver the services it provides while helping to sustain the partnerships that can lead to the improvement and expansion of high- speed and intercity passenger rail service in key corridors across the United States. [AMTRAK Press Release]
---
Amtrak Brakes - Past, Present and Future from the collection of Ed Thornton
Chapter Member Ed Thornton has, in his collection, a copy of a paper that was presented at The Air Brake Association Annual Meeting on 24 September 1980. The presentation was made by George M. Cabble and Ross D. Higginbotham, then working in the Mechanical Department of Amtrak.
As you read this presentation, remember that Amtrak was only nine years old when it was presented. Another thirty plus years have passed since! In that time, note how even the "Future" has become history.
Parts I & II Intro & "Past" (appeared in the January 2013 issue of The Transfer Table)
Part III covers the "Present" (AMTRAK circa 1980)
(Sub Sections 1 & 2 appeared in the February 2013 issue of The Transfer Table)
(Sub Sections 3 & 4 appeared in the March 2013 issue of The Transfer Table)
IV. THE FUTURE - What We May Specify
Prognostication of future brake equipments can only be based on the facts we have now and the desire we have for certain general sets of operation. Hopefully, these desires are not impractical. Certainly, we wish to increase simplicity, reduce maintenance costs and improve reliability. None of these, however, can come at the cost of safety. On these fundamentals, we base the ideas that may go into our future specifications.
1. LOCOMOTIVES
If we turn first to the engineman's controls, we lean toward the desk console such as we have in several of our types of equipment. This leads, in turn, to a single control for both power and brake. We believe this is practical for passenger locomotives if we eliminate the capability for power braking. We know that the draft gear and coupler tightness of our new equipment does not require power braking. We have more testing to do on old conventional equipment.

One step short of single control is the 30-CDW brake valve and the 30-CW module. We like the trend toward the wider use of modules in all brake equipment. This arrangement has the advantage of conversion to eliminating "bail-off" if we prove power braking is not necessary.

The 30-CDW type of control is simple and well adapted to desk console management. This in conjunction with "dial in" speed control is a desirable package. In both the single lever and vertical brake lever arrangements, provision for independent dynamic brake has to be included.

These arrangements lend themselves to one of our most valuable recent advances - blended brake. In line with the use of dynamic brake in conjunction with air, it is felt that passenger locomotives should have extended range dynamic to assist the blended brake throughout the speed zones. Perhaps a speed limit could be imposed if dynamic, and therefore blended, brake is not in operation.

In the interest of dry air for less maintenance and better winter operation, we are getting improved service from three steps. First is the use of a desiccant are dryer. This must be a twin unit so that one can be regenerating while the other is operating. The use of canisters to ease maintenance is also required. The dryer should be located so that all auxiliaries are supplied with dry air to prevent frozen horns and similar problems.

The second requirement is 60,000 cubic inch of main reservoir capacity on locomotives. With more and more auxiliaries using air such as toilets, air springs, doors and air seals, we need a suitable capacity. We have also learned that short, fat main reservoirs are better than long, slender ones because they slow down the flow through. The long slender type apparently tends to laminate the air and decrease moisture fallout and air cooling.

Longer inspection periods are most needed for all air brake equipment. Freight equipment has been allowed much longer COT&S time periods. Why cannot locomotive equipment follow suit?

We like the AEM-7 check brake so much that we hope to use it on other locomotives. This may be difficult because of the large wheel used on the AEM-7, but is something for the suppliers to strive for. Of course, the tread shoe for improving adhesion is also necessary.

Another small item that could improve maintenance would be improved tubing and Joining. Is metallic tubing the only possible method of transferring air? Much work is being done in nylon tubing and similar materials in other industries.
2. CARS
We have seriously questioned the need of the electro-pneumatic brake. Our next lot of new cars will not have the electric capability. Large savings in maintenance are anticipated. For the length of trains we usually operate, it is almost impossible to see the application time difference. For longer trains, any difference in time shows up in release time.

Dual brake is another item being requested on new equipment in addition to the possibility that we will retrofit much of our existing equipment. We have run tests on three Amfleet cars that have been retrofitted with dual brakes. We tried 50-50 split between disc and tread. We have tried 60-40 and 70-30. The most satisfactory seems to be 60-40. Although we must ask ourselves the question, "Why are we using 85-15 on the AEM-7?" We feel the increase in disc capability by temperature reduction; the relatively low temperatures on the wheels and the increased wheel-rail adhesion are sufficient justification. However, we are also getting greatly improved wheel tread surfaces over the all-disc braked car. Spalling is much decreased.

One last thought is for something that has been done for rapid transit, but not for intercity passengers. Perhaps the reason is cost. But Amtrak could use a good mechanical, pneumatic and electrical tightlock coupler at reasonable price.
---
SCHEDULE NOTES
Notices, announcements, schedules, etc. are provided here as a service to the members. The Chapter has no affiliation with any commercial operation, museum, or tourist line.
Until July 7, 2013 On Time / Grand Central at 100New York Transit Museum Gallery Annex & Store at Grand Central - Grand Central's 100th birthday, MTA Arts for Transit and Urban Design present an exhibition featuring contemporary artists who capture and reimagine moments in the Terminal.
Until May 30, 2015 Civil War 150th Anniversary: The War Came By Train@ B&O RR Museum in Baltimore. Monday - Saturday (10:00 a.m. - 4:00 p.m.), Sunday (11:00 a.m. - 4:00 p.m.) Between April 19, 1861 (The Baltimore Riot of 1861) and April 21, 1865 (Lincoln's funeral train leaving Baltimore for Illinois), the B&O stood witness and participant in the greatest conflict the U.S. has ever faced and changed the course of American history. The War Came By Train serves as the B&O Railroad Museum's primary attraction for the five year commemoration of the War's sesquicentennial. The National Landmark Roundhouse will exhibit the largest assemblage of Civil War railroad equipment in the world featuring locomotives and rail cars that served during the war, significant military and personal artifacts that will change annually to portray each year of the war (some artifacts never before on public display), and a narrated train ride to the original site of Camp Carroll, the largest Union encampment in Baltimore.
May 11 - 12, 2013 Grand Centennial Parade of Trains Historic Trains come back to the Terminal for a weekend filled with kid- friendly family fun, performances, and a show of "railroadiana" for avid collectors. More details will be announced as they become available.
Sun-May 12 West Chester Railroad MOTHER'S DAY EXPRESS Take Mom for a Scenic Spring Train Ride from West Chester to Glen Mills and Back Trains Depart Market Street Station at 12:00 pm and 2:00 pm Special Rate for Mom: $5.00 Adult: $15.00 Children (ages 2-12 yrs) $13.00 Toddlers ride free!
May 16-19, 2013 Pennsylvania Railroad Pennsy Days @ RR Museum of PA Discover rich heritage of famous Pennsylvania Railroad, "Standard Railroad of the World." This traditional program highlights the history of this major railroad.
May 25, 26 and 27 NS Steam Trip - Lewistown to Gallitzen, Pa. (Horseshoe Curve) Steam locomotive no. 765 will march between Lewistown and Gallitzin, Pennsylvania, climbing the famous Horseshoe Curve on Memorial Day Weekend. For the first time in over 30 years, ride a steam-powered passenger train through the Allegheny mountain range, enjoying the sights, sounds, and experiences of timeless American industry. Three 160-mile round-trips excursions of the Horseshoe Curve Special will traverse one of the busiest routes in the country over the former Pennsylvania Railroad's "Middle Division," and through Altoona, the railroad capital of the Standard Railroad of the World. All round-trips depart the historic Lewistown station in the morning (approximately 8AM), turn at Gallitzin, and arrive Lewistown in evening (approximately 6PM.) Each trip will include a 2.5-hour layover in Altoona. Built in 1944, steam locomotive no. 765 was one of thousands of steam locomotives that sped the country to victory during World War II. Today, it's a supercharged good-will ambassador, bringing to life a dramatic era of innovation to thousands each year since being restored in 1979 by the Fort Wayne Railroad Historical Society. All Sold Out.
Sun-May 26 West Chester Railroad MEMORIAL DAY SPECIAL Trains Depart Market Street Station at 12:00 pm and 2:00 pm Adult: $15.00 Children (ages 2-12 yrs) $13.00 Toddlers ride free!
Sunday, June 2, 2013 Hamburg Dutch Train Meet 9 AM-1:00 PM, Hamburg Fire Co. Field House, Pine St. Hamburg, PA
Sundays June 2 through Sept. 22 West Chester Railroad SUMMER SUN PICNIC SPECIALS Pack a Lunch and Enjoy our Picnic Grove at Glen Mills with Family and Friends. Trains Depart Market Street Station at 12:00 PM only. Adult: $15.00 Children (ages 2-12 yrs) $13.00 Toddlers ride free!
June 7-9, 2013 Conrail Days @ RR Museum of PA The Consolidated Rail Corporation arose from a federal bail out of the railroad industry in the 1970s to become a profitable and successful private enterprise. The equipment, history & spirit of Conrail will be highlighted, in partnership with the Conrail HS.
Sun-June 16 West Chester Railroad FATHER'S DAY EXPRESS Take Dad for a Scenic Spring Train Ride from West Chester to Glen Mills and Back Trains Depart Market Street Station at 12:00pm and 2:00pm Special Rate for Dad: $5.00 Adult: $15.00 Children (ages 2-12 yrs) $13.00 Toddlers ride free!
Saturday & Sunday, June 22-23, 2013 Great Scale Train Show Sat. 9AM-4PM, Sun 10AM-4PM, $9, State Fairgrounds, Timonium, MD
July 2-7, 2013 Reading Railroad Days @ RR Museum of PA Regular Museum hours. Enjoy the remarkable Reading Railroad trains of eastern Pennsylvania history through tours of Reading Company equipment, a huge, operating model railroad and special presentations.
Saturday & Sunday, July 20-21, 2013 MODEL TRAIN and RAILROAD SHOW Sat. 9AM-4PM, Sun 9AM-1PM, WILLIAMS GROVE HISTORICAL STEAM ENGINE ASSOCIATION, Williams Grove, PA, Steam train rides, model train display, stands with collector items to purchase, Directions: Rt. 15 to Rt. 74, Rt. 74N 1.2 miles to Williams Grove Rd.
July 27, 2013-November 3, 2013 The Next Level: Photographs by Hiroyuki Suzuki New York Transit Museum Gallery Annex & Store at Grand Central - The future of how New Yorkers will travel over the next decades is happening at Grand Central Terminal - 18 stories beneath our feet. Join us for a behind-the-scenes look at the East Side Access project with captivating images by photographer Hiroyuki Suzuki. Presented by the New York Transit Museum. Sunday, July 28, 2013 Hamburg Dutch Train Meet9 AM-1:00 PM, Hamburg Fire Co. Field House, Pine St. Hamburg, PA
Sunday, July 28, 2013 Hamburg Dutch Train Meet 9 AM-1:00 PM, Hamburg Fire Co. Field House, Pine St. Hamburg, PA
Sunday, Sept. 15, 2013 Gilbertsville Toy Train Show 8:30 AM-1:30 PM, Gilbertsville Fire House, 1454 E. Philadelphia Ave. Gilbertsville, PA admission $3
Sun Sept 29; Oct 6, 13; Nov 3, 10, 17, 24 West Chester Railroad FALL FOLIAGE EXPRESS See Upper Chester Creek Valley in its Entire Fall Splendor and Color Trains Depart Market Street Station at 12:00pm and 2:00 pm Adult: $15.00 Children (ages 2-12 yrs) $13.00 Toddlers ride free!
Saturday & Sunday, Oct. 26-27, 2013 Great Scale Train Show Sat. 9AM-4PM, Sun 10AM-4PM, $9, State Fairgrounds, Timonium, MD
November 2-3, 2013 Troops & Trains @ RR Museum of PA Greet our guys and gals in uniform, experience many splendid railroad and military archival displays, enjoy the patriotic spirit.
December 7 & 14, 2013 Home for the Holidays @ RR Museum of PA Take a nostalgic glimpse at holiday rail travel. Meet costumed engineers, conductors, ticket agents and passengers representing the past century and enjoy seasonal music, festive decorations, more, among our world-class collection of trains.
---
CHAPTER EVENTS
Thursday April 18, 2013 7 PM Chapter Meeting program by an Mike Burkhart program entitled "Various Travels"
Thursday May 16, 2013 7 PM Chapter Meeting program by Special Guest Kermit Geary, Jr.
Thursday June 20, 2013 7 PM Chapter Meeting program by Allen Tweddle "More From the Archives Continued Part III"
Thursday July 18, 2013 7 PM Chapter Meeting program by Someone
Thursday August 15, 2013 7 PM Something or Other in lieu of normal monthly meeting
Thursday Sept. 19, 2013 7 PM Chapter Meeting program by Another Someone
Thursday Oct. 17, 2013 7 PM Chapter Meeting program by Dave Warner
Thursday Nov. 21, 2013 7 PM Chapter Meeting program by Frank Ferguson
Sunday Dec. 8 ?, 2013 5 PM Annual Holiday Dinner in lieu of normal monthly meeting program probably by Steve Barry
The Wilmington Chapter of the National Railway Historical Society (NRHS) meets at 7:00 PM on the third Thursday of each month [except August & December] in the Darley Room at the Claymont Community Center on Green Street in Claymont, Delaware. Visitors are always welcome. Admission to regular meetings is free. Check out our Website (thanks to Russ Fox) at: http://www.WilmingtonNRHS.com
---
The Transfer Table is published six to ten times per year as the newsletter of the Wilmington Chapter of the National Railway Historical Society. Items in this publication do not represent the official position of either Officers or Members of the Wilmington Chapter or the Editor of this publication.
Permission to reprint articles and news items appearing herein is granted to NRHS Chapters and other newsletters provided appropriate credit is given.
Contributions are always welcome and should be sent to the editor at SD40GMA@aol.com or send to: P.O. Box 1136, Hockessin, DE 19707-5136.
Deadline for entries is the 25th of the month.
Chapter OfficersPresident: Mike BurkhartVice President: Dave WattersonTreasurer: Dave WarnerSecretary: Dan FrederickNational Director: Tom PosatkoTrip Director Steve BarryEditor: Greg AjamianWeb Master: Russ Fox