NOTE: The Lite Version is our electronic version which is available for free from this web site. It has limited content but gives you a taste of what is offered in our Full Version.
The Full Version is our printed newsletter which is mailed to you. It contains everything in the Lite Version along with many other reprinted pages from other NRHS newsletters, railroad publications, and flyers that contain photographs, drawings, and maps. The full version is just another benefit of joining our chapter.
THE TRANSFER TABLE
The Wilmington Chapter NRHS Official Newsletter
Internet Edition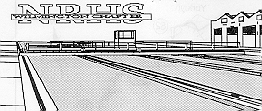 | | |
| --- | --- |
| VOLUME 35 NUMBER 08 | SEPTEMBER 2012 |
Back To Wilmington Chapter Web Site
JULY 2012 MEETING NOTES
The July meeting of the Wilmington chapter of the National Railroad Historical Society was call to order at 7pm on July 19, 2012 by President Mike Burkhart. The June meeting minutes were read by secretary Dan Frederick and accepted as read. The July Treasurer's report was presented by Dave Warner. Dave reported that there was no expense and the only income was 2 cents in interest.
National Director Steve Barry reported that the last board meeting with 160 members took place in Iowa. At the meeting it was proposed that all the rail preservation folks from the NRHS, the various other groups and the rail magazines join forces to form a Rail Heritage Group. John Henke of the Iowa Interstate called for dialog between the historical folks and the Class 1 railroads and volunteered to initiate the process.
Steve also reported that all the trips ran smoothly but everyone was surprised by the attention by the local TV coverage. Next year's convention will be in Alaska and will include exclusive photo runby's on the Alaskan Railroad.
Steve also mentioned that he is running for a position on the new board and his position on the board would prevent him from serving as Wilmington's National Director.
Additionally, the NRHS fall Board of Directors meeting will be October 19-21 hosted by National in Claymont, DE. This will be the first board meeting with the new board structure. And we may be running a Septa trolley trip for which National would invoice members, we would get the revenues and provide the bus and trolley portions. The trip would be unique in that only 1 trolley would be used and it would take place on a week day.
Our local August meeting is planned to be at the Wilmington & Western Railway on the 16th at 8PM with parking in the new lot off Kiamensi Avenue. A possible night photo shoot after the meeting would require participants to have closed toed shoes. So anyone attending, please be prepared.
Tom Posatko reminded us that in celebration of Frank Furness the Friends of Furness will have a walking tour of the Furness historical area in Wilmington coinciding with the 100th anniversary of Mr. Furness's death on September 22. Tom also touched on the High Speed Rail conference he attended in Philadelphia. Tom said there were lots of Asian companies represented and apparently a lot of money to be invested in this field. The business portion of the meeting was adjourned at 7:45pm.
Mike Burkhart presented a digital show beginning with the NS heritage units in Spencer and NCDOT and Amtrak trains passing through the area. Next up his trip to see the NRHS pre-convention and convention action. Various trains in the St. Louis area including some with the famous Arch in the scene. A UP C&NW heritage unit led the pre trip as it raced across Illinois. Convention shots included trolleys at the Thresher's museum, a CRI&P heritage unit led train on the Gout bridge in Iowa, Chinese Q's by a grain elevator, and the Boone & Scenic 's Chinese steam powered train. Mike also showed the historic view of Reading Lines trains has been lost now that those old brick building have been torn down in Lebanon. Mike also had views of the P&W passing the Nautilus in Groton, the Lehigh Railroad in Mehoopany, the last of the NJT Aces service in Morrisville and newly painted East Penn geeps in Kennett. And who hasn't shot the gun toting Dominican Republic train crews in their GE 70-tonners at the sugar mill? Finally, Mike showed CSX freights passing some obsolete signals and going through tunnels on the ex-B&O Philly subdivision. Apparently he followed that article someone wrote in one of the magazines. Nice show Mike, we all enjoyed it. Respectfully submitted by Secretary Dan Frederick
---
AUGUST 2012 MEETING NOTES
There was no meeting in August. However, there was a Chapter Outing to view the partially constructed new office/meeting/library/archive facility at the Wilmington & Western Railroad. Following a tour of the building by lantern, flashlight, and waning sun, Chapter Member Steve Barry set up lighting for a night photo session with freshly-painted W&W EMD SW900 number 915. About a half dozen Chapter Members were joined by others from the W&W for the photo session.
---
FROM THE EDITOR
A reminder to stay in touch with Chapter Members, family, and friends. Chapter Member and long time former Vice President Ron Cleaves is struggling with a long-term illness as is Louise Snyder, wife of Chapter Member and long time former President Phil Snyder. Our best wishes go out to them. September might be a great time to actually come to the next Chapter Meeting. Apparently there is a growing pile of exchange newsletters and other goodies that has accumulated over several meeting-less months.
---
NEWS BITS
NEWS BITS
Norfolk Southern recently completed $20.5 million of track, bridge, and signal improvements along its major coal line through the Monongahela Valley in a record seven days. To ensure coal customers in Southwest Pennsylvania continue to receive consistent and reliable rail service, Norfolk Southern schedules a maintenance blitz each July to coincide with the coal miners' annual weeklong summer break. The "Mon" Line extends 85 miles south from Pittsburgh to serve five coal mines in Washington and Greene counties. In 2011, nearly 37 million tons of coal were shipped over the line -- most of it delivered to utility customers. Approximately 30 trains daily use the line. The blitz is a logistical achievement. Crews labor through long summer days, with afternoon temperatures reaching close to 100 degrees, and they don't quit until after sundown. This year, 500 Norfolk Southern engineering department employees from across the railroad's 22-state system installed more than 44,600 crossties, laid 10 miles of new rail, resurfaced 67 miles of track, replaced 1,091 bridge ties, and installed 18 culverts. Additionally, the crews finished maintenance projects on 28 road crossings, four bridges, and one tunnel. Fifty-six work trains, along with 32 pieces of track equipment, were utilized. Under normal conditions it would take approximately three months to accomplish this work, with disruptions in service. The maintenance work on the Mon Valley line is part of Norfolk Southern's planned $2.4 billion investment in its rail network during 2012. [NS Press Release]

Amtrak announced a Master Plan that offers a visionary and practical approach to revitalize the terminal at Washington Union Station. Developed in coordination with other stakeholders including U.S. Department of Transportation, Union Station Redevelopment Corporation, Virginia Department of Rail and Public Transportation, Virginia Railway Express, Maryland Transit Administration, Washington Metropolitan Area Transit Authority and Akridge, it lays the groundwork for an expanded and greatly improved intermodal station that will increase capacity to accommodate future service expansion, deliver the highest quality passenger experience and provide robust support to local and regional economic growth.
The plan will allow Union Station to expand its capacity to accommodate up to triple the number of passengers and double the number of trains using Union Station over a 15-20 year period. Broken into manageable phases, the Master Plan is estimated to cost between $6.5 and $7.5 billion ($2012) and generate $14.3 billion ($2012) in regional economic benefit through direct construction expenditures and other related economic impact.

The heart of the plan is the creation of a new train hall that will welcome passengers to the nation's capital, bring natural light to station spaces and better organize the connections to Amtrak, commuter rail, transit, and other transportation services. New passenger concourses, along with a series of new street entrances, will be seamlessly integrated with the existing station, enabling passengers and visitors to easily access the entire station complex and adjoining neighborhoods while experiencing improved amenities and expanded retail opportunities. The Master Plan matches the quality and vision of the original, iconic Union Station design, while creating a world-class transportation hub and preserving Union Station as an architectural treasure.

Importantly, the plan also makes possible the accommodation of tracks, platforms and concourses to support a new Next Generation High-Speed Rail (NextGen HSR) concourse below the existing station platforms to keep pace with the growth projections and plans outlined in the recently released The Amtrak Vision for the Northeast Corridor: 2012 Update Report. This future lower-level concourse could allow for a potential NextGen HSR extension south of Washington to connect with the proposed Southeast HSR Corridor.

In addition, Burnham Place, a 14-acre, 3-million square-foot mixed use development will create a new neighborhood out of thin air in downtown Washington, D.C. Suspended above the existing Union Station rail yard, Burnham Place is still in initial planning stages and includes office space, residential units and hotel rooms.

For more information on the Union Station Master Plan, visit:http://www.greatamericanstations.com/station-news/WUS-master-plan-unveiled [AMTRAK This Week]
U.S. Transportation Secretary Ray LaHood has announced the availability of up to $17 billion in loans for critical infrastructure projects as a result of the new surface transportation law. He encouraged cities and states to submit letters of interest to the Transportation Infrastructure Finance and Innovation (TIFIA) program, which provides direct loan guarantees and standby lines of credit to major infrastructure projects that have the potential to create jobs and spur economic development. LaHood described the assistance as "the largest transportation infrastructure loan program" in the history of the U.S. Department of Transportation (USDOT). [from Progressive Railroading via Ed Mayover]

NRHS Board of Directors at the summer meeting in Cedar Rapids, Iowa, approved a dues increase starting in 2013: At-Large Primary dues rates are increased from $37 to $40 Chapter Primary dues rates are increased from $36 to $39 There are no changes to the current promotional dues rates for Student and Youth members, and no change to the Family membership rate. In proposing the new dues rates, the NRHS officers noted that it has been three years since national dues rates were adjusted. During that period, the Consumer Price Index increased by 7%. Postal rates increased by over 7% In addition, the Society is seeing increases in just the last two years, and additional increases are expected. in most of its major contract costs as contracts expire and are renegotiated. The new dues rates are in line with the real cost inflation the Society has experienced and do not fund any significant changes in services or products. After discussion, the Board of Directors unanimously approved the new dues rates. The new dues rates will be reflected on the membership invoice that NRHS members will receive in October.

Chapter Officer Changes - The following chapters reported changes to their chapter officers. This list is sorted by chapter and shows the most current change reported to National. Wilmington Chapter National Representative: Vacant

New SEPTA schedules go into effect for trains to/from Newark and Wilmington DE on September 9, 2012. [from Howard Bender]

AMTRAK has a new Strategic Plan (again). They are dividing Amtrak into six business lines: Northeast Corridor (NEC) services, long-distance services, state-supported services and commuter services, Northeast Corridor infrastructure and investment development, and commercial asset development. The plan includes having employees think about increasing revenue, decreasing waste, and keeping customers, state agencies, and commuter services happy. [from Progressive Railroading via Ed Mayover]

There is an unconfirmed report that the four Hyundai Rotem Silverliner V commuter rail cars that are being purchased by the state of Delaware will be dedicated on Thursday, August 30, 2012 from 10 to 11 AM at the Joseph R. Biden, Jr. Wilmington Station, 100 South French Street. The cars will be configured as two married pairs for use on the SEPTA system. [from Ed Thornton]

The Friends of Philadelphia Trolleys encourage you to visit and support trolley museums dedicated to the preservation of Philadelphia's trolley heritage, including the following:
Baltimore Streetcar Museum
http://www.baltimorestreeetcar.org

Electric City Trolley Museum Association
http://www.ectma.org/

New York Museum of Transportation
http://www.nymtmuseum.org

Pennsylvania Trolley Museum
http://www.pa-trolley.org

Rockhill Trolley Museum
www.rockhilltrolley.org

Seashore Trolley Museum
http://www.trolleymuseum.org

Shore Line Trolley Museum
http://www.bera.org

THE STREAMLINER is published by the Friends of Philadelphia Trolleys, a Pennsylvania non-profit corporation. Web address:http://mywebpages.comcast.net/trolleydriver/FPT.htm

E-Mail: FPT2799@Comcast.net

Mailing Address: P.O. Box 33397, Philadelphia PA 19142-0397[from Bill Monaghan and The Friends of Philadelphia Trolleys' The Streamliner via Ed Thornton]
Approximately 130,600 customers ride NJ TRANSIT trains on a typical weekday, comprising nearly 30 percent of all NJ TRANSIT customers according to a recent press release. [via Ed Mayover]

SEPTA moved ahead with plans to extend Norristown High-Speed Line to King of Prussia by hiring a consultant to analyze different routing options, determine station locations, and to begin the federal approval process. They also awarded a contract to the Delaware Valley Regional Planning Commission to conduct ridership modeling to project ridership, another essential element to determine the project's qualification for federal funding. This phase of the project will take approximately 15-18 months to complete. [from press release via Ed Mayover]

Crew members on NJ Transit trains point a small, LED flashlight at a pass looking for a hidden character that shows up only under ultraviolet light. NJ Transit Deputy Police Chief Joseph Kelly said that since the new program went into effect in July, police have arrested 41 people whose passes failed the UV light test. Of the arrests, 26 were made on trains and 15 on either light rail or buses, Kelly said. In one case, an arrested passenger told police she paid $20 for a pass that should have cost $50. When conductors, bus operators, or light rail enforcement officers detect fake passes with the LED light, they don't directly confront passengers, Kelly said. Instead, they call police who meet the vehicle or train to check the passenger's pass and make the arrest. Kelly said the forgery charge is a fourth-degree crime that can lead to 18 months in prison and a $10,000 fine. Cases are handled in municipal courts where the arrests are made, he said. [from The Times of Trenton via TRAINS News Wire via Ed Mayover]
---
The Shortest Railroad Tunnel In The World
By Joe Fagan
Back in the days when the calendar was flipped over to the Twentieth Century, give or take a year or so, the trees in Southwest Virginia, Northwestern North Carolina, and Northeast Tennessee were ripe for the cutting for the lumber business. The Virginia-Carolina Railroad had been built from Abingdon through Damascus, VA, into North Carolina beyond West Jefferson for a few miles. Hassinger Lumber Company had built the White Top Railroad from Konnerock, VA, to connect to the V. C. at White Top, VA. The Tennessee Lumber Company built a logging rail line from Mountain City, TN, to connect to the V. C. at Damascus known as the Beaver Dam Railroad. All was good for the lumber business.
The Tennessee Lumber Co. was making good headway with their railroad construction when about six miles from Damascus they encountered a long narrow ridge of sandstone about seventy five feet high. The builders decided it would be cheaper to blast a tunnel through the ridge rather than making a cut. After the loggers finished clear- cutting all of their part of East Tennessee it was hauled through that tunnel and interchanged to the V. C. At the same time Hassinger Lumber Co. was doing it to the mountains in Southwest Virginia and North Carolina wasn't overlooked by any means. Oh! The lumber business was great. And the Norfolk and Western got to haul it out to build America.
Going back to that ridge of rock with the hole blasted through, it was known as Backbone Rock and is still a great place for peace and quiet and relaxation. That tunnel is known as the shortest railroad tunnel in the world and could very well be. It is all of 23 feet long. Tennessee state route 133 to Mountain City runs through it now. Long jumper Mike Powell jumped 29 feet 3 inches. That is all the way through the tunnel with six feet three inches to spare.
[This story appeared in Roanoke Chapter 's Turntable Times Oct.,Nov. Dec.. 2011 issue]
---
SCHEDULE NOTES
Notices, announcements, schedules, etc. are provided here as a service to the members. The Chapter has no affiliation with any commercial operation, museum, or tourist line.
Until May 30, 2015 Civil War 150th Anniversary: The War Came By Train@ B&O RR Museum in Baltimore. Monday - Saturday (10:00 a.m. - 4:00 p.m.), Sunday (11:00 a.m. - 4:00 p.m.) Between April 19, 1861 (The Baltimore Riot of 1861) and April 21, 1865 (Lincoln's funeral train leaving Baltimore for Illinois), the B&O stood witness and participant in the greatest conflict the U.S. has ever faced and changed the course of American history. The War Came By Train serves as the B&O Railroad Museum's primary attraction for the five year commemoration of the War's sesquicentennial. The National Landmark Roundhouse will exhibit the largest assemblage of Civil War railroad equipment in the world featuring locomotives and rail cars that served during the war, significant military and personal artifacts that will change annually to portray each year of the war (some artifacts never before on public display), and a narrated train ride to the original site of Camp Carroll, the largest Union encampment in Baltimore.
Until Dec. 30, 2012 ROLE OF RRs in PA During the CIVIL WAR at RR Mus. of PA, Strasburg Railroads were a key to the successes of both the Union and Confederacy during the Civil War, and the contributions of Pennsylvania's railroads were an integral part of the Union's eventual victory. From supplying the Armies with munitions and food, to transporting troops, prisoners and communications, the Civil War was the first war in which railroads were a major factor. Photographs, documents and artifacts tell the story of Pennsylvania's railroads during the War Between the States.
Saturday, September 15, 2012 The Great Lehigh Valley Train Meet Sat. 10 am - 4 pm, all scales, one day, Merchants Square Mall, 1901 South 12th Street, Allentown PA 18103
Saturday, September 22, 2012 MEMBERS DAY at RR Mus. of PA, Strasburg. WARNING - Thomas Days at the Strasburg Rail Road
Saturday, September 22, 2012 Friends of the Furness Railroad District Tour & Mini Exhibition Fall 2012 festival being held in Philadelphia & Wilmington areas to highlight the creative talent of the 19th century architect, Frank Furness. Festival begins in early Sept. and continues with events, tours, exhibitions, lectures, and symposia throughout the fall season, ending in early Dec. To begin the 2012 celebration of the centennial anniversary of the death of Frank Furness, The Friends of the Furness Railroad District, in partnership with the Delaware Historical Society are hosting a walking tour of Furness designed railroad buildings and an exhibit opening. On September 22, 2012 at 1:30pm we will meet at the grand staircase in the Wilmington Station (AMTRAK). Tour will begin at Furness' Wilmington Amtrak, Railroad Station (formerly the Pennsylvania Railroad Station, 1907-8), and the adjacent but separate Pennsylvania Office Building (1905), followed by a walk along the Railroad viaduct to see some Furness inspired newer construction related to the Railroad Station, and then on to the Furness designed B&O Railroad Station (1888), then proceed up the hill to visit the Central National Bank (1885-1905 and later), also known as the Security Trust and Deposit Co., now known as the Kimba Academy, a charter school. Tour will conclude with a mini Furness exhibit at adjacent Delaware Historical Society Library at 505 Market Street for the exhibit opening with a talk and refreshments. The exhibit will feature the Delaware work of Furness with a particular focus on his design of stations along the new line from Baltimore to Philadelphia of the Baltimore and Ohio Railroad, 1884-1900. Refreshments will be served.
Sat-Sun, October 6&7, 2012 - 29th Annual Brunswick Railroad Days Festival 10 a.m. to 5 p.m. each day. The event will feature blacksmiths, basket weavers, candle makers, glass- blowers, etc., to display their handiwork and demonstrate their craft. Special excursion trains, using MARC equipment, will depart for Harpers Ferry at 1 p.m. and 3 p.m. each day and return from Harpers Ferry at 2 p.m. and 4 p.m. Model train layouts will be on display in the museum. Round trip fares: $11 for adults, $5 for seniors (60+) and children 3-12, and free for children under 3. For further information call 240-508-3049 or send email to events@brunswickmd.gov
Sunday, October 7, 2012 GARDEN RAILWAYS TOUR at RR Mus. of PA, Strasburg
Oct. 18-21, 2012 NRHS National Fall 2012 Conference = Claymont, DE
Saturday & Sunday, Oct. 27-28, 2012 Great Scale Train Show 9AM-4PM, $9, State Fairgrounds, Timonium, MD
Saturday & Sunday, Nov. 3-4, 2012 TRAINS & TROOPS at RR Mus. of PA, Strasburg
Thursday, Nov. 15, 2012 PRR Lecture at Hagley Museum and Library - 7 PM Dr. Albert Churella, "The Unique Railroad of the World: Why the Pennsylvania Railroad was Different from all of the Others," Reservations are requested, 302-658-2400 Wilmington, Delaware, November 2012, Hagley Museum and Library welcomes Dr. Albert Churella, Southern Polytechnic State University, on November 15, to speak about the Pennsylvania Railroad. His lecture, "The Unique Railroad of the World: Why the Pennsylvania Railroad was Different from all of the Others," will begin at 7 p.m. in the Soda House auditorium. The lecture will mark publication of Dr. Churella's book, The Pennsylvania Railroad, Volume 1: Building an Empire, 1846-1917. The lecture is free. Please use Hagley's Buck Road entrance. Reservations are requested, 302-658-2400.
"Albert Churella's book is based on exhaustive research at Hagley and other libraries," says Dr. Roger Horowitz, associate director at the Hagley's Center for the History of Business, Technology, and Society, "It is certain to become the authoritative history of the Pennsylvania Railroad."
The Pennsylvania Railroad, Volume 1: Building an Empire, 1846-1917 will be part of a multi-volume account from the University of Pennsylvania Press. The book opens with the development of the Main Line of Public Works in the 1820s that foreshadowed the establishment of the Pennsylvania Railroad in 1846. Churella then charts the railroad's growth over the next fifty years through the Civil War, industrial expansion, and labor unrest, as well as competition with rival railroads and disputes with such figures as Andrew Carnegie and John D. Rockefeller. The volume closes at the threshold of American involvement in World War I. Copies will be available for purchase at the lecture. Dr. Albert J. Churella is associate professor in the Social and International Studies Department at Southern Polytechnic State University in Marietta, Georgia. His first book, From Steam to Diesel: Managerial Customs and Organizational Capabilities in the Twentieth-Century American Locomotive Industry (1998) was a finalist for the George W. Hilton award in railway history. Churella is completing the first of a two-volume history of the Pennsylvania Railroad, with extensive treatment of the business, technological, labor, public policy, ethnic, and gender issues related to that company. He has also published numerous other articles and book reviews, and has presented papers at conferences in the United States and Europe.
About the Library
Hagley Library is the nation's leading business history library, archives, and research center. Current holdings comprise 37,000 linear feet in the Manuscripts and Archives Department, 290,000 printed volumes in the Imprints Department, 2 million visual items in the Pictorial Department, and more than 300,000 digital images and pages in the Digital Archives Department. Hagley's Center for the History of Business, Technology, and Society organizes conferences, research seminars, and a public lecture series; it also operates a research grants-in-aid program.
Hagley Museum and Library
Hagley Museum and Library collects, preserves, and interprets the unfolding history of American enterprise. For more information, call (302) 658-2400 weekdays or visit www.hagley.org.
---
CHAPTER EVENTS
Thursday Sept. 20, 2012 7 PM Chapter Meeting program by Allen Tweedle
Saturday Sept. 22, 2012 1:30PM Friends of the Furness Railroad District Tour & Mini Exhibition Wilmington Station, Pennsylvania Office Bldg., B&O Water St. Station, Security Trust and Deposit, Del. Hist. Society
Thursday Oct. 18, 2012 7 PM Chapter Meeting program by Mike Burkhart
Thursday Nov. 21, 2012 7 PM Chapter Meeting program by Frank Ferguson
Sunday Dec. 9, 2012 5 PM Annual Holiday Dinner in lieu of normal monthly meeting program by Steve Barry
Thursday Jan. 17, 2013 7 PM Chapter Meeting program by a Member or Guest
Thursday Feb. 21, 2013 7 PM Chapter Meeting program by a Member or Guest
Thursday March 21, 2013 7 PM Chapter Meeting program by a Member or Guest
Thursday April 18, 2013 7 PM Chapter Meeting program by a Member or Guest
The Wilmington Chapter of the National Railway Historical Society (NRHS) meets at 7:00 PM on the third Thursday of each month [except August & December] in the Darley Room at the Claymont Community Center on Green Street in Claymont, Delaware. Visitors are always welcome. Admission to regular meetings is free. Check out our Website (thanks to Russ Fox) at: http://www.WilmingtonNRHS.com
---
The Transfer Table is published six to ten times per year as the newsletter of the Wilmington Chapter of the National Railway Historical Society. Items in this publication do not represent the official position of either Officers or Members of the Wilmington Chapter or the Editor of this publication.
Permission to reprint articles and news items appearing herein is granted to NRHS Chapters and other newsletters provided appropriate credit is given.
Contributions are always welcome and should be sent to the editor at SD40GMA@aol.com or send to: P.O. Box 1136, Hockessin, DE 19707-5136.
Deadline for entries is the 25th of the month.
Chapter Officers
President: Mike Burkhart
Vice President: Dave Watterson
Treasurer: Dave Warner
Secretary: Dan Frederick
National Director & Trip Director: vacant
Editor: Greg Ajamian
Web Master: Russ Fox