NOTE: The Lite Version is our electronic version which is available for free from this web site. It has limited content but gives you a taste of what is offered in our Full Version.
The Full Version is our printed newsletter which is mailed to you. It contains everything in the Lite Version along with many other reprinted pages from other NRHS newsletters, railroad publications, and flyers that contain photographs, drawings, and maps. The full version is just another benefit of joining our chapter.
THE TRANSFER TABLE
The Wilmington Chapter NRHS Official Newsletter
Internet Edition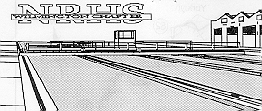 | | |
| --- | --- |
| VOLUME 35 NUMBER 10 | NOVEMBER 2012 |
Back To Wilmington Chapter Web Site
NOTICE: IN CASE OF BAD WEATHER
If our normal "THIRD THURSDAY" NRHS meeting is canceled due to inclement weather, it will be postponed and held on the FOURTH THURSDAY.
If it must again be canceled, it will NOT be rescheduled. We will simply wait for the next month's normal "third Thursday" meeting. If the weather looks bad or is predicted to be bad, you may telephone the Claymont Community Center to see if it will be open that evening for our meeting.
---
OCTOBER 2012 MEETING NOTES
The meeting was called to order at 6:59PM by President Mike Burkhart. Minutes were approved as read by Secretary Dan Frederick. Treasurer's Report was approved as read by Dave Warner. Bruce Barry provided the report from the Election Committee that all current elected officers will be running again (so far - unopposed). Anyone else who would like to run for an office can still do so at next month's meeting. The President also reminded everyone of the Chapter's Holiday Dinner on Sunday, 9-December. After a short break, the evening's program was a computer projection by Mike Burkhart - the second part of his 2012 program. We saw AMTRAK's 40th Anniversary Train in Wilmington, Savage locos in Philadelphia, and the gun barrel in Harrington. We saw W&W's SW900, a Reading & Northern fan trip, the Farewell to the Silverliners (with & without chain), and the last night at Alto Tower. There were images of the Lehigh Valley Heritage unit, Cripple Creek & Victor, the last SD-9 in Royal Gorge, Pike's Peak, and a 6-axle Whitcomb at Georgetown Loop. Images around Denver naturally included the Colorado Railroad Museum and Coors, then on to Boston, Black River & Western, Rochester NY, #765 in Harrisburg, and Pennsylvania Northeast units before ending up in Texas City. Another excellent show enjoyed by all of those present.
---
Chapter Holiday Banquet set for Dec. 9
The Wilmington Chapter's annual holiday banquet is set for 5 p.m. on Sunday, Dec. 9 at Maximillian's Tavern & Restaurant, 3001 Naamans Creek Road in Upper Chichester, Pa. The cost for the buffet dinner is $22, payable in cash or check.
We need to submit a head count to the restaurant by Friday, Nov. 30. Please sign up on the sheet during the October or November meetings or drop a line with your name and number of guests to Chapter President Mike Burkhart at m.t.burkhart@rcn.com or call 610-833-2338.
As in years past, Steve Barry will give a presentation on his 2012 travels. Come celebrate the end of the year with fellow chapter members. We hope to see you there.
---
FROM THE EDITOR
The Publications Department reports that we have a large supply of "borrowed" articles from other Chapters in the box marked Ready-to-Run. But, they have very little on-hand from our own Chapter members. So, this reminder that it would be great to have some of our member's accumulated wisdom added to the newsletter. Articles of any length would be welcomed - - but so would a paragraph or two that could be used to fill out a partial page. I only have a few pieces left in the file from Dick Hall. So the next time you have a few minutes, drop me a paragraph or two by e-mail -or- get out the old writing stick or quill pen and a piece of paper or papyrus.
---
NEWS BITS
Amtrak is working to take over 100 miles of track from Poughkeepsie to Schenectady, N.Y., under a 25-year lease agreement from CSX on Nov. 5, the Albany Times Union reported. The agreement includes the option for a 23-year extension. CSX would continue to operate freight service on the line. The agreement is under review by the federal Surface Transportation Board, with approval expected soon.
Once Amtrak takes over, capacity upgrades can begin. These will include construction of a fourth track at the Albany-Rensselaer station and a second main line track between Albany-Rensselaer and Schenectady. Also planned is an upgrade of the signal system over the Poughkeepsie-Schenectady segment that will help maintain faster and more reliable schedules on Amtrak's Empire Corridor, which stretches from Niagara Falls, N.Y., to New York City. Design work on 75 miles of new signals is under way, and construction will begin in late 2013. The projects are being paid for with nearly $200 million in federal stimulus funds.On the Canadian Pacific Railway, ex-Delaware & Hudson, line that carries Amtrak's Adirondack and Ethan Allen, work on a two-mile second main track in Ballston Spa, N.Y., is expected to start in October and be completed in the spring, said a spokesman for Canadian Pacific. The second track has been sought for nearly two decades. The single track often delays trains by as much as 20 minutes as they wait at Rensselaer or Schenectady for other trains to clear the 17-mile stretch.

The fourth track at Rensselaer was included in the original station design but funds weren't available to build it. Trains occasionally must wait outside the station for tracks to clear, typically delaying arrivals by five or 10 minutes.

The current improvements are concentrated in the eastern part of New York State, but a proposal for a segment of high-speed track in the Rochester area apparently stalled. CSX opposes mixing high-speed passenger trains with freight trains, expressing concerns about safety. [TRAINS News Wire via LANCASTER DISPATCHER]
Amtrak achieved the main focus of its project to replace the movable Niantic River Bridge in East Lyme, Conn., overnight Sept. 7 as all rail traffic is shifted to the new bridge and the existing 105-year-old bridge will be removed from service. The new bridge will allow Amtrak to provide reliable rail operation, increase in speeds on and near the bridge, and minimize delays on a route that serves as a key link for passenger and freight rail service between New York and Boston. The last train to operate over the old bridge was Northeast Regional Train #67 (Boston - Newport News) at about 11:39 p.m. Friday night. The first train to operate over the new bridge was Northeast Regional Train #66 (Newport News - Boston) at about 5:24 a.m. Saturday morning. Initially, all rail traffic will share one track over the new bascule lift bridge. The second track is scheduled to be available for use in November. Amtrak will continue to open and close the old bridge for all maritime traffic until it is fully removed next spring. Other major work elements of this project include new track alignments for the east and west approaches to the bridge, and expansion of the navigation channel beneath the bridge and an increase in the vertical under-clearance above the water to benefit river traffic. Also, sections of the Niantic Bay Overlook boardwalk are being reconstructed and the beach replenished. The three-year, $140 million project began in April 2010 and remains on-schedule with an estimated completion date of May 2013. [Amtrak via LANCASTER DISPATCHER]

AMTRAK's Winter System Timetable to be Released in January - The release of the next system timetable will be delayed until January 14, 2013, to allow for the inclusion of several new service additions. These include the Amtrak Virginia Northeast Regional Service Extension to Norfolk, Va., on Dec. 12, the Downeaster expanded rail service to Freeport and Brunswick, Maine on Nov. 1 and the new Amtrak Thruway bus service in Eastern North Carolina that will launch on Oct. 3. Updated route schedules will be available shortly before the service launch and will also be available at Amtrak.com. Timetables will be produced for the Thanksgiving travel period (Nov. 20 - Nov. 26) and will be available on Nov. 5. [from Doug Arnold]

Norfolk Southern to increase maximum speeds for Amtrak trains between Norfolk and Petersburg. In preparation for the start of Amtrak passenger rail service between Norfolk and Richmond in December, Amtrak will begin operating trains to qualify train crews at 79 mph beginning in mid-October. These trains will not be carrying passengers. The speed increase will be effective on Norfolk Southern's tracks between Portlock Yard in Chesapeake and downtown Suffolk, and between downtown Suffolk and Petersburg. Train speeds through downtown Suffolk will increase from 40 mph to 60 mph in the summer of 2013. Freight trains will continue to operate at the current maximum speed of 60 mph. Track and warning signal improvements have been made to allow for the increases in train speeds. Motorists are reminded to obey railroad crossing signals and warnings and to use caution when approaching all highway-rail grade crossings. [NS Pres Release]

U.S. Transportation Deputy Secretary John Porcari announced that the state of Connecticut will receive $120 million in High-Speed Intercity Passenger Rail program funding from the U.S. Department of Transportation to complete construction on the Hartford segment of the New Haven to Springfield, Mass. passenger rail corridor. Once the project is complete in 2016, 11 additional round-trip trains will travel between Hartford and New Haven, for a total of 17 trains traveling the line, compared to six today.
Improvements to the corridor will reduce travel time between St. Albans Vt. and New Haven, Conn., by more than one hour. The project involves installing 10 miles of double track, upgrading a signal system on a portion of the line, and making improvements at 28 road crossings. Thirteen bridges and culverts will be repaired or replaced, and four Amtrak stations will receive new, high-level, Americans with Disabilities Act compliant platforms with overhead pedestrian walkways and newly expanded parking areas for rail customers.

In total, the federal government has invested $191 million in the line. Collectively, the state and federal government are partnering to invest a total of $365 million, including $141.9 million from the State of Connecticut, along the line to reduce trip times, improve reliability, add capacity, improve safety, and renovate four Amtrak stations in Wallingford, Meriden, Berlin, and Hartford. The state's long-term vision for the New Haven to Springfield line calls for operating up to 25 daily round_trips and train speeds are expected to increase from 79 mph to 90 mph.

The improved corridor between Springfield and New Haven is part of an extensive plan developed by Connecticut, Vermont, Massachusetts, and Amtrak to dramatically transform passenger rail service in New England over the next 20 years. The improved service will provide a convenient and reliable connection to the Northeast Corridor in New Haven, providing New England families and businesses with better access to New York City and Washington, D.C.

Rhode Island Department of Transportation. $26.2 million for the design and construction of an electrified third track parallel to the Northeast Corridor's main line, and a new platform for the station in Kingston, RI. The third track will permit faster trains to overtake slower trains, reducing congestion and improving on-time performance on the Northeast Corridor for Amtrak and commuter trains. Throughout the Northeast Corridor from Washington, D.C to Boston, $1.75 billion is being invested to improve service. Rhode Island Department of Transportation. $3 million for preliminary engineering and environmental reviews for American with Disabilities Act (ADA) compliant platforms at the Providence station on the Northeast Corridor. The project also includes improved parking and pedestrian access, station repairs, potential reconfiguration of transit circulation and drop-off facilities, and future tunnel improvements.

Northern New England Passenger Rail Authority (NNEPRA). $20.8 million to alleviate congestion and reduce delays on segments of Amtrak's Downeaster service. The project will provide critically needed double track, as well as signal and highway-rail grade crossing improvements between Wilmington and Ballardville, MA. Aging rail will be replaced with new, continuously-welded rail between Lawrence and Bradford, MA. The Massachusetts Bay Transportation Authority (MBTA) operates commuter trains on this line, and on-time performance for the Downeaster has deteriorated due to bottlenecks within this area. Currently, the Downeaster operates from Boston to Portland, ME, and is expanding to Brunswick, ME thanks to previous, federal grants totaling $38 million.

Connecticut Department of Transportation. $30 million for 6 miles of new double-tracks from Hartford to Windsor, CT, which will connect with an existing siding to create a 9-mile double-tracks segment on Amtrak's New Haven-Springfield line. In addition, a new 8,500-foot siding will be added through the Hartford Yard to better clear freight trains off Amtrak's main line. Together, this added capacity will substantially relieve existing congestion in the Hartford area and will support future increases in rail service. The project also includes repairs and maintenance to bridges, signal improvements, and grade crossing improvements. Connecticut previously received $40 million for double track work between New Haven and Hartford to reduce delays and improve travel time.

Vermont Agency of Transportation (VTrans). $2.7 million for a 16-mile extension of improved signal and train control technology to enhance the safety and operation of the Amtrak Vermonter service. Additionally, upgrades to the dispatch communication system will be made to enhance its reliability. VTrans previously received $50 million for improvements to the 190 miles of track between St. Albans and Vernon, VT servicing the Vermonter. The collective improvements will result in increased speeds, reduced travel time, and greater reliability.

Since 2009, the Obama Administration has awarded over $3.7 billion to passenger rail projects across the Northeast region stretching from Maine to Washington, D.C. Nationwide, the Obama Administration has invested over $12 billion in passenger rail. Federal funding for today's grant was awarded through FY 2010 appropriations under the Federal Railroad Administration's High-Speed Intercity Passenger Rail program. [US DOT Press Releases via Ed Mayover]
National Model Railroad Month takes place in November and has been celebrated all across the country for more than 15 years. During this time Model Railroad clubs, Railroad museums and other Train groups around the country will hold open houses, clinics, and workshops to increase public awareness of Model Railroading. There are more than 500,000 adult model railroaders in the United States who spend over 500 million dollars a year on the hobby of model railroading. Children of all ages enjoy seeing miniature replicas of long gone steam locomotives worming their way through mountains, past rivers, and through small towns and large cities. Model railroading is a great family hobby. Fathers, daughters, sons, and mothers can all enjoy building a layout. Children will learn carpentry and electrical skills along with painting and decorating scenery skills. [Mon Valley Railroad Historical Society via Ed Thornton]

Union Pacific Railroad acquired complete ownership of a rail line in Oklahoma decades after state officials saved what continues to be a link of commerce through the Sooner State. The agreement was originally drafted 30 years ago when Chicago, Rock Island and Pacific Railroad Company filed for bankruptcy, potentially eliminating a critical rail connection that linked Texas and Kansas through Oklahoma. The State of Oklahoma purchased 351 miles of track that run through Enid, El Reno, Oklahoma City, Chickasha, Duncan and Lawton. The railroad tracks were operated by Oklahoma-Kansas-Texas Railroad Company through a 30-year-lease purchase agreement signed November 1, 1982. Union Pacific acquired the tracks after several mergers and finished paying $35 million plus accrued interest for the rail line last year. Union Pacific maintains the rail line and operates trains carrying mixed goods through the area. The north - south line is a route favored by oil and gas companies operating in the Anadarko Basin. Trains deliver frac sand and pipe used in the hydraulic fracturing process.Union Pacific invested more than $214 million in Oklahoma transportation infrastructure from 2007 to 2011. The company operates 1,173 miles of track in Oklahoma, which serve as a vital link between the Midwest and the Gulf Coast. Grain bound for export moves through the state, as well as coal bound for southern power plants. Union Pacific also ships Oklahoma wheat, cement and aggregates out of the state.
It was 150 years ago that Abraham Lincoln signed the Pacific Railway Act of July 1, 1862, creating the original Union Pacific. One of America's iconic companies, today Union Pacific Railroad is the principal operating company of Union Pacific Corporation (NYSE: UNP), linking 23 states in the western two-thirds of the country by rail and providing freight solutions and logistics expertise to the global supply chain. From 2000 through 2011, Union Pacific spent more than $31 billion on its network and operations, making needed investments in America's infrastructure and enhancing its ability to provide safe, reliable, fuel-efficient and environmentally responsible freight transportation. Union Pacific's diversified business mix includes Agricultural Products, Automotive, Chemicals, Coal, Industrial Products and Intermodal. The railroad serves many of the fastest-growing U.S. population centers and emphasizes excellent customer service. Union Pacific operates competitive routes from all major West Coast and Gulf Coast ports to eastern gateways, connects with Canada's rail systems and is the only railroad serving all six major Mexico gateways. [UP Press Release on website]
New Jersey Transit's board authorized $1.7 million in improvements to Watsessing Station in Bloomfield, N.J., including restoration of the building's exterior to complement an earlier restoration of inbound and outbound canopies. The board awarded a $1.7 million contract to John O'Hara Co. Inc. for the exterior renovation to preserve the character of the historic station, NJ Transit officials said in a prepared statement. The project also will include site improvements at the street and platform levels, and installation of CCTV cameras, passenger communication systems and updated signage. Work on the federally funded project is slated to begin by year's end and be completed in fall 2013. The one-story brick station was built in 1912. In 2007, NJ Transit completed the first phase of the station improvement project, which included restoration of the platforms, canopies and retaining wall. [Progressive Railroading via Ed Mayover]

Amtrak record ridership of more than 31.2 million passengers this past fiscal year was achieved in hundreds of communities across America as the widespread demand to travel by rail continues to grow. President and CEO Joe Boardman explained that intercity bus and air service has declined precipitously in many areas of the country leaving Amtrak as the only intercity transportation option for many small and mid-sized communities. The number of Americans who no longer have access to intercity bus or air service, and are served only by Amtrak, tripled in just five years according to the U.S. Dept. of Transportation. During FY 2012, ridership on the Northeast Corridor is up 4.8 % to a record 11.4 million, state-supported and other short distance routes is up 2.1 % to a record 15.1 million and long-distance services is up 4.7 % to their best showing in 19 years at 4.7 million. Amtrak has set ridership records in nine of the last ten years.
---
McKeen Motor Car
by Tom Smith

One of the most distinctive pieces of railroad equipment ever built was the McKeen motor car, a creation of William McKeen, a Union Pacific motive power official, in response to a directive from Edward H. Harriman to build a self propelled rail car that could carry up to 60 passengers at 60mph to reduce costs of branch line passenger operations. McKeen certainly came up with something the likes of which has never been seen before or since. Round porthole windows were supposed to reduce dust and dirt intake as well as aid the structural integrity of the car. It was the earliest ancestor of the doodlebug and later the RDC, and was powered by a gasoline engine mounted on the front truck. Although over a century old, it still cuts an impressive and modern appearance. McKeen established a factory to build motor cars between 1905 and 1911. Unfortunately, the sleek appearance was betrayed by an inadequate and unreliable power plant, and the McKeen car was soon eclipsed by other builders using a gas or oil engine and electric transmission. Often claimed a failure, over 150 cars were built, so it was considered a relative commercial success. The Virginia & Truckee purchased car 22 in 1910, intending to use it on the Carson City-Virginia City run feeding the Reno-Carson City steam train. However, the car did not have enough power to handle the grades, and it was then rebuilt with an RPO section and used on the Carson City-Minden run, where it ended its days in 1945 as the last McKeen car in service. The carbody was sold and became a roadside diner, and later a plumbing supply office. It was donated to the Nevada State Railroad Museum, which began a miraculous effort to restore the car to service, starting with the only thing they had, the car body. Everything else, the trucks, the windows, the engine, the seats, the light fixtures, all had to be made in their shop. The RPO section was not rebuilt, the car is in as delivered condition. A Caterpillar diesel engine now provides the power.
---
SCHEDULE NOTES
Notices, announcements, schedules, etc. are provided here as a service to the members. The Chapter has no affiliation with any commercial operation, museum, or tourist line.
Until Dec. 30, 2012 ROLE OF RRs in PA During the CIVIL WAR at RR Mus. of PA, Strasburg Railroads were a key to the successes of both the Union and Confederacy during the Civil War supplying Armies with munitions & food, transporting troops, prisoners & communications, the Civil War was first war in which railroads were a major factor.
Until April 19, 2013 Frank Furness: Working on the Railroads Library Company of Philadelphia, 1314 Locust Street, Philadelphia, PA 19107 (215) 546-3181, Free and open to the public
Until May 30, 2015 Civil War 150th Anniversary: The War Came By Train@ B&O RR Museum in Baltimore. Monday - Saturday (10:00 a.m. - 4:00 p.m.), Sunday (11:00 a.m. - 4:00 p.m.) Between April 19, 1861 (The Baltimore Riot of 1861) and April 21, 1865 (Lincoln's funeral train leaving Baltimore for Illinois), the B&O stood witness and participant in the greatest conflict the U.S. has ever faced and changed the course of American history. The War Came By Train serves as the B&O Railroad Museum's primary attraction for the five year commemoration of the War's sesquicentennial. The National Landmark Roundhouse will exhibit the largest assemblage of Civil War railroad equipment in the world featuring locomotives and rail cars that served during the war, significant military and personal artifacts that will change annually to portray each year of the war (some artifacts never before on public display), and a narrated train ride to the original site of Camp Carroll, the largest Union encampment in Baltimore.
Thursday, Nov. 15, 2012 PRR Lecture at Hagley Museum and Library - 7 PM Dr. Albert Churella, "The Unique Railroad of the World: Why the Pennsylvania Railroad was Different from all of the Others," Reservations are requested, 302-658-2400 Wilmington, Delaware, November 2012, Hagley Museum and Library welcomes Dr. Albert Churella, Southern Polytechnic State University, on November 15, to speak about the Pennsylvania Railroad. His lecture, "The Unique Railroad of the World: Why the Pennsylvania Railroad was Different from all of the Others," will begin at 7 p.m. in the Soda House auditorium. The lecture will mark publication of Dr. Churella's book, The Pennsylvania Railroad, Volume 1: Building an Empire, 1846-1917. The lecture is free. Please use Hagley's Buck Road entrance. Reservations are requested, 302-658-2400.
"Albert Churella's book is based on exhaustive research at Hagley and other libraries," says Dr. Roger Horowitz, associate director at the Hagley's Center for the History of Business, Technology, and Society, "It is certain to become the authoritative history of the Pennsylvania Railroad."
The Pennsylvania Railroad, Volume 1: Building an Empire, 1846-1917 will be part of a multi-volume account from the University of Pennsylvania Press. The book opens with the development of the Main Line of Public Works in the 1820s that foreshadowed the establishment of the Pennsylvania Railroad in 1846. Churella then charts the railroad's growth over the next fifty years through the Civil War, industrial expansion, and labor unrest, as well as competition with rival railroads and disputes with such figures as Andrew Carnegie and John D. Rockefeller. The volume closes at the threshold of American involvement in World War I. Copies will be available for purchase at the lecture. Dr. Albert J. Churella is associate professor in the Social and International Studies Department at Southern Polytechnic State University in Marietta, Georgia. His first book, From Steam to Diesel: Managerial Customs and Organizational Capabilities in the Twentieth-Century American Locomotive Industry (1998) was a finalist for the George W. Hilton award in railway history. Churella is completing the first of a two-volume history of the Pennsylvania Railroad, with extensive treatment of the business, technological, labor, public policy, ethnic, and gender issues related to that company. He has also published numerous other articles and book reviews, and has presented papers at conferences in the United States and Europe.
About the Library
Hagley Library is the nation's leading business history library, archives, and research center. Current holdings comprise 37,000 linear feet in the Manuscripts and Archives Department, 290,000 printed volumes in the Imprints Department, 2 million visual items in the Pictorial Department, and more than 300,000 digital images and pages in the Digital Archives Department. Hagley's Center for the History of Business, Technology, and Society organizes conferences, research seminars, and a public lecture series; it also operates a research grants-in-aid program.
Hagley Museum and Library
Hagley Museum and Library collects, preserves, and interprets the unfolding history of American enterprise. For more information, call (302) 658-2400 weekdays or visit www.hagley.org.
November 2012 - January or February 2013 Model Railroad Club Open Houses "Green Sheet" from Holiday Season Model Railroad Open Houses - November 2012 through February 2013available at http://www.royersfordmodular.org/greensheet.html includes the following clubs:
Abington Lines Model Railroad Club
Burlington County Model Railroad Club
Coopersburg Area Society of Model Engineers (CASME)
Chelten Hills Model Railroad Club
GA TSME Model Railroad Club
Keystone N-Trak
Logan Model Engineers
Royersford Modular Model Railroaders
Schuylkill Valley Model Railroad Club
Saint Alban's Railroad Fellowship (StARR)
Black Diamond Society of Model Engineers (BDSME)
also individually noted:
Miniature Railroad Club of York, PA [ 11/25 & 12/2,8,9,15,16,22,23,29,30 & 1/5,6 ] 3 - 8 PM Saturdays, 1 - 5 PM Sundays see info at http://www.mrrcy.com/?content=show or (717) 458-2932
Cumberland Valley Model Railroad Club, Chambersburg PA Sundays Dec.9,16,23,30.-2012, Saturdays Jan. 5 and 12th -2013 All - 12 noon til 5 pm see info at http://www.cvmrrc.com/ or (717) 263-6447
Anthracite Model Railroad Club 1057 Hanover Court Hazle Township, Pa 18202-1736Nov 17, 18, 22, 23, 24, Dec. 1, 2, 8, 9, 15, 16, 22, 23, 29, 30, Jan 5, 6 http://www.amrclub.org/index.htm
Lehigh and Keystone Valley Model RR Club 705 Linden Street Bethlehem, Pa. 18018 (610) 868-7101 Differing times Nov 23- 25; Dec 1-2, 8-9,15-16,22-23, 24,26-28,29-30; Jan 1,5-6 http://www.lkvmrr.com/
Saturday, November 24, 2012 Steamin' Day at Auburn Heights, Yorklyn, DE 12:30 - 4:30 PM, 3000 Creek Road, Rides Tickets includes 4 rides in the antique autos or Auburn Valley Railroad: $10 ages 13 and up, $7 ages 2-12 (under 2 free); Mansion Tickets includes tour of two floors of Auburn Heights: $12 all ages; Combo Tickets covers it all, rides and mansion: $18 ages 13 and up, $15 ages 2-12 (under 2 free); Fresh steam-popped popcorn from vintage popper, Firing Up Demonstration - how to set a Stanley in motion, Entry to the Marshall Steam Museum, featuring the world's largest operating collection of Stanley steam cars plus a 1930s working Lionel electric trains display, a hands-on engine display, kids activities, and exhibits, Museum Gift Shop http://www.auburnheights.org (302) 239-2385 (800) 349-2134
Through Saturday, November 24, 2012 SMITHSONIAN EXHIBIT THE WAY WE WORKED at Auburn Heights, Yorklyn, DE The Way We Worked is a Museum on Main Street project from the Smithsonian Institution Traveling Exhibition Service see website http://www.auburnheights.org/?page_id=980 or call to find out about viewing dates (302) 239-5687 or 239-2385
Sunday, Dec. 2, 2012 Gilbertsville Toy Train Show 8:30 AM-1:30 PM, Gilbertsville Fire House, 1454 E. Philadelphia Ave. Gilbertsville, PA admission $3
December 8, 2018 Wilmington Chapter's Christmas Lights Trolley Trip Leaves from Elmwood at 5 PM Come out for an evening of riding streetcars and get into the holiday spirit. Our PCC-2 will have its halls decked for this four-hour trip. Stops will be made to photograph our streetcar with colorful backgrounds. Fare for this trip is $45. You can get a combination ticket for this trip and Super Saturday Streetcar Special XX for $85 (a $10 savings; expires October 30, 2012). SPE+CIAL: Want to come for a ride but you aren't into photography? We're offering a ride-only ticket for $25. Enjoy the city while staying warm in the streetcar! (Ride-only tickets not eligible for combo savings). Visit http://www.railroadphotographer.com/gallery/10879119_QBo9f to order tickets or to get more information. Paying by mail? Make checks payable to "Wilmington Chapter NRHS" and send to: Wilmington Chapter NRHS c/o Steve Barry 117 High Street Newton, NJ 07860
Sunday, December 9, 2012 Wilmington Chapter's Annual Holiday Dinner 5 PM at Maximillians's Restaurant and Tavern in Upper Chichester, Pa. Cost is $20 per person and as is tradition Steve Barry will present a year in review. Sign-up for the banquet at Chapter Meetings through November. You can also sign up by contacting Chapter President Mike Burkhart at m.t.burkhart@rcn.com or at (610) 833-2338
February 2, 2013 TWENTIETH ANNIVERSARY !! Super Saturday Streetcar Special XX Join us for the 20th running of this Wilmington Chapter tradition. Our chartered PCC-2 will depart Callowhill Depot at 10:00 (Malvern Loop at 10:15) for a five-hour tour including all of Route 15 (with the new loop) and our usual eclectic mix of regular service and diversion trackage. The fare for this trip is $50. A combination ticket for this trip and the Christmas Lights charter is available for $85 (save $10; expires October 30, 2012). Visit http://www.railroadphotographer.com/gallery/10879119_QBo9f to order tickets or to get more information. Paying by mail? Make checks payable to "Wilmington Chapter NRHS" and send to: Wilmington Chapter NRHS c/o Steve Barry 117 High Street Newton, NJ 07860
---
CHAPTER EVENTS
Thursday Nov. 21, 2012 7 PM Chapter Meeting program by Frank Ferguson
Saturday Dec. 8, 2012 5 PM Chapter Trolley Trip Christmas Lights Trolley Trip
Sunday Dec. 9, 2012 5 PM Annual Holiday Dinner in lieu of normal monthly meeting program by Steve Barry
Thursday Jan. 17, 2013 7 PM Chapter Meeting program by a Allen Tweedle. Program entitled "William Finley Collection Images - Part 2"
Saturday Feb. 2, 2013 10 AM Chapter Trolley Trip Super Saturday Streetcar Special XX
Thursday Feb. 21, 2013 7 PM Chapter Meeting program by a Frank Ferguson
Thursday March 21, 2013 7 PM Chapter Meeting program by a Frank Ferguson
Thursday April 18, 2013 7 PM Chapter Meeting program by a Unknown Personage
The Wilmington Chapter of the National Railway Historical Society (NRHS) meets at 7:00 PM on the third Thursday of each month [except August & December] in the Darley Room at the Claymont Community Center on Green Street in Claymont, Delaware. Visitors are always welcome. Admission to regular meetings is free. Check out our Website (thanks to Russ Fox) at: http://www.WilmingtonNRHS.com
---
The Transfer Table is published six to ten times per year as the newsletter of the Wilmington Chapter of the National Railway Historical Society. Items in this publication do not represent the official position of either Officers or Members of the Wilmington Chapter or the Editor of this publication.
Permission to reprint articles and news items appearing herein is granted to NRHS Chapters and other newsletters provided appropriate credit is given.
Contributions are always welcome and should be sent to the editor at SD40GMA@aol.com or send to: P.O. Box 1136, Hockessin, DE 19707-5136.
Deadline for entries is the 25th of the month.
Chapter Officers
President: Mike Burkhart
Vice President: Dave Watterson
Treasurer: Dave Warner
Secretary: Dan Frederick
National Director & Trip Director: vacant
Temporary Chapter Rep. Tom Posatko
Trip Director Steve Barry
Editor: Greg Ajamian
Web Master: Russ Fox