NOTE: The Lite Version is our electronic version which is available for free from this web site. It has limited content but gives you a taste of what is offered in our Full Version.
The Full Version is our printed newsletter which is mailed to you. It contains everything in the Lite Version along with many other reprinted pages from other NRHS newsletters, railroad publications, and flyers that contain photographs, drawings, and maps. The full version is just another benefit of joining our chapter.
THE TRANSFER TABLE
The Wilmington Chapter NRHS Official Newsletter
Internet Edition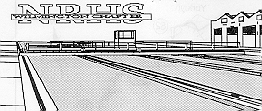 | | |
| --- | --- |
| VOLUME 35 NUMBER 05 | MAY - JUNE 2012 |
Back To Wilmington Chapter Web Site
MAY 2012 MEETING NOTES
President Mike Burkhart called the meeting of the Wilmington to order at 7 PM. The minutes were approved as read by Secretary Dan Frederick. The Treasurer's report was approved as read by Dave Warner. President Mike Burkhart had to report the passing of another long-time Chapter Member - Jack Rathburn passed away on April 23, 2012. National Director Steve Barry noted that the officers in our regional elections were running unopposed - but write-in votes are permitted. He also gave a 'heads up' on the 2013 National Convention in Alaska. New member, Jim Tevebaugh, provided some information about the Friends of Furness Foundation and walking tour scheduled for September 22, 2012 (see details in the Schedule Notes section). Treasure Dave Warner noted that NRHS National dues were going up next year and that our Chapter Dues did not cover our typical expenses. He proposed a small dues increase and after some discussion, the motion was tabled. There is a Survey-by-Return-Mail enclosed in this newsletter for Chapter Members.
The evening's computer presentation on our Chapter's new projector was presented by Bruce Barry. We saw images from the following locations: MD, VA, NY, Ontario, Philadelphia, FL, NJ, WA, OR, and even Larry's Scrap in Ohio. We were treated to images of CSX, NS, Wellsboro & Corning, Bath & Hammondsport, Levona Avon & Lakeville, VIA, Orangeville Brampton Rwy (near Toronto), GO, SEPTA, Conrail, Amtrak, NJTransit, Wheeling & Lake Erie, the Polar Express, IC, CN, BNSF, UP, Central Oregon & Pacific, Portland & Western, Albany & Eastern, Willamette & Pacific, and Willamette Valley. We even got to see a few semaphore signals. It was a great show to 'break in' our new equipment.
---
Jack Rathburn
It is with great sadness that we have to report the passing of long-time Chapter Member Jack Rathburn. The Editor did see an obituary at the time in April, and in fact, the memorial service was not held until May 20 at the Forwood Manor Home. At least six Chapter Members and former members were in attendance. Jack was listed on the Chapter's membership list in July 1973 (the earliest one the Editor could find). Jack was a very active member attending most monthly meetings, taking Chapter Trips, and various model & prototype activities in the area. He loved to see steam locomotives in slide presentations - especially in later years as the images became scarcer. At the service, it was noted that he liked to take "day trips" to ride trains, observe, trains, and just have a good time. As noted by many at the service, Jack was always a real gentleman and pleasure to be with. He will be greatly missed by all who knew him.
---
NRHS CHAPTER DISTRICTS
District 1 - ME, NH, VT, MA, RI, CT, NY, and the UK. 1441 members.
District 2 - PA. 1489 members.
District 3 - NJ, DE, MD, DC, and the Rappahannock and Old Dominion Chapters in VA. 1480 members.
District 4 - Rest of VA, NC, SC, GA, FL, MS, and southern AL (Alabama Gulf Chapter). 1477 members.
District 5 - Rest of AL, TN, KY, WV, OH, IN, MI. 1462 members.
District 6 - MN, WI, IL, St. Louis Chapter in MO, IA, ND, SD, MT, ID, WY, UT, NV, WA, OR, BC, Japan, AK, HI. 1458 members.
District 7 - Rest of MO, CA, AZ, NM, TX, LA, AR, NE, KS, OK, CO. 1451 members.
---
NEWS BITS
Amtrak long-distance equipment will now receive safety inspections, servicing and maintenance in an upgraded, more efficient and environmentally designed facility in Hialeah, Fla., that will dramatically improve capacity, efficiency and working conditions. The enhanced facility is 50 feet wide by 920 feet long and includes a 600-foot in-ground pit that includes an in-floor jacking system to remove and replace the wheel trucks. It also has administrative offices, training rooms, and employee locker and lunchrooms. In addition, the facility has a number of features to meet the Leadership in Energy and Environmental Design (LEED) standards for environmentally sustainable construction. The Amtrak Hialeah Preventative Maintenance Facility will maintain Viewliner, Amfleet II and Heritage Diner equipment used on some long-distance routes which was previously serviced in an open-air environment. The facility will centralize maintenance of the equipment, improving efficiency and reducing equipment out-of-service time. The facility cost for the project is $32.7 million with $29.4 million funded through the American Recovery and Reinvestment Act. [AMTRAK Press Release via Ed Mayover]

In celebration of National Park Week, April 21 - 29, Amtrak has relaunched AmtrakToParks.com with more user friendly features such as an improved trip planner and browser function and added multimedia. The site allows users to see the nearest Amtrak route to featured national park sites, as well as the nearest Amtrak station. The refreshed site features more than 235 parks, historic sites and monuments and expanded media capabilities including video from the U.S. National Park Service Trails & Rails Program, Amtrak's 40th Anniversary and a direct link to parks related content on the Amtrak YouTube Channel. In addition, the updated site features packages and deals via AmtrakVacations.com, which include rail travel, hotel accommodations and tour tickets as well as a new downloadable map that marks National Parks and the Amtrak system. This site compliments the highly successful partnership with the National Park Service through its Trails & Rails program, which features on-train guides providing historical and geographical narrative on many Amtrak routes.

AmtrakToParks.com offers users the option to zoom in to a specific region or to customize their search based on states and personal interests -- monuments/memorials, revolutionary history or water activities to name a few. Information on accommodations such camping sites and hotels is also provided. Once the user selects a national park, information on the park as well as which Amtrak route provides service to that park is shown. The site was developed in partnership with the Department of Recreation, Park and Tourism Sciences at Texas A&M University. "It was the railroads that initially promoted visitation to America's National Parks and we are excited to be working with Amtrak and Texas A&M University to once again highlight the cultural and natural treasures of the United States," notes James Miculka, National Park Service Coordinator. During National Park Week, admission to all 397 national parks is free. For more information on National Park Week, visit NPS.gov/npweek/ [AMTRAK Press Release via Ed Mayover]

The Military Officers Association of America (MOAA) has named CSX Corporation the recipient of the 2012 Distinguished Service Award, a recognition of CSX's continued emphasis on hiring and supporting active duty and veteran men and women. Nearly one in five CSX employees is a veteran of the armed services. In 2012, the company plans to hire approximately 1,000 veterans - part of its pledge to the White House's Joining Forces initiative. CSX also supports employees engaged in the National Guard or active Reserve by extending salary and benefits to employees called up to active duty. CSX serves more military facilities than any other major U.S. railroad, handling thousands of carloads annually for both overseas deployments and training exercises. CSX's commitment to military support has been recognized by others - the company is the only two-time recipient of the Secretary of Defense Employer Support Freedom Award and is regularly ranked in the top three on G.I. Jobs magazine's Top 100 Military Friendly Employers list. Since 1997, the MOAA has presented its annual Distinguished Service Awards to congressmen, staffers, and organizations that support America's service men and women and their families. This year, CSX is one of two non-congressional organizations receiving this honor, along with the Honor Flight Network. [CSX Press Release via Ed Mayover]

The new spring-summer Amtrak System Timetable is now available and includes changes which are effective with departures beginning Monday, May 7. Most schedule changes in the new timetable are minor or seasonal, with the exception of the Sunset Limited (New Orleans - Los Angeles) which will now operate westbound on Monday, Wednesday and Saturday. While there is no change in days of operation for the eastbound train, it will depart later in the day in order to restore connections to the Coast Starlight (Seattle - Los Angeles) and make possible an attractive next morning arrival to Arizona destinations. The new publication also reflects a change in the identification of 11 more stations to "attended stations" that are served by hosts and volunteers that can assist passengers with informational needs (see attached list.) In addition, it is being released as Amtrak is on pace to set another new annual ridership record this fiscal year. The spring-summer timetable cover features the high-speed Acela Express train set in Washington Union Station, Amtrak's second busiest station. The magazine-style booklet, printed bi-annually, is available in stations and can be ordered and viewed online at Amtrak.com. In addition, passengers can get Amtrak schedule information by calling 800-USA-RAIL Celebrating 40 years of dedicated service as America's Railroad¨, Amtrak is the nation's intercity passenger rail provider and its only high-speed rail operator. A record 30.2 million passengers traveled on Amtrak in FY 2011 on more than 300 daily trains - at speeds up to 150 mph (241 kph) - that connect 46 states, the District of Columbia and three Canadian Provinces. Amtrak operates trains in partnership with 15 states and four commuter rail agencies. Enjoy the journey at Amtrak.com or call 800-USA-RAIL for schedules, fares and more information. [AMTRAK Press Release via Ed Mayover]

Norfolk Southern is honoring its predecessor railroads during 2012, its 30th anniversary year, by painting 18 new locomotives in commemorative schemes that reflect the heritage of those predecessors. Since the 1820s, hundreds of railroad companies were built, merged, reorganized, and consolidated into what eventually became Norfolk Southern, itself created from the consolidation of Southern Railway and Norfolk and Western Railway in 1982. In 1999, Norfolk Southern expanded the scope of its heritage with its acquisition of a portion of Conrail. The heritage locomotives will represent most of the railroads that played significant roles in Norfolk Southern's history. The first units will be delivered in March, and all units are expected to be riding the rails by June 1, Norfolk Southern's 30th anniversary date. Each paint scheme will be modified to fit contemporary locomotives while staying as true as possible to the original designs. Norfolk Southern employees in Altoona, Pa., and Chattanooga, Tenn., will paint GE ES44AC locomotives, while the EMD SD70ACe units will be painted at Progress Rail Services' facility in Muncie, Ind. The heritage locomotives will be used to haul freight across Norfolk Southern's 20,000-mile, 22-state network.
The predecessor companies to be represented are listed below. In parentheses are the respective roads each became part of (NW=Norfolk & Western, SR=Southern, CR=Conrail) and the make of locomotives to be painted. Images of the color schemes are available on Norfolk Southern's web site.

Central of Georgia Railway (SR, GE) was formed in 1833 to connect Macon, Ga., with Savannah, completing a rail link between Chattanooga and the port. It was famed for two passenger trains named after prize-winning race horses, the Nancy Hanks and the Man O' War.

Central Railroad of New Jersey (CR, EMD) was the first American railroad to have its employees wear uniforms, and in 1892 one of its locomotives set a world speed record of 105 mph.

Conrail (GE) was created by the U.S. government in 1976 from the bankrupt Penn Central, Lehigh & Hudson River, Erie Lackawanna, Central Railroad of New Jersey, Lehigh Valley, Reading and Pennsylvania-Reading Seashore Lines, becoming the largest railroad at the time, with 34,000 route miles.

Delaware, Lackawanna and Western (CR, EMD) was created in 1849 to connect the rich anthracite coalfields of the Lackawanna Valley of Pennsylvania to northern New Jersey. A hurricane in 1955 knocked the railroad out of operation for a month, with the resulting financial difficulties forcing it to merge with the Erie Railroad in 1960 to form the Erie Lackawanna Railroad.

Erie Railroad (CR, EMD) was key to economic development along the Southern Tier, which includes Binghamton and Elmira, N.Y. In 1851, Secretary of State Daniel Webster was strapped to a rocking chair on an open flatcar, wrapped in a blanket and clutching a bottle of rum, so he could ride the just-completed railroad.

Illinois Terminal Railroad (NW, EMD) began life as the Illinois Traction System in 1896 as an interurban electric railroad in central and southern Illinois. Hit by the Great Depression, it was reorganized as the Illinois Terminal in 1937 and attempted to survive as a passenger railroad until relinquishing that business in 1956, when it was acquired by a consortium of railroads. It was operated as a freight railroad until acquired by NW in 1982.

Interstate Railroad (SR, GE) was incorporated in 1896 to serve southwestern Virginia coalfields. Despite its name, it operated entirely within Virginia. It was acquired by Southern in 1961.

Lehigh Valley Railroad (CR, GE) was built to haul coal, replacing water transport down the Lehigh River, and was also known as the Route of the Black Diamond.

New York Central Railroad (CR, EMD) was organized from 10 roads paralleling the Erie Canal between Albany and Buffalo, N.Y., and became known as the "Water Level Route." Today, the former NYC line between Cleveland and Chicago is the busiest on the NS system, with more than 100 freight trains daily.

New York, Chicago and St. Louis Railroad (NW, GE) was commonly referred to as the Nickel Plate Road, a moniker it acquired when the Norwalk (Ohio) Chronicle referred to it in 1881 as "the great New York and St. Louis double track, nickel plated railroad," supposedly indicative of its solid financial backing.

Norfolk Southern Railway (SR, GE) (not to be confused with today's Norfolk Southern) was a line serving southeast Virginia and northeast North Carolina, chartered in 1883 and acquired by Southern Railway in 1974.

Norfolk & Western Railway (GE) originated as City Point Railroad, a 9-mile road between Petersburg and City Point, Va., in 1836. Following numerous mergers and acquisitions, it became the Norfolk & Western in 1881.

Pennsylvania Railroad (CR, GE), incorporated in 1846, billed itself as the "Standard Railroad of the World" and was for many years the largest American railroad by tonnage and revenues. PRR opened the Horseshoe Curve railroad engineering marvel; carried President Lincoln to his inauguration; implemented the "line and staff" organizational structure used by business today; built Pennsylvania Station in Manhattan; and electrified the route between New York and Washington, among its many achievements.

Reading Company (CR, EMD) was one of the first railroads built in America, and built its fortune hauling coal. It featured the first iron railroad bridge in America.

Savannah & Atlanta Railway (SR, EMD), began life as the Brinson Railway in 1906, slowly expanding from Savannah toward the Northwest. It was consolidated with other small railroads to become the Savannah & Atlanta in 1917. Central of Georgia bought the S&A in 1951.

Southern Railway (GE) originated as the South Carolina Canal and Rail Road Company in 1827. It put into service the nation's first regularly scheduled steam passenger service on Christmas Day, 1830, with the locomotive "The Best Friend of Charleston." The Southern was incorporated in 1894 from the reorganization and consolidation of numerous predecessors and absorbed another 68 railroad companies over the next six years.

Virginian Railway (NW, EMD) was the only railroad created through the capital and credit of one man, oil magnate Henry Huttleston Rogers. After building a short line, the Deepwater Railway, to haul coal out of West Virginia and then being blocked by the bigger railroads, he created another railroad, the Tidewater Railway, to reach Norfolk, Va., then combined the two into the Virginian in 1907. It was acquired by N&W in 1959.

Wabash Railroad (NW, EMD) was formed in 1877 and served the mid-central U.S. It was acquired by the Pennsylvania Railroad in 1927 and leased to Norfolk & Western in 1964. In 1991, N&W, by then part of Norfolk Southern, purchased the Wabash outright. Made famous by the 1904 song "Wabash Cannonball," there was in fact no such train by that name until 1949.[from NS Website http://www.nscorp.com]
The Oregon Coast Scenic RR has signed a 20-year lease agreement with the Port of Tillamook (Ore.) Bay giving them exclusive rights to operate over 46 miles of the Port-owned Port of Tillamook Bay RR. Previously, the OCSR had operated on 5 miles of the POTB RR, and had to comply with FRA regulations requiring it to operate as though it were shared trackage, even though the POTB had not run a train in five years. The OCSR is now responsible for all track maintenance, and has already begun clearing brush. The move may signal the Port's recognition that it is abandoning any hope of ever repairing the storm damaged former SP branch, and this could mean the end of the POTB railroad, famous for its spectacular ocean to mountain scenery and multiple SD9 lashups. One of the last excursions to cover the railroad was one of the events of the 2005 NRHS convention in Portland. [e-mail from Tom Smith]

The Rockhill Trolley Museum has been associated with the East Broad Top Railroad and the Kovalchick family since 1960. It was in October of that year that Johnstown Traction Company # 311 was moved to Rockhill Furnace and became the first trolley in what is now known as the Rockhill Trolley Museum. During 2012, the trolley museum will continue to operate on its normal schedule of weekends only, starting Memorial Day weekend through the end of October. The winter holiday events will take place in late November and early December. Additional special events will be held throughout the year. Please check our website at www.rockhilltrolley.org for a complete listing of all of our 2012 events. While associated with the EBT Railroad for over fifty years, the trolley museum is a separate non-profit corporation operated by Railways To Yesterday, Inc. The Rockhill Trolley Museum is deeply grateful for the many years of support from the East Broad Top Railroad and the Kovalchick family. We are looking forward to many more years of mutual help and cooperation. The trolley museum is staffed entirely by volunteers that are responsible for all aspects of the museum. We are deeply disappointed to hear that the EBT will not operate during 2012. The Rockhill Trolley Museum looks forward to the operation of East Broad Top Railroad in the future. [Rockhill Trolley Museum Press Release]

It is with great remorse that the East Broad Top Railroad officially announced that they will not be operating steam powered excursions for the 2012 season. On April 1st, 2012, the East Broad Top Preservation Association's 3-year lease to operate the East Broad Top Railroad with an option to buy has ended. After painstaking talks and options were evaluated and discussed, no arrangement could be made between the East Broad Top Railroad and Coal Company and the East Broad Top Preservation Association. At this time there are no certainties beyond 2012. We can't say this is the end of the line, nor can we say this is just temporary. Should any type of operations or events be planned in the future, we will announce them here. Until then there are no further details. The decision to close this season was a difficult one. The East Broad Top Railroad is America's oldest operating narrow gauge steam railroad. [East Broad Top Railroad website]

The Surface Transportation Board (STB) granted final approval to R.J. Corman Railroad Group/Pennsylvania Lines Inc. to build and operate a new rail line in Pennsylvania using previously rail-banked right of way and new right of way. The approval is the first time the board has allowed a proposal combined with the restoration of rail service over a rail-banked right of way. R.J. Corman/Pennsylvania Lines now is authorized to construct a 10.8-mile line over a segment of abandoned rail right of way between Wallaceton and Winburne, Pa., and reactivate a connecting 9.3-mile line between Winburne and Gorton, Pa. The combined 20-mile line will be used to provide rail transportation services to a proposed waste-to-ethanol facility, quarry and industrial park near Gorton, as well as other shippers along the route. [from Progressive Railroading Daily Rail News via Ed Thornton]

Norfolk Southern's Heritage locomotives will gather for a "family portrait" at the North Carolina Transportation Museum (NCTM) in Spencer, N.C., during the Fourth of July week. All 20 locomotives painted in the color schemes of predecessor railroads will be on display July 3 and 4. Tickets for the event are $25 for adults and $15 for children in advance, and $30 for adults and $20 for children the day of the event. Ticket sales began May 21 at the NCTM's web site or by calling 704-636-2889, ext. 237. The Fourth of July week was chosen because of the holiday and because demand for the locomotives in freight service temporarily will be reduced due to the traditional coal miners' holiday. In a related event, on Saturday, July 7, the Virginia Museum of Transportation in Roanoke, Va., will unveil the refurbished Norfolk & Western 1776 locomotive, which was painted in a star-spangled color scheme to commemorate the nation's bicentennial in 1976 and has just been restored to its original luster.

NS is producing the Heritage fleet as part of the company's 30th anniversary celebration. NS was created June 1, 1982, with the consolidation of Southern Railway Company and Norfolk and Western Railway Company, but both of those trace their lineage to hundreds of predecessors dating back to the early 1800s. The museum is on the former site of Southern Railway's Spencer Shops, a steam locomotive servicing facility. After the advent of diesel, Spencer continued to serve as a classification yard into the late 1970s, when Southern donated land and facilities to the State of North. [NS Press Release]

The Norfolk Southern Exhibit Car has launched a 10-state, 15-city public tour. The Exhibit Car is a restored 1926 Pullman passenger car that was converted to a mobile museum in 1971. In its 41 years of service as a display car, it has traveled to hundreds of cities across Norfolk Southern's railway system and has been viewed by more than 1.5 million people. Among new features for the 2012 tour is a display featuring the company's heritage locomotives. To celebrate the 30th anniversary of Norfolk Southern this year, the company is rolling out 20 locomotives painted in the color schemes of some of its most prominent predecessor companies. The Exhibit Car displays models of the locomotives, along with historical information about each railroad and a flat-screen monitor showing images of the real locomotives. Also new in the car: a game, community focus, and a photo booth. The game, Load the Line, challenges players to match freight products with the correct type of rail car in a race against time. Visitors to the car can view Explore the Line to learn about how Norfolk Southern benefits local communities and creates jobs; and through Protect the Line, they can find out how to keep the rails safe. The photo booth takes four quick pictures of guests against a train backdrop and emails the photos. An electronic guestbook allows visitors to comment about their favorite display. The 2012 improvements complete a two-year upgrade to the Exhibit Car to enhance the experience for guests. The work was done at Norfolk Southern's Juniata Shops at Altoona, Pa., one of the largest railroad mechanical complexes in the world. Everyone's favorite display - the locomotive simulator - remains in the car, complete with throttle, brake, and horn putting guests in control of a virtual freight train. The Exhibit Car's first appearance this year was at Chicago May 12 for National Train Day. The car will tour through December on the following schedule, with all events open to the public unless noted otherwise. [NS Press Release]

The City of Roanoke donated former Norfolk and Western steam locomotives Class J No. 611 and Class A No. 1218 to the Virginia Museum of Transportation on April 2. While the engines have been located in the museum for years, they were still owned by the City of Roanoke and were given to the museum on its 50th birthday. The museum was founded as the Roanoke Transportation Museum in 1962. [Roanoke Chapter's Turntable Times]

Norfolk Southern this month began a $160 million project to expand its Bellevue rail yard in Northern Ohio, a project that will double the yard's capacity in order to meet rising demand for freight rail transportation. Some 275 new railroad jobs will be added to the 700 positions currently based in Bellevue. NS employs about 3,600 people across Ohio and plans to hire another 60 in the state by the end of 2012 to address attrition and shipper needs. Other key elements of the project include:

¤ 38 new tracks, bringing the total number of classification tracks to 80.

¤ 38.5 miles of new rail, which will allow NS to increase the number of cars classified from about 1,800 to as many as 3,600 a day.

¤ 145 miles of underground cable for communication and signal systems.

¤ 140 new automated switches to direct train traffic to the proper tracks.

¤ 11 upgraded control points, signals that will make train access to the Bellevue facility more efficient.
Bellevue is one of 12 NS classification facilities, where freight cars are collected and sorted for their final destinations. When completed in 2015, Bellevue will be the largest classification yard on the NS system. The community of Bellevue has been a railroading center since the late 19th century, when NS' Nickel Plate Road predecessor line came to town. Bellevue Yard opened in 1966 on NS' Norfolk and Western Railway predecessor line. Today, 100 to 110 trains pass through daily, while 20 to 30 originate in the area and a like number terminate in the area. For the most part, the trains carry vehicles, vehicle parts, agricultural products, and consumer products. [NS Press Release]
---
SCHEDULE NOTES
Notices, announcements, schedules, etc. are provided here as a service to the members. The Chapter has no affiliation with any commercial operation, museum, or tourist line.
Until May 30, 2015 Civil War 150th Anniversary: The War Came By Train@ B&O RR Museum in Baltimore. Monday - Saturday (10:00 a.m. - 4:00 p.m.), Sunday (11:00 a.m. - 4:00 p.m.) Between April 19, 1861 (The Baltimore Riot of 1861) and April 21, 1865 (Lincoln's funeral train leaving Baltimore for Illinois), the B&O stood witness and participant in the greatest conflict the U.S. has ever faced and changed the course of American history. The War Came By Train serves as the B&O Railroad Museum's primary attraction for the five year commemoration of the War's sesquicentennial. The National Landmark Roundhouse will exhibit the largest assemblage of Civil War railroad equipment in the world featuring locomotives and rail cars that served during the war, significant military and personal artifacts that will change annually to portray each year of the war (some artifacts never before on public display), and a narrated train ride to the original site of Camp Carroll, the largest Union encampment in Baltimore.
April 21 thru Dec. 30, 2012 ROLE OF RRs in PA During the CIVIL WAR at RR Mus. of PA, Strasburg Railroads were a key to the successes of both the Union and Confederacy during the Civil War, and the contributions of Pennsylvania's railroads were an integral part of the Union's eventual victory. From supplying the Armies with munitions and food, to transporting troops, prisoners and communications, the Civil War was the first war in which railroads were a major factor. Photographs, documents and artifacts tell the story of Pennsylvania's railroads during the War Between the States.
Saturday, June 16, 2012 Conrail Technical Society Excursion Conrail T&HS announced an excursion from Washington, D.C. to Harrisburg and return using the Juniata Terminal PRR E8's operating via Perryville, NS Port Road to Columbia to the Enola Branch. Train will operate through Enola Yard and cross Rockville Bridge and return through Harrisburg and then operate over the Royalton Branch back to the Port Road. Departure from Washington is 8:00 am. Tickets are $ 172.50 in coach. Tickets are ordered through the CRHS website. www.crhstrips.com
Saturday & Sunday, June 23-24, 2012 Great Scale Train Show 9AM-4PM, $9, State Fairgrounds, Timonium, MD
Tuesday-Sunday, July 3-8, 2012 READING RAILROAD DAYS at RR Mus. of PA, Strasburg
Saturday & Sunday, July 14-15, 2012 6th Annual Toy & Model Train Flea Market @ Williams Grove9-4 Sat., 9-2 Sun., Steam train rides, model train display, stands with collector items to purchase. Raffle each day to for a chance to operate Locomotive 52! Free parking. Williams Grove Historical Steam Engine Association, Mechanicsburg, PA (717)-766-4001
Saturday & Sunday, August 4-5, 2012 Greenberg's Train & Toy Show 10-4, Adults $7, Maryland State Fairgrounds, 2200 York Road, Timonium, MD 21093, FREE PARKING
Sunday, August 26, 2012 Central PA Chapter's 37th Annual Train Meet 9-2, Adults $3, Warrior Run Fire Dept. Social Hall, Second St., Allenwood, PA
August 26 - September 3, 2012 54th Annual Summer Show @ Williams Grove Steam train rides! GREAT FOOD! Nightly entertainment! Blacksmith shop Steam Traction Engines operating daily Antique Tractors Hit and Miss Engines Car show on Sunday, August 26th. Horse pulls on Tuesday, August 28th at 7:00pm. Consignment sale on Saturday, Sept. 1st. at 8:00am Williams Grove Historical Steam Engine Association, Mechanicsburg, PA (717)-766-4001
Saturday, September 15, 2012 The Great Lehigh Valley Train Meet Sat. 10 am - 4 pm, all scales, one day, Merchants Square Mall, 1901 South 12th Street, Allentown PA 18103
Saturday, September 22, 2012 MEMBERS DAY at RR Mus. of PA, Strasburg
Saturday, September 22, 2012 Friends of the Furness Railroad District Tour & Mini Exhibition In the Fall of 2012 a festival is being held in the Philadelphia to Wilmington areas, to highlight the creative talent of the 19th century architect, Frank Furness. The festival will begin in early September and continue with events, tours, exhibitions, lectures, and symposia throughout this fall season, ending in early December. The second scheduled event will be on Saturday, September 22nd when the Friends of the Furness Railroad District will sponsor a tour and mini exhibition in Wilmington, DE. The tour will begin at Furness' Wilmington Amtrak, Railroad Station (formerly the Pennsylvania Railroad Station, 1907-8), and the adjacent but separate Pennsylvania Office Building (1905), followed by a walk along the Railroad viaduct to see some Furness inspired newer construction related to the Railroad Station, and then on to the Furness designed B&O Railroad Station (1888). We will then proceed up the hill to visit the Central National Bank (1885-1905 and later), also known as the Security Trust and Deposit Company, and now known as the Kimba Academy, a charter school. The tour will then conclude with a mini Furness exhibit at the adjacent Wilmington Historical Society where a talk will be held and refreshments will be offered.
Sunday, October 7, 2012 GARDEN RAILWAYS TOUR at RR Mus. of PA, Strasburg
Saturday & Sunday, Oct. 27-28, 2012 Great Scale Train Show 9AM-4PM, $9, State Fairgrounds, Timonium, MD
Saturday & Sunday, Nov. 3-4, 2012 TRAINS & TROOPS at RR Mus. of PA, Strasburg
---
CHAPTER EVENTS
Thursday June 21, 2012 7 PM Chapter Meeting "Do It Yourself" Slide Night bring some slides and/or prints to share with fellow members
Thursday July 21, 2012 7 PM Chapter Meeting program by Mike Burkhart
Thursday August 16, 2012 7 PM Chapter Meeting PSE (Possible Special Event -or- not)
Thursday Sept. 20, 2012 7 PM Chapter Meeting program by Possibly A. Guest
Thursday Oct. 18, 2012 7 PM Chapter Meeting program by Probably A. Member
Thursday Nov. 21, 2012 7 PM Chapter Meeting program by Frank Ferguson
Sunday Dec. 2 or 9, 2012 5 PM Annual Holiday Dinner in lieu of normal monthly meeting
The Wilmington Chapter of the National Railway Historical Society (NRHS) meets at 7:00 PM on the third Thursday of each month [except August & December] in the Darley Room at the Claymont Community Center on Green Street in Claymont, Delaware. Visitors are always welcome. Admission to regular meetings is free. Check out our Website (thanks to Russ Fox) at:
---
The Transfer Table is published six to ten times per year as the newsletter of the Wilmington Chapter of the National Railway Historical Society. Items in this publication do not represent the official position of either Officers or Members of the Wilmington Chapter or the Editor of this publication.
Permission to reprint articles and news items appearing herein is granted to NRHS Chapters and other newsletters provided appropriate credit is given.
Contributions are always welcome and should be sent to the editor at SD40GMA@aol.com or send to: P.O. Box 1136, Hockessin, DE 19707-5136.
Deadline for entries is the 25th of the month.
Chapter Officers
President: Mike Burkhart
Vice President: Dave Watterson
Treasurer: Dave Warner
Secretary: Dan Frederick
National Director & Trip Director: Steve Barry
Editor: Greg Ajamian
Web Master: Russ Fox