NOTE: The Lite Version is our electronic version which is available for free from this web site. It has limited content but gives you a taste of what is offered in our Full Version.
The Full Version is our printed newsletter which is mailed to you. It contains everything in the Lite Version along with many other reprinted pages from other NRHS newsletters, railroad publications, and flyers that contain photographs, drawings, and maps. The full version is just another benefit of joining our chapter.
THE TRANSFER TABLE
The Wilmington Chapter NRHS Official Newsletter
Internet Edition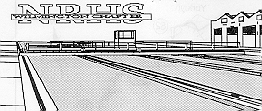 | | |
| --- | --- |
| VOLUME 35 NUMBER 03 | MARCH 2012 |
Back To Wilmington Chapter Web Site
Walter G. Robbins, Jr.
It is with great sadness that we have to report that former Chapter President Walter G. Robbins, Jr. passed away on February 21, 2012. He had held almost every office in the Chapter at one point in time. From the obituary in the Wilmington News Journal, "Walt had a strong interest in traditional American music, and was a founding member of the Brandywine Friends of Old Time Music serving on the Board of Directors for many years. He was also involved in railroading, volunteering at the Wilmington and Western Railroad and being a long time member of the National Historic Railroad Society. In addition, he was a member of the Rough and Tumble Engineers Historical Association participating in many of their events in Kinzer, PA including being the engineer of Little Toot Railroad at the annual Threshermen's Reunion for many years." He will be greatly missed.
---
Ross Sakers
We also have to report that we just learned that long time Chapter Member Ross Sakers passed away in November of last year at Shipley Manor in Wilmington. Born and raised in Trainer, he lived in Trainer all of his life. Ross was a Navy Veteran who served during W.W. II. He retired from the Navy after 20 years and later worked at the Blind Center in Chester, PA. He was also model train enthusiast who enjoyed reading, traveling, and cruises. He, too, will be greatly missed.
---
JANUARY 2012 MEETING NOTES
President Mike Burkhart called the meeting of the Wilmington Chapter to order at 7 PM. As there was no Secretary at the meeting, there were no minutes read. National Director Steve Barry reported on the Board of Director's meeting in Williamsburg, VA in January. He said our Chapter is in Region #3 which includes NJ, DE, MD, DC, and two VA Chapters. If you are planning to go to the national convention and call the hotel's national reservation line, they will say that the hotel is fully booked. Instead, you should call the Cedar Rapids hotel directly. Trip Director Steve Barry reported that our recent Street Car Trip with two coupled Kawasaki cars was a success for the Chapter and for the 41 guests aboard. Projection Equipment Director Steve Barry reported that our Chapter now has its own computer projector allowing film-challenged photographers to display their efforts at Chapter meetings - i.e. no more excuses for not sharing a program. The Treasurer's report, although slightly delayed by some drama at Popeye's, was approved as read by Dave Warner.
This evening's program was brought to us by Frank Ferguson - as will be next month's program - - and as was last November's program (which somehow was allegedly not documented in The Transfer Table). Frank's program, entitled "2011 Year in Review Part 1," not surprisingly covered the months of January through June 2011. We saw scenes in MD, VA, PA, NJ, IN, and IL. We saw locomotives in the following paint schemes: AMTRAK, MARC, VRE, DC Metro, Buckingham Branch, NS, Conrail, BNSF, UP, SEPTA, NJT, Landisville RR, CSX, ACELA, West Chester RR, Strasburg RR, Lehigh, US Rail, EJ&E, Iowa Interstate, ADM, Iowa, Chicago, & Eastern, Burlington Jct., Savage, KCS, CNW, Burlington, Rock Island, Peroia Western, CN, IC, Chicago Metro, GT, KBS, HLCX, and the Indiana RR. There were two Chinese QJ steamers, the Nickel Plate765, and there were even, for some unknown reason, multiple images of a tank engine that goes by the name "Thomas." There was actually a rolling stock shot of not one, but two loaded depressed center flats (thank you, Frank) and a shot of the Hiawatha Sky Dome Observation car. And that was only half of the year - just wait until next time! (Be There!)
---
NOTICE: IN CASE OF BAD WEATHER
If our normal "THIRD THURSDAY" NRHS meeting is canceled due to inclement weather, it will be postponed and held on the FOURTH THURSDAY. If it must again be canceled, it will NOT be rescheduled. We will simply wait for the next month's normal "third Thursday" meeting. If the weather looks bad or is predicted to be bad, you may telephone the Claymont Community Center to see if it will be open that evening for our meeting.
---
DUES DUE
If you have already paid your dues for 2012, thank you.If you have not paid yet, there is a RED mark on your address label. It would be wonderful if you could send your check to our Treasurer ASAP so you don't miss any future issues of The Transfer Table. David Warner 301 W. Lea Blvd, Wilmington DE 19802-1235
---
Message from the EDITOR
Since my first issue as Editor of The Transfer Table was April 1994 (and things have been a little busy at work lately), it looks like the 'anniversary' issue will have to wait just a little longer.
---
NEWS BITS
The House Transportation and Infrastructure Committee passed the "American Energy and Infrastructure Jobs Act," a $260 billion bill that proposes to fund transportation programs over five years. The committee considered dozens of amendments to the bill, including one that would remove provisions to allow states to increase truck weight and size limits. The provisions, which were strongly opposed by the Association of American Railroads, would have allowed states to raise truck weight limits to 97,000 pounds, up from the current 80,000-pound limit. In addition, states could have allowed double- and triple-trailer trucks to travel over longer distances, as well as permit trucks weighing up to 126,000 pounds to travel on the interstate system for up to 25 miles. The amendment removed the provisions from the bill and instead directed the U.S. Department of Transportation to conduct a study of the impact of increased truck weight and size limits on U.S. highway and bridge infrastructure, as well as traffic safety. [Progressive Railroading Daily News via Ed Mayover]
To celebrate the 30th anniversary of the Norfolk & Western/Southern merger in 1982, Norfolk Southern plans to honor many of the railroads that make up the present day NS system. As Union Pacific did a half-decade ago, NS plans to create a fleet of heritage locomotives, though NS's plans are bigger: 18 units honoring a wide variety of predecessor roads. The locomotives will be 10 SD70ACes on order from EMD that are being constructed at its Muncie, Ind., plant, and eight ES44ACs from an upcoming order for 25 units from GE. While EMD will paint all 10 heritage units in-house, NS forces will paint the eight GEs. The railroad's Altoona, Pa., shop will paint five, while the Chattanooga, Tenn., shop will handle three heritage units. The 18 predecessor railroads selected for heritage paint:

Central of Georgia
Conrail
Erie
Erie Lackawanna
Lehigh Valley (red)
New Haven (not definite yet)
New York Central
Nickel Plate Road
Norfolk & Western (blue)
Penn Central
Pennsylvania (Tuscan Red)
Pittsburgh & West Virginia
Reading
Savannah & Atlanta
Southern
Tennessee, Alabama & Georgia
Virginian
Wabash

NS plans to recreate the paint schemes as accurately as possible. By contrast, UP used the old railroads' logos and colors, but created new interpretations on the old liveries. [from Trains Newswire via Ed Mayover]

A special train operating at a maximum speed of 110 mph on Feb. 15 celebrated the inauguration of the first expansion of regional high speed rail outside the Amtrak-owned Northeast Corridor. Aboard were federal, state and local leaders welcomed by Amtrak and the Michigan Department of Transportation (MDOT). Amtrak began raising speeds on this corridor from 79 mph in 2001 to 90 mph in 2002 and to 95 mph in 2005. Sustained operations at 110 mph will shave 10 minutes from the 95 mph schedules and about 20 minutes from the 2001 schedules on the Amtrak-owned segment of the corridor.

The Incremental Train Control System (ITCS) installed on the Amtrak-owned Michigan District between Kalamazoo and Porter has been developed by General Electric Transportation with assistance from Amtrak, MDOT and FRA. ITCS continually monitors the condition of signals, switches and crossings, is full-featured, vital positive train control system with a display in the locomotive control cab (image above). Amtrak extended ITCS coverage to the western and eastern ends of the line between Porter and Kalamazoo last year, completing the system across 97 miles of track and permitting the higher speeds on about 80 miles of the route, 64 miles in Michigan and 16 in Indiana. The FRA granted approval for regular service at 110 mph (177 kph) on Jan. 27, 2012. Amtrak and the Illinois Department of Transportation have on similar plans on the Chicago-St. Louis corridor where federal regulations also require the use of a train control safety technology. That will be the second 110 mph "spoke" from an Amtrak Chicago "hub." [AMTRAK Press Release via Ed Mayover]


New Jersey Transit says ticket vending machines now cover every station in its statewide rail system, and advises passengers to use them in order to avoid a ticket surcharge if boarding any train without a ticket. "Ticket Vending Machines (TVMs) have been installed at all NJ TRANSIT rail stations. The new TVMs are available at all times, and accept cash, credit, or debit cards," NJT announced on its website. "NJ TRANSIT Policy requires an additional charge of $5 be applied to all tickets purchased onboard the train when a ticket agent or TVM is available at your boarding station." NJT said the new systemwide surcharge policy takes effect March 1. [from Railway Age Rail Group News via Ed Mayover]

Norfolk Southern celebrates colorful heritage with historic paint schemes honoring its predecessor railroads during 2012, its 30th anniversary year, by painting 18 new locomotives in commemorative schemes that reflect the heritage of those predecessors.

Since the 1820s, hundreds of railroad companies were built, merged, reorganized, and consolidated into what eventually became Norfolk Southern, itself created from the consolidation of Southern Railway and Norfolk and Western Railway in 1982. In 1999, Norfolk Southern expanded the scope of its heritage with its acquisition of a portion of Conrail. The heritage locomotives will represent most of the railroads that played significant roles in Norfolk Southern's history. The first units will be delivered in March, and all units are expected to be riding the rails by June 1, Norfolk Southern's 30th anniversary date.Each paint scheme will be modified to fit contemporary locomotives while staying as true as possible to the original designs. Norfolk Southern employees in Altoona, Pa., and Chattanooga, Tenn., will paint GE ES44AC locomotives, while the EMD SD70ACe units will be painted at Progress Rail Services' facility in Muncie, Ind. The heritage locomotives will be used to haul freight across Norfolk Southern's 20,000-mile, 22-state network. The predecessor companies to be represented are listed below. In parentheses are the respective roads each became part of (NW=Norfolk & Western, SR=Southern, CR=Conrail) and the make of locomotives to be painted. Images of the color schemes are available on Norfolk Southern's web site.

+ Central of Georgia Railway (SR, GE) was formed in 1833 to connect Macon, Ga., with Savannah, completing a rail link between Chattanooga and the port. It was famed for two passenger trains named after prize-winning race horses, the Nancy Hanks and the Man O' War.

+ Central Railroad of New Jersey (CR, EMD) was the first American railroad to have its employees wear uniforms, and in 1892 one of its locomotives set a world speed record of 105 mph.

+ Conrail (GE) was created by the U.S. government in 1976 from the bankrupt Penn Central, Lehigh & Hudson River, Erie Lackawanna, Central Railroad of New Jersey, Lehigh Valley, Reading and Pennsylvania-Reading Seashore Lines, becoming the largest railroad at the time, with 34,000 route miles.

+ Delaware, Lackawanna and Western (CR, EMD) was created in 1849 to connect the rich anthracite coalfields of the Lackawanna Valley of Pennsylvania to northern New Jersey. A hurricane in 1955 knocked the railroad out of operation for a month, with the resulting financial difficulties forcing it to merge with the Erie Railroad in 1960 to form the Erie Lackawanna Railroad.

+ Erie Railroad (CR, EMD) was key to economic development along the Southern Tier, which includes Binghamton and Elmira, N.Y. In 1851, Secretary of State Daniel Webster was strapped to a rocking chair on an open flatcar, wrapped in a blanket and clutching a bottle of rum, so he could ride the just-completed railroad.

+ Illinois Terminal Railroad (NW, EMD) began life as the Illinois Traction System in 1896 as an interurban electric railroad in central and southern Illinois. Hit by the Great Depression, it was reorganized as the Illinois Terminal in 1937 and attempted to survive as a passenger railroad until relinquishing that business in 1956, when it was acquired by a consortium of railroads. It was operated as a freight railroad until acquired by NW in 1982.

+ Interstate Railroad (SR, GE) was incorporated in 1896 to serve southwestern Virginia coalfields. Despite its name, it operated entirely within Virginia. It was acquired by Southern in 1961.

+ Lehigh Valley Railroad (CR, GE) was built to haul coal, replacing water transport down the Lehigh River, and was also known as the Route of the Black Diamond.

+ New York Central Railroad (CR, EMD) was organized from 10 roads paralleling the Erie Canal between Albany and Buffalo, N.Y., and became known as the "Water Level Route." Today, the former NYC line between Cleveland and Chicago is the busiest on the NS system, with more than 100 freight trains daily.

+ New York, Chicago and St. Louis Railroad (NW, GE) was commonly referred to as the Nickel Plate Road, a moniker it acquired when the Norwalk (Ohio) Chronicle referred to it in 1881 as "the great New York and St. Louis double track, nickel plated railroad," supposedly indicative of its solid financial backing.

+ Norfolk Southern Railway (SR, EMD) (not to be confused with today's Norfolk Southern) was a line serving southeast Virginia and northeast North Carolina, chartered in 1883 and acquired by Southern Railway in 1974.

+ Norfolk & Western Railway (GE) originated as City Point Railroad, a 9-mile road between Petersburg and City Point, Va., in 1836. Following numerous mergers and acquisitions, it became the Norfolk & Western in 1881.

+ Pennsylvania Railroad (CR, GE) incorporated in 1846, billed itself as the "Standard Railroad of the World" and was for many years the largest American railroad by tonnage and revenues. PRR opened the Horseshoe Curve railroad engineering marvel; carried President Lincoln to his inauguration; implemented the "line and staff" organizational structure used by business today; built Pennsylvania Station in Manhattan; and electrified the route between New York and Washington, among its many achievements.

+ Reading Company (CR, EMD) was one of the first railroads built in America, and built its fortune hauling coal. It featured the first iron railroad bridge in America.

+ Savannah & Atlanta Railway (SR, EMD) began life as the Brinson Railway in 1906, slowly expanding from Savannah toward the Northwest. It was consolidated with other small railroads to become the Savannah & Atlanta in 1917. Central of Georgia bought the S&A in 1951.

+ Southern Railway (GE) originated as the South Carolina Canal and Rail Road Company in 1827. It put into service the nation's first regularly scheduled steam passenger service on Christmas Day, 1830, with the locomotive "The Best Friend of Charleston." The Southern was incorporated in 1894 from the reorganization and consolidation of numerous predecessors and absorbed another 68 railroad companies over the next six years.

+ Virginian Railway (NW, EMD) was the only railroad created through the capital and credit of one man, oil magnate Henry Huttleston Rogers. After building a short line, the Deepwater Railway, to haul coal out of West Virginia and then being blocked by the bigger railroads, he created another railroad, the Tidewater Railway, to reach Norfolk, Va., then combined the two into the Virginian in 1907. It was acquired by N&W in 1959.

+ Wabash Railroad (NW, EMD) was formed in 1877 and served the mid-central U.S. It was acquired by the Pennsylvania Railroad in 1927 and leased to Norfolk & Western in 1960. In 1991, N&W, by then part of Norfolk Southern, purchased the Wabash outright. Made famous by the 1904 song "Wabash Cannonball," there was in fact no such train by that name until 1949. [ NS Press Release ]

U.S. Transportation Secretary Ray LaHood announced that twelve cities and states will share $16.9 million to relocate, replace, and improve segments of railroad track under the Federal Railroad Administration (FRA)'s Rail Line Relocation and Improvement competitive grant program. The FRA received more than $67 million in state and local government requests for these funds, which will be used to enhance safety, livability, and economic development in American communities.FRA's rail line relocation competitive grant program funds projects that reduce the adverse effects of rail infrastructure on safety, motor vehicle and pedestrian traffic, community quality of life, or economic development. Funding for these grants is made available through annual appropriations and requires a 10 percent contribution from the project sponsor. Rail line relocation dollars announced today will fund the following projects:

+ Massachusetts - Massachusetts DOT - Patriot Corridor Double-Stack Clearance Initiative - $2,000,000 to complete preliminary engineering and environmental analysis for the removal of 19 obstructions in two tunnels and 17 roadway, railroad or pedestrian bridges that would prevent a double-stack train from operating along the Patriot Corridor between Mechanicville, New York, and Ayer, Massachusetts. A large component of the overall project involves raising the vertical clearance of the 4.75-mile Hoosac Tunnel in Florida, Massachusetts. Removing the vertical obstructions will improve freight operations and capacity by allowing double-stacked container trains to operate over the line.

+ Pennsylvania - County of Lycoming - Lycoming Valley Railroad Improvement - $2,437,388 for construction improvements to track and related rail infrastructure in Lycoming County that suffered damage from Tropical Storm Lee in September 2011. The work will restore rail freight service to customers and eliminate costly re-routings.

+ South Carolina - South Carolina Department of Commerce - South Carolina Public Railways S-Curve Realignment - $248,934 to relocate and realign an S-curve in North Charleston that has contributed to several derailments. The reduced curvature will also improve operating efficiency by alleviating restrictions on train speeds and enhancing line capacity.

+ Alabama - City of Sylacauga - Sylacauga Railroad Interchange Relocation - $1,595,994 to relocate an interchange two miles west of downtown Sylacauga in order to alleviate traffic delays and congestion caused by blocked grade crossings at the town's primary North-South thoroughfare and three other roadways. The construction of two new sidings will also increase freight capacity.

+ Florida - City of Ocala - Florida Northern Railroad Relocation and Railway Improvement - $2,220,000 to relocate a rail line running along a city street to improve safety in an area with a history of motor vehicle-train collisions. The project will further improve safety and freight rail operations by replacing degraded track and upgrading advance warning systems at four highway-rail grade crossings.

+ Iowa - City of Sioux City - Southbridge Rail Yard - $2,000,000 to construct a new rail yard in Sioux City to alleviate traffic congestion and safety issues caused by freight trains blocking grade crossings. The new rail yard will also enhance railroad switching operations and accommodate current and future freight demand.

+ Indiana - Indiana DOT - Daviess County-Elnora Siding - $1,608,029 to construct a new siding in Elnora to improve freight capacity and efficiency by eliminating a bottleneck that prevents northbound and southbound trains from passing each other. The project will also allow the Indiana Southern Railroad to relocate its switching and staging operations to the new siding.

+ Indiana - City of Indianapolis - Indianapolis Downtown Rail Relocation - $896,949 to complete preliminary engineering and environmental analysis for the relocation of freight traffic from downtown Indianapolis to the nearby Indianapolis Belt Railroad. Ultimately, separating freight and passenger rail service will improve the safety and efficiency of current operations.

+ South Dakota - South Dakota DOT - Sioux Valley Railroad Relocation - $1,803,801 to relocate a section of rail that runs along the side of a hill near the Big Sioux River at the South Dakota/Iowa border. This relocation will eliminate frequent service interruptions that are required to maintain the existing track.

+ Alaska - Alaska Railroad Corporation - MP 407 Curve Realignment - $819,900 to realign a curve and stabilize the embankment at Mile Post 407 of the Alaska Railroad. This segment of track is located along a tributary of the Nenana River that has experienced numerous flood events, including flooding that resulted in a disaster declaration in 2008. The project will ensure the continuation of operations on the line.

+ California - City of West Sacramento - Port of West Sacramento Loop Track - $960,567 to construct a loop track at the Port of West Sacramento, which will improve freight capacity and efficiency by enabling switching and storage operations to take place solely on Port property. The project will also significantly reduce the amount of time a major highway-rail grade crossing is blocked by freight traffic and provide for a more secure perimeter at the Port.

+ Texas - City of Big Spring - Rail Spur Rehabilitation - $299,423 to rehabilitate approximately two miles of spur track that serves an industrial park in Big Spring. These improvements will allow freight rail services to be provided to additional local manufacturers and suppliers. [ U.S. DOT, Federal Railroad Administration press release via Ed Mayover]

AMTRAK's Historic Timeline from their website http://www.amtrak40th.com/amtraks-history/historic-timeline
1970

October 30 - President Nixon signs Rail Passenger Service Act, setting Amtrak's transition date to May 1, 1971

1971

March 22 - Amtrak formally announces intended routes
March 30 - Amtrak incorporated in Washington, D.C.
May 1 - Amtrak service begins
National advertising begins in August
October 1 - Amtrak's first Reservations Sales Office opens in Chicago

1972

Amtrak begins service to Vancouver, B.C. and Montreal
New station opens in Cincinnati
Amtrak offers 14 daily Metroliner Service trains from New York to Washington, D.C. and 11 trains between New York Penn Station and Boston timetable
Debuts china designs on the Broadway Limited, and then on the Super Chief, Silver Meteor, Panama Limited, Merchants' Limited and Coast Daylight/Starlight
403(b) services operates with three partners
Mass. (Boston-Worcester-Springfield) - all year
Ill. (Chicago-Quincy) - all year
Pa. (Philadelphia-Harrisburg) (began October 29)

1973

Congress passes Amtrak Improvement Act and the Regional Rail Reorganization Act, mandating transfer of operation of the Northeast Corridor to Amtrak
Amtrak orders new locomotives, including SDP-40F diesels, electric locomotives, and "Metroliner-type" cars (later called Amfleets)
Amtrak lets a contract to specify and design new bi-level cars (later known as Superliners)
"Save energy - take our car" campaign targets consumers concerned about rising gas prices
Installs new ticket reservation system, "Amtrak Reservation and Ticketing System" (ARTS)
Operations Department begins the gradual takeover of operations by establishing system of regional superintendents

1974

Places order for 11 train sets with turbine-powered cars of French design
Amtrak and the Military Traffic Management Command cooperatively develop a military travelers program
Over 1 million people visit Amtrak's exhibit at Expo '74 in Spokane, Washington
Order for 200 "Metroliner-type" cars ready to be placed.
Regional reservation centers in Manhattan, Bensalem, Pa., Jacksonville, Fla., Chicago, Ill., and Los Angeles, Calif., provide 24 hour nationwide toll-free reservations, ticketing, and general information. Travel agents sell $20 million worth of Amtrak travel.

1975

Establishes new routes, including Norfolk-Chicago, New York/Boston-Chicago, Minneapolis-Duluth state supported service, and Detroit-Jackson (partially funded by Michigan).
By December, the Budd Company turns out one Amfleet car per working day
Initiates a major program to facilitate intermodal travel by providing reservation clerks with information on bus interchange routes
Reaches agreement with the Air Transport Association to provide alternative service during periods of interrupted airline schedules
Introduces USA Rail Pass to overseas markets
Orders 235 bi-level Superliner cars for long distance trains from Pullman- Standard Company

1976

April 1- Amtrak takes over the Northeast Corridor, assuming direct control of trains and track forces, dispatching, signaling and maintenance
Amtrak becomes the first national company to offer reservations service to passengers with hearing disabilities
Both President Ford and President Jimmy Carter make campaign trips aboard Amtrak trains
Amtrak takes over maintenance facilities in Chicago, Ill., Detroit, Mich., Buffalo, N.Y. and the Northeast Corridor.
Receives and puts into service 30 F40PH locomotives.

1977

Issues five year improvement plan calling for purchase of new passenger cars and locomotives, modernization of stations and maintenance facilities, and track upgrading of Amtrak day service passengers traveling in new cars, either Amfleet or Turboliners
March 31- Kicks off $1.75 billion Northeast Corridor Improvement Program (NECIP), designed to provide regularly scheduled rail travel between Washington, D.C. and New York in 2 hours, 40 minutes and Boston and New York in 3 hours, 40 minutes
Implements automated Ticket-by-Mail (TBM) system
Begins using pre-portioned servings, frozen meal items, automatic beverage dispensing and other modern food preparation methods

1978

Reaches agreement on operating the Southern Crescent service between Washington, D.C. and New Orleans via Atlanta
Makes interline agreements with 12 new carriers, increasing number of cities served by such connections from 322 to 503
Amtrak writes first "Book of Operating Rules"
Amtrak is the only railroad consistently meeting the industry's goal of 15% minority business participation
Amtrak launches "We've Been Working on the Railroad" ad campaign

1979

Completes or rehabilitates 61 stations
Introduces Superliner I, first new long distance car in two decades, on Chicago-Seattle Empire Builder
Receives special Congressional authorization of $23 million for the exclusive use of state-supported services
With the only concrete tie/welded rail machinery at work in the U.S., Amtrak rehabilitates 121 miles of track, including the installation of 296,000 concrete ties and 74 miles of continuous welded rail

1980

Major corporate effort results in planning the joint development of space and air rights around Philadelphia 30th Street Station
Establishes new state-supported routes in Illinois, Oregon and Pennsylvania and adds service on routes in California and Missouri, bringing the total number of state-supported routes to 15
Introduces slumbercoach service between Washington, D.C. and Montreal and Washington, D.C. and Boston
Introduces Superliners on three additional routes: Chicago-Oakland, Los Angeles-Ogden, and Chicago-Los Angeles.
Orders 150 new cars, Amfleet II, (125 long distance coaches and 25 food service cars) from the Budd Company
October 28 - BWI Rail Station dedicated as America's first inter-city Air-Rail-Ground Transportation Connection

1981

The Amtrak fleet includes 1,436 new or rebuilt all-electric passenger cars and a fuel-efficient locomotive fleet, with an average age of four years
Amtrak gains complete ownership of the Washington Terminal Company, which operates the train facility and trackage within Union Station and Ivy City Yard to Union Station. Previously, CSX held 50% interest.
"See America at See Level" advertising campaign launches
Express Metroliner Service (Washington, D.C.-New York) trains make the trip in 2 hours, 59 "civilized" minutes with a 92% on-time performance
Begins marketing our expertise at the Beech Grove maintenance facility to commuter agencies and the heavy equipment industry.

1982

Introduces Arrow, Amtrak's new nationwide ticketing and reservation computer system, reducing lost call volume to 1% of all calls received
Florida becomes the eighth state to participate in the 403(b) program, with a daily round-trip Miami-Tampa service
Enhances on-board services, including complimentary morning coffee/tea, newspaper and shoeshine for sleeping car passengers, expanded dining car menus, and a return to tablecloths, flowers and flatware
Establishes joint Labor/Management Productivity Council
50% of total operating costs covered with revenue, three years ahead of the Congressional directive.

1983

Begins tri-weekly Auto Train service, which becomes so popular, the service is soon expanded to daily operation
"All Aboard America" advertising campaign and fare plan begins, designed to acquaint public with the improvements in system and passenger amenities
Establishes "On-Board Chief" program to place supervisors on long-distance trains
1-800-USA-RAIL begins
For the first time, the number of travel agents offering Amtrak tickets tops 10,000
In July, the California Zephyr reroutes from Wyoming through Colorado over Moffat route, replacing the Rio Grande Zephyr, the last privately operated intercity passenger service.
Major station rehabilitations underway at Baltimore, Wilmington, Trenton and Newark

1984

Launches Teletrak, providing travel agents with an instant link to Amtrak sales agents
Opens new stations in Anaheim, Oceanside, Galesburg, Tacoma, Omaha, Huntington and New Carrollton
Amtrak and the Long Island Rail Road agree to share in modernizing New York's Penn Station, including a state-of-the-art train control system and extensive improvements to all passenger facilities
Begins operating the Beech Grove, the country's most advanced track geometry car, which becomes part of one of the most intensive, successful safety and track quality programs in the rail industry
Employee safety reaches its highest level in Amtrak's history

1985

Begins offering tickets through the TWA and American Airlines ticket reservation systems
Amtrak becomes the first non-airline member of the Airline Reporting Corporation, making it easier for more than 27,000 travel agencies to process Amtrak ticket sales
Introduces enhancements aboard the Southwest Chief, including route guides, souvenir dining car menus, games, movies and guides
Inaugurates Executive Sleeper service on the Night Owl for Washington, D.C.-New York business travelers
Amtrak takes over responsibility for the completion of the Northeast Corridor Improvement Project from the Federal Railroad Administration
Custom Class is introduced to the West Coast on the San Diegans

1986

Adds service to Cape Cod during the summer months, with support from Massachusetts
Railfones become available on all Metroliner Service trains, allowing passengers to place calls to people outside the train
During the first quarter, Amtrak surpasses Eastern Airlines to become the leading Washington, D.C.-New York carrier
Adds route guides, movies, games and a "hospitality hour" to the Empire Builder, California Zephyr and Coast Starlight
Begins modifying electrical equipment on Amfleet cars so that trains can operate in "push-pull" service
New "A-plus" system allows customers to give an agent a credit card number over the phone, and pick up a ticket at the station.
Five reservation sales offices combined into three, in Fort Washington, Pa, Los Angeles, and Chicago

1987

Publishes a 92-page "Travel Planner" showing in vivid color all the trains, accommodations, and hotel and tour packages available through America's passenger railroad"
Develops a "training video cassette"-the first of its kind in the industry-to familiarize travel agents with Amtrak's fares and travel opportunities
Completes first Viewliner prototype
New or refurbished stations open in Salt Lake City, Hartford, Raleigh and Martinez
Introduces nonstop Metroliner Service between Washington, D.C. and New York, featuring complimentary newspapers and New York City subway tokens for sale
CETC (Centralized Electrification and Traffic Control) takes over complete automated control of traffic and power on the Northeast Corridor between Wilmington and Washington, D.C.

1988

Ticket sales by travel agencies increase by nearly 20%
Introduces first computerized "yield management" system to handle ticket sales
Washington D.C.'s restored Union Station reopens to great fanfare in September
Introduces Superliner enhancements including movies, special menus and other amenities on the Texas Eagle and Sunset Limited

1989

Revenue on Northeast Corridor trains grows by more than 15% following the move into the restored Washington Union Station
For the second consecutive year, Amtrak carries more passengers between Washington, D.C. and New York than all of the airlines combined
With sponsorship from Harrah's casino, Amtrak begins service to Atlantic City
Purchases 104 privately-financed Horizon cars from Bombardier, Inc. - first short-distance cars acquired since 1977
Amtrak chefs begin custom food preparation and presentation training at the Culinary Institute of America
Adds morning and afternoon nonstop Metroliner Service

1990

The first of several such lounges, Amtrak's Metropolitan Lounge opens in New York for First class sleeping car and Club Service passengers.
Conference Club Car begins regular service on Metroliner Service trains
Adds five new state-supported trains - two Hiawatha frequencies, the Gulf Breeze, the Carolinian and an additional San Joaquin train
Completes Automatic Train Control installation on all locomotives operating within the Northeast Corridor Accepts delivery of 58 Horizon cars
Amtrak places among the top three railroads for safety performance in the industry's annual Harriman Awards competition
July 26- President Bush signs the Americans with Disabilities Act

1991

Amtrak's Metropolitan Lounge opens in Chicago
Develops new 3-hour, 55-minute express service between Boston and New York
Adds first class dining facilities to the Auto Train Travel agency sales account for about 40% of Amtrak ticket sales
Rededicates Philadelphia 30th Street Station in June after a major renovation
Completes Empire tunnel connection in New York, linking New York Penn Station with the Metro-North line running upstate. Empire Service trains shifted from Grand Central Station to Penn Station.
Amtrak chosen to operate the new Virginia Railway Express commuter rail service (VRE begins service in 1992)

1992

For the first time in its history, Amtrak carries more commuter passengers than intercity passengers
Amtrak and Metra join forces to complete the $32 million renovation of Chicago's Union Station and facilities.
Amtrak's Metropolitan Lounges open at Philadelphia 30th Street Station and Washington Union Station
January marks the first full month of Capitol Corridor trains in California, and by April, 100,000 people use the trains
Delivery of 20 new diesel locomotives, P32-8BWH - first of the new generation of GE-built engines

1993

Attains 43% share of air-rail market between Washington, D.C. and New York
Begins procurement process for an order of 26 high-speed train sets
Sunset Limited extends east to Miami
Received delivery of 22 P40 locomotives.
Amtrak begins testing of the German ICE and Swedish X2000 trains on the Northeast Corridor; both operate at 135 mph and the ICE train reaches 162 mph. X2000 spends three months in revenue service, ICE train spends two months in service
Viewliner order placed for 50 sleeping cars

1994

Begins operation of leased Talgo trains in partnership with Washington State Department of Transportation
Completes first phase of modernization of New York's Penn Station Control Center

1995

Eight states increase financial support for Amtrak partnerships
Amtrak headquarters is divided into three Strategic Business Units: Northeast Corridor, Intercity and West. A streamlined corporate headquarters remains in Washington, D.C.
North Carolina inaugurates state-supported Piedmont service
Introduces Vermonter service in partnership with the state of Vermont
Begins program to upgrade Amfleet I cars with amenities such as 110V electric power for early laptop computers and accessible restrooms

1996

Formal groundbreaking ceremony for North End electrification, allowing faster speeds between New Haven and Boston
During January blizzard, Amtrak is the only intercity mode to maintain service on the Northeast Corridor
Introduces CPR and first aid training for crew members as part of annual emergency training curriculum
Donates $2 million to inaugurate the Great American Station Foundation, set up to help communities repair and improve their train stations
Ethan Allen Express debuts in December, providing the first direct rail service between New York and Rutland in forty years
For the first time, an Amtrak service covers its operating costs -Metroliner Service generates $14 million.

1997

190 self-service ticket machines in service nationwide
To provide a smoke-free environment while still accommodating smokers, Amtrak introduces special self-contained ventilated smoking rooms on 59 long-distance cars
Metroliner Service sets a ridership record
Clears Ivy City yard to permit construction of high-speed rail maintenance facility in preparation for Acela Express
Delivery of 111 new P42 diesel locomotives
Amtrak is up to 11 state partners

1998

Passenger revenue passes $1 billion for the first time in Amtrak's history
Amtrak partners with nine states to propose the Midwest Regional Rail Initiative
Launches Res2000 to improve station ticketing, reservations, customer information and accounting functions
Consolidated National Operations Center (CNOC) opens in Wilmington, Delaware
Renovates stations in Seattle, Centralia, Salem, and Sacramento

1999

After a 20-year absence, Amtrak reintroduces passenger service in Oklahoma with the Heartland Flyer
Amtrak declares its computer systems "Y2K compliant"
First rebuilt Amfleet cars emerge from the "Capstone" program, designed to enhance comfort, standardize equipment configurations, and comply with the requirements of the Americans with Disabilities Act

2000

Ridership on newly electrified regional service to Boston grows by 45% and revenue increases by 77%
Online passenger ticket sales grow to $63 million, or 5.1% of total automated ticket sales
Amtrak.com named "one of the most bookmarked sites on the web" by HotLinks
Completes Northeast High-Speed Rail Improvement Project (NHRIP) to electrify the North End. First electrified service begins on January 31, when Train 131 runs from Boston to Washington, D.C. without changing power
December 11- First Acela Express train set enters service

2001

In its first full year of limited operation, Acela Express carries approximately a million passengers.
Just before the Thanksgiving rush, Amtrak launches "Julie," an automated voice response technology developed by "Speechworks" in Natick, Mass
December 15- Amtrak inaugurates Downeaster Service between Portland, Maine and Boston2002
Amtrak announces a reorganization, eliminating Strategic Business Units and duplicative functions
U.S. Department of Transportation loan agreement to prevent Amtrak from filing for bankruptcy is signed
Closes the year with another ridership record
Silver Palm renamed Palmetto
2003

Repairs to Acela and HHP yaw damper brackets completed
Downtown Richmond station opens for Tidewater service
Amtrak closes the year with record ridership

2004

Introduces Acela Express "Quiet Car" service on weekends
Amtrak and the state of Pennsylvania announce joint plans to improve and rehabilitate the Keystone Corridor, increasing speeds to 110 mph
"Julie" ranked top voice response system by Speech Technology Magazine
Introduced improved Acela Express schedules, and all weekend Northeast Corridor trains become reserved

2005

Amtrak and state of Wisconsin open Milwaukee General Mitchell Airport Station
Administration proposes to "zero out" Amtrak for FY 2006 budget
Sets third consecutive annual ridership record in FY 2005
In the wake of Hurricane Katrina, Amtrak suspends Sunset Limited service east of New Orleans indefinitely
All Northeast Regional trains become all-reserved
New auto carriers for Auto Train enter service

2006

November becomes the highest revenue month to date
Amtrak signs agreements with Long Island Rail Road and Metropolitan Transportation Authority to support East Side Access project
Launches Spanish-language Amtrak.com website
Amtrak announces an estimated $60 million in savings through Strategic Reform Initiatives
Amtrak Police Department focuses its efforts on "community policing," with higher levels of police presence at gates, on platforms and aboard trains
California, Washington, Illinois and Pennsylvania launch additional state-supported Amtrak services

2007

Launches Great American Stations website to foster partnerships with local communities wishing to invest in their stations
Quik-Trak machine wins "Best Travel and Hospitality Deployment" from KioskCom's Self Service Excellence Awards
Amtrak wins "2007 Image of the Year Award" from the National Association of Uniform Manufacturers and Distributors
Begins at-seat cart and beverage service on some Acela Express trains
Inauguration of eight new trains in Illinois; 28 downstate stops added
Began electrified service on the Keystone Service; total number of trips rises from 11 to 14 with speeds now up to 110 mph
November - a record Thanksgiving, the largest to date

2008

Congress passes Passenger Rail Investment and Improvement Act (PRIIA) in October
Initiates the deployment of Mobile Security Teams to patrol trains and conduct random screenings of passengers and carry-on baggage on the Northeast Corridor, Chicago and the West Coast
Installs wind power generator and solar panels in Chicago yard to power signal system with renewable energy
Washington Union Station celebrates its centennial anniversary
Amtrak holds the first National Train Day on May 10
Fourteen states contract with Amtrak for state-supported trains, representing nearly half of our daily departures.
Complete the multiyear project to replace the Thames River Bridge lift span
Renovated Milwaukee Intermodal Station and St. Louis Gateway Station open

2009

January 17- President-elect Barack Obama and Vice-President-elect Joe Biden travel from Wilmington, Delaware to Washington, D.C. onboard Amtrak to attend their inauguration
American Recovery and Reinvestment Act provides $1.3 billion for investment in the Amtrak system and an additional $8 billion to fund a capital grant program for the states to develop intercity and high-speed passenger rail service
Commonwealth of Virginia funds the extension of daily Northeast Regional Service to Lynchburg, bringing total number of states funding state-supported services to 15
Commits to an aggressive program to install Positive Train Control technology on the Northeast Corridor and the Michigan Line by 2012
Amtrak launches Mobility First program to make stations more accessible
New or renovated stations open at Durham, Picayune, Saco, and Leavenworth,
Safe-2-Safer initiative launched, to improve security and reduce injuries by developing a collaborative approach to safety and accident prevention.
Amtrak's farebox recovery - 71 percent - is the highest reported among passenger and commuter railroads in the United States.

2010

White House Administration announces $7.92 billion award for high-speed and intercity passenger rail services in 31 states-nearly 60% of which will be invested in routes that are (or will become part of) the Amtrak system
Debuts free Wi-Fi service at New York Penn Station, Washington Union Station, Boston South Station and Philadelphia 30th Street Station, as well as in Baltimore, Wilmington and on all Acela Express trains
Heartland Flyer, running on 20% biodiesel fuel, becomes one of TIME Magazine's 50 Best Inventions of 2010
Amtrak unveils NextGen High-Speed Rail Study
10th anniversary of Acela Express
Announces award of contract to purchase 130 new single level Sleeping, Dining, Baggage and Baggage-Dormitory cars
Fourteen commuter agencies or state transportation agencies contract with Amtrak to provide passenger service or use portions of the Amtrak system and facilities
The Wilmington Chapter hosted another successful day before the Super Bowl Septa streetcar charter. Super Saturday XIX (19) ran on Feb. 4, 2012 with Kawasaki cars 9000 (first delivered, in 1980) and 9111 (highest numbered). About 40 fans rode the trip, which covered revenue and non-revenue trackage in and around Philadelphia. Photos by Mike Burkhart.
---
SCHEDULE NOTES
Notices, announcements, schedules, etc. are provided here as a service to the members. The Chapter has no affiliation with any commercial operation, museum, or tourist line.
Until May 30, 2015 Civil War 150th Anniversary: The War Came By Train@ B&O RR Museum in Baltimore. Monday - Saturday (10:00 a.m. - 4:00 p.m.), Sunday (11:00 a.m. - 4:00 p.m.) Between April 19, 1861 (The Baltimore Riot of 1861) and April 21, 1865 (Lincoln's funeral train leaving Baltimore for Illinois), the B&O stood witness and participant in the greatest conflict the U.S. has ever faced and changed the course of American history. The War Came By Train serves as the B&O Railroad Museum's primary attraction for the five year commemoration of the War's sesquicentennial. The National Landmark Roundhouse will exhibit the largest assemblage of Civil War railroad equipment in the world featuring locomotives and rail cars that served during the war, significant military and personal artifacts that will change annually to portray each year of the war (some artifacts never before on public display), and a narrated train ride to the original site of Camp Carroll, the largest Union encampment in Baltimore.
Saturday & Sunday, March 24-25, 2012 Greenberg's Train & Toy Show 10-4, Adults $7, Chase Center on the Riverfront, 815 Justison St, Wilmington, DE 19801, FREE PARKING
Saturday & Sunday, March 31 - April 1, 2012 Amtrak 40th Anniversary Exhibit Train @ Wilmington, DE10 a.m- 4 p.m. Wilmington Station, 100 South French Street
Sat. Mar 31, Sun. April 1, Sat. April 7, 2012 West Chester Railroad's Easter Bunny Express 12 PM & 2 PM, West Chester to the historic Glen Mills village
Sunday, April 1, 2012 9th Annual Train Meet 9 AM-2 PM, Leesport (PA) Farmer's Market, sponsored by RDG. CO. TECH. & HIST. SOC.
Saturday & Sunday, April 14-15, 2012 Great Scale Train Show 9 AM-4PM, $9, State Fairgrounds, Timonium, MD
Saturday , April 21, 2012 Delaware Train Show Nur Shrine Temple, Rt. 13, 198 S. DuPont Hwy., New Castle, DE. POC: 856-302-3606.
April 21 thru Dec. 30, 2012 ROLE OF RRs in PA During the CIVIL WAR at RR Mus. of PA, StrasburgRailroads were a key to the successes of both the Union and Confederacy during the Civil War, and the contributions of Pennsylvania's railroads were an integral part of the Union's eventual victory. From supplying the Armies with munitions and food, to transporting troops, prisoners and communications, the Civil War was the first war in which railroads were a major factor. Photographs, documents and artifacts tell the story of Pennsylvania's railroads during the War Between the States.
Thursday, May 3, 2012 "Duffy's Cut" - OXFORD AREA HISTORICAL ASSOCIATION 7 PM Oxford Presbyterian Church. Pine St. Immigrant Irishmen working on a nearby railroad died under mysterious circumstances. Was it epidemic disease or murder?! Matt Patterson reviews archeology, railroads, and social unrest of the area to tell us this mystery story. For all meetings, bring pictures and artifacts for display. For information, call 610-932-2888
Saturday, May 5, 2012 Reading & Northern Excursion from Port Clinton, PAR&NRR and Lackawanna & Wyoming Valley NRHS chapter to run the "Hopper Jet" rare mileage photo freight. Harkening back to the glory days of the old Reading railroad our photo freight will tour the railroad from Port Clinton to North Reading yard, Tamaqua, East Mahanoy Jct. and Mahanoy City over rare freight-only mileage on the R&N main and Mahanoy & Shamokin lines into the heart of today's anthracite coal corridor. Tracks closely parallel abandoned anthracite canal, railroads, mining facilities and the Atlas Powderworks. In addition to passing active mining R&N hopper cars will be seen in the yards and sidings. The train will be powered by 3 former Lehigh Valley SW-8s, along with 10 R&N hopper cars, passenger equipment and a caboose. These 60-year old EMD switchers have been hauling anthracite coal almost since the day they were delivered to the LV 60 over years ago. Coach $79, open-air photo car $89, or caboose $99. Train will run rain or shine. All sales are final=no refunds. Train departs Port Clinton at 11 a.m. returning to Port Clinton by 7 p.m. Three photo-freight runbys are planned. Passenger equipment will be cutoff for the runbys. Motive power is subject to availability and can be substituted. Boxed lunch is also available for $8. Hoagie options include ham, turkey, or vegetarian with soft drink and snack. Address check or money order to: L&WV RHS Excursion, 30 Harford Ave. Shavertown PA 18708. Make out to: L&WV RHS Excursion. Tickets will be mailed. For more information contact: edlvrr@gmail.com
Friday-Sunday, May 11-13, 2012 CONRAIL DAYS at RR Mus. of PA, Strasburg
Friday-Sunday, May 18-20, 2012 45TH RAILFAN WEEKEND AT CASS SCENIC RAILROADA three day event for train enthusiasts. Reservations are required. Visit www.msrlha.org for three-day ticket pricing. For overnight house rentals at Cass, 304-456-4300. Contact: 304-456-4300
Sunday, May 27, 2012 West Chester Railroad's Memorial Day Special
Saturday & Sunday, June 2-3, 2012 NORFOLK SOUTHERN DAYS at RR Mus. of PA, Strasburg
Saturday, June 16, 2012 Conrail Technical Society Excursion Conrail T&HS announced an excursion from Washington, D.C. to Harrisburg and return using the Juniata Terminal PRR E8's operating via Perryville, NS Port Road to Columbia to the Enola Branch. Train will operate through Enola Yard and cross Rockville Bridge and return through Harrisburg and then operate over the Royalton Branch back to the Port Road. Departure from Washington is 8:00 am. Tickets are $ 172.50 in coach. Tickets are ordered through the CRHS website. www.crhstrips.com
Saturday & Sunday, June 23-24, 2012 Great Scale Train Show 9AM-4PM, $9, State Fairgrounds, Timonium, MD
Tuesday-Sunday, July 3-8, 2012 READING RAILROAD DAYS at RR Mus. of PA, Strasburg
Saturday & Sunday, July 14-15, 2012 6th Annual Toy & Model Train Flea Market @ Williams Grove9-4 Sat., 9-2 Sun., Steam train rides, model train display, stands with collector items to purchase. Raffle each day to for a chance to operate Locomotive 52! Free parking. Williams Grove Historical Steam Engine Association, Mechanicsburg, PA (717)-766-4001
Saturday & Sunday, August 4-5, 2012 Greenberg's Train & Toy Show10-4, Adults $7, Maryland State Fairgrounds, 2200 York Road, Timonium, MD 21093, FREE PARKING
August 26 - September 3, 2012 54th Annual Summer Show @ Williams GroveSteam train rides! GREAT FOOD! Nightly entertainment! Blacksmith shop Steam Traction Engines operating daily Antique Tractors Hit and Miss Engines Car show on Sunday, August 26th. Horse pulls on Tuesday, August 28th at 7:00pm. Consignment sale on Saturday, Sept. 1st. at 8:00am Williams Grove Historical Steam Engine Association, Mechanicsburg, PA (717)-766-4001
Saturday, September 22, 2012 MEMBERS DAY at RR Mus. of PA, Strasburg
Sunday, October 7, 2012 GARDEN RAILWAYS TOUR at RR Mus. of PA, StrasburgSaturday & Sunday, Oct. 27-28, 2012 Great Scale Train Show9AM-4PM, $9, State Fairgrounds, Timonium, MD
Saturday & Sunday, Nov. 3-4, 2012 TRAINS & TROOPS at RR Mus. of PA, Strasburg
---
CHAPTER EVENTS
Thursday March 15, 2012 7 PM Chapter Meeting program by Frank Ferguson entitled "2011 Year in Review Part 2"
Thursday April 19, 2012 7 PM Chapter Meeting program by Dave Warner
Thursday May 17, 2012 7 PM Chapter Meeting program by Bruce Barry
Thursday June 21, 2012 7 PM Chapter Meeting program by Mike Burkhart
Thursday July 21, 2012 7 PM Chapter Meeting or a Chapter Trip or Something Else
Thursday August 16, 2012 7 PM Chapter Meeting too much late daylight to show slides
Thursday Sept. 20, 2012 7 PM Chapter Meeting program by Probably A. Member
Thursday Oct. 18, 2012 7 PM Chapter Meeting program by A. Nother Member
Thursday Nov. 21, 2012 7 PM Chapter Meeting program by Maybe A. Guest
Sunday Dec. 2 or 9, 2012 5 PM Annual Holiday Dinner in lieu of normal monthly meeting
The Wilmington Chapter of the National Railway Historical Society (NRHS) meets at 7:00 PM on the third Thursday of each month [except August & December] in the Darley Room at the Claymont Community Center on Green Street in Claymont, Delaware. Visitors are always welcome. Admission to regular meetings is free. Check out our Website (thanks to Russ Fox) at:
---
The Transfer Table is published six to ten times per year as the newsletter of the Wilmington Chapter of the National Railway Historical Society. Items in this publication do not represent the official position of either Officers or Members of the Wilmington Chapter or the Editor of this publication.
Permission to reprint articles and news items appearing herein is granted to NRHS Chapters and other newsletters provided appropriate credit is given.
Contributions are always welcome and should be sent to the editor at SD40GMA@aol.com or send to: P.O. Box 1136, Hockessin, DE 19707-5136.
Deadline for entries is the 25th of the month.
Chapter Officers
President: Mike Burkhart
Vice President: Dave Watterson
Treasurer: Dave Warner
Secretary: Dan Frederick
National Director & Trip Director: Steve Barry
Editor: Greg Ajamian
Web Master: Russ Fox