NOTE: The Lite Version is our electronic version which is available for free from this web site. It has limited content but gives you a taste of what is offered in our Full Version.
The Full Version is our printed newsletter which is mailed to you. It contains everything in the Lite Version along with many other reprinted pages from other NRHS newsletters, railroad publications, and flyers that contain photographs, drawings, and maps. The full version is just another benefit of joining our chapter.
THE TRANSFER TABLE
The Wilmington Chapter NRHS Official Newsletter
Internet Edition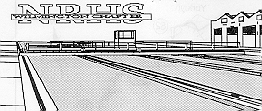 | | |
| --- | --- |
| VOLUME 35 NUMBER 06 | JULY 2012 |
Back To Wilmington Chapter Web Site
JUNE 2012 MEETING NOTES
Rumor has it that there was a meeting, people met, stuff was said, things were seen. Since the entire Editorial and Publication staff was about 250 miles south of the last meeting, we are unable to provide minutes to the last meeting at this time. Please refer to the official meeting minutes as recorded by the Secretary and deposited in the Chapter Archives.
---
NEWS BITS
A newly manufactured Schnabel Car, WECX 801, built by Kasgro Railcar, New Castle, Pa., is being called the "World's Largest Railroad Car." The 231-foot, 400-ton, 36-axle behemoth rises 18 feet above top-of-rail and has a load limit of more than 1,000 tons. It's larger than its sister car, CEBX 800, which was built by Krupp of Germany in 1980 for ABB for U.S. service. WECX 801 is Kasgro's largest railcar to date, according to President and CEO Joe Crawford. "Normally our biggest car would be a 20-axle or 22-axle Schnabel Car," he told WYTV News. "This is a 36-axle Schnabel Car. It's the biggest car ever built in North America. We had to replicate all the [CEBX 800] drawings and redo them to U.S. AAR standards. We've been building this car for a year." Kasgro hired 15 additional employees to construct the car. A Schnabel Car is a specialized type of railcar designed to transport heavy and oversized loads, where the load itself becomes part of the car. The load is suspended between the two ends of the car's two units by lifting arms; the lifting arms are connected to a pivot above an assembly of pivots and frames that carry the weight of the load and the lifting arm. When a Schnabel Car is empty, the two lifting arms are connected, and the car can usually operate at speeds up to 25 mph. The word Schnabel is from the German word "Tragschnabelwagen," meaning "carrying-beak-wagon," because of the tapered shape of the lifting arms, which resembles a bird's beak. Some Schnabel cars include hydraulic equipment that will either lift or horizontally shift the load while in transit at low speeds (no more than 15 mph) to clear obstructions along the car's route. WECX 801 can shift up to 40 inches laterally and 44 inches vertically. Routing is determined and arranged with the railroads by the Railway Industrial Clearance Association (RICA). WECX 800, which will be owned and utilized by Westinghouse Nuclear to transport nuclear reactor containment vessels, will require an operating crew of six. It's scheduled to enter revenue service at the port of Charleston in July. There are 31 Schnabel cars in Europe, 30 in North America, 25 in Asia, and one in Australia. CSXT locomotive engineer Vince Skibo of Grove City, Pa., provided some of the information for this article. He notes that "the very first Schnabel Car built in the U.S., WECX 200, was also built for Westinghouse over 40 years ago. It too was built in Pennsylvania's Shenango Valley, but at Greenville Steel Car." The locomotive, CSX 3029, a new GE ES44AH, was brought from GE's assembly plant at Erie, Pa., especially to be displayed with WECX 801. [from William C. Vantuono, Editor-in-Chief - Railway Age via Lancaster Chapter's Lancaster Dispatcher]

The Port Authority of New York and New Jersey (PANYNJ) and the Moynihan Station Development Corp.'s board have awarded a $147.7 million construction contract to Skanska USA Civil Northeast to convert the historic Farley Post Office Building in New York City into Moynihan Station. The Post Office building was designed by architectural firm McKim, Mead & White, which also designed the original Penn Station. The first phase of construction will double the width of Penn Station's existing West End Concourse, which will be the concourse for the new train station and will serve eight additional tracks to be used by Amtrak, New Jersey Transit and MTA Long Island Rail Road. In addition, the project includes new elevators, escalators and stairs, and fire safety improvements to Penn Station, such as new standpipes and a command center for the New York City Fire Department. The first phase's total cost is $267 million. Funding will be provided through an $83 million Transportation Investment Generating Economic Recovery program grant, $29.5 million from the Metropolitan Transportation Authority, $10 million from PANYNJ, and the remainder from other federal grants and appropriations. Construction is slated to begin this summer and take four years to complete, PANYNJ officials said. [from Progressive Railroading and Railway Age Rail Group News via Lancaster Dispatcher ]

Doug Koontz informs us that Maryland Midland has repainted its No. 301 from the distinctive MMID paint scheme into Genesee & Wyoming colors (orange, black and yellow). The locomotive is now numbered 2061. Doug notes the G&W numbers all roads based upon horsepower: GP38 = 2000HP = 2000 series number, and that 301 was placed back in service after being out for over a year. [from Chesapeake Railway Association's High Green via Tim Moriarty]

The grand opening for the ALCO Historical and Technical Society's ALCO Heritage Museum on June 10, 2012 was a resounding success. More than 3,000 people attended. There is still more work to do as new exhibits are prepared and the current exhibits enhanced. For the near future the museum will be open on Saturdays and Sundays from 10-5. The museum is located at 1910 Maxon Road Extension in Schnectady, NY a stone's throw from the former site of the ALCO plant. With room to grow and a modern building the Museum is positioned to become a significant attraction in the Capital Region for rail fans and students. [from http://www.ahts.org./ thanks to an article in the Key Lock & Lantern News

Washington, DC Metrorail transit agency is now charging a $1 fee for each trip used with a paper farecard. Metro's new fare structure that went into effect July 1. All Metrorail riders, regardless of payment method, are paying more to ride the system. Metro has eliminated the "peak-of-the-peak" fare, an extra fare during the busiest periods of rush hour. But, officials say that most riders can expect their fares rise by about 5 percent. Senior & Disabled rates rose, too. But you might not know that these are being offered in the new fare structure:¥ 1-Day Metrorail Pass: $14¥ 7-Day Metrorail Pass: $57.50¥ 7-Day Metrorail short trip Pass: $35¥ 7-Day Regional Bus Pass: $16[from various Internet reports]

Long Island Rail Road access to Grand Central Terminal now has been pushed back to 2019, six years beyond its original target date, while the cost of East Side Access has risen once more, to $8.24 billion, the Metropolitan Transportation Authority acknowledged. Continuing difficulties in constructing the project, particularly on the Queens end of the new tunnel, have plagued the project, MTA officials said. Soft, almost silt-like soil has made tunneling under Sunnyside Yard much more difficult than under Manhattan, where tunnel boring machines ground their way through solid Manhattan schist. Contaminated soil and unanticipated underground water sources, such as springs, reportedly also have slowed construction. In addition, active rail traffic by LIRR, Amtrak, and New Jersey Transit totaling up to 800 trains per day in Sunnyside has slowed progress, while another major project involving Harold Interlocking also has indirectly contributed to delays. Approximately 160,000 daily riders are expected to use East Side Access, advanced as a more direct approach for Long Island riders to Manhattan's East Side and as a backup or alternate route to LIRR's current terminus, Penn Station, on Manhattan's West Side. Three years ago, MTA estimated the price tag would be $7.32 billion and would be completed in 2016. The new estimate adds $920 million to the project [Douglas John Bowen - Railway Age Rail Group News via Lancaster Dispatcher ]

New York State Operations Director Howard Glaser has announced plans to sell 20 turbo train cars and the spare parts for them, the Albany Times-Union reports. The trains likely will be scrapped. They have been stored since 2005 when the state abandoned plans to rebuild the 1970s Rohr RTL Turboliners. [TRAINS News Wire and Railfan & Railroad Railnews via Lancaster Dispatcher]

CSX began accepting its latest order of ES44AHs from General Electric's Erie, Pa., plant on April 28. The 65 new locomotives will wear Nos. 3000-3064 and feature the new CSX logo on the nose and carbody. There are currently 30 units on the property. Prior to entering service, CSX is installing positive train control equipment on the new locomotives. The units are sent west to Chicago, where Wabtec is installing PTC equipment using leased trackage inside Belt Railway of Chicago's Clearing Yard. A small number of locomotives may have PTC installed by CSX shop forces in Cleveland, Ohio, if delivery of new locomotives by GE exceeds Wabtec's capacity to install the equipment in Chicago. [TRAINS New Wire via Lancaster Dispatcher ]

NJT's ALP-45DP entered revenue service on May 30, 2012 - Locomotive No. 4506, pulling Train No. 1006, arrived at Montclair State University Station in Montclair, N.J., on the Montclair-Boonton Line, under diesel power, raised its pantograph to make contact with the catenary, shut off its diesel engines, and left the station for Hoboken Terminal under electric power. In electric mode, drawing power from catenary, a transformer virtually identical to that in the ALP-46A provides 5,360 hp of traction power and a top speed of 125 mph. Changing between diesel and electric modes is simple and does not interrupt head-end power. To change from diesel to electric, the operator engages the Pantograph Up switch. To change from electric to diesel, the operator engages the Fault Reset button. In either case, changeover takes approximately 100 seconds, and there is automated voice acknowledgment. No electrical modifications were required for NJT's existing cab control cars or trailer coaches, so, in effect, the ALP-45DP is a "plug and play" locomotive. Designed and engineered by Bombardier in cooperation with STV, Inc. and the two transit agencies, the ALP-45DP is based upon the four-axle ALP-46A electric, which itself is based upon Bombardier's European TRAXX locomotive. [Railway Age Rail Group News via Lancaster Dispatcher ]
A year's worth of work in one week is a challenge but then throw in record heat and rugged terrain. None of that deterred the more than 900 employees who worked safely and successfully to complete the company's 2012 CSX Maintenance "Jamboree" on a section of our network in the Southeast earlier this month. The "Jamboree," an annual event, compresses about a year's worth of track, signal and bridge maintenance and upgrades into roughly one week, reducing the impact on customers and communities. This year the company completed nearly $34 million of work during the "Jamboree," including maintenance and repair of tracks, signals and bridges in Kentucky, Virginia, Tennessee, North Carolina and South Carolina. These projects promote train safety, reliability and service, and benefit customers across CSX's network. They also help communities by getting all the necessary work done to maintain smooth crossings where roads and highways pass over the tracks. This work, focused on key routes between Shelby, Ky., and Abbeville, S.C.; and from Bostic, N.C. and Elmwood Junction, S.C. to Newberry, S.C., is part of CSX's overall maintenance program and the company's commitment to invest $2.25 billion in its network infrastructure this year. CSX crews completed the work on the July Fourth holiday, replacing or installing nearly 176,000 cross ties, 2,500 railcars of rock ballast, and 233,000 feet of mainline rail. The crews also installed an additional 59,000 feet of relay rail in the company's Erwin, Tennessee, yard, repaired or refurbished ten bridges and 255 road crossings, and completed nearly 650 track welds. [CSX Press Release via Ed Mayover]
---
SCHEDULE NOTES
Notices, announcements, schedules, etc. are provided here as a service to the members. The Chapter has no affiliation with any commercial operation, museum, or tourist line.
Until May 30, 2015 Civil War 150th Anniversary: The War Came By Train@ B&O RR Museum in Baltimore. Monday - Saturday (10:00 a.m. - 4:00 p.m.), Sunday (11:00 a.m. - 4:00 p.m.) Between April 19, 1861 (The Baltimore Riot of 1861) and April 21, 1865 (Lincoln's funeral train leaving Baltimore for Illinois), the B&O stood witness and participant in the greatest conflict the U.S. has ever faced and changed the course of American history. The War Came By Train serves as the B&O Railroad Museum's primary attraction for the five year commemoration of the War's sesquicentennial. The National Landmark Roundhouse will exhibit the largest assemblage of Civil War railroad equipment in the world featuring locomotives and rail cars that served during the war, significant military and personal artifacts that will change annually to portray each year of the war (some artifacts never before on public display), and a narrated train ride to the original site of Camp Carroll, the largest Union encampment in Baltimore.
April 21 thru Dec. 30, 2012 ROLE OF RRs in PA During the CIVIL WAR at RR Mus. of PA, Strasburg Railroads were a key to the successes of both the Union and Confederacy during the Civil War, and the contributions of Pennsylvania's railroads were an integral part of the Union's eventual victory. From supplying the Armies with munitions and food, to transporting troops, prisoners and communications, the Civil War was the first war in which railroads were a major factor. Photographs, documents and artifacts tell the story of Pennsylvania's railroads during the War Between the States.
Saturday, June 16, 2012 Conrail Technical Society Excursion Conrail T&HS announced an excursion from Washington, D.C. to Harrisburg and return using the Juniata Terminal PRR E8's operating via Perryville, NS Port Road to Columbia to the Enola Branch. Train will operate through Enola Yard and cross Rockville Bridge and return through Harrisburg and then operate over the Royalton Branch back to the Port Road. Departure from Washington is 8:00 am. Tickets are $ 172.50 in coach. Tickets are ordered through the CRHS website. www.crhstrips.com
July 5-August 24, 2012 All Aboard! Paul P. Cret's Train Designs @ Athenaeum of Philadelphia 9AM-5PM Architect Paul P. Cret (1876 - 1945) designed public buildings such as the Barnes Foundation in Lower Merion, PA, the Detroit Institute of Art in Michigan, and the Folger Shakespeare Library in DC. Both he and his successor firm Harbeson, Hough, Livingston & Larson (fl. 1945 - 1976) produced a surprising number of train car designs, both interior and exterior, for Philadelphia's Budd Company. Cret's relationship with the Budd Company is told through the many trains that he designed from the beginning of the association in 1933 through the extension of his firm after his death in 1945 to successors Harbeson, Hough, Livingston & Larson. The Modern Classicism associated with Cret's architectural firm often becomes streamlined on the exteriors of the trains while the interiors display the rich approach already seen in Cret's building designs. Free Admission. http://www.philaathenaeum.org219 S. 6th Street Philadelphia, PA 19106-3794 _Phone: (215) 925-2688
Saturday & Sunday, August 4-5, 2012 Greenberg's Train & Toy Show 10-4, Adults $7, Maryland State Fairgrounds, 2200 York Road, Timonium, MD 21093, FREE PARKING
Thursday, August 16, 2012 Wilmington Chapter's Annual August Field Trip Every August, the Wilmington Chapter does a "field trip" for its members instead of the regular meeting. Past outings included a visit to Juniata Terminal's shops in Philadelphia, and Septa and NJ Transit circle trips. This year, we will take a tour of the new office and library building under construction at the Wilmington & Western Railroad in Marshallton, Del. We will also have a night photo session with freshly-painted W&W EMD SW900 number 915, which will be posed outside the engine house for our group. We will meet at 8 p.m. (one hour later than our regular meeting time) on Thursday, Aug. 16 outside the new building, located off Kiamensi Street. (Take Old Capitol Trail to a left on School Lane to a left on Kiamensi Street). John Iwasyk and J. Harry Feldman of the W&W will be our hosts for the evening. To participate in the night photos, please bring a camera that can be set to "bulb" as well as a tripod and cable release. Strobe lighting will be provided by me, Steve and Bruce Barry. You will also need to wear closed-toe shoes (no sandals or flip-flops). We hope to see you there!
Sunday, August 26, 2012 Central PA Chapter's 37th Annual Train Meet 9-2, Adults $3, Warrior Run Fire Dept. Social Hall, Second St., Allenwood, PA
August 26 - September 3, 2012 54th Annual Summer Show @ Williams Grove Steam train rides! GREAT FOOD! Nightly entertainment! Blacksmith shop Steam Traction Engines operating daily Antique Tractors Hit and Miss Engines Car show on Sunday, August 26th. Horse pulls on Tuesday, August 28th at 7:00pm. Consignment sale on Saturday, Sept. 1st. at 8:00am Williams Grove Historical Steam Engine Association, Mechanicsburg, PA (717)-766-4001
Saturday, September 15, 2012 The Great Lehigh Valley Train Meet Sat. 10 am - 4 pm, all scales, one day, Merchants Square Mall, 1901 South 12th Street, Allentown PA 18103
Saturday, September 22, 2012 MEMBERS DAY at RR Mus. of PA, Strasburg. WARNING - Thomas Days at the Strasburg Rail Road
Saturday, September 22, 2012 Friends of the Furness Railroad District Tour & Mini Exhibition In the Fall of 2012 a festival is being held in the Philadelphia to Wilmington areas, to highlight the creative talent of the 19th century architect, Frank Furness. The festival will begin in early September and continue with events, tours, exhibitions, lectures, and symposia throughout this fall season, ending in early December. The second scheduled event will be on Saturday, September 22nd when the Friends of the Furness Railroad District will sponsor a tour and mini exhibition in Wilmington, DE. The tour will begin at Furness' Wilmington Amtrak, Railroad Station (formerly the Pennsylvania Railroad Station, 1907-8), and the adjacent but separate Pennsylvania Office Building (1905), followed by a walk along the Railroad viaduct to see some Furness inspired newer construction related to the Railroad Station, and then on to the Furness designed B&O Railroad Station (1888). We will then proceed up the hill to visit the Central National Bank (1885-1905 and later), also known as the Security Trust and Deposit Company, and now known as the Kimba Academy, a charter school. The tour will then conclude with a mini Furness exhibit at the adjacent Wilmington Historical Society where a talk will be held and refreshments will be offered.
Sunday, October 7, 2012 GARDEN RAILWAYS TOUR at RR Mus. of PA, Strasburg
Saturday & Sunday, Oct. 27-28, 2012 Great Scale Train Show 9AM-4PM, $9, State Fairgrounds, Timonium, MD
Saturday & Sunday, Nov. 3-4, 2012 TRAINS & TROOPS at RR Mus. of PA, Strasburg
---
CHAPTER EVENTS
Thursday July 21, 2012 7 PM Chapter Meeting program by Mike Burkhart
Thursday August 16, 2012 << 8 PM >> Chapter Outing at Wilmington & Western Railroad in lieu of normal monthly meeting NOT the normal time, NOT the normal location ! ! !
Thursday Sept. 20, 2012 7 PM Chapter Meeting program by Possibly A. Guest
Saturday Sept. 22, 2012 TBD Friends of the Furness Railroad District Tour & Mini Exhibition
Thursday Oct. 18, 2012 7 PM Chapter Meeting program by Probably A. Member
Thursday Nov. 21, 2012 7 PM Chapter Meeting program by Frank Ferguson
Sunday Dec. 2 or 9, 2012 5 PM Annual Holiday Dinner in lieu of normal monthly meeting
The Wilmington Chapter of the National Railway Historical Society (NRHS) meets at 7:00 PM on the third Thursday of each month [except August & December] in the Darley Room at the Claymont Community Center on Green Street in Claymont, Delaware. Visitors are always welcome. Admission to regular meetings is free. Check out our Website (thanks to Russ Fox) at:
---
The Transfer Table is published six to ten times per year as the newsletter of the Wilmington Chapter of the National Railway Historical Society. Items in this publication do not represent the official position of either Officers or Members of the Wilmington Chapter or the Editor of this publication.
Permission to reprint articles and news items appearing herein is granted to NRHS Chapters and other newsletters provided appropriate credit is given.
Contributions are always welcome and should be sent to the editor at SD40GMA@aol.com or send to: P.O. Box 1136, Hockessin, DE 19707-5136.
Deadline for entries is the 25th of the month.
Chapter Officers
President: Mike Burkhart
Vice President: Dave Watterson
Treasurer: Dave Warner
Secretary: Dan Frederick
National Director & Trip Director: Steve Barry
Editor: Greg Ajamian
Web Master: Russ Fox