NOTE: The Lite Version is our electronic version which is available for free from this web site. It has limited content but gives you a taste of what is offered in our Full Version.
The Full Version is our printed newsletter which is mailed to you. It contains everything in the Lite Version along with many other reprinted pages from other NRHS newsletters, railroad publications, and flyers that contain photographs, drawings, and maps. The full version is just another benefit of joining our chapter.
THE TRANSFER TABLE
The Wilmington Chapter NRHS Official Newsletter
Internet Edition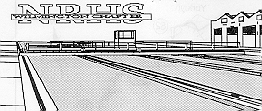 | | |
| --- | --- |
| VOLUME 35 NUMBER 01 | JANUARY 2012 |
Back To Wilmington Chapter Web Site
OCTOBER 2011 MEETING NOTES
President Mike Burkhart called the meeting of the Wilmington Chapter to order. As the Secretary was not present, the minutes were approved as read by the President. The Treasurer's report by Dave Warner was also approved as read. National Director Steve Barry reported that the new National By Laws had all passed. Trip Director Steve Barry reported on our Dec. 10 Street Car Trolley Trip and Feb 4 Super Saturday Streetcar Trolley Trip XIX. Conference Director Dave Warner provided details and plans for the meeting. All 13 Chapter Members present assisted in the production of "goodie bags" for the National Director's Conference and were then treated to an excellent, albeit short, program by Secretary Dan Frederick. WE got to see stations in VA, TN, NC, CT, DE, MD, OK and TX. We saw the oldest Amtrak Station in Hudson, NY. We also saw a B&O position signal in Dubois, PA and some nice views of the Reading Railroad.
---
OCTOBER 29, 2011 NATIONAL DIRECTOR'S MEETING DINNER
After a welcome by Wilmington Chapter President Mike Burkhart and invocation by Barry Smith, the large crowd enjoyed a delicious buffet dinner (without any green beans). After dinner, some comments about Joe Williams, and remarks by Greg Molloy, we were treated to a presentation from Mario Bergeron, Amtrak's Chief Mechanical Officer assisted by none other than our own Treasurer, Registration Coordinator, Hotel Coordinator, and Conference Chairperson Dave Warner.
Mr. Bergeron noted that Amtrak runs over 200 trains per day, 70% of which operate over other owner's freight lines. Operations for Amtrak fall into three groups - namely the Northeast Corridor (NEC), short distance trains (86-600 miles), and long distance trains (up to 2250 miles). He discussed the FY2011-2015 Amtrak Strategic Plan with Vision & Plans broken down into 0-1 year, 1-3 years, 3-5 years, and 10+ years. He said that the NEC accounts for about one half of the total revenue.
He spoke about various sections of PRIA law including ¤209 on routes under 750 miles to be implanted by 2014 and ¤305 on the next generation of Northeast Corridor equipment pool which includes the purchase of 33 locomotives and 120 new cars. He discussed the vision for the Mechanical Department and spoke about #8400 - the Viewliner Diner that was just out of the shop and currently running on Train 48/49 the Lakeshore. It is the prototype for other new diners to be ordered.
We heard about ACELA Continuous Maintenance. The original plan called for 14 of the 20 train sets to run every day. The new schedule is to run 16 of the 19 sets every day with one set in for a major overhaul - the power in Wilmington and the coaches in Bear.
We learned about TCD (Train Communication Data) for the automatic control and monitoring of locomotives. We learned that the "brain" of the on-board WIFI is in the bistro car with repeaters in other cars. WIFI is available in all single (low) level cars. We also heard about the 40th Anniversary Cab Car #406. We heard that 29 AEM-7s had been converted from DC to AC power and the plan to purchase 70 new Siemens locomotives to be delivered from 2013 to 2016 plus the purchase of 130 long distance single level cars. We also learned about the new ACS-64 dual cab loco and the drop table in Boston to allow the change of power trucks on the Acela. Until now, the only place that could be done was in Washington, D .C. It was a superb presentation enjoyed by all.
---
November 2011 MEETING NOTES
President Mike Burkhart called the meeting of the Wilmington Chapter to order at precisely 7:05 PM. The minutes were read by Secretary Dan Frederick and approved as read as was the Treasurer's report presented by Dave Warner. Dave's report on the National Director's Conference noted that it was indeed a "success" for the Chapter. All went well for the 67 registrants which included 18 spouses and there was a net gain in our bank account. President Mike Burkhart noted that, "the Director's meeting went about as good as it could have" despite a few minor glitches and some weather challenges. Phil Snyder proposed a motion to give Conference Coordinator Dave Warner a "free ride" for the Chapter's Holiday Dinner in recognition of all of his hard work so he wouldn't have to pay Treasurer Dave Warner for the dinner. The motion was immediately passed. National Director Steve Barry reported that all attendees to the conference were pleased with their experience. Trip Director Steve Barry reported that the Wilmington & Western trip was changed on the day of the trip due to weather conditions and everything still worked out well even though there was no walking tour in downtown Wilmington. He reported that we might have a 'replacement' trip on the Cape May line in the spring. As there were no new nominees nor volunteers for office, we will keep the same officers for another year. National Director Steve Barry noted that there would be a direct election of the National Board by return mail paper ballot. He also noted that the National Convention would be held in Anchorage, Alaska in September 2013.
---
December 2011 MEETING NOTES
The annual Holiday Dinner was held at Maximillian's in lieu of the December Chapter Meeting. After the buffet style dinner and an appropriately iced cake for desert. Master of Ceremonies Ed Thornton ran the process for the annual dispensing of the door prizes (most of which he himself had procured). That, of course, was followed by the annual Holiday Dinner Program by Steve Barry. The computer projected "Year in Review" covered a tremendous amount of territory including Mississippi, Memphis, St. Louis, San Jose, San Francisco, Florida, Chicago, Steamtown, Cumberland, Philadelphia, Connecticut, Seattle, Vancouver, Washington state, Iowa, West Virginia, Ontario, New York state, and New Jersey. Everyone enjoyed the plethora of fantastic images
---
Mile Marker #150
by Greg M. AjamianIn a recent interview with the Editor in Chief of The Transfer Table, he told this reporter that, "it is hard to believe that the next issue will be my 150th newsletter for the Wilmington Chapter of the NRHS." It is also hard to believe that he issued his first newsletter as Editor in April of 1994.
The Editor went on to say, "I would like to thank the many contributors that have made those newsletters possible - including of course, my most prolific contributor, Richard E. Hall (who has quite amazingly STILL continued to contribute - two full years after departing this world!). Thanks, too, to "THE ED's" (Mayover & Thornton) for their thousands of e-mails and other goodies. And to the many other contributors including our farthest flung member, Tom Smith, as well local members Ron Cleaves, and the Barry's - Steve & Bruce. My thanks also to all of the other members who have contributed a piece, or a news item, or a photo from time to time like ace reported Dave Watterson.
Reports from the Publishing Department indicate that this same Editor has been responsible for a total of 2594 pages of newsletters so far - that's an average of over 17 pages per issue, 8.2 issues per year, for 17 years! Records also show an additional 43 postcards in lieu of newsletters and/or for special announcements and notices to the membership. Over that time, we have had to upgrade computer systems three times, replace multiple printers and untold ink cartridges, and even had to find new commercial printing facilities at least three times.
The Art Department noted that way back in 1994, we were still using a commercial reprographic operation in downtown Wilmington to get photostats to improve photocopied image quality and commercial blue print services to resize and reproduce large drawings and maps. Now of course, it all happens by manipulating pixels and electrons in an ever-shrinking box on a desktop. They also remarked upon the improvements in the various "headers", logos, and artwork. We lost a few type fonts as newer computers were brought in but gained a few others. We even when to a new layout of two columns for most things at the specific request of one of the members which improved overall "readability" as they put it.
The Publishing Department also noted the one-time that The Transfer Table sported a color cover. In a moment of unrestrained madness and unbounded extravagance, The Transfer Table's Editor decided to "splurge" as he put it on his 100th issue back in May of 2005. High revenues in that year from trips and books sales were able to cover the color copying costs - sparing the Chapter from financial embarrassment. (In our interview, the Editor noted that the "extravagance" had been discussed and approved by the Chapter President well in advance of turning over the copy for publication.) Despite the extravagance, and due to the vast volume of "normal" issues, an average issue has cost the Chapter just under $135 per issue to print and mail. Of course, that's the overall average - those 20 and 30 page giants do run a little higher.
Publishing's records show that even in his first and lowest output year he cranked out over 100 pages of newsletter for each member. They also showed that the record year was 2005, which sent out 206 pages of newsletters and three postcards to each and every member. (Evidently the "extravagance" went beyond just the one color cover. No investigations were conducted since no complaints were received). A inside source in that department who wished to remain anonymous expressed some concern about just what the Editor might do for his 150th issue. But, he also expressed unrestricted confidence that it would be, as he put it, "appropriate and not too far over-the-top" (whatever that means).
The Mail Room staff noted that when this Editor started, we used to mail one-ounce newsletters for a mere 29¢ each. Today's one-ounce edition travels for 44¢ a copy at least until the next postal rate increase is approved by Congress. A typical two-ounce, twenty-page edition is delivered by the USPS for 64¢ today as long as it is properly folded, stapled, address labeled, and taped. It is interesting to note, that despite the increases in the expenses due to postage, the total newsletter costs for the Chapter have remained remarkably consistent over those years, meaning that cost cutting and various improvements have offset inflation, rising costs, and declining membership. Mail Room staff also pointed out that there were even a few three-ounce "monster" editions that simply ate up far too much in postage for a single issue before they received a cease-and-desist order from the Chapter leadership and newsletter management. No doubt the elimination of that additional revenue has been a contributing factor to the perilous financial state of the US Postal Service.
A few individuals have questioned whether or not the Editor actually reads all of the copy that appears in the newsletter. The Editor has never directly answered this question and has even, upon occasion, insinuated that the contrary might actually have some basis in truth. However, no one has ever pressed the issue out of fear that they themselves might have to take over publication of the newsletter in question.
It has been rumored from time to time that some complaints and/or negative sounding comments have been heard at a Chapter meeting. The Editor noted in our interview that none of his reporters had ever transmitted such a negative comment to him and pointed out that no such material has ever appeared in the nonexistent Letters to the Editor column and therefore it doesn't concern him. He mentioned that the easiest solution to such complaints is to simply "misplace" the address label for that individual for all future issues eliminating any possibility of that individual receiving a newsletter that offends their sensibilities in any way.
This reporter noted that the Editor's hair (what is left of it) is much lighter and thinner than historic photographs would suggest. The Editor declined to comment on that and any other issues ending the interview and thus, the end of this column.
---
NOTICE: IN CASE OF BAD WEATHER
If our normal "THIRD THURSDAY" NRHS meeting is canceled due to inclement weather, it will be postponed and held on the FOURTH THURSDAY. If it must again be canceled, it will NOT be rescheduled. We will simply wait for the next month's normal "third Thursday" meeting. If the weather looks bad or is predicted to be bad, you may telephone the Claymont Community Center to see if it will be open that evening for our meeting.
---
Message from the Treasurer
"We'd like to remind you that if you have not paid your 2012 chapter and national dues, now would be a very good time to submit them. Dues forms were sent to everyone last fall, with a due date of 12/31/2011. As of that date, we have received only about half of our dues. Please take a moment while you're thinking about this to send your membership dues to our treasurer, Dave Warner. His address is on the dues form you received. Thank you."
---
NEWS BITS
Ace Reporter (and Vice President) Dave Watterson phoned in this report: At 8:37 AM on January 10, 2012, Train number Q128-09 rolled east bound through Elsmere Delaware with CSX #5408 in the lead pulling the first double stack train through our area now that clearances have been raised. He also noted that the train is supposed to run 3 days per week.

After more than two years of preparation and construction, Amtrak is about to replace the two existing East/West Harbor bridge spans in Stonington, Conn., As a result of this work, Amtrak Northeast Regional service will be temporarily suspended between New York and Boston from 4:00 p.m., Saturday, Nov. 5 through 12 noon, Sunday, Nov. 6.No alternate transportation is being provided during that period, passengers are encouraged to make reservations on a number of Amtrak trains that are operating before the work begins on Saturday and after it concludes on Sunday. Amtrak New Haven-Springfield Shuttles and local commuter services are not affected and will operate as scheduled. During the outage, Amtrak will replace the over 100-year old spans by using barges to remove the existing structures and float in the new bridges. This marks the final stage of the multi-year $22.1 million project, funded in part through the American Recovery and Reinvestment Act (ARRA). The work will also provide enhanced reliability and a more pleasant travel experience for passengers. Passengers planning travel when train service is not available may contact intercity bus companies. Bus service between New York-New Haven-New London-Providence-Boston is available via Greyhound Lines Inc. (www.greyhound.com / 1-800-231-2222), Peter Pan Bus Lines (www.peterpanbus.com / 1-800-343-9999) and other companies. [AMTRAK News Release via Ed Mayover]

The renovated Amtrak Wilmington Train Station is being recognized for its design excellence today at the 2011 Brunel Awards International Railway Design Competition. It was selected from a pool of more than 150 entries submitted from 14 countries. The Amtrak led renovation balanced the need to modernize the station while retaining its historic charm. The project included detailed restoration to various parts of the station including the grand staircase located in the lobby and the historic men's and women's waiting rooms on the second floor of the station. It also provided for a new passenger information display system and enhancements to the station's accessibility to people with disabilities. The Brunel Awards competition recognizes and promotes the best in railway architecture, engineering, landscape and environmental design, product design, locomotive and car design, graphic arts and corporate branding amongst railways from Europe, Asia and the Americas. The Association of American Railroads (AAR) and International Union of Railways (UIC) hosted the awards ceremony. The Wilmington Train Station is the 12th busiest station in the Amtrak system with 717,772 passengers in Fiscal Year 2011. In addition to Amtrak, the Wilmington Station also serves two commuter services SEPTA and the Delaware Transit Corporation. In March 2011, the station was rededicated the Joseph R. Biden, Jr., Railroad Station in honor of the long-time Amtrak rider, strong advocate of passenger rail and current Vice President of the United States. Amtrak is also being recognized with a Brunel Commendation for the Superliner I Coach Overhaul completed by its in-house Mechanical Department. This project involved restoring stored or wrecked train cars and returning them to service. As a result of this effort, Amtrak has increased capacity on many of its Long Distance trains. [AMTRAK News Release via Ed Mayover]

Some of you may remember that at the 1998 RSHS convention in Newark, NJ they mentioned that the former DL&W cut-off would be restored for passenger service "soon". Well, "soon" is finally now. The first Welded Rail Train for the rebuilding of the NJ Cut Off, was brought to New Jersey Transit's, Port Morris Yard by the NS Dover HO 2 crew, Sunday, Dec 18, 2011 Train carried 50 pieces of 136 RE Rail rolled Nov 2011. Photos were taken at the International Trade Zone, Mt Olive, NJ, and Port Morris Yard. [from Bob Bahrs via Dan Frederick]

Caterpillar Inc. locked union workers out the Electro-Motive Canada plant in London, Ontario until "a ratified contract is in place" for the workers who are represented by the Canadian Auto Workers union. The most recent contract expired at the end of 2011. Caterpillar's Electro-Motive Canada plant was acquired in 2010 as part of the $820 million purchase of Electro-Motive Diesel Inc., based in LaGrange, Ill. Union officials said Caterpillar's latest proposal would halve wages and reduce benefits. Caterpillar said that wages and benefits at the Canadian plant are twice those of workers represented by the United Auto Workers at the Electro-Motive plant in LaGrange. [from Wall Street Journal via Ed Thornton]

Norfolk Southern plans to expand operations at its Rutherford Intermodal Facility near Harrisburg, Pa., after the U.S. Department of Transportation awarded a $15 million TIGER III grant to the project. The $60.5 million project - expected to finish in 2014 - will help Norfolk Southern meet growing demand for intermodal freight transportation in the Harrisburg region. When completed, expanded operations could result in about 400 new direct and indirect jobs in Swatara Township and the surrounding Dauphin County community, in addition to construction jobs beginning as early as 2012.

Intermodal transportation involves the use of two or more transportation modes (train, truck, ship) to move shipping containers and trailers from origin to destination. The Rutherford intermodal facility and the Harrisburg region are key routing points for freight rail traffic moving east-west and north-south through Central Pennsylvania. The Harrisburg region also is an important part of an existing 2,500-mile rail network called the Crescent Corridor, stretching from Louisiana to New Jersey, where the railroad company has identified $2.5 billion in infrastructure improvement projects. These projects would link key markets in the Northeast and Southeast with high-quality intermodal rail service and should support some 73,000 jobs, remove long-distance trucks from the highways, lower emissions damaging to the environment, and boost the economy. When completed, the Rutherford project will:

Add about 400 permanent jobs to the local economy. These include crane operators, truck drivers, and service industry employees.
Expand intermodal capacity by 50 percent.
Alleviate traffic problems on Grayson Road and Mushroom Hill Road by moving the Triple Crown Services truck entrance about a mile east to avoid a private grade crossing.

The Rutherford expansion is one of three significant economic projects Norfolk Southern has slated for Central Pennsylvania. The other two are a new $96.9 million intermodal facility under construction near Greencastle in Franklin County, and a $28 million expansion of operations at the Harrisburg intermodal terminal on Industrial Road. [NS Press Release]


Amtrak is taking the lead on the next phase of renovations at the Lancaster Train Station. The Capstone project will address the much anticipated rehabilitation of the passenger areas, including interior work to the waiting room, concourse, restrooms and hallways, and exterior work to stairways and platforms. Amtrak intends to release detailed information including project scope and timeline in mid-January as the first phase of the station renovation nears completion. An important goal is to seamlessly move forward from one phase to the next and to start Capstone construction work as soon as possible without losing substantial time. Amtrak engineering forces, utilizing data gathered from the Capstone report commissioned by PennDOT, have identified a three-phased approach to completing the station renovation and rehabilitation project. The three phases are short term work that can be completed by Amtrak forces, long term work that will require a standard design-bid-build project delivery method and work to be completed under the Amtrak Accessible Stations Development Program. The Capstone project builds upon the major station infrastructure improvements completed during the first phase of the project. The Lancaster train station serves Amtrak's Keystone Service (Harrisburg - Philadelphia - New York) and Pennsylvanian (Pittsburgh - Harrisburg - Philadelphia - New York). For fiscal year 2011, 539,338 passengers arrived or departed from the station making it the 3rd busiest Amtrak station in Pennsylvania and the 22nd busiest station in the Amtrak national network. [AMTRAK News Release via Ed Mayover]

Norfolk Southern has loaded the largest volume cargo in the history of its Pier 6 coal transloading facility at Lamberts Point in Norfolk. Early yesterday morning, Norfolk Southern finished loading 159,941.45 net tons (145,097.931 metric tons) of metallurgical coal into the M/V Cape Dover, destined for China. That quantity can be used to make about 207,000 tons of steel - enough to build 230,000 automobiles. The coal was shipped by Xcoal Energy & Resources in conjunction with CONSOL Energy, from mining operations in Virginia, in 1,561 railroad coal cars. T. Parker Host was the ship agent/broker.

Norfolk Southern employees loaded the 951-foot vessel in fewer than 48 hours in order to accommodate a tight schedule for the receiver. "This is the kind of capacity and service that makes Pier 6 the preeminent coal transloading facility on the East Coast," said Mark H. Bower, NS group vice president, export, metallurgical, and industrial coal marketing. "Worldwide demand for U.S. coal for utilities and coke plants continues to grow, and the railroad is the reliable and safe link that, with our coal production and sales partners, brings that energy to market around the globe." The loading of the M/V Cape Dover eclipsed the former record of 157,645 net tons for the M/V Irongate in 1998 as well as the 155,522 net tons into the M/V Cape Provence in December 2010.

Norfolk Southern has been transferring coal and coke from railroad cars into ocean-going export and domestic vessels in the Lamberts Point area since 1884, when it opened Pier 1. In the first half of the 1900s, new Piers 2-5 featured improvements in speed and capacity and even loaded coal into a number of famous vessels, such as those used in Admiral Byrd's 1933 Antarctica expedition.

Pier 6 opened for business in 1962 as the hemisphere's largest, fastest, and most efficient transloading facility. In 1999, Pier 6 dumped its billionth ton of coal and became the only facility in the world to have reached that milestone. Most of the coal moving through Pier 6 originates in Southwest Virginia, Southern West Virginia, Eastern Kentucky, and Pennsylvania. It is shipped to several dozen countries as well as to coastwise domestic receivers. Pier 6 is situated with access to Hampton Roads' deep 50-foot channel that allows modern vessels to make productive use of their large holds.

Norfolk Southern Corporation (NYSE: NSC) is one of the nation's premier transportation companies. Its Norfolk Southern Railway subsidiary operates approximately 20,000 route miles in 22 states and the District of Columbia, serves every major container port in the eastern United States, and provides efficient connections to other rail carriers. Norfolk Southern operates the most extensive intermodal network in the East and is a major transporter of coal and industrial products. [NSC Press Release]


CSX Corporation, based in Jacksonville, Fla., is one of the nation's leading transportation companies, providing rail, intermodal and rail-to-truck transload services. The company's transportation network spans approximately 21,000 miles, with service to 23 eastern states and the District of Columbia. CSX's network connects more than 240 short line and regional railroads and more than 70 ocean, river and lake ports. More information about CSX Corporation and its subsidiaries is available at www.csx.com. [CSX Press Release]

U.S. Transportation Secretary Ray LaHood awarded more than $186 million to the Illinois Department of Transportation (IDOT) for a high-speed rail project that will reduce travel times and put Americans back to work this spring. "The Great Lakes-Midwest economic region is the world's fifth largest economy by Gross Domestic Product, and nearly 100 million people live within 500 miles of each other," said Secretary LaHood. "The Department of Transportation's investment of more than $1 billion in the region's high-speed rail service will reduce trip times and save travelers money, resulting in reduced congestion for the region and making the Midwest a better place to start a business and create jobs."

The project will extend construction of the corridor north to Joliet, allowing for 110-mph service along nearly 70 percent of the route. Construction is already underway on the Chicago - St. Louis corridor, and work on the extension to Joliet will begin this spring. Once construction is complete, travelers can expect reductions of more than an hour in trip time, with improved on-time performance as well. Ridership has grown 137 percent over the last five years. The state has plans to add more frequent trips, and further reduce trip times on this popular route in the future. The corridor will also benefit from next-generation American-made trains, funded as part of a previously announced $782 million grant that will pump new life into domestic manufacturing. States will purchase 33 quick-acceleration locomotives and 120 bi-level passenger cars to operate in Illinois, Indiana, Michigan, Iowa, Missouri, California, Washington and Oregon.

Illinois is among thirty-two states throughout the U.S. and the District of Columbia that are laying the foundation for high-speed rail corridors that will link Americans with faster and more energy-efficient travel options. To date, the U.S. Department of Transportation has invested $10.1 billion to put American communities on track towards new and expanded rail access and improved reliability, speed and frequency of existing service. [US DOT Press Release via Ed Mayover]


U.S. Transportation Secretary Ray LaHood today awarded $7 million to Georgia and Washington D.C. to continue work on the Southeast High-Speed Rail Corridor linking Atlanta and Charlotte, N.C. to Washington, D.C. "With America's population set to grow by 100 million over the next 40 years, high-speed rail will play a vital role in reducing congestion and meeting America's long-term transportation challenges," said Secretary LaHood. "High speed rail projects like these in Georgia, North Carolina, and Washington, D.C., will employ local workers, use American-made materials and lay a strong foundation for future economic growth."

The Georgia Department of Transportation (GDOT) received a $4.1 million grant to complete a service development plan and environmental study for the 250 mile passenger rail corridor between Atlanta and Charlotte. GDOT is contributing $1.125 million for this phase of the project. GDOT recently announced a new Multi-Modal Passenger Terminal in downtown Atlanta, which is being designed to accommodate high-speed rail service.

The District of Columbia Department of Transportation received $2.9 million to evaluate alternatives for rehabilitation or replacement of the Long Bridge over the Potomac River. The bridge, more than 100 years old, is the sole railroad bridge between Virginia and Washington, carrying approximately 90 passenger and freight trains daily. Rail service over the Long Bridge is expected to grow to nearly150 trains per day in the next twenty years. CSX, the company that owns the bridge, will contribute $100,000 to the study.

States in the Southeast High-Speed Rail Corridor have received nearly $581 million to develop high-speed rail service in the region. Most recently, Virginia received $44.3 million for environmental analysis and preliminary engineering for the segment between Washington and Richmond. North Carolina received $4 million for environmental and design work for the construction of a new connection between Raleigh and Richmond that could reduce travel time by one hour and 30 minutes from the current schedule. [US DOT Press Release via Ed Mayover

U.S. Transportation Secretary Ray LaHood awarded a $928.6 million grant to the California High-Speed Rail Authority for initial construction of California High-Speed Rail. Construction will begin next year in Fresno, creating tens of thousands of jobs in California. "California's population will grow by 60 percent over the next 40 years," said Secretary LaHood. "Investing in a green, job creating high-speed rail network is less expensive and more practical than paying for all of the expansions to already congested highways and airports that would be necessary to accommodate the state's projected population boom."

Today's grant, when combined with voter-approved state support and previously-awarded federal dollars, will fund the construction of the first usable segment of the California system in the Central Valley. In the recently released business plan, the Authority embraced a phased implementation similar to those used for international systems. The first construction project will put more than 100,000 people to work during the next five years. Over the course of the network's construction, more than one million jobs are expected to be created, and the economic activity spurred by the new system is expected to add up to 450,000 new non-high-speed rail jobs to the California economy by 2040.

California's 220-mph high-speed rail system will connect to the rest of the state's transportation network, improving local, regional and international mobility. Travelers moving throughout the state will connect to local transit and commuter service to reach their final destinations, reducing the need to add more highway trips through a state that is home to six of the ten most congested metropolitan areas in the nation. A recent study by the Texas Transportation Institute found Californians consumed more than 38 million gallons of fuel while stuck in traffic last year. [US DOT Press Release via Ed Mayover]


U.S. Transportation Secretary Ray LaHood today awarded $150 million to the Michigan Department of Transportation (MDOT) for a high-speed rail project that will increase the safety and reliability of Amtrak's Wolverine and Blue Water services between Detroit and Chicago and put more than 800 Americans back to work this spring. "With America's population set to grow by 100 million over the next 40 years, high-speed rail will play a vital role in meeting America's long-term transportation challenges," said Secretary LaHood. "Projects like this will employ local workers, use American-made materials and lay a strong foundation for future economic growth."

The grant will enable MDOT to acquire ownership over much of the Chicago-Detroit/Pontiac High Speed Rail Corridor within the State of Michigan and pave the way for them to begin a track and signal improvement project between Detroit and Kalamazoo, MI, in the spring of 2012. These improvements will allow for speeds up to 110 mph on 77 percent of Amtrak's Wolverine and Blue Water services between Detroit and Chicago, resulting in a 30 minute reduction in travel times between those destinations. Previously announced FRA investments in the line include new continuously welded rail and ties, fiber optic lines and infrastructure to support a positive train control system, rebuilding 180 highway-rail grade crossings and gates and flashers at 65 private highway-rail grade crossings.

The corridor will also benefit from next-generation American-made trains, funded as part of a previously announced $782 million grant that will pump new life into domestic manufacturing. States will purchase 33 quick-acceleration locomotives and 120 bi-level passenger cars to operate in Illinois, Indiana, Michigan, Iowa, Missouri, California, Washington and Oregon. [US DOT Press Release via Ed Mayover]


U.S. Transportation Secretary Ray LaHood today announced more than $177 million for the Illinois Department of Transportation (IDOT) for a passenger rail project that will operate twice daily round-trip service between Chicago and the Quad Cities and put nearly 2,000 Americans back to work this spring. "With America's population set to grow by 100 million over the next 40 years, passenger rail will play a vital role in meeting America's long-term transportation challenges," said Secretary LaHood. "This project, and the others like it, will reduce congestion for the region, create jobs and make the Midwest a better place to start a business."

The start of twice daily round-trip service between Chicago and the Quad Cities, with intermediate stops at Geneseo, Princeton, Mendota, and Plano, IL will be made possible by infrastructure improvements including, a new station at Geneseo, a layover facility in the Quad Cities area, communication and signaling improvements and the purchase of new passenger rail equipment. "Providing regional connectivity is critical to America's long-term economic success," said Federal Railroad Administrator Joseph C. Szabo. "These infrastructure and service improvements will provide Americans with more transportation options and allow them to travel the Midwest with greater ease."

The introduction of next-generation American-made trains, funded as part of previously announced grants totaling $782 million, will help reinvigorate domestic manufacturing. States will purchase 36 quick-acceleration locomotives and 130 bi-level passenger cars to operate in Illinois as well as Indiana, Michigan, Iowa, Missouri, California, Washington and Oregon. [US DOT Press Release via Ed Mayover]

---

Amtrak Major Projects in 2012
A News Release forwarded by Ed Mayover

January 2012 1 "Amtrak is building the equipment, infrastructure and organization needed to ensure our strong growth continues into the future. We are investing in projects critical for enhancing the passenger experience, essential for supporting our national network of services and vital for the future of America's Railroad." - Amtrak President and CEO Joe Boardman

NEXT-GENERATION HIGH-SPEED RAIL (Next Gen HSR )AND NORTHEAST CORRIDOR (NEC) DEVELOPMENT UPDATED NEC VISION PLAN

Amtrak's vision for developing a new high-capacity, 220 mph NextGen HSR system is being fully integrated within the NEC infrastructure and investment development program to bring together all funding, policy and planning decisions to ensure HSR projects are a critical element of NEC improvement efforts. Amtrak intends to release an update of the original Vision report in spring 2012 that will present further refinements to Amtrak's phased, stair-step implementation of world-class HSR encompassing both upgrades to existing NEC infrastructure to enhance capacity at key chokepoints, improve reliability and advance a state of good repair for existing and new high-speed, intercity, commuter and freight rail services and the development of the NextGen HSR system.

NEC HSR BUSINESS AND FINANCIAL PLANBy mid-2012, Amtrak will complete a business and financial plan for its NEC HSR Vision that will identify potential public and private funding sources as well as strategies for financing, including maximizing private investment opportunities. In addition, it will address a variety of project financing issues such as risk, credit, debt and investment phasing.

8TH WORLD CONGRESS ON HSRAmtrak is a partner and co-sponsor of the 8th World Congress on High-Speed Rail that will be held in Philadelphia in July 2012. The event is expected to attract some 2,000 attendees worldwide to exchange views on the development and achievements of high-speed rail. It is being organized by the International Union of Railways, the American Public Transportation Association and the American Association of Railroads.

FLEET REPLACEMENT AND EXPANSION70 NEW ELECTRIC LOCOMOTIVES FOR THE NORTHEASTThe first units of a $466 million order for 70 new electric locomotives will be built during 2012. They will operate at speeds up to 125 mph on the NEC (Washington - Boston) and up to 110 mph on the Keystone Corridor (Philadelphia - Harrisburg) replacing locomotives in service between 20 and 30 years with average mileage of 3.5 million miles traveled. The first units are expected to be in service in 2013.

130 NEW SINGLE-LEVEL LONG-DISTANCE CARSThe first units of a $298.1 million order for 130 new single-level long-distance cars will be built during 2012, and includes sleepers, diners, baggage cars and baggage / dormitory cars. They will replace and supplement the existing fleet, improve financial and on-time performance, and allow Amtrak to retire the oldest cars still in service that date back to the 1940s. The first units are expected to be in service in 2013.

UPDATED FLEET STRATEGY PLANAmtrak intends to release an updated fleet strategy plan in the spring of 2012 with the latest analysis on replacing and expanding its existing conventional and high-speed rail fleet. It also will include discussion on how Amtrak plans to manage capacity to meet the forecasted growth in ridership across its national network.

NATIONAL NETWORK IMPROVEMENT PROJECTSNATIONAL ROLL-OUT OF eTICKETINGAmtrak intends to roll-out eTicketing to all its trains nationwide by late summer 2012. Once fully deployed, passengers will receive their eTickets electronically which can either be printed at a location of their choice or opened on a Smartphone with the barcode displayed for the train conductor to scan. A successful pilot test of the technology was conducted in late 2011 on the Downeaster (Boston - Portland) and next will be tested in early 2012 on the Capitol Corridor (San Jose - Sacramento) and the City of New Orleans (Chicago - New Orleans.)

ADA STATION AND FACILITY ACCESSIBILITY IMPROVEMENTSDuring 2012, Amtrak intends to spend $50 million on construction at 10 stations, designing level-boarding platforms at 30 stations and interior designs at 57 stations, and beginning detailed assessments at an additional 53 stations to meet requirements of the Americans with Disabilities Act (ADA.)

LONG-DISTANCE ROUTE PERFORMANCE IMPROVEMENT PLANSAmtrak will undertake an in-depth evaluation in 2012 of the top performing long-distance routes to identify and implement changes where possible to improve key measures such as customer service, ridership and financial and on-time performance. The five routes being analyzed are Auto Train (Lorton, Va. - Sanford, Fla.), Empire Builder (Chicago - Seattle / Portland), Southwest Chief (Chicago - Los Angeles), City of New Orleans (Chicago - New Orleans) and Coast Starlight (Seattle - Los Angeles.) A similar analysis was performed on the other 10 long-distance routes during 2010 and 2011.

NEXT-GENERATION RESERVATION SYSTEMDuring 2012, Amtrak will continue a multi-year program to modernize its 30-year-old reservation system which is at the heart of passenger and train operations. The updated technology will make it easier for Amtrak to adapt to the rapidly changing needs of customers, enhance the customer experience by supporting new sales and reservation features such as enhanced shopping and booking functionality, and improve system performance and reliability while better integrating with other Amtrak business systems. The project is expected to be completed in 2014.

NEW TECHNOLOGY FOR ONBOARD FOOD SALESIn late spring 2012, Amtrak will begin a national roll-out of its new point-of-sale (POS) equipment on cafe cars on all routes, replacing the current cash register and credit card processing machines with technology that streamlines many sales functions in the food service cars. Passengers will experience improved customer service as cafe attendants will spend less time doing paperwork, faster transaction speeds, and clearer sales receipts, and Amtrak can quickly discern what items are popular and adjust menus accordingly. POS has been deployed on Pacific Surfliner (San Juan Obispo - Los Angeles - San Diego), Capitol Corridor (San Jose - Sacramento) and San Joaquin (Oakland - Bakersfield) trains since Oct. 2010 and on Acela Express since Nov. 2011. Amtrak will complete outfitting all cafe and dining cars with POS by late 2012.

SEATTLE MAINTENANCE FACILITYAmtrak intends to complete in 2012 a $42 million project to upgrade its Seattle King Street Coach Yard Maintenance Facility. It involves concurrent work on the first two phases of a four phase project designed to improve the capacity, efficiency and working conditions of the shops that perform inspections, testing and maintenance of locomotives and passenger rail equipment. Phase I consists of the construction of an enclosed structure over two tracks and large enough to allow an entire Amtrak Cascades train to be serviced indoors. Phase II consists of a new three-story structure that will include a materials warehouse for the storage of parts, administrative offices and other facilities for personnel who presently work out of mobile trailers.

MAJOR NEC INFRASTRUCTURE IMPROVEMENT PROJECTSADVANCING GATEWAY PROGRAMAmtrak intends to spend $15 million in 2012 for planning and other pre-construction activities on its Gateway Program to provide additional capacity into Manhattan for Amtrak intercity and New Jersey Transit commuter services, including the proposed NextGen HSR system. The overall scope includes building two additional tunnels under the Hudson River to access expanded terminal facilities serving New York Penn Station and the future Moynihan Station on the site of the former Farley Post Office. It also will replace and expand the century old Portal Bridge over the Hackensack River and increase from two to four the number of tracks between Newark and New York. Specifically, the funding in 2012 will be used for planning, design and preliminary environmental review for project elements as well as to begin utility relocation for the Portal Bridge project which is currently in the final design stage.

160 MPH HSR UPGRADES IN NEW JERSEYIn 2012, Amtrak will advance design, engineering and other pre-construction activities for a $450 million project funded by the federal high-speed rail program that will boost top train speeds from 135 mph to 160 mph along a 24-mile section of the NEC between Trenton and New Brunswick, New Jersey. The project supports the goals of the Gateway Program and includes upgrading track, electrical power (frequency converter capacity and additional substations), signal systems and overhead catenary wires to permit the faster speeds and also reconfigures track switches at the western entrance to New York Penn Station to mitigate congestion issues. Major construction work will begin in 2013 with project completion expected in 2017.

NIANTIC RIVER BRIDGE REPLACEMENTIn 2012, Amtrak is continuing construction on this $125 million multi-year project to replace the movable Niantic River Bridge originally built in 1907 and located between East Lyme and Waterford, Conn. Partially funded by the American Recovery and Reinvestment Act, the new bridge will enable Amtrak to increase speeds and minimize traffic and delays. The project involves constructing a new two-track, electrified railroad bascule bridge just south of its present position, new track alignments on both approaches to the bridge and expansion of the navigation channel beneath the bridge and an increase in the vertical under-clearance above the water for the benefit of river traffic. Also, sections of the Niantic Bay Overlook boardwalk will be reconstructed and the beach replenished. The project is expected to be completed in May 2013.

NEW YORK EAST TUNNEL TRACK WORKAmtrak will continue work on a $72 million multi-year project in 2012 to replace track in all four of its East River tunnels that access New York Penn Station. The track structure for the full length of each tunnel will be replaced, including new ties, rail, and ballast plus other drainage improvements. The project will improve the reliability of both Amtrak intercity and Long Island Railroad commuter rail services and is expected to be completed in mid-2015.

SAFETY AND SECURITYPOSITIVE TRAIN CONTROL (PTC)By the end of 2012 -three years ahead of a Congressional deadline for the rail industryÑ Amtrak intends to complete a $12.8 million project to install PTC technology capable of controlling train movements to prevent collisions on sections of Amtrak-owned tracks along the NEC not already equipped with the sophisticated safety technology. Federal funds are covering 80 percent, or nearly $10.3 million of the cost.

ENHANCING SECURITYIn 2012, the Amtrak Police Department will expand its comprehensive rail security efforts to provide increased right of way protection to detect and deter terrorists seeking to derail passenger trains, particularly those operating on the Amtrak-owned NEC. In addition, efforts will be made to re-engage passengers and the public as part of its Partners for Amtrak Safety and Security program and "If you See Something, Say SomethingÉHopefully, its Nothing" public awareness campaign to encourage individuals to report behaviors or activities that are unusual or out of the ordinary such as trespassers and suspicious packages by calling Amtrak Police at 1- 800- 331-0008.

Baltimore, the Birthplace of American Railroading, and EnvironsRailroad Station Historical Society ConventionJune 6 through June 9, 2012

The 2012 Railroad Station Historical Society (RRSHS) convention and tour returns to Baltimore for the first time since 1983, when railroad historian and photographer Herbert H. Harwood, Jr. led the tour. Mr. Harwood's photos and publications provided much inspiration and information for the planning of this tour. We will visit some of the oldest surviving railroad stations and structures in this country, dating from 1829. Rather than try to visit every remaining railroad structure in the area, we will tour the most significant and picturesque ones.

The Baltimore and Ohio Railroad (B&O), chartered in 1827 as the nation's first common carrier of rail freight and passengers, began in Baltimore and constructed many of the structures to be visited. The Pennsylvania Railroad (PRR), chartered in 1846, and its subsidiaries, the Northern Central Railroad, Cumberland Valley Railroad (CVRR), and the Philadelphia, Wilmington & Baltimore (PW&B/PB&W), were major competitors of the B&O in the Maryland-Delaware region. The Western Maryland Railway (WM), which dates from 1852, was another home grown Maryland railroad, once with extensive facilities in Baltimore. We will also visit a few stations built by the Wilmington and Northern, which became part of the Reading Railroad, and some of the Norfolk & Western Railway (N&W), now part of Norfolk Southern Corp.

We will visit the B&O Railroad museums in Baltimore and Ellicott City, as well as the Civil War Museum in President St. Station, and the WM Railway Museum in Union Bridge, Maryland.

Our tour concept is to visit as many stations and other significant railroad structures as feasible in 10-12 hour days of strenuous touring by bus. We also try to inspect the interiors of stations and towers, if possible. Tour members with an interest in photography will be given ample time to take photos. Please respect the rights of others to take their photos, without getting in their way.

Active railroads in our tour area today include Amtrak, CSX, Norfolk Southern, and MARC (Maryland Area Regional Commuter). Most of the stations to be visited stand along still active tracks, which can be busy at times with high speed rail traffic, so please use caution at all times.

Our hotel for the convention is the Sleep Inn and Suites Airport (a Choice Hotel), located at 6055 Belle Grove Road, on the south side of Baltimore, MD, just north of the Interstate 695 Beltway. The hotel offers 24 hour free shuttle service to nearby Baltimore-Washington Thurgood Marshall International Airport (airport code: BWI), for the convenience of attendees arriving by airlines. The hotel is a short walk from North Linthicum MTA (Light Rail) station, which connects the airport with downtown Baltimore. Amtrak also has a station near BWI Airport, with shuttle service to the terminal. The Friday evening banquet will be at the Olive Grove Restaurant, a short distance from hotel premises. The hotel provides a complimentary breakfast and has both smoking and non-smoking rooms. Call (410) 789-7223 to make your reservation and mention the society to get a special rate (available until May 5) of $80.00 plus taxes per night.

Please feel free to contact me with any questions, concerns or suggestions about this tour. James Kelling, phone: (301) 441-8504, (301) 837-1873 or email: rshs2012@gmail.com

To register for the tour complete the Convention Registration Form, enclose a check payable to the Railroad Station Historical Society and mail it to: J. Kelling, 8315 Canning Terrace, Greenbelt, MD 20770-2701.

http://www.rrshs.org/Conventions/conventions.htm

Railroad Station Historical Society ConventionJune 6 through June 9, 2012

Registration Form

Name (s) ______________________________________________________

Address _______________________________________________________

City, State, Zip__________________________________________________

Phone number with area code (__________)_________________________

E-mail address _________________________________________________

Name(s) for badge(s)________________________________________________

Admission to all the museums we plan to visit, plus the banquet, is included in the registration fee. There will be a meet and greet social on Tuesday, June 5 from 7:30 to 9:00 PM, hosted by the Planning Committee. Tour booklets will be handed out then. Our banquet on Friday night, June 8th will be at the Olive Grove Restaurant, 705 N. Hammonds Ferry Rd. The buffet meal includes salad, beverage, and dessert.

Member registrations ____ X $235.00 (until 5/1/2012)

Member registrations ____ X $245.00 (after 5/1/2012)

Non-member registrations ____ X $250.00 (until 5/1/2012)

Non-member registrations ____ X $260.00 (after 5/1/2012)

Banquet-only tickets ____ X $30.00, for spouses and guests.

Total = ____$__________________

Make your check out to: Railroad Station Historical Society

Non-alcoholic drink choices for the tours (more than one choice is OK)

___Water ____ Cola ____ Diet Cola ____ Lemon-Lime ____ Root Beer

____ Diet Root Beer ____ Diet Green Tea_____ Pepsi ____ Diet Pepsi

____ Other, what kind? ______________________________________________

I have special/disability needs (please describe) __________________________

Send your completed form with payment to:J. Kelling8315 Canning TerraceGreenbelt, MD 20770-2701
---
SCHEDULE NOTES
Notices, announcements, schedules, etc. are provided here as a service to the members. The Chapter has no affiliation with any commercial operation, museum, or tourist line.
Until May 30, 2015 Civil War 150th Anniversary: The War Came By Train@ B&O RR Museum in Baltimore. Monday - Saturday (10:00 a.m. - 4:00 p.m.), Sunday (11:00 a.m. - 4:00 p.m.) Between April 19, 1861 (The Baltimore Riot of 1861) and April 21, 1865 (Lincoln's funeral train leaving Baltimore for Illinois), the B&O stood witness and participant in the greatest conflict the U.S. has ever faced and changed the course of American history. The War Came By Train serves as the B&O Railroad Museum's primary attraction for the five year commemoration of the War's sesquicentennial. The National Landmark Roundhouse will exhibit the largest assemblage of Civil War railroad equipment in the world featuring locomotives and rail cars that served during the war, significant military and personal artifacts that will change annually to portray each year of the war (some artifacts never before on public display), and a narrated train ride to the original site of Camp Carroll, the largest Union encampment in Baltimore.
Saturday, January 21, 2012 Great Lehigh Valley Train Meet 10-4, Merchants Square Ma; 1901 S. 12th St, Allentown, PA - new one day all scales
February 4, 2012 Super Saturday Streetcar Special XIX -- This trip will hopefully include the very first and very last Kowasaki cars. Details still being worked out. Tickets will be $?? More info soon. Visit http://www.daylightimages.com/streetcar to order tickets or to get more information. Paying by mail? Make checks payable to "Wilmington Chapter NRHS" and send to: Wilmington Chapter NRHS c/o Steve Barry 117 High Street Newton, NJ 07860
Saturday & Sunday, Feb. 4-5, 2012 Great Scale Train Show 9AM-4PM, $9, State Fairgrounds, Timonium, MD
Saturday & Sunday, February 25&26, 2012 Spring Thaw Train Meet 9-4 & 9-3, Allentown Fairgrounds Agricultural Hall, 1120 S. Jefferson St., www.allentowntrainmeet.com
Sunday, March 11, 2012 CHARTER DAY at RR Mus. of PA, Strasburg
Saturday & Sunday, March 24-25, 2012 Greenberg's Train & Toy Show 10-4, Adults $7, Chase Center on the Riverfront, 815 Justison St, Wilmington, DE 19801, FREE PARKING
Sunday, April 1, 2012 9th Annual Train Meet 9 AM-2 PM, Leesport (PA) Farmer's Market, sponsored by RDG. CO. TECH. & HIST. SOC.
Saturday & Sunday, April 14-15, 2012 Great Scale Train Show 9AM-4PM, $9, State Fairgrounds, Timonium, MDApril 21 thru Dec. 30, 2012 ROLE OF RRs IN PA DURING THE CIVIL WAR at RR Mus. of PA, Strasburg
Friday-Sunday, May 11-13, 2012 CONRAIL DAYS at RR Mus. of PA, Strasburg
Saturday & Sunday, June 2-3, 2012 NORFOLK SOUTHERN DAYS at RR Mus. of PA, Strasburg
Saturday & Sunday, June 23-24, 2012 Great Scale Train Show 9AM-4PM, $9, State Fairgrounds, Timonium, MD
Tuesday-Sunday, July 3-8, 2012 READING RAILROAD DAYS at RR Mus. of PA, Strasburg
Saturday & Sunday, August 4-5, 2012 Greenberg's Train & Toy Show 10-4, Adults $7, Maryland State Fairgrounds, 2200 York Road, Timonium, MD 21093, FREE PARKING
Saturday, September 22, 2012 MEMBERS DAY at RR Mus. of PA, Strasburg
Sunday, October 7, 2012 GARDEN RAILWAYS TOUR at RR Mus. of PA, Strasburg
Saturday & Sunday, Oct. 27-28, 2012 Great Scale Train Show 9AM-4PM, $9, State Fairgrounds, Timonium, MD
Saturday & Sunday, Nov. 3-4, 2012 TRAINS & TROOPS at RR Mus. of PA, Strasburg
---
CHAPTER EVENTS
Thursday Jan. 19, 2012 7 PM Chapter Meeting program by Dave Watterson
Thursday Feb. 16, 2012 7 PM Chapter Meeting program by Frank Ferguson
Thursday March 15, 2012 7 PM Chapter Meeting program by Frank Ferguson entitled "2011 Year in Review Part 2"
Thursday April 19, 2012 7 PM Chapter Meeting program by Somebody
Thursday May 17, 2012 7 PM Chapter Meeting program by Somebody Else
Thursday June 21, 2012 7 PM Chapter Meeting program by Somebody's Son
The Wilmington Chapter of the National Railway Historical Society (NRHS) meets at 7:00 PM on the third Thursday of each month [except August & December] in the Darley Room at the Claymont Community Center on Green Street in Claymont, Delaware. Visitors are always welcome. Admission to regular meetings is free. Check out our Website (thanks to Russ Fox) at:
---
The Transfer Table is published six to ten times per year as the newsletter of the Wilmington Chapter of the National Railway Historical Society. Items in this publication do not represent the official position of either Officers or Members of the Wilmington Chapter or the Editor of this publication.
Permission to reprint articles and news items appearing herein is granted to NRHS Chapters and other newsletters provided appropriate credit is given.
Contributions are always welcome and should be sent to the editor at SD40GMA@aol.com or send to: P.O. Box 1136, Hockessin, DE 19707-5136.
Deadline for entries is the 25th of the month.
Chapter Officers
President: Mike Burkhart
Vice President: Dave Watterson
Treasurer: Dave Warner
Secretary: Dan Frederick
National Director & Trip Director: Steve Barry
Editor: Greg Ajamian
Web Master: Russ Fox