NOTE: The Lite Version is our electronic version which is available for free from this web site. It has limited content but gives you a taste of what is offered in our Full Version.
The Full Version is our printed newsletter which is mailed to you. It contains everything in the Lite Version along with many other reprinted pages from other NRHS newsletters, railroad publications, and flyers that contain photographs, drawings, and maps. The full version is just another benefit of joining our chapter.
THE TRANSFER TABLE
The Wilmington Chapter NRHS Official Newsletter
Internet Edition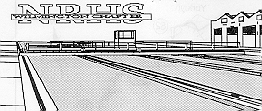 | | |
| --- | --- |
| VOLUME 35 NUMBER 02 | FEBRUARY 2012 |
Back To Wilmington Chapter Web Site
JANUARY 2012 MEETING NOTES
President Mike Burkhart called the meeting of the Wilmington Chapter to order at 7 PM. The minutes of the November meeting were approved as read by Secretary Dan Frederick as was the Treasurer's report by Dave Warner. It was reported that the Chapter's new digital projector has been purchased but is not yet "on the property."
Phil Snyder presented the Chapter with a very generous donation check from Mary Ann Haley in memory of her brother and long-time dedicated member of our Chapter - Ralph Stevens. Allen Tweddle brought an assortment of miscellaneous AMTRAK and PRR documents to be relocated from his basement to other member's basements - which worked well. If you have a particular interest in "old stuff" like that, Chapter Members are encouraged to contact Allen at ALTWEDDLE@yahoo.com.
After a short break, Vice President Dave Watterson presented an assortment of vintage slides. We were treated to views of the "farewell to the GG-1" from June 6, 1981. In a single photo we got to see #4877 in red stripes, #4876 (of DC's Union Station fame), and F40PH2 #363 when it was only two months old (as noted in Dave Warner's book which happened to be readily available). There was the Wilmington & Western's #98 on the Octararro with short-lived gold stripes on her drivers. We saw the Strasburg RR before the tower arrived and Norfolk & Western's #611 on a trip from Alexandria to Charlottesville. There were more local views of Claymont, Maryland & Delaware #23 Alco in Ridgely, and Easton on April 18, 1982. We go to see some younger images of current and past members including Tom Smith, Dick Hall, Pete Cramer, Bill Bartosh, Harvey Smith, and Ken Berg. There was a photo of the aftermath of a December 31, 1966 accident at the open crossing at Harvey Rd. with 1963 Plymouth Fury rolled into a ball. We also saw the dump truck that got stuck vertically under the Stanton Railroad bridge. There was the October 29,1983 GG-1 NRHS/NJT trip for only $1 - when #4877 died (they do say you get what you pay for - ed). We saw the Western Maryland in Cumberland, the C&O canal, and the Rt. 213 B&O overpass at Childs, MD. Everyone present was glad to get to see some images of times gone by.
---
NOTICE: IN CASE OF BAD WEATHER
If our normal "THIRD THURSDAY" NRHS meeting is canceled due to inclement weather, it will be postponed and held on the FOURTH THURSDAY. If it must again be canceled, it will NOT be rescheduled. We will simply wait for the next month's normal "third Thursday" meeting. If the weather looks bad or is predicted to be bad, you may telephone the Claymont Community Center to see if it will be open that evening for our meeting.
---
DUES DUE
If you have already paid your dues for 2012, thank you.If you have not paid yet, there is a RED mark on your address label. It would be wonderful if you could send your check to our Treasurer ASAP so you don't miss any future issues of The Transfer Table. David Warner 301 W. Lea Blvd, Wilmington DE 19802-1235
---
Message from the EDITOR
Well, you will just have to wait a little longer for my 'anniversary' issue surprise. I could say it was just to build up tension and anticipation, but for a variety of reasons, I just haven't gotten 'a round tuit' just yet. Rest assured that the entire writing and production staff will be addressing it soon - or maybe not, if that business trip materializes . . .
---
NEWS BITS
With the current work on the Lancaster Train Station project nearing completion, Amtrak announced today a detailed plan for the next phase of station improvements, the Capstone project. Starting as soon as work on the current phase is complete, Amtrak will begin work to restore the passenger areas into an accessible, comfortable and convenient station that is of historic significance. The first phase of the three phase Capstone project consists of short term items to be completed by Amtrak forces. Design work is currently underway and in the coming weeks work will begin on the restoration of the passenger areas of the station including the benches, doors and archways. In addition, some plaster work and molding restoration will be done in portions of the station. The station foyer, public hallways and restrooms will be painted and repairs will be made to the platform surface among other items. The second phase is long term work requiring a standard design-bid-build project delivery method. It includes items such as station lighting upgrades and rehabilitation, HVAC replacement and platform canopy repairs. The third phase involves work to be completed under the Amtrak Accessible Stations Development Program which will make improvements to the station's accessibility by all passengers, including the main waiting room, platform, restrooms and parking areas. This phase commenced in early January with survey work. Construction is expected to begin in mid-2013. An advisory committee comprised of local stakeholders will be formed to provide input on the project. The Lancaster train station serves Amtrak's Keystone Service (Harrisburg - Philadelphia - New York) and Pennsylvanian (Pittsburgh - Harrisburg - Philadelphia - New York). For fiscal year 2011, 539,338 passengers arrived or departed from the station making it the 3rd busiest Amtrak station in Pennsylvania and the 22nd busiest station in the Amtrak national network.[Amtrak press release via Ed Mayover]

Norfolk Southern has cleared the way for more double-stack intermodal trains to use its Heartland Corridor with the opening this week of a newly improved double-stack rail line between Columbus and Cincinnati, Ohio. The Heartland Connector will reduce transit times by one to two days and increase service reliability for double-stack freight traveling to and from the Port of Virginia and Cincinnati and Detroit.
The improvements also will provide Norfolk Southern with the potential to connect Ohio Valley markets to other major East Coast container ports. The Heartland Connector project is a public-private partnership among Norfolk Southern, Ohio Department of Transportation, Ohio Rail Development Commission, and Ohio-Kentucky-Indiana Council of Governments to upgrade the NS rail line to accommodate double-stack trains. Previously, containers only could be single-stacked on trains moving over the connector. The project included raising clearances at five locations along the 124-mile route between Cincinnati and Columbus and adding tracks at Norfolk Southern's Rickenbacker Intermodal Terminal near Columbus. Prior to the upgrades, double-stack intermodal trains leaving the Port of Virginia for Cincinnati and Detroit followed longer routes through Tennessee or Pennsylvania. Now, double-stack trains bound for Detroit use a route that is 212 miles shorter, and trains traveling to Cincinnati travel 69 fewer miles and save up to two days transit time. Financial support for the $6.1 million project included $3.6 million from the federal government combined with matching contributions from Norfolk Southern and the Ohio-Kentucky-Indiana Council of Governments. Norfolk Southern's Heartland Corridor is the shortest, fastest double-stack route from the Port of Virginia to the Midwest. A single NS intermodal train takes up to 300 trucks off America's highways, reducing traffic congestion and repair costs. In addition, rail transportation is nearly four times more fuel efficient than trucking, resulting in fewer greenhouse gas emissions. [NS Press Release via Ed Mayover]
Three Days of Mountain Railroading in Cass, West Virginia
Friday Evening Presentation by Steve Barry: A Tribute Legendary Railfan & Photographer Jim Boyd

Friday, May 18: Spruce . . .

Multiple locomotive runbys in Cass in the morning.
Freight and passenger trains to Spruce.
Visit the Cass shop in the evening for food, shop tours, and MSR&LHA Annual Meeting.
Special program by Steve Barry with photos by Jim Boyd.
Night photo session at water tank conducted by Steve Barry.

Saturday, May 19: Bald Knob...

Log train and passenger train go to Bald Knob.
Multiple runbys throughout the day.
Operations include Oats Run and the wye.
Evening activities: Whistle blow, tours, and night photo session at the Cass depot.

Sunday, May 20: Whittaker Station and Camp One . . .

Triple locomotive race in the morning light.
Trains to Whittaker with multiple photo runbys.
Return to Cass at 2:30 pm.
Be part of this great weekend, make your reservations now! Call 304-456-4300 or toll-free 1-800-225-5982(Ask for Railfan Weekend)
Amtrak Virginia extension to/from Norfolk will begin by December 31, 2012. This moves the service to start 10 months earlier than originally projected. The Commonwealth's Virginia Department of Rail and Public Transportation (DRPT), CSX, Norfolk Southern and the City of Norfolk have been working speedily to make the necessary upgrades for the service. The round-trip train will bring intercity passenger rail service to Norfolk for the first time since 1977, and will link Norfolk with a single-seat ride to Richmond, Washington, D.C. and cities as far north as Boston. The updated timeline comes from today's Commonwealth Transportation Board meeting where they passed a resolution outlining the new goals and start date. The Norfolk train marks the third service expansion launched under the Amtrak Virginia partnership, which has introduced service to Richmond and Lynchburg since October 2009. Virginia is the 15th state to partner with Amtrak for intercity passenger rail service, and the successful launch of these new services is made possible through the partnership between DRPT, Amtrak and the host railroads along the routes. Amtrak Virginia routes had sizable gains in fiscal year 2011 over fiscal year 2010 with increases of 28.5 percent on the Washington-Lynchburg route and 19.1 percent on the Washington-Newport News route. [Amtrak press release via Ed Mayover]

No Pennsy Days this year at the Railroad Museum of Pennsylvania. Conrail and Reading days will continue along with a new Norfolk Southern days. This was a unilateral decision made by the museum with no forewarning to the PRRT&HS. Museum Director Charles Fox was quoted as saying about the decision - "We are not going to have a Pennsy Days this year, but rather we are looking to concentrate our efforts on a "Super Pennsy Days" event to be held in conjunction with the PRRT&HS Convention in 2013, which as you know will be in Strasburg [and Lancaster] next year. The NS Days event is expected to be a one-time event marking the 30th anniversary of the founding of Norfolk Southern, although I do have hopes it can evolve into a more general modern railroading-type event in the future." [from Al Buchan in the PRRT&HS "The Keystone e-NEWS" via Ed Mayover]¥ Railroad Museum of Pennsylvania Exhibit Halls Now Climate Controlled. The major work is done! Insulation installed, circulation fans, temperature stabilization from the earth! Now, even on very cold days the hall is much more comfortable. The geothermal heating and cooling project that is undergoing final calibration. (Park at the Strasburg Rail Road, as landscaping and repaving of the Museum's parking lot will occur this spring.) The plans for our new roundhouse are nearly done, as seen in architect's rendering above. Following release of construction funds, bidding is expected to take place. In conjunction with the pending major revamping of the train exhibits, the entire interpretive experience will have been reshaped, allowing for more effective management and presentation of our wonderful railroading artifacts. The Museum's Restoration Department is now applying its skills to PRR No. 460 "The Lindbergh Engine". This wonderful engine requires very extensive work to cosmetically restore it to its working appearance and stabilize it for future generations. Tedious removal work is underway of major parts, with replacement parts being crafted as needed, and repair and reassembly moves forward. The amount of work required is massive, and additional funds will be needed for completion. With decades of old paint having been safely removed, No. 460 was returned to the restoration shop to receive two coats of rust reformer. This material converts existing rust into an inert coating that seals out moisture to prevent future corrosion. Rust converter, seen being applied, provides long-term protection to iron and steel surfaces when used with a single application of oil-based paint and protects against rain, exposure and salt spray without peeling or cracking. [from RR MUS of PA website http://www.rrmuseumpa.org/ ]

A report in Railway Age summarized the Washington, DC streetcar situation. A Czech-based manufacturer named Inckon delivered three cars in December 2009 for $10 million even though the system is not expected to open until 2013. They bid on additional cars offering a set of two for $9.5 million. But, the District Dept. of Transportation awarded the next order of $8.7 million for two streetcars to Oregon-based United Streetcar (who also has orders from Portland, OR and Tucson, AZ). So now come the legal challenges of technical superiority versus "Made in America." You have to wonder how many more streetcars you could buy with the legal fees . . .

AMTRAK REQUESTS LESS FEDERAL OPERATING SUPPORT - Amtrak is requesting $450 million in federal operating support for fiscal year 2013, a lower amount than the $466 million appropriated by Congress for FY 2012. The ability to seek reduced federal operating funding results from successful and ongoing efforts by Amtrak to improve its financial performance, including increased efficiency, cost controls, and debt reduction as well as better service, record ridership and anticipated increases in revenue.

The full FY 2013 request totals $2.167 billion and supports aggressive efforts by Amtrak to build the equipment, infrastructure and organization needed to ensure continued strong growth. The company is investing in projects critical for enhancing the passenger experience, essential for supporting its national network and vital for its future.

The funding request consists of four major components: $450 million for operations to support the national network of corridor, state-supported and long-distance trains; $1.435 billonfor capital and infrastructure projects nationally; $212 million for debt service; and $60 million for Northeast Corridor (NEC) development projects, the Gateway Program to add track, station and tunnel capacity into the heart of Manhattan, and the high-capacity 220 mph next generation high-speed rail system from Washington, D.C. to Boston.

The $1.435 billion request for FY 2013 for capital and infrastructure projects is a significant increase over the $657 million appropriated by Congress for FY 2012. Boardman stated that the increase is necessary to move beyond mere maintenance of existing equipment and infrastructure and to invest in improvements that support faster, more frequent and more reliable service in the Northeast, the Midwest and elsewhere. For example, Amtrak is ready to move forward on NEC projects that address the major backlog of deferred maintenance and enhance capacity at key chokepoints, provide greater connectivity and increase operating speeds.

The requested capital funding also will fund safety and security projects as well as customer focused programs such as improving station accessibility under requirements of the Americans with Disabilities Act and continuing the development of a next-generation reservation system. Funds are also required to replace an aging fleet of locomotives and passenger rail cars used for long-distance trains, state-supported routes and other corridor services. [AMTRAK press release via Ed Mayover]
This year marks the 70th anniversary of the founding of the U.S. Army Transportation Corps on July 31, 1942. To mark the event, a four-day Transportation Corps Conference will be held beginning July 25 at Fort Eustis. Opening ceremonies will be held at the Fort Eustis Transportation Museum with the dedication of the rail pavilion currently under construction. The pavilion will include recently acquired Alco RSD1 8011. It was built in March 1941 for the Atlanta & St. Andrews Bay as RS1 No. 902. In 1942 it was requisitioned by the Army for overseas service, remanufactured into a six-axle RSD1, and shipped to the Persian Gulf for use on the Trans Iranian Railroad. At war's end it went to the Alaska Railroad as No. 1034, and in 1975 was transferred to the U.S. Department of Transportation Test Track in Pueblo, Colo. Eight years later it donated to the Smithsonian National Museum of American History. The engine eventually moved to the Railroad Museum of Pennsylvania at Strasburg, Pa. Because it lacked covered display space, the museum returned the locomotive to the Army, which will display it at Fort Eustis. The dedication ceremony will be followed by tours and special activities at the museum that are open to the public. A complete listing of conference activities at both Fort Eustis and Fort Lee will be posted at the Transportation School's website at www.transchool.lee.army.mil. [from TRAINS News Wire via Ed Mayover]

Amtrak and the Michigan Department of Transportation (MDOT) have received federal approval to increase maximum speeds of Amtrak trains in western Michigan and northern Indiana to 110 mph following successful installation and testing of a positive train control safety system on Amtrak-owned track between Kalamazoo, Mich., and Porter, Ind. Amtrak began raising speeds on this corridor from 79 mph in 2001 to 90 mph in 2002 and to 95 mph in 2005. Sustained operations at 110 mph will shave 10 minutes from the 95 mph schedules and about 20 minutes from the 2001 schedules on the Amtrak-owned segment of the corridor. The Amtrak Wolverine Service -- with three daily round-trips between Pontiac and Chicago via Detroit and Ann Arbor -- and the Amtrak Blue Water -- daily between Port Huron and Chicago via East Lansing -- use this corridor. The Amtrak Pere Marquette uses a different route in Michigan to Grand Rapids. Incremental Train Control System (ITCS) installed on the Amtrak-owned Michigan Line between Kalamazoo and Porter has been developed by General Electric Transportation Systems with assistance from Amtrak, MDOT and the U.S. Federal Railroad Administration (FRA). Last year, Amtrak extended ITCS coverage to the western and eastern ends of the line between New Buffalo and Porter and between Oshtemo and Kalamazoo, completing the system across 97 miles of track and permitting the higher speeds on about 80 miles of the route, 64 miles in Michigan and 16 in Indiana. [AMTRAK press release via Ed Mayover]

Plans under way for Grand Central Terminal's centennial celebration in 2013. Two committees have begun planning next year's celebration of the 100th anniversary of Grand Central Terminal's opening in New York City, Metropolitan Transportation Authority (MTA) and MTA Metro-North Railroad officials announced last week. [Progressive Railroading Daily News via Ed Mayover]
---
SCHEDULE NOTES
Notices, announcements, schedules, etc. are provided here as a service to the members. The Chapter has no affiliation with any commercial operation, museum, or tourist line.
Until May 30, 2015 Civil War 150th Anniversary: The War Came By Train@ B&O RR Museum in Baltimore. Monday - Saturday (10:00 a.m. - 4:00 p.m.), Sunday (11:00 a.m. - 4:00 p.m.) Between April 19, 1861 (The Baltimore Riot of 1861) and April 21, 1865 (Lincoln's funeral train leaving Baltimore for Illinois), the B&O stood witness and participant in the greatest conflict the U.S. has ever faced and changed the course of American history. The War Came By Train serves as the B&O Railroad Museum's primary attraction for the five year commemoration of the War's sesquicentennial. The National Landmark Roundhouse will exhibit the largest assemblage of Civil War railroad equipment in the world featuring locomotives and rail cars that served during the war, significant military and personal artifacts that will change annually to portray each year of the war (some artifacts never before on public display), and a narrated train ride to the original site of Camp Carroll, the largest Union encampment in Baltimore.
Saturday & Sunday, February 25&26, 2012 Spring Thaw Train Meet 9-4 & 9-3, Allentown Fairgrounds Agricultural Hall, 1120 S. Jefferson St., www.allentowntrainmeet.com
Sunday, March 11, 2012 CHARTER DAY at RR Mus. of PA, Strasburg
Saturday & Sunday, March 24-25, 2012 Greenberg's Train & Toy Show 10-4, Adults $7, Chase Center on the Riverfront, 815 Justison St, Wilmington, DE 19801, FREE PARKING
Sunday, April 1, 2012 9th Annual Train Meet 9 AM-2 PM, Leesport (PA) Farmer's Market, sponsored by RDG. CO. TECH. & HIST. SOC.
Saturday & Sunday, April 14-15, 2012 Great Scale Train Show 9AM-4PM, $9, State Fairgrounds, Timonium, MDApril 21 thru Dec. 30, 2012 ROLE OF RRs IN PA DURING THE CIVIL WAR at RR Mus. of PA, Strasburg
April 21 thru Dec. 30, 2012 ROLE OF RRs in PA During the CIVIL WAR at RR Mus. of PA, Strasburg
Friday-Sunday, May 11-13, 2012 CONRAIL DAYS at RR Mus. of PA, Strasburg
Friday-Sunday, May 18-20, 2012 45TH RAILFAN WEEKEND AT CASS SCENIC RAILROADA three day event for train enthusiasts. Reservations are required. Visit www.msrlha.org for three-day ticket pricing. For overnight house rentals at Cass, 304-456-4300. Contact: 304-456-4300
Saturday & Sunday, June 2-3, 2012 NORFOLK SOUTHERN DAYS at RR Mus. of PA, Strasburg
Saturday & Sunday, June 23-24, 2012 Great Scale Train Show 9AM-4PM, $9, State Fairgrounds, Timonium, MD
Tuesday-Sunday, July 3-8, 2012 READING RAILROAD DAYS at RR Mus. of PA, Strasburg
Saturday & Sunday, August 4-5, 2012 Greenberg's Train & Toy Show 10-4, Adults $7, Maryland State Fairgrounds, 2200 York Road, Timonium, MD 21093, FREE PARKING
Saturday, September 22, 2012 MEMBERS DAY at RR Mus. of PA, Strasburg
Sunday, October 7, 2012 GARDEN RAILWAYS TOUR at RR Mus. of PA, Strasburg
Saturday & Sunday, Oct. 27-28, 2012 Great Scale Train Show 9AM-4PM, $9, State Fairgrounds, Timonium, MD
Saturday & Sunday, Nov. 3-4, 2012 TRAINS & TROOPS at RR Mus. of PA, Strasburg
---
CHAPTER EVENTS
Thursday Feb. 16, 2012 7 PM Chapter Meeting program by Frank Ferguson entitled "2011 Year in Review Part 1"
Thursday March 15, 2012 7 PM Chapter Meeting program by Frank Ferguson entitled "2011 Year in Review Part 2"
Thursday April 19, 2012 7 PM Chapter Meeting program by Dave Warner
Thursday May 17, 2012 7 PM Chapter Meeting program by Somebody Else
Thursday June 21, 2012 7 PM Chapter Meeting program by Somebody's Son
Thursday July 21, 2012 7 PM Chapter Meeting or a Chapter Trip or Something Else
The Wilmington Chapter of the National Railway Historical Society (NRHS) meets at 7:00 PM on the third Thursday of each month [except August & December] in the Darley Room at the Claymont Community Center on Green Street in Claymont, Delaware. Visitors are always welcome. Admission to regular meetings is free. Check out our Website (thanks to Russ Fox) at:
---
The Transfer Table is published six to ten times per year as the newsletter of the Wilmington Chapter of the National Railway Historical Society. Items in this publication do not represent the official position of either Officers or Members of the Wilmington Chapter or the Editor of this publication.
Permission to reprint articles and news items appearing herein is granted to NRHS Chapters and other newsletters provided appropriate credit is given.
Contributions are always welcome and should be sent to the editor at SD40GMA@aol.com or send to: P.O. Box 1136, Hockessin, DE 19707-5136.
Deadline for entries is the 25th of the month.
Chapter Officers
President: Mike Burkhart
Vice President: Dave Watterson
Treasurer: Dave Warner
Secretary: Dan Frederick
National Director & Trip Director: Steve Barry
Editor: Greg Ajamian
Web Master: Russ Fox