NOTE: The Lite Version is our electronic version which is available for free from this web site. It has limited content but gives you a taste of what is offered in our Full Version.
The Full Version is our printed newsletter which is mailed to you. It contains everything in the Lite Version along with many other reprinted pages from other NRHS newsletters, railroad publications, and flyers that contain photographs, drawings, and maps. The full version is just another benefit of joining our chapter.
THE TRANSFER TABLE
The Wilmington Chapter NRHS Official Newsletter
Internet Edition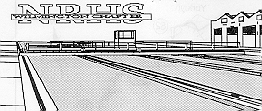 | | |
| --- | --- |
| VOLUME 35 NUMBER 11 | DECEMBER 2012 |
Back To Wilmington Chapter Web Site
NOTICE: IN CASE OF BAD WEATHER
If our normal "THIRD THURSDAY" NRHS meeting is canceled due to inclement weather, it will be postponed and held on the FOURTH THURSDAY.
If it must again be canceled, it will NOT be rescheduled. We will simply wait for the next month's normal "third Thursday" meeting. If the weather looks bad or is predicted to be bad, you may telephone the Claymont Community Center to see if it will be open that evening for our meeting.
---
Chapter Holiday Banquet set for Dec. 9
The Wilmington Chapter's annual holiday banquet is set for 5 p.m. on Sunday, Dec. 9 at Maximillian's Tavern & Restaurant, 3001 Naamans Creek Road in Upper Chichester, Pa. The cost for the buffet dinner is $22, payable in cash or check.
We need to submit a head count to the restaurant by Friday, Nov. 30. Please sign up on the sheet during the October or November meetings or drop a line with your name and number of guests to Chapter President Mike Burkhart at m.t.burkhart@rcn.com or call 610-833-2338.
As in years past, Steve Barry will give a presentation on his 2012 travels. Come celebrate the end of the year with fellow chapter members. We hope to see you there.
---
NEWS BITS
After a four-year rebuild effort, Milwaukee Road 4-8-4 No. 261 steamed again on Sept. 29. The locomotive last operated on Sept. 14, 2008, when it pulled a round trip excursion from Minneapolis to La Crosse, Wis., on BNSF Railway and Canadian Pacific. That evening its fire was dropped, ending a run where the locomotive had operated at least once a year since 1993. Dismantling work then began for its federally mandated 1,472-day inspection. The non-profit Friends of the 261, which leased the engine from owner National Railroad Museum of Green Bay, Wis., would conduct the work. The Milwaukee Road had donated the engine to the museum in 1956 as its first exhibit locomotive.However, in early 2009 a dispute between the museum and the Friends over increased lease payments nearly led to the engine being permanently sidelined. Work stopped on the rebuild while the two parties attempted to come to an agreement. Unable to reach an agreement, in November 2009 the Friends announced they were returning the locomotive to Green Bay for display.
The museum then put No. 261 up for sale for $225,000, and found a taker in a California businessman who hoped to buy the engine and have the Friends overhaul and operate it. That deal fell through in March 2010. The museum then offered to sell 261 directly to the Friends, which finalized the purchase in May 2010.

The rebuilding effort then went into high gear. Parts were stripped off the engine, and in July 2010 a crane lifted the 227,000-pound boiler off the driving wheels, which were shipped out for quartering and to have the tires turned. Various appliances were rebuilt, an ultrasound inspection of the boiler was conducted, and staybolts replaced as needed. In December 2011 the locomotive got its wheels back, and in July 2012 it passed a hydrostatic boiler test, paving the way for final reassembly and fire up.

At 6:41 a.m. on Sept. 29, a fire was lit in the boiler of the 1944 Alco for the first time since 2008. All day the crew of Friends employees and volunteers conducted static testing of various systems, tested the boiler under pressure, and set the safety valves. Finally, at 6:14 p.m., Friends of the 261 Chief Operating Officer Steve Sandberg pulled the throttle, and the locomotive moved again, making several runs back and forth on yard tracks outside the Friends shop to check 261 new spring rigging and side rod bearings.

There are no plans for No. 261 to pull public trips in 2012, but Sandberg said the organization hopes to operate an excursion with the locomotive in the spring of 2013. The Friends is also operating two diesel-powered fund-raising excursions on Oct. 13-14 from Minneapolis to Superior, Wis., and Minneapolis to Winona and La Crescent, Minn. For more information go to www.261.com. (Trains NewsWire via Baltimore Chapter's Interchange via Ed Thornton)
At 20 years he is like the local, he stops at every station.

At 30 years he is like the special, he stops only at the large towns.

At 40 years he is like the express, he stops at the big cities only.

At 50 years he is like the old locomotive, he stops often to water.

At 60 years he doesn't leave any more...he remains in the yard.

At 70 years he is in the scrap yard not good for anything with most of his usable parts gone.

(Piedmont Flyer NewsWire via Baltimore Chapter's Interchange via Ed Thornton)
The East Broad Top Railroad did not operate in 2012, but it might operate in 2013 according to Joseph Kovalchick, owner of the historic narrow-gauge railroad as reported in Trains magazine. (via Ed Thornton)

Caltrans Division of Rail, Amtrak, Southern California Regional Rail Authority and Los Angeles County Metropolitan Transportation Authority celebrated the opening of three new Los Angeles Union Station tracks and a platform to serve Amtrak and Metrolink passengers. Passenger rail service has increased from six daily trains to 22 daily trains, since Caltrans began managing the Pacific Surfliner corridor.
The three new tracks and platform, which were removed more than 35 years ago, were reestablished to serve the increasing train travel demand, which today surpasses that of World War II. Ridership on Amtrak's Pacific Surfliner, the second busiest corridor in the nation, has increased significantly in the last 10 years. Los Angeles Union Station is the nation's fifth busiest train station serving more than two million Amtrak and Metrolink passengers annually. New station tracks 13 and 14 and platform 7 will augment the existing tracks 3-12 which currently serve Amtrak national trains, Amtrak California's the Pacific Surfliner and Metrolink service. Track 15 will be used as storage. The project's design maintained the stations historic architectural style and includes north and south stairways and accessible ramps that connect to the main passenger tunnel. Other enhancements include a new electronic passenger information system and energy efficient lighting renovations to the existing platform canopy. The new track construction, which was managed by Metrolink, began in May 2011 and was complete in September 2012. The $23.5 million project was funded with $20.5 million in Proposition 1B, $2,656,000 in federal funds and $344,000 in local funds. [AMTRAK Press Release via Ed Mayover]
The October 19 demonstration of 110-mph speeds between Dwight and Pontiac on the critical Chicago-St. Louis rail corridor represents a historic step towards the establishment of a high-speed rail network that will secure Illinois' position as the Midwest's transportation hub. The project - part of a $2 billion federal and state investment in high-speed rail - has created and supported more than 6,000 construction jobs and many more related to production and equipment manufacturing. The 15-mile demonstration segment showcased major infrastructure improvements, state-of-the-art signaling, and significant technological and safety advancements. Trains will start carrying Amtrak riders at the higher speed between Dwight and Pontiac before Thanksgiving of this year. The 110-mph service is projected to be in place along nearly 75% of the Chicago-St. Louis corridor by 2015, reducing travel time by more than an hour. Today's demonstration is part of Governor Quinn's vision to bring high-speed rail to Illinois and modernize the state's transportation infrastructure.
Illinois has become a national leader in passenger rail expansion. Total ridership on Amtrak's four Illinois routes has grown nearly 75% over the past six years, rising to more than 2.1 million passengers last year. Ridership on today's Chicago-St. Louis Lincoln Service alone has doubled in that time period, despite relatively slow speeds and aging equipment. When completed, trains traveling from Chicago to St. Louis will reach top speeds matching those of trains now traveling between Chicago and Detroit, the fastest passenger trains in North America outside of the East Coast.

The day's demonstration began at the soon-to-be renovated Joliet Union Station and ended at Normal's brand new multi-modal train station, where transportation officials highlighted the modern upgrades, accommodations and benefits Amtrak travelers will experience first-hand in the near future. Before it was complete, the new Normal station and promise of 110-mph service had attracted more than $200 million in private investments to its downtown area, an example of how rail investment attracts economic growth. Future rail investments along the Chicago to St. Louis corridor will spur economic activity across Illinois in Springfield, Dwight, Pontiac, Lincoln, Carlinville, Alton and Joliet where new or newly-renovated stations are under development or in the planning stages. [AMTRAK Press Release via Ed Mayover]
Amtrak has given Downtown Partnership of Baltimore and Visit Baltimore permission to proceed with plans to install new landscaping and a video welcome sign on the track level of Baltimore's Pennsylvania Station. The project will have four components: a large "Baltimore" sign; a cutting-edge screen to show promotional videos about Baltimore; new landscaping for the hill on the north side of the tracks; and attractive new fencing at the top of the hill. Much of the design has been done and fabrication of the signage and video screen base are set to begin. Installation of the project is expected to be completed in 2013. The project is being funded jointly by Downtown Partnership and Visit Baltimore. Other partners include Amtrak, the Central Baltimore Partnership and the Charles Street Development Corporation. Baltimore Penn Station is the eighth busiest station in the Amtrak national network and growing. In the fiscal year ending September 30, more than one million passengers traveled through the station, which represents an increase of 7.9 percent over the prior year. [joint press release via Ed Mayover]

CSX Corporation Chairman, President and Chief Executive Officer Michael J. Ward joined federal, state and local officials from the Commonwealth of Pennsylvania to mark the midway point of progress on the first phase of projects for the National Gateway. The National Gateway is an $850 million public-private partnership launched in 2008 to alleviate freight bottlenecks in the Midwest that cause delays for companies and consumers shipping or receiving freight from west coast ports by creating a double-stack cleared corridor for intermodal rail shipments between the Midwest and the mid-Atlantic ports. Once completed, the National Gateway will help provide CSX customers with better access to competitive, environmentally friendly double-stack intermodal freight rail service.
The celebration took place at Pittsburgh's SouthSide Works, where the $13 million J&L Tunnel project will soon become the latest Phase One project to increase the vertical clearance on CSX rail lines to accommodate trains carrying double-stack intermodal containers. Phase One, creating double-stack rail access between CSX's state-of-the-art intermodal terminal in Northwest Ohio, and its new modern intermodal terminal in Chambersburg, Pennsylvania, is scheduled to be completed by spring 2013, and will enable more freight to move through the region on the same number of trains.

The J&L Tunnel clearance project, an upgrade to a tunnel built in the 1880s that runs directly through the SouthSide Works complex, will help alleviate pressure on regional highways and lower the cost of doing business in the Pittsburgh region by improving access to intermodal freight shipping options.

The J&L Tunnel upgrade and other National Gateway projects are funded through contributions by CSX and the federal government, as well as a $35 million Pennsylvania Transportation Assistance Program (TAP) Grant. The State of Ohio is also contributing $30 million to this first phase of clearance work.

As one of the nation's largest transportation projects, National Gateway will create more than 50,000 jobs over a 30-year period, including more than 9,000 jobs for Pennsylvania. When completed in 2015, to coincide with the expansion of the Panama Canal, which is expected to increase traffic through East Coast ports, the National Gateway will provide more than $1.6 billion in public benefits to Pennsylvania in the route's first 30 years of operations by decreasing fuel consumption, lowering emissions, improving safety, reducing highway maintenance costs and saving shipping costs. [CSX press release via Ed Mayover]
Amtrak delays along Northeast corridor due to a power outage on 4-October were caused by a squirrel that came into contact with a circuit-breaker, Amtrak spokesman Cliff Cole told The Record of Woodland Park. Nearly 100 NJ Transit trains and 30 Amtrak trains were affected. Some were canceled, and others were delayed.
A Metro-North Railroad spokeswoman told the newspaper a 45-minute delay in May occurred when a squirrel caused a transformer to short out. Cole said other problems have been caused by pigeons and raccoons. [via Dan Frederick]
Progressive Rail Inc. recently acquired the Iowa Traction Railroad, which operates about 10.5 to 11 miles of track between Mason City and Clear Lake, Iowa. Iowa Traction Railroad, which dates back to 1898, is the only electrically operated railroad in North America, he says. The railroad owns five electric locomotives. [Progressive Railroading Daily News via Tom Smith] Tom also posed this question, "Could this mean the end of this unique electrically operated road? Doesn't look like they have any other active customers besides AGP, but there are several closed plants that have rail sidings."

At a ceremony today, Delaware Department of Transportation (DelDOT) Secretary Shailen Bhatt announced the launch of the Delaware Third Track Construction Project. The project involves the addition of a third track along a 1.5-mile segment between Ragan and Brandy Interlockings on the Northeast Corridor, south of Wilmington near Banning Park. This will allow for more efficient movement and increased performance along the Corridor by commuter and intercity passenger trains. Joining Secretary Bhatt as speakers were U.S. Senators Thomas R. Carper and Chris Coons, U.S. Congressman John Carney, and Amtrak's Stephen Gardner, Vice President of NEC Infrastructure & Investment Development. In addition to a third track to correct a significant choke point on the Northeast Corridor, the project will upgrade infrastructure, rehabilitate two railroad bridges, and improve signals and communication apparatus in the area south of Wilmington. When the Third Track Construction Project is completed in early 2015, Delaware Transit Corporation will be able to add more SEPTA train frequencies between Wilmington and Newark. The project will also benefit SEPTA, Amtrak's Acela and Regional train performance and improve service efficiencies. Forecasts for growth in New Castle County compel DelDOT to look at alternatives to the busy I-95 corridor. Amtrak's Northeast Rail Corridor parallels I-95 and offers the opportunity for commuters to use SEPTA trains instead of their personal vehicles to get to work, school and recreation. [Press Release via Ed Mayover]

Maryland's Board of Public Works has approved a third-party contract with Bombardier Transportation to operate and maintain MARC's Camden and Brunswick lines for the Maryland Transit Administration (MTA), Gov. Martin O'Malley announced yesterday. Bombardier bid $204.7 million for the five-year, eight-month contract term. The contract also includes a five-year renewal option valued at $205 million, according to a press release. After 30 years, CSXT wanted "to focus on its core business, the movement of freight, and end its involvement in passenger-rail operations." [from Progressive Railroading via Ed Thornton & Ed Mayover – it was a tie]

New York City MTA Chairman Joseph J. Lhota released this statement: "The New York City subway system is 108 years old, but it has never faced a disaster as devastating as what we experienced last night. Hurricane Sandy wreaked havoc on our entire transportation system, in every borough and county of the region. It has brought down trees, ripped out power and inundated tunnels, rail yards and bus depots.As of last night, seven subway tunnels under the East River flooded. Metro-North Railroad lost power from 59th Street to Croton-Harmon on the Hudson Line and to New Haven on the New Haven Line. The Long Island Rail Road evacuated its West Side Yards and suffered flooding in one East River tunnel. The Hugh L. Carey Tunnel is flooded from end to end and the Queens Midtown Tunnel also took on water and was closed. Six bus garages were disabled by high water. We are assessing the extent of the damage and beginning the process of recovery. Our employees have shown remarkable dedication over the past few days, and I thank them on behalf of every New Yorker. In 108 years, our employees have never faced a challenge like the one that confronts us now. All of us at the MTA are committed to restoring the system as quickly as we can to help bring New York back to normal."

After 135 years, the 1081 foot long Pinkerton Tunnel on the CSX Keystone Sub in PA passed it's last train around 9:30 PM on November 11, 2012. This veteran tunnel was "decommissioned" on Veterans Day as a bypass track was connected overnight and eastbound S276-12 made its way around the tunnel in a deep cut at 10 AM on November 12. [from Rodger Synder via Ed Thornton]

SURFACE TRANSPORTATION BOARD - DECISION AND CERTIFICATE OF INTERIM TRAIL USE OR ABANDONMENT - Docket No. AB 1071 - STEWARTSTOWN RAILROAD COMPANY—ADVERSE ABANDONMENT—IN YORK COUNTY, PA. - Decided: November 14, 2012 - The Board is granting the application of the Estate of George M. Hart for authority to remove from the Board's jurisdiction a 7.4-mile line of railroad in York County, Pa., owned by the Stewartstown Railroad Company, subject to trail use and environmental conditions. (excerpts follow)
Maryland & Pennsylvania Railroad Preservation Society (M&PRPS) - In its protest statement, SRC indicates that it has previously shipped cars and material for M&PRPS, and that M&PRPS also opposes the Estate's adverse abandonment application. On August 17, 2011, M&PRPS submitted a letter of opposition asserting that its right-of-way is not connected to the national rail network and that, therefore, SRC "has been a key asset in transporting full-size historic rail equipment" to its facility. M&PRPS concludes that it would like to keep SRC's Line available as an "option for future rail deliveries of this type."

Although M&PRPS suggests that it has used SRC in the past, it fails to indicate when and in what quantities. M&PRPS does not dispute that the Line has been out of service since 1992, and does not indicate a present need for, or a present commitment to, rail service by SRC. It merely states that the SRC's Line is needed as an "option" for future rail deliveries. However, there is no evidence to indicate that M&PRPS will actually utilize the Line in the future. Based upon the record, M&PRPS has made no commitments for rail shipments, and its desire to keep SRC's Line available as an "option" for rail deliveries does not demonstrate that freight traffic will actually materialize in the future.

Internet Factory, Inc. (IFI) - Although not mentioned in SRC's protest statement, IFI filed a letter in opposition to the Estate's adverse abandonment application on August 22, 2011. IFI asserts that it plans to complete a 10+ year project in which it would acquire, recycle, and refurbish old locomotives, using proprietary green technology, and then resell or lease them. IFI states that it plans to establish its base operations in Southern York County along the SRC Line "within the next few years." Based upon the company's projections, IFI states that it anticipates shipping 12 carloads of scrap metal per year, receiving 10 carloads of parts and supplies from various railroad vendors per year, and receiving/shipping five locomotives per year, depending on demand. IFI asserts that shipping costs alone, to send and receive parts by rail, including locomotives, engines, traction motors, batteries, wheels, and truck assemblies, would significantly increase if these parts had to be moved by tractor-trailer, as special permits, escorts, and other drastic measures would be required. Therefore, IFI submits that rail service is very essential to its project's needs. IFI acknowledges that SRC has some obstacles to overcome. However, it concludes that, combined with its projected traffic, and that from other shippers, sufficient demand exists for freight rail traffic.

Even though SRC has not identified IFI as a potential shipper, we will still review its letter of opposition to determine whether there is the potential for future rail traffic over the Line. According to IFI, it hopes to establish its base operations along the SRC Line within the next few years, and anticipates shipping or receiving as many as 22 carloads of traffic and five locomotives per year (i.e., 27 revenue movements).

VICE CHAIRMAN MULVEY, commenting: Adverse abandonments are among the more difficult matters that come before the Board. In these cases, the Board must decide whether to end a rail carrier's right to provide service over its line—against that carrier's wishes. The Board carefully considers whether there is convincing evidence of a present or future public need for rail service over the line. The Board's inquiry typically turns to whether there is a realistic possibility for future freight rail traffic. In this case, I agree with the Decision's conclusion that renewed rail service is unlikely given the line's inoperable physical status, the lack of traffic over the last 20 years, and the absence of a realistic chance for future traffic.

In adverse abandonment cases, the Board has gone to great lengths to give the benefit of the doubt to the rail carrier's expectations for future traffic. For example, in Norfolk Southern Railway—Adverse Abandonment—St. Joseph County, Ind., AB 290 (Sub-No. 286) (STB served Feb. 14, 2008), the Board denied an adverse abandonment, despite a statement from the shipper on the line that it did not intend to use rail. Although I ultimately disagreed with the Board's decision in St. Joseph County (because I believe the Board erred in finding that there was a potential for future traffic given the shipper's statements), I am comfortable that the Board has given the benefit of the doubt to SRC in this case.[43] Weighing all of the facts, the Board has determined that there are simply too many obstacles to the resumption of rail service, including, but certainly not limited to, the carrier's inability to proffer anything other than speculative future business possibilities.I also believe that there is a public interest in ensuring that SRC does not use the Board's auspices as a shield against the repayment of a legitimately incurred debt. The RTP directs the Board to regulate in such a manner to foster sound economic conditions in transportation and encourage efficient management of railroads.

COMMISSIONER BEGEMAN, dissenting: I disagree with the Board's decision to grant the adverse abandonment that would require the dissolution of the Stewartstown Railroad Company's (SRC) rail line in York County, Pa.

The record shows that a number of parties are opposed to the Board granting an adverse abandonment here. The record also shows that several potential shippers have expressed interest in obtaining freight rail service from SRC, while others consider even the possibility of rail service to be an important factor in promoting the area's community and economic development efforts. In fact, the only party that has weighed in to support abandonment is the applicant itself, which is seeking to fill the coffers of an estate's beneficiary—a matter that the Board should not have a role in one way or the other, let alone be the overarching policy objective that it appears to be in this decision.

I do not read, nor can I interpret, the rail transportation policy in 49 U.S.C. § 10101 or any other parts of the Board's governing statute to allow it to force a rail line abandonment over the clear objections of the carrier, local government officials, potential shippers, and other interested parties when there isn't an overriding and compelling public purpose for which the line in question is needed. Yet this adverse abandonment has little to do with the public good, but instead serves only private interests. [via Ed Thornton]

http://www.stb.dot.gov/Decisions/readingroom.nsf/UNID/4482E84696AD509085257AB7006787DA/$file/41966.pdf
Sold out train gets four more cars to meet demand for the first train from Norfolk. More tickets went on sale for Dec. 12 debut of new service. Demand for tickets on the new Amtrak Virginia service from Norfolk has lead the Virginia Department of Rail and Public Transportation and Amtrak to add an additional four cars with 280 more seats for the first day of service, December 12, 2012. This new daily service will provide a same-seat trip from Norfolk to Washington, DC, Baltimore, New York City and more. Tickets are now available for purchase. The round-trip train will bring intercity passenger rail service to Norfolk for the first time since 1977, and will link Norfolk with a same-seat ride to Richmond, Washington, D.C., New York City and more. [AMTRAK Press Release via Ed Mayover]

Collaborative Effort to End Workplace Electronic Device Distraction within Railroad Industry - Federal Railroad Administrator Joseph C. Szabo joined senior railroad industry leaders and labor officials to launch a collaborative effort to educate and raise awareness among rail industry employees of the dangers of using electronic devices on the job. Administrator Szabo encouraged rail companies to adopt anti-distraction programs and challenged all railroad employees to make the improper use of such devices while on the job socially unacceptable. In October 2008, FRA issued an Emergency Order to prohibit the use of electronic devices by railroad operating employees. The Emergency Order was codified by FRA as a regulation, which includes all railroad employees, in September 2010. The kick-off event to highlight the dangers of distraction was held at Union Pacific Railroad's Proviso Yard, as Union Pacific is among the first rail carriers nationally to adopt a peer-to-peer program to eliminate electronic device distractions. Representatives from several labor organizations and rail companies also took part in the event. [U.S. Dept. of Transportation Press Release via Ed Mayover]

Denver Union Station has been closed to Amtrak trains since February 2011, but the historic building has remained accessible to the public. That will change on Dec. 1 when the building will close to undergo a major renovation that will transform it into the hub of the FasTracks commuter and light rail system. Construction will include a 130-room hotel, dining, and retail stores. The restoration includes preparations for the return of Amtrak operations in early 2014, while the renovated main building will reopen to the public in the summer of 2014. The station opened in 1894 and saw renovation in 1914. During its heyday it served 80 trains daily, but is served today only by Amtrak's California Zephyr. [TRAINS New Wire via Ed Mayover]

Fare-Free "H" Shuttle replaces portion of the "A" Line in Rockaways With the prospect of Rockaway Line service being disabled for the next several months due to the destructive force of Hurricane Sandy, the MTA took the unprecedented action of moving subway cars by flatbed truck onto the Rockaway Peninsula and setting up a temporary train shuttle service. The 60-foot, 80,000 pound R32-type subway cars that will be used for this special shuttle service were loaded onto flatbed trucks in Ozone Park, Queens and trucked across the Cross Bay Boulevard Bridge and placed back on the rails at Rockaway Park. Once there, they were prepared for operation. In all, 20 cars were transported over four nights. As of 4 a.m., Tuesday, November 20, the Fare Free Shuttle runs between the Far Rockaway-Mott Av. station and Beach 90 St making all intermediate stops. Service will operate every 15 minutes, between 4 a.m. to 12:00 a.m. from Mott Av, and between 4:30 a.m. to 12:30 a.m. from Beach 90 St. The Howard Beach-Far Rockaway shuttle bus will continue to run 24/7. Normal trains operate between 207th St and the Howard Beach-JFK AirTrain station and the Lefferts Blvd station. Before Sandy's arrival, we safely evacuated customers, and secured equipment to weather the storm, and with the intention of bringing service back as soon as we were safely able to do so. Taking into account the breadth of our service area as a whole, we've been able to accomplish a lot. After Sandy, we worked to bring bus and subway service back as swiftly as possible. These efforts are continuing, and for the most part, we are running close to normal subway service. [MTA story from their website via Ed Thornton]

In an arrangement that reflects the spirit of Thanksgiving, Amtrak is partnering with its Canadian counterpart, VIA Rail Canada, who accepted to provide passenger rail cars to make additional seats available and allow more friends and family in the hurricane-impacted Northeast to connect over the holiday.
The VIA Rail equipment being provided includes ten coach cars and two dome cars. From Nov. 20 - 27, the Canadian equipment will be used on the New York state supported Adirondack service operating between Albany-Rensselaer and Montreal. This will allow some Amtrak equipment used on that route to be reassigned adding about 300 seats to trains operating on the Northeast Corridor during the holiday travel period and will result in an additional 60 seats being available on the Adirondack service. VIA Rail and Amtrak have a long-standing partnership and jointly transport passengers across the U.S. - Canadian border, facilitating train transfers between New York and Toronto, New York and Montreal, and Portland, Ore., and Vancouver, B.C.

Thanksgiving is the busiest travel period of the year for Amtrak and America's Railroad® is prepared to accommodate additional passengers with extra trains scheduled in the Northeast Corridor, the Chicago hub, the Pacific Northwest and in California. Amtrak will use every available passenger rail car in its fleet and will operate its special holiday schedule in the Northeast as repairs have been made following Hurricane Sandy. [Amtrak press release via Ed Mayover]
---
SCHEDULE NOTES
Notices, announcements, schedules, etc. are provided here as a service to the members. The Chapter has no affiliation with any commercial operation, museum, or tourist line.
Until Dec. 30, 2012 ROLE OF RRs in PA During the CIVIL WAR at RR Mus. of PA, Strasburg Railroads were a key to the successes of both the Union and Confederacy during the Civil War supplying Armies with munitions & food, transporting troops, prisoners & communications, the Civil War was first war in which railroads were a major factor.
Until April 19, 2013 Frank Furness: Working on the Railroads Library Company of Philadelphia, 1314 Locust Street, Philadelphia, PA 19107 (215) 546-3181, Free and open to the public
Until May 30, 2015 Civil War 150th Anniversary: The War Came By Train@ B&O RR Museum in Baltimore. Monday - Saturday (10:00 a.m. - 4:00 p.m.), Sunday (11:00 a.m. - 4:00 p.m.) Between April 19, 1861 (The Baltimore Riot of 1861) and April 21, 1865 (Lincoln's funeral train leaving Baltimore for Illinois), the B&O stood witness and participant in the greatest conflict the U.S. has ever faced and changed the course of American history. The War Came By Train serves as the B&O Railroad Museum's primary attraction for the five year commemoration of the War's sesquicentennial. The National Landmark Roundhouse will exhibit the largest assemblage of Civil War railroad equipment in the world featuring locomotives and rail cars that served during the war, significant military and personal artifacts that will change annually to portray each year of the war (some artifacts never before on public display), and a narrated train ride to the original site of Camp Carroll, the largest Union encampment in Baltimore.
November 2012 - January or February 2013 Model Railroad Club Open Houses "Green Sheet" from Holiday Season Model Railroad Open Houses - November 2012 through February 2013available at http://www.royersfordmodular.org/greensheet.html includes the following clubs:
Abington Lines Model Railroad Club
Burlington County Model Railroad Club
Coopersburg Area Society of Model Engineers (CASME)
Chelten Hills Model Railroad Club
GA TSME Model Railroad Club
Keystone N-Trak
Logan Model Engineers
Royersford Modular Model Railroaders
Schuylkill Valley Model Railroad Club
Saint Alban's Railroad Fellowship (StARR)
Black Diamond Society of Model Engineers (BDSME)
also individually noted:
Miniature Railroad Club of York, PA [ 11/25 & 12/2,8,9,15,16,22,23,29,30 & 1/5,6 ] 3 - 8 PM Saturdays, 1 - 5 PM Sundays see info at http://www.mrrcy.com/?content=show or (717) 458-2932
Cumberland Valley Model Railroad Club, Chambersburg PA Sundays Dec.9,16,23,30.-2012, Saturdays Jan. 5 and 12th -2013 All - 12 noon til 5 pm see info at http://www.cvmrrc.com/ or (717) 263-6447
Anthracite Model Railroad Club 1057 Hanover Court Hazle Township, Pa 18202-1736Nov 17, 18, 22, 23, 24, Dec. 1, 2, 8, 9, 15, 16, 22, 23, 29, 30, Jan 5, 6 http://www.amrclub.org/index.htm
Lehigh and Keystone Valley Model RR Club 705 Linden Street Bethlehem, Pa. 18018 (610) 868-7101 Differing times Nov 23- 25; Dec 1-2, 8-9,15-16,22-23, 24,26-28,29-30; Jan 1,5-6 http://www.lkvmrr.com/
December 8, 2018 Wilmington Chapter's Christmas Lights Trolley Trip Leaves from Elmwood at 5 PM Come out for an evening of riding streetcars and get into the holiday spirit. Our PCC-2 will have its halls decked for this four-hour trip. Stops will be made to photograph our streetcar with colorful backgrounds. Fare for this trip is $45. You can get a combination ticket for this trip and Super Saturday Streetcar Special XX for $85 (a $10 savings; expires October 30, 2012). SPE+CIAL: Want to come for a ride but you aren't into photography? We're offering a ride-only ticket for $25. Enjoy the city while staying warm in the streetcar! (Ride-only tickets not eligible for combo savings). Visit http://www.railroadphotographer.com/gallery/10879119_QBo9f to order tickets or to get more information. Paying by mail? Make checks payable to "Wilmington Chapter NRHS" and send to: Wilmington Chapter NRHS c/o Steve Barry 117 High Street Newton, NJ 07860
Sunday, December 9, 2012 Wilmington Chapter's Annual Holiday Dinner 5 PM at Maximillians's Restaurant and Tavern in Upper Chichester, Pa. Cost is $20 per person and as is tradition Steve Barry will present a year in review. Sign-up for the banquet at Chapter Meetings through November. You can also sign up by contacting Chapter President Mike Burkhart at m.t.burkhart@rcn.com or at (610) 833-2338
Sunday, Jan. 27, 2013 Hamburg Dutch Train Meet 9 AM-1:00 PM, Hamburg Fire Co. Field House, Pine St. Hamburg, PA
February 2, 2013 TWENTIETH ANNIVERSARY !! Super Saturday Streetcar Special XX Join us for the 20th running of this Wilmington Chapter tradition. Our chartered PCC-2 will depart Callowhill Depot at 10:00 (Malvern Loop at 10:15) for a five-hour tour including all of Route 15 (with the new loop) and our usual eclectic mix of regular service and diversion trackage. The fare for this trip is $50. A combination ticket for this trip and the Christmas Lights charter is available for $85 (save $10; expires October 30, 2012). Visit http://www.railroadphotographer.com/gallery/10879119_QBo9f to order tickets or to get more information. Paying by mail? Make checks payable to "Wilmington Chapter NRHS" and send to: Wilmington Chapter NRHS c/o Steve Barry 117 High Street Newton, NJ 07860
Saturday & Sunday, Feb. 2-3, 2013 Great Scale Train Show Sat. 9AM-4PM, Sun 10AM-4PM, $9, State Fairgrounds, Timonium, MD
Sunday, March 17, 2013 Gilbertsville Toy Train Show 8:30 AM-1:30 PM, Gilbertsville Fire House, 1454 E. Philadelphia Ave. Gilbertsville, PA admission $3
Sunday, April 7, 2013 Leesport Farmers Market Train Meet 9 AM-2 PM, Reading Company Technical & Historical Society, Farmers Market, Leesport, PA admission $4
Saturday & Sunday, April 13-14, 2013 Great Scale Train Show Sat. 9AM-4PM, Sun 10AM-4PM, $9, State Fairgrounds, Timonium, MD
Sunday, June 2, 2013 Hamburg Dutch Train Meet 9 AM-1:00 PM, Hamburg Fire Co. Field House, Pine St. Hamburg, PA
Saturday & Sunday, June 22-23, 2013 Great Scale Train Show Sat. 9AM-4PM, Sun 10AM-4PM, $9, State Fairgrounds, Timonium, MD
Sunday, July 28, 2013 Hamburg Dutch Train Meet 9 AM-1:00 PM, Hamburg Fire Co. Field House, Pine St. Hamburg, PA
Sunday, Sept. 15, 2013 Gilbertsville Toy Train Show 8:30 AM-1:30 PM, Gilbertsville Fire House, 1454 E. Philadelphia Ave. Gilbertsville, PA admission $3
Saturday & Sunday, Oct. 26-27, 2013 Great Scale Train Show Sat. 9AM-4PM, Sun 10AM-4PM, $9, State Fairgrounds, Timonium, MD
---
CHAPTER EVENTS
Saturday Dec. 8, 2012 5 PM Chapter Trolley Trip Christmas Lights Trolley Trip
Sunday Dec. 9, 2012 5 PM Annual Holiday Dinner in lieu of normal monthly meeting program by Steve Barry
Thursday Jan. 17, 2013 7 PM Chapter Meeting program by a Allen Tweedle. Program entitled "William Finley Collection Images - Part 2"
Saturday Feb. 2, 2013 10 AM Chapter Trolley Trip Super Saturday Streetcar Special XX
Thursday Feb. 21, 2013 7 PM Chapter Meeting program by a Frank Ferguson
Thursday March 21, 2013 7 PM Chapter Meeting program by a Frank Ferguson
Thursday April 18, 2013 7 PM Chapter Meeting program by a Unknown Personage
The Wilmington Chapter of the National Railway Historical Society (NRHS) meets at 7:00 PM on the third Thursday of each month [except August & December] in the Darley Room at the Claymont Community Center on Green Street in Claymont, Delaware. Visitors are always welcome. Admission to regular meetings is free. Check out our Website (thanks to Russ Fox) at: http://www.WilmingtonNRHS.com
---
The Transfer Table is published six to ten times per year as the newsletter of the Wilmington Chapter of the National Railway Historical Society. Items in this publication do not represent the official position of either Officers or Members of the Wilmington Chapter or the Editor of this publication.
Permission to reprint articles and news items appearing herein is granted to NRHS Chapters and other newsletters provided appropriate credit is given.
Contributions are always welcome and should be sent to the editor at SD40GMA@aol.com or send to: P.O. Box 1136, Hockessin, DE 19707-5136.
Deadline for entries is the 25th of the month.
Chapter Officers
President: Mike Burkhart
Vice President: Dave Watterson
Treasurer: Dave Warner
Secretary: Dan Frederick
National Director & Trip Director: vacant
Temporary Chapter Rep. Tom Posatko
Trip Director Steve Barry
Editor: Greg Ajamian
Web Master: Russ Fox