NOTE: The Lite Version is our electronic version which is available for free from this web site. It has limited content but gives you a taste of what is offered in our Full Version.
The Full Version is our printed newsletter which is mailed to you. It contains everything in the Lite Version along with many other reprinted pages from other NRHS newsletters, railroad publications, and flyers that contain photographs, drawings, and maps. The full version is just another benefit of joining our chapter.
THE TRANSFER TABLE
The Wilmington Chapter NRHS Official Newsletter
Internet Edition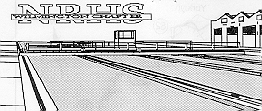 | | |
| --- | --- |
| VOLUME 35 NUMBER 07 | AUGUST 2012 |
Back To Wilmington Chapter Web Site
JULY 2012 MEETING NOTES
Rumor has it that there was a meeting, people met, stuff was said, things were seen. Since the entire Editorial and Publication staff was about 250 miles south of the last meeting, we are unable to provide minutes to the last meeting at this time. Please refer to the official meeting minutes as recorded by the Secretary and deposited in the Chapter Archives.
---
NEWS BITS
Nippon Sharyo today opened its first American railcar manufacturing plant. According to the company, the new factory will employ 250 workers by the end of next year and create additional jobs throughout the company's American supply-chain. Nippon Sharyo has already identified more than 200 potential suppliers and vendors in the Midwest region alone. Deputy Federal Railroad Administrator Karen Hedlund attended the opening. In opening the Northern Illinois plant, Nippon Sharyo is fulfilling a commitment made to U.S. Transportation Secretary Ray LaHood in 2009 to establish U.S. manufacturing operations in order to meet eligibility requirements of the U.S. Department of Transportation's "Buy America" program. "Buy America" requires that projects receiving federal investment use domestically manufactured supplies, ensuring that American workers and factories receive the maximum economic benefit from federal investments.Under the Obama Administration, the Federal Railroad Administration (FRA) has invested more than $12 billion in passenger rail construction projects across the nation, providing a significant incentive for rail suppliers to expand domestic manufacturing operations and hire new workers. Nippon Sharyo invested $50 million in the Rochelle facility. During the plant's construction, employment ranged from 50 to 120 building and trades workers at a time. The facility has the capability to produce 120 new passenger cars annually, and its first orders include commuter rail cars for service in Illinois, California, Virginia, and Ontario. Workers in other states are already seeing new opportunities from Nippon Sharyo's plant. Super Steel, a Milwaukee, Wis., company contracted to supply steel components for trains, held a job fair last Saturday for welders and other craftsmen who will work on Nippon Sharyo orders. With nearly 2,700 facilities across the United States, the railway supply industry is a significant part of the U.S. economy, employing an estimated 94,000 people in 49 states and the District of Columbia. President Obama's budget proposal calls for a $53 billion investment into the nation's passenger rail network over the next six years to help create new manufacturing jobs and expand the capacity of the nation's transportation network to meet the demands of our growing population. [U.S.DOT News Release via Ed Mayover]

NJ Transit Board of Directors approved a Fiscal Year 2013 (FY 2013) operating budget and capital program that supports safe, reliable and cost-effective service for the nearly 250 million customer trips provided by the state's rail, bus and light-rail network each year. The Board approved a $1.904 billion operating budget and a $1.152 billion capital program for the fiscal year that started July 1, 2012. Nearly half of the revenue in the FY2013 operating budget comes from fares ($894.2 million), with the balance from a combination of commercial revenues ($109.8 million), capital transfers ($363 million) and state operating assistance, as well as other state and federal reimbursements ($536.9 million). [from Railway Track and Structures via Ed Mayover]

Weekend Acela Express and Northeast Regional Southbound Schedules Change at Washington and Possible Northbound Delays - Saturdays and Sundays Only, July 28 through September 30, 2012. Starting July 28 through September 30, track work being performed between Wilmington and Newark, Del., will affect Acela Express and Northeast Regional service, as described below: Southbound Service Ñ Weekend Schedules Change at Washington Only
All southbound Acela Express schedules will be changed to arrive in Washington 5 minutes later than the times shown in Amtrak printed timetables. The schedules will not change at any other stations on the route.

Several southbound Northeast Regional schedules will be changed to arrive in Washington 5 minutes later than the times shown in Amtrak printed timetables. The schedules will not change at any other stations on the route.

Northbound Service - Possible Weekend Delays Northbound trains may experience delays passing through the work area located south of the Wilmington station.

Thank you for traveling with Amtrak. We appreciate your patronage and apologize for any inconvenience you may experience. The most up-to-date schedule and train status information is available on Amtrak.com, our free iPhone app and at 1-800-USA-RAIL (1-800-872-7245). [AMTRAK announcement via HDBtrains]
An interactive website (http://www.heritageunits.com/) now exists for tracking and reporting all of those Heritage Units which also provides the handy list reprinted below. [from Tennessee Central Historical Society via Ed Thornton]
Amtrak
AMTK 66 (Phase II)

AMTK 145 (Phase III)

AMTK 156 (Phase I)

AMTK 184 (Phase IV)

AMTK 406 (Phase III)

AMTK 822 (Phase III)
Norfolk Southern
NS 1065 (Savannah & Atlanta)

NS 1066 (New York Central)

NS 1067 (Reading)

NS 1068 (Erie)

NS 1069 (Virginian)

NS 1070 (Wabash)

NS 1071 (Central RR of NJ)

NS 1072 (Illinois Terminal)

NS 1073 (Penn Central)

NS 1074 (Lackawanna)

NS 8025 (Monongahela)

NS 8098 (Conrail)

NS 8099 (Southern)

NS 8100 (Nickel Plate)

NS 8101 (Central of Georgia)

NS 8102 (Pennsylvania)

NS 8103 (Norfolk & Western)

NS 8104 (Lehigh Valley)

NS 8105 (Interstate)

NS 8114 (Norfolk Southern)

NS 4270 (F9PH)

NS 4271 (F9PH)

NS 4275 (F7B)

NS 4276 (F7B)
Union Pacific
UP 1982 (Missouri Pacific)

UP 1983 (Western Pacific)

UP 1988 (Katy)

UP 1989 (Rio Grande)

UP 1995 (CN&W)

UP 1996 (Southern Pacific)

UP 844 (Steam (4-8-4))

UP 949 (E9)

UP 951 (E9)

UP 963 (E9B)

UP 2001 (Winter Olympic)

UP 2002 (Winter Olympic)

UP 2010 (Boy Scouts)

UP 3985 (Steam (4-6-6-4))

UP 4141 (George HW Bush)

UP 6936 (DDA40X)

UP 7400 (Pink Ribbon)
---
FALL PHOTO-FREIGHT SPECIALS
WESTERN MARYLAND SCENIC RR 2-8-0 # 734
CUMBERLAND TO FROSTBURG, MD
DEPART 7:45 AM RETURN: 5:15 PM
Monday, October 22, 2012 (55-60 patrons) $139.00
Tuesday, October 23, 2012 (35-40 patrons) $189.00
Our 53rd and 54th Steam Photo Freight Specials on the Western Maryland Scenic Railroad will offer outstanding video and photographic opportunities for the serious railfan-photographer. Extensive tree cutting and brush clearing in the fall of 2010 and 2011 has created several new photo locations along the sixteen miles of track from Cumberland to Frostburg, Maryland. The star performer will be the beautiful 1916, Baldwin-built, 2-8-0 known as "Mountain Thunder." When she attacks the nearly three per cent grades you will understand how she acquired her name! Dressed in a Western Maryland paint scheme complete with a fireball emblem, this ex Lake Superior and Ishpeming locomotive looks very much at home on the old Western Maryland right-of-way. The freight train will consist of ten, vintage freight cars and a caboose. Our passengers are transported between the various photo locations in an air conditioned coach and diner pulled by a Western Maryland, model GP-30, diesel. After the diesel drops-off the passengers and pulls in the clear, engine 734 will make several spirited runbys at each location with lots of smoke and whistles. Because most of the line is uphill, westbound, the engine and train will back down from Frostburg to Cumberland to enable up-hill runbys to be made in the afternoon sun which will front-light the engine. Each trip will feature about 25 photo runbys.
TRIP HIGHLIGHTS:* Engine 734 (2-8-0), ten freight cars and a caboose (includes four Western Maryland hoppers).
* The beautiful fall foliage should be at its peak color.
* Complimentary warm muffins, tea, hot chocolate and coffee are served in the dining car.
* Outstanding photo and video opportunities.
* Ride in 734's locomotive cab for a $30.00 donation to the railroad crew tip fund (pay in Cumberland).
* Photo locations will include: City Junction, Rt. 40 Bridge, Helmstetters Curve, Brush Tunnel,
Sunnyside, Lap, Coal Tipple, Switch # 9 Curve, C&P Bridge # 2 and a few lesser-known locations.
HOW TO GET THERE: Patrons must supply their own transportation to Cumberland, MD. Trains departs from the ex Western Maryland Railroad station in downtown Cumberland; Exit # 43C on I-68.
MOTEL: Braddock Motor Inn Route 40, LaVale, MD 1-800-296-6006 Ask for Robin, Group reservations, to receive the Photo Special discounted rates, Single: $55.00 + tax; or Double: $70.00 + tax. FREE breakfast incl.
PRE-TRIP MEETING & ENTERTAINMENT: Sunday and Monday evenings, Oct. 21 and 22, at the Brad-dock Motor Inn. We will issue ticket packets, discuss trip operations and present an program of RR entertainment.
LUNCH OPTIONS: Lunch will be offered in the Frostburg Station. Monday: Your choice of hot roast beef or hot turkey, mashed potatoes and gravy, a vegetable, salad, desert and a drink (coffee, ice tea or lemonade). Tuesday: Lasagna, salad, drink and desert. All lunches are $11.00. Lunch is by reservation only.
FOR ADDITIONAL INFORMATION: Contact: Carl Franz; cmfrr@aol.com or call: 240-720-8686, or Cell: 301-943-0608.
=============================================================================================================================================================================================================================================================== FALL 2012 WESTERN MARYLAND SCENIC PHOTO SPECIAL RESERVATION FORM
( ) I WILL VOLUNTEER FOR ONE DAY OF BRUSHCUTTING (chain saw, gas-powered weed-eater, hand tools)
( ) I WOULD LIKE TO MAKE A DONATION TO THE BRUSH-CUTTER'S GASOLINE & LUNCH FUND
Payment MUST be made by a US postal money order, bank check, certified check, etc. NO PERSONAL CHECKS ACCEPTED. Please make your funds payable to: Carl Franz Please send this reservation form and your payment to: Carl Franz, 16620 Shea Lane, Gaithersburg, MD 20877
Refunds will be given after September 1 only if we can resell your tickets.
Monday Tuesday Mon. Lunch Tues. Lunch
NAME(S) Oct. 22 Oct. 23 $11.00 $11.00 $11.00
______________________ [ ] $139.00 [ ] $189.00 [ ] Beef [ ] Turkey [ ] Lasagna
______________________ [ ] $139.00 [ ] $189.00 [ ] Beef [ ] Turkey [ ] Lasagna
______________________ [ ] $139.00 [ ] $189.00 [ ] Beef [ ] Turkey [ ] Lasagna
______________________ [ ] $139.00 [ ] $189.00 [ ] Beef [ ] Turkey [ ] Lasagna
SUB TOTALS: $________ $________ $______ $______ $______
BRUSH-CUTTING FUND DONATION: $________ TOTAL: $___________
ADDRESS: _____________________________________________ HOME (______)____________________
_____________________________________________ BUSINESS / CELL (______)____________________
E-MAIL ADDRESS: ________________________________________________________________________
FALL PHOTO-FREIGHT SPECIALS on the WESTERN MARYLAND SCENIC RAILROAD
---
SCHEDULE NOTES
Notices, announcements, schedules, etc. are provided here as a service to the members. The Chapter has no affiliation with any commercial operation, museum, or tourist line.
Until May 30, 2015 Civil War 150th Anniversary: The War Came By Train@ B&O RR Museum in Baltimore. Monday - Saturday (10:00 a.m. - 4:00 p.m.), Sunday (11:00 a.m. - 4:00 p.m.) Between April 19, 1861 (The Baltimore Riot of 1861) and April 21, 1865 (Lincoln's funeral train leaving Baltimore for Illinois), the B&O stood witness and participant in the greatest conflict the U.S. has ever faced and changed the course of American history. The War Came By Train serves as the B&O Railroad Museum's primary attraction for the five year commemoration of the War's sesquicentennial. The National Landmark Roundhouse will exhibit the largest assemblage of Civil War railroad equipment in the world featuring locomotives and rail cars that served during the war, significant military and personal artifacts that will change annually to portray each year of the war (some artifacts never before on public display), and a narrated train ride to the original site of Camp Carroll, the largest Union encampment in Baltimore.
Until Dec. 30, 2012 ROLE OF RRs in PA During the CIVIL WAR at RR Mus. of PA, Strasburg Railroads were a key to the successes of both the Union and Confederacy during the Civil War, and the contributions of Pennsylvania's railroads were an integral part of the Union's eventual victory. From supplying the Armies with munitions and food, to transporting troops, prisoners and communications, the Civil War was the first war in which railroads were a major factor. Photographs, documents and artifacts tell the story of Pennsylvania's railroads during the War Between the States.
July 5-August 24, 2012 All Aboard! Paul P. Cret's Train Designs @ Athenaeum of Philadelphia 9AM-5PM Architect Paul P. Cret (1876 - 1945) designed public buildings such as the Barnes Foundation in Lower Merion, PA, the Detroit Institute of Art in Michigan, and the Folger Shakespeare Library in DC. Both he and his successor firm Harbeson, Hough, Livingston & Larson (fl. 1945 - 1976) produced a surprising number of train car designs, both interior and exterior, for Philadelphia's Budd Company. Cret's relationship with the Budd Company is told through the many trains that he designed from the beginning of the association in 1933 through the extension of his firm after his death in 1945 to successors Harbeson, Hough, Livingston & Larson. The Modern Classicism associated with Cret's architectural firm often becomes streamlined on the exteriors of the trains while the interiors display the rich approach already seen in Cret's building designs. Free Admission. http://www.philaathenaeum.org219 S. 6th Street Philadelphia, PA 19106-3794 _Phone: (215) 925-2688
Thursday, August 16, 2012 Wilmington Chapter's Annual August Field Trip Every August, the Wilmington Chapter does a "field trip" for its members instead of the regular meeting. Past outings included a visit to Juniata Terminal's shops in Philadelphia, and Septa and NJ Transit circle trips. This year, we will take a tour of the new office and library building under construction at the Wilmington & Western Railroad in Marshallton, Del. We will also have a night photo session with freshly-painted W&W EMD SW900 number 915, which will be posed outside the engine house for our group. We will meet at 8 p.m. (one hour later than our regular meeting time) on Thursday, Aug. 16 outside the new building, located off Kiamensi Street. (Take Old Capitol Trail to a left on School Lane to a left on Kiamensi Street). John Iwasyk and J. Harry Feldman of the W&W will be our hosts for the evening. To participate in the night photos, please bring a camera that can be set to "bulb" as well as a tripod and cable release. Strobe lighting will be provided by me, Steve and Bruce Barry. You will also need to wear closed-toe shoes (no sandals or flip-flops). We hope to see you there!
Sunday, August 26, 2012 Central PA Chapter's 37th Annual Train Meet 9-2, Adults $3, Warrior Run Fire Dept. Social Hall, Second St., Allenwood, PA
August 26 - September 3, 2012 54th Annual Summer Show @ Williams Grove Steam train rides! GREAT FOOD! Nightly entertainment! Blacksmith shop Steam Traction Engines operating daily Antique Tractors Hit and Miss Engines Car show on Sunday, August 26th. Horse pulls on Tuesday, August 28th at 7:00pm. Consignment sale on Saturday, Sept. 1st. at 8:00am Williams Grove Historical Steam Engine Association, Mechanicsburg, PA (717)-766-4001
Saturday, September 15, 2012 The Great Lehigh Valley Train Meet Sat. 10 am - 4 pm, all scales, one day, Merchants Square Mall, 1901 South 12th Street, Allentown PA 18103
Saturday, September 22, 2012 MEMBERS DAY at RR Mus. of PA, Strasburg. WARNING - Thomas Days at the Strasburg Rail Road
Saturday, September 22, 2012 Friends of the Furness Railroad District Tour & Mini Exhibition In the Fall of 2012 a festival is being held in the Philadelphia to Wilmington areas, to highlight the creative talent of the 19th century architect, Frank Furness. The festival will begin in early September and continue with events, tours, exhibitions, lectures, and symposia throughout this fall season, ending in early December. The second scheduled event will be on Saturday, September 22nd when the Friends of the Furness Railroad District will sponsor a tour and mini exhibition in Wilmington, DE. The tour will begin at Furness' Wilmington Amtrak, Railroad Station (formerly the Pennsylvania Railroad Station, 1907-8), and the adjacent but separate Pennsylvania Office Building (1905), followed by a walk along the Railroad viaduct to see some Furness inspired newer construction related to the Railroad Station, and then on to the Furness designed B&O Railroad Station (1888). We will then proceed up the hill to visit the Central National Bank (1885-1905 and later), also known as the Security Trust and Deposit Company, and now known as the Kimba Academy, a charter school. The tour will then conclude with a mini Furness exhibit at the adjacent Wilmington Historical Society where a talk will be held and refreshments will be offered.
Sunday, October 7, 2012 GARDEN RAILWAYS TOUR at RR Mus. of PA, Strasburg
Saturday & Sunday, Oct. 27-28, 2012 Great Scale Train Show 9AM-4PM, $9, State Fairgrounds, Timonium, MD
Saturday & Sunday, Nov. 3-4, 2012 TRAINS & TROOPS at RR Mus. of PA, Strasburg
Thursday, Nov. 15, 2012 PRR Lecture at Hagley Museum and Library 7 PM Dr. Albert Churella, "The Unique Railroad of the World: Why the Pennsylvania Railroad was Different from all of the Others," Reservations are requested, 302-658-2400
Hagley lecture shows unique history of the Pennsylvania Railroad
Wilmington, Delaware - November 2012 - Hagley Museum and Library welcomes Dr. Albert Churella, Southern Polytechnic State University, on November 15, to speak about the Pennsylvania Railroad. His lecture, "The Unique Railroad of the World: Why the Pennsylvania Railroad was Different from all of the Others," will begin at 7 p.m. in the Soda House auditorium. The lecture will mark publication of Dr. Churella's book, The Pennsylvania Railroad, Volume 1: Building an Empire, 1846-1917. The lecture is free. Please use Hagley's Buck Road entrance. Reservations are requested, 302-658-2400. "Albert Churella's book is based on exhaustive research at Hagley and other libraries," says Dr. Roger Horowitz, associate director at the Hagley's Center for the History of Business, Technology, and Society, "It is certain to become the authoritative history of the Pennsylvania Railroad. "The Pennsylvania Railroad, Volume 1: Building an Empire, 1846-1917 will be part of a multi-volume account from the University of Pennsylvania Press. The book opens with the development of the Main Line of Public Works in the 1820s that foreshadowed the establishment of the Pennsylvania Railroad in 1846. Churella then charts the railroad's growth over the next fifty years through the Civil War, industrial expansion, and labor unrest, as well as competition with rival railroads and disputes with such figures as Andrew Carnegie and John D. Rockefeller. The volume closes at the threshold of American involvement in World War I. Copies will be available for purchase at the lecture. Dr. Albert J. Churella is associate professor in the Social and International Studies Department at Southern Polytechnic State University in Marietta, Georgia. His first book, From Steam to Diesel: Managerial Customs and Organizational Capabilities in the Twentieth-Century American Locomotive Industry (1998) was a finalist for the George W. Hilton award in railway history. Churella is completing the first of a two-volume history of the Pennsylvania Railroad, with extensive treatment of the business, technological, labor, public policy, ethnic, and gender issues related to that company. He has also published numerous other articles and book reviews, and has presented papers at conferences in the United States and Europe. About the Library Hagley Library is the nation's leading business history library, archives, and research center. Current holdings comprise 37,000 linear feet in the Manuscripts and Archives Department, 290,000 printed volumes in the Imprints Department, 2 million visual items in the Pictorial Department, and more than 300,000 digital images and pages in the Digital Archives Department. Hagley's Center for the History of Business, Technology, and Society organizes conferences, research seminars, and a public lecture series; it also operates a research grants-in-aid program. Hagley Museum and Library Hagley Museum and Library collects, preserves, and interprets the unfolding history of American enterprise. For more information, call (302) 658-2400 weekdays or visit www.hagley.org.
---
CHAPTER EVENTS
Do NOT go to the Claymont Community Center for our next meeting ! ! !
Thursday August 16, 2012 >> 8 PM >> Chapter Outing at Wilmington & Western Railroad Tour & Night Photos in lieu of normal monthly meeting NOT the normal time, NOT the normal location ! ! !
Thursday Sept. 20, 2012 7 PM Chapter Meeting program by Allen Tweedle
Saturday Sept. 22, 2012 TBD Friends of the Furness Railroad District Tour & Mini Exhibition
Thursday Oct. 18, 2012 7 PM Chapter Meeting program by Mike Burkhart
Thursday Nov. 21, 2012 7 PM Chapter Meeting program by Frank Ferguson
Sunday Dec. 2 or 9, 2012 5 PM Annual Holiday Dinner in lieu of normal monthly meeting program by Steve Barry
The Wilmington Chapter of the National Railway Historical Society (NRHS) meets at 7:00 PM on the third Thursday of each month [except August & December] in the Darley Room at the Claymont Community Center on Green Street in Claymont, Delaware. Visitors are always welcome. Admission to regular meetings is free. Check out our Website (thanks to Russ Fox) at:
---
The Transfer Table is published six to ten times per year as the newsletter of the Wilmington Chapter of the National Railway Historical Society. Items in this publication do not represent the official position of either Officers or Members of the Wilmington Chapter or the Editor of this publication.
Permission to reprint articles and news items appearing herein is granted to NRHS Chapters and other newsletters provided appropriate credit is given.
Contributions are always welcome and should be sent to the editor at SD40GMA@aol.com or send to: P.O. Box 1136, Hockessin, DE 19707-5136.
Deadline for entries is the 25th of the month.
Chapter Officers
President: Mike Burkhart
Vice President: Dave Watterson
Treasurer: Dave Warner
Secretary: Dan Frederick
National Director & Trip Director: Steve Barry
Editor: Greg Ajamian
Web Master: Russ Fox