NOTE: The Lite Version is our electronic version which is available for free from this web site. It has limited content but gives you a taste of what is offered in our Full Version.
The Full Version is our printed newsletter which is mailed to you. It contains everything in the Lite Version along with many other reprinted pages from other NRHS newsletters, railroad publications, and flyers that contain photographs, drawings, and maps. The full version is just another benefit of joining our chapter.
THE TRANSFER TABLE
The Wilmington Chapter NRHS Official Newsletter
Internet Edition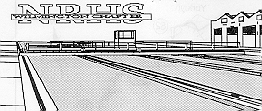 | | |
| --- | --- |
| VOLUME 35 NUMBER 04 | APRIL 2012 |
Back To Wilmington Chapter Web Site
MARCH 2012 MEETING NOTES
President Mike Burkhart called the meeting of the Wilmington Chapter to order at 7 PM. The minutes were read by secretary Dan Frederick and approved as corrected. Since there was no National Director, there was no National Director's report. The Treasurer's report was approved as read by Dave Warner. Phil Snyder reported on the passing of long-time Chapter Member Fred Eichelberger.
Once again, the program for the evening was provided by Frank Ferguson. This was "2011 in Review - Part Deux." We saw views of the Vermont Railway with a variety of power including LLPX, DM&E, and Gilford. There was some Saratoga & North Creek Railway, modern day sanding operations on the East Penn, CSZ, NS, AMTRAK, Arcade & Attica, and an RPO at the Danbury Railroad Museum. We saw an SD9 on the Winchester & Western. We even learned to "watch for the monkey!" There were new SEPTA cars in Newark, DE and even some Strasburg Railroad. Our thanks to Frank for yet another great show.
---
Fred C. Eichelberger
We recently learned that Chapter Member Fred C. Eichelberger of Wilmington, DE, passed away after a long illness on March 9, 2012. A native Delawarean, he served in the US Air Force and a 40-year career in the US Post Office. He was also a Mason. His many hobbies included model railroading as well as full-sized versions. We always enjoyed his company at Chapter events.
---
Duane R. Conly
Unfortunately, we also have to report that Chapter Member Duane R. Conly passed away on Monday, March 26, 2012, after a long fight against Pulmonary Fibrosis. He was 75. He was a graduate of Wilmington High School and was employed by DuPont for 27 years in their Advertising Department. He later worked for Lyons Studios for 10 years before retiring. He often hosted the annual picnic for a local model railroad club. He will be sorely missed.
---
Message from the EDITOR
My first issue as Editor of The Transfer Table was April 1994, so this was going to be another attempt at an "anniversary" issue. But, office work slowed that a bit, so there will be another delay. Somehow, a few items of personal interest crept in this time - see if you can guess which ones they are. . .
---
NEWS BITS
The 100th anniversary of the opening of Grand Central Terminal is a year away, but news about the centennial celebration was released today by the Metropolitan Transportation Authority of New York (MTA) and Metro-North Railroad, which together announced formation of two committees created to guide the year-long public celebration, and initial plans for the first public events scheduled for February 1, 2013.
Officials say a spectacular celebration will focus international attention on the Terminal's 100th birthday on February 1, 2013. Music and other performances, a formal re-dedication ceremony with VIP guests, and numerous other public activities will round out the day, which will be capped by a gala event. Also that day, The New York Transit Museum kicks off a six-week exhibition in the Terminal's historic Vanderbilt Hall. This large-scale exhibit features artifacts, archival material, moving images and photographs from the Museum's collection -- and private collectors -- that explore the past, present and future of Grand Central Terminal.

The year-long celebration will comprise a variety of events, publications, educational initiatives, and exhibitions to commemorate the Centennial, including additional programs from the New York Transit Museum and MTA Arts for Transit, as well as an officially-licensed line of MTA commemorative and collectible products that give visitors a chance to take home mementoes of the historic celebration. Activities being planned now include a parade of historic trains, collaborative commemorations with other New York institutions, and additional historic exhibitions.

The Terminal's retail tenants will join in the celebration through special promotions and sales activities. Officials say Centennial celebration activities are intended to serve the nation, as well as the 750,000 people who use Grand Central Terminal daily, the many tourists who visit each year, and the numerous businesses and institutions located in and near the Terminal. Details about all Centennial events will be released at a later date.

Grand Central Terminal is the transportation hub for three of MTA Metro-North Railroad's lines east of the Hudson River -- the Hudson, Harlem, and New Haven lines. As the nation's largest commuter railroad, Metro-North provided 97 percent on-time service for 82 million people in 2011. Its 5,800 employees operate 720 trains each weekday, serving seven New York counties and two Connecticut counties, and contributing greatly to the vitality of the region and the success of the Terminal. [ MTA Press Release http://www.mta.info/mta/news/releases/?en=120202-MNR7 ]
INTER-MUSEUM COOPERATION BENEFITS THREE HISTORIC TROLLEY CARS - Rockhill Furnace, PA Š The Rockhill Trolley Museum (www.rockhilltrolley.org), the operating entity of Railways To Yesterday, Inc., a 501(c) (3) non-profit educational corporation, is happy to announce its participation in an inter-museum exchange of historic vehicles and components between the Branford Electric Railway Association (www.bera.org), the National Capital Trolley Museum (www.dctrolley.org), and the Rockhill Trolley Museum, three of the East CoastÕs well-known operating electric railway museums.
The Rockhill Trolley Museum has deaccessioned and transferred ownership of 1899 vintage former DC Transit snow sweeper car #09 to the National Capital Trolley Museum in Colesville, MD. This car is one of only two former Washington, DC snow sweepers still in existence and remains in essentially the same condition as when it left Washington, DC, having been kept in protected storage for most of its 50 years in Rockhill Furnace. The exterior of the car was cosmetically restored by museum volunteers for its 100th birthday in 1999 and has operated approximately once per year by the museum for special events since that time. Its transfer to the National Capital Trolley Museum marks 50 years since the end of streetcar operation in Washington, DC. The acquisition of car #09 helps National Capital Trolley Museum replace sister car #07 which was lost forever after the museum suffered a tragic fire on September 28, 2003. Car #09 last swept snow at Rockhill Trolley Museum in 2000.

In exchange for its transfer of ownership of car #09 to National Capital Trolley Museum, Rockhill Trolley Museum acquires former Iowa Terminal Railroad 1911 vintage snow sweeper #3 as well as a pair of Brill trucks suitable for use under 1895 vintage former Valley Railways car #12.Former Iowa Terminal Railroad #3 was constructed in 1911 by the McGuire-Cummings company; the same entity that constructed DC Transit #09, and is representative of the style of snow sweeper used by electric railways from coast to coast that operated in colder climates. The car was cosmetically restored and made operable again by the Branford Electric Railway Association as a gift to the National Capital Trolley Museum in an effort to help the museum recover after its tragic 2003 fire. Cars similar to #3 operated in several central Pennsylvania cities including Altoona, Harrisburg, and Johnstown.

Along with car #3, Rockhill Trolley Museum acquires a pair of former Brill 27F trucks suitable for use under former Valley Railways car #12 as it operated in its last years of operation. Valley Railways #12 is one of only a few cars in existence built by the Jackson and Sharp Company and is the sole remaining car known to exist from the Valley Railways. The body of this car was saved by Rockhill Trolley Museum in 1985 after 52 years of use as a structure. Acquisition of suitable trucks for this car accomplishes a long-sought goal for the museum and moves this car closer to restoration as an operating exhibit.The Rockhill Trolley Museum is one of the oldest continuously operating trolley museums in the Middle Atlantic, having operated trolleys every year since 1962. The museum offers a very scenic three mile round trip ride along scenic Blacklog Creek and is located across the street from the historic East Broad Top Railroad. For more information on the museum, as well as information on how to contribute to some of the other significant museum projects, when to visit and how to become a member, please visit www.rockhilltrolley.org.

The Rockhill Trolley Museum extends its thanks to Branford Electric Railway Association and National Capital Trolley Museum for their cooperative efforts to make this historic exchange of equipment possible. The arrival of sweeper 3 from Connecticut and the departure of sweeper 09 to Washington is scheduled for Monday March 19, 2012. [Press Release via Ed Thornton]
Amtrak has temporarily altered schedules and has begun truncating services in Michigan due to Norfolk Southern Railway's (NS) orders to slow passenger trains to 25-to-30 mph on certain track segments. These changes will account for the NS "slow orders" and this is the first in a series of announcements of service changes that will also accommodate NS infrastructure repairs expected to begin next month. The Michigan Department of Transportation (MDOT) has been working with NS to perform the work to restore normal track speeds up to 79 mph in advance of the state's purchase of much of the line. That transaction is expected to be completed later this year, subject to federal regulatory review. Effective March 26, as detailed in a Passenger Service Notice, Train 350, the morning eastbound Wolverine from Chicago, will terminate in Dearborn rather than Pontiac. Train 355, the evening westbound Wolverine, will originate in Dearborn rather than Pontiac and operate 65 minutes earlier than the regular schedule to Chicago. Amtrak has also posted temporary schedules in Western Michigan for theBlue Water (Trains 364 & 365), which uses NS-owned track between Battle Creek and Kalamazoo. [AMTRAK Press Release via Ed Mayover]

Planned for an October 2012 launch, the Pullman Sleeping Car Company will have regularly scheduled "sailings" from Chicago to New York and New Orleans. These are overnight journeys complete with meals and an on-board service that we guarantee you've never experienced. A team with tremendous knowledge and appreciation for all things "passenger trains" has been assembled and they have studied and analyzed the Pullman service for many years. For those involved, this is the culmination of a life-long passion. Work is being done right now to restore 10 Pullman cars to reflect their original beauty and function, and to develop authentic Pullman on-board service. http://www.travelpullman.com/

The Illinois Department of Transportation (Illinois DOT) and Union Pacific Railroad will again be upgrading Illinois' signature high-speed route, Chicago-St. Louis, for future high-speed Amtrak trains, from April 16 through May 25. The improvements for 110 mph service include the installation of new premium rail with concrete ties and stone ballast; upgrades to bridges, culverts and drainage; signal and wayside equipment installations and upgrades; and roadway-rail grade crossing improvements. Most days, this work will lead to the substitution of chartered motorcoaches for Amtrak Lincoln Service (Trains 300-307) passengers at St. Louis, Alton and Carlinville. The Amtrak Texas Eagle (Trains 21/321/421 & 22/322/422) will detour between Chicago and St. Louis for the same period, with alternate transportation in both directions between Joliet and St. Louis. The temporary changes will allow Union Pacific's Track Renewal Train crews to improve infrastructure to enable Amtrak service to travel at speeds up to 110 mph (177 kph), an increase from the current maximum of 79 mph (127 kph). Illinois DOT and Amtrak are planning to preview higher speed trains in September 2012 from Dwight to Pontiac. This is the last scheduled year of large-scale construction leading to alternate transportation on the corridor. When this project began with a ground-breaking north of Alton in 2010, it was among the first high-speed rail projects in the country to start construction. [AMTRAK Press Release via Ed Mayover]

For MARC Train Service patrons, boarding and exiting trains at Union Station in Washington D.C. has often meant long hikes, uncertainty and occasional delays as MARC train platforms were switched around from day to day to accommodate Amtrak trains. At least part of the reason for the frustration has been that MARC trains spent their layover time between morning and evening rush hours parked inside or far outside Union Station, requiring multiple re-configurations of rails and platforms in the course of a day. That's about to change. Governor Martin O'Malley and the Maryland Board of Public Works has approved a $21.33 million contract to construct a designated storage area for MARC trains that are currently stored at Union Station during mid-day layovers. The facility for MARC electric and diesel-hauled trains will consist of three tracks constructed exclusively for the use of MARC trains, with capacity for three additional tracks for future expansion. The new arrangement, planned to be in full operation by 2014, is intended to shorten the long walks to and from trains arriving and departing from Union Station that have characterized travel on MARC service, as well as minimize arrival and departure delays. Union Station itself is also expecting to enjoy smoother operation as a result of it being fully utilized as a traditional train station, instead of a combination train station and storage yard. With over eight million boardings every year, MARC trains are a vital link between Washington, D.C. and Baltimore, as well as their far-flung suburbs. Not all MARC patrons travel to Union Station, but it is the busiest of all MARC stations, with approximately 15,000 daily riders. The new layover facility (officially designated the "Wedge Storage Yard at Union Station") will be located along New York Avenue near Amtrak's Ivy City yard, east of Union Station. [MARC Press Release via Ed Mayover]

Amtrak is reaching a significant milestone in its efforts to replace the existing 104-year old Niantic River Bridge in East Lyme, Conn., with the float-in of the new bascule lift span to the new alignment south of the existing bridge. After the float-in of the new bridge span is completed March 26, crews will begin the process of connecting it to the new pivot girders located on the land side of the marine channel. As a result, access to the channel beneath the structure will be closed to the maritime community beginning today, March 26, through Friday, March, 30 to allow for the safe movement of construction equipment. Amtrak does not anticipate any significant impact to its rail operations during this time, but some minor delays may be encountered as a result the scheduled single track operations on the existing bridge. The next major milestone for bridge-related elements of the project will be to shift rail traffic to the new structure with the first track scheduled to open later this summer followed by the second track sometime this fall. Then, next spring the existing bridge will be demolished. The three-year project, which began in April 2010, is being constructed at a cost of $140 million. It remains on-schedule with an estimated completion date of May 2013. [AMTRAK Press Release via Ed Mayover]

This update on Civil War #17 'YORK' 4-4-0 steam locomotive for operation on the Northern Central Ry in 2013. From time-to-time you may wish to click on http://www.leviathan63.com/projects.html to follow the progress of building the York for "Steam into History". July, 2013 and the 150th Anniversary of the Battle of Gettysburg (just 15 months away). There is a video of the Leviathan under steam and Robert Gotwols speaks on the project and David Kloke tell how the York will differ from the Leviathan. The York locomotive is based upon the locomotive and tender previously constructed and provided at the Golden Spike Historical Site referred to as no. 119 for Steam Into History, Inc. [e-mail from Ed Thornton]

For the third straight year, SEPTA expects to defer critical improvement projects due to funding cuts, according to the Authority's Fiscal Year 2013 Capital Budget proposal. The $303 million spending plan reflects a 25 percent reduction compared to the funding levels of three years ago, and will leave SEPTA unable to move forward on dozens of improvement projects vital to the short- and long-term health of the transit system. The capital funds available for Fiscal Year 2013, which covers the 12-month period from July 1, 2012 through June 30, 2013, will go largely toward mandates such as Regional Rail signal system upgrades and other safety improvements. The Authority must also set aside funds for equipment overhauls, and the purchase of new buses and paratransit vehicles to replace those that are being removed from service. Without additional funding, much-needed upgrades - from critical overhauls to electrical substations to bridge repairs and station renovations - are pushed back indefinitely. In recent years, SEPTA has deferred a number of projects that were expected to move forward under Act 44. Pennsylvania lawmakers passed Act 44 in 2007 to provide a dedicated source of transportation funding. Act 44, however, required new revenue streams and was never fully funded - in large part due to the federal government's rejection of a plan to add tolls on Interstate 80. SEPTA remains optimistic funding for infrastructure improvements will be addressed. Gov. Tom Corbett, in his state budget address last month, noted the need for a "lasting" solution for transportation funding. [SEPTA Press Release via Ed Mayover]
---
AMTRAK OVER TEHACHAPI!
Proving it Can be done!
by Tom Smith
Word came down from on high that Amtrak was going to detour the northbound Coast Starlight via Tehachapi between February 1 and 8, due to trackwork on the Coast Line. Karen and I had a couple of Amtrak vouchers about to expire, Suddenly, a plan shaped up! We would take the Coast Starlight south just to return on the northbound Coast Starlight. For mileage collectors, detours of scheduled trains over lines you have never ridden are like striking oil in your backyard. In my travels it has only happened to me twice. Amtrak has detoured here before on occasion but I have not known about it in time to do anything about it. This trip would account for 377 new miles, and complete my coverage of all of Southern Pacific's major routes. (Golden State, Sunset, Cascade, Overland, Coast and now San Joaquin)
We were in Los Angeles Union Passenger Terminal awaiting the call for the northbound Coast Starlight, at 10:15. Around 9:45 boarding began, and our sleeper attendant told us the train was sold out. Our car was full of day passengers, but would be nearly empty after Oakland. The attraction for almost everyone was the detour over Tehachapi, and not only that, but the detour would also use the former SP San Joaquin line all the way to Oakland, rather than the former ATSF line that Amtrak's Valley trains do. There would be no stops between LA and Oakland.
The Pacific Parlour Car was full before the train left the station. When it did leave, we followed the Metrolink Antelope Valley line as far as Palmdale. Metrolink has a separate line between Palmdale and Lancaster that parallels the former SP. Then through Mojave, around Tehachapi into Caliente, and then Bakersfield where we stopped for a crew change late in the afternoon. I had to rely on the knowledge of other passengers to know where we were going after dark. Some passengers had GPS systems to pinpoint our location We were only an hour late into Oakland and that because we had to wait for an Amtrak relief engineer near Tracy. It was a pleasant day; accumulating new mileage on a comfortable train, nice meals in the dining car, camaraderie with like minded fellow passengers--train travel doesn't get much better than this. Some Australian tourists who had taken the Coast Starlight to see the Pacific Coast were the only ones disappointed.
There have been rumblings over time about Amtrak extending one or more San Joaquins to Los Angeles, so the Loop may yet see a passenger train. With all the curves, tunnels, grades, speed restrictions, heavy freight traffic and lack of population, it would likely be too slow to compete. The bus connection from Bakersfield still seems to be the best solution. One thing is clear--Amtrak can increase patronage by running detours!
---
DESERT COMMUTER RUNNERS---RAIL AND FRONT
By Tom Smith
As more states and cities attempt to cope with traffic congestion and high oil prices, rail transit has come to play a major role. Light rail systems seem to pop up everywhere. Commuter trains, too, once the province of large metropolitan urban centers, are also being established in places they have never been before. We will now ride on two new commuter services in adjoining states which share many similarities, but do not fit into the usual box: New Mexico's Rail Runner, and Utah's Front Runner.
Both are similar in that they started from scratch, serve large states with low populations, but where most of the people who are there live in a concentrated corridor. They also use similar equipment: MP36PH-3C MPI diesels, and Bombardier bi-level coaches. Where they are different from most commuter railroads is that they have had to layout and build much of their own tracks on private rights of way rather than using existing rail trackage.
The New Mexico Rail Runner serves a 96 mile corridor starting at Belen on the south, through Albuquerque, to the state capitol at Santa Fe. Most of it is on former Santa Fe trackage. One of the smaller cities to have rail commuter service, its service area population is a little over half a million. Coming from the west, the BNSF main line splits about 25 miles west of Albuquerque. The Glorieta Sub turns northeast toward Albuquerque and Raton, This was the main passenger route. The Gallup Sub turns Southeast toward Belen. Today, all BNSF traffic uses the Gallup Sub; the only traffic on the Glorieta Sub is a local, Rail Runner and Amtrak's Southwest Chief. BNSF has threatened to abandon the whole line. At Isleta, 12.6 miles west of Albuquerque, the El Paso Sub branches south off the Glorieta Sub crossing the Gallup Sub at Belen Jct. on its way to El Paso.
The Rail Runner started using the Glorieta Sub in July 2006 and El Paso Sub between Albuquerque and Belen Jct. in Feb. 2007. The State has acquired the track they use, and has committed to acquire all the track to the Colorado state line to preserve it for future service. I had never ridden any of the El Paso Sub so I took the train to Belen. The line is shared with BNSF, but the Rail Runner has a separate station in Belen Jct. on a stub piece of track. A crossover allows BNSF trains to reach the El Paso sub.
Rail Runner uses 9 MP36PH-3C locomotives built by Motive Power International in Boise numbered 101-109, and 22 Bombardier bi-level coaches, of which 9 are cab cars. Tickets are sold on board by a train crew member using a hand held device which accepts credit cards and prints out tickets, The trains are operated by Herzog Rail Services, and the crews were friendly. Service levels are a little sparse, with some long gaps between trains in midday hours. The high costs of starting this service, has generated some political opposition, with some questioning the benefits of a service that offers so few schedules. However, it appears the trains have good ridership.
Service to Santa Fe began in December 2008. The AT&SF once reached its namesake city with an 18 mile branch from Lamy. That branch was acquired by shortline Santa Fe Southern in1992 who operated tourist and freight trains.
The Santa Fe branch had steep grades and sharp curves, and was considered too long and too slow to use for Rail Runner service. A whole new 22.3 mile railroad was laid out. From Madrid, MP 858.0 on the Glorieta Sub,, the new line takes off for a 5-mile run through the desert circling La Bajada Hill, then tunnels under the Northbound lane of Interstate 25. It follows the median strip of that highway, then joins the Santa Fe Southern at Hondo for the last mile into Santa Fe. The existing SFS track was totally rebuilt using a new and straighter alignment. One can see abandoned roadbed of the SFS as it enters the city. Stops are made at the state capitol building and downtown at the original Santa Fe station. It doesn't look like the SFS has any freight business. There is a free shuttle bus in Santa Fe that meets the trains and takes you past the Capitol, and out Canyon Rd. where the art galleries are.
The Utah Transit Authority Front Runner is the commuter train linking Ogden and Salt Lake City. The Front Runner serves an area with even less population (about 300,000) than the Rail Runner, but has better service. Trains run from early morning to late at night, on half hour frequencies in rush hour, and hourly the rest of the time. They also use MPI MP36PH-3C locomotives, numbered 1-11, and 22 Bombardier bi level coaches. They operate on 37 miles of track, all new construction on the east side of Union Pacific's busy double track main. UP shares 5.7 miles to serve freight customers that are on the east side of their main. Presumably, these customers are served at night. Most stations have double tracks where meets can take place, and enormous parking lots. Besides the Front Runner, UTA has an extensive and expanding network of light rail trains.
Service began in April, 2008 between Salt Lake and Ogden, and was extended to Pleasant View, north of Ogden that September. This extension used UP track, and combined with low ridership ended in September 2011. Now all trains are under UTA control. In the future service may be extended south to Provo. At the end of the line in Salt Lake Central, you can transfer to one of 4 UTA light rail routes, numerous bus lines, Greyhound and Amtrak. On this line you buy your ticket before you board. I never saw anyone check tickets.
The light rail Blue Line to Sandy, is electrically operated with frequent transit service, but is also a part of the Salt Lake City Southern RR, a subsidiary of the Utah RR, which has several freight customers on the line like the NJ Transit River Line. It looked as though only one was active. This line was originally part of UP's Provo Branch.
---
SCHEDULE NOTES
Notices, announcements, schedules, etc. are provided here as a service to the members. The Chapter has no affiliation with any commercial operation, museum, or tourist line.
Until May 30, 2015 Civil War 150th Anniversary: The War Came By Train@ B&O RR Museum in Baltimore. Monday - Saturday (10:00 a.m. - 4:00 p.m.), Sunday (11:00 a.m. - 4:00 p.m.) Between April 19, 1861 (The Baltimore Riot of 1861) and April 21, 1865 (Lincoln's funeral train leaving Baltimore for Illinois), the B&O stood witness and participant in the greatest conflict the U.S. has ever faced and changed the course of American history. The War Came By Train serves as the B&O Railroad Museum's primary attraction for the five year commemoration of the War's sesquicentennial. The National Landmark Roundhouse will exhibit the largest assemblage of Civil War railroad equipment in the world featuring locomotives and rail cars that served during the war, significant military and personal artifacts that will change annually to portray each year of the war (some artifacts never before on public display), and a narrated train ride to the original site of Camp Carroll, the largest Union encampment in Baltimore.
Saturday & Sunday, March 24-25, 2012 Greenberg's Train & Toy Show 10-4, Adults $7, Chase Center on the Riverfront, 815 Justison St, Wilmington, DE 19801, FREE PARKING
Saturday & Sunday, March 31 - April 1, 2012 Amtrak 40th Anniversary Exhibit Train @ Wilmington, DE10 a.m- 4 p.m. Wilmington Station, 100 South French Street
Sat. Mar 31, Sun. April 1, Sat. April 7, 2012 West Chester Railroad's Easter Bunny Express 12 PM & 2 PM, West Chester to the historic Glen Mills village
Sunday, April 1, 2012 9th Annual Train Meet 9 AM-2 PM, Leesport (PA) Farmer's Market, sponsored by RDG. CO. TECH. & HIST. SOC.
Saturday & Sunday, April 14-15, 2012 Great Scale Train Show 9 AM-4PM, $9, State Fairgrounds, Timonium, MD
Saturday , April 21, 2012 Delaware Train Show Nur Shrine Temple, Rt. 13, 198 S. DuPont Hwy., New Castle, DE. POC: 856-302-3606.
April 21 thru Dec. 30, 2012 ROLE OF RRs in PA During the CIVIL WAR at RR Mus. of PA, StrasburgRailroads were a key to the successes of both the Union and Confederacy during the Civil War, and the contributions of Pennsylvania's railroads were an integral part of the Union's eventual victory. From supplying the Armies with munitions and food, to transporting troops, prisoners and communications, the Civil War was the first war in which railroads were a major factor. Photographs, documents and artifacts tell the story of Pennsylvania's railroads during the War Between the States.
Thursday, May 3, 2012 "Duffy's Cut" - OXFORD AREA HISTORICAL ASSOCIATION 7 PM Oxford Presbyterian Church. Pine St. Immigrant Irishmen working on a nearby railroad died under mysterious circumstances. Was it epidemic disease or murder?! Matt Patterson reviews archeology, railroads, and social unrest of the area to tell us this mystery story. For all meetings, bring pictures and artifacts for display. For information, call 610-932-2888
Saturday, May 5, 2012 Reading & Northern Excursion from Port Clinton, PAR&NRR and Lackawanna & Wyoming Valley NRHS chapter to run the "Hopper Jet" rare mileage photo freight. Harkening back to the glory days of the old Reading railroad our photo freight will tour the railroad from Port Clinton to North Reading yard, Tamaqua, East Mahanoy Jct. and Mahanoy City over rare freight-only mileage on the R&N main and Mahanoy & Shamokin lines into the heart of today's anthracite coal corridor. Tracks closely parallel abandoned anthracite canal, railroads, mining facilities and the Atlas Powderworks. In addition to passing active mining R&N hopper cars will be seen in the yards and sidings. The train will be powered by 3 former Lehigh Valley SW-8s, along with 10 R&N hopper cars, passenger equipment and a caboose. These 60-year old EMD switchers have been hauling anthracite coal almost since the day they were delivered to the LV 60 over years ago. Coach $79, open-air photo car $89, or caboose $99. Train will run rain or shine. All sales are final=no refunds. Train departs Port Clinton at 11 a.m. returning to Port Clinton by 7 p.m. Three photo-freight runbys are planned. Passenger equipment will be cutoff for the runbys. Motive power is subject to availability and can be substituted. Boxed lunch is also available for $8. Hoagie options include ham, turkey, or vegetarian with soft drink and snack. Address check or money order to: L&WV RHS Excursion, 30 Harford Ave. Shavertown PA 18708. Make out to: L&WV RHS Excursion. Tickets will be mailed. For more information contact: edlvrr@gmail.com
Friday-Sunday, May 11-13, 2012 CONRAIL DAYS at RR Mus. of PA, Strasburg
Friday-Sunday, May 18-20, 2012 45TH RAILFAN WEEKEND AT CASS SCENIC RAILROADA three day event for train enthusiasts. Reservations are required. Visit www.msrlha.org for three-day ticket pricing. For overnight house rentals at Cass, 304-456-4300. Contact: 304-456-4300
Sunday, May 27, 2012 West Chester Railroad's Memorial Day Special
Saturday & Sunday, June 2-3, 2012 NORFOLK SOUTHERN DAYS at RR Mus. of PA, Strasburg
Saturday, June 16, 2012 Conrail Technical Society Excursion Conrail T&HS announced an excursion from Washington, D.C. to Harrisburg and return using the Juniata Terminal PRR E8's operating via Perryville, NS Port Road to Columbia to the Enola Branch. Train will operate through Enola Yard and cross Rockville Bridge and return through Harrisburg and then operate over the Royalton Branch back to the Port Road. Departure from Washington is 8:00 am. Tickets are $ 172.50 in coach. Tickets are ordered through the CRHS website. www.crhstrips.com
Saturday & Sunday, June 23-24, 2012 Great Scale Train Show 9AM-4PM, $9, State Fairgrounds, Timonium, MD
Tuesday-Sunday, July 3-8, 2012 READING RAILROAD DAYS at RR Mus. of PA, Strasburg
Saturday & Sunday, July 14-15, 2012 6th Annual Toy & Model Train Flea Market @ Williams Grove9-4 Sat., 9-2 Sun., Steam train rides, model train display, stands with collector items to purchase. Raffle each day to for a chance to operate Locomotive 52! Free parking. Williams Grove Historical Steam Engine Association, Mechanicsburg, PA (717)-766-4001
Saturday & Sunday, August 4-5, 2012 Greenberg's Train & Toy Show10-4, Adults $7, Maryland State Fairgrounds, 2200 York Road, Timonium, MD 21093, FREE PARKING
August 26 - September 3, 2012 54th Annual Summer Show @ Williams GroveSteam train rides! GREAT FOOD! Nightly entertainment! Blacksmith shop Steam Traction Engines operating daily Antique Tractors Hit and Miss Engines Car show on Sunday, August 26th. Horse pulls on Tuesday, August 28th at 7:00pm. Consignment sale on Saturday, Sept. 1st. at 8:00am Williams Grove Historical Steam Engine Association, Mechanicsburg, PA (717)-766-4001
Saturday, September 22, 2012 MEMBERS DAY at RR Mus. of PA, Strasburg
Sunday, October 7, 2012 GARDEN RAILWAYS TOUR at RR Mus. of PA, StrasburgSaturday & Sunday, Oct. 27-28, 2012 Great Scale Train Show9AM-4PM, $9, State Fairgrounds, Timonium, MD
Saturday & Sunday, Nov. 3-4, 2012 TRAINS & TROOPS at RR Mus. of PA, Strasburg
---
CHAPTER EVENTS
Thursday April 19, 2012 7 PM Chapter Meeting program by Dave Warner
Thursday May 17, 2012 7 PM Chapter Meeting program by Bruce Barry
Thursday June 21, 2012 7 PM Chapter Meeting "Do It Yourself" Slide Night bring some slides and/or prints to share with fellow members
Thursday July 21, 2012 7 PM Chapter Meeting program by Mike Burkhart
Thursday August 16, 2012 7 PM Chapter Meeting program by Zum Bodie
Thursday Sept. 20, 2012 7 PM Chapter Meeting program by Probably A. Member
Thursday Oct. 18, 2012 7 PM Chapter Meeting program by A. Nother Member
Thursday Nov. 21, 2012 7 PM Chapter Meeting program by Maybe A. Guest
Sunday Dec. 2 or 9, 2012 5 PM Annual Holiday Dinner in lieu of normal monthly meeting
The Wilmington Chapter of the National Railway Historical Society (NRHS) meets at 7:00 PM on the third Thursday of each month [except August & December] in the Darley Room at the Claymont Community Center on Green Street in Claymont, Delaware. Visitors are always welcome. Admission to regular meetings is free. Check out our Website (thanks to Russ Fox) at:
---
The Transfer Table is published six to ten times per year as the newsletter of the Wilmington Chapter of the National Railway Historical Society. Items in this publication do not represent the official position of either Officers or Members of the Wilmington Chapter or the Editor of this publication.
Permission to reprint articles and news items appearing herein is granted to NRHS Chapters and other newsletters provided appropriate credit is given.
Contributions are always welcome and should be sent to the editor at SD40GMA@aol.com or send to: P.O. Box 1136, Hockessin, DE 19707-5136.
Deadline for entries is the 25th of the month.
Chapter Officers
President: Mike Burkhart
Vice President: Dave Watterson
Treasurer: Dave Warner
Secretary: Dan Frederick
National Director & Trip Director: Steve Barry
Editor: Greg Ajamian
Web Master: Russ Fox