NOTE: The Lite Version is our electronic version which is available for free from this web site. It has limited content but gives you a taste of what is offered in our Full Version.
The Full Version is our printed newsletter which is mailed to you. It contains everything in the Lite Version along with many other reprinted pages from other NRHS newsletters, railroad publications, and flyers that contain photographs, drawings, and maps. The full version is just another benefit of joining our chapter.
THE TRANSFER TABLE
The Wilmington Chapter NRHS Official Newsletter
Internet Edition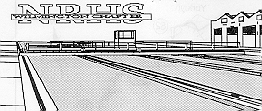 | | |
| --- | --- |
| VOLUME 34 NUMBER 05 | SEPTEMBER 2011 |
Back To Wilmington Chapter Web Site
AUGUST 2011 MEETING NOTES - not
The Editor and all of his office staff were unable to attend the last meeting. Everyone in the Publishing Department was also otherwise engaged. The entire mailroom staff was nowhere to be seen. All reporters were evidently covering some big story on Mars. And, as a result, there are no notes for the newsletter at this time.
---
Current plans for the Fall 2011 NRHS Conference & Board Of Directors Meeting include the following:
Thursday, Oct. 27: Arrive early and explore Wilmington, or watch the bustle of Amtrak and SEPTA trains at the Wilmington train station.
Friday, Oct. 28: Licensed, chartered motor coaches will depart shortly after noon for a visit to the West Chester Railroad where a special mixed train will provide a round trip and photo opportunities amid the fall foliage. A Regional Vice President's meeting will be held in the evening beginning at 7:30 p.m.
Saturday, Oct. 29: A full day of activities will begin after breakfast (on your own) with the scheduled 7:30 a.m. departure of our licensed, chartered motor coaches to Richland, NJ, where we will be met by a special chartered train of the Cape May Seashore Lines. Our one-way journey aboard the train will take us to Tuckahoe. There will be opportunities for photostops, and a boxed lunch will be served upon arrival at Tuckahoe. Our motor coaches will return you to the hotel in plenty of time for the Saturday afternoon directors' working session. The traditional Saturday evening banquet will be served buffet-style, and feature three delicious entrees, side dishes, breads and desserts. Our keynote speaker will be Mario Bergeron, Amtrak's Chief Mechanical Officer.
Sunday, Oct. 30: The Board of Directors_ meeting will be held from 8:30 a.m. -1 p.m. After the meeting you can explore downtown Wilmington or visit other sights of the Brandywine Valley such as Winterthur or Longwood Gardens.
Our host hotel for the weekend is the DoubleTree Hotel Downtown Wilmington, 700 N. King Street just seven blocks from the newly-restored Joseph R. Biden, Jr., train station in Wilmington. We have a block of rooms reserved.
---
From The Editor
Sadly, I might need to report the passing of another of our members - David H. Frazer of Wilmington, DE. Our Treasurer, David Warner uncovered some information while trying to confirm all Chapter Member addresses and reconcile membership records with NRHS headquarters. If anyone has any information about David Frazer, please contact David Warner or this Editor.
---
! ! VOLUNTEERS NEEDED ! !
How about contributing a little time and effort to help out your Chapter and the NRHS? With all of your local knowledge, you could contribute to a positive experience for our out-of-town visitors! You could help with the many behind-the-scenes preparations that are necessary and/or the up-front activities of greeting and hosting.
We need Chapter Members to step up and help out with preparations before and to provide assistance during the National Director's meeting that we be hosting October 27-30, 2011 Please contact Dave Warner to sign up to help out at: 302-762-2389 or david.warner@comcast.net
We need people for:
Thursday 3-6 PM Greeting / Registration
Thursday 6-10 PM Greeting / Registration
Friday 10 AM-2 PM Greeting / Registration
Friday 2-6 PM Greeting / Registration
Friday 2-5 PM meeting assist
Friday 6-10 PM Greeting / Registration
Friday 12-7 PM bus hosts
Friday 7-11 PM meeting assist
Saturday 7-11 AM Greeting / Registration
Saturday 7 AM-3 PM bus hosts
Saturday 11 AM-4 PM Greeting / Registration
Saturday 3-5 PM meeting assist
Sunday 8 AM-1 PM meeting assist
---
NEWS BITS
Norfolk Southern has received a technical infrastructure commendation for its Heartland Corridor project in the 2011 Brunel Awards International Railway Design Competition. The Heartland Corridor project, one of the most extensive railroad engineering projects in modern times, was an initiative to raise the vertical clearances of 28 railroad tunnels and remove 24 overhead obstructions in Virginia, West Virginia, Kentucky, and Ohio to allow the passage of double-stack container trains. The project began in October 2007 and was completed in September 2010. The Brunel Jury was impressed with the overall magnitude of the Heartland Corridor project and the long-term positive impact it will have on the environment by eliminating more than 300 miles of travel between the Port of Virginia and the Midwest.
The Brunel Awards are presented tri-annually by the Watford Group of International Railway Designers to recognize the best in railway architecture, engineering, landscape and environmental design, product design, locomotive and car design, graphic arts, and corporate branding among the world's railways. The competition is named after the 19th Century British railroad pioneer, Isambard Kingdom Brunel (1806-1859), founder and builder of the Great Western Railway. Forty-three projects in 11 nations won awards in the competition. The 2011 Brunel awards will be presented Oct. 14, in Washington, D.C. [NS Press Release]
Tennessee Valley Railroad Museum's Southern Railway 2-8-0 No. 630 took to the Norfolk Southern main line today for its second test run since its restoration was completed early this year. The 1904 Alco took to the main at Jersey, where the museum and NS interchange, and led six coaches on a run to Cleveland, Tenn., and back, a round trip of about 60 miles. This follows a June 28 test trip on the same route with a coach, NS diesel, and 10 boxcars. Earlier this spring, crews at the museum completed a 13-year restoration of the engine, which included heavy boiler and running gear work. NS announced last summer that it would partner with the Chattanooga-based museum to operate special trips for employees, shippers, and the public. No public trips have been announced so far, but No. 630's mainline test run indicates progress. Over Labor Day weekend, the museum will celebrate its 50th anniversary. NS and predecessor Southern Railway ran public steam excursions from 1966 until 1994, and No. 630 participated in that program between 1968 and 1978. [TRAINS News Wire via Ed Mayover]

More on that Edgemoor Photo: (from Tom Smith) "I didn't recognize anything. Woody Massara's comments in the August TT explained why---all the landmarks in that photo were gone!
I believe the photo was taken from the Edgemoor station, which was beside the Edgemoor Rd. overpass. The Bellevue station was about a mile to the north, just below the flyover, at the foot of Bellevue Rd., north of and within sight of Bell Tower. The two tracks that provided access to Edgemoor Yard were between the two passenger shelters at Bellevue and the Delaware River and were below the grade of the passenger station.

Hard to believe now, but besides Edgemoor and Bellevue, there was another passenger station at Holly Oak. The shelter there was destroyed in a storm, Hurricane Hazel in 1955 as I recall, which gave the PRR reason to eliminate the stop. Although the station was gone, the platforms and parking area remained and were a great trainwatching spot until construction started on I-495.

Then there was the station at Claymont, and another at Naaman. All but Claymont offered only 3-sided shelters and required crossing main line tracks. I have a 1946 Form 69 Philadelphia-Wilmington suburban timetable in my collection, and it shows service to all of the Delaware stations throughout the day. By the 1960's only a couple of trains each day stopped at any of the Delaware stations other than Claymont. There were still 2 or 3 diehard commuters who used the Bellevue station. I'm not sure when service ended at Bellevue, but access was cut off when construction started on I-495. I occasionally used the Edgemoor station in the 1970's when the few trains that still stopped there fit my schedule. It may have hung on almost until all MU train service in Delaware ended. Very old timetables show still another suburban station in Delaware, at Grubbs Landing. Not sure where it was, (likely at foot of Grubbs Landing Rd.) or what facility it offered. I never saw any evidence of a platform around there.
September will mark the return of steam to Norfolk Southern rails as Norfolk Southern Corporation and Tennessee Valley Railroad Museum launch a limited schedule of steam locomotive passenger excursions Labor Day weekend. The excursion program, "21st Century Steam," will operate two trains each day Saturday and Sunday, Sept. 3 and 4, powered by recently restored Southern Railway Locomotive 630. Launch of the excursion program coincides with TVRM's Railfest commemorating the museum's 50th anniversary. Norfolk Southern has launched a new website at www.21stcenturysteam.com, loaded with information about the excursion program as well as the rich legacy and modern contributions of today's railroads. Norfolk Southern and TVRM last year announced plans to launch "21st Century Steam," saying it would highlight milestones in rail history and provide an opportunity for audiences to learn about today's safe and service-oriented freight railroads. In addition to the 630, the program contemplates operation of two additional steam locomotives, Southern Railway 4501 and Tennessee Valley Railroad 610. The 4501 now is being rebuilt in the same TVRM Chattanooga shops where the 630 was restored. Tennessee Valley Railroad Museum was founded in 1961 in Chattanooga to create an interpretive operating museum of historic equipment and artifacts in an authentic setting. Today it operates an extensive schedule of historic and scenic trains in Southeast Tennessee and Northwest Georgia, supported by its East Chattanooga locomotive and car shop complex. TVRM is the largest operating historical excursion railroad in the Southeast. [NS Press Release]

Cuyahoga Valley Scenic Railroad (CVSR) announces the return of a steam engine to the Cuyahoga Valley September 2011, with numerous events and activities all month long for everyone to enjoy. CVSR will be welcoming a historic steam engine: The Nickel Plate Road 2-8-4 Berkshire No. 765. This locomotive is a high-stepping, fourteen wheeled magnificent machine that stands 15 feet tall, weighs 404 tons and goes over 60 miles per hour. It has been restored to the way it looked and sounded when it was built by the Lima Locomotive Works in 1944. This engine is the largest operating steam locomotive east of the Mississippi, and is the pride of the Fort Wayne Railroad Historical Society. [via Ed Thornton]

U.S. Transportation Secretary Ray LaHood today announced proposed changes to the Federal Railroad Administration's (FRA) regulations governing the installation of positive train control (PTC) systems. The amendments will provide greater flexibility to railroads and FRA in assessing the need for PTC without adversely affecting the safety of America's rail lines. Positive train control is currently required on routes carrying poison inhalation hazard (PIH) materials, and on routes that provide intercity and commuter passenger service. If a railroad opts to reroute the shipment of PIH hazardous materials off such a rail line and chooses to not install PTC there, the company must currently request FRA approval and conduct a complex set of analyses. The amendments proposed today would eliminate the need to perform those analyses, but do not impact the existing requirements to install PTC on lines used to provide passenger rail service. Affected railroads are expected to realize an estimated cost savings of $340 million in the first several years, with total savings of up to $1 billion over 20 years, by not installing PTC systems on as much as 14,000 miles of track. The lines impacted by this proposal have significantly less accident exposure because they do not carry passenger trains or PIH hazardous materials. The Rail Safety Improvement Act of 2008 requires certain passenger and freight railroads to install PTC systems on lines meeting certain thresholds. Nationwide deployment of PTC is expected to eventually yield substantial benefits from the use of advanced train control technology for safety and business purposes. The Notice of Proposed Rulemaking (NPRM) will be published in the Federal Register on Wednesday, August 24. The FRA invites comments on all aspects of the proposal. Interested parties are invited to submit comments by October 24. [FRA Notice via Ed Mayover]

U.S. Department of Transportation Secretary Ray LaHood today announced $450 million in High-Speed Rail funding for Amtrak to upgrade its rail infrastructure between Trenton, N.J., and New York City, resulting in improved on-time performance and reliability. The investment will also lead to an initial increase in top operating speeds from 135 mph up to 160 mph along the 24-mile segment of the corridor between Trenton and New Brunswick, N.J. With the procurement of new generation high-speed rail trainsets in the future, service would reach 186 mph. An additional $294 million will help alleviate major delays for trains coming in and out of Manhattan. Improvements to the Harold Interlocking rail junction in Queens will eliminate congestion and allow for the future growth of high-speed service along the corridor. A new flyover will also separate Amtrak trains travelling between New York and Boston from commuter trains. Construction on both projects is set to commence in 2012. [from Amtrak This Week]

U.S. Transportation Secretary Ray LaHood today announced nearly $745 million for construction along the Northeast Corridor (NEC) to upgrade some of the most heavily-used sections. The NEC will receive $449.94 million to upgrade electrical systems and tracks between Trenton, NJ and New York City, resulting in improved on-time performance and reliability, and an initial increase in top operating speeds up to 160 mph and future maximum speeds of 186 mph. Another $294.78 million will alleviate major delays for trains coming in and out of Manhattan with new routes that allow Amtrak trains to bypass the busiest passenger rail junction in the nation. The announcement is part of the Obama Administration's unprecedented capital investment in the Northeast Corridor, and the improvements will allow for the fastest passenger train speeds attained in North America to date. Thanks to these investments, Acela Express trains will soon reach up to 160 mph (up from 135 mph today) along a 24-mile segment of the corridor between Trenton and New Brunswick, NJ, with the replacement of electrical catenary, supplemented power supply, and modernized signals and tracks. In the future, as Amtrak purchases new, next generation high-speed train sets, passengers will travel at world-class speeds of 186 mph along the improved track. Improvements to the Harold Interlocking rail junction in Queens will eliminate congestion between intercity and commuter trains and allow for the future growth of high-speed service along the corridor. A new flyover will separate Amtrak trains travelling between New York and Boston from Long Island Railroad and Metro-North commuter trains, and NJ Transit trains accessing Sunnyside Maintenance Yard in Queens. Both projects are expected to generate 12,000 jobs. Pre-construction work between Trenton and New York City will begin in late 2011, with initial construction commencing in 2012. The project is expected to create 400 jobs per year over the period of construction. Through the Obama Administration's strict implementation of the "Buy America" requirement, the opportunity for U.S. manufacturers and suppliers continues as more than 100 miles of wire, hundreds of catenary poles, and a large volume of electrical equipment such as transformers will be used as part of the upgrades. Construction on Harold Interlocking will begin in September 2012, creating 9,200 jobs over the length of the project, and include the procurement of new switches, miles of track, concrete ties, bridges, signal towers, catenary poles, and retaining walls. Thirty-two states across the U.S. and the District of Columbia are currently laying the foundation for high-speed rail corridors to link Americans with faster and more energy-efficient travel options. The American Recovery and Reinvestment Act and annual appropriations have provided $10.1 billion to put America on track towards providing new and expanded rail access to communities and improving the reliability, speed, and frequency of existing service. Of that, more than $7.3 billion has been obligated to date. [US DOT Release via Ed Mayover]

On CSX Train #373 of August 25, the second car from the rear was a coach with PRR keystones. It was a silver streamliner with the name "Franklin Inn." [reported by Dave Watterson]
---
SCHEDULE NOTES
Notices, announcements, schedules, etc. are provided here as a service to the members. The Chapter has no affiliation with any commercial operation, museum, or tourist line.
January 15, 2011 - October 31, 2011 Philadelphia & Reading Railroad & the Civil War
Reading Railroad Heritage Museum, 500 S. Third St. in Hamburg, PA. New temporary exhibit Any Saturday (10-4PM) and Sunday (Noon-4PM) for the regular admission charge of $5 adults and $4 Seniors
Saturday, April 16 thru Saturday, December 31, 2011 Railroad Communications & Signaling @ RR Museum of PA. From solitary signals to centralized traffic control centers, learn about the history of railroad technical operations and try to run a simulated railroad. Photographs, artifacts and video from the Museum's collections will round out the story of rail communication.
April 15, 2011-May 30, 2015 Civil War 150th Anniversary: The War Came By Train@ B&O RR Museum in Baltimore. Monday - Saturday (10:00 a.m. - 4:00 p.m.), Sunday (11:00 a.m. - 4:00 p.m.) Between April 19, 1861 (The Baltimore Riot of 1861) and April 21, 1865 (Lincoln's funeral train leaving Baltimore for Illinois), the B&O stood witness and participant in the greatest conflict the U.S. has ever faced and changed the course of American history. The War Came By Train serves as the B&O Railroad Museum's primary attraction for the five year commemoration of the War's sesquicentennial. The National Landmark Roundhouse will exhibit the largest assemblage of Civil War railroad equipment in the world featuring locomotives and rail cars that served during the war, significant military and personal artifacts that will change annually to portray each year of the war (some artifacts never before on public display), and a narrated train ride to the original site of Camp Carroll, the largest Union encampment in Baltimore.
June - December Open Houses @ Stewartstown Railroad
Sunday, September 18, 2011, 1-5 p.m.: Open house at the station in Stewartstown.

Sunday, October 23, 2011, 1-5 p.m.: Open house at the station in Stewartstown.

Sunday, December 11, 2011, 1-5 p.m.: Christmas at the station in Stewartstown.

Sunday, December 18, 2011, 1-5 p.m.: Christmas at the station in Stewartstown.
AMTRAK's 40th ANNIVERSARY EXHIBIT TRAIN Schedule
10 - 11 Gateway Station, St. Louis

17 - 18 TBD

24 - 25 Galesburg Amtrak Station, Galesburg, Ill.

OCTOBER

1 - 2 Chicago Union Station, Chicago

8 - 9 Jackson Amtrak Station, Jackson, Mich.

15 - 16 TBD

22 - 23 King Street Station, Seattle

29 - 30 Portland Amtrak Station, Portland, Ore.
September 11-12, 2011 The Great Lehigh Valley Train Meet
Sat. 10 am - 4 pm, Z, N, On3, HO, Brass & all train related items, Sun. 10 am - 3 pm, S, O-27, O, Standard & G including repair parts, Both days Railroadiania, pictures, die-cast, scenery, etc. Merchants Square Mall, 1901 South 12th Street, Allentown PA 18103
Saturday, September 24, 2011 Members Day @ RR Museum of PA
Museum members enjoy special members-only presentations and other great railroad and Museum-related activities.
Sunday, September 25, 2011 FAREWELL TO THE FAITHFUL SILVERLINERS excursion on SEPTASponsored by Philadelphia Chapter, NRHS. Special train leaves Suburban Station, 16th St. & JFK Blvd. in center city Philadelphia at 10 AM, picking up passengers at 30th Street Station at 10:05 AM. Fare: $50.00 per person. Both former PRR and Reading lines will be covered with numerous photo stops and lunch stop scheduled. Train will return to Suburban Station and 30th Street about 5 PM. Event will mark the upcoming retirement of SEPTA's 1963 Budd Silverliner II's and 1967 St. Louis Silverliner III's (among America's oldest commuter cars still in regular service). Order tickets from: Philadelphia Chapter, NRHS, P.O. Box 7302, Philadelphia, PA 19101-7302, enclosing SSAE. For further information, visit website www.phillynrhs.com, email ayrestower@comcast.net or telephone (215) 947-5769. [The routing of the trip has not been completely finalized because of a major track work project around "Arsenal" interlocking in Philadelphia, but we do have some good photo locations already picked out. Train service from Wilmington, Airport, and Elwyn will be disrupted by the above-mentioned track work project, it is believed at this date that Wilmington/Marcus Hook service will operate into 30th Street Station (lower level) and terminate there......this project covers some four weekends.]
October 7 - 9, 2011. Model Railroading Days @ RR Museum of PA
October 7 - 9, 2011. Fall Spectacular @ East Broad Top 9AM - 9PM, passenger trains, speeders, whistle salute, gas-electric, mixed train, night trains - http://www.ebtrr.com/fallspec2011.php
October 9, 2011 Garden Railway Tours.1-5 pm, Self-guided tour of private homes w/garden railways, operating layouts and special model train collections. Garden Railways tour tickets are $10 per person for ages 6 and over. In cooperation with the National Toy Train Museum.
October 13-15, 2011 Train Collectors Association, Fall York Train Meet, York, Pa. Thursday-Saturday, Info: http://www.tcamembers.org/newsandevents/york.htm
Monday, Oct. 17 and Tuesday Oct. 18 - Western Maryland Scenic Freight Photo Specials Outstanding video and photographic opportunities for the serious railfan-photographer are presented along the sixteen miles of track from Cumberland to Frostburg, Maryland. The fall foliage should be at its peak. The star performer will be the beautiful 1916, Baldwin-built, 2-8-0 dressed in a Western Maryland paint scheme complete with a fireball emblem. This ex Lake Superior and Ishpeming locomotive looks very much at home on the old Western Maryland right-of-way. The freight train will consist of ten, vintage freight cars and a caboose. Passengers ride in an air conditioned coach and diner. A Western Maryland GP-30 diesel is used to drop the passenger cars for the 25, or more, photo runbys. Because most of the line is uphill, westbound, the engine and train will back down from Frostburg to Cumberland to enable up-hill runbys to be made in the afternoon sun which will front-light the engine. Complimentary warm muffins, tea, hot chocolate and coffee are served in the dining car. Ride in 734's locomotive cab for a $30.00 donation to the railroad crew tip fund. Both trips depart the WMSR Cumberland station at 7:45 AM; return is at 5:15 PM. The cost of the Monday trip (approx. 55 patrons) is $139.00. The Tuesday trip (about 35 patrons) is $189.00. Optional hot lunches are available for $11.00. For a trip flier or additional information, please contact Carl Franz at: cmfrr@aol.com or call: 240-720-8686 or cell: 301-943-0608. Mail: Carl Franz, 16620 Shea Lane, Gaithersburg, MD 20877
October 27-30, 2011 Wilmington Chapter will host the NRHS's Fall National Director's Meeting
October 29-30, 2011 Great Scale Model Train Show, Timonium Fairgrounds, Timonium, MDState Fairgrounds Sat. 9-4, Sun. 10-4, Admission $9, under 15 free, family $18, tickets good for both days.
Saturday, November 5, 2011 Taking The Swing Train '40s Dance @ RR Museum of PA7 PM to 10 PM
November 6, 2011 Train Meet - Ramada Inn Essington, PA 8:00 AM until 1 PM at Ramada Inn on Rt 291 (I-95 Exit 9) Essington, PA
Saturday & Sunday, November 5&6, 2011 Trains & Troops @ RR Museum of PAGreet guys and gals in uniform, experience many splendid railroad and military archival displays, enjoy the patriotic spirit. Ride the troop trains on the Strasburg Rail Road with living history reenactors on both days of the Railroad Museum's Trains & Troops program. Troop train tickets are sold separately by the Strasburg Rail Road on line at www.strasburgrailroad.com.
Saturday, December 3 & 10, 2011 Home For The Holidays @ RR Museum of PATake a nostalgic glimpse at holiday rail travel. Meet costumed engineers, conductors, ticket agents and passengers representing the past century and enjoy seasonal music, festive decorations, more, among our world-class collection of trains.
---
CHAPTER EVENTS
Thursday Sept. 15, 2011 7 PM Chapter Meeting program by Dave Warner
Thursday Oct. 20, 2011 7 PM Chapter Meeting (short) program by Dan Frederick
October 27-30, 2011 Wilmington Chapter will host NRHS's Fall National Director's Meeting
Thursday Oct. 27, 2011 3-10 PM Director's Meeting Registration
Friday Oct. 28, 2011 PM Chapter Trip on WCRR as part of Director's Meeting
Saturday Oct. 29, 2011 AM Chapter Trip on CMSL as part of Director's Meeting
Thursday Nov. 17, 2011 7 PM Chapter Meeting program by Frank Ferguson
Sunday Dec. 4, 2011 5 PM Holiday Dinner in lieu of normal monthly meeting
Thursday Jan. 19, 2012 7 PM Chapter Meeting program by Dave Watterson
The Wilmington Chapter of the National Railway Historical Society (NRHS) meets at 7:00 PM on the third Thursday of each month [except August & December] in the Darley Room at the Claymont Community Center on Green Street in Claymont, Delaware. Visitors are always welcome. Admission to regular meetings is free. Check out our Website (thanks to Russ Fox) at:
---
The Transfer Table is published six to ten times per year as the newsletter of the Wilmington Chapter of the National Railway Historical Society. Items in this publication do not represent the official position of either Officers or Members of the Wilmington Chapter or the Editor of this publication.
Permission to reprint articles and news items appearing herein is granted to NRHS Chapters and other newsletters provided appropriate credit is given.
Contributions are always welcome and should be sent to the editor at SD40GMA@aol.com or send to: P.O. Box 1136, Hockessin, DE 19707-5136.
Deadline for entries is the 25th of the month.
Chapter Officers
President: Mike Burkhart
Vice President: Dave Watterson
Treasurer: Dave Warner
Secretary: Dan Frederick
National Director & Trip Director: Steve Barry
Editor: Greg Ajamian
Web Master: Russ Fox