NOTE: The Lite Version is our electronic version which is available for free from this web site. It has limited content but gives you a taste of what is offered in our Full Version.
The Full Version is our printed newsletter which is mailed to you. It contains everything in the Lite Version along with many other reprinted pages from other NRHS newsletters, railroad publications, and flyers that contain photographs, drawings, and maps. The full version is just another benefit of joining our chapter.
THE TRANSFER TABLE
The Wilmington Chapter NRHS Official Newsletter
Internet Edition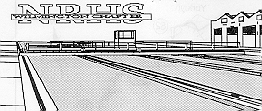 | | |
| --- | --- |
| VOLUME 34 NUMBER 01 | FEBRUARY 2011 |
Back To Wilmington Chapter Web Site
January 20, 20110 MEETING NOTES
President Mike Burkhart called the meeting to order at 7 PM. There were no minutes from the previous meeting because, according to Secretary Dan Frederick, there was no business conducted at the Holiday Dinner in December. There was no Treasurer's report because there was no Treasurer at the meeting. There was no National Director's report, because – well, you get the idea. . . The President reported that Ralph Stevens's sister and brother-in-law made a sizable donation to the Chapter in Ralph's memory and circulated the nice card that they had sent. The 14 members present were all reminded of what a dedicated member and officer he was.
After an very short break, Frank Ferguson presented Part 2 of his Year-In-Review presentation. Starting the night in Attica Junction and Deshler, we then saw the DM&E street-running in Lansing. We saw action in MN, the Iowa Northern in IA, Lake Preston in SD, and grain elevators in Council Bluffs. Before the night was over we saw scenes in IL, OH, MD, VA, and PA. We saw action by AMTRAK, MARC, VRE, and the West Chester RR. It seemed like there were great shots from everywhere – thanks to Frank's travels and camera!
---
LAST Chance
Many have paid, but if you have a RED mark on your address label, either the Treasurer has NOT yet received your check or the Editor's records are messed up.
Please send a check made out to the Wilmington Chapter NRHS to our Treasurer:
David Warner
301 W. Lea Blvd
Wilmington DE 19802-1235
-or- let him know that you have paid your dues and we have a record-keeping glitch somewhere. Unfortunately, if you don't help us straighten it out, then this might be the last newsletter that you will receive this year.
---
! ! VOLUNTEERS NEEDED ! !
We need Chapter Members to step up and help out with preparations before and to provide assistance during the National Director's meeting that we be hosting October 27-30, 2011 Please contact Dave Warner to sign up to help out at: 302-762-2389 or david.warner@comcast.net
---
NOTICE: IN CASE OF BAD WEATHER
If our normal "THIRD THURSDAY" NRHS meeting is canceled due to inclement weather, it will be postponed and held on the FOURTH THURSDAY.
If it must again be canceled, it will NOT be rescheduled. We will simply wait for the next month's normal "third Thursday" meeting. If the weather looks bad or is predicted to be bad, you may telephone the Claymont Community Center to see if it will be open that evening.
---
From The Editor
There was a special exhibit at the Delaware state archives called " All Aboard! The Delaware Public Archives Celebrates the History of the Railroad." This four day free event celebrated the posting of the entire Jackson and Sharp Photograph and Drawings Collection to the Delaware Public Archives website. Jackson and Sharp was a company in Wilmington Delaware that built railroad cars and ships from 1863 to 1950. The collection includes more than 4,000 images.
To see the images go to http://www.archives.delaware.gov/and on left side - select "Digital Archives," then select "photographs," and look under "Jackson And Sharp Collection."Then go back to "Digital Archives" and select "100 Stories" and select "Image Gallery." Then under "Air, Land, Sea" click on the one that says "hours" and the one before it and click on the first item in the second row under "Other Stories.".
---
Volunteers Needed
to Support NRHS Fall 2011 Conference
Happy Halloween!
Yes, you read that right. Happy Halloween.
That is the feeling we hope all chapter members will be feeling on Oct. 31, 2011 as we bask in the satisfaction of successfully hosting the NRHS Fall 2011 Conference.
The Fall 2011 Conference will be held at the Wilmington Downtown DoubleTree Hotel from Friday, Oct. 28 to Sunday, Oct. 30. We anticipate approximately 80 directors will attend the event.
The primary reason for the conference is the fall Board of Directors' meeting, which will take place on Sunday morning, Oct. 30. However, the weekend is full of events. Two rail trips are planned. On Friday afternoon we hope to operate a charter on the West Chester Railroad, and on Saturday morning a trip between Richland and Tuckahoe on the Cape May Seashore Lines is in the works.
All three days of the conference include meetings. On Friday afternoon an NRHS staff meeting will be held in the Doubletree Hotel, and in the evening the Regional Vice Presidents will meet. On Saturday, after the charter trip returns, a working session with the directors is held. The main hotel event, a banquet with keynote speaker, occurs on Saturday evening.
As you can see, it is going to be a busy weekend, and we will need "all hands on deck" to make the weekend a success. While it is a bit soon for exact requirements to be listed, please consider holding open the final weekend of October to help your chapter support our visitors.
Among the needs identified for people is the registration table that will be open nearly all day on Friday and Saturday, as well as much of Thursday afternoon to support early arrivals. Tour buses - likely two - will be used to transport attendees to the rail trips, and each bus will need a host. During the meetings someone will be needed to stand by and assist with whatever requirements may come up. Similar assistance will be needed at the banquet.
There is a lot do be done before the conference, too. From finding items to be given out in the welcome package to helping arrange the trips and transportation. Even though the meeting is eight months away, we have to have the main details finalized no later than the end of May so we can publicize the conference at the 2011 NRHS Annual Convention being held in Tacoma, Wash. Ideally, we will have everything set up by April so we can have brochures available at the Spring 2011 Conference.
If you are interested in helping out, please contact David Warner at david.warner@comcast.net or Mike Burkhart at m.t.burkhart@rcn.com. We will be discussing the conference at the February chapter meeting on Feb. 17.
---
NEWS BITS
By the time you read this, THE last Kodachrome processing lab anywhere in the entire world will have closed. [And you will no longer be able to get a "real" photograph with true-to-life colors. - Ed.] According to the NY Times, Dwyane's Photo in Parsons, Kansas will have processed the last roll (taken by the store's owner. In the article, they mentioned "a railroad worker who had driven from Arkansas to pick up 1,580 rolls of film that he had just paid $15,798 to develop. . . the railroad worker, Jim DeNike, 53, loading a dozen boxes that contained nearly 50,000 slides into his old maroon Pontiac. He explained that every picture inside was of railroad trains and that he had borrowed money from his father's retirement account to pay for developing them." The article also noted that, "Kodachrome rewarded generations of skilled users with a richness of color and a unique treatment of light that many photographers described as incomparable even as they shifted to digital cameras." The machine was sold for scrap. [from NY Times, http://www.nytimes.com/2010/12/30 via Paul Kutta]

Norfolk Southern has completed loading the second largest cargo in the history of its Pier 6 coal transloading facility at Lamberts Point in Norfolk. On Dec. 27, 2010, Norfolk Southern finished loading 155,522 net tons (141,089.268 metric tons) of coal into the M/V Cape Provence, destined for ArcelorMittal in Flushing, Netherlands. The coal came from various mines in 1,487 railroad coal cars. Capes Shipping was the ship agent/broker. The Cape Provence loading was just shy of the record 157,645 net tons for the M/V Irongate in 1998. Norfolk Southern has been transferring coal and coke from railroad cars into ocean-going export and domestic vessels in the Lamberts Point area since 1884, when it opened Pier 1. In the first half of the 1900s, new Piers 2-5 featured improvements in speed and capacity and even loaded coal into a number of famous vessels, such as those used in Admiral Byrd's 1933 Antarctica expedition. Pier 6 opened for business in 1962 as the hemisphere's largest, fastest, and most efficient transloading facility. In 1999, Pier 6 dumped its billionth ton of coal and became the only facility in the world to have reached that milestone. Most of the coal moving through Pier 6 originates in Southwest Virginia, Southern West Virginia, Eastern Kentucky, Pennsylvania, and Alabama. It is shipped to several dozen countries as well as to coastwise domestic receivers. Pier 6 is situated with access to Hampton Roads' deep 50-foot channel, which allows modern vessels to make productive use of their large holds. [NS Press Release]

The Railroad Museum of Pennsylvania staff recently moved the historic Pennsylvania Railroad E6s Atlantic locomotive No. 460, the Lindbergh Engine, back into the restoration shop from the Museum's pole barn, where it had been stored following its sponge blasting in the fall. Restoration work began on the Lindbergh Engine at the Museum in late March 2010. Since that time, all the lead-based paint has been removed from the locomotive and tender using environmentally friendly sponge blasting technology. Also, new metal parts have been cast to replace missing or damaged ones, the smokestack has been welded back together, repairs to the air-powered bell ringer have been completed and the automatic train control box has been rebuilt. The next step in No. 460's cosmetic restoration will be the application of a chemical rust inhibitor, followed by the rebuilding of the tender. Built in 1914 in the Juniata Shops, No. 460 is listed on the National Register of Historic Places, and is one of the major artifacts from the famed Pennsylvania Railroad Historical Collection. Given needed funding, the restoration of this storied locomotive, the sole survivor of the Pennsylvania Railroad's fleet of E6 Atlantic class engines, could be completed in another two years. It is estimated that approximately $200,000 is still needed to complete the restoration. [RR Museum of PA e-mail update]

RDC's Live! Portland's Tri-Met has completed the restoration of the two former Alaska RR RDC-2's they acquired last year, making several all-day test runs on December 18 and January 8 for operator training and adherence to schedules on Tri-Met's 14-mile WES commuter operation. The cars will be used as backup for the four DMU's (3 powered and 1 trailer) that were built by now defunct Colorado Railcar. The pair had varied histories reaching back to SEPTA, New Haven and NYC, to name a few. The familiar Budd RDC has almost become extinct, being used only on two VIA schedules in Canada, and Trinity Rail Express in the Dallas-Ft. Worth area. [from Tom Smith]

There is now a new 24-foot-long display in the renovated Wilmington Railroad Station entitled "Wilmington's Railroad Heritage." The exhibit includes a timeline from 1820 to 1920. [from an article provided by Ed Thornton]

Did you ever want a SEPTA station sign as a souvenir? Now that the "R" routes have been replaced, they are now available at the SEPTA store ($9.95 each, $139.95 for a full set). At https://shop.septa.org/ or 1234 Market Street, Lobby Level, Philadelphia

In response to customer demand, Amtrak Keystone Service (Harrisburg - Philadelphia - New York) will add Quiet Car® service starting Jan. 24, providing passengers with a peaceful, quiet atmosphere to work or rest without distraction. The coach car adjacent to the locomotive will typically be designated as the Quiet Car. Seating on the Quiet Car is available on a first-come, first-served basis, and cannot be reserved. There is no additional charge for a seat in a Quiet Car. While riding in the Quiet Car, passengers must follow these guidelines:

Hushed Voices: Strictly limit conversation and speak only in quiet, subdued tones.
Muted Devices: No use of any devices that emit sounds, including cellular phones, handheld games without headphones, laptop computers with audible features enabled, or CD, DVD, iPod and MP3 players without headphones.
Headphones/Earpieces: Volume must be low enough so that the audio from headphones/earpieces cannot be heard by neighboring passengers.

The Amtrak Quiet Car first started in 1999 on the Northeast Corridor between Philadelphia and Washington. Today the Quiet Car has expanded to include Acela Express and Northeast Regional service between Washington and Boston, as well as the Hiawatha Service between Chicago and Milwaukee. [AMTRAK Press Release via Ed Mayover]


There is an unconfirmed report that CSX is going to close WB tower this October and remote it from Halethorpe. It is believed this is the last active tower in MD (or Delaware for that matter). The active only tower in close proximity is K tower at Union Station. [from a source at the Maryland Transit Administration]

Army RSD-1 locomotive number 8011 has been donated by the Smithsonian Institution to the U. S. Army Transportation Corps Museum at Fort Eustis, VA. The locomotive was originally built in March 1941 by the American Locomotive Company (ALCO) as a standard RS-1 for the Atlanta and St. Andrews Bay Railway where it wore number 902. Early in World War II (WW II) it was requisitioned by the U. S. War Department and returned to ALCO in Schenectady, NY, where it was modified for overseas service and equipped with three-axle trucks. After rebuilding in December 1942, it was one of 57 similar diesel locomotives shipped to the Persian Gulf to be operated by Military Railway Service (MRS) units on the Iranian State Railway transporting wartime Lend Lease supplies to the Russians. MRS units serving in Iran included a Railway Grand Division, three Railway Operating Battalions, and two Railway Shop Battalions.

At the end of WW II the locomotive saw service on the Alaska Railroad and later at Pueblo, CO, on the U. S. Department of Transportation's Test Track. From Pueblo the locomotive was donated to the Smithsonian and moved to the Railroad Museum of Pennsylvania at Strasburg, PA, where it has been on display since the early 1980s. Plans are in place to have it moved on two flatcars to Fort Eustis where it will join other military rail equipment as part of the museum's exhibits and displays paying tribute to the service and accomplishments of MRS Veterans. Included among MRS Veterans serving in Iran were Major W. Thomas Rice who became Chairman of the Seaboard Coast Line Railroad and a Major General in the U. S. Army Reserve, Colonel Arthur E. Stoddard who served as President of the Union Pacific Railroad from 1949 to 1965, and Colonel Frank S. Besson, Jr. who became the Transportation Corps' first four star general. The transportation museum at Fort Eustis is named in honor of General Besson. [from Ed Thornton]

CSX Corporation will invest $2 billion to increase the quality, flexibility and capacity of its rail network, the company announced as part of its quarterly and full-year earnings report today. That's on top of the $1.8 billion the company invested in 2010, a year in which operating income was $3.1 billion. The company also said today that it will increase employment by one to two percent in 2011 as business levels continue to return in an improving economy. CSX currently employs 30,000 people who earn highly competitive wages and benefits. CSX Corporation, based in Jacksonville, Fla., is a leading transportation company providing rail, intermodal and rail-to-truck transload services. The company's transportation network spans approximately 21,000 miles with service to 23 eastern states and the District of Columbia, and connects to more than 70 ocean, river and lake ports. [CSX Transportation Press Release]

Amtrak officials are preparing a slate of activities to mark the 40th anniversary of the national intercity passenger railroad. The anniversary is May 1, but special events already have begun, including the unveiling of the first of four P-42 diesel-electric locomotives with historic paint schemes that entered regular revenue service in Chicago on Jan. 30. All four locomotives will be in service by April 30 and will operate on trains across Amtrak's national network. On May 7, a 40th anniversary exhibit train will debut for National Train Day in Washington, D.C. The anniversary exhibit, which will travel across the country for a year, will feature two locomotives with historic paint schemes and renovated baggage cars to display memorabilia such as vintage advertising, past menus, dinnerware, period uniforms and photographs from each of the past four decades. In spring, a website will be launched with historical information, anniversary event schedule, photo archive and videos. (From Progressive Railroading via Ed Thornton)

The Friends of the Railroad Museum of Pennsylvania was recently awarded a $60,000 grant from the Norfolk Southern Foundation which will enhance the capability and capacity to process, and make electronically accessible to the public, the Railroad Museum of Pennsylvania's extensive and significant library and archival collections.
The Railroad Museum of Pennsylvania's archives include corporate records, manuscripts, maps, blue prints, ephemera and film recordings, as well as thousands of railroad history books and serials, dating from the 1830s to the present. The Museum's archival holdings also include more than a quarter of a million historic railroading images preserved in the form of glass plate negatives, cellulose nitrate film, safety film, transparency film, diacetate media and photographic prints. These images depict railroad labor, travelers, steam and diesel locomotives, rolling stock, depots, yards, bridges, engine houses and right-of-way views, dating from the 1850s to the present.

"This critical funding support from the Norfolk Southern Foundation will allow us to install additional new work stations, acquire a book copier, a scanner and a microfilm reader, install additional shelving and install improved network wiring, storage server and data backup of the Friends local access network," says Museum director Charles Fox. "The additional work stations will allow Museum volunteers to more readily process and catalogue library and archival collections into the database which will, in turn, provide a larger and more accessible pool of materials available to scholars, historians and researchers."

"Also, with tools like the book copier, scanner and microfilm reader, researchers will be better able to make use of the collection without compromising the integrity of fragile, original documents," Fox adds. "Improvements to the technology infrastructure will accommodate increasing data loads and the enhance efficiency of the network and on line capabilities. Many of our holdings are unique and are of great historic value to anyone interested in North American railroads. We sincerely appreciate the Norfolk Southern Foundation's recognition of and commitment to these important resources."

"As the home of more railroads than any other state in the U. S., the history of railroading in Pennsylvania is rich and unique, not to mention voluminous," states Rudy Husband, Norfolk Southern's public relations director and a member of the Museum's advisory council. "This grant will help the Museum utilize the latest technologies to organize historical and archival material in a manner that will make it accessible for generations to come. Norfolk Southern is a proud supporter of the Railroad Museum of Pennsylvania." (New Release)
The Delaware Public Archives celebrated the history of the railroad in Delaware by hosting a free railroad exhibit from January 5 to January 8 coinciding with the completion of a related Archives initiative to bring the entire Jackson & Sharp Photograph and Drawings Collection to its website archives.delaware.gov. The exhibit featured original railroad papers, maps, drawings, and schedules from the 19th century. and a large O-Scale model railroad layout provided by the Delaware Seaside Railroad Club. There was also a video monitor showing many selected photographs from the collection. The Jackson & Sharp Photograph and Drawings Collection is a unique group of more than 4,000 images, drawings, and documents that relate to the railroad cars, trolley cars, and ships produced by the Jackson & Sharp Company of Wilmington. Operating in Wilmington from 1863 to 1950, this company built railroad cars for many different railroad operations throughout the world. In its later years, the company also began building ships. Well known to railroad historians, the Jackson and Sharp photographs have been requested by patrons from all over the United States. While the Archives has had the Jackson & Sharp Photograph and Drawing Collection for many years, not until recently were the images digitized for the Archives website. Along with the photographs of railroad cars and ships built at the Wilmington factory, the collection also features construction drawings and designs used by the company's engineers. For more information about the Delaware Public Archives, please visit the website at http://archives.delaware.gov. The Delaware Public Archives is located at 121 Duke of York Street in Dover. The Mabel Lloyd Ridgely Research Room is open to the public Monday - Friday from 8 a.m. to 4:15 p.m. On the first Saturday of every month the research room is open from 9 a.m. to 4:15 p.m.
Your Editor's Chauffeur for an excursion to the Delaware Public Archives on January 7, 2011 was none other than the esteemed Ed Thornton. After our successful and educational visit to the archives, he knew that we needed to stop at the Dover DE Train Station (below) while we were in town. He also knew that there was a plaque (above) in the lobby [which I never would have seen if I was on my own] and after we gained access to the locked building by use of the intercom and some fast talking by my driver, we discovered that this year will be the 100th Anniversary of the (rebuilt) station! Photos by Greg Ajamian
---
Report from NRHS Headquarters
The NRHS National Office has received several inquiries about submitting chapter annual reports for the 2010 Yearbook. The purpose of this report is to review the status of this project.
The NRHS believes that it is important to record the history of the NRHS chapters, especially their accomplishments in rail history preservation. At this point, however, the Society has no plans to publish such information either in print or electronically. The NRHS no longer publishes the annual Yearbook.
There may be an electronic archive of chapter historical material available in the future, but the Society has not approved either the concept or funds to implement this project. Such a product is at least two years away. NRHS urges its chapters to continue to record their history and is working to provide an interim repository to store such reports until a future direction is determined.
History and Background
As has been reported previously on several occasions, the NRHS Board of Directors ordered in October of 2009 that the printed NRHS Yearbook be discontinued, starting with the 2009 Yearbook. The actual motion that was passed directed the reduction of the 2010 Bulletin budget by a dollar amount estimated to be the publication cost of the 2009 Yearbook. The Board took this action over the objections of NRHS management and several directors who expressed concerns about a reduction in membership services after the 2010 dues renewal process had already started. This objection did not prevail, however.
Subsequent to the Board's action, the Bulletin staff was able to find sufficient funds within the approved budget to do the editorial and layout work necessary to produce the 2009 Yearbook as an electronic PDF file. Arrangements were made with a commercial on-demand publisher to permit members the option of ordering a high-quality printed copy at additional cost.
NRHS management developed a plan to implement the Board's directives regarding the Yearbook. This plan was presented at the June 2010 meeting and was endorsed by the Board of Directors at that meeting. The endorsed plan included the following provisions, quoted from the approved minutes: "The 2010 Yearbook will not be published in either electronic or paper format. Chapter reports for the 2010 Yearbook will be collected and stored, but not published until a new web-based reporting system is established in 2012 or later."
Later in 2010 the electronic system for submitting Yearbook chapter reports was deactivated. The system as it then existed could not be transferred to a new host during necessary website security upgrades, and therefore was simply removed.
It should be noted that the future web-based reporting system has been discussed as a concept, but it has not yet been endorsed or funded by any action of the Board of Directors. The chapter reporting product still appears on NRHS strategic planning proposals for implementation in 2012 or 2013 after other more important work is completed. At this time, work on the new NRHS website has been suspended following other actions of the Board in November, 2010 unrelated to the Yearbook issue. We expect to reactivate the website project later in 2011.
Report Submissions for 2010
Chapters are encouraged to assemble reports on their activities for 2010 and following years in order to preserve the historical record of the Society. Since the design for a future reporting system has not been started, we recommend that the format and length be similar to what was submitted for 2009 and earlier. At this point, NRHS is still trying to determine the best option for storage of chapter reports and photographs. We expect to make a separate announcement about this in February, following the next Board of Directors meeting. In anticipation of a centralized archive file, chapters should save their reports as Word documents (.doc files) using Windows 95-2007 or newer software.
Policies regarding access to and dissemination of this information will be developed later as part of the website upgrade project. Please note that the design and marketing focus of the new website will be different than the current NRHS website, but the specific plans have not been developed. NRHS can make no commitment that the material submitted about 2010 activities will be published or reproduced exactly as submitted.
NRHS News
Please remember that the NRHS News is looking for interesting stories about preservation projects and other activities and accomplishments by NRHS chapters. If your chapter is engaged in an activity or project that may be of interest to other NRHS members, please consider sharing that information now by developing a story for the NRHS News. For further information about submitting stories and photos for the bi-monthly newsletter, please contact the editor, Charles Williams directly through: nrhsnews@charter.net or through the NRHS national office: info@nrhs.com
---
SCHEDULE NOTES
Notices, announcements, schedules, etc. are provided here as a service to the members. The Chapter has no affiliation with any commercial operation, museum, or tourist line.
May 8, 2010 - March 26, 2011 Almost as Fast as Birds Can Fly - History of Railroading in DE at DE History Museum 504 Market Street - Wilmington, DE 19801, For More Information: deinfo@dehistory.org or call (302) 655-7161 http://www.dehistory.org/MuseumExhibits/Railroad_2010/railroadindelawarehistory.htmWednesday-Friday: 11a.m.-4p.m., Saturday: 10a.m. - 4p.m Sponsored by Delaware Today, We the People Grant through the Delaware Humanities Forum, and Transportation Enhancement Fund
January 15, 2011 - October 31, 2011 Philadelphia & Reading Railroad & the Civil War
Reading Railroad Heritage Museum, 500 S. Third St. in Hamburg, PA. New temporary exhibit Any Saturday (10-4PM) and Sunday (Noon-4PM) for the regular admission charge of $5 adults and $4 Seniors
April 16, 2011 - December 31, 2011
RAILROAD COMMUNICATIONS & SIGNALING @ RR Museum of PA
Feb 26-27, 2011 Allentown, PA - Spring Thaw Railroad Meet
9-4 Saturday, 9-3 Sunday, Allentown Fairgrounds Agricultural Hall, 302 North 17th St., Allentown, PA 18014. Info: www.allentowntrainmeet.com
March 6, 2011 Clark, NJ - Central Jersey NRHS Railroad Show
9:00 AM until 3:30 PM at Mother Seton High School in Clark NJ. Info: www.jcrhs.org
March 6, 2011 Train Meet - Ramada Inn Essington, PA
8:00 AM until 1 PM at Ramada Inn on Rt 291 (I-95 Exit 9) Essington, PA
March 19, 2011 Steelton, PA - Railroad Show & Collectors Market
Sat. 9:00 AM to 3:00 PM, I.W. Abel Union Hall, 200 Gibson St., Steelton, PAIW Abel Union Hall. Info: http://harrisburgnrhs.org
Saturday, April 2, 2011 Role of Railroads Of The Civil War: An Illustrated History @ RR Museum of PA During the Civil War, railroads moved troops rapidly & over great distances, supplying armies on both sides with food and munitions, functioning as mobile artillery & completely changing military strategy. Author/artist Michael Leavy will give a presentation.
April 9-10, 2011 Great Scale Model Train Show, Timonium Fairgrounds, Timonium, MD
State Fairgrounds Sat. 9-4, Sun. 10-4, Admission $9, under 15 free, family $18, tickets good for both days.
Saturday, April 16 thru Saturday, December 31, 2011 Railroad Communications & Signaling @ RR Museum of PA. From solitary signals to centralized traffic control centers, learn about the history of railroad technical operations and try to run a simulated railroad. Photographs, artifacts and video from the Museum's collections will round out the story of rail communication.
Friday, May 13 through Sunday, May 15, 2011 Conrail Days @ RR Museum of PA
Highlights the equipment, history, spirit and people of Conrail, and is presented in partnership with the Conrail Historical Society. Regular Museum hours. Included in the regular Museum admission.
May 14, 2011 Roanoke Rails
Virginia's Rail Heritage Region special events at O.Winston Link Mus., C&O Railway Heritage Ctr., & Virginia Mus. of Transportation.
May 22-23, 2011 The Great Lehigh Valley Train Meet
Sat. 10 am - 4 pm, Z, N, On3, HO, Brass & all train related items, Sun. 10 am - 3 pm, S, O-27, O, Standard & G including repair parts Both days Railroadiania, pictures, die-cast, scenery, etc., Merchants Square Mall, 1901 South 12th Street, Allentown PA 18103
Friday, June 3 through Sunday, June 5, 2011 Pennsylvania Railroad "Pennsy" Days @ RR Museum of PA. Heritage of the famous Pennsylvania Railroad, the "Standard Railroad of the World." Noted railroad artists, photographers & authors display and sell their works. Special presentations, operating layouts, memorabilia & tours of "Pennsy" equipment are featured.
June 25-26, 2011 Great Scale Model Train Show, Timonium Fairgrounds, Timonium, MD
State Fairgrounds Sat. 9-4, Sun. 10-4, Admission $9, under 15 free, family $18, tickets good for both days.
Wednesday, June 29 through Monday, July 4 Reading Railroad Days @ RR Museum of PA
Enjoy the remarkable Reading Railroad trains of eastern Pennsylvania history through tours of Reading Company equipment, a huge, operating model railroad and special presentations.
August 7, 2011 Train Meet – Ramada Inn Essington, PA
8:00 AM until 1 PM at Ramada Inn on Rt 291 (I-95 Exit 9) Essington, PA
September 11-12, 2011 The Great Lehigh Valley Train Meet
Sat. 10 am - 4 pm, Z, N, On3, HO, Brass & all train related items, Sun. 10 am - 3 pm, S, O-27, O, Standard & G including repair parts, Both days Railroadiania, pictures, die-cast, scenery, etc. Merchants Square Mall, 1901 South 12th Street, Allentown PA 18103
Saturday, September 24, 2011 Members Day @ RR Museum of PA
Museum members enjoy special members-only presentations and other great railroad and Museum-related activities.
October 27-30, 2011 Wilmington Chapter will host the NRHS's Fall National Director's Meeting
October 29-30, 2011 Great Scale Model Train Show, Timonium Fairgrounds, Timonium, MD
State Fairgrounds Sat. 9-4, Sun. 10-4, Admission $9, under 15 free, family $18, tickets good for both days.
November 6, 2011 Train Meet - Ramada Inn Essington, PA
8:00 AM until 1 PM at Ramada Inn on Rt 291 (I-95 Exit 9) Essington, PA
---
CHAPTER EVENTS
Thursday Feb. 17, 2011 7 PM Chapter Meeting Do-It-Yourself Bring-Your-Own Photo & Slide Show
Thursday Mar. 17, 2011 7 PM Chapter Meeting program by Phil Snyder
Thursday Apr. 21, 2011 7 PM Chapter Meeting program by ??
Thursday May 19, 2011 7 PM Chapter Meeting program by ??
Thursday June 16, 2011 7 PM Chapter Meeting program by ??
Thursday July 21, 2011 7 PM Chapter Meeting program by ??
Thursday Aug. 18, 2011 7 PM Chapter Trip ? in lieu of normal monthly meeting
Thursday Sept. 15, 2011 7 PM Chapter Meeting program by Phil Snyder
Thursday Oct. 20, 2011 7 PM Chapter Meeting program by ??
October 27-30, 2011 Wilmington Chapter will host NRHS's Fall National Director's Meeting
Thursday Nov. 17, 2011 7 PM Chapter Meeting program by ??
Sunday Dec. 4, 2011 5 PM Holiday Dinner in lieu of normal monthly meeting
The Wilmington Chapter of the National Railway Historical Society (NRHS) meets at 7:00 PM on the third Thursday of each month [except August & December] in the Darley Room at the Claymont Community Center on Green Street in Claymont, Delaware. Visitors are always welcome. Admission to regular meetings is free. Check out our Website (thanks to Russ Fox) at:
---
The Transfer Table is published six to ten times per year as the newsletter of the Wilmington Chapter of the National Railway Historical Society. Items in this publication do not represent the official position of either Officers or Members of the Wilmington Chapter or the Editor of this publication.
Permission to reprint articles and news items appearing herein is granted to NRHS Chapters and other newsletters provided appropriate credit is given.
Contributions are always welcome and should be sent to the editor at SD40GMA@aol.com or send to: P.O. Box 1136, Hockessin, DE 19707-5136.
Deadline for entries is the 25th of the month.
Chapter Officers
President: Mike Burkhart
Vice President: Dave Watterson
Treasurer: Dave Warner
Secretary: Dan Frederick
National Director & Trip Director: Steve Barry
Editor: Greg Ajamian
Web Master: Russ Fox