NOTE: The Lite Version is our electronic version which is available for free from this web site. It has limited content but gives you a taste of what is offered in our Full Version.
The Full Version is our printed newsletter which is mailed to you. It contains everything in the Lite Version along with many other reprinted pages from other NRHS newsletters, railroad publications, and flyers that contain photographs, drawings, and maps. The full version is just another benefit of joining our chapter.
THE TRANSFER TABLE
The Wilmington Chapter NRHS Official Newsletter
Internet Edition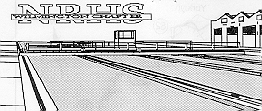 | | |
| --- | --- |
| VOLUME 34 NUMBER 04 | AUGUST 2011 |
Back To Wilmington Chapter Web Site
JULY 2011 MEETING NOTES
President Mike Burkhart did NOT call the meeting to order because there was no meeting in July. As there was no meeting, as a direct result, there are no meeting notes.
---
Current plans for the Fall 2011 NRHS Conference & Board Of Directors Meeting include the following:
Thursday, Oct. 27: Arrive early and explore Wilmington, or watch the bustle of Amtrak and SEPTA trains at the Wilmington train station.
Friday, Oct. 28: Licensed, chartered motor coaches will depart shortly after noon for a visit to the West Chester Railroad where a special mixed train will provide a round trip and photo opportunities amid the fall foliage. A Regional Vice President's meeting will be held in the evening beginning at 7:30 p.m.
Saturday, Oct. 29: A full day of activities will begin after breakfast (on your own) with the scheduled 7:30 a.m. departure of our licensed, chartered motor coaches to Richland, NJ, where we will be met by a special chartered train of the Cape May Seashore Lines. Our one-way journey aboard the train will take us to Tuckahoe. There will be opportunities for photostops, and a boxed lunch will be served upon arrival at Tuckahoe. Our motor coaches will return you to the hotel in plenty of time for the Saturday afternoon directors' working session. The traditional Saturday evening banquet will be served buffet-style, and feature three delicious entrees, side dishes, breads and desserts. Our keynote speaker will be Mario Bergeron, Amtrak's Chief Mechanical Officer.
Sunday, Oct. 30: The Board of Directors_ meeting will be held from 8:30 a.m. -1 p.m. After the meeting you can explore downtown Wilmington or visit other sights of the Brandywine Valley such as Winterthur or Longwood Gardens.
Our host hotel for the weekend is the DoubleTree Hotel Downtown Wilmington, 700 N. King Street just seven blocks from the newly-restored Joseph R. Biden, Jr., train station in Wilmington. We have a block of rooms reserved.
---
From The Editor
Sadly, I might need to report the passing of another of our members - David H. Frazer of Wilmington, DE. Our Treasurer, David Warner uncovered some information while trying to confirm all Chapter Member addresses and reconcile membership records with NRHS headquarters. If anyone has any information about David Frazer, please contact David Warner or this Editor.
---
! ! VOLUNTEERS NEEDED ! !
How about contributing a little time and effort to help out your Chapter and the NRHS? With all of your local knowledge, you could contribute to a positive experience for our out-of-town visitors! You could help with the many behind-the-scenes preparations that are necessary and/or the up-front activities of greeting and hosting.
We need Chapter Members to step up and help out with preparations before and to provide assistance during the National Director's meeting that we be hosting October 27-30, 2011 Please contact Dave Warner to sign up to help out at: 302-762-2389 or david.warner@comcast.net
We need people for:
Thursday 3-6 PM Greeting / Registration
Thursday 6-10 PM Greeting / Registration
Friday 10 AM-2 PM Greeting / Registration
Friday 2-6 PM Greeting / Registration
Friday 2-5 PM meeting assist
Friday 6-10 PM Greeting / Registration
Friday 12-7 PM bus hosts
Friday 7-11 PM meeting assist
Saturday 7-11 AM Greeting / Registration
Saturday 7 AM-3 PM bus hosts
Saturday 11 AM-4 PM Greeting / Registration
Saturday 3-5 PM meeting assist
Sunday 8 AM-1 PM meeting assist
---
McCloud River 2-6-2 25 Enters Service in Oregon
by Tom Smith
McCloud River RR 2-6-2 25, an Alco product of 1925, has worked its entire life for the McCloud River RR in northern California. It is one of only a few steam locomotives still in service for its original owner and never retired, although it did spend much time in inactive storage over the years, and once came close to being scrapped. As the sole remaining steam locomotive on the McCRRR following dieselization, It was popular on fan trips from the 1950's to the 2000's.
In 1992 the McCloud River RR was sold to new owners and became the McCloud Railway. Former McCloud 2-8-2 18 was reacquired for the railroad's new excursion train program, which hoped to augment sagging freight revenues.
Dependent on forest products, hard times hit the McCloud Ry in the recession, and the line gradually went out of business. No. 18 was sold to the Virginia & Truckee in 2005, the same year the McCloud Ry filed to abandon almost all of its trackage. Finally, No. 25 came up for sale.
I had never seen this engine, having missed it for various reasons, but in a fortunate turn of events, now I did not have to go to see it, it was coming to me! The 2-6-2 was sold to the Oregon Coast Scenic RR, a somewhat obscure tourist line operating a 5-mile stretch of track out of Garibaldi, Ore. along the Pacific Ocean owned by the Port of Tillamook Bay RR Following a highway move on a 13-axle low boy, No. 25 arrived in Tillamook in the spring of 2011, and was placed in a shed next to the blimp hangar. It was expected to go into service Memorial Day, but didn't.
I had heard No. 25 was going to be making some short runs on July 4, so on my way to Garibaldi and the Coast, I swung by the Tillamook blimp hangar, and found the engine outside steamed up! The word was that 25 was going to run light the 13 miles to Garibaldi, then pull the 4PM excursion and later that evening the fireworks special.
The Port of Tillamook Bay RR is moribund, and hasn't turned a wheel in almost 4 years. Weeds have taken over the rusty main line, and crossing signals are deactivated. Almost all of their fleet of SD9's have been scrapped on the spot, as have some of the freight cars stranded there when the line closed following a washout. Other cars were trucked out. The only active engine is GP9 101, painted in a Holstein cow color scheme. It looked like the run of engine 25 would be the first movement north of Tillamook in several years.
About 1:30 No. 25, accompanied by GP9 101, left Tillamook and plowed its way through the weeds to Garibaldi, with about a half dozen railfans who had learned of this move, in pursuit. Garibaldi presented some photo ops as 25 exchanged places with the OCSR's Heisler #2, and switching with exGreat Norther F7 274. I then made the first revenue run with 25 pulling the excursion train to Rockaway Beach where a half hour layover allowed a visit to the beach and tourist joints,
No. 25 was used on the July 5 scheduled excursions, and then was to deadhead back to Tillamook where it will stay until a new engine shed is built for it at Garibaldi. That will take awhile, as the permits have not even been issued yet. An existing enginehouse at Garibaldi is only big enough to hold Heisler 2, which will finish out the season.
The fate of the Port of Tillamook Bay RR is questionable. The railroad has no plans to rebuild, and likely will apply to abandon, which could have consequences for the tourist railroad. But a legendary steam locomotive, working now for only its second owner has joined the ranks of operating steam locomotives!
---
Comments on the Edgemoor North End Photo
From Woody Massara (page 17, July 2011 Transfer Table)
It's interesting what changes a few years bring. Between the time of Dick Hall's picture of September, 1957, and my hiring in April of 1959 ( a period of only 1-1/2 years) all the structures in the picture were gone. The old yard office at the North End suffered from an infestation of rats, mice and other vermin, and someone conveniently threw a fusee in it. When I hired, there was a new steel building complete with crew room and lockers, lunch table, etc.
The picture was shot from the Southbound platform of the Bellevue station immediately south of the Edgemoor Road overpass. The tracks in the foreground are #4, #3, and #2 main, the 'B' track, and Shellpot #2 and #1 (known as the Northbound and Southbound) are all wired tracks. There are two leads behind them, one trimming North class tracks 1 through 10, and the other tracks 11 through 24. The cabin car is sitting on the fence track, the assigned locomotive storage track at the North End.
The only recognizable structure remaining when I hired were the two power poles to the right of the picture - they were right next to where the water tower stood. Yard motor power for Edgemoor, other than hump power, were Baldwin S-12's, designated BS-12 by the Pennsy, and numbered 8753 to 8764.
Of other interest, #4 main was removed in 1961 or 1962. It ran from Bellevue tower to Landlith, and had been used for almost a year to store 160 obsolete/surplus gondolas. They were moved with the 8818 to Perryville, Md. It took the engineer, George E. Thomas 7 hours and 50 minutes to get them all moving and out of the yard. Interestingly, there were two Bellevues in the time table, The station where this picture was taken, and the tower North of Edgemoor. Sometime in this period, the tower was renamed Bell. It took 4 painters two days to blank out the 'evue' on the signs identifying the tower.
---
NEWS BITS
Norfolk Southern completes $16 million of track work in eight days in Pennsylvania. During eight days in July, Norfolk Southern completed $16.2 million in track, bridge, and signal improvements in southwestern Pennsylvania's Monongahela Valley. The rail infrastructure improvements are critical to the region's coal-mining industry and to meeting the electricity needs of households and businesses across the Northeast and Midwest. Some 30 trains daily operate on Norfolk Southern's Mon Valley rail network, which serves five coal mines that shipped 41.4 million tons of coal in 2010.

"The coal industry in that part of the country is vital to jobs and to U.S. energy security, and it's essential that we maintain and improve our track infrastructure to provide solid and dependable service," said Tim Drake, NS' vice president engineering. For many years in early July, the railroad has undertaken an intensive effort to overhaul the Mon Valley rail lines during the coal miners' annual summer break, July 3-10. This year more than 400 NS maintenance of way and structures department employees from across the railroad's 22-state system laid 29 miles of new rail, resurfaced nearly 69 miles of track, and replaced three bridge decks, among other improvements. Four work trains and 95 pieces of large machinery were used. Under normal operating conditions, the work would have taken approximately three months to complete, with significant disruptions in service. [NS News Release]


Pennsylvania Northeastern Railroad L.L.C. (PNR) recently filed an exemption notice with the Surface Transportation Board (STB) to acquire rights to operate the "Lansdale Cluster" lines in Pennsylvania. PNR seeks to acquire a permanent freight easement from CSX Transportation concerning the 55.5 miles of track, which are owned by the Southeastern Pennsylvania Transportation Authority (SEPTA). The Lansdale Cluster includes the Bethlehem, Doylestown and New Hope branches, and New York Line. Freight operations on the lines have been conducted under a trackage rights agreement originally reached between SEPTA and Conrail, and now in force between SEPTA, CSXT and Norfolk Southern Railway. The parties plan to amend the agreement to assign CSXTÕs rights to operate the lines to PNR. PNR is finalizing an agreement with CSXT to acquire the rights and expects the transaction to be consummated on or after Aug. 13, according to the STB filing. [Progressive Railroading via Ed Thornton]

CSX announced that a privately-funded $15 million, 34-acre intermodal terminal will be constructed in Louisville, Kentucky. The terminal, which is slated to begin operations in early 2012, will provide efficient, economical and environmentally-friendly rail intermodal service to customers and consumers in the greater Louisville area. The new terminal will be built and operated by CSX Intermodal Terminals and will employ about a dozen people. When it opens, the new terminal will provide inbound and outbound daily train service connecting through the company's Northwest Ohio Intermodal Terminal to markets across CSX Transportation's (CSXT) broader 21,000-route mile network. [CSX Press Release]

DC Streetcar Debut Date Slips: Streetcars in the nation's capital won't return until late 2013, one year later than the most recent target date, according to the District Department of Transportation. Washington, DC is proceeding with two initial streetcar segments, on H Street Northeast and in Anacostia, as the germination points for a citywide system of 37 miles. Among other delays, the city still must resolve the construction of a storage facility under a bridge on H Street behind Union Station, which has generated concern at Amtrak.[Railway Age, June 30, 2011 via High Green]

Amtrak is implementing the first step in a long-term, comprehensive fleet renewal plan with the purchase of 130 new single-level rail cars to support its long-distance train service. The five-year, $298.1 million contract has been awarded to CAF USA, which is creating 575 jobs to perform manufacturing and final assembly work at its plant in Elmira, N.Y. The first car is scheduled to roll off the assembly line in October 2012. The 130 single-level passenger rail cars will be similar to the popular Viewliner model. The order includes 25 sleeping cars, 25 diners, 55 baggage cars and 25 baggage/dormitory cars for use primarily on long-distance trains. They will replace and supplement the existing fleet, improve financial and on-time performance, and foster a more modern, positive image of Amtrak. In addition, Amtrak can begin to retire some of its oldest cars still in service, which date back to the 1940s and 1950s. This equipment purchase is the first step in Amtrak's multiyear Fleet Strategy Plan to replace its entire fleet of passenger rail cars and locomotives over the next 30 years and help support the growth of a domestic rail manufacturing industry. Amtrak is currently reviewing bids to replace many of the electric locomotives used along the Northeast Corridor. [AMTRAK INK]

The Lansdale Day Special on the West Chester Railroad, in conjunction with SEPTA, operated as a special train from West Chester, PA to Lansdale, PA. The trip was also in coordination with the annual Lansdale Day festival. Equipment will be vintage Reading Blueliner coaches, double-headed Alco RS18 and C424 locomotives and SEPTA's Genset #70. All proceeds of this event benefited the West Chester Railroad Heritage Association. Round trip tickets are $50. The schedulewas: 9:00 am Lv. West Chester's Market St. station 11:00 am Ar. at 30th Street Station 11:45 pm Lv. 30th Street Station 12:30 pm Ar. at Lansdale3:30 pm Lv. Lansdale 4:30 pm Ar. at 30th Street Station 5:15 pm Lv. 30th Street Station 7:00 pm Ar. at West Chester's Market St. Station. Stops were made at 30th Street Station going to and coming back from Lansdale in order to drop off WCRL #4230 and pick up SEPTA #70. Passengers had about a 45-minute layover at 30th Street Station stops. Round trip tickets were $50.
---
SCHEDULE NOTES
Notices, announcements, schedules, etc. are provided here as a service to the members. The Chapter has no affiliation with any commercial operation, museum, or tourist line.
January 15, 2011 - October 31, 2011 Philadelphia & Reading Railroad & the Civil War
Reading Railroad Heritage Museum, 500 S. Third St. in Hamburg, PA. New temporary exhibit Any Saturday (10-4PM) and Sunday (Noon-4PM) for the regular admission charge of $5 adults and $4 Seniors
Saturday, April 16 thru Saturday, December 31, 2011 Railroad Communications & Signaling @ RR Museum of PA. From solitary signals to centralized traffic control centers, learn about the history of railroad technical operations and try to run a simulated railroad. Photographs, artifacts and video from the Museum's collections will round out the story of rail communication.
April 15, 2011-May 30, 2015 Civil War 150th Anniversary: The War Came By Train@ B&O RR Museum in Baltimore. Monday - Saturday (10:00 a.m. - 4:00 p.m.), Sunday (11:00 a.m. - 4:00 p.m.) Between April 19, 1861 (The Baltimore Riot of 1861) and April 21, 1865 (Lincoln's funeral train leaving Baltimore for Illinois), the B&O stood witness and participant in the greatest conflict the U.S. has ever faced and changed the course of American history. The War Came By Train serves as the B&O Railroad Museum's primary attraction for the five year commemoration of the War's sesquicentennial. The National Landmark Roundhouse will exhibit the largest assemblage of Civil War railroad equipment in the world featuring locomotives and rail cars that served during the war, significant military and personal artifacts that will change annually to portray each year of the war (some artifacts never before on public display), and a narrated train ride to the original site of Camp Carroll, the largest Union encampment in Baltimore.
June - September Williams Grove Railroad Complete Train Schedule for 2011
Saturday August 13th. Steam Locomotive Engineer Training noon until 5 PM

Sunday August 14th. Run the steam train for passengers 9 AM until??

Fall Show August 28th through September 5th.

Sunday August 28th. Run the steam train for passengers 9 AM until??

Wednesday August 31st. Engineer Training noon until 3:30PM then passengers until??

Thursday September 1st. Engineer Training noon until 2:30PM then passengers until??

Friday September 2nd. Engineer Training noon until 2PM then passengers until??

Saturday September 3rd. Run the steam train for passengers 10 AM until??

Sunday September 4th. Run the steam train for passengers 10 AM until??

Monday September 5th. Run the steam train for passengers 10 AM until??

We reserve the right to substitute a diesel for the steam locomotive on passenger trains.
June - December Open Houses @ Stewartstown Railroad
Sunday, August 21, 2011, 1-5 p.m.: Open house at the station in Stewartstown.

Sunday, September 18, 2011, 1-5 p.m.: Open house at the station in Stewartstown.

Sunday, October 23, 2011, 1-5 p.m.: Open house at the station in Stewartstown.

Sunday, December 11, 2011, 1-5 p.m.: Christmas at the station in Stewartstown.

Sunday, December 18, 2011, 1-5 p.m.: Christmas at the station in Stewartstown.
AMTRAK's 40th ANNIVERSARY EXHIBIT TRAIN Schedule
AUGUST

27 - 28 Albany Amtrak Station, Rensselaer, N.Y.

SEPTEMBER

3 - 4 Steamtown National Historic Site*, Scranton, Pa.

10 - 11 Gateway Station, St. Louis

17 - 18 TBD

24 - 25 Galesburg Amtrak Station, Galesburg, Ill.

OCTOBER

1 - 2 Chicago Union Station, Chicago

8 - 9 Jackson Amtrak Station, Jackson, Mich.

15 - 16 TBD

22 - 23 King Street Station, Seattle

29 - 30 Portland Amtrak Station, Portland, Ore.
September 2-3, 2011 Railfest 2011 Celebrate the 25th Anniversary of Steamtown, the 40th anniversary of Amtrak, & the 125th anniversary of Scranton's electric trolley system. Locomotive Shop Demonstrations = Removing wheels from axles using Steamtown's newly restored 300-ton wheel press, Replacing tire on locomotive drive wheel using 'ring of fire', Wheel lathe demonstrations to resurface & profile railroad wheels, vertical boring mill demonstration. Visiting Equipment = Amtrak 40th Anniversary Train, Canadian Pacific, CSX , Norfolk Southern, NYS&W. Excursions & Train Rides = Caboose rides, Live Steamers, Trolley Rides, Scranton Limited Short Train Ride , Moscow Excursions Special Exhibits & Programs = Track demonstration, Big Boy Cab tours, Big Band Music, Special Ranger Guided tours
September 11-12, 2011 The Great Lehigh Valley Train Meet
Sat. 10 am - 4 pm, Z, N, On3, HO, Brass & all train related items, Sun. 10 am - 3 pm, S, O-27, O, Standard & G including repair parts, Both days Railroadiania, pictures, die-cast, scenery, etc. Merchants Square Mall, 1901 South 12th Street, Allentown PA 18103
Saturday, September 24, 2011 Members Day @ RR Museum of PA
Museum members enjoy special members-only presentations and other great railroad and Museum-related activities.
Sunday, September 25, 2011 FAREWELL TO THE FAITHFUL SILVERLINERS excursion on SEPTASponsored by Philadelphia Chapter, NRHS. Special train leaves Suburban Station, 16th St. & JFK Blvd. in center city Philadelphia at 10 AM, picking up passengers at 30th Street Station at 10:05 AM. Fare: $50.00 per person. Both former PRR and Reading lines will be covered with numerous photo stops and lunch stop scheduled. Train will return to Suburban Station and 30th Street about 5 PM. Event will mark the upcoming retirement of SEPTA's 1963 Budd Silverliner II's and 1967 St. Louis Silverliner III's (among America's oldest commuter cars still in regular service). Order tickets from: Philadelphia Chapter, NRHS, P.O. Box 7302, Philadelphia, PA 19101-7302, enclosing SSAE. For further information, visit website www.phillynrhs.com, email ayrestower@comcast.net or telephone (215) 947-5769. [The routing of the trip has not been completely finalized because of a major track work project around "Arsenal" interlocking in Philadelphia, but we do have some good photo locations already picked out. Train service from Wilmington, Airport, and Elwyn will be disrupted by the above-mentioned track work project, it is believed at this date that Wilmington/Marcus Hook service will operate into 30th Street Station (lower level) and terminate there......this project covers some four weekends.]
October 13-15, 2011 Train Collectors Association, Fall York Train Meet, York, Pa. Thursday-Saturday, Info: http://www.tcamembers.org/newsandevents/york.htm
October 27-30, 2011 Wilmington Chapter will host the NRHS's Fall National Director's Meeting
October 29-30, 2011 Great Scale Model Train Show, Timonium Fairgrounds, Timonium, MDState Fairgrounds Sat. 9-4, Sun. 10-4, Admission $9, under 15 free, family $18, tickets good for both days.
November 6, 2011 Train Meet - Ramada Inn Essington, PA 8:00 AM until 1 PM at Ramada Inn on Rt 291 (I-95 Exit 9) Essington, PA
---
CHAPTER EVENTS
Thursday Aug. 18, 2011 7 PM Chapter Meeting program by Phil Snyder
Thursday Sept. 15, 2011 7 PM Chapter Meeting program by Dave Warner
Thursday Oct. 20, 2011 7 PM Chapter Meeting (short) program by Dan Frederick
October 27-30, 2011 Wilmington Chapter will host NRHS's Fall National Director's Meeting
Thursday Oct. 27, 2011 3-10 PM Director's Meeting Registration
Friday Oct. 28, 2011 PM Chapter Trip on WCRR as part of Director's Meeting
Saturday Oct. 29, 2011 AM Chapter Trip on CMSL as part of Director's Meeting
Thursday Nov. 17, 2011 7 PM Chapter Meeting program by Frank Ferguson
Sunday Dec. 4, 2011 5 PM Holiday Dinner in lieu of normal monthly meeting
Thursday Jan. 19, 2012 7 PM Chapter Meeting program by Dave Watterson
The Wilmington Chapter of the National Railway Historical Society (NRHS) meets at 7:00 PM on the third Thursday of each month [except August & December] in the Darley Room at the Claymont Community Center on Green Street in Claymont, Delaware. Visitors are always welcome. Admission to regular meetings is free. Check out our Website (thanks to Russ Fox) at:
---
The Transfer Table is published six to ten times per year as the newsletter of the Wilmington Chapter of the National Railway Historical Society. Items in this publication do not represent the official position of either Officers or Members of the Wilmington Chapter or the Editor of this publication.
Permission to reprint articles and news items appearing herein is granted to NRHS Chapters and other newsletters provided appropriate credit is given.
Contributions are always welcome and should be sent to the editor at SD40GMA@aol.com or send to: P.O. Box 1136, Hockessin, DE 19707-5136.
Deadline for entries is the 25th of the month.
Chapter Officers
President: Mike Burkhart
Vice President: Dave Watterson
Treasurer: Dave Warner
Secretary: Dan Frederick
National Director & Trip Director: Steve Barry
Editor: Greg Ajamian
Web Master: Russ Fox