NOTE: The Lite Version is our electronic version which is available for free from this web site. It has limited content but gives you a taste of what is offered in our Full Version.
The Full Version is our printed newsletter which is mailed to you. It contains everything in the Lite Version along with many other reprinted pages from other NRHS newsletters, railroad publications, and flyers that contain photographs, drawings, and maps. The full version is just another benefit of joining our chapter.
THE TRANSFER TABLEThe Wilmington Chapter NRHS Official NewsletterInternet Edition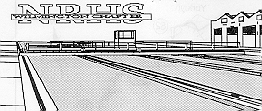 | | |
| --- | --- |
| VOLUME 33 NUMBER 7 | SEPTEMBER 2010 |
Back To Wilmington Chapter Web Site
August 19, 2010 Chapter Trip
There are no meeting minutes since there was no meeting due to the Chapter Trip.
---
Do-It-Yourself Chapter Trip
Report by Mike Burkhart
On Aug. 19, several Wilmington Chapter members participated in a circle trip between Marcus Hook, Pa. and Trenton, N.J.
The trip, in lieu of the regular monthly meeting, involved five legs on three Philadelphia area transit operators - Septa, PATCO, and New Jersey Transit. It was also somewhat historic, as two of the three Septa legs were made on soon-to-be-retired equipment.
The evening was hot and humid as members boarded northbound Septa Train 264, which left Marcus Hook on the Wilmington/Newark Line at 6:02 p.m. Other members boarded further north at Prospect Park.
Train 264 comprised of three Silverliner III cars, which will be retired when the new Silverliner V cars are delivered. Along the Northeast Corridor, the train passed towns along Chester Pike, abandoned factories and old interlocking towers. At Suburban Station, the group exited and walked several blocks south to the PATCO Hi-Speedline subway station at 13th and Locust streets in Center City.
The sun was setting as the train cruised over the Delaware River on the Ben Franklin Bridge. With the evening rush still underway, the train was crowded. In Camden, transfer was made to New Jersey Transit's RiverLINE at the Walter Rand Transportation Center for the ride to Trenton. The RiverLINE has been a boon to towns in Burlington County, and new construction is sprouting in villages like Palmyra, Burlington City and Bordentown. As dusk fell, the old Roebling Wire Rope facility was seen as the train neared its terminus.
In Trenton, the group had about an hour to explore the newly renovated Trenton Transportation Center - home to Septa, Amtrak and New Jersey Transit - before the 9:39 p.m. southbound (also with Sliverliner III cars) left for Philadelphia.
At 30th Street Station, a transfer was made to the Wilmington/Newark Line (Silverliner IV cars this time) for the return to Prospect Park and Marcus Hook, arriving just after 11 p.m.
It was a great evening for a leisurely train ride.
---
From The Editor
Your Editor will have a large stock of video tapes at the September meeting - come early and bring cash for special bargains before they're gone.
In this issue, I am, providing a Membership List as a service to our members. Please look over your line and let me know about any spelling errors, incorrect data, the missing last four digits of your zip code, telephone number and/or e-mail address if you care to give them. This information is for YOUR PERSONAL USE ONLY! Please do not share it, give it out, or distribute it in any way. Most people would not want their telephone number or other info given to strangers. I will NOT be sending page with the list in the exchange newsletters and I will not supply it to anyone outside of the Chapter or for any commercial purpose. It has been years since the last time I published one and I thought it might be useful for contacting other members or holiday cards or whatever . . . feel free to send me checks in any amount for my personal use
---
NEWS BITS
From ace reporter Dave Watterson - on 5-September-2010, at 12:30 PM a lone snake derailed a New York Central train pulled by steam loco #5229 in Rahn, PA (west of Collegeville, PA) shutting down operations over almost the entire line. The snake derailed the lead truck of the last car, an observation car, at the Pennsylvania Live Steamer's Open House.
Major Crescent Corridor Improvements Completed - Six projects will help ease traffic congestion on I-81. A critical choke point on Norfolk Southern's Crescent Corridor has been eliminated with a reconfigured rail junction near Front Royal, Va. This was the final and most complex of six capacity improvement projects in Northern Virginia to handle more trains at higher speeds. Funded by $43 million from the Virginia Department of Rail and Public Transportation (DRPT) and nearly $20 million from Norfolk Southern, the projects lengthened or built new passing tracks between Manassas, Va., and Front Royal, installed five miles of double track near the Virginia Inland Port, improved signal and traffic control systems, and increased train speeds through Riverton Junction near Front Royal. "The completion of these I-81 corridor improvements will benefit both freight and passenger rail service in Virginia," said DRPT Director Thelma Drake. "This capacity will attract more trucks from the highways to trains, as well as facilitate future passenger expansion in Northern Virginia." "With these improvements, we can move more trains faster through Northern Virginia," said John Friedmann, Norfolk Southern vice president Strategic Planning. "This is a significant milestone in increasing the freight capacity of the Crescent Corridor in Virginia, and a prime example of a successful public-private partnership at work." The Crescent Corridor initiative supports the Commonwealth's goals for improving freight transportation in Virginia while facilitating passenger improvements. The Crescent Corridor consists of a program of improvements to infrastructure and other facilities geared toward creating a seamless, high-capacity Intermodal route spanning 11 states from New Jersey to Louisiana and offering truck-competitive service along several major interstate highway corridors, including I-81, I-85, I-20, I-40, I-59, and I-75. More than $2 billion in projects have been identified to improve freight rail service and reduce interstate highway congestion. [NS News Release]
A 60-mph speed limit was abruptly imposed this week on 180 miles of BNSF Railway track used by Amtrak's Southwest Chief, effectively creating a 40-plus-minute delay for the Chicago-Los Angeles passenger train. And Amtrak must pay the bill if it wants the previous 79-mph speed for passenger trains restored. The restriction came after a BNSF office-car train inspecting the route on Aug. 19 encountered unacceptably rough track at speeds somewhat less than 70 mph, according to BNSF spokeswoman Suann Lundsberg. The first eastbound Southwest Chief reported a 43-minute delay negotiating the speed restrictions. Areas affected are from Hutchinson, Kan., to 22 miles west of that city, from east of Dodge City, Kan., to west of Garden City, Kan., and from Syracuse, Kan., to Las Animas, N.M. Early indications are that the track conditions are caused by wear and tear on 60- and 70-year-old 132-pound jointed rail. As rail nears the end of its useful life, the ends tend to bend down, creating a depression at every joint. Terms of its contract with Amtrak allowed BNSF to begin maintaining the track between Newton, Kan., and La Junta, Colo., 365 miles, for 40-mph speeds for both freight and passenger trains beginning last Jan. 1. Amtrak agreed to pay the incremental cost of keeping the track maintained for 79-mph operation. Unfortunately, the only cure for worn rail is sometimes either permanently slower speeds or replacement. To replace 180 miles of track with welded rail would cost millions. BNSF has offered, as an alternative, to let Amtrak permanently reroute the Southwest Chief between Newton and Albuquerque, N.M., over its freight-only line via Wichita, Kan., Amarillo, Texas, and Clovis, N.M. Amtrak President Joseph Boardman has publicly said he is uninterested in such an arrangement. [from Ed Thornton]
---
Amtrak Corporate Guidelines on Photography and Video Recording
Section I. Policy
The taking of photographs and/or videos is permitted within public access areas on Amtrak property and as otherwise stated in Section III.In emergency and/or special circumstances (for example, declared elevation of Homeland Security Advisory System to High or Severe - orange and red) and where actions are deemed suspicious or inconsistent with this policy by observing/reporting persons, photographers and videographers may be approached and questioned to determine if further investigation or action is necessary.Photography and video recording within restricted areas are prohibited. Individuals found in a restricted area will be subject to investigation and possible arrest and seizure of photography and/or video recording equipment may occur pursuant to the arrest. This policy applies in all circumstances, including where Amtrak may be promoting a photography contest or event.
Section II. Definitions
Commercial and Special Photography. Photography that requires explicit authorization from Amtrak and includes engagements for commercial gain or profit such as, movie films, commercial television productions, and photography for commercial advertisements. Photography. Photography shall mean the taking of moving and/or still images. Public Area. An area open to general public access and occupancy (station areas and platforms for ticketed passengers only) that is not otherwise posted or restricted by posted signs or locking devices. Signage, building design and physical barriers, i.e. fencing, bollards, etc., may also distinguish a public area from a restricted area.
Restricted Area. A restricted area is any area not open to or occupied by the public, or is open to or occupied by the public on a limited basis. Signage, building design and physical barriers, i.e. fencing, bollards, etc., may also distinguish a restricted area from a public area.
Restricted areas include but are not limited to the following:
Platforms (ticketed passengers are exempt)
Crew and Employee Work Areas
Maintenance Facilities
Unoccupied Trains and Engines
Office Areas
Employee Elevators
Baggage/Delivery Areas
Commissaries
Right of Way and Track Areas
In service train cars
Section III. Exceptions
Commercial and Special Photography. Prior arrangements must be made with Amtrak's Real Estate Department at (215) 349-1238 for approval.News Photography. Members of the news media are entitled to the same access for photography purposes as the general public. News media may request additional access by contacting the Amtrak Media Relations Office, 202-906-3860. Amtrak recommends that members of the news media present valid press credentials when they film (print and video photography) in the public areas at Amtrak's stations and strongly encourages the news media to contact Amtrak's Media Relations Office in advance to facilitate and ensure appropriate access, particularly at major Amtrak stations. As a courtesy, Media Relations Representatives will frequently issue a letter or accompany news media in the Northeast, Chicago and California regions. It is understood that during breaking news events advance contact with Amtrak's Media Relations Office may not be possible.Ticketed Passengers on platforms may
photograph or video record during the time they are preparing to board or immediately after alighting from a train. Equipment is limited to hand-held devices. Such photography, including equipment set-up will be done in a reasonable, safe and timely manner.
Ticketed passengers on board trains may take photos or video record on a train when it does not interfere with passengers or crew and in accordance with any directions given by Amtrak onboard train personnel.Other photography or video recording not covered by this policy requires advance approval from the area Amtrak Station Manager.
Section IV. Law Enforcement
Amtrak Police and Security personnel may approach photographers and videographers upon a complaint from a member of the public or Amtrak personnel that the activity is suspicious in nature, or based upon their own observation that the activity is suspicious in nature or inconsistent with this policy.Amtrak Police and Security Personnel will advise the individual that an inquiry is being conducted for security purposes. Amtrak Police and Security personnel will follow established departmental regulations in this area.
Nothing in this policy limits or expands the authority of Amtrak police officers to initiate and pursue investigations, perform a pat down or frisk based upon reasonable suspicion, and/or conduct searches based upon probable cause or any recognized exception to the probable cause requirement in accordance with all legal authority. But the taking of photographs and/or video may not, in and of itself, rise to the level of reasonable suspicion or probable cause.
[ AMTRAK Website http://www.amtrak.com/servlet/ContentServer/Page/1241267362248/1237405732517]
---
SEPTA Photography & Filming Guidelines
Southeastern Pennsylvania Transportation Authority Serving Bucks, Chester, Delaware, Montgomery, and Philadelphia Counties
Photography & Filming Guidelines
As one of the oldest and largest multi-modal transit systems in the world, the SEPTA system is graced with beautiful, historic and unique architecture and a wide variety of vehicles that attract the interest of visitors from the four corners of the globe - many of whom capture their visits in photographs or in sketch books.SEPTA welcomes photographers and artists. In return, we simply request they use common sense and courtesy to others in pursuit of their pictures.Safety
The safety of our customers and employees is paramount throughout the entire SEPTA system. While photography is permitted in clearly defined public areas of the SEPTA system, it obviously cannot be permitted in any manner that would interfere with the safe movement of people or operation of vehicles.
For example, camera lights or flash bulbs should never be aimed in the direction of an oncoming vehicle or used within a moving vehicle. Camera or artist's tripods and other equipment should not be placed in any location that might interfere with the free and safe movement of people or vehicles.
Photography is obviously prohibited in any area of the SEPTA system that is not accessible to the general public.While the law permits photography of private citizens in public places, common courtesy would have photographers request permission of people before taking their pictures, especially close-ups.Security
Worldwide terrorist attacks against public transportation facilities in recent years has required a tightening of security procedures at all SEPTA facilities. Security experts consider photographing and sketching public transportation facilities as possible pre-indicators of terrorist activity.
While this unfortunate reality has not resulted in a prohibition of photography, SEPTA Transit Police and other law enforcement are under orders to question anyone taking photographs or sketching transit facilities.Obviously, these activities are almost always legitimate and that is the end of the issue. However, anyone conducting these activities in unauthorized areas of SEPTA property may be charged and detained for further investigation.
Commercial and Media Photography
Commercial photographers are required to receive written permission, provide liability insurance coverage and meet other policy requirements. All requests must be sent via email to Sylvana Hoyos. Questions and additional information may be discussed with Sylvana Hoyos by telephone at (215) 580-8367.
Media photography requests must be coordinated through the Media Relations Department by calling (215) 580-7842. [SEPTA website http://www.septa.org/policy/film.html]
---
New Jersey Transit Photography Policy ?
Since I could not find any policy statements on the New Jersey Transit website, the closest that I could come was this item on the National Press Photographers Association's website:
January 4, 2006 - A proposed ban of photography on New Jersey public transportation and its property by the New Jersey Transit Corporation has been withdrawn by the group's executive director, George D. Warrington, after they received "an unusual number of public comments" and complaints about the proposed rule changes.
NPPA was one of several press organizations taking formal steps to oppose the suggested photography ban.
"Effective immediately, we will return to our historic practice, which enables hobbyists and other non-commercial photographers to take pictures in public areas throughout the New Jersey Transit system without obtaining permission or providing prior notice. There will also continue to be no restrictions on journalists in public areas of the system," Warrington wrote in a letter responding to those who had filed public comments of opposition. "Your input was taken into careful consideration by senior management."
In his letter of response Warrington also wrote, "Be advised that our police, as well as local law enforcement, have a responsibility to provide for the safety and security of our customers, employees and assets. If an officer receives a complaint or observes circumstances that warrant further investigation, he or she may approach you. I ask that you cooperate fully with the officer, understanding that he or she is concerned both for your safety and the security of 80,000 commuters who ride the system every day."
[ from http://www.nppa.org/news_and_events/news/2006/01/njt.html ]
---
SCHEDULE NOTES
Notices, announcements, schedules, etc. are provided here as a service to the members. The Chapter has no affiliation with any commercial operation, museum, or tourist line.
May 8, 2010 - March 26, 2011 Almost as Fast as Birds Can Fly - History of Railroading in DE at DE History Museum504 Market Street - Wilmington, DE 19801, For More Information: deinfo@dehistory.org or call (302) 655-7161 http://www.dehistory.org/MuseumExhibits/Railroad_2010/railroadindelawarehistory.htmWednesday-Friday: 11a.m.-4p.m., Saturday: 10a.m. - 4p.m Sponsored by Delaware Today, We the People Grant through the Delaware Humanities Forum, and Transportation Enhancement Fund
July 30, 2010 through early 2011 Thomas Viaduct Exhibit, B&O Railroad Museum, Baltimore featuring historic and contemporary artworks of this historic bridge. The exhibit will showcase local artists and will be held in the Museum's Education Station.
Sept. 26, 2010 Members Day @ RR Museum of PA Special presentations and other events for members of the Friends of the Railroad Museum.
Oct. 3, 2010 Steamin' Days @ Auburn Heights 12:30 - 4 PM, Stanley Steamers, steam trains, mansion tours, Marshall Estate, Yorklyn, DEOctober 8 - 10, 2010 Model Railroading Days @ RR Museum of PA
October 8 - 10, 2010 Model Railroading Days @ RR Museum of PA
October 9-10, 2010 Great Scale Model Train Show, Timonium Fairgrounds, Timonium, MD State Fairgrounds Sat. 9-4, Sun. 10-4, Admission $9, under 15 free, family $18, tickets good for both days.
October 10, 2010 Garden Railway Tours @ RR Museum of PA,1 pm to 5 pm Enjoy a self-guided tour of several private homes which feature beautiful garden railways, operating layouts and special model train collections. Garden Railways tour tickets are $10 per person for ages 6 and over. In cooperation with the National Toy Train Museum.
October 9-10, 2010 Great Scale Model Train Show, Timonium Fairgrounds, Timonium, MD State Fairgrounds Sat. 9-4, Sun. 10-4, Admission $9, under 15 free, family $18, tickets good for both days.
October 30-31, 2010 Great Scale Model Train Show, Timonium Fairgrounds, Timonium, MD>> >> >> >> NOTE DATE HAS BEEN CHANGED to 30-31 <<State Fairgrounds Sat. 9-4, Sun. 10-4, Admission $9, under 15 free, family $18, tickets good for both days.
November 6, 2010 Taking The Swing Train '40s Dance @ RR Museum of PA 7 PM to 10 PM Jump, jive and swing to the popular Sound of Roses live band among the trains in the Railroad Museum's awe inspiring Rolling Stock Hall. Come in uniform or '40s clothing! Special savings combination ticket, per person, for the dance and both days of Trains & Troops: $35.00; Dance ticket only, per person: $25.00; Veterans and active duty service personnel and FRM members, per person: $20.00. Dance tickets should be purchased in advance by phone at 717/687-8628, ext 3008, in person at the Whistle Stop Shop museum store or on line, using a printable ticket request form. Dance tickets may be ordered online. 2009 Details and tickets.
November 4 -7, 2010 Fall Board of Directors' Meeting Lancaster, PA Lancaster Chapter
November 6 & 7, 2010 Trains & Troops @ RR Museum of PA, Regular Museum hours. Greet our guys and gals in uniform, experience many splendid railroad and military archival displays, enjoy the patriotic spirit. Ride the troop trains on the Strasburg Rail Road with living history re-enactors on both days of the Railroad Museum's Trains & Troops program. Troop train tickets are sold separately by the Strasburg Rail Road on line at www.strasburgrailroad.com.
Nov. 7, 2010 Steamin' Days @ Auburn Heights12:30 - 4 PM, Stanley Steamers, steam trains, mansion tours, Marshall Estate, Yorklyn, DE
Nov. 13-14, 2010 Allentown Train Meet Associates First Frost Train Meet 9-4 Saturday, 9-3 Sunday, Allentown Fairgrounds Agricultural Hall, 302 North 17th St., Allentown, PA 18014
Nov. 26, & 27, 2010 Steamin' Days @ Auburn Heights12:30 - 4 PM, Stanley Steamers, steam trains, mansion tours, Marshall Estate, Yorklyn, DE
December 11 & 4, 2010 Home For The Holidays @ RR Museum of PA Regular Museum hours. Take a nostalgic glimpse at holiday rail travel. Meet costumed engineers, conductors, ticket agents and passengers representing the past century and enjoy seasonal music, festive decorations, Jack Frost Station and a Polar Express party for young children among our world-class collection of trains. Included in the regular Museum admission
---
CHAPTER EVENTS
Thursday Sept. 16, 2010 7 PM Chapter Meeting program by Phil Snyder "25 Yrs. Ago"
Thursday Oct. 21, 2010 7 PM Chapter Meeting program by Dan Frederick
Thursday Nov. 18, 2010 7 PM Chapter Meeting program by Frank Ferguson
Sunday Dec. 5, 2010 5 PM Holiday Dinner in lieu of normal monthly meeting
The Wilmington Chapter of the National Railway Historical Society (NRHS) meets at 7:00 PM on the third Thursday of each month [except August & December] in the Darley Room at the Claymont Community Center on Green Street in Claymont, Delaware. Visitors are always welcome. Admission to regular meetings is free. Check out our Website (thanks to Russ Fox) at:
---
The Transfer Table is published six to ten times per year as the newsletter of the Wilmington Chapter of the National Railway Historical Society. Items in this publication do not represent the official position of either Officers or Members of the Wilmington Chapter or the Editor of this publication.
Permission to reprint articles and news items appearing herein is granted to NRHS Chapters and other newsletters provided appropriate credit is given.
Contributions are always welcome and should be sent to the editor at SD40GMA@aol.com or send to: P.O. Box 1136, Hockessin, DE 19707-5136.Deadline for entries is the 25th of the month.
Chapter OfficersPresident: Mike BurkhartVice President & Historian: Ron CleavesTreasurer: Dave WarnerSecretary: Dan FrederickNational Director & Trip Director: Steve BarryEditor: Greg AjamianEvent Photographer: Ron CleavesWeb Master: Russ Fox