NOTE: The Lite Version is our electronic version which is available for free from this web site. It has limited content but gives you a taste of what is offered in our Full Version.
The Full Version is our printed newsletter which is mailed to you. It contains everything in the Lite Version along with many other reprinted pages from other NRHS newsletters, railroad publications, and flyers that contain photographs, drawings, and maps. The full version is just another benefit of joining our chapter.
THE TRANSFER TABLEThe Wilmington Chapter NRHS Official NewsletterInternet Edition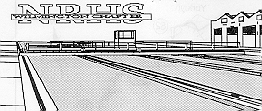 | | |
| --- | --- |
| VOLUME 33 NUMBER 8 | OCTOBER 2010 |
Back To Wilmington Chapter Web Site
September 16, 2010 MEETING NOTES
President Mike Burkhart called the meeting to order at 7 PM. The minutes of the June meeting were approved as read by Vice President Ron Cleaves. There were no minutes to read from the July 15 meeting (cancelled in lieu of trip on July 22) nor for the August 19 meeting (cancelled in lieu of August 19 trip). Dave Warner's Treasurer's report was approved as read.
President Mike Burkhart reported on the Juniata Terminal Trip and the Circle Trip. This year's Election Committee consists of Phil Snyder, Tom Posatko, and Len Arcus. It was reported that this year's Holiday Dinner on December 5 will again be at Maximillion's and the cost will be $20 per person. There was a reminder that you must make a reservation, and that if you reserve and do not cancel more than two weeks before the date of the dinner, you will be charged (to avoid the Chapter having to cover for any 'no shows'). There was no National Director's report. However, we received word that our Chapter has been officially approved to host the Fall 2011 National Director's meeting October 27-30, 2011. [The last time that our Chapter hosted a National Director's meeting was November 12-14, 1993 - ed]. Prepare to volunteer to help your Chapter host that meeting - opportunities will abound ! Tom Posatko also gave an update on our incorporation status.
After a short break, Phil Snyder presented another edition of his famous "25 Year's Ago" slide show. We got to relive our Chapter Trip to Boeing in March 1985 which included a Kowasoki car on their test track. We saw Blueliners, a double header on the Strasburg and the facilities on the Black River & Western Railroad. There was a visit to Jim Thorpe and a very unusual Dining Car at the Pennsylvania Live Steamers. The Reading T-1 was captured at Valley Forge, PA. There was a trip from 30th Street Station in Philadelphia to West Point, NY and some great vintage views of the Bear Shops.
---
From The Editor
Your Editor may or may not be able to bring more video tapes to the September meeting. But, I hope to have lots at the Train Show near the Philadelphia Airport. See the info on that train meet elsewhere in this newsletter.
Evidently the Membership List was a big hit. I have received some updates, additions, and corrections - but not enough to warrant sending another version just yet. If I get some more corrections or more drastic corrections, I'll have to decide if I need to send out an updated list. Steve von Bonin's email was one line down - it is Trains4DE@aol.com and Tom Smith's email = tomandkaren@integrity.com
One of the responses was from Hal Barker. Unfortunately, he has been unable to join in Chapter activities due to his wife's health. We send our best wishes to both of them. If anyone needs his telephone number, just get in touch with me until that next list comes out.
---
NEWS BITS
TONS OF STEEL FOR STALLED RAILROAD PROJECT MUST MOVE: For a little over half a decade, 283 tons of steel, some of it custom made for the rail project, has done nothing more than collect cobwebs. Now, a county agency must move it. 283 tons of steel, some of it custom-made for a stalled rail project in Syracuse , has done nothing more than collect cobwebs for six years. Now, the Transportation Center says it needs the space and wants the steel moved.
Six years ago, steel was acquired at the Carousel Center in Syracuse in hopes that it could be used for a rail system to shuttle people between Armory Square , Carousel Center and the Regional Transportation Center . Ever since, the steel for the railroad project has sat in a parking lot.

Now, the Transportation Center says it needs the space and wants the steel moved from the outer parking lot and the county's Industrial Development agency has only a short window to get it done.

Onondaga County Industrial Development Agency Director Mary Beth Primo said the task of moving the steel is less daunting than it would seem on paper. "There are companies that have the equipment; that have the know how to move this stuff so I don't anticipate its going to be as difficult as it sounds when you're talking about 283 tons of steel, but it's an undertaking," she said.

The plan is to move all that steel down to the county's Water Environment Protection facility less than a mile away, where it will ultimately be stored inside. The steel has been exposed to the elements over the years, causing some deterioration, but Primo says it's not to such an extent it needs to be scrapped. She also said that the agency has not abandoned the rail project altogether. OCIDA still envisions a transportation system that can move people between Armory Square , Carousel Center , and the Transportation Center . The problem now, she says, is the million-dollar funding gap. "Just recently Obama said that he'd like to put more money into infrastructure, so that gives me more hope that perhaps we'll be able to land some federal money to complete this project. We just have to keep trying," Primo said.

The agency only has a few more years to get the project underway. The $2 million of grant money OCIDA already has for the project goes away in 2013 if it's not used. The agency hopes it will have a new railroad bridge by then, not just a pile of steel and a grand plan that never came to be.

The agency was handed the project when it stalled in 2004 due to engineering problems with an adjacent freight railroad bridge. OCIDA has looked into just scrapping the steel, but Primo says estimates came back at less than $80,000 if it salvaged the steel. (WSYR-TV, Syracuse ) [from AMERICAN RAIL LINK - SEPT. 8, 2010 - ISSUE 462 via Ed Mayover]
PORT OF ALBANY FORGES RAILWAY ALLIANCE: Longshore workers are taking on new tasks at the Port of Albany in an innovative arrangement with Norfolk Southern Railway.Since midsummer, they've been processing truckloads of cargo destined for intermodal trains. The truck traffic comes off area expressways and the trailers are stored at the port until they're shipped out by rail to the Midwest , said Robert Cross, chairman of the Albany Port District Commission.
Norfolk Southern in the past stored its truck trailers at the Kenwood railyard operated by CP Rail. But CP needed the space, and Norfolk Southern sought a new arrangement.

At the same time, the recession had reduced traffic at the port, cutting the number of hours for longshore workers.

"There's not a lot of work, but we've been picking up at least 100 hours a week of man-hours," said Richard Hendrick, the port general manager.

The longshore workers take care of the paperwork and check the shipments in and out.

The trucks arrive at the port at all hours, seven days a week.Hendrick, who arranged the deal, estimates the port has handled more than 1,000 trucks so far.

"We're doing 250 trucks a week," he said. "They're storing them here on an overnight basis."

The next day, they're taken to the Kenwood yard adjacent to the port and loaded onto trains.

Norfolk Southern covers the cost of the labor. The longshore workers are employed by Federal Marine Terminals Inc., which handles terminal operations at the port.

It's not clear what the long-term outlook is for the arrangement. Norfolk Southern is partnering with Pan Am Railways on a new intermodal yard in Saratoga County .

"We may end up losing this" to the new yard, Hendrick said. "But they might find it works at both locations. (The Port of Albany ) is a little better situated," he added.

Norfolk Southern officials couldn't be reached for comment. ( Albany Times-Union) [from AMERICAN RAIL LINK - SEPT. 8, 2010 - ISSUE 462 via Ed Mayover]
NEW YORK IMPOSTOR ARRESTED AGAIN: A man who commandeered a subway train at age 15 and has repeatedly posed as a transit worker was arrested again Tuesday on charges he stole a bus in New Jersey and drove it to a New York airport. Darius McCollum, 45, was stopped by police officers Tuesday morning in Queens while driving an empty New York Trailways bus, authorities said. McCollum, who lives in Harlem , has been arrested 26 other times. Over the years, he has donned Metropolitan Transportation Authority uniforms and cheerfully collected fares, cleared trash from tracks and put out underground fires. But he's also driven MTA buses and trains. Trailways' vice president of marketing and traffic, Anne Noonan, said she didn't know if McCollum had been seen previously in the area where the 52-seat bus was stolen.
The bus was taken from a maintenance facility in Hoboken , N.J. , earlier Tuesday. It was tracked using GPS to New York , where police stopped it around 9:15 a.m. on an entrance ramp to the Van Wyck Expressway, which connects Queens and the Bronx .The New York Police Department says the keys were in the ignition and McCollum essentially walked to the facility, got on the bus and drove away. Police say he told them that he went to John F. Kennedy International Airport and drove around Queens . He didn't pick up any passengers, and he wasn't wearing a uniform, they say. McCollum was expected to be arraigned Wednesday on a charge of criminal possession of stolen property, Queens District Attorney Richard Brown said. His mother, Elizabeth McCollum, said he's autistic and doesn't mean to harm anyone. She said she didn't believe he had stolen the bus.

Darius McCollum became a New York sensation as a teenager when he commandeered a subway train full of passengers in 1981, taking the controls and piloting it to the World Trade Center. It turned out to be the first of many forbidden rides. By the mid-1990s, frustrated transit officials posted thousands of wanted posters in trains and stations so riders could report McCollum sightings. But riders who ran into him found him simply friendly and helpful.

The MTA New York City Transit agency's security department has had McCollum on its radar since his most recent release, and MTA spokesman Paul Fleuranges said employees have been on the lookout for the "career transit worker wannabe.""We applaud the NYPD's recent arrest and hope he is punished to the fullest extent of the law and kept far away from anything with wheels," Fleuranges said.

In 2001, McCollum pleaded guilty to posing as a transit supervisor the previous year, tripping a switch that caused a subway train to stop. He was sentenced to 2 1/2 to five years in prison and was paroled in April 2006.

In 2008, he was arrested in the Columbus Circle subway station in Manhattan for impersonating an MTA employee. And a couple of months after that he was held on charges he impersonated a federal officer aboard a Long Island Rail Road commuter train in Pennsylvania Station in Manhattan.

Some medical experts said they believe he suffers from Asperger's syndrome, a mental condition on the autism spectrum characterized by obsessive and anti-social behavior. He has never been diagnosed.

Elizabeth McCollum said she moved to North Carolina 20 years ago with her only son, who would pick up and leave for New York because he missed the trains.

He has never worked as a paid transit employee. His mother said that by the time he was 8 he had memorized the city subway system, by far the biggest in the country, and could direct a person to any point on it without consulting a map or guide.

She said she asked the MTA several times to give him a job or an internship but the agency refused.

"He's in hog heaven when he's on a train or a bus," she said. "What he needs is a break. He needs help. He is an exceptional kid, but he's never been given a chance to use his gifts. It's sad."

To work as a train operator he'd have to take a civil service exam and wait to be contacted by the city - and it's unclear how his legal history would affect his chances of being hired. (AP) [from AMERICAN RAIL LINK - SEPT. 8, 2010 - ISSUE 462 via Ed Mayover]
UNION PACIFIC'S REACH EXPANDING: Union Pacific Corp., which began shipping used cars in 2006 and expanded that business last year, now will manage shipments of used cars overseas for vehicle auction and rental car companies.U.P. will market a logistical service that combines the use of rail, truck and ship transport in one cost quote.
"There's quite a market for U.S. used cars outside of this country," said Roland Fortner, president of ShipCarsNow.com. Primarily a shipper of new vehicles, U.P. expanded into the used-car sector in 2006 with the creation of a subsidiary, Insight Network Transportation, based in Auburn Hills , Mich. The company established the ShipCarsNow website in 2009 to expand the business.

Business customers supply Insight Network Transportation with price and timing requirements, and it lines up service along Union Pacific's 23-state network in the western U.S. with railroads in the East and with trucking companies.

Before the creation of the Insight Network Transportation and ShipCarsNow.com, Union Pacific handled more than 75 percent of the automotive carload business in the western United States . But the business was mostly new cars and trucks from domestic manufacturers or imports into West Coast and Houston ports.

The trucking industry dominates the used-vehicle market, which is roughly three times larger than the new-vehicle market, U.P. officials said.

Brandon Borgna, a spokesman for the American Trucking Association, said the used car market tends to be small shipments of two or three cars over relatively short distances, which gives trucking an advantage.

"These are really smaller shipments," he said. "They don't justify moving by rail."

Union Pacific said it developed tracking and logistical systems in 2008 that make mingling cars easier and less costly.Changes included loading vehicles onto rail cars in order based on final destination, tracking vehicle identification numbers of mingled loads and setting up a pricing structure for used vehicles based on the type of car, points of origin and destination.

The used-car subsidiary signals to auto dealers and other potential customers that the railroad can handle both small and large loads of vehicles, U.P. officials said. In many cases, they said, the railroad can charge less than a full-load price by shipping even one vehicle with a larger load.

Union Pacific also has partnered with a separate company, Dependable Auto Shippers, to move cars and trucks for individual owners. Eventually, U.P. expects to handle each step of the process for individual auto owners, without working through an intermediary.

Union Pacific's primary rival, BNSF Railway, which also operates in the West and is owned by Berkshire Hathaway Inc., offers domestic used-car dealers a similar program called "Cars on Track" through subsidiary BNSF Logistics, but it doesn't manage overseas shipments, said Krista York-Woolley, a spokeswoman for the company.

"We just haven't seen a big demand for used cars overseas," York-Woolley said.

Fortner said U.P.'s overseas service will begin this month. Along with getting vehicles across the country and onto ships, the service includes working with customs officials to clear shipments, Fortner said.

Union Pacific's auto business generated about 6 percent, or $854 million of its $14 billion in revenue last year, said company spokesman Tom Lange. The used-car segment is a smaller part of that revenue stream, but the company doesn't release the dollar amount of that business, Lange said.

U.P. expects to move about 90,000 used cars and trucks in 2010, more than double last year's volume, he said. International shipping could increase business by 20 percent by 2012, Lange said.

The railroad began its used-vehicle effort before the recession started in December 2007, and the service provided a new market during the economic slowdown, Lange said.Other new markets sought by the railroad in recent years include shipping wind turbines and parts for wind power companies and hauling pipeline equipment for natural gas firms, he said. ( Omaha World-Herald)

[from AMERICAN RAIL LINK - SEPT. 8, 2010 - ISSUE 462 via Ed Mayover]
On September 8, 1910, the first Long Island Rail Road trains departed from a grand structure dedicated to transportation-Pennsylvania Station-and traveled under the East River using four tunnels. Long Island celebrated. LIRR is celebrating that century-old achievement with the opening of a special photo display in the 34th Street Entrance Corridor, one of the LIRR's newest Penn Station areas.
The exhibit includes photographs of the construction of Penn Station and the East River Tunnels along with depictions of various related documents. The exhibit is meant to remind the public about the vital role the LIRR plays in the region.LIRR President Helena Williams said, "More than 100,000 of our customers use the East River Tunnels and Penn Station each work day to go to their jobs and visit New York City making it a major part of the busiest commuter network in North America. It's only right that we recognize the great achievement of those engineers, transportation experts and sandhogs that made today's Long Island Rail Road system possible. This anniversary and this photo exhibit reminds us of our responsibility as a region to continue to invest in transportation infrastructure to protect what we have in our transit system and to pave the way for future improvements."

The East River Tunnels and Penn Station were part of a plan by Pennsylvania Railroad President Alexander Casatt to have the giant railroad enter the New York City market in grand style to compete with the Vanderbilt-owned New York Central Railroad. The plan included purchase of the Long Island Rail Road since the LIRR owned land in Sunnyside, Queens, that the Pennsylvania needed to acquire for a giant rail yard. They were also attracted by the potential of the Long Island market.The cost for what was officially called "The New York Tunnel Extension of the Pennsylvania Railroad" was approximately $114-million. This included Pennsylvania Station, the East River and North River (Hudson) Tunnels, and the Sunnyside Yard. The cost in 2010 dollars would be approximately $2.5 to $3-billion.The four East River Tunnels along with the two North River (Hudson) Tunnels replaced the ferry boats used by the LIRR to transport their passengers between Manhattan and Queens. With the tunnels, rail travelers would now have a one-seat, no ferry transfer ride. The LIRR tunnels began at 7th Avenue in Manhattan and ended at Hunter's Point Avenue in Queens, almost three miles long. Tunneling took six long years of dangerous work some 50-feet under the bottom of the East River using 23-foot high steel shields to push through layers of quicksand, sand, gravel, stone and mud.

In addition to the bends, sandhogs (construction workers building the tunnels) had to deal with occasional misfired dynamite charges blasting through bedrock. When completed in early 1910, the tunnels were an engineering marvel built to last.Still a testimonial to construction ingenuity and longevity, the East River Tunnels have undergone capital improvements in recent years. The modifications, totaling more than $147 million in MTA LIRR Capital Improvement Program funds, include upgraded ventilation and electrical systems, improved tunnel lighting, handrails and communication systems-all designed to improve safety.

Pennsylvania Railroad officials envisioned their New York City station as a building that would be a dramatic symbol of their company's greatness and that of the City. When completed in 1910, Pennsylvania Station was all that and more. Designed by the prestigious New York architectural firm of McKim, Mead and White, the station reminded many of the Greek and Roman structures of old. The main concourse had 150-foot ceilings and huge stone columns supported the exterior. Granite, limestone, and steel were the construction materials of choice with specially crafted statuary, including 22 two-ton carved granite eagles, inside and out.

As the years went by and more travelers turned to automobiles and airplanes, abandoning trains, the Pennsylvania Railroad ran into difficult financial times. The once-grand Pennsylvania Station became a huge fiscal liability to the debt-ridden Pennsy, maintenance suffered, the famous interior became shabby. Commercial developers wanted the valuable land the once great station stood upon and in 1961 a deal was struck. The great building would come down starting in 1963 and Madison Square Garden would take its place by 1966, with a below ground train station replacing the familiar Beaux-Arts style structure. The destruction of the old Penn Station was considered a great loss and its demise kicked off the modern day landmarks preservation movement. [from Railway Track and Structures via Ed Mayover]
Norfolk Southern's Heartland Corridor - one of the most extensive railroad engineering projects in modern times and a template for public-private partnerships that strengthen the nation's transportation infrastructure - officially opened for business today.
A ceremony at the railroad's recently enlarged Cowan Tunnel near Radford marked the occasion, as Norfolk Southern Train 233 pulled through at 11 a.m. with a consist of 148 double-stack containers moving to the Midwest. Train 233 paused near the 3,302-foot tunnel's western portal, where it was greeted by the corridor's partners, designers, and builders, as well as news media and NS officers and employees.

The Heartland Corridor is a public-private partnership between NS and Virginia, West Virginia, Ohio, and the federal government to create the shortest, fastest route for double-stack container trains moving between the Port of Virginia and the Midwest. The new routing improves transit time from Norfolk, Va., to Chicago from four days to three and is nearly 250 miles shorter than previous circuitous routings.To achieve that, NS raised vertical clearances on 28 tunnels and removed 24 overhead obstacles on one of its main lines connecting the Mid-Atlantic to the Midwest. Construction began in Oct. 2007 and involved modifying 5.7 miles of tunnels through roof excavation and liner replacement, arched roof notching, and track lowering and realignment.

The line dates back to the late 19th Century and traditionally has carried mostly coal traffic. Today, the Heartland Corridor improvements provide more capacity, speed, and reliability not just for coal trains but for the 20-foot, three-inch-high container trains that carry a diverse range of products required for international commerce and consumer demand.The Heartland Corridor and Norfolk Southern's other public-private partnerships, such as the Crescent Corridor program of improvements to infrastructure and other facilities through 13 states from Louisiana to New Jersey, also offer a number of social benefits.

Today's program at Cowan Tunnel was one of three events related to the Heartland opening. An open house on Sept. 8 at the Rickenbacker Intermodal Terminal in Columbus, Ohio, highlighted the freight transfer facility that serves as the corridor's western anchor. A gathering on Sept. 13 in Prichard, W.Va., will feature one of the first eastbound intermodal trains on the route.

"Demand for rail freight service in the U.S. is expected to nearly double by 2035, and that's on a national transportation network that everyone agrees already is sorely stressed," Moorman reminded the Cowan Tunnel group. "As recently as several years ago, the crystal ball was too cloudy to provide a roadmap for meeting the coming challenges. Now, the Heartland Corridor provides a clear and workable vision of the way forward."[Norfolk Southern Corporation Press Release]
Amtrak, the Federal Railroad Administration (FRA) and various states announced they approved design specifications for "next generation" bi-level passenger-rail cars, which will support Amtrak's plan to advance new or existing state-supported corridor service. The cars also will renew and replace Amtrak's national fleet and help foster the development of a domestic rail manufacturing industry, Amtrak officials said in a prepared statement.
"This provides strong direction so Amtrak and states can move forward with modern bi-level equipment designed with updated passenger comfort, conveniences and safety features to meet the ever-increasing demand for more rail service," said Amtrak President and Chief Executive Officer Joseph Boardman. The bi-level passenger car specifications are the first to be issued by the Next Generation Corridor Equipment Pool Committee established by of the Passenger Rail Investment and Improvement Act of 2008, and include three car types for use in corridor intercity passenger-rail service: coach car, cab/baggage car, and cafe/lounge car.

Equipment used in corridor services acquired with federal funds must meet the design specifications resulting from the work of the committee, the FRA said.

With bi-level design specifications now in place for corridor service, Amtrak can design as the foundation for the development of new bi-level long-distance equipment to replace its aging Superliners, according to Amtrak. [from Ed Thornton]
Progress Rail Services Corporation, a wholly-owned subsidiary of Caterpillar Inc., and Norfolk Southern have announced the order of additional EPA Tier 2 compliant, high-horsepower repower locomotives - designated the PR43C. In 2008, Norfolk Southern and Progress Rail began a cooperative effort to develop the PR43C locomotive. Since then, two PR43C prototype locomotives have been built and placed in service on the Norfolk Southern system. These locomotives have been closely monitored during a series of developmental and operational testing. With the testing of the first two prototypes coming to a close, Progress Rail is pleased to announce Norfolk Southern has ordered four additional PR43C locomotives, scheduled for delivery later this year.
The PR43C locomotives are unique in the industry. Remanufactured from reusable locomotive cores, the PR43C locomotives have a dual-engine configuration. The primary engine, a Caterpillar C-175 rated at 3,600 horsepower, and a secondary engine, a Caterpillar C-18 rated at 700 horsepower, work in tandem to power the locomotive. By rebuilding the PR43C from a reusable locomotive core and providing 4,300 total horsepower, the PR43C locomotive serves as an environmentally-friendly solution for the rail industry.

"The PR43C's performance is optimized for the current duty cycle and operational needs of the railroads," said Ken Hofacker, senior vice-president of locomotive development for Progress Rail. "Our concept of large and small diesel engines working intelligently together maximizes fuel savings while minimizing emissions and lowering life-cycle costs."

"Progress Rail is extremely pleased to have had the opportunity to jointly develop this locomotive with Norfolk Southern," said Billy Ainsworth, president and CEO of Progress Rail. "Progress Rail and our parent company, Caterpillar Inc., share Norfolk Southern's passion for environmentally-friendly locomotives. This project is about maximizing fuel efficiency and reducing emissions, while taking a locomotive that was built 20-plus years ago and giving it another 20-plus years of life. Simply put, this is about building a sustainable locomotive."

"The PR43C meets Norfolk Southern's standards for high-quality locomotive performance, while at the same time satisfying our corporate sustainability objectives," said Tim Heilig, Norfolk Southern's chief mechanical officer. "Progress Rail deserves credit for building a fuel-efficient, low-emission locomotive that can handle heavy, long-haul freight demands."The four new PR43C locomotives will feature upgraded traction systems, control systems, and modernized cabs. [NS News Release]
CSX has announced its timetable for transitioning from wideband (25 KHz) to narrowband (12.5 KHz) railroad radio operation, the American Short Line & Regional Railroad Association reported. It is the first Class I railroad to furnish this information for dissemination. The Federal Communications Commission (FCC) has mandated the end of wideband two-way radio transmission for non-military purposes in the U.S. after Jan. 1, 2013. The CSX timetable presently calls for the changeover to be completed entirely in 2011.
CSX will transition by operating division, as follows:

April 2011: Atlanta, Florence, Jacksonville, and Nashville Divisions
June 2011: Great Lakes, Huntington, and Louisville Divisions
September 2011: Albany, Baltimore, and Chicago Divisions

The action will have a cascading effect on other railroads. For example, a short line or regional railroad connecting with CSX will need to match the changeover schedule if it interchanges cars or uses CSX trackage rights. While connecting railroads may want to transition their entire railroad at that time, they may have to temporarily maintain two radio systems if they connect with another Class I that has not yet changed from wide to narrowband. [from TRAINS News Wire via Ed Mayover]
The Altoona Railroaders Memorial Museum will hold a public groundbreaking ceremony for the construction of a new roundhouse at the museum on Oct. 22, 2010. The building will be shaped as a quarter-roundhouse and eventually will have seven stalls. The museum has already completed a turntable for the planned structure. A $2 million state grant will help fund the roundhouse's construction. When complete, the roundhouse will be the home for Pennsylvania Railroad K4s 4-6-2 No. 1361, the subject of an abortive restoration effort. No. 1361 is one of only two surviving K4s. The museum restored the engine to operation in 1987, but a year later, it suffered a driving-wheel-axle problem, and a subsequent assessment found more problems. [from TRAINS News Wire via Ed Mayover]
December 12, 1952, a gloomy early winter day, the last of the Lehigh Valley's steam locomotives have been consigned to scrap at Bethlehem Steel. The T-2b class Wyomings were built in 1943 by ALCO. The Valley wanted diesels but the War Production Board denied them. They are modernized copies of the original T-2 class of 1931 and although similar weigh substantially more due to the unavailability of certain alloys which are earmarked for the war effort. The entire class was stored serviceable from the summer of '51 with empty hopes of a return to service which never came, or a sale of these nearly new locomotives. One by one they were pulled out of line and sent to scrap until just the 5212, the 5217 and the 5219 were left. A photographer was called in to make this image for posterity with the 5219 and the supervisors of the Sayre steam shops. From left to right: Arthur Hickey, Edward Fohl, Sidney Kinner, Walter Varner, Jesse Childs, John Maloney, Charles Fuller, Alexander Birney, Harry Mory, Harold Peterson, George Voest, Frank Roney, Howard Ritz, Jack Schoonover, William Hyland [Received from Joe Constantine, formerly Trainmaster at "AN" Allentown via Paul Kutta]
U.S. Transportation Secretary LaHood Announces Next Step in Development of National Rail Plan A long-term commitment is needed to help freight and passenger rail accommodate future U.S. economic and population growth. U.S. Transportation Secretary Ray LaHood announced the findings of a new report, Moving Forward: A Progress Report, that updates the U.S. Department of Transportation's efforts to develop a first-ever comprehensive National Rail Plan (NRP). The progress report builds upon the Preliminary National Rail Plan mandated by the Passenger Rail Improvement and Investment Act of 2008 (PRIIA) and submitted to Congress in October 2009. It outlines the numerous factors, past, present and future that make a compelling case for improving rail infrastructure. Its findings reveal that current demographic analyses and forecasts anticipate continued population growth, especially in urban areas. Coupled with corresponding increases in freight shipments, such growth will place additional burdens on transportation systems that are already working at or beyond capacity. The resulting traffic congestion translates into lost productivity, not only harming commerce, but degrading quality of life for citizens. Since rail is one of the safest and most fuel-efficient modes of transportation, it is well positioned to make a significant contribution to accommodating this forecasted growth. View the Progress Report at
http://www.fra.dot.gov/downloads/NRP_Sept2010_WEB.pdf U.S. Transportation Secretary Ray LaHood announced $235 million in American Recovery and Reinvestment Act dollars for high-speed rail projects in California, North Carolina, Ohio and Maryland.

California High Speed Rail Authority received $194 million preliminary engineering and environmental analysis for 520 miles of its high-speed rail corridor.
North Carolina Dept of Transportation received $17 million to improve rail stations between Charlotte and Raleigh.
Ohio Dept of Transportation received $14.9 million for preliminary engineering and environmental analysis for the 3-C corridor, which connects Cincinnati through Dayton, Columbus to Cleveland.
Maryland Dept of Transportation received $9.4 million for improvements to the BWI rail station at Baltimore-Washington Thurgood Marshall International Airport.

"We are making substantial progress in providing funds to states so they may start construction projects or advance their necessary planning," said Federal Railroad Administrator Joseph C. Szabo. "We are immediately put people to work while making long term infrastructure improvements which will change the way we travel in the United States." [two from U.S. Department of Transportation via Ed Mayover]
Norfolk Southern handled one of its largest cargo loadings of the last 20 years at its Pier 6 coal transloading facility at Lamberts Point in Norfolk. On Sept. 29, Norfolk Southern loaded 152,681 net tons (138,512 metric tons) of coal into the M/V Linda Dream, destined for ThyssenKrupp Steel in Flushing, the Netherlands. The coal came from Integrity Coal and Mechel in 1,475 railroad coal cars. The Linda Dream loading was one of the largest since Pier 6's 1989 loading of 151,773 net tons for the Nord Atlantic, the 1991 loading of 153,263 net tons for the Doceserra, and the 1998 loading of 157,645 net tons for the M/V Irongate. At 948 feet long and 147 feet and eight-inches wide, the Linda Dream is one of the larger vessels to call at Pier 6, though the recent length record is held by the Hyundai Continental (1,014-feet) and the recent beam record is held by the Nord Atlantic and the Venture (both 176 foot and one-inch). Norfolk Southern has been transferring coal and coke from railroad cars into ocean-going export and domestic vessels in the Lamberts Point area since 1884, when it opened Pier 1. In the first half of the 1900s, new Piers 2-5 featured improvements in speed and capacity and even loaded coal into a number of famous vessels, such as those used in Admiral Byrd's 1933 Antarctica expedition. Pier 6 opened for business in 1962 as the hemisphere's largest, fastest, and most efficient transloading facility. In 1999, Pier 6 dumped its billionth ton of coal and became the only facility in the world to have reached that milestone. Most of the coal moving through Pier 6 originates in Southwest Virginia, Southern West Virginia, Eastern Kentucky, Pennsylvania, and Alabama. It is shipped to several dozen countries as well as to coastwise domestic receivers. Pier 6 is situated with access to Hampton Roads' deep 50-foot channel, which allows modern vessels to make productive use of their large holds. [NS News Release]
---
SCHEDULE NOTES
Notices, announcements, schedules, etc. are provided here as a service to the members. The Chapter has no affiliation with any commercial operation, museum, or tourist line.
May 8, 2010 - March 26, 2011 Almost as Fast as Birds Can Fly - History of Railroading in DE at DE History Museum504 Market Street - Wilmington, DE 19801, For More Information: deinfo@dehistory.org or call (302) 655-7161 http://www.dehistory.org/MuseumExhibits/Railroad_2010/railroadindelawarehistory.htmWednesday-Friday: 11a.m.-4p.m., Saturday: 10a.m. - 4p.m Sponsored by Delaware Today, We the People Grant through the Delaware Humanities Forum, and Transportation Enhancement Fund
July 30, 2010 through early 2011 Thomas Viaduct Exhibit, B&O Railroad Museum, Baltimore featuring historic and contemporary artworks of this historic bridge. The exhibit will showcase local artists and will be held in the Museum's Education Station.
October 30-31, 2010 Great Scale Model Train Show, Timonium Fairgrounds, Timonium, MD>> >> >> >> NOTE DATE HAS BEEN CHANGED to 30-31 <<State Fairgrounds Sat. 9-4, Sun. 10-4, Admission $9, under 15 free, family $18, tickets good for both days.
November 4 -7, 2010 Fall Board of Directors' Meeting Lancaster, PA Lancaster Chapter
November 6, 2010 Taking The Swing Train '40s Dance @ RR Museum of PA 7 PM to 10 PM Jump, jive and swing to the popular Sound of Roses live band among the trains in the Railroad Museum's awe inspiring Rolling Stock Hall. Come in uniform or '40s clothing! Special savings combination ticket, per person, for the dance and both days of Trains & Troops: $35.00; Dance ticket only, per person: $25.00; Veterans and active duty service personnel and FRM members, per person: $20.00. Dance tickets should be purchased in advance by phone at 717/687-8628, ext 3008, in person at the Whistle Stop Shop museum store or on line, using a printable ticket request form. Dance tickets may be ordered online. 2009 Details and tickets.
November 6 & 7, 2010 Trains & Troops @ RR Museum of PA, Regular Museum hours. Greet our guys and gals in uniform, experience many splendid railroad and military archival displays, enjoy the patriotic spirit. Ride the troop trains on the Strasburg Rail Road with living history re-enactors on both days of the Railroad Museum's Trains & Troops program. Troop train tickets are sold separately by the Strasburg Rail Road on line at www.strasburgrailroad.com.
Nov. 7, 2010 Steamin' Days @ Auburn Heights12:30 - 4 PM, Stanley Steamers, steam trains, mansion tours, Marshall Estate, Yorklyn, DE
Nov. 13-14, 2010 Allentown Train Meet Associates First Frost Train Meet 9-4 Saturday, 9-3 Sunday, Allentown Fairgrounds Agricultural Hall, 302 North 17th St., Allentown, PA 18014
Nov. 26, & 27, 2010 Steamin' Days @ Auburn Heights12:30 - 4 PM, Stanley Steamers, steam trains, mansion tours, Marshall Estate, Yorklyn, DE
December 4 & 11, 2010 Home For The Holidays @ RR Museum of PA Regular Museum hours. Take a nostalgic glimpse at holiday rail travel. Meet costumed engineers, conductors, ticket agents and passengers representing the past century and enjoy seasonal music, festive decorations, Jack Frost Station and a Polar Express party for young children among our world-class collection of trains. Included in the regular Museum admission
Feb 26-27, 2011 Allentown Train Meet Associates Spring Thaw Train Meet 9-4 Saturday, 9-3 Sunday, Allentown Fairgrounds Agricultural Hall, 302 North 17th St., Allentown, PA 18014
October 27-30, 2011 Wilmington Chapter will host the NRHS's Fall National Director's Meeting details to follow as they become available
---
CHAPTER EVENTS
Thursday Oct. 21, 2010 7 PM Chapter Meeting program by Dan Frederick
Thursday Nov. 18, 2010 7 PM Chapter Meeting program by Frank Ferguson
Sunday Dec. 5, 2010 5 PM Holiday Dinner in lieu of normal monthly meeting
The Wilmington Chapter of the National Railway Historical Society (NRHS) meets at 7:00 PM on the third Thursday of each month [except August & December] in the Darley Room at the Claymont Community Center on Green Street in Claymont, Delaware. Visitors are always welcome. Admission to regular meetings is free. Check out our Website (thanks to Russ Fox) at:
---
The Transfer Table is published six to ten times per year as the newsletter of the Wilmington Chapter of the National Railway Historical Society. Items in this publication do not represent the official position of either Officers or Members of the Wilmington Chapter or the Editor of this publication.
Permission to reprint articles and news items appearing herein is granted to NRHS Chapters and other newsletters provided appropriate credit is given.
Contributions are always welcome and should be sent to the editor at SD40GMA@aol.com or send to: P.O. Box 1136, Hockessin, DE 19707-5136.Deadline for entries is the 25th of the month.
Chapter OfficersPresident: Mike BurkhartVice President & Historian: Ron CleavesTreasurer: Dave WarnerSecretary: Dan FrederickNational Director & Trip Director: Steve BarryEditor: Greg AjamianEvent Photographer: Ron CleavesWeb Master: Russ Fox