NOTE: The Lite Version is our electronic version which is available for free from this web site. It has limited content but gives you a taste of what is offered in our Full Version.
The Full Version is our printed newsletter which is mailed to you. It contains everything in the Lite Version along with many other reprinted pages from other NRHS newsletters, railroad publications, and flyers that contain photographs, drawings, and maps. The full version is just another benefit of joining our chapter.
THE TRANSFER TABLEThe Wilmington Chapter NRHS Official NewsletterInternet Edition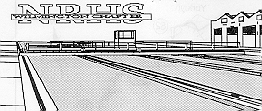 VOLUME 33 NUMBER 10
N

ovember

2010
Back To Wilmington Chapter Web Site
October 21, 2010 MEETING NOTES
This reporter could not attend the October meeting.
---
From The President
The Annual Chapter Holiday Banquet and Presentation Extraordinaire shall commence at or about 5 PM on Sunday, Dec. 5, 2010 at Maximillian's Restaurant N' Tavern, 3001 Naamans Creek Rd, Upper Chichester, PA 19061-2534 phone =(610) 485-3500. If you want to attend, you MUST SIGN UP. Anyone who has not signed up yet should contact with President Mike Burkhart (at m.t.burkhart@rcn.com or telephone him at 610-833-2338) to add your name(s) to the sign-up list. This year's Holiday Dinner will be $20 per person. As a reminder, if you sign-up and do not cancel more than two weeks before the date of the dinner, you will be charged (to avoid the Chapter having to cover for any 'no shows').
---
From The Trip Director
Hello, Streetcar Fans! We have two Wilmington Chapter Streetcar Charters scheduled for your enjoyment!!!!December 11, 2010 Christmas Lights Charter -- We'll be taking operator Gary Mason's decorated PCC-2 out for night photography on a Saturday night. This trip will depart from Callowhill at 5:00 p.m. We are limiting the capacity on this trip to 25 people (to keep the night photos manageable). Fare is $45.
February 5, 2011, Super Saturday Streetcar Special XVIII -- This trip will depart from Elmwood at 10:00 a.m. with a PCC-II car and wander the southwest Philadelphia routes, as well as diversion trackage. This trip usually sells out, and we will not add a second car. Fare is $40.
SPECIAL -- We are offering an early-bird special on the Christmas Lights Charter and Super Saturday trips. Order both now and get 'em for $75. Details are on the website. Offer good until November 10 while tickets last.
Visit http://www.wilmingtonchaptertrips.com to order tickets or to get more information. If you wish to order any tickets via mail, make checks payable to Wilmington Chapter NRHS and send to Wilmington Chapter NRHS, c/o Steve Barry, 117 High Street, Newton, NJ 07860. Please include an e-mail address for your confirmation. Confirmations are sent out approximately two weeks before a trip.
---
From The Treasurer
It's that time again . . . Dues Are Due Please send your dues to our Treasurer, Dave Warner with a check made out to the Wilmington Chapter NRHS.
---
NEWS BITS
Governor cancels ARC Tunnel - New Jersey Republican Gov. Chris Christie who put the Access to the Region's Core Trans-Hudson Express commuter rail tunnel on a 30-day hold last month, has now canceled the project outright because its cost had grown from an estimated $8.7 billion to the $11-14 billion range. Work on the tunnel began last year, and around $600 million has been spent so far. Approximately $6 billion was pledged toward its construction by the Port Authority of New York & New Jersey and the Federal Transit Administration. The project was expected to generate 60,000 construction jobs over a ten-year period. The state will "immediately begin an expeditious and orderly shutdown of the project," Christie said. "I will not allow taxpayers to fund projects that run over budget with no clear way of how these costs will be paid for. The ARC project costs far more than New Jersey taxpayers can afford and the only prudent move is to end this project." The FTA's $3 billion contribution is capped at that amount, Christie said, and cost overruns would have to be absorbed by New Jersey. At a press conference announcing the project's shut-down, Christie said that NJ Transit has other options for dealing with congestion on its commuter rail system, the nation's third largest. He did not say what those other options might be. The ARC tunnel has been criticized since major changes were made to the plans. The original plans called for the new tunnel to have a connector to the existing Penn Station, providing NJT as well as Amtrak greater operational flexibility. The original plans were revised, eliminating the connecting tunnel (planners cited too-steep grades and other engineering problems), making the ARC Tunnel exclusive to NJT operations. Some industry observers have speculated that Christie's cancellation of the project is really an attempt to remake it, and restore the original planned connector to Penn Station, and possibly obtain additional federal funding. [from Ed Mayover]
CSX, the State of New Jersey and the Port Authority of New York and New Jersey celebrated the opening of the Liberty Corridor Freightway, a major public-private partnership that provides expanded access to the Port of New York and New Jersey. Enabling double-stack intermodal freight to flow from the Port of New York and New Jersey to inland destinations, the Liberty Corridor Freightway will increase train capacity, improve service levels and expedite freight flows to and from inland ports. The project will also help keep thousands of trucks off crowded highways each year. The Liberty Corridor Freightway will also ease the burden on the nation's roads. Just one Liberty Corridor Freightway train carries the cargo of 250 trucks and emits one-third the nitrous oxide and particulate matter.
Construction of the Liberty Corridor Freightway was a logistically complex undertaking that raised the clearance of two tunnels in New Jersey to accommodate double stack freight trains. One tunnel, which dates from the administration of Abraham Lincoln, passes through over 4,000 feet of dense rock directly beneath Jersey City, N.J. [CSX Press Release via Ed Mayover]
An ex-CP M424 locomotive has been delivered to the West Chester RR [from Ed Thornton]
Thanks to Dave Warner for the article on PATCO's Search for More Cars and for obtaining permission for us to reprint it.
Moynihan Station construction begins in New York City Construction on a long-awaited project to transform Manhattan's Farley Federal Post Office building into a new Moynihan Station now is under way. On Oct. 18, state and federal officials broke ground on Phase I of the project, which calls for expanding and improving the 33rd Street Connector between Penn Station and the West End Concourse, located under the grand staircase of the Farley building. The project's first phase also includes extending and widening the West End Concourse to serve nine of Penn Station's 11 platforms, and adding new vertical access points and passenger circulation space, as well as entrances into the West End Concourse through the 31st and 33rd street corners of the Farley building. The project will help relieve congestion at New York's Penn Station. Expected to be complete by 2016, the $267 million first phase will be funded through state and federal dollars, including an $83 million Transportation Investment Generating Economic Recovery (TIGER) grant. Planning is under way for Phase 2, which includes constructing a train hall. [from Progressive Railroading via Ed Mayover]
USDOT doles out TIGER II grants for 75 transportation projects Although about 1,000 applicants sought TIGER II grants totaling more than $19 billion, the U.S. Department of Transportation (USDOT) ultimately whittled down the list of recipients to 75 for the $600 million available in the second phase of the Transportation Investment Generating Economic Recovery (TIGER) program.
Yesterday, the USDOT announced 42 capital construction projects and 33 planning projects in 40 states will receive TIGER II grants. About 29 percent of the grants target road projects, 26 percent cover transit projects, 20 percent touch on rail projects and 16 percent will help fund port projects.Capital grant amounts and recipients include:

$47.7 million for the Atlanta streetcar project;
$34 million for the Tower 55 project in Fort Worth, Texas;
$26 million for the Sugar House streetcar project in South Salt Lake City;
$22.7 million for the Port of Miami rail access project;
$20 million for the Los Angeles County Metropolitan Transportation Authority's Crenshaw/LAX light-rail line;
$16.5 million for the Niagara Falls, N.Y., rail station;
$16 million for reconstruction of MRC Railroad in S. Dakota;
$16 million for Port of Los Angeles W. Basin rail yard project;
$14.1 million for the Minot, N.D., grade separation project;
$13.5 million for the Coos Bay rail line project in Oregon;
$10.5 million for Aroostook rail preservation project in Maine;
$10.2 million for the South Kansas and Oklahoma Railroad's track, bridge & locomotive shop projects in Kansas & OK

Planning grant amounts and recipients include:

$2.2 million for the Newark train station improvement plan in Delaware;
$950,000 for downtown intermodal terminal Madison, Wis.;
$800,000 for the South Shore commuter-rail realignment study in Indiana;
$700,000 for the Lexington multi-modal station area plan in North Carolina. [from Progressive Railroading via Ed Mayover]
A new Amtrak station is open near Orlando for the more than 244,000 annual Amtrak Auto Train passengers. At about 10,000 square feet, the station in Sanford seats 600 passengers and is about four times larger than its predecessor. Thomas Carper, chairman of the Amtrak Board of Directors, today joined local, state and federal officials for the celebration. The original depot, constructed in 1971 and renovated in 1995, was not large enough to accommodate growing demand for the Auto Train, which just reported a year-to-year ridership increase of nearly five percent Š despite the economic recession. Under the American Recovery and Reinvestment Act of 2009 (ARRA), Amtrak received $10.5 million to reconstruct the Sanford station, as the original facility sustained extensive damage during the 2004 hurricane season and part of the waiting room had since been sheltered in a tent. Station platforms are receiving $161,000 in Amtrak ARRA funds for accessibility improvements of a wheelchair lift and tactile edges under the railroad's Mobility First initiative. Anticipating increased traffic around the complex, Cong. Brown and Cong. Mica helped direct $750,000 to the project for the design and construction of improved access roads and new signage in the station area. In addition to the larger passenger lounge, the modern structure contains a ticket counter, cafˇ, restrooms, and a gift shop. The transition between the new station and the remainder of the depot is accomplished by a pavilion whose roof slopes upward toward the trackside fa¨ade in opposition to the roofline of the adjoining waiting room. The pavilion is centered upon a deep porte-cochere that shelters passengers while they enter the station and register their vehicles for loading and storage. A portion of the former station abutting the new structure will be reconfigured into administrative offices and will open in early 2011. The original platform canopy remains in place to protect passengers from inclement weather as they board or exit the Auto Train. The Amtrak Auto Train holds the distinction as the longest passenger train in the world, with two locomotives and 40-plus passenger rail cars and vehicle carriers operating daily to Lorton, Va., in the suburbs of Washington, D.C. [Press Release via Ed Mayover]
Norfolk Southern broke ground on new $95 million intermodal terminal in Greencastle, Pa. The $95 million facility, part of the railroad's multi-state Crescent Corridor initiative to establish an efficient, high-capacity intermodal freight rail route between the Gulf Coast and the Northeast, occupies a 200-acre site adjacent to the planned Antrim Commons Business Park and is expected to open in 2012.Today's groundbreaking is for the first of four new Crescent Corridor intermodal terminals Norfolk Southern plans to construct over the next two years. The Crescent Corridor is a program of improvements to infrastructure and other facilities geared toward creating a high capacity 2,500 mile intermodal route spanning from New Jersey to Louisiana that touches 26 percent of the nation's population and 30 percent of the nation's manufacturing output. It provides the shortest intermodal double stack route between the South and the Northeast. When fully operational it will handle more rail freight traffic faster and more reliably, creating or benefiting more than 70,000 green jobs by 2030 and producing these estimated annual benefits:
1.3 million long-haul trucks diverted from interstates

$141 million in accident avoidance savings

1.8 million tons in CO2 reduction

$565 million in congestion savings

$262 million in highway maintenance savings

163 million gallons in fuel savings

The Crescent Corridor program of projects is estimated to cost $2.5 billion for full development. In addition to the Greencastle facility, Crescent Corridor projects currently planned for development include new independent intermodal facilities at Birmingham, Ala., Charlotte, N.C. and Memphis, Tenn.; the expansion of intermodal terminals in Harrisburg and Philadelphia, Pa.; and the addition of freight rail capacity in Virginia and Mississippi. In addition to facility investments, the program includes significant investments in rail route improvements consisting of additional passing tracks, double track projects, improved signaling systems, and other track speed enhancements. When the Crescent Corridor is fully operational, annual benefits to Pennsylvania are expected to include more than 806,000 long-haul trucks diverted to rail, almost 10 million gallons of fuel saved, carbon dioxide reduction of 106,000 tons, more than $33 million in traffic congestion savings, and avoidance of an estimated $8.3 million in accident costs. Over the next ten years 26,000 jobs in Pennsylvania are expected to be created or enhanced by Crescent Corridor projects. Norfolk Southern also has improvements planned for existing intermodal terminals in Harrisburg and Philadelphia, along with $27 million in track and signal upgrades.

The proposed investment in the Franklin County Regional Intermodal Facility will create the capacity to handle more than 85,000 containers and trailers annually. The terminal will utilize the latest in gate and terminal automation technology, which shortens the waiting time for trucks entering the terminal, thereby reducing exhaust emissions and improving truck driver productivity. Four intermodal trains daily will serve the terminal. [Press Release via Ed Mayover]
HAPPY BIRTHDAY PENN STATION! NEW YORK - This month marks the beginning of the 100th Anniversary of the construction of New York Penn Station, and on Monday, October 18th, Amtrak will celebrate the anniversary of this historic station. Beginning at 9:15 a.m., the public is invited to enjoy rare photo imagery, artifacts, and other items commemorating the station's deep and rich history, including the vital role Amtrak plays in the history of passenger rail travel.
Approximately 550,000 passengers pass through New York Penn Station each day, which makes it the busiest station in Amtrak's system, and one of the busiest transportation hubs in the world. This terminal is also served by Long Island Rail Road and New Jersey Transit trains, as well as Amtrak's high-speed trains and other intercity services. Together, these three agencies operate over 1,000 weekday trains at Penn Station. The station originally opened in 1910. A reconstruction of the public areas of the station was completed in 1968, creating most of the present layout of those areas. [Press Release via Ed Mayover]
The architectural firm of Erdy McHenry, Philadelphia, has been engaged by the Pennsylvania Department of General Services to design a roundhouse at the Railroad Museum of Pennsylvania in Strasburg. On June 3, 2010, the Governor's Office of the Budget designated $500,000 for the design of a 16,000-square-foot roundhouse in the outdoor yard, to be located at the Museum's existing turntable. A significant number of the Museum's collection of historic locomotives and rolling stock, many of which are listed on the National Register of Historic Places and are the last of their kind in the world, currently reside outdoors and are deteriorating from exposure to the elements. The addition of a roundhouse at the Railroad Museum of Pennsylvania will provide permanent, climate-controlled storage for these historic artifacts. The Governor's Office of the Budget anticipates releasing an additional $6.1 million for the actual construction of the roundhouse in this fiscal year. [Press Release]
Amtrak announced it awarded a six-year, $466 million contract to Siemens to provide 70 new electric locomotives that will operate on the railroadÕs Northeast intercity passenger-rail services. The units will replace locomotives that are between 20 and 30 years old. Scheduled to be delivered beginning in February 2013, the Amtrak Cities Sprinter ACS-64 locomotives will operate at speeds up to 125 mph on the Northeast Corridor from Washington, D.C., to Boston, and up to 110 mph on the Keystone Corridor between Philadelphia and Harrisburg, Pa. As the new locomotives enter service, the railroad plans to first retire 20 DC AEM-7 electric locomotives, followed by 29 AC AEM-7 units and 15 HHP-8 locomotives. The additional units will support anticipated service expansion, according to Amtrak.
The locomotives will include crash energy management components, such as crash anti-climbing technology and push-back couplers designed to keep the train upright, inline and on the tracks if a collision occurs. The locomotive purchase is part of AmtrakÕs fleet strategy announced earlier this year that calls for replacing aging and outdated locomotives and passenger cars to improve operations, attract more riders, reduce maintenance costs and delays, improve on-time performance and expand service on current and new routes. [from Progressive Railroading via Ed Thonton]
Progress Rail Services, an Alabama-based subsidiary of Caterpillar Inc. provides RR-affiliated services like locomotive repair & rebuilding. Progress Rail promises to create 650 local jobs at the ABB plant in Munci, IN inexchange for a multi-year state and local incentive package. The massive building Ń with a central structure with a 99-foot-high ceiling and a manufacturing floor with built-in railroad tracks Ń has been for the most part empty since ABB closed in June 1998. The former ABB plant on Cowan Road is a 740,000-square-foot building that was for decades home to a Westinghouse transformer plant. [from www.thestarpress.com via Tom Daspit]
The first of SEPTA's 120 new, long-awaited Silverliner V passenger railcars at a cost of $274 million have arrived. Production delays repeatedly have pushed back delivery of the cars. SEPTA officials now hope to have all of the cars in service by the end of 2011. The first 3 production cars will be delivered next month and three more by the end of December from Hyundai-Rotem Corp., the manufacturer of the cars. The new cars, with state-of-the-art air-conditioning and heating systems and wide mid-car doors are being built in South Korea with final assembly at a plant on Weccacoe Avenue in South Philadelphia. The new Silverliners will replace 73 railcars built for SEPTA in the 1960s. With the retirement of the old cars and the addition of the 120 new ones, SEPTA is to have about 400 railcars by the end of 2011. [from Philadelphia Inquirer via Ed Mayover]
Amtrak is buying 70 new electric locomotives to provide improved performance and reliability for its Northeast intercity passenger rail services. The six-year, $466 million contract was awarded to Siemens and will create 250 jobs primarily at a facility in Sacramento, California, but also at plants in Norwood, Ohio and Alpharetta, Georgia. The first Amtrak Cities Sprinter ACS-64 electric locomotive is to be delivered in February 2013 and will operate at speeds up to 125 mph (201 kph) on the Northeast Corridor from Washington, D.C. to Boston and up to 110 mph (177 kph) on the Keystone Corridor from Philadelphia to Harrisburg, Pa. They will replace locomotives in service between 20 and 30 years with average mileage of 3.5 million miles traveled. The new Amtrak locomotive meets the latest federal safety regulations and includes additional safety features not yet required such as crash energy management components like anti-climbing technology and push-back couplers designed to keep the train upright, inline and on the tracks in the event of a collision. The design also allows for easier maintenance leading to faster turn around times and increased availability of locomotives for service. In addition, the new locomotives will be more energy efficient and will replace older units that presently do not have regenerative braking systems that can automatically return electricity to the power grid. As the new units come into service, Amtrak plans first to retire all current 20 DC AEM-7 electric locomotives in its fleet, followed by replacement of all 29 AC AEM-7 units. The remaining 21 locomotives of the order will be used to replace all 15 HHP-8 locomotives with the additional units supporting anticipated service expansion.In February 2010 Amtrak released an ambitious, long-term Fleet Strategy Plan to replace aging and outdated locomotives and passenger cars in order to enhance operations, attract more riders, reduce maintenance costs and delays, improve on-time performance and expand services on current and new routes. The report lays out the basis for recapitalizing the entire fleet over a period of time in a manner that will not only provide new and modern equipment for passengers, but will also develop and sustain the domestic production capacity needed for the long term viability of intercity passenger rail in the United States. The new 70 electric locomotives are a key element of that plan and is the second major equipment procurement undertaken since July 2010 when Amtrak announced the award of a $298 million contract to build 130 single-level passenger rail cars to support growing ridership on its long-distance trains. [AMTRAK news release via Ed Mayover]
U.S. Transportation Secretary Ray LaHood announced that 54 high-speed rail projects in 23 states will share in $2.4 billion to continue developing America's first nationwide program of high-speed intercity passenger rail service. The Department's Federal Railroad Administration received 132 applications from 32 states totaling $8.8 billion, more than three times the $2.4 billion available. During the first round of awards in the fall of 2009, applicants submitted more than $55 billion in project proposals for the initial $8 billion from the American Recovery and Reinvestment Act. "Demand for high-speed rail dollars is intense and it demonstrates just how important this historic initiative is," said Secretary LaHood. "States understand that high-speed rail represents a unique opportunity to create jobs, revitalize our manufacturing base, spur economic development and provide people with an environmentally friendly transportation option." More than 30 rail manufacturers and suppliers, both domestic and foreign, have agreed to establish or expand their bases of operations in the United States if they are hired to build America's next generation high-speed lines, a commitment the Obama Administration secured to help ensure new jobs are created here at home. Some award examples include:

California received more than $901 million, including $715 million for the construction of new high-speed rail lines in the Central Valley. The state has made significant investments in passenger rail that have led to remarkable ridership growth;
Florida received $800 million for the Tampa to Orlando high-speed rail corridor. The state's long-term vision is for a high-speed rail line that connects Tampa, Orlando, Miami and other communities;
Iowa received $230 million to create a new intercity passenger rail service between Iowa City and Chicago through the Quad Cities. When completed, the service will form an integral part of the existing efforts to develop the Chicago Hub intercity rail system in the Midwest; and
Michigan received $161 million for a high-speed rail corridor connecting Detroit and Chicago, the two largest cities in the Midwest. The long-term vision for this corridor includes doubling the number of daily round trips between Detroit and Chicago.
The money is being awarded for a range of activities, such as construction of track and stations, purchase of new passenger equipment, and planning studies to develop new high-speed rail service. In addition to the $8 billion down payment from the Recovery Act, additional funding for high-speed rail has come from several sources. These include $95 million from the U.S. Department of Transportation's FY 2009 appropriations and remaining money from a related FY 2008 appropriations program, and from the Department's FY 2010 appropriations, which included at least $2.125 billion for high-speed rail service development programs, $245 million for individual projects and $50 million for planning and multi-state proposal activities. A complete project list can be viewed at http://www.fra.dot.gov/rpd/passenger/2243.shtml [US DOT Release via Ed Mayover]
Public and private sector representatives today unveiled the state's first ultra-low emission GenSet locomotive at an event at Baltimore's Camden Station. Jointly funded by the U.S. Environmental Protection Agency (EPA) and CSX, the locomotive will be used at CSX's Curtis Bay Yard in Baltimore, significantly reducing nitrous oxide, particulate matter and CO2 emissions in the area. CSX joined EPA, the Maryland Department of Transportation (MDOT), the Maryland Department of the Environment (MDE) and the non-profit Mid-Atlantic Regional Air Management Association (MARAMA) to celebrate this milestone in an ongoing effort to reduce emissions. MARAMA submitted the application for an EPA funding grant for the GenSet locomotive. The EPA grant, funded by the American Reinvestment & Recovery Act, covered 65 percent of the $1.4 million needed to upgrade the locomotive, and CSX contributed the remaining funds as part of its commitment to reducing emissions and using less fuel. EPA also announced that it will partner with CSX on a second DERA-funded GenSet locomotive to be operated by CSX in the same area. MDOT submitted the application for EPA Diesel Emissions Reduction Act (DERA) funds on behalf of CSX, which will match the federal grant of $975,000 with $425,000 in private funding. GenSet locomotives reduce nitrous oxide and particulate matter emissions by approximately 80 percent and can reduce carbon dioxide emissions by 25 percent through technologies that monitor engine idling and switch to "sleep" mode after a period of inactivity. The locomotives made possible through these public-private partnerships are the first of their kind to be operated in Maryland. The introduction of GenSet locomotives throughout CSX's network is part of the company's work to reduce its carbon dioxide intensity eight percent by 2011. Over the last decade, CSX has invested more than $1.5 billion to upgrade its locomotive fleet with technology that reduces fuel consumption and air pollutant emissions. Through these efforts, the company has improved its fuel efficiency by more than 90 percent since 1980. [CSX News Release]
Port Authority of New York and New Jersey (PANYNJ) officials noted progress on the construction of the World Trade Center (WTC) Transportation Hub. The 800,000-square-foot facility will replace the temporary WTC station that opened in 2003 to restore Port Authority Trans-Hudson (PATH) service to the site following the Sept. 11, 2001, terrorist attacks. Construction on the $3.2 billion hub began in 2007. Next month, work will begin on building foundations for the transportation hall and Oculus, the "most visible part of the hub," according to PANYNJ. The Oculus' roof will be installed after the hub's main concourse is built up to street level in 2012. PANYNJ is using a "top-down" construction method that calls for building the roof of the facility first to ensure the Memorial Plaza is open by the 10th anniversary of the terrorist attacks. The roof of the hub serves as the floor for the memorial. Once complete, the WTC Transportation Hub will "represent the most integrated network of underground pedestrian connections in New York City," linking PATH service, 13 subway lines, the Battery Park City Ferry Terminal, Fulton Street Transit Center, the World Financial Center, and new office and retail space at the WTC site, PANYNJ said. The station is expected to serve 250,000 people daily. [Progressive Railroading via Ed Mayover]
---
SCHEDULE NOTES
Notices, announcements, schedules, etc. are provided here as a service to the members. The Chapter has no affiliation with any commercial operation, museum, or tourist line.
May 8, 2010 - March 26, 2011 Almost as Fast as Birds Can Fly - History of Railroading in DE at DE History Museum504 Market Street - Wilmington, DE 19801, For More Information: deinfo@dehistory.org or call (302) 655-7161 http://www.dehistory.org/MuseumExhibits/Railroad_2010/railroadindelawarehistory.htmWednesday-Friday: 11a.m.-4p.m., Saturday: 10a.m. - 4p.m Sponsored by Delaware Today, We the People Grant through the Delaware Humanities Forum, and Transportation Enhancement Fund
July 30, 2010 through early 2011 Thomas Viaduct Exhibit, B&O Railroad Museum, Baltimore featuring historic and contemporary artworks of this historic bridge. The exhibit will showcase local artists and will be held in the Museum's Education Station.
Nov. 13-14, 2010 Allentown Train Meet Associates First Frost Train Meet 9-4 Saturday, 9-3 Sunday, Allentown Fairgrounds Agricultural Hall, 302 North 17th St., Allentown, PA 18014
Nov. 26, & 27, 2010 Steamin' Days @ Auburn Heights12:30 - 4 PM, Stanley Steamers, steam trains, mansion tours, Marshall Estate, Yorklyn, DE
December 4 & 11, 2010 Home For The Holidays @ RR Museum of PA Regular Museum hours. Take a nostalgic glimpse at holiday rail travel. Meet costumed engineers, conductors, ticket agents and passengers representing the past century and enjoy seasonal music, festive decorations, Jack Frost Station and a Polar Express party for young children among our world-class collection of trains. Included in the regular Museum admission
Feb 26-27, 2011 Allentown Train Meet Associates Spring Thaw Train Meet 9-4 Saturday, 9-3 Sunday, Allentown Fairgrounds Agricultural Hall, 302 North 17th St., Allentown, PA 18014
October 27-30, 2011 Wilmington Chapter will host the NRHS's Fall National Director's Meeting details to follow as they become available
---
CHAPTER EVENTS
CHAPTER EVENTS Thursday Nov. 18, 2010 7 PM Chapter Meeting program by Frank Ferguson part 1 of his program on ??
Sunday Dec. 5, 2010 5 PM Holiday Dinner in lieu of normal monthly meeting, Maximillian's Restaurant & Tavern, 3001 Naamans Creek Rd, Upper Chichester, PA
Thursday Jan. 20, 2011 7 PM Chapter Meeting program by Frank Ferguson part 2 of his program on ??
Thursday Feb. 17, 2011 7 PM Chapter Meeting Do-It-Yourself Bring-Your-Own Photo & Slide Show
Thursday Mar. 17, 2011 7 PM Chapter Meeting program by ??
Thursday Apr. 21, 2011 7 PM Chapter Meeting program by ??
Thursday May 19, 2011 7 PM Chapter Meeting program by ??
Thursday June 16, 2011 7 PM Chapter Meeting program by ??
Thursday July 21, 2011 7 PM Chapter Meeting program by ??
Thursday Aug. 18, 2011 7 PM Chapter Trip ? in lieu of normal monthly meeting
Thursday Sept. 15, 2011 7 PM Chapter Meeting program by ??
Thursday Oct. 20, 2011 7 PM Chapter Meeting program by ??
October 27-30, 2011 Wilmington Chapter will host NRHS's Fall National Director's Meeting
Thursday Nov. 17, 2011 7 PM Chapter Meeting program by ??
Sunday Dec. 4, 2011 5 PM Holiday Dinner in lieu of normal monthly meeting
The Wilmington Chapter of the National Railway Historical Society (NRHS) meets at 7:00 PM on the third Thursday of each month [except August & December] in the Darley Room at the Claymont Community Center on Green Street in Claymont, Delaware. Visitors are always welcome. Admission to regular meetings is free. Check out our Website (thanks to Russ Fox) at:
---
The Transfer Table is published six to ten times per year as the newsletter of the Wilmington Chapter of the National Railway Historical Society. Items in this publication do not represent the official position of either Officers or Members of the Wilmington Chapter or the Editor of this publication.
Permission to reprint articles and news items appearing herein is granted to NRHS Chapters and other newsletters provided appropriate credit is given.
Contributions are always welcome and should be sent to the editor at SD40GMA@aol.com or send to: P.O. Box 1136, Hockessin, DE 19707-5136.Deadline for entries is the 25th of the month.
Chapter OfficersPresident: Mike BurkhartVice President & Historian: Ron CleavesTreasurer: Dave WarnerSecretary: Dan FrederickNational Director & Trip Director: Steve BarryEditor: Greg AjamianEvent Photographer: Ron CleavesWeb Master: Russ Fox