NOTE: The Lite Version is our electronic version which is available for free from this web site. It has limited content but gives you a taste of what is offered in our Full Version.
The Full Version is our printed newsletter which is mailed to you. It contains everything in the Lite Version along with many other reprinted pages from other NRHS newsletters, railroad publications, and flyers that contain photographs, drawings, and maps. The full version is just another benefit of joining our chapter.
THE TRANSFER TABLEThe Wilmington Chapter NRHS Official NewsletterInternet Edition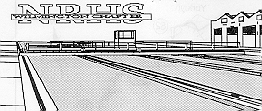 VOLUME 33 NUMBER 4

MAY

2010
Back To Wilmington Chapter Web Site
April 15, 2010 MEETING NOTES
President Mike Burkhart called the meeting to order at 7 PM. The minutes were approved as read by Secretary Dan Frederick. The Treasurer's report was delivered by President Mike Burkhart and approved as read. It was reported that our Toronto Trolley Trip was a success and contributed positively after expenses. The National Director's report was also given by President Mike Burkhart who also reported that Chapter member Dave Frazer has hurt his back and is unable to get to the meetings. We wish Dave a speedy recovery to pain-free health. Tom Posatko gave us an update on our corporate status.
After a short break, Mike Burkhart presented a great slide program that included the B&LE, the Monongahela, the Allegheny, PC&Y and the Ma & Pa. We got to see some rare equipment like an ex-Great Northern NW-5 and saw many great locations from Pittsburgh to Gettysburg to Toronto.
This month's program will be by special guest John Meise, a member of the Chesapeake Railway Association, who will present a program about "Railroading on the DelMarVa Peninsula" thanks to the efforts of Ed Thornton
---
From The Treasurer
2010 MEMBERSHIP DUES - The good news for the chapter is that everyone has paid their dues for 2010. Thank you for your continued support of our chapter. The confusing news for the few of you who paid your dues in February or later is that you may have received a "Final Notice" from National implying that you have not paid your dues. Please ignore that notice. National had the notices printed based on information they had through the middle of February, and didn't check to see who had paid in March before sending out the notices. Hopefully next year procedures can be improved to avoid this confusion.-- David Warner, Membership Chairman and Treasurer.
---
From The Editor
Alternate Income Manager Greg Ajamian received yet another large donation of four boxes of video tapes from Jim Maloney. Our Chapter owes him a huge "Thank You" for providing us with a great fund-raiser in pursuit of our new projector.
---
ONE LAST ALCO SAFARI
By Tom Smith
It has been over 40 years since an Alco builders plate was attached to a new locomotive at Schenectady. Natural attrition alone would account for the scarcity of remaining Alcos, and their minority status even when Alco was still building locomotives should have rendered them extinct by now. But there are still a few strongholds that keep the faith, and so Alco fans have made pilgrimages to Arizona, Arkansas, Minnesota, Pennsylvania and a few other smaller operations to hear that familiar Alco burble and watch plumes of smoke erupt when the throttle is opened.
I was now down to my last objective. The Detroit & Mackinac Railroad in eastern Michigan had an all Alco roster from the time they claimed to be the first Class I railroad to completely dieselize with Alco RS2's in 1946, until the present. The D&M, now known as the Lake States Railway Co., has been loyal to Alco, even to replacing their RS2's with secondhand units from Alco and Montreal. But that was now changing; the LSRC was acquiring a small fleet of second hand EMD GP40's that would banish this last Alco bastion to oblivion. There was no time to lose.
It was perfect opportunity that Trainfest 2009 in Owosso, Mich. was only a couple hour's drive from Bay City, the southern end of the LSRC, so I planned to spend a couple of days on this line. There are many nice photo locations in the beautiful vacation country along the shores of Lake Huron. But there aren't any trains. There is just one train each way on the original D&M main between Alpena and Bay City and it runs at night on weekdays only. The LSRC also operates the exNYC line to Grayling in northwest Michigan.
I didn't see any sign of activity in the Bay City yard, and driving toward Alpena, all I saw was very rusty rails that could have just been idle over the weekend, but looked like they hadn't seen a train in weeks. But when I got to Alpena, I found an exCN M420 in the yard and a stone train with a GP40 and C424. The dispatcher told me the stone train was called for 4:30 PM, and the crew would add the M420 to the consist and head south.
It takes patience, a high ASA setting on your camera or film, and lonnnng summer days in the north woods to get action photos of this road. It is no problem to get ahead of the train with its 10mph speed limit, but by the time the train leaves the yard, it takes a long time to get to a good accessible photo location. One, maybe two shots and it's time to try nighttime action photography!
I stayed at a little motel on the Lake in Alpena, close enough to the tracks that I could hear a northbound train, if they had run one Sunday night. But next morning I heard a train horn, and jumped in my car to catch the incoming train on the Thunder River bridge. It was led by an M420 with a GP40 and C424 trailing. It appears to be a normal routine to cut off one of the road engines from the incoming train and use it for yard switching during the day, then pick it up again in the afternoon for the southbound road train.
The summer of 2009 could well be the last for the LSRC's Alcos. This was not a spectacular operation as some were, but of the seven LSRC locomotives I saw, five were Alcos or MLW's. Regardless, Alpena turned out to be a pleasant place to visit and had a nicely done maritime museum dedicated to shipping on the Great Lakes. It is unexpected little bonuses like this that add to the fun of railfanning.
---
NEWS BITS
STUDIES FIND MOST AMERICANS DON'T RECOGNIZE 'CROSSBUCK' SIGN: At the urging of North America 's rail industry, the Federal Highway Administration (FHWA) is taking an important step toward improving safety at highway-rail grade crossings, encouraging state officials to install a stop or yield sign at grade crossings. Numerous studies have shown that the large majority of drivers do not understand the meaning of the crossbuck sign currently posted at most grade crossings, while yield and stop signs are universally understood. Some 60 percent of highway-rail grade crossings in the country are passive crossings, meaning they are protected only by signs instead of flashing lights or gates. " North America 's freight railroads commend the FHWA for issuing this common-sense guidance," says Edward R. Hamberger, president and CEO of the Association of American Railroads. "Drivers need to know they should yield or stop to look for oncoming trains. Only one in five motorists today understands that the crossbuck is a warning sign. This will provide drivers clear direction to stop or yield at railroad grade crossings, which we hope will save many lives." The U.S. Department of Transportation's Inspector General found that driver error or poor judgment was responsible for 94 percent of public grade crossing accidents and 87 percent of fatalities. Look, Listen and Live! [from AMERICAN RAIL LINK via Ed Mayover]
BEACH GROVE TO GET 108 AMTRAK JOBS: Federal stimulus money is helping Amtrak workers in Indiana. Transportation Secretary Ray LaHood toured the Amtrak maintenance facility in Beech Grove Friday. Amtrak used $32 million from the Recovery Act to create 108 jobs in Beech Grove. LaHood says the United States is getting ready to expand high-speed inner-city passenger rail. [from AMERICAN RAIL LINK via Ed Mayover]
AMTRAK PLANS TO IMPLEMENT PTC BY 2012: Amtrak is planning to implement positive train control technology on the lines it owns by the end of 2012, three years ahead of a federally mandated deadline. The railroad owns the Boston-Washington Northeast Corridor, the Philadelphia-Harrisburg Keystone Corridor, plus the portion of the Wolverine Service route between Kalamazoo , Mich. , and Porter, Ind. In late 2008, Congress ordered railroads to implement PTC on most rail lines by the end of 2015. All lines that host passenger trains are included. The technology is designed to detect conditions that could lead to a collision between two trains, and stop trains before an accident can occur. Amtrak will submit its PTC implementation plan to the Federal Railroad Administration by April 16, as Congress required. It's planning for interoperability with other railroads, key on most Amtrak routes, where freight and passenger trains share the same routes. (Trains News Wire via AMERICAN RAIL LINK via Ed Mayover)
The Federal Railroad Administration (FRA) will soon begin accepting grant applications for the deployment of positive train control (PTC) collision avoidance systems and complementary advanced technologies under a new $50 million Rail Safety Technology Program, FRA Administrator Joseph Szabo said today. Eligible applicants include passenger and freight rail carriers, railroad suppliers and state and local governments. The program requires that the funded PTC projects or related systems be ready for deployment within 24 months of the grant award. FRA will give preference to collaborative projects sponsored by multiple railroads and public authorities that satisfy one or more specific objectives, particularly interoperability. PTC systems are comprised of several components that control train movements and speed to prevent collisions or derailments. The Rail Safety Improvement Act of 2008 (RSIA) mandates the deployment of interoperable PTC systems by December 31, 2015 on mainline tracks that carry passenger trains or Poison Inhalation Hazard /Toxic Inhalation Hazard materials. The new grant program was authorized under RSIA and has an 80/20 cost-sharing requirement. Applications will be reviewed immediately following the July 1, 2010 filing deadline. Selection announcements will be made on or around September 3, 2010. [US DOT via Ed Mayover]
During the first six months of the FY '10 fiscal year, Amtrak carried a record high of 13,619,770 passengers - a 4.3 percent increase over last year and roughly 100,000 more than the same period in FY '08, when the company set its all-time record for annual ridership. A slowly improving economy and continued high fuel prices are contributing factors in ridership growth. Comparing March 2010 to March 2009, ridership increased by 13.5 percent to a record 2.47 million passengers for the month. In addition, every single Amtrak route carried more passengers, with several experiencing double-digit growth. [from Amtrak This Week via Ed Thornton]
The K-4 Locomotive # 1361 has attracted a lot of attention in Altoona over the years. Despite a long an expensive effort to fully restore the steam locomotive, it will be coming back as a non-working museum exhibit.
Built in Juniata shops back in 1918, this particular K-4 Locomotive long served as a symbol of Altoona and the Altoona Railroader's Memorial Museum. The Locomotive was on display for decades at the Horseshoe Curve before a comprehensive effort to refurbish and restore it was mounted. But after years of work, and a couple of million dollars devoted to the project, the K-4 remains and pieces and that restoration effort has come to an end. It was back around 1996 that the historic locomotive was shipped off to the Steamtown repair shop outside of Scranton.

Despite a lot of work done on the K-4 at that location, it's clear now the K-4 Locomotive will never be back in full working condition. The board of the Railroader's Museum decided at their last meeting that the K-4 restoration effort was being put on hold. While the change will be disappointment to steam train fans who wanted to see it return to the rails, museum officials say the K-4 will still be a great exhibit. Museum officials are confident the K-4 will add to their collection and attract a lot of attention. Still because the locomotive will never be able to meet current Federal Rail safety standards and return to service of any sort, there is disappointment for those who have long been involved in the restoration effort.

The schedule for returning the K-4 to Altoona will depend on the progress of a quarter round house building that slated for construction on the grounds of the Altoona Railroader's Museum later this year. That building will be needed to assemble and protect the new K-4 exhibit. (from http://wearecentralpa.com/fulltext/?nxd_id=165025 via Ed Thornton)
According to an article on progressiverailroading.com, Caltrain is currently facing a multi-million-dollar deficit in FY2011 and beyond due to a decline in ridership and reduced contributions from its partners — the city and county of San Francisco, San Mateo County Transit District and Santa Clara Valley Transportation Authority. To make up the shortfall, the agency might have to eliminate mid-day, night and weekend service. Caltrain currently operates diesel-powered trains between San Francisco and Gilroy, Calif. According to the agency, a "modern, electric-powered railroad" can provide faster, more frequent service and, in turn, attract more riders and generate more revenue. They claim that if Caltrain electrified its system, revenue would increase 49 percent by 2019, while operating costs would remain flat, officials believe. But, it would cost more than $1.5 billion to electrify the corridor, improve signal systems, and purchase new rolling stock. (via Tom Smith)
On March 26 CSX freight train Q370 on the Cumberland-South Philadelphia run derailed at about 11 a.m. on the B&O Old Main line near the intersection of River and Gun roads, along the Baltimore-Howard county line in Patapsco Valley State Park. Cars 13 through 20 derailed on the 60-car train, which was being pulled by two locomotives. The cause was determined to be a broken rim. A CSX spokesman said the train was hauling scrap, sheet rock and plastic materials. No injuries were reported. (WBAL TV, March 26, 2010 via High Green via Tim Moriarty)
Metro to Add $8 Million Inspection Car to Fleet: The Washington Metropolitan Area Transit Authority has selected ENSCO, Inc. to create and build a new rail car for the organization that would be used specifically to inspect track conditions and locate potential safety hazards. The vehicle would be automated and would be able to operate without interrupting rail service. The rail car, which is projected to cost just under $8 million to construct, is expected to be completed by 2012. The current Metro system includes a track inspection already, but the tracks can only be examined while rail cars are stopped and out of operation. Because the proposed rail inspection car would be able to function during normal passenger hours, the expectation is that track inspection would be much more frequent. (Sylvie Porter/E.W. Scripps Co., March 24, 2010 via Alex Mayes via High Green via Tim Moriarty)
Bus Service May Replace NJT's Dinky: The Princeton Borough and Township governments are considering a plan to replace the Dinky with a bus rapid transit system. The Dinky train's whistle could soon fall silent, ending a transportation tradition stretching back to the mid-19th century. The current two-car Dinky train runs three miles from the edge of the University's campus to the Princeton Junction train station, providing an access point to NJ Transit and Amtrak routes on the Northeast Corridor train line. (Ameena Schelling/The Princetonian, March 26th, 2010 via High Green via Tim Moriarty)
Philly Rail Line Could Be Rolling By 2016: A waterfront rail line in Philadelphia moved closer to reality as the Delaware River Port Authority approved a $6.5-million contract for environmental studies and preliminary design, the Philadelphia Inquirer reports. The work, expected to take about two years, is to prepare the way for a proposed $500-million light-rail line in the middle of Columbus Boulevard between Pier 70 and Girard Avenue. The line, which could be operated by SEPTA or PATCO, would be designed to improve transportation and spur development on the Philadelphia waterfront. It also would provide service between two casinos planned for the riverfront, Foxwoods to the south and SugarHouse to the north. A similar $9-million contract was approved last year for preliminary design and environmental studies for a proposed $1.5-billion, 18-mile light-rail extension between Camden and Glassboro. The Philadelphia trolleys could be running by 2016 if federal funding is available, port authority officials said. A Market Street light-rail line is proposed to connect the waterfront line to Center City. The no-bid contract approved March 17 would allow the agency to pay up to $6.5 million to Parsons Brinckerhoff, the engineering firm that earlier was awarded a $750,000 contract to evaluate route proposals for the line. (Railway Track & Structures, March 18, 2010 via High Green via Tim Moriarty)
From NRHS TELEGRAPH - News For Leadership - VOLUME 40 NUMBER 2 April, 2010 Changes in NRHS Convention Management by Greg Molloy
There are two important points that I want everyone to understand.

The NRHS is not planning to get out of the convention business. As discussed elsewhere in this issue of the Telegraph, the final details are being worked for a well- patronized convention in Scranton in June. Planning is well underway for the 2011 convention in Tacoma, and initial planning has begun for the 2012 convention in Cedar Rapids. NRHS management has reaffirmed our interest in proposals for 2013 and beyond. In the short term, NRHS management efforts have been focused on providing the support necessary to keep the 2010 and 2011 events on track. We expect attention will return to longer-term projects shortly.

All management decisions and actions regarding the convention business have been done for the good of the NRHS. Actions were taken for important business reasons. These changes were not arbitrary, nor were they the result of personal feuds or any other motives. All actions have been taken only after appropriate consultations among NRHS management and legal staff, and all are consistent with the NRHS Bylaws. We expect to keep the Board of Directors informed of further developments, and to make additional public announcements as soon as it is appropriate to do so.
MARC Adjusts Schedule as Amtrak Track Work Impacts Penn Line: The Maryland Transit Administration advises the public of an upcoming Amtrak project on the Northeast Corridor between New Carrollton and Baltimore that will impact MARC Train Penn line riders. This major track work project, replacing the crossties on the northbound track, will require Penn Line schedule changes approximately every 4-5 weeks for the next six months. (Railway Age, March 09, 2010 via High Green via Tim Moriarty)
[Maybe news, maybe Internetism, origin unknown, as yet unconfirmed, if true - it will certainly appear elsewhere] On Sunday, May 2, Union Pacific maintenance personnel removed from service the single remaining mechanically-operated switch and its accompanying facing point lock at Ridgely Tower in Springfield, Illinois. With this retirement, there are no longer any interlocking plants in the USA which operate switches connected via iron pipe to the tower's strong-arm levers - referred to as "Armstrong" by some. The principle of centralizing the operation of switches and signals first originated in Britain in the 1850s, and the principle of interlocking them to prevent unsafe sequences of operation followed soon thereafter. The only form of power found practical in the beginning was provided by the human body; as the towerman operated a lever, the motion was transferred to in iron pipeline through bell cranks, slides , pulleys, etc., running up to several hundred feet to the signal or switch operated by the lever. The pipeline had to be compensated for thermal expansion and contraction as the ambient temperature changed, and it had to be regularly lubricated and adjusted. Derailments could put the pipeline out of service or knock the pipes out of alignment, making them difficult to operate. Snow along the pipeline would often thaw and then freeze, causing difficulty. Proper maintenance worked wonders, but even in the best of condition, the leverman needed a strong back and strong arms to do his job - hence the nicknames given to these levers. Over the years, I've had the opportunity to operate a number of mechanical switches. The best operated with just a modest effort, but I can attest that the worst were backbreakers. Sometimes it wasn't the sheer force that mattered, but the right "twist" on the lever as it moved through its quadrant. After being slightly short of breath after lining a dozen hard-to-throw switches a few hundred feet away from the tower, it was rewarding to pull the last lever and watch out the window as the semaphore blade moved skyward with the motion of my hands. As various state legislatures passed laws in the late 1880s and 1890s requiring a stop at crossings and junctions that weren't equipped with interlockings, the number of interlocking plants proliferated. At the top of the list was Hammond, Indiana 's State Line Tower, built in 1897 and having 224 levers - the largest mechanical interlocking in North America . By the start of the 20th century, hydraulic, pneumatic, and electric power was being harnessed to operate railroad switches and signals. As late as 1990, several dozen towers using brute mechanical force to throw switches and clear signals remained in service. One by one they disappeared Chicago's 75th Street in 1997, State Line in 2000, East Chicago's Grasselli in 2007. With the closing of CSX's towers in Hancock and Keyser, WV in 2008, Springfield 's Ridgely Tower became the unlikely holder of the title "Last Mechanically Operated Interlocking in the USA." But now there are none. There are a few remaining towers that still use the old "strong-arm" levers; Dolton and Calumet are the last two in the Chicago area, and there are but a couple more scattered around the country. However, the mechanical pipeline at these towers was severed long ago, and the old levers at these locations do little more than open and close electrical circuits that operate the switches and signals at trackside. Ridgely Tower itself is on borrowed time. The removal of the last mechanically-operated appliances there Sunday was necessitated by the work underway there to rearrange the crossing and interchange tracks between UP (ex-GM&O) and I&M (ex-CI&M), and to eliminate the tower. The tower operators have been served the formal notice required by their contract, stating that their jobs will be abolished on or about June 7. When Ridgely closes some time in June, an era will end for Springfield - a city that had five active interlocking towers into the late Seventies. And one more vestige of the Chicago & Alton 's heritage will be gone. But the era of mechanical interlocking plants has already ended this weekend. That this technology originating around the time of the Civil War persisted into the second decade of the 21st century is a testament to the ingenuity of those who sought to ensure the safe operation of trains long before electricity was harnessed and long before digital computers. My hat is off in salute to those who designed, maintained, and operated this fascinating equipment that played a significant role in the history of railroading.
Canadian transportation giant Bombardier (TSX:BBD.B) says it is already incorporating into its new railway car designs pending U.S. safety rules meant to save lives during collisions.The new regulations set to take effect in March will require manufacturers to make changes so their railway cars are better able to withstand collisions. The changes announced in January are expected to cost about $4.1 million over 20 years, mostly for testing and engineering. (from AMERICAN RAIL LINK - JAN. 13, 2010 via Ed Mayover)
A new street entrance to the underground corridors serving Grand Central Terminal in New York City is being built on the south side of 47th Street midway between Park Avenue and Lexington Avenue. The new entrance will include a reversible escalator connecting the street level to the 47th Street cross passageway as well as a staircase from the street to the platform between Tracks 11 and 13 and from the platform down into the cross passageway. Currently the east end of the 47th Street cross passageway has no outlet. The work is part of MTA Long Island Rail Road's East Side Access project, which will bring LIRR commuters from Long Island and Eastern Queens to the east side of Manhattan in a new concourse being built under Grand Central Terminal. The 47th Street cross passage runs directly below street level from Lexington Avenue to Madison Avenue and has staircases that lead to every train platform on the upper level of Grand Central. (From the 47th Street cross passage, people also can use two north-south walkways to reach the 45th Street cross passage, which connects to all lower level platforms.) People who work north of Grand Central use the north end exits to save up to 15 minutes walking time to and from their offices. Work will also take place at the south end of the platform where Track 13 will be extended to the south due to the loss of some space at the north end of the platform for the staircases and escalator. The purpose is to maintain a 10-car-length platform. The work, now under way, will cost $14 million and take 20 months to complete. During construction, this platform will be out of service. When LIRR's East Side Access project is complete in December 2016, there also will be a connection between the new LIRR Concourse and the west end of the 47th Street cross passage to allow LIRR commuters the benefit of a shortcut in a weather-protected environment. The new entrance comes up inside the lobby of 245 Park Avenue, which occupies the block between 46th and 47th streets between Park and Lexington avenues. The entrance, which will open in September 2011, will be a glass storefront on the south side of 47th Street mid-block.
The National Capital Trolley Museum reopened at their new location on January 16,2010 after being closed for 13 months. The new facility is located a half mile from the previous location, in a $20 million complex funded by the state of Maryland. The relocation was required by the construction of the Inter County Connector expressway, which is being built through the site of the previous location. The new facility is a significant improvement over the previous one, with three new large brick buildings which include a visitors' center, car bam, and trolley maintenance and storage building. The museum's main trolley line also had to be located, as well as the overhead catenary. The new 3/4 mile trolley line was not in full operation as of late March, however is expected to be completed by mid-June 2010, Short trolley rides are currently provided on an oval track in front of the visitors center until the main line is completed. There are currently 14 streetcars in the museum's collection; six that operated in Washington D.C., two from other U.S. cities, and six from foreign countries. The interior of the new visitors' center is filled with interesting historical displays and murals describing several long-abandoned trolley systems from the local area, and an operating 0 scale model trolley layout. Visitors to the museum can take a trolley ride and a guided tour of the car bam to see and walk through some of their historic streetcars. The museum is located near Wheaton, MD at 1313 Bonifant Road, Colesville, MD 20905. They are open on weekends throughout the year from noon until 5:00 PM, and on some holidays. Their operating days and hours are subject to change, and visitors should call (301) 384-6088 or visit their website at http://www.dctrolley.org/ to confirm operating days and hours. (Alex Mayes via Baltimore Chapter's Interchange)
It's a whole lot quieter in Penn Station these days - no whirring sounds, no clickety-clack of an old-fashioned, mechanical signboard bringing the news that your train is 20 minutes late. In place of the iconic board above the main desk at Baltimore's Amtrak station, there now hangs a large digital board that works intermittently as it undergoes testing. Like so many other familiar inventions of the Industrial Age, the flip-flapping signboards are going the way of the steam engine in rail stations around the world. (Baltimore Sun web sire via Baltimore Chapter's Interchange)
---
SCHEDULE NOTES
Notices, announcements, schedules, etc. are provided here as a service to the members. The Chapter has no affiliation with any commercial operation, museum, or tourist line.
May 7-December?, 2010 History of Railroading in Delaware @ Delaware History Museum504 Market Street - Wilmington, DE 19801, For More Information: deinfo@dehistory.org or call (302) 655-7161
May 8, 2010 11:00 a.m. - 4:00 p.m National Train Day Washington, DC Philadelphia, PA, Washington, D.C. - Meet and Greet with the National Spokesperson Philadelphia, PA - Baseball Junction: The History of Baseball and the American Railroad Both - - Train Equipment Displays, Model Train Displays ,AmtraKids Depot, Go-Green Express: Eco Exhibit National Park Service Trails & Rails Exhibit, Snapshot Station, Trains Move our Economy Exhibit, Amtrak Brand Display - Enjoy the journey® - - for info http://www.nationaltrainday.com/
May 21, 2010 Opening of New Exhibit - Railroads of Chadds Ford PA, Community Open House Event 5:30-8:30 PM, Chadds Ford Historical Society http://www.chaddsfordhistory.org/
May 21 - 23, 2010 Conrail Days @ RR Museum of PA The Consolidated Rail Corporation arose from a federal bail out of the railroad industry in the 1970s to become a profitable and successful private enterprise. The equipment, history and spirit of Conrail will be highlighted, in partnership with the Conrail Historical Society.
June 4 - 6, 2010 Pennsylvania Railroad Pennsy Days @ RR Museum of PA Discover the rich heritage of the famous Pennsylvania Railroad, the "Standard Railroad of the World." Noted railroad artists, photographers and authors display and sell their works. Special presentations, operating layouts, memorabilia and tours of "Pennsy" equipment are featured. See here for details.
June 6, 2010 Hamburg Dutch Train Meet Hamburg Fire Co. Field House, Pine St., Hamburg, PA.
June 12, 2010 MA and PA Day @ RR Museum of PA View amazing models trains, historic photographs and artifacts on display today by members of the Maryland & Pennsylvania "MA & PA" Railroad Historical Society. 2009 Details.
June 22-26, 2010 NRHS National Convention Scranton, PA (Radisson & Hilton Hotels) "Endless Mountain Rails" hosted by Lackawanna & Wyoming Valley Chapter - www.endlessmountainrails.com
June 26-27, 2010 Great Scale Model Train Show, Timonium Fairgrounds, Timonium, MD State Fairgrounds Sat. 9-4, Sun. 10-4, Admission $9, under 15 free, family $18, tickets good for both days.
June 30 through July 5, 2010 Reading Railroad Days @ RR Museum of PA Regular Museum hours. Enjoy the remarkable Reading Railroad trains of eastern Pennsylvania history through tours of Reading Company equipment, a huge, operating model railroad and special presentations.
July 12 through July 16, 2010, for ages 9 & 10 Barons & Builders Day Camp @ RR Museum of PA
July 26 through July 30, 2010, for ages 11 & 12 Barons & Builders Day Camp @ RR Museum of PA Kids build, create, learn and play as they explore railroads and railroad history through a program of unique tours, innovative hands-on projects, field trips by train and special demonstrations. A limited number of openings are available for each day camp.
August 11 - 14, 2010 Railroad Family Days @ RR Museum of PA Great events for the whole family. Hogwarts Express parties August 13 and August 14.
Sept. 26, 2010 Members Day @ RR Museum of PA Special presentations and other events for members of the Friends of the Railroad Museum.
October 8 - 10, 2010 Model Railroading Days @ RR Museum of PA
October 9-10, 2010 Great Scale Model Train Show, Timonium Fairgrounds, Timonium, MD State Fairgrounds Sat. 9-4, Sun. 10-4, Admission $9, under 15 free, family $18, tickets good for both days.
October 10, 2010 Garden Railway Tours @ RR Museum of PA,1 pm to 5 pm Enjoy a self-guided tour of several private homes which feature beautiful garden railways, operating layouts and special model train collections. Garden Railways tour tickets are $10 per person for ages 6 and over. In cooperation with the National Toy Train Museum.
October 9-10, 2010 Great Scale Model Train Show, Timonium Fairgrounds, Timonium, MD State Fairgrounds Sat. 9-4, Sun. 10-4, Admission $9, under 15 free, family $18, tickets good for both days.
November 6, 2010 Taking The Swing Train '40s Dance @ RR Museum of PA 7 PM to 10 PM Jump, jive and swing to the popular Sound of Roses live band among the trains in the Railroad Museum's awe inspiring Rolling Stock Hall. Come in uniform or '40s clothing! Special savings combination ticket, per person, for the dance and both days of Trains & Troops: $35.00; Dance ticket only, per person: $25.00; Veterans and active duty service personnel and FRM members, per person: $20.00. Dance tickets should be purchased in advance by phone at 717/687-8628, ext 3008, in person at the Whistle Stop Shop museum store or on line, using a printable ticket request form. Dance tickets may be ordered online. 2009 Details and tickets.
November 4 -7, 2010 Fall Board of Directors' Meeting Lancaster, PA Lancaster Chapter
November 6 & 7, 2010 Trains & Troops @ RR Museum of PA, Regular Museum hours. Greet our guys and gals in uniform, experience many splendid railroad and military archival displays, enjoy the patriotic spirit. Ride the troop trains on the Strasburg Rail Road with living history re-enactors on both days of the Railroad Museum's Trains & Troops program. Troop train tickets are sold separately by the Strasburg Rail Road on line at www.strasburgrailroad.com.
December 11 & 4, 2010 Home For The Holidays @ RR Museum of PA Regular Museum hours. Take a nostalgic glimpse at holiday rail travel. Meet costumed engineers, conductors, ticket agents and passengers representing the past century and enjoy seasonal music, festive decorations, Jack Frost Station and a Polar Express party for young children among our world-class collection of trains. Included in the regular Museum admission
---
CHAPTER EVENTS
Thursday May 20, 2010 7 PM Chapter Meeting program by special guest John Meisea member of the Chesapeake Railway Association will present a program about "Railroading on the DelMarVa Peninsula" program arranged thanks to the personal efforts of Ed Thornton
Thursday June 17, 2010 7 PM Chapter Meeting program by Tom Smith entitled "Off the Main Line" --shortlines, industrials and tourist roads in the Northwest
Thursday July 15, 2010 7 PM Chapter Outing? in lieu of meeting - Juniata Terminal?
Thursday August 29, 2010 7 PM Chapter Trip? in lieu of meeting - River Line Camden/Trenton
Thursday Sept. 16, 2010 7 PM Chapter Meeting program by Phil Snyder "25 Yrs. Ago"
Thursday Oct. 21, 2010 7 PM Chapter Meeting program by Dan Frederick
Thursday Nov. 18, 2010 7 PM Chapter Meeting program by Frank Ferguson
Sunday Dec. TBD , 2010 5 PM Holiday Dinner in lieu of normal monthly meeting
The Wilmington Chapter of the National Railway Historical Society (NRHS) meets at 7:00 PM on the third Thursday of each month [except August & December] in the Darley Room at the Claymont Community Center on Green Street in Claymont, Delaware. Visitors are always welcome. Admission to regular meetings is free. Check out our Website (thanks to Russ Fox) at:
---
The Transfer Table is published six to ten times per year as the newsletter of the Wilmington Chapter of the National Railway Historical Society. Items in this publication do not represent the official position of either Officers or Members of the Wilmington Chapter or the Editor of this publication.
Permission to reprint articles and news items appearing herein is granted to NRHS Chapters and other newsletters provided appropriate credit is given.
Contributions are always welcome and should be sent to the editor at SD40GMA@aol.com or send to:P.O. Box 1136, Hockessin, DE 19707-5136.Deadline for entries is the 25th of the month.
Chapter OfficersPresident: Mike BurkhartVice President & Historian: Ron CleavesTreasurer: Dave WarnerSecretary: Dan FrederickNational Director & Trip Director: Steve BarryEditor: Greg AjamianEvent Photographer: Ron CleavesWeb Master: Russ Fox