NOTE: The Lite Version is our electronic version which is available for free from this web site. It has limited content but gives you a taste of what is offered in our Full Version.
The Full Version is our printed newsletter which is mailed to you. It contains everything in the Lite Version along with many other reprinted pages from other NRHS newsletters, railroad publications, and flyers that contain photographs, drawings, and maps. The full version is just another benefit of joining our chapter.
THE TRANSFER TABLEThe Wilmington Chapter NRHS Official NewsletterInternet Edition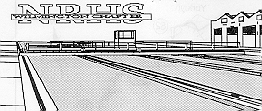 | | |
| --- | --- |
| VOLUME 33 NUMBER 1 | JANUARY 2010 |
Back To Wilmington Chapter Web Site
NOVEMBER 19, 2009 MEETING NOTES
President Phil Snyder called the meeting to order at 7PM. The minutes were read by Secretary Dan Frederick and approved as corrected. The Treasurer's report was approved as read by Dave Warner. There was no National Director's report. The Election Committee of Tom Posatko and Len Arcus presented a slate of Mike Burkhart for President, Ron Cleaves for Vice President, Dan Frederick for Secretary, Dave Warner for Treasurer, and Steve Barry as National Director. The Secretary cast a single ballot for the unopposed candidates.
Dave Warner described the article that he has in the December 2009 issue of TRAINS magazine. It was reported that Jared Downs is now a conductor on a (three mile) short line near St. Louis. Steve Barry reported on trip arrangements, Dave Warner on updates of data at National, and Mike Burkhart on Puerto Rico. There were multiple reports about the renovation of Wilmington Station and Frank Ferguson's report on NJT to Atlantic City.
After the break we were treated to Frank Ferguson's slides from the 1980's and 1990's from "off the beaten track" starting in California, Arizona, Utah, and Montana. We saw Portland Cement, Alcos on the Apache, E-60C's on the BM&LP, Navaho Mining, and Camus Prairie. We also saw the Iowa Northern and an Iowa traction unit built in 1919. There was the Peoria & Pekin Union, DM&IR, LS&I, and even the Alaska Railroad. We got to Manitoba, Nova Scotia, British Columbia, Louisiana and Norfolk, Virginia before he ended another of his great shows.
---
December 13, 2009 Holiday Dinner NOTES
This is the complete and official report as filed by the Chapter Secretary via e-mail, "The minutes are as follows: We had a great dinner, Steve Barry presented a great slide show. Respectfully submitted, R. Daniel Frederick, Secretary."
---
IN CASE OF BAD WEATHER
If our normal "THIRD THURSDAY" NRHS meeting is canceled due to inclement weather, it will be postponed and held on the FOURTH THURSDAY.If it must again be canceled, it will NOT be rescheduled. We will simply wait for the next month's normal "third Thursday" meeting. If the weather looks bad or is predicted to be bad, you may telephone the Claymont Community Center to see if it will be open that evening for our meeting.
---
Dues Are Due
It's that time again . . .Dues Are Due. If we have not yet received your check, there will be a RED mark on your address label.
---
From The Editor
If weather and work permits, I should make it to the January meeting. You should, too, because I will have about 4 months worth of exchange newsletters and other "goodies."
It has been quite a while since I published a Membership List (with names, mailing addresses, phone numbers, and e-mail addresses). Would you like a 'current' list? Do you have a problem with sharing that list with only our Chapter members (because you are on the FBI's Most Wanted List)? Let me know you opinion soon.
---
"Letters" to the Editor
via e-mail from Woody Massara:I enjoyed Ed Kaspriske's article on the PRR MU Trip in 1957 [ed. reprinted in the last issue of The Transfer Table]. Additional information on the trip: It was sponsored by the NY Chapter of the Electric Railroader's Association. I disagree with Ed on the lead car taking the overhead down, it was somewhere in the middle of the train, because when we got the new cars to replace the damaged cars, they were all in a block on the rear. By the way, we tore down 5 and 1/2 spans of catenary, roughly 1600-1700 feet. The engineer brought us to a stop at a signal (PRR had phone boxes at every signal) and called it in. Before the diesel got to us, we saw at least two wire trains on the eastbound track (separated from the westbound by 3 or 4 hundred feet at this point) heading east to work the scene as soon as we were cleared up.
One of the more interesting aspects of the trip was the mix of cars that replaced the damaged units. If you ever get the chance to see a side view of a number of MU cars, you will note that some of the pantographs form almost a perfect square set on one corner, while others are a parallelogram with the long axis vertical. The squattier pantographs are "high wire" cars. The main lines were all standard height, but many secondary and yards were considered "high wire territory".
The trip was scheduled to leave Enola and proceed down the Port Road with a stop in Perryville and Wilmington to discharge passengers. The conductor came through the consist to inform us that the "Port Road" was high wire territory and we would be proceeding east on the mainline to North Philly and New York. Well two other fans and I informed the conductor that arrangements had been made to let us off in Perryville and Wilmington, and due to the late arrival in New York, there would be no train to get us to our respective stops, so arrangements were made to deadhead us from North Philly to our destination(s).
The whistle blowing must have occurred after departing North Philly, as I don't remember it.
Further Notes:The new cars we got in Harrisburg were a mix of regular and high wire cars--the original consist was all high wire equipment. This was the reason the Port road portion was dropped.
The reason I wanted to get back to Wilmington was not that there would be no train service, but by the time we got to NYC and caught the late train to Wilmington, there would be no busses available to get me home--I had taken public transportation to get to the station from my home.
via e-mail from Tom Smith:Out of curiosity, I went back and reviewed my photo archives to try to identify the Red Arrow Christmas party that Dick Hall photographed at Sharon Hill. The photos were taken in 1969 when we used Red Arrow car 78. People that I could positively identify in my photos who were aboard were Jane Allen, Bill Russell, Skip and Pete Small. Possibly Tim Cronin, too, but he was in the service then. That's all. I'm sure my dad was aboard too. Some of the other people were probably Henry's guests. He was the one who chartered the car, and there were a lot of seats to fill, since we didn't have many Chapter members at that time who would go.
In 1970, 1971 and 1972 Henry chartered Red Arrow Center Door Car 73. That was quite an achievement as Red Arrow wouldn't charter a Center Door car as I recall since they were used only in work service, but I think SEPTA relaxed the rule. By 1972 the 73 had been restored to its original color scheme.
Dwindling attendance killed the Trolley Christmas parties. In 1973 we started the dinner party with program tradition. The first one was at the Surrey Restaurant on Philadelphia Pike and the program was the old movie "Broadway Limited."
via e-mail from John Hall: Richard Hall had several carousels of slides of train wrecks that he showed to the NRHS a few times. I've been looking for those slides but cannot find them. Do you know if he loaned them to somebody?
via e-mail from Tom Smith:Just rec'd the November TT today, some nice memories of Dick Hall. Dick's photos of the Chapter Christmas party on the SEPTA Red Arrow car brought back memories. Since that was a Chapter trip, not a public excursion, I should recognize just about anyone--but the only person I can positively identify is Mary Hall, and, of course, she was no mystery to Dick. The person Dick speculated was my Dad, Alto, does bear a resemblance, but if the photo was taken on the 1971 trip, it couldn't have been him since he passed away in September, 1971. I don't think the guy in the foreground is Bill Russell, either, but it does look a little like him.
Those trips were fun, and we did occasionally take passengers aboard who were waiting for a regular service car and treat them to a free ride and some Christmas cheer. and:
Further review of the Christmas Party photos, I think I can make out Paul Fortin, too. And Paul Moser is a definite maybe. (Henry, too, of course) This was the first of four years of Chapter Christmas trolley parties.
---
DAYLIGHT IN THE ROCKIESby Tom Smith
When the year 2009 is over, there is little doubt that the major event of the year will be Trainfest 2009 in Owosso, Mich. in July. And the highlight of Trainfest 2009 will be the appearance of Southern Pacific Daylight 4-8-4 4449. which made a cross country trip from her home in Portland to Michigan following the route of Amtrak's Empire Builder to Chicago and Blue Water to Durand. It was the first time the 4449 had been that far east since the American Freedom Train days of 1976-1977, and many eastern and midwestern fans had their first opportunity to see this legendary locomotive in operation.
After Trainfest ended, the 4449 made her way to the Twin Cities and headed some autumn leaf excursions for the Friends of Milwaukee 261, whose 4-8-4 was in the shop. Then the 4449 had to return to Portland, which would be accomplished with a special run using a collection of privately owned cars. Tickets were sold for the entire trip from Minneapolis to Portland or for individual segments. This was an opportunity that might never be available again. I decided to ride from Whitefish, Mont. back home to Portland. This was very familiar territory, but the Empire Builder covers most of it in darkness, as it has ever since Great Northern days, so seeing it in daylight would be special.
I took Amtrak's Empire Builder to Whitefish and rented a car from Hertz in the depot. I spent Friday Oct. 16 catching freights at photo locations around Marias Pass. I then chased the 4449 into Whitefish on Saturday from its overnight stop in Havre. The 4449 would spend Sunday in Whitefish.
On Monday I boarded the train with a parlor car seat in the exMILW Skytop parlor observation car Cedar Rapids. It was nicely restored, rode very well, and the view from the Skytop was great! Ahead of it was an exMILW Super Dome, 3 Private cars, a lounge car, a coach, 3 California Zephyr cars, 2 crew sleepers and the baggage-tool car, all privately owned but Amtrak certified. An Amtrak P42 provided HEP to the train, because it was an Amtrak train. Passengers were served a light breakfast and lunch. The 4449 ran at track speed, and we had priority over almost everything else, except at Sandpoint where we exited former Great Northern track to join former Northern Pacific track and had to wait 2 hours for 4 freights to clear the "funnel". In spite of that, we still arrived Spokane at 4PM, with a scheduled arrival at 5PM.
Next day, it was off to Portland, following the NP line to Pasco and the SP&S to Portland through the Columbia River Gorge, passing through my hometown of Camas, where my wife watched us pass through. A beautiful fall day, high speed running the whole way, and everything else was in the hole for us. Amtrak 14, the Coast Starlight, was about 45 minutes late, and 28, the Empire Builder's Portland section, had to depart Portland Union Station before there was a track open in the depot. I thanked Doyle McCormack for a great trip, and said "let's do it next year with the PA." He replied, "that's next."
I then boarded a MAX train at Union Station, and transferred to a C-Tran bus to return to Camas. The 4449 cut away and headed for the Brooklyn roundhouse, while the passenger cars were switched out to return to Minneapolis or Los Angeles.
---
NEWS BITS
Congratulations to our Treasurer Dave Warner for getting an article in TRAINS magazine! Entitled "Thirty-three years of railroad Christmas cards" was published October 23, 2009 and can be found at http://www.trains.com/trn/default.aspx?c=a&id=5744#
Philadelphia, PA - November 16, 2009 - Pennsylvania Governor Edward G. Rendell, Philadelphia Mayor Michael Nutter and CSX Chairman, President and CEO Michael J. Ward joined together to celebrate the construction of an improved rail route that generates hundreds of jobs. The completed project will create an improved double-stack rail corridor to expand Philadelphia's freight transportation options and position the region for future growth. The event was held at an active rail construction site in Philadelphia where workers are increasing clearances at 16 overhead bridges. By improving clearances, this project will allow a faster, more efficient rail connection with the Midwest, and will create over 1,200 direct and indirect jobs. The project is funded by a $10 million contribution from the Commonwealth of Pennsylvania, over $12 million from CSX, and an additional $10 million shared equally by two federal sources. [CSX Press Release]
SEPTA took another step toward restoring rail service to Wawa in Delaware County with approval yesterday of nine property easements necessary for the construction, the Philadelphia Inquirer reports. SEPTA plans to spend about $100 million to extend the R3 line three miles from Elwyn to Wawa and to build a new railcar storage yard. The new Wawa station will have a parking lot with 600 spaces; it is designed to ease overcrowding at the Media and Elwyn stations. Service to Wawa, which was halted in 1982, is expected to be restored by the end of 2013. Population growth in western Delaware County and southern Chester County prompted the project. The SEPTA board yesterday authorized $47,315 for easements on private property adjoining the rail line. The land will be used during construction. (from Railway Track and Structures via Ed Mayover)
To meet passenger demand for a higher level of food service, dining car service is being restored on the New York-Chicago Lake Shore Limited beginning Dec. 14. Refurbished Heritage Dining Cars will replace the Diner Light cars that have been part of the consist since 2007. [from AMTRAK INK]
Amtrak's FY 2010 Appropriations bill has been approved by Congress and is expected to be signed by the president as early as today. The Departments of Transportation and Housing and Urban Development, and Related Agencies Appropriations Act of 2010 contains $1.565 billion in federal support for Amtrak, comprising $563 million for operating, $594 million for capital, $264 million for debt service, and $144 million to be used for ADA compliance. While it is the highest appropriation in Amtrak history, it falls short of the $1.8 billion that was authorized by Congress in the Passenger Rail Investment and Improvement Act and what was subsequently requested by Amtrak in February 2009. The bill also contains a provision that requires Amtrak to implement the procedures necessary to provide storage and carriage of firearms in checked baggage cars and at Amtrak stations that accept checked baggage, within one year of the bill's enactment. Amtrak's current policy prohibits all firearms, ammunition and other weapons aboard its trains. This includes any being carried on the person, in carry-on baggage or in checked baggage, and applies regardless of whether a passenger has a permit to carry a firearm or weapon. The current policy remains in effect until it is announced that Amtrak will begin accepting firearms in checked baggage, as required by December 2010. [AMTRAK Advisory]
A new SEPTA R2 Timetable Wilmington/Newark DE to Philadelphia goes into effect January 17, 2010 [from Ed Thornton]
The Atlantic City Express Service (ACES) rail line posted a loss of $6 million in its first year of operation for gamblers. The state Casino Reinvestment Development Authority approved an extra $2 million to subsidize the operations. In return for that funding, the casinos that underwrite most of the rail line's cost have agreed to keep the trains running for at least two more years. The train service started last February in an attempt to draw New York customers to Atlantic City. Trains were operating at about 80 percent capacity during the peak summer season, but ridership has dropped off. The number of train trips will be cut from 18 to 11 due to the traditional slowdown in winter tourism. (Press of Atlantic City via Ed Mayover)
A Surprising Piece of Chicago Preserved in Baltimore Countless visitors to the B&O Railroad Museum in Baltimore, Maryland pass through a pair of monumental wrought iron gates coming and going each day. Somewhat hidden from view when the gates are open during the day they present a beautiful appearance when closed. These gates are an historic remnant of the once palatial Grand Central Station of the B&O Railroad in Chicago, Illinois. Salvaged from scrap when the great station was demolished in 1971, they were re-configured and installed at the Museum in 1985 during the last renovation of the Museum's campus by the Chessie System Railroads under Hays T. Watkins, one of the museum's most important benefactors.
The Northwest corner of the B&O Railroad's Grand Central Station in Chicago Grand Central Station, located in downtown Chicago, Illinois was constructed in 1890 and ceased operations in 1969. It was located at 201 W. Harrison Street in the south-western part of the Chicago Loop, the block bounded by Harrison Street, Wells Street, Polk Street and the Chicago River. Grand Central Station was designed by architect Solon Spencer Beman for the Wisconsin Central Railway, and was completed by the Chicago and Northern Pacific Railroad. Grand Central Station was eventually purchased by the Baltimore and Ohio Railroad, which used the station as the Chicago terminus for its passenger rail service, including its glamorous Capitol Limited to Washington, D.C. Major tenant railroads included the Soo Line Railroad, successor to the Wisconsin Central, the Chicago Great Western Railway, and the Pere Marquette Railway.

The station was executed in the Norman Castellated architectural style by architect Solon S. Beman, who had gained notoriety as the designer of the Pullman company neighborhood. Constructed of brick, brownstone and granite, it was 228 feet wide and 482 feet long. Imposing arches, crenellations, a spacious arched carriage-court and a multitude of towers dominated the walls. Its most famous feature, however, was an impressive 247-foot tower at the northeast corner of the property. The interior of the Grand Central Station was decorated as extravagantly as the exterior. The waiting room had marble floors, Corinthian-style columns, stained-glass windows and a marble fireplace, and a restaurant. The station also had a 100-room hotel, but accommodations ended late in 1901.

Grand Central Station's monumental arched train shed - Not as famous as the clocktower but equally architecturally unique was Grand Central Station's self-supporting glass and steel train shed, 555 feet long, 156 feet wide and 78 feet tall, among the largest in the world at the time it was constructed. The trainshed, considered an architectural gem and a marvel of engineering long after it was built, housed six tracks and had platforms long enough to accommodate fifteen-car passenger trains. When it was finally completed, the station had cost its railroad owners one million dollars to build.

Original decorative wrought iron gates in the Grand Central train shed - At the track terminus inside the great train shed where the shed met the head house of the station were the great wrought iron gates. Millions of passengers passed through these gates to board their trains just as visitors do today at the Museum.

When installed at the Museum, the gates were reconfigured combining two gates, one on top of the other, to achieve the necessary height for the Museum entrance. There is no record of who salvaged these great wonders of iron mongering, or whose idea it was to bring them to Baltimore for installation at the Museum. You will know, next time you visit, that you are passing through a remarkable piece of B&O history transformed and transported from Chicago to Baltimore.[Courtney B. Wilson, Executive Director, Posted by B&O Railroad Museum, http://borailroad.blogspot.com/ ]
The Hockessin Historical Society has unveiled plans to build a half-million-dollar history museum behind Tweed's Tavern. The 1,732 square foot facility is supposed to be a replica of the B&O train station before it was torn down in the 1950s. (from The Community News - Hockessin) [ed. I'm certain Richard Hall could have provided them with some information and photos]
Norfolk Southern and the Commonwealth of Pennsylvania are investing $11 million in the railroad's Philadelphia Navy Yard intermodal facility to expand track and parking capacity. The expansion is part of Norfolk Southern's multi-state Crescent Corridor initiative to establish a high-speed intermodal freight rail route between the Gulf Coast and the Northeast. The proposed investment - $6 million from Norfolk Southern and $5 million from Pennsylvania - will create the capacity to handle more than 72,000 containers and trailers annually. Construction is scheduled to begin in mid-2010.
Norfolk Southern's Crescent Corridor initiative is a multistate network of infrastructure improvements and facilities intended to enhance Norfolk Southern's 2,500-mile rail network that supports the supply chain from the Gulf Coast and Memphis to Harrisburg, Philadelphia, and the New York metropolitan area and enable it to handle more freight traffic faster and more reliably. The railroad is in the process of implementing corridor projects, including straightening curves, adding passing tracks, improving signal systems, and building new terminals. Altogether, nearly $2.5 billion in Crescent Corridor projects have been identified, and based on the public benefits of relief from highway congestion, NS plans to implement the Crescent Corridor initiative through a series of public-private partnerships. At completion, the Crescent Corridor is projected to divert more than 1 million truckloads of freight from the highways to the rails annually, saving the U.S. more than 170 million gallons of fuel per year.

When the Crescent Corridor is fully operational, annual benefits to Pennsylvania are expected to include nearly 700,000 long-haul trucks diverted to rail, almost 10 million gallons of fuel saved, carbon dioxide reduction of 110,000 tons, more than $44 million in traffic congestion savings, and avoidance of an estimated $8.5 million in accident costs. Over the next 10 years 26,000 jobs in Pennsylvania are expected to be created or enhanced by the Crescent Corridor. Norfolk Southern is constructing a new $95 million intermodal facility in Franklin County, Pa., and has $52 million in improvements planned for its existing Harrisburg intermodal terminal, along with $27 million in track and signal upgrades in Berks, Chester, Cumberland, Dauphin, Franklin, Lebanon, Lehigh, Montgomery, and Northampton counties. [NS Press Release]
There is a video of the opening of the Susquehanna River AMTRAK bridge the Northeast Corridor between Perryville and Havre De Grace, MD taken from the control house atop the pivot span. The web address is thanks to Ed Thornton: http://s28.photobucket.com/albums/c241/swizzcheez/Susquahana%20Bridge/
Amtrak has told the Federal Railroad Administration that the cost of installing a collision avoidance system could lead it to shut down some services, the Wall Street Journal has reported. The word comes as the railroad industry begins to push back against a federal mandate that positive train control be operational on most U.S. main lines by the end of 2015. Positive train control uses a combination of global positioning satellite technology and wayside transponders to detect when two trains are at risk of collision. When the system detects they are, it's designed to override the engineer and stop the train before a collision can occur. The mandate followed a September 2008 crash in suburban Los Angeles between a commuter train and a freight train that left 25 people dead. In a statement, Amtrak told the FRA the cost of installing PTC in at least 12 states "may be so high as to not be undertaken and therefore result in the elimination of Amtrak service." The American Public Transportation Association, meanwhile, said commuter agencies' cost of compliance will result in "increased fares, decreased service levels, and deferral of state-of-good- repair projects." Passenger advocates have pushed for federal funds to help offset the costs. Meanwhile, freight railroads have also begun pushing back. (from LANCASTER DISPATCHER)
Amtrak is using $25 million in funding from the American Recovery and Reinvestment Act (ARRA) to replace transformers and other electrical equipment Ñ some of which date to before World War II Ñ at 40 substations that deliver the power needed to propel passenger trains on the electrified tracks between New York and Washington, D.C. "Amtrak is re-energizing the Northeast Corridor tracks to make certain there is a reliable and uninterrupted flow of electricity to keep trains and passengers on the move," said Amtrak President and CEO Joseph Boardman, noting that a transformer in operation since 1934 is being replaced at the railroad's substation in Landover, Md. Boardman explained substations essentially take 138,000 volt electricity from the overhead transmission lines, lower it to 12,000 volts and then send it to the catenary wires located above the tracks to power the trains. He said in 2002 Amtrak embarked on a long-term program to upgrade and modernize 82 outdated substations along the Northeast Corridor. The need for the owned by Berkshire) on Nov. 2, 2009, the transaction is valued at approximately $44 billion, including $10 billion of outstanding improvements was dramatically highlighted during a significant power failure and service disruption in May 2006 between New York and Washington, D.C. that left thousands of passengers stranded on trains.
The ARRA funding is accelerating Amtrak's substation modernization program and is supporting projects located in Delaware, Maryland, New Jersey, Pennsylvania, and Washington, D.C. For example, the work being done at the Landover substation was not slated to occur until 2013. Specifically, transformers in service for as long as 75 years are being removed and replaced with modern models that are more efficient, have less environmental impact, require reduced maintenance and provide increased reliability and redundancy. In addition, enhanced technology designed to self-monitor key substation operations is being installed to identify and alert technicians to potential issues before major problems arise. The electrical and installation work is being performed by Amtrak employees. Amtrak also received additional ARRA funding that is helping to reduce the backlog of infrastructure projects required to bring the Northeast Corridor closer to a state of good repair, such as the replacement and rehabilitation of several bridges, the installation of thousands of new railroad ties, and enhancing stations for better access by disabled persons. All ARRA-funded projects are to be completed by February 2011. [Amtrak via LANCASTER DISPATCHER]
The Friends of the Stewartstown Railroad, Inc., a 501(c)(3) not-for-profit organization is pleased to announce it has the support of Preservation Pennsylvania (PPA) in its quest to preserve the Stewartstown Railroad. PPA, through creative partnerships, targeted educational and advocacy programs, advisory assistance, and special projects, assists Pennsylvania communities in protecting and utilizing the historic resources they want to preserve for the future. PPA is the Commonwealth's only statewide, private non-profit, membership organization dedicated to the protection of historically and architecturally significant properties. Visit them on the web at www.preservationpa.org
Once again the CP honored the fallen of the past wars by bringing their trains to a safe halt for 2 minutes silence at 1100 on November 11th, Remembrance Day in Canada and Veterans' Day in the United States. Trains sounded one long whistle before proceeding on their journeys. A service was also held at the CP Head Office in Calgary. (Leatherstocking Chapter's RailTimes)
Another 'big train' experiment out West. Seven ES44AC locomotives: 2+1+2+1+1 arrangement with 240 coal loads at 33,143 tons and stretching out 13,253 feet. The set up behind a 2 man crew was CP 8892, 8896, 64 cars, 8894, 56 cars, 8899, 8895, 60 cars, 8897, 60cars and 8890 on the end. Loaded at Elkview, Alta, split at Kamloops, Be. Trial run took place November 20th. (Leatherstocking Chapter's RailTimes)
Renovations to the Wilmington, DE AMTRAK railroad station continue. The northeast side of the building is being converted into a temporary lobby from modular pieces that will open Feb. 1. Everything from the ticket counter to the coffee shop will be moved there for 11 months while the lobby is renovated to conform to AMTRAK standards resembling the stations in New York and Washington. AMTRAK completed a $10.4 million renovation in 1984. [from article in Wilmington News Journal 2009-12-17]|
News for Immediate Release Dec. 11, 2009 The public is invited to comment on the Pennsylvania Intercity Passenger and Freight Rail Plan, which provides guidance for investing in future rail needs and potential ways to enhance passenger and freight rail development in the state, supporting economic growth and environmental sustainability."Passenger and freight rail are important infrastructure components in Pennsylvania and demand is growing for each of them," PennDOT Secretary Allen D. Biehler, P.E. said. "This plan will help us inventory our current infrastructure, future needs and facilitate cooperation between the two modes through future federal and state rail investments."
The final plan will serve as a planning document for federal and state rail investments within the commonwealth; create the base document for additional analyses of goods movement in other modes; and fulfill the requirements of the Railroad Safety Enhancement Act of 2008, State Rail Plans and the Pennsylvania Rail Freight Preservation and Improvement Act Comprehensive Rail Freight Study.

To view the draft plan, visit www.dot.state.pa.us and click on "Aviation & Rail Freight." Comment can be provided through Jan. 15, 2010 via online submission form or by mail to: Jennie A. Granger, AECOM Transportation, 2040 Linglestown Road, Suite 300, Harrisburg, PA 17110.

"Public feedback on this rail plan allows us to hear concerns and input, which is a vital step in the transportation planning process," Biehler said. "Also, the public can learn about where we are and what the future of passenger and goods movement in Pennsylvania could hold."

PennDOT developed this draft plan through a substantial partnership with public and private sector stakeholders, including carriers, shippers, developers, labor, private entities, and public agencies.
$3 million to Norfolk Southern Railway to remodel part of Dillerville Yard, including track, utilities and structural work;

$1.7 million to the Buffalo & Pittsburgh Railroad Inc. to construct a siding and reactivate a bridge over the Clarion River to connect to another railroad;

$1.4 million to the Pittsburgh and Ohio Central Railroad to enhance yard capacity and efficiency by upgrading track and replacing turnouts;

$1.3 million to USSC's Real Estate Division for a second phase of track improvements for Mon Valley Works, including switch replacement and associated trackwork;

$1 million to the Wheeling & Lake Erie Railway Co. to rehabilitate concrete pedestals at 40 locations, replace bridge deck timbers, install bridge approach ties and improve bridge approaches;

$761,530 to Duferco Farrell Corp. to rehabilitate track and turnouts, and construct an additional 1.5 miles of track;

$700,336 to RJ Corman Railroad Group to rehabilitate track, replace bridge ties and complete concrete repairs;

$700,000 to East Broad Top Railroad to rehabilitate track to restore a rail spur;

$694,000 to PBS Coals to rehabilitate 10 miles of track; and

$624,834 to Leetsdale Industrial to rehabilitate industrial park track. [from Progressive Railroading Daily News email via Ed Thornton]
In December, 44 stainless steel NYC subway cars were sunk off the coast of Delaware bringing the total to 264 cars in the artificial reef along with several vessels. The Del-Jersey-Land reef is 26 miles southeast of Indian River Inlet. Almost 1300 NYC subway cars have been sunk at Delaware artificial reef sites. (from Hockessin Community News)
The NRHS Board reviewed projected financial results for 2009. The Society expects to finish the year with a significant surplus. This doesn't tell the whole story, however, because of the one-time impacts of two large bequests and an accounting change. Were it not for the bequests, the NRHS would have suffered a substantial deficit this year.
The primary reasons for this deficit were:

Reduced dues income because of a drop in membership

A financial loss for the NRHS convention program in 2009

A substantial decline in investment income due to the economy and depressed interest rates. Since many of these financial trends are expected to carry over into 2010, the Board spent a great deal of effort on the Society's 2010 budget. The Board approved a budget for 2010 which incorporates several specific adjustments intended to increase national convention revenue and reduce expenditures for advertising, corporate functions and administrative services that impact relatively few people. In addition, the Board reduced the budget for the Bulletin by $39,000, although it did not specify which services were to be reduced in order to achieve the reduction. In addition, the Board approved several technical accounting changes and two contracting changes to better perform administrative services. The Board also approved a new Travel & Reimbursement Policy for national staff. ( from Synopsis of the Fall, 2009 NRHS Board of Directors' Meeting in the NRHS Telegraph)
---
SCHEDULE NOTES
Notices, announcements, schedules, etc. are provided here as a service to the members. The Chapter has no affiliation with any commercial operation, museum, or tourist line.
February 6, 2010, Super Saturday Streetcar Special XVII -- This trip will depart from Elmwood with a PCC-II car and wander the southwest Philadelphia routes, as well as diversion trackage. This trip usually sells out, and we will not add a second car. Fare is $40. A Wilmington Chapter tradition! Join us as we venture out on SEPTA's streetcar routes for a day of photography. The featured attraction will be a PCC-II working the southwest Philadelphia streetcar routes, a place where these cars don't venture in regular service. We usually average about 15 photo stops on these trips. The trip will depart the Elmwood Depot (near I-95 at the intersection of Island and Elmwood Avenues) at 10:00 and will last for five hours. Tickets are $40.Visit http://www.daylightimages.com/streetcar to order tickets or to get more information. Paying by mail? Make checks payable to "Wilmington Chapter NRHS" and send to: Wilmington Chapter NRHS c/o Steve Barry 117 High Street Newton, NJ 07860
February 6-7, 2010 Great Scale Model Train Show, Timonium Fairgrounds, Timonium, MD State Fairgrounds Sat. 9-4, Sun. 10-4, Admission $9, under 15 free, family $18, tickets good for both days.
February 15, 2010 Presidents' Day @ RR Museum of PA Regular Museum hours. School's out! Take advantage of the day to view our premier collection of trains, reflecting this nation's history, growth and development. Regular Museum admission.
February 21, 2010 Nur Temple Train Show Nur Shrine Temple, Rt. 13, 198 S. DuPont Hwy., New Castle, DE
March 6, 2010 Friends in the Philadelphia, Wilmington, West Jersey and Pottstown & Reading N.R.H.S. Chapters, Following is an event that is sure to be of special interest to the Reading Company fans within your membership. Karen Confer, the Banquet Coordinator, has advised that this event is open to the public and N.R.H.S. members are especially welcome. Tickets will only be available until February 23, 2010!Saturday, March 6, 2010: Reading Company Technical & Historical Society Banquet at Columbia Station, Four Bridge Street, Phoenixville, Pennsylvania from 5:00pm - 10:00pm. Join the RCT&HS for an evening of food, fun and fellowship hosted in the exquisitely restored Reading Company Phoenixville Station, featuring a catered meal reminiscent of the best railroad dining car cuisine. The keynote speaker for the evening will be Mr. James Porterfield, author of Dining by Rail and other railroad-related works. In addition, door prizes and a silent auction will be held. In keeping with the "dining car" theme, proceeds will be used for the restoration of Reading Company "Schuylkill" cafe car #2060. Tickets are $45.00 per person. An order form is printed in this newsletter. Many thanks with Best Wishes for a Very Happy and Safe Holiday Season and New Year
March 14, 2010 Charter Day @ RR Museum of PA Regular Museum hours. Observe the 327th birthday of the Commonwealth, amid Pennsylvania made and operated historic rolling stock, here at the Keystone State's official railroad museum. Open to the public free of charge.
April 8 - 10, 2010 Spring Board of Directors' Meeting Huntington, WV Collis P. Huntington Chapter
April 10-11, 2010 Great Scale Model Train Show, Timonium Fairgrounds, Timonium, MD State Fairgrounds Sat. 9-4, Sun. 10-4, Admission $9, under 15 free, family $18, tickets good for both days.
May 21 - 23, 2010 Conrail Days @ RR Museum of PA The Consolidated Rail Corporation arose from a federal bail out of the railroad industry in the 1970s to become a profitable and successful private enterprise. The equipment, history and spirit of Conrail will be highlighted, in partnership with the Conrail Historical Society.
June 4 - 6, 2010 Pennsylvania Railroad Pennsy Days @ RR Museum of PA Discover the rich heritage of the famous Pennsylvania Railroad, the "Standard Railroad of the World." Noted railroad artists, photographers and authors display and sell their works. Special presentations, operating layouts, memorabilia and tours of "Pennsy" equipment are featured. See here for details.
June 12, 2010 MA and PA Day @ RR Museum of PA View amazing models trains, historic photographs and artifacts on display today by members of the Maryland & Pennsylvania "MA & PA" Railroad Historical Society. 2009 Details.
June 22-26, 2010 NRHS National Convention Scranton, PA (Radisson & Hilton Hotels) "Endless Mountain Rails" hosted by Lackawanna & Wyoming Valley Chapter - www.endlessmountainrails.com
June 26-27, 2010 Great Scale Model Train Show, Timonium Fairgrounds, Timonium, MD State Fairgrounds Sat. 9-4, Sun. 10-4, Admission $9, under 15 free, family $18, tickets good for both days.
June 30 through July 5, 2010 Reading Railroad Days @ RR Museum of PA Regular Museum hours. Enjoy the remarkable Reading Railroad trains of eastern Pennsylvania history through tours of Reading Company equipment, a huge, operating model railroad and special presentations.
October 9-10, 2010 Great Scale Model Train Show, Timonium Fairgrounds, Timonium, MD State Fairgrounds Sat. 9-4, Sun. 10-4, Admission $9, under 15 free, family $18, tickets good for both days.
November 6, 2010 Taking The Swing Train '40s Dance @ RR Museum of PA 7 PM to 10 PM Jump, jive and swing to the popular Sound of Roses live band among the trains in the Railroad Museum's awe inspiring Rolling Stock Hall. Come in uniform or '40s clothing! Special savings combination ticket, per person, for the dance and both days of Trains & Troops: $35.00; Dance ticket only, per person: $25.00; Veterans and active duty service personnel and FRM members, per person: $20.00. Dance tickets should be purchased in advance by phone at 717/687-8628, ext 3008, in person at the Whistle Stop Shop museum store or on line, using a printable ticket request form. Dance tickets may be ordered online. 2009 Details and tickets.
December 4, 2010 Home For The Holidays @ RR Museum of PA Saturday, December 11, 2010 Home For The Holidays @ RR Museum of PA Regular Museum hours. Take a nostalgic glimpse at holiday rail travel. Meet costumed engineers, conductors, ticket agents and passengers representing the past century and enjoy seasonal music, festive decorations, Jack Frost Station and a Polar Express party for young children among our world-class collection of trains. Included in the regular Museum admission
---
CHAPTER EVENTS
Thursday Jan. 21, 2010 7 PM Chapter Meeting program by Do-It-Your-Self
Thursday Feb. 18, 2010 7 PM Chapter Meeting program by Dave Warner entitled "Christmas Cards - The Rest of the Story"
Thursday March 18, 2010 7 PM Chapter Meeting program by Frank Ferguson entitled "Before Gilford"
Thursday April 15, 2010 7 PM Chapter Meeting program by Mike Burkhart
Thursday May 20, 2010 7 PM Chapter Meeting program by TBD?
Thursday June 17, 2010 7 PM Chapter Meeting program by TBD?
Thursday July 15, 2010 7 PM Chapter Meeting program by TBD?
Thursday August 29, 2010 7 PM Chapter Meeting program by TBD?
Thursday Sept. 16, 2010 7 PM Chapter Meeting program by TBD?
Thursday Oct. 21, 2010 7 PM Chapter Meeting program by TBD?
Thursday Nov. 18, 2010 7 PM Chapter Meeting program by TBD?
Sunday Dec. TBD , 2010 5 PM Holiday Dinner in lieu of normal monthly meeting
The Wilmington Chapter of the National Railway Historical Society (NRHS) meets at 7:00 PM on the third Thursday of each month [except August & December] in the Darley Room at the Claymont Community Center on Green Street in Claymont, Delaware. Visitors are always welcome. Admission to regular meetings is free. Check out our Website (thanks to Russ Fox) at:
---
The Transfer Table is published six to ten times per year as the newsletter of the Wilmington Chapter of the National Railway Historical Society. Items in this publication do not represent the official position of either Officers or Members of the Wilmington Chapter or the Editor of this publication. http://www.WilmingtonNRHS.com
Permission to reprint articles and news items appearing herein is granted to NRHS Chapters and other newsletters provided appropriate credit is given. Contributions are always welcome and should be sent to the editor at SD40GMA@aol.com or send to: P.O. Box 1136, Hockessin, DE 19707-5136. Deadline for entries is the 25th of the month.
Chapter Officers:President Mike BurkhartVice President & Historian Ron Cleaves Treasurer Dave WarnerSecretary Dan FrederickNational Director & Trip Director Steve BarryEditor Greg AjamianEvent Photographer Ron CleavesWeb Master Russ Fox