NOTE: The Lite Version is our electronic version which is available for free from this web site. It has limited content but gives you a taste of what is offered in our Full Version.
The Full Version is our printed newsletter which is mailed to you. It contains everything in the Lite Version along with many other reprinted pages from other NRHS newsletters, railroad publications, and flyers that contain photographs, drawings, and maps. The full version is just another benefit of joining our chapter.
THE TRANSFER TABLEThe Wilmington Chapter NRHS Official NewsletterInternet Edition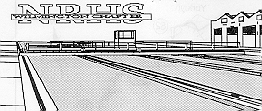 VOLUME 33 NUMBER 2

February-March

2010
Back To Wilmington Chapter Web Site
January 21, 2010 MEETING NOTES
President Mike Burkhart called the meeting to order at 7PM. The minutes were read by Secretary Dan Frederick and approved as read. The Treasurer's report was approved as read by Dave Warner. Dave also reported 50 membership renewals so far. National Director Steve Barry reported on National's concern for declining membership and revenues. He also mentioned that he had received his 25-Year pin at the meeting. Trip Director Steve Barry announced a Chapter Trip in Toronto for April 17-18, 2010. Tom Posatko reported that the Delaware Historical Society will have a railroad exhibit from May through December 2010.
NOTE: We have special funds that could sponsor an eligible individual for Rail Camp. Contact one of the Chapter Officers if you have a possible candidate for sponsorship.
We took a break to enjoy a cake in honor of Phil Snyder's many years of service as President of the Chapter. After the break, we had a Do-It-Yourself show that included Dan Frederick's non-EMD's before 1976 including many Baldwins and Alcos. Mike Burkhart brought some shots near Harrisburg and Steve Barry showed the Wilmington & Western's Christmas Lights trip from Dec. 2009 and the Christmas Trolley Trip in Philadelphia.
---
February 18, 2010 MEETING NOTES
President Mike Burkhart called the meeting to order at 7PM. The minutes were read by Secretary Dan Frederick and approved as corrected. The Treasurer's report was approved as read by Dave Warner. As National Director Steve Barry proposed for consideration that the Chapter again host a future Board of Director's meeting. As Trip Director Steve Barry indicated the possibility of a Chapter Trip on June 17 - details to be determined. There was also a report that Ringling Brothers Circus Train would be enroute to Philadelphia on February 22.
After a short break, Dave Warner presented an excellent slide show of his 33 Years of Christmas Cards by showing the winner for each year and up to 4 "also rans" for that year." We saw views of Chicago, White Hall NY, VT, CT, IL, MA, and Italy. They included the CTA, D&H, CP, Amtrak, CNW, BM, Deutchebaun, P&W, Green Mountain, and Milwaukee. We also saw scenes in CO, RI, NY, PA, MA, MD, and Alberta plus equipment on the Grand Canyon, NH, CV, SEPTA, CONRAIL, VIA, MTA, CN, and WM. What a tour !
---
From The New President
When I was approached last year about taking over as Wilmington Chapter president, I was honored, if not a little taken aback. I have only been a member since 2001. That's well short of many of the folks in Wilmington, who have been active with the Chapter for decades.
Many of you have already heard this story, but for those who have not, here is a little bit of my background.
I do not come from a railroading family and I am not quite sure how the interest started. Mom would indulge my hobby and drive me down to the tracks after school. Somewhere, I obtained a camera and started photographing Conrail freights passing through my hometown of Myerstown, Pa. (That's MP 80 on the Reading-Harrisburg line.)
Somewhere I also learned that others were out there with cameras. I started attending railfan days in the area - including the popular gatherings on the Blue Mountain & Reading in the late 1990s. My first photo was published in Railpace Newsmagazine when I was 13 years old. A Trains Magazine shot came at age 15 - I'm sure the editors had no idea they were dealing with a teenager. (Railfan & Railroad came quite a bit later.) That put in place the foundation for my first career in newspaper journalism, all but as a writer. I'll shoot anything on steel wheels -- from mainlines to streetcars -- but especially enjoy searching out "critters" and industrial locomotives in out-of-the-way and hard-to-reach places. My day job today is on the public relations side of healthcare.
There are a few goals for the Wilmington Chapter this year. We will be looking to purchase a digital projector so we can expand our show offerings. But that does not mean we will abandon the slide projector. It will still get a workout. We will also be looking for ways to reach new members. Some exciting trips are planned, including an April streetcar trip in Toronto.
I want to again thank Phil Snyder for his years of service as President. When I was that new member a decade ago and attended my first meeting I still remember his booming voice telling everyone to "Take your seats!" - - Mike Burkhart
---
From The Editor
I received an e-mail on behalf of the Chapter from Jim Maloney of Wilmington, DE. He had found out about us and other organizations by searching the Internet. It turns out that a friend of his had a large collection of railroad videotapes and that man's widow had asked Jim to help find them a new home. He had contacted four organizations, but mine was the only response that he received. He very graciously donated the tapes to the Chapter at no charge with a suggestion that we could use them for a fundraiser. I have brought a box of tapes to the last couple of Chapter meetings and will continue to do so. In addition, a friend of mine, also disposing of a train collection for a friend's widow, had rented two tables at the recent Nur Temple Train Show that had moved from the Nur Temple in DE to the Fire Hall in Tinicum, PA. He was kind enough to allow me to use a piece of a table, so I packed a giant suitcase and drove up around 7AM on Sunday and manned the table until the show closed at 1PM. So far, Jim's donation has netted the Chapter over $175 towards our computer projector - and I still have three boxes to bring to Chapter meetings! So, come to a meeting and bring cash! I can make you a deal! Many thanks to Jim for his donation, and to Russ Fox for creating the website that made it all possible.
---
NEWS BITS
NJ Transit to begin restoring the Lackawanna Cutoff this year -Published: Thursday, February 11, 2010 - TRAINS News Wire -NEWARK, N.J. — New Jersey Transit said it is poised to begin work later this year on restoring the portion of the Lackawanna Cutoff between Port Morris and Andover Township, N.J., the Morris County Daily Record (N.J.) has reported. The work will continue despite a setback on the Pennsylvania portion of the line's restoration.
Conrail abandoned the 88-mile, ex-Lackawanna main line to Scranton, Pa., stripping rail from the route in 1982. The state purchased it in 2001 for a future commuter corridor. Restoring the entire line to Scranton for passenger service is estimated to cost $551 million, but NJ Transit's plan to put the tracks back in as far as Andover Township will cost $36.6 million.

To complete Pennsylvania's portion of the project, legislators asked for $401 million in high speed rail funding as part of the American Recovery and Reinvestment Act. However, federal officials denied the application, leaving the restoration project without a funding source.

NJ Transit spokesman Dan Stessel said the rejection won't impact the start of restoration work on the Andover section this year. "Our role in this application was to provide Pennsylvania with technical information," he said. "We remain partners with Pennsylvania. The next step for Pennsylvania is to identify funding." (from Ed Mayover)
150th Anniversary / Jubilee of the Octoraro Railroad Line in Southern Chester County and Northeastern Maryland. (PLEASE go to their web page at www.oatrains.org in the News and Events Section. You will find an article about the 2010) We are in the process of Planning Jubilee Celebrations in the Borough of Oxford. There are two significant events this year.
The First Event will be in September of 2010 which will celebrate the Octoraro Railroad sponsored Stage Coach run to Oxford when the construction of the Railroad fell behind schedule in 1860.

The Second Celebration is scheduled to take place in December of 2010 which will officially mark the 150th year of rail service to our community.

If you think you can help us and or can recommend other organizations that can also help us, please contact us via this web page www.oatrains.org and/or respond directly to John Stevenson, Architect, Chairperson - OATS = Oxford Area Transit Services at c.john.stevenson@oatrains.org.
Amtrak announced that it would commence on March 1 the project to replace the Niantic River Bridge on its Northeast Corridor Line in East Lyme, CT. The existing bridge, which was constructed decades ago by the former New Haven Railroad, will be replaced by a new structure of bascule span design south of the current alignment. The project will also expand the navigation channel beneath the bridge. (ffd: Amtrak, Trains via Weekly Rail Review For The Week Ending Friday, February 19, 2010 By Dave Mears via Ed Mayover)
Portland's Tri-Met Acquires RDC's. By Tom Smith
The almost vanished ranks of operators of Budd RDC's recently added one more user of the innovative self propelled Rail Diesel Cars when Portland, Oregon's Tri-Met transit system acquired two of Alaska Railroad's small fleet of 5 RDC's. The cars will be used as backup for the Colorado Railcar-built DMU's of Tri-Met's 14-mile WES commuter rail line which operates over tracks of the Portland & Western RR. The WES schedule requires that all four DMU cars used in the service are needed in service each day. If one of the DMU's were out of service, it was necessary to substitute buses, resulting in unhappy riders who were late for work. With Colorado Railcar out of business, it was not possible to acquire a spare car, so Tri-Met purchased a pair of used RDC-2's from the Alaska Railroad.

These RDC's have had a hard life, and are well worn with high mileage. Both began their careers on the New Haven, and were absorbed by Penn Central. ARR Car 702 was built as an RDC-3, and after Penn Central went to SEPTA as 9170, and then to PAT in Pittsburgh. Car 711, built as an RDC-2, became Amtrak 36 and was then acquired by Connecticut DOT. After rebuilding by Morrison-Knutsen the two cars went to Alaska in 1986, where they saw heavy service, first on the reopened line to Seward, then on the Whittier Turn, and later on the Hurricane Turn. In these services they transported sportsmen and local residents along with their gear and supplies to remote and otherwise inaccessible locations along the Line. After 24 years as an Alaskan life line, they are pretty well worn out, and currently out of service. Tri-Met is faced with the task of bringing them back to life at their Wilsonville shop.

The WES service has been running for a year now, and although Tri-Met claims ridership is only about half of expectations, I found that the trains were well filled when I made a trip to see how the service was doing after a year. As with many transit agencies, Tri-Met is dealing with budget problems, and threatening cuts in the WES service, which could result in an extra available DMU. Catching the RDC's in action, if and when they go into service, would make for some good railfanning.
A Spanish train company that agreed to build an assembly plant in Wisconsin has chosen a site in Milwaukee, creating about 125 new jobs in the city. The company chose Milwaukee over other options in Appleton, Janesville and Racine because of its access to a harbor and local rail station, the availability of skilled workers and the reasonable cost of living, Talgo Chief Executive Antonio Perez said Tuesday. The new facility will be on the site of a former Tower Automotive plant. Perez said it has enough room to accommodate train sets of 14 rail cars and also allows room for expansion as more orders roll in. The deal will also bring an estimated 450 jobs to Midwest companies that will provide supplies and related services, Perez said Madrid-based Talgo had said it would build its U.S. assembly plant in the first state to order trains. Wisconsin won after Gov. Jim Doyle said last July the state would buy two trains for a total of $47 million. Oregon has since ordered two trains, which will also be made in Milwaukee, Doyle said Tuesday. Wisconsin 's two trains are for Amtrak's Milwaukee-to-Chicago line. The state also has an option for two additional trains to serve a proposed Milwaukee-to-Madison route. State lawmakers last month approved spending $810 million in federal stimulus funding on the Milwaukee-Madison line over GOP objections that it would cost too much and be underused. The budget committee also voted unanimously to accept another $12 million in federal stimulus money to make improvements to the Milwaukee-Chicago line. Each Talgo train will seat 420 people, up from the current 350-per-train capacity. Initially, the trains will go no faster than 79 mph, which is the current limit for most Amtrak trains. Once safety upgrades are made along the lines and new locomotives are acquired in 2015, the trains could go as fast as 110 mph. As more states pursue their own high-speed rail lines, it's likely their train orders will also be filled in Milwaukee, Doyle said. Talgo said it would begin manufacturing Wisconsin 's two trains by November and finish by next July. Perez acknowledged that was an aggressive deadline but said most of the preliminary work, including identifying American suppliers, is complete. Talgo's parent company, Patentes Talgo, builds high-speed trains used in countries including Spain, Germany , Kazakhstan and Bosnia. Talgo runs five trains in the state of Washington with a headquarters and maintenance facility in Seattle. Doyle visited Spain last winter to meet with company officials and rode their trains around the country. (from AP via American Rail Link for March 3, 2010 via Ed Mayover)
The Oregon Department of Transportation has placed an order for two new Talgo trainsets for state-supported Amtrak service in the Northwest, the Albany Democrat-Herald [ Ore. ] has reported. The 13-car sets are being funded with federal funds from the American Recovery and Reinvestment Act. The state is tacking its order onto another placed by Wisconsin for its Chicago-Milwaukee Hiawatha service, saving $6 million compared to a cold order. They'll join five existing sets being employed in the Amtrak Cascades corridor between Eugene , Ore. , and Vancouver, B.C. Washington currently owns three sets, while Amtrak owns the other two. The Talgo sets are capable of 125 mph, though Cascades trains are currently held to 79 mph. They come at a cost of $36.6 million, and will be delivered in 2012. (from Trains News Wire via American Rail Link for March 3, 2010 via Ed Mayover)
Secretary Dan Frederick filed this report after going to the Wilmington Amtrak station to photograph the interior of the station before it is trashed (the waiting area is closed for a year beginning midnight, Sunday, January 31) as part of the ongoing renovation. Amtrak police informed me that the photo policy has changed and you no longer need permission to photograph the building interior areas. However, if you want to photograph at track level permission from the stationmaster is required. The stationmaster is Ron Edwards and he informed me that photography is allowed at track level with his advance permission and you must be accompanied by Amtrak Police.
Amtrak Special Advisory Intercity and High-Speed Rail Grants Announced January 28, 2010 - President Obama and other administration officials were in various parts of the country today to announce nearly $8 billion in grant awards as part of the American Recovery and Reinvestment Act of 2009. The awards are intended to lay the groundwork in developing 13 new, large-scale high-speed rail corridors across the country. The grants are part of the president's strategic long-term plan to build and sustain a comprehensive passenger rail program in the U.S. Nearly 60 percent of the $8 billion in funding will be invested by states in routes and services that are part of the current and future Amtrak system. At 30th Street Station in Philadelphia, President and CEO Joe Boardman joined FRA Administrator Joe Szabo, Pennsylvania Deputy Transportation Secretary Toby Fauver and Connecticut Department of Transportation Commissioner Joseph Marie to announce $485 million in passenger rail grants for the region, including $112 million on the Northeast Corridor. Coupled with Amtrak's $700 million in capital investments, the NEC will benefit from its largest program of upgrades in a decade. Additionally, Szabo will travel to Chicago tomorrow where he will appear with Amtrak Chairman Tom Carper to discuss the $2.2 billion in grant awards for that region. As mentioned during his State of the Union address last night, President Obama traveled with Vice President Biden to Florida to announce that $1.25 billion will go to the state to develop a dedicated high-speed rail line connecting Orlando and Tampa. California will receive $2.25 billion for its own dedicated high-speed corridor. Obama and Biden's remarks focused on the many benefits of rail development including job creation, connectivity, economic development and energy efficiency. Projects to be funded by ARRA grants include station renovations, track improvements, right-of-way acquisition, and corridor planning. Investments will be made in a total of 31 states.
Amtrak received approximately $1.3 billion in 2009 from the U.S. Dept. of Transportation for capital improvement projects as part of the American Recovery and Reinvestment Act. The money was used to return nearly 100 pieces of rolling stock to operation, renovate or repair 270 stations, make security and safety improvements, and to replace eight bridges. (form AMTRAK This Week via Ed Thornton)
A small Pennsylvania town, circa 1915, arose from a concrete platform at the Railroad Museum of Pennsylvania. Now, the early 20th century town will come to life, thanks to a $59, 980 grant recently awarded to the Friends of the Railroad Museum of Pennsylvania by the Norfolk Southern Foundation. (RR Museum of PA new release)
Niantic River Bridge Replacement Set to Begin in April - Amtrak awarded the contract for replacement of the 102year-old Niantic River Bridge last week, setting the stage for the three-year construction process to begin in April. Upon completion, the new bridge in East Lyme, Conn., should improve reliability of the 40 passenger trains that cross the bridge daily. The $104.7 million contract is being funded by $47.1 million from Amtrak's annual capital budget, with the remaining $57.6 million provided through the American Recovery and Reinvestment Act. Crosbie said the existing bridge will remain in operation until the new bridge is complete and the Niantic River will remain open to marine vessels during construction. Cianbro/Middlesex VII of Littleton, Mass., the same construction company that replaced the Thames River Bridge lift span, will construct the new double-track bridge just south of its present alignment. Additional elements of the project include expanding the navigation channel beneath the bridge for improved marine access, realigning the east and west track approaches to the bridge and relocating the Niantic Bay Overlook, including beach restoration. (from AMTRAK® This Week)
Friends of the Stewartstown Railroad, Inc. - A Pennsylvania non-stock not-for-profit organization on the web at: www.stewartstownrailroad.com FOR IMMEDIATE RELEASE December 3, 2009 NEW CHALLENGES FOR STEWARTSTOWN RAILROAD The Stewartstown Railroad: Can it make the transition from one man's mission to a viable heritage tourism railway? Or will this unique, quaint piece of York County's history go the way of so many other small businesses? Amazingly, that decision seems to be in the hands of a historical society in Bucks County Pennsylvania. And their answer appears to be, "show us the money now!" Is it possible, a historical society that doesn't care about history outside of its own jurisdictional boundaries? An organization intent on its own agenda without consideration of the collateral damage to other equally worthy preservation efforts.
While it served the transportation needs of many agricultural and business concerns in rural southern York County from 1885 through the early 1990s, the Stewartstown Railroad now finds itself in, if not the first, perhaps the toughest fight for survival it has ever faced. Having survived the Great Depression, the onslaught of the automobile and truck, the wrath of Hurricane Agnes in 1972, the financial collapse of the Penn Central (which was its connection to the outside world) and the twelve years of inactivity that followed, it is now at the mercy of a distant historical society apparently unwilling to see the diamond in the rough the railroad's hometown supporters can envision so clearly.

Why the fight to save this small, yet nonetheless significant, piece of York County history? The Stewartstown Railroad may well be the very last of its kind in the Commonwealth and perhaps the entire country. And that kind is the "farmer's railroad." These operations, built by and for the lines in farming communities, were the lifeline that enabled the farmer's products to reach the city markets efficiently and economically. They connected hamlets and villages bypassed by the likes of the Pennsylvania Railroad and other famous names now consigned to the history books. They did so with the lightest of rails and the smallest of locomotives. They were kept running by the practical know how and conservative common sense of the farmers and local businessmen who owned them. Indeed, save for the fact that steel wheels ran on steel rails, operations of this sort represent a stark contrast to the more well known traditional history of railroading.

To this day, the Stewartstown remains completely intact, its entire original mileage lies ready to be restored to operation and it remains in business under its original charter of 1884. Recent research has documented that the Stewartstown Railroad is, in fact, the single oldest surviving American railroad corporate entity in existence today, never having been merged with another railroad, sold or been subject to any form of corporate reorganization. All seven significant railroad structures along the 7.4 mile line has been listed on the National Register of Historic Places. The entire railroad itself was deemed eligible for listing on the National Register in 1997 and efforts are now underway to complete that nomination. The railroad's physical plant has not been significantly modernized since 1914. The Stewartstown Railroad is not merely a "trip back in time" recreated as an amusement. This is the real thing, a living piece of York County history, as it stubbornly clings to life in a world fast being overrun by suburban housing developments and shopping malls. Beginning in the late 1980s, after the railroad resumed local freight service in the wake of Hurricane Agnes, it also began seasonal passenger excursions. These excursions, particularly the Christmas and Easter specials, along with the Haunted Train specials operated for the Stewartstown Lion's Club, were resounding successes for the company and also the community, helping to generate significant business for local restaurants and other attractions.

Previous management let legendary rail historian George Hart, as the President of the company and its largest shareholder, conduct business as he saw fit. And while his financial generosity enabled the company to continue in operation, it also indebted the company to him and discouraged attempts to guide the railroad back towards the path of self-sufficiency. Despite concerns from some company officials at the time, the company agreed to acknowledge his contributions as a lien. Prior to his death, it was widely believed that Mr. Hart had made arrangements for the debts to be forgiven following his passing. Regrettably those arrangements were never made and that lien has now passed to Mr. Hart's estate and will soon be turned-over to the Bucks County Historical Society. The BCHS has thus far refused to even meet with Stewartstown Railroad officials to consider the railroad's plight or to recognize the historical significance of this unique property.

The situation is critical and the time for action is now. Since Mr. Hart's passing, the Board of Directors has been reassembled and steps have been taken to improve the management of the Company's business affairs. A detailed market research study and a viable business plan to return the line to operating status have been prepared. Repairs have been started on the station in Stewartstown, the locomotives have received maintenance, the line has been opened for motor cars (small inspection vehicles sometimes referred to as "speeders"), plans have been made to repair washouts, and track material is being accumulated to rebuild the track and resume operations. Decades worth of debris is being cleaned up and historic records are being archived and organized. Open houses and other activities are capturing the imagination of local citizens and creating interest from a new generation of volunteers. And yet, it may be too late. If the Bucks County Historical Society insists on immediate payment of the $350,000 lien, the only way to accomplish this is to substantially liquidate the railroad. Unfortunately, presently the Stewartstown Railroad is worth more dead than alive. While supporters are making contributions through the Friends, there is no consistent income stream to justify a bank loan and income generating operations are still a year or more away. What is the solution? The railroad that was so much of Mr. Hart's life (and which he inexplicably abandoned after 35 years of stewardship even as he led its decline) has enough liquidation value to ensure that Bucks County Historical Society's lien is not at risk. If Bucks County Historical Society can be convinced to forego payment for several years, the Friends feel that the Stewartstown Railroad can be rejuvenated and turned into a self-sustaining operation that can support a loan or other arrangement for the repayment of the lien.

Please contact the Bucks County Historical Society and ask them to consider meeting with and cooperating with the Stewartstown Railroad and the Friends to try and preserve and maintain this small jewel of railroading. The Bucks County Historical Society's address is 84 South Pine Street, Doylestown, PA 18901-4999, their telephone number is 215-345-0210 and their e-mail address is info@mercermuseum.org
In honor of AMTRAK's Acela Express's tenth anniversary, Amtrak will complete upgrades on the interiors of those trains including leather seats, improved tray tables, and power outlets. Acela carried approximately 3 million riders in 2009 (from AP via Craig Bossler)
The Railroad Museum of Pennsylvania will receive a $50,000 check in matching funds for restoration of a historic steam locomotive March 16. The funds came from the Pennsylvania Railroad Technical & Historical Society. The "Lindbergh Engine" is PRR E6 4-4-2 Atlantic No. 460. In May 1927, the engine pulled a special train for the International News Reel Co. Company employees processed, edited, and copied newsreel footage of the Washington reception for pilot Charles Lindbergh following his operation of the first successful trans-Atlantic flight. When the special train arrived in New York, it was shown to audiences in Manhattan's theater district. PRR retired No. 460 on Jan. 11, 1956, and it was sent to join the museum's collection, then in Northumberland, Pa. The money raised will fund total cosmetic renovation of the locomotive. (from TRAINS News Wire - March 9, 2010 via Ed Mayover)
A new book about the Union Pacific Railroad, appropriately titled "Union Pacific Railroad" and published by Voyageur Press, chronicles the history of the railroad from its 1862 inception through the present day. The book notes that UP is the second-largest landholder in the Western United States after the federal government, that it is the longest-standing corporate name in U.S. history, and that its corporate insignia and colors have remained unchanged since 1941. (from Auburn Reporter via WEEKLY RAIL REVIEW - WK ENDING 05MAR2010 via Ed Mayover)
An Amtrak train destroyed a $600,000 fire truck that a Detroit firefighter left afoul of Norfolk Southern tracks near Livernois Yard, the Detroit News has reported. No serious injuries were reported on either the train or the truck, though a firefighter attempting to move the truck was treated for a gash on his head. (from Trains New Wire via Ed Mayover)
B&O RR Museum in Baltimore, MD announced the completion of restoration of the "Thatcher Perkins". The locomotive was severely damaged in the Feb. 2003 collapse of the museum's roundhouse roof during a severe snowstorm. (from B&O Railroad Museum via WEEKLY RAIL REVIEW - WK ENDING 26FEB2010 via Ed Mayover)
---
SCHEDULE NOTES
Notices, announcements, schedules, etc. are provided here as a service to the members. The Chapter has no affiliation with any commercial operation, museum, or tourist line.
April 8 - 10, 2010 Spring Board of Directors' Meeting Huntington, WV Collis P. Huntington Chapter
April 10, 2010 First Annual Volunteer Open House West Chester Yard,10 AM Have you ever wanted to work on the railroad? Are you looking for a great volunteer position that has many rewards where you can learn new skills and meet new people? The West Chester Railroad is operated by an all volunteer staff and we would like to see you become part of the team. The first annual volunteer open house will be held on April 10, 2010 at 10:00 AM at West Chester yard. This event is open to all current WCRHA members and also all of those who are interested in becoming members. Representatives from all departments will be present to answer any questions you may have about becoming involved in our operation. These departments include Train Service (how to become a Trainman), Track work, Restoration and Equipment Maintenance, Ticket Agents and more. Refreshments will be served in the morning!
April 10-11, 2010 Great Scale Model Train Show, Timonium Fairgrounds, Timonium, MD State Fairgrounds Sat. 9-4, Sun. 10-4, Admission $9, under 15 free, family $18, tickets good for both days.
April 17-18, 2010 TORONTO STREETCAR SPECTACULAR, By popular demand, we're heading back to Toronto! We'll do three charters over a two-day period. On Saturday morning we'll have a PCC for a five-hour trip along Lake Ontario, including the Harbourfront Line. Saturday afternoon will be free time. On Saturday evening we will have a downtown night charter for four hours; we have requested CLRV No. 4000 (the first one, now in service for 30 years) for the night photo trip (if it is unavailable, we'll use a PCC). On Sunday morning we'll cover the St. Clair Line (and the non-revenue connecting track) with a PCC on a four-hour charter. We'll be back around noon so you can head home. Capacity on the Toronto trip is strictly limited to 40 people, and be aware that a group from Montreal has indicated a strong interest in purchasing 15 of those tickets. Fare will be $150 for all three trips. The trips will originate from the Russell carbarn, with a passenger pick-up at the Days Inn Beaches just down the street. We will be negotiating a special rate with the hotel; stand by for details. Tickets for both trips can be ordered from the NEW WEBSITE for streetcar trips -- http://www.wilmingtonchaptertrips.com . All major credit cards are accepted. Any questions contact Steve Barry [Wilmington Chapter Streetcar Guru] Phone number is 973/222-5304. Please note that we do not conduct any retail sales via telephone
May 7-December?, 2010 History of Railroading in Delaware @ Delaware History Museum504 Market Street - Wilmington, DE 19801, For More Information: deinfo@dehistory.org or call (302) 655-7161
May 21, 2010 Opening of New Exhibit - Railroads of Chadds Ford PA, Community Open House Event 5:30-8:30 PM, Chadds Ford Historical Society http://www.chaddsfordhistory.org/
May 21 - 23, 2010 Conrail Days @ RR Museum of PA The Consolidated Rail Corporation arose from a federal bail out of the railroad industry in the 1970s to become a profitable and successful private enterprise. The equipment, history and spirit of Conrail will be highlighted, in partnership with the Conrail Historical Society.
June 4 - 6, 2010 Pennsylvania Railroad Pennsy Days @ RR Museum of PA Discover the rich heritage of the famous Pennsylvania Railroad, the "Standard Railroad of the World." Noted railroad artists, photographers and authors display and sell their works. Special presentations, operating layouts, memorabilia and tours of "Pennsy" equipment are featured. See here for details.
June 12, 2010 MA and PA Day @ RR Museum of PA View amazing models trains, historic photographs and artifacts on display today by members of the Maryland & Pennsylvania "MA & PA" Railroad Historical Society. 2009 Details.
June 22-26, 2010 NRHS National Convention Scranton, PA (Radisson & Hilton Hotels) "Endless Mountain Rails" hosted by Lackawanna & Wyoming Valley Chapter - www.endlessmountainrails.com
June 26-27, 2010 Great Scale Model Train Show, Timonium Fairgrounds, Timonium, MD State Fairgrounds Sat. 9-4, Sun. 10-4, Admission $9, under 15 free, family $18, tickets good for both days.
June 30 through July 5, 2010 Reading Railroad Days @ RR Museum of PA Regular Museum hours. Enjoy the remarkable Reading Railroad trains of eastern Pennsylvania history through tours of Reading Company equipment, a huge, operating model railroad and special presentations.
July 12 through July 16, 2010, for ages 9 & 10 Barons & Builders Day Camp @ RR Museum of PA
July 26 through July 30, 2010, for ages 11 & 12 Barons & Builders Day Camp @ RR Museum of PA Kids build, create, learn and play as they explore railroads and railroad history through a program of unique tours, innovative hands-on projects, field trips by train and special demonstrations. A limited number of openings are available for each day camp.
August 11 - 14, 2010 Railroad Family Days @ RR Museum of PA Great events for the whole family. Hogwarts Express parties August 13 and August 14.
Sept. 26, 2010 Members Day @ RR Museum of PA Special presentations and other events for members of the Friends of the Railroad Museum.
October 8 - 10, 2010 Model Railroading Days @ RR Museum of PA
October 9-10, 2010 Great Scale Model Train Show, Timonium Fairgrounds, Timonium, MD State Fairgrounds Sat. 9-4, Sun. 10-4, Admission $9, under 15 free, family $18, tickets good for both days.
October 10, 2010 Garden Railway Tours @ RR Museum of PA,1 pm to 5 pm Enjoy a self-guided tour of several private homes which feature beautiful garden railways, operating layouts and special model train collections. Garden Railways tour tickets are $10 per person for ages 6 and over. In cooperation with the National Toy Train Museum.
October 9-10, 2010 Great Scale Model Train Show, Timonium Fairgrounds, Timonium, MD State Fairgrounds Sat. 9-4, Sun. 10-4, Admission $9, under 15 free, family $18, tickets good for both days.
November 6, 2010 Taking The Swing Train '40s Dance @ RR Museum of PA 7 PM to 10 PM Jump, jive and swing to the popular Sound of Roses live band among the trains in the Railroad Museum's awe inspiring Rolling Stock Hall. Come in uniform or '40s clothing! Special savings combination ticket, per person, for the dance and both days of Trains & Troops: $35.00; Dance ticket only, per person: $25.00; Veterans and active duty service personnel and FRM members, per person: $20.00. Dance tickets should be purchased in advance by phone at 717/687-8628, ext 3008, in person at the Whistle Stop Shop museum store or on line, using a printable ticket request form. Dance tickets may be ordered online. 2009 Details and tickets.
November 6 & 7, 2010 Trains & Troops @ RR Museum of PA, Regular Museum hours. Greet our guys and gals in uniform, experience many splendid railroad and military archival displays, enjoy the patriotic spirit. Ride the troop trains on the Strasburg Rail Road with living history re-enactors on both days of the Railroad Museum's Trains & Troops program. Troop train tickets are sold separately by the Strasburg Rail Road on line at www.strasburgrailroad.com.
December 4, 2010 Home For The Holidays @ RR Museum of PA Saturday, December 11, 2010 Home For The Holidays @ RR Museum of PA Regular Museum hours. Take a nostalgic glimpse at holiday rail travel. Meet costumed engineers, conductors, ticket agents and passengers representing the past century and enjoy seasonal music, festive decorations, Jack Frost Station and a Polar Express party for young children among our world-class collection of trains. Included in the regular Museum admission
---
CHAPTER EVENTS
Thursday March 18, 2010 7 PM Chapter Meeting program by Frank Ferguson entitled "Before Gilford"
Thursday April 15, 2010 7 PM Chapter Meeting program by Mike Burkhart
Thursday May 20, 2010 7 PM Chapter Meeting program by TBD?
Thursday June 17, 2010 7 PM Chapter Meeting program by TBD?
Thursday July 15, 2010 7 PM Chapter Meeting program by TBD?
Thursday August 29, 2010 7 PM Chapter Meeting program by TBD?
Thursday Sept. 16, 2010 7 PM Chapter Meeting program by TBD?
Thursday Oct. 21, 2010 7 PM Chapter Meeting program by TBD?
Thursday Nov. 18, 2010 7 PM Chapter Meeting program by TBD?
Sunday Dec. TBD , 2010 5 PM Holiday Dinner in lieu of normal monthly meeting
The Wilmington Chapter of the National Railway Historical Society (NRHS) meets at 7:00 PM on the third Thursday of each month [except August & December] in the Darley Room at the Claymont Community Center on Green Street in Claymont, Delaware. Visitors are always welcome. Admission to regular meetings is free. Check out our Website (thanks to Russ Fox) at:
---
The Transfer Table is published six to ten times per year as the newsletter of the Wilmington Chapter of the National Railway Historical Society. Items in this publication do not represent the official position of either Officers or Members of the Wilmington Chapter or the Editor of this publication.
Permission to reprint articles and news items appearing herein is granted to NRHS Chapters and other newsletters provided appropriate credit is given.
Contributions are always welcome and should be sent to the editor at SD40GMA@aol.com or send to:P.O. Box 1136, Hockessin, DE 19707-5136.Deadline for entries is the 25th of the month.
Chapter OfficersPresident: Mike BurkhartVice President & Historian: Ron CleavesTreasurer: Dave WarnerSecretary: Dan FrederickNational Director & Trip Director: Steve BarryEditor: Greg AjamianEvent Photographer: Ron CleavesWeb Master: Russ Fox