NOTE: The Lite Version is our electronic version which is available for free from this web site. It has limited content but gives you a taste of what is offered in our Full Version.
The Full Version is our printed newsletter which is mailed to you. It contains everything in the Lite Version along with many other reprinted pages from other NRHS newsletters, railroad publications, and flyers that contain photographs, drawings, and maps. The full version is just another benefit of joining our chapter.
THE TRANSFER TABLEThe Wilmington Chapter NRHS Official NewsletterInternet Edition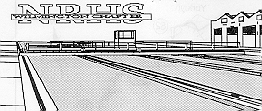 | | |
| --- | --- |
| VOLUME 33 NUMBER 6 | August 2010 |
Back To Wilmington Chapter Web Site
July 15, 2010 NO MEETING NOTES
There are no meeting minutes because there was no meeting - it was cancelled in lieu of the Chapter Trip on July 22.
---
July 22, 2010 Chapter Trip
There are no meeting minutes since it was a Chapter Trip.
---
August 19, 2010 NO MEETING NOTES
There will be no meeting minutes because there will be no meeting - the regular meeting is cancelled in lieu of the Chapter Trip on August 19.
---
From The Editor
Your Editor will have a large stock of video tapes at the September meeting - come early and bring cash for special bargains before they're gone.
---
Pete Cramer
Pete Cramer was a kind and gentle soul. He loved life, talking to people, and food -- especially if it was free. His hobbies were firstly the University of Delaware football team followed by trains and model railroading.
He was a member of the Wilmington Chapter of NRHS as well as vice president for a short time. Pete volunteered to sell sodas and potato chips on the trains to the Delaware State Fair in Harrington to benefit the Chapter as well as to watch our Chapter table at the Wilmington Train Station Transportation Day festivities.
Pete went on a number of trips with me and others to Scranton, Baltimore, Stroudsburg, Western Maryland, Maryland Midland, East Broad Top, and many more. He also enjoyed visiting model railroad layouts. When he went with us, he was always the first to ask how much he owed towards gas, tolls, food, etc.
Pete functioned fairly well after his first stroke but the next two slowed him down, He never really took himself seriously, whenever he misspoke or did something dumb he laughed at himself.
I will miss Pete. He was a good friend and I enjoyed being with him. [From Phil Snyder (arrived too late for last issue)]
---
ENDLESS MOUNTAIN RAILS 2010--NRHS CONVENTION--SCRANTON, Pennsylvania.
Report by Tom Smith
The NRHS 2010 Convention in Scranton, Pa. June 21-26 hosted by the Lackawanna & Wyoming Valley Chapter, offered something for almost everybody: steam, diesel, electric, rare mileage, narrow gauge. It was no surprise that most events quickly sold out. Scranton is a powerful railfan magnet, with Steamtown, the Electric City Trolley Museum, and the all Alco Delaware-Lackawanna Railroad.
Although few Wilmington Chapter members attended, maybe because they had already been there and done that, for me the Convention events were mostly new adventures, and I must declare this was one of the best NRHS conventions I had ever attended. I took Amtrak's Talgo to Seattle, the Empire Builder to Chicago, the Capitol Limited to Washington, and a Northeast Regional to Wilmington in time to attend the Wilmington Chapter meeting, where it was a pleasure to see so many familiar faces. The volume and variety of electrified trains on Amtrak's Northeast Corridor displays an amazing piece of railroading. Experiencing it is a special thrill.
A weekend visit to Strasburg found 2-10-0 90 holding down hourly trains, and Thomas The Tank Engine on half hour excursions. The Wilmington & Western was using 0-6-0 No. 58, which I had never seen in operation.
Up to Scranton on Monday the 21st, to check in for registration. The itinerant Flagg Coal 0-4-0T 75, built by Vulcan Iron Works in nearby Wilkes Barre, was performing runbys with a caboose at the Radisson Lackawanna Station Hotel. I was only able to get a room there for one night, then like many other attendees, had to find other lodging for the rest of the convention, as not enough convention hotel rooms were available.
The first convention trip on Tuesday would cover the former Pennsylvania Railroad Wilkes Barre Branch. This trip brought out the serious mileage collectors. The PRR had only a token presence in the Scranton Wilkes Barre area, this branch from Sunbury on the Harrisburg-Buffalo line, to Wilkes Barre. When Conrail was formed, this line was conveyed to the Delaware & Hudson, and is now operated by Canadian Pacific.
The train was made up of Steamtown's open window passenger equipment, including former Jersey Central coaches, and Lackawanna open vestibule steel "Boonton" coaches, such as used on the Wilmington & Western. Unbelievable! I never thought I would see a mainline excursion with the 95 year old "Boonton" cars! On the head end were two D&H GP39's still in the blue and gray D&H colors. The train had barely cleared the station, when the lead engine derailed on the wye! The trip was jinxed already! The hosts remained determined to run the trip, but delayed it until noon, 4 hours late. It turned out that the engine was rerailed in less than an hour, but since some people had drifted off to Steamtown or back to their hotels, they had to wait. At noon exactly, we were under way again. A nice photo runby was held en route. The initial delay caused the train crew to outlaw and they had to be recrewed. While we were waiting at Kase (the closest we got to Sunbury where the interchange with Norfolk Southern is) for the new crew to board, a honey wagon pulled alongside to dump the toilets. Then the CP dispatcher ran an eastbound freight ahead of our train, and we were running on his blocks when we departed---that is until the brakes stuck on Lackawanna "Boonton" coach 580 (in which I was riding) and we had to stop to cut out the brakes and let them cool. By then, the freight was well ahead of us and we were treated to a high speed run back to Scranton, arriving about 9PM. Some passengers got refunds from missing the baseball game scheduled that evening, but there were smiles all around from the mileage collectors at getting this exotic mileage, as well as from the fellow sitting in the seat ahead of me, who successfully proposed to his girlfriend as the train rolled along.
Wednesday's events forced hard choices: a bus trip to ride the Stourbridge Line behind an EMD BL2, or a bus trip to the Pioneer Mine at Ashland, Pa., and the Wanamaker Kempton & Southern. Having done all of these before, I chose the latter. Two trains were operating on the mine's 42" gauge track. An 0-4-0T pulling converted mine cars took passengers to the tailings dump, while a battery powered mine engine took others into the anthracite mine for a narrated tour. The buses then took us to Kempton for a ride on the WK&S behind a GE diesel.
Thursday saw an excursion over the former Lackawanna main line to East Stroudsburg and the Delaware Water Gap. Steamtown runs periodic excursions over this route. Again, the Steamtown coaches were used, and motive power eastbound was provided by a matched trio of D-L Alco RS3's. For the return trip, Steamtown's CNR 2-8-2 3254 was added at East Stroudsburg, with the RS3's assisting to Tobyhanna where they were cut off, and runbys made with the Alcos, and the 3254 alone. Again, some great track speed running, with smoke and cinders coming through the Boonton car windows.
With no trips scheduled, Friday was a day to explore and visit Steamtown, where Canadian Pacific G3 4-6-2 2317 was pulling yard excursions. With her boiler time about to run out, this would be the last we would see of this engine for several years. The Steamtown shops already have a lot of projects, on the shop floor disassembled were a Baldwin 0-6-0, a DL&W 2-6-0, B&M 4-6-2 3713, and PRR K4 4-6-2 1361. A visit to the adjacent Electric City Trolley Museum, included a ride over their 5-mile track, including a tunnel almost a mile long.
The Alco powered Delaware-Lackawanna railroad distributed a welcoming letter in the registration package that listed what jobs they work, and they even went so far as to ensure their locomotives were always parked in places where they would be unobstructed for photography. What a nice gesture!
The NRHS annual members meeting was held Friday afternoon, followed by the annual banquet that evening.
The finale on Saturday was a one way trip from Duryea to Port Clinton, Pa. using equipment from the Reading Blue Mountain & Northern, covering segments of trackage once part of the DL&W, Lehigh Valley, Jersey Central and Reading, some of which was new mileage for me. RB&N's 4-6-2 425, assisted by an SD50, headed up a train of RB&N open window coaches. Our route would take us through the Lehigh River Gorge once shared by the CNJ and LV. When we reached Jim Thorpe there was a two hour stop while the engine was turned on the turntable , and then the train turned westward at Nesquehoning Jct., crossed the 981-ft long Hometown trestle, and joined the former Reading main line at Haucks for the last lap to Port Clinton. Again, the railroad welcomed us by rolling out their equipment, including Reading T-1 2102, and C&O 4-8-4 614 for photography and letting us explore their yards for an hour before a fleet of 11 buses returned us to Scranton.
The Convention may have been over, but the railfanning wasn't. On Sunday I drove to Orbisonia to visit the East Broad Top, where time stopped 54 years. There are hopeful signs of efforts to preserve this national historic treasure, and reverse the natural deterioration that is reclaiming the property. It was then Amtrak's Cardinal from Wilmington to Chicago and the Empire Builder back to Vancouver.
---
NEWS BITS
Federal Railroad Administrator (FRA) Joseph Szabo today announced a Final Rule requiring railroad track owners to adopt and follow specific procedures to protect the safety of their bridges, and to strengthen federal oversight of railroad bridge maintenance programs. This rule is a requirement under the Rail Safety Improvement Act of 2008.
"This Final Rule will help ensure the 100,000 railroad bridges in the United States are maintained and inspected to the standards accepted by sound engineering practices," said Transportation Secretary Ray LaHood. "The structural integrity of bridges that carry railroad tracks is vitally important to the safety of railroad employees and to the public."

The Final Rule requires track owners to implement bridge management programs that include at least annual inspections of railroad bridges; know the safe capacity load of bridges; and, conduct special inspections if the weather or other conditions warrant such inspections.

In addition, it requires an inventory of all railroad bridges, the audit of the bridge management programs, and inspections by the FRA; it also requires railroads to maintain the design documents of each bridge and to document all repairs, modifications, and inspections of each bridge subject to FRA review. Finally, the Final Rule allows FRA to levy fines of up to $100,000.

"During the past five decades, not one fatality has been caused by the structural failure of a railroad bridge, and there have been just nine injuries since 1982," said FRA Administrator Szabo. "Most of the older bridges in the U.S. were designed to carry loads much heavier than the trains of today, but we believe this Final Rule will institutionalize best engineering and inspection practices for all railroad bridges and give the FRA greater enforcement power in order to continue this record of excellence."

The move to institutionalize engineering and inspection best practices took hold in the industry in 1995, but took a large step in January, 2009, when FRA published an amendment to its bridge policy - since adopted by the industry - to include the Essential Elements of Railroad Bridge Management Programs. The Essential Elements are included in the Final Rule in accordance with the Rail Safety Improvement Act and provide railroad track owners with a uniform, comprehensive set of components for inclusion in their bridge management programs. With this information, a track owner may develop a single, comprehensive set of instructions, information and data as guidance for his or her employees who are responsible for the management, inspection, maintenance, and safety of railroad bridges. The Final Rule is available at: http://www.fra.dot.gov/downloads/safety/bridgefinalsafetyrule2010.pdf (FRA announcement via Ed Mayover)
WANT AD from Burton Eisenberg, TEN South Avenue, Wyncote PA 19095-1320 AT the end of October, he will be conducting an all SEPTA trip for retired educators. Modeled after Tom English's Rails Around Philadelphia tour, it will cover the Frankford E1, the Girard Ave Trolley, the Lancaster Ave. trolley, the Market E1, the Media trolley, the Media regional rail and, time permitting, the Norristown regional rail, the Norristown High Speed line and the Market E1. He will be making a DRY RUN on Thursday, October 7 and would like the company of knowledgeable railfans. He is looking for those who can provide pictures of original equipment or a single page history of any of the lines to be traveled. The most important information would be the answer to the question, "Why ,was that line built where it is?" Those providing copyable materials will be his guests at the Ice Cream store in Media. Anyone interested in helping him with this project is welcome to contact him at 215-572-7712.
Norfolk Southern completes $21 million worth of track work in seven days in southwestern Pennsylvania. Earlier this month, Norfolk Southern's Maintenance of Way and Structures Department completed $21 million in track, signal and bridge work in seven days on one if its primary coal lines in southwestern Pennsylvania. The Mon Line extends approximately 85 miles from Pittsburgh to coal mines in Washington and Greene counties. In 2009, almost 42 million tons of coal was transported over this rail line. Approximately 20 trains daily use the Mon Line.
"Because the Mon Line is critical to Pennsylvania's coal industry, every year in early July we undertake an intensive effort to maintain and improve the rail infrastructure to ensure that the mines continue to receive consistent and reliable service," said Tim Drake, NS' vice president engineering. "It is a testament to the commitment of our employees that they are able to work under extreme conditions, during one of the hottest weather periods in recent years, safely and productively."

Scheduled to coincide with the coal miners' annual summer break, between July 4 and July 10 nearly 600 NS engineering employees from across the railroad's 22-state system installed more than 56,000 crossties, laid almost 19 miles of new rail, rehabilitated and repaved 23 public at-grade railroad crossings, resurfaced the entire line, replaced one bridge and performed substantial work on two other bridges. Six work trains, along with more than 100 pieces of large machinery were utilized. Under normal curfew conditions it would take approximately three months to accomplish this work, with significant disruptions in service. (NS news release)
Amtrak and the Lancaster County Planning Commission (LCPC) announced that issues surrounding the renovation of the Lancaster, Pa., station have been resolved and the project will move forward as planned. As a result of the meeting, the parties determined that no additional funds beyond Amtrak's estimate of $1.7 million provided to the LCPC in 2008 will be needed for construction support. [Ed Thornton]
Amtrak officials and representatives from the Northern New England Passenger Rail Authority for the kick-off of the Downeaster Expansion Project. The project involves upgrading 30 miles of track to extend service north beyond Portland to Freeport and Brunswick. Studies estimate that the expansion will increase ridership by approximately 36,000 per year upon completion in 2012. The $38 million investment is funded primarily with a $35 million Recovery Act grant, with the balance contributed by the state of Maine. An estimated 200 jobs will be created to support the work. [AMTRAK This Week]
On 5-August-2010, CSX Train 438 derailed nine cars at or near the entrance to the Howard Street tunnel near Mount Royal in Baltimore, MD going into the north siding due to a broken rail. Traffic on the busy mainline was disrupted all of the way west (south) from the end of the line in Philadelphia. The only trains moving in and out of Wilsmere Yard were the locals - so they didn't even have to realign turnouts when switching off the main ! Dave Watterson
---
Chapter Trip
Chapter Trip The next Wilmington Chapter NRHS Meeting has been replaced by a Chapter Trip on August 19, 2010 in lieu of the normal monthly Chapter Meeting
DO-IT-YOURSELFPAY-AS-YOU-GOCHAPTER TRIP ON RIVER LINE
Trip Details:
All times approximate and subject to change.
SEPTALV MARCUS HOOK PA 6:02 PMAR MARKET EAST, PHILLY 6:45 PM
PATCOLV MARKET EAST, PHILLY 7:05 PMAR WALTER RAND CENTER 7:10 PM
RIVER LINELV WALTER RAND CENTER 7:37 PMAR TRENTON 8:35 PM
PATCOLV TRENTON 9:39 PMAR MARKET EAST, PHILLY 10:26 PM
SEPTALV MARKET EAST, PHILLY 10:37 PMAR MARCUS HOOK PA 11:09 PM
Thanks to Ron Cleaves for arranging this excursion
---
SCHEDULE NOTES
Notices, announcements, schedules, etc. are provided here as a service to the members. The Chapter has no affiliation with any commercial operation, museum, or tourist line.
May 8, 2010 - March 26, 2011 Almost as Fast as Birds Can Fly - History of Railroading in DE at DE History Museum504 Market Street - Wilmington, DE 19801, For More Information: deinfo@dehistory.org or call (302) 655-7161 http://www.dehistory.org/MuseumExhibits/Railroad_2010/railroadindelawarehistory.htmWednesday-Friday: 11a.m.-4p.m., Saturday: 10a.m. - 4p.m Sponsored by Delaware Today, We the People Grant through the Delaware Humanities Forum, and Transportation Enhancement Fund
July 30, 2010 through early 2011 Thomas Viaduct Exhibit, B&O Railroad Museum, Baltimore featuring historic and contemporary artworks of this historic bridge. The exhibit will showcase local artists and will be held in the Museum's Education Station.
August 11 - 14, 2010 Railroad Family Days @ RR Museum of PA Great events for the whole family. Hogwarts Express parties August 13 and August 14.
Sept. 26, 2010 Members Day @ RR Museum of PA Special presentations and other events for members of the Friends of the Railroad Museum.
October 8 - 10, 2010 Model Railroading Days @ RR Museum of PA
October 9-10, 2010 Great Scale Model Train Show, Timonium Fairgrounds, Timonium, MD State Fairgrounds Sat. 9-4, Sun. 10-4, Admission $9, under 15 free, family $18, tickets good for both days.
October 10, 2010 Garden Railway Tours @ RR Museum of PA,1 pm to 5 pm Enjoy a self-guided tour of several private homes which feature beautiful garden railways, operating layouts and special model train collections. Garden Railways tour tickets are $10 per person for ages 6 and over. In cooperation with the National Toy Train Museum.
October 9-10, 2010 Great Scale Model Train Show, Timonium Fairgrounds, Timonium, MD State Fairgrounds Sat. 9-4, Sun. 10-4, Admission $9, under 15 free, family $18, tickets good for both days.
November 6, 2010 Taking The Swing Train '40s Dance @ RR Museum of PA 7 PM to 10 PM Jump, jive and swing to the popular Sound of Roses live band among the trains in the Railroad Museum's awe inspiring Rolling Stock Hall. Come in uniform or '40s clothing! Special savings combination ticket, per person, for the dance and both days of Trains & Troops: $35.00; Dance ticket only, per person: $25.00; Veterans and active duty service personnel and FRM members, per person: $20.00. Dance tickets should be purchased in advance by phone at 717/687-8628, ext 3008, in person at the Whistle Stop Shop museum store or on line, using a printable ticket request form. Dance tickets may be ordered online. 2009 Details and tickets.
November 4 -7, 2010 Fall Board of Directors' Meeting Lancaster, PA Lancaster Chapter
November 6 & 7, 2010 Trains & Troops @ RR Museum of PA, Regular Museum hours. Greet our guys and gals in uniform, experience many splendid railroad and military archival displays, enjoy the patriotic spirit. Ride the troop trains on the Strasburg Rail Road with living history re-enactors on both days of the Railroad Museum's Trains & Troops program. Troop train tickets are sold separately by the Strasburg Rail Road on line at www.strasburgrailroad.com.
December 11 & 4, 2010 Home For The Holidays @ RR Museum of PA Regular Museum hours. Take a nostalgic glimpse at holiday rail travel. Meet costumed engineers, conductors, ticket agents and passengers representing the past century and enjoy seasonal music, festive decorations, Jack Frost Station and a Polar Express party for young children among our world-class collection of trains. Included in the regular Museum admission
---
CHAPTER EVENTS
Thursday August 19, 2010 ? PM Chapter Trip in lieu of meeting-River Line Camden/Trenton?
Thursday Sept. 16, 2010 7 PM Chapter Meeting program by Phil Snyder "25 Yrs. Ago"
Thursday Oct. 21, 2010 7 PM Chapter Meeting program by Dan Frederick
Thursday Nov. 18, 2010 7 PM Chapter Meeting program by Frank Ferguson
Sunday Dec. 5, 2010 5 PM Holiday Dinner in lieu of normal monthly meeting
The Wilmington Chapter of the National Railway Historical Society (NRHS) meets at 7:00 PM on the third Thursday of each month [except August & December] in the Darley Room at the Claymont Community Center on Green Street in Claymont, Delaware. Visitors are always welcome. Admission to regular meetings is free. Check out our Website (thanks to Russ Fox) at:
---
The Transfer Table is published six to ten times per year as the newsletter of the Wilmington Chapter of the National Railway Historical Society. Items in this publication do not represent the official position of either Officers or Members of the Wilmington Chapter or the Editor of this publication.
Permission to reprint articles and news items appearing herein is granted to NRHS Chapters and other newsletters provided appropriate credit is given.
Contributions are always welcome and should be sent to the editor at SD40GMA@aol.com or send to:P.O. Box 1136, Hockessin, DE 19707-5136.Deadline for entries is the 25th of the month.
Chapter OfficersPresident: Mike BurkhartVice President & Historian: Ron CleavesTreasurer: Dave WarnerSecretary: Dan FrederickNational Director & Trip Director: Steve BarryEditor: Greg AjamianEvent Photographer: Ron CleavesWeb Master: Russ Fox