NOTE: The Lite Version is our electronic version which is available for free from this web site. It has limited content but gives you a taste of what is offered in our Full Version.
The Full Version is our printed newsletter which is mailed to you. It contains everything in the Lite Version along with many other reprinted pages from other NRHS newsletters, railroad publications, and flyers that contain photographs, drawings, and maps. The full version is just another benefit of joining our chapter.
THE TRANSFER TABLEThe Wilmington Chapter NRHS Official NewsletterInternet Edition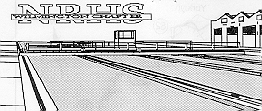 | | |
| --- | --- |
| VOLUME 33 NUMBER 3 | APRIL 2010 |
Back To Wilmington Chapter Web Site
March 18, 2010 MEETING NOTES
Vice President Ron Cleaves called the meeting to order at 7PM. The minutes were read by Secretary Dan Frederick and approved as read. The Treasurer's report was approved as read by Dave Warner. Trip Director Steve Barry reported that the January - no, February - no, formerly known as "Super Saturday" Trolley Trip will now be the "March Madness Sunday" Trolley Trip after not one, but TWO snow delays.
National Director Steve Barry led a discussion on the potential of our Chapter hosting the Fall 2011 National Board of Director's meeting in October or November 2011. Treasurer Dave Warner reported on what he had gathered about hotels and meals. The members present voted to keep going. Ed Thornton reported on his contacts with the West Chester Railroad and their willingness to host a trip during the proposed meeting. Steve and Dave volunteered to keep working on the details. Tom Posatko also volunteered to work on reactivating the Chapter's incorporation that was discovered to have lapsed. After a very brief break, the evening's program was
presented by Frank Ferguson entitled "Before Gilford" to he 15 members and guests present. We saw images of motive power and trains with the following paint schemes: Maine Central, D&H, B&M, Susquehanna, Conrail, P&LE, CP, Gilford, Springfield Terminal, Chessie, NS, MBTA, AMTRAK and BAR. We saw many views of Mechanicsville, NY and not one, but two Steamtown moves with equipment from Bellows Falls. Another two trays of great slides from Frank.
---
From The Editor
Alternate Income Manager Greg Ajamian reported on sales on the video tapes donated by Jim Maloney and turned over $150 cash during the meeting plus an additional $50 at the end of the meeting after members purchased some of what he brought that evening.
Just a reminder to try to identify a good candidate for the Chapter to sponsor for Rail Camp and to come to the next meeting when I will bring a whole new assortment of video tapes at the very attractive price of $3 each with all proceeds going to the Chapter for the purchase of a computer projector of our own.
---
Lets Brag About the Broadway
Editor's Editor Note - This article from the Western Maryland Chapter's The Automatic Block describes an "old fashioned" (some might say "ancient") version of salesmanship and customer service. Wouldn't it be nice to find these days?
Original Editor's note: The following article by the Pennsylvania Railroad as presented in the September 1958 edition of the Pennsy, represents their last strong effort to reinvigorate the passenger train service. The same year, Boeing introduced the 707 which eventually put the passenger train service into a niche market. This effort outlines a standard even Amtrak could measure up to.
In New York, a PRR memo to passenger salesmen and reservation and ticket clerks says, in big letters, "LET'S BRAG ABOUT THE BROADWAY!"
In Philadelphia, the keynote is: "The Broadway is better than ever."
In Chicago, it's: "Let's sell the Broadway round-trip."
All across the Main Line, the word is that the Broadway Limited is being touched up and spruced up to make it a finer means of travel than ever and clearly deserving the title, America's Premier Train.
Our purpose is to find out whether a deluxe Pullman train, expertly staffed and serviced, and enthusiastically publicized and sold, can attract substantial business," said Samuel W. Seeman, manager of passenger sales promotion.
"In June, the first full month of this program, the steady decline in Broadway patronage was halted, and we actually registered a slight increase over June of the previous year. In July we had an even larger increase over the 1957 figure. WheU1er this trend will grow depends on how much of a push everybody connected with this operation gives it."
The Broadway program is one part of a system-wide campaign to attract more passengers to PRR trains by raising the levels of courtesy, personal service and maintenance. The campaign includes all employees in passenger sales and operations. As Mr. Seeman summarizes it, "Our aim is to make every passenger feel like a welcomed as well as a valued guest which, in fact, is what he is."
The Broadway Limited has been singled out in this campaign as a powerful attraction for passengers interested in luxury travel. Its distinctions are being emphasized in every possible way. For example, Usher Elwood T. Ducott at North Philadelphia Station used to announce the train simply as "The Broadway Limited to Chicago," but now he makes a point of saying, "The Broadway Limited, the only all-Pullman, all-room train between the East and Chicago.
The Broadway has many other talking points. It's the only train between New York and Chicago with two lounge cars master rooms with showers-mobile telephone service that enables a passenger to phone practically anywhere while he rides-morning weather reports delivered to each room-a 15 1/2-hour eastbound schedule-luxury dining service, complete with hot-bread carriers, table flowers, finger bowls, and dinnertime music. New distinctions are being added. For example:
"We've glamorized our bill of fare," said Henry von Minden, food manager of the Dining Car Service, "by offering, from time to time, such entrees as Beef Strogonoff, Cornish Rock hen, squab, and shish kebab (on a skewer, of course). We've added canapés to our relish offerings, seafood cocktails to our appetizers, and our breakfasts will occasionally have such items as Canadian bacon, and kippered herring with scrambled eggs. Even our menu cards have been done over in more elegant style by the PRR'S own Art Department."
The libraries in the Broadway's lounges have received a wider selection of magazines and new binders with the Broadway's imprint. A folder, Welcome Aboard the Broadway Limited, has been revised and is being distributed to passengers in a form suitable for mailing to friends.
Maintenance men have touched up the cars, inside and out; enameled the trucks, repaired upholstery, and replaced worn shades and carpet. Gleaming new station signs of novel design have been put up at New York and Chicago. An extra sleeper has been added to the Broadway's regular consist to make more space available each day.
But these improvements won't bear fruit without an intensive selling campaign, as pointed out the passenger manager at Philadelphia. In a bulletin to Ticket Sales and Service personnel, he said: "If you handle requests courteously, promptly and with enthusiasm; if you earnestly 'sell' the Broadway's extras the privacy, the chance for relaxation, the dependable schedule between midcity stations, the fun and leisure of eating in the diner, and the economy of Family Fares-you can really put it across."
At New York, 180 ticket and reservation clerks and other personnel were taken on a guided tour of the improved Broadway in Pennsylvania Station. "Our purpose was to give them a clear idea of the merchandise they're selling," explained Henry G. Allyn, district passenger manager. "They saw every type of accommodation, the spaciousness of the lounges, the tasteful luxury of the diners. They saw how certain duplex rooms can be joined by opening a door that the master rooms have radios as well as showers. They went back to their posts with new ideas about the Broadway and new enthusiasm for selling it and its superior accommodations."
Passenger sales representatives are spreading the story in their calls on prospective patrons; and passenger managers are sending letters to business executives and professional men, the groups that provide a large part of the Broadway's regular patronage. The letters point out that the Broadway conserves valuable business hours by departing after the close of the business day and arriving before the start of the next-and provides an evening and night of unexcelled relaxation. A special letter has been mailed to secretaries of executives. Secretaries, who usually make the boss's reservations, are keenly aware of the advantage of having the boss come back from a trip relaxed by his trip. "To make sure that a trip on the Broadway a relaxing experience) one that a passenger want to repeat, e got to provide the highest standard of personal service," Mr. Seeman points out. "Courtesy, patience, a warm welcome-those are some of the things our supervisors have been emphasizing in recent talks with trainmen, dining car men, and red caps. Pullman instructors have been holding refresher sessions with porters to review their duties such matters as showing passengers how to work the air-conditioning controls, brushing their clothing, shining their shoes nicely, making sure the water bottles are all filled, and the water cold, and generally showing a helpful interest in the comfort of the passenger."
In all phases of passenger service, "it's the little niceties, the signs of individual attention, that win friends," said Ray G. Knight, steward on the Broadway. "Like bringing the hors d' oeuvres before the passenger even orders his dinner, or greeting the passenger at breakfast with coffee as soon as he sits down."
Waiter William M. Wells contributes a bit of personal wisdom on how to deal with a grumpy passenger: "If the passenger acts sore, he probably isn't sore at you-he's sore at the stock market. Your job is to make things so nice for him, he'll forget his troubles and enjoy his ride. Like the other morning-a passenger came in the diner, and I said, 'How are you this morning?' and he said, 'What the hell do you care?' I just kept smiling. I brought him coffee, and then a second cup. I went and got him a paper. After that he broke down and apologized. He said, 'I must've got up on the wrong side of the bed.' Well, everybody's entitled to an off-day. Sometimes I wake up in the morning not feeling very pleasant myself."
"The best way we trainmen can help this Broadway program," said Conductor Charles H. Sample, "is to be patient with passengers' questions. The point is, we're the experts: questions that might seem foolish to us aren't foolish to them. After all, questions I ask my doctor might sound foolish to him, but nevertheless I expect to get a sympathetic hearing. If we do the same with our passengers, we'll do a lot toward making satisfied customers-which, in the long run, means more secure jobs for trainmen and all the rest of us on PRR trains."
---
NEWS BITS
Rail project hinges on tunnel, bridge work Double-stack freight cars cannot squeeze through 61 stretches in state by C. Benjamin Ford
Supporters of the $842 million National Gateway project to open the Port of Baltimore and Maryland's rail lines to more markets throughout the nation tout its economic and environmental benefits, but the project cannot proceed until the height of 61 tunnels and bridges in the state are increased to accommodate double-stack freight cars.

With freight traffic down because of the recession, the time to raise those heights is now, when the work will cause fewer disruptions, said CSX spokesman Bob Sullivan. CSX, which owns the rail lines, would invest more than $395 million in the upgrades and is seeking $258 million from the federal government and $189 million from states in the region: Maryland, Pennsylvania, Virginia, West Virginia and Ohio.

While freight volume is off now, over the next 20 years it is expected to grow by 70 percent, Sullivan said. Putting more of it onto intermodal rail cars instead of in tractor-trailer trucks saves fuel, pollutes less and relieves congestion on highways, Sullivan said.

Many of those bridges and tunnels are too low by a couple of feet to carry the taller doublestacked rail cars.

"What we're doing is really building and preparing for the future, and the time to do that is now," Sullivan said. CSX is investing more than $1.6 billion, including the $395 for National Gateway, in improvements to its railroads and maintenance of its facilities, Sullivan said.

"There are companies and industries in the current economic circumstances that decided to scale things back," Sullivan said. "We've decided to continue investing. As you see more and more traffic coming, you can't prepare for it when it's hitting you. You have to prepare for it now."

One train can carry more than can be hauled by 280 trucks, Sullivan said. A study showed that expanding the rail service through Maryland would reduce carbon dioxide emissions by more than 2 million tons annually and save more than 200 million gallons of fuel, he said.

The project has the support of Maryland's congressional caucus, as well as business and environmental groups. "I'm pleased to join with members of the Maryland delegation to support the National Gateway, which will create jobs, update our transportation infrastructure, and ensure that goods are transported efficiently from the ports in our region to communities around the nation," said Rep. Christopher Van Hollen Jr. (DDist. 8) of Kensington in a statement.

"The Port of Baltimore, BWI, the [Intercounty Connector], the Woodrow Wilson Bridge - all are coming together. It all helps drive the economy of Maryland," said Kathleen T. Snyder, president and CEO of the Maryland Chamber of Commerce, which supports the program. "With this project, there are multiple benefits. It builds more jobs in an environmentally friendly way and is more fuel-efficient than other means of transportation." By expanding the capacity of the region's rail tunnels and bridges, the project would improve the Port of Baltimore's market access potential, which ties in well with the other planned improvements for the port, Sullivan said.

Last week, Gov. Martin O'Malley (D) announced a 50-year contract with Ports America to operate the Port of Baltimore's Seagirt Marine Terminal, which is expected to produce 5,700 jobs.

As part of the agreement with Ports America, the company will construct a $105 million, 50foot berth that will allow larger ships to dock by the time the Panama Canal expansion is completed in 2014.

The shipping patterns are going to change once the Panama Canal work is done and the new berth is built in Baltimore, Sullivan said.

The National Gateway is expected to be completed by 2015, but Sullivan said it could be completed as early as 2012 once funding is in place.

Tunnels such as the Howard Street tunnel in Baltimore are not high enough for the doublestacked intermodal rail cars. The work on the bridges and tunnels will have to be conducted while creating a minimum disruption to existing freight and passenger traffic, Sullivan said.

One of the bridges, the East Deer Park Bridge between Gaithersburg and Washington Grove, had a $450,000 restoration, funded by Montgomery County, just six months ago. At 19 feet and 4 inches above the tracks, the bridge will be nearly 2 feet too low for the taller freight cars. [also "borrowed" from the Western Maryland Chapter's The Automatic Block]
Efforts to prevent train accidents caused by human error took a giant leap forward today with the installation of a technologically advanced train simulator, Federal Railroad Administration (FRA) Administrator Joseph C. Szabo announced today. The newly acquired equipment will permit researchers to realistically simulate innumerable conditions and scenarios encountered during railroad operations to help identify safety problems and develop effective solutions. The $1.6 million Cab Technology Integration Laboratory (CTIL) was constructed by Alion Science and Technology headquartered in McLean, Virginia, and will be located at the U.S. Department of Transportation's Volpe National Transportation Systems in Cambridge, Massachusetts.
Among its capabilities, the full-sized locomotive simulator can accurately record crew behavior through the use of video, audio and eye-tracking capabilities at the control and button-pushing level. This allows researchers to carefully observe the actions of train crews, and monitor the corresponding effect of their actions on the simulated locomotive they are operating. Other features include modeling and visualization technologies which are tools to optimize the physical design and configuration of locomotive cabs to enhance crew performance.

Using the simulator as a laboratory, FRA will continue its longstanding research program to analyze the role human factors play in freight and passenger train accidents, injuries and deaths. Specifically, the simulator will be used to evaluate the safety and reliability of new locomotive technology systems, controls and displays prior to their wholesale adoption and use by the railroad industry.

Created to minimize the risk of human errors that may lead to an accident, the FRA's Human Systems Integration (HSI) research and development program is focused on the interface between employees and railroad equipment and infrastructure. The CTIL is intended to serve as a resource for technical collaboration between government, industry, academia, and others to improve train crew decision-making and performance during routine railroad operations. [from U.S.Department of Transportation - Office of Public Affairs via Ed Mayover]
Dave Watterson called to report that AMTRAK service to Boston was suspended due to flooding from heavy rains at the end of March.
Later, I saw this announcement: Acela Express Service North Of New Haven Remains Suspended Amtrak will once again run three Northeast Regional round-trips will between New York and Boston via Hartford and Springfield (the "Inland Route"), this weekend, offering coach, business class and cafŽ service. Passengers should be advised that their travel time will be longer than normal due to the deviation in the normal route and a brief hold at the New Haven station to facilitate the change from electric to diesel locomotives. Crews will continue to monitor the condition of the railroad and will evaluate any additional cancellations. Amtrak Acela Express service between New Haven and Boston will remain suspended through Sunday, (April 4), due to on-going flooding on the tracks near Kingston, Rhode Island. Amtrak service between New York and Washington continues to operate normally, but passengers should also expect some residual delays in these locations as a result of the disruption in New England. Amtrak regrets any inconvenience. This information is correct as of the above time and date. Information is subject to change as conditions warrant. Passengers are encouraged to call 800-USA-RAIL or visit Amtrak.com for schedule information and train status updates. [AMTRAK.COM]
The Railroad Museum of Pennsylvania is proud to welcome its new director, Charles Fox. Fox has spent the past twelve years as director of Somerset Historical Center in Somerset County, Pennsylvania. A native-born Pennsylvanian, he graduated from Penn State with bachelor degrees in history and art history. Starting his museum career as an intern at Curtin Village, a 19th century ironworks museum, Fox later served as its director for five years. In 1997, Fox was appointed, site administrator of the Somerset Historical Center. Serving there until joining the Railroad Museum of Pennsylvania in late December 2009, he also spent a year as interim director of the Fort Pitt Museum: From 2001 to 2005, Fox directed the Somerset Historical Center's involvement in the development of the Flight 93 National Memorial in Shanksville, Pennsylvania and spent a great deal of time focusing on the marketing activities of the Historical Center, serving as a board member and later chairman of the Laurel Highlands Visitors Bureau from 1998 to 2009. Fox's interest in railroad history was sparked by many early journeys into Reading Terminal on the old "Blueliners" from Doylestown and Hatboro. He is an avid Lionel collector and is interested particularly in all the northeastern railroads. . Fox is the fifth director of the world-class Railroad Museum of Pennsylvania, which opened its doors to the public in April 1975. He was preceded by David W. Dunn, Robert Emerson, William Withuhn and George Hart. [from Chester County Press Wednesday, March 3, 2010]
The Federal Railroad Administration (FRA) this week will begin accepting applications for $115 million in planning and construction project funds for high-speed intercity passenger rail. These solicitations will make available $50 million in planning project funds appropriated under the FY 2010 DOT Appropriations Act, and approximately $65 million in residual construction project funds appropriated under the FY 2009 DOT Appropriations Act. "We look forward to working with states to lay the groundwork for their high-speed rail programs and also help other states get specific projects off the ground so that jobs can be created in the near-term," said FRA Administrator Joseph C. Szabo. "These funds supplement the President's initial down payment on high-speed rail and represent a commitment to developing a world-class transportation network." Applications and proposals for these funds will be due back to FRA by May 19, with selection announcements made during summer 2010. [FRA News Release via Ed Mayover]
Operation Lifesaver, the national rail safety education nonprofit, welcomed federal statistics showing the lowest number of deaths and injuries from highway-rail grade crossing collisions recorded to date. For the first time ever, the number of crossing collisions fell below 2,000 to 1,880, a 21.9 % drop from 2008. Decreases were also recorded in both vehicular and freight train traffic, which may have contributed to crossing safety gains. [news release via Ed Mayover]
Transportation Secretary Ray LaHood and Federal Railroad Administration (FRA) Administrator Joseph Szabo today announced historic safety regulations requiring that Positive Train Control (PTC) technology be installed on the nation's major rail lines as well as commuter and intercity passenger rail routes. PTC is an integrated set of technologies that will help avert train-to-train collisions, derailments caused by excessive speed, accidents caused by human error or misaligned switches, and harm to roadway workers. PTC sends and receives a continuous stream of data transmitted by wireless signals about the location, speed, and direction of trains. PTC systems utilize advanced technologies including digital radio links, global positioning systems and wayside computer control systems that aid dispatchers and train crews in safely managing train movements. The final rule will also allow railroads to immediately begin finalizing their PTC Implementation Plans, which are required by statute to be submitted to FRA by April 16, 2010. The final rule issued today is the result of over a decade of work by FRA and its stakeholders, carried out in partnership through the Railroad Safety Advisory Committee (RSAC). The Rail Safety Improvement Act of 2008 mandates that interoperable PTC systems must be fully instituted by the end of 2015. Train control systems such as PTC are now mandatory for most passenger rail operations and for trains hauling certain hazardous materials, but they are not required for closed passenger rail systems such as light rail, rapid transit and subways. [news release via Ed Mayover]
Norfolk Southern Railway Company (NSR) proposes to reconfigure and expand its existing Harrisburg Intermodal Facility to meet projected current and future demands for freight transportation in the Harrisburg, Pennsylvania region. The proposed project is designed to address future intermodal infrastructure needs, increase energy efficiency in the transport of goods, and optimize transportation efficiency in the movement and distribution of goods. The project site is located at the existing Norfolk Southern Harrisburg Intermodal Facility within the City of Harrisburg, Dauphin County, Pennsylvania approximately one-half mile east of the Susquehanna River. The project area encompasses an area of approximately 311 acres of industrially zoned lands along a 4.0 mile linear parcel oriented north-south through the City. The project area is bordered to the north by Linglestown Road and to the west by residential, commercial and industrial properties along 6 Avenue, 7 Avenue and Fisher Road. The southern boundary is approximately 1,000 feet south of Herr Street. The eastern boundary is bordered by existing industrial and commercial businesses along Industrial Road. Interstate 81 runs perpendicular to the site across the northern third of the site. The existing Harrisburg Intermodal Facility was constructed over 30 years ago. It has approximately 16,500 feet of pad track for loading and unloading railcars and 1160 trailer parking spots. The Harrisburg Intermodal Facility Expansion will consist of the following:
Two additional pad tracks, one 2,700-feet long and the other 8,700- feet long to allow sufficient loading and off-loading of railcars and tractor trailers.
One support track 9000-feet long.
Paved areas for the parking of an additional 910 trailers.
Improved inbound and outbound gate areas including a new gate building.
Reconfiguration of the Harrisburg Intermodal Facility support yard tracks to create sufficient land to accommodate the work planned above. [Edited from Norfolk Southern Brochure via Lancaster Dispatcher]
To support our corporate growth strategy and our goal of remaining the premier operator of high-speed passenger service in the United States, I am creating a new High-Speed Rail department at Amtrak, which will be led by a vice president reporting directly to me. The board of directors approved this change yesterday at its monthly meeting and we plan to move quickly to fill the new vice president position so he or she can build a department that will focus on pursuing opportunities to expand our high-speed rail operation. Specifically, this department will work on the planning and development activities that will allow us to significantly increase operating speeds above 150 mph (240 kph) on the Northeast Corridor. It will also pursue partnerships with states and others in the passenger rail industry to develop federally-designated high-speed rail corridors such as the new projects moving forward in California and Florida. Amtrak's leadership in this area is reaffirmed in the Passenger Rail Investment and Improvement Act of 2008 and we must make every effort to remain in that position. The increasing demand for passenger rail service means we will face new competition from companies all over the world, but we have several strategic advantages that we must not waste. We have assets, partnerships and knowledge that others do not. And most importantly we have an extremely skilled team of employees that is unmatched. In short, we are uniquely qualified to meet the goals laid out by President Obama and the administration's Vision of High-Speed Rail in America. Our new High-Speed Rail department will capitalize on these assets to ensure that we keep our position as the most effective, most professional high-speed rail operator in the nation. [from AMTRAK CEO Joe Boardman]
The Philadelphia Inquirer ran a front page story on the success of Pennsylvania short line railroads hauling sand used in the drilling of the state's Marcellus Shale natural gas fields. The story included an interview with Tom Myles, who with his sons owns and operates the Wellsboro & Corning Railroad, which has seen its sand traffic nearly triple in the last year. Also participating in the sand-for-hydraulic-fracturing boom is the Reading & Northern Railroad, which was recently named the winner of an American Short Line & Regional Railroad Association marketing award for its commercial innovations. (from Philadelphia Inquirer via WEEKLY RAIL REVIEW via Ed Mayover)
The New York Times reported that New York State had "all but concluded" its 18-month investigation of the fact that nearly all Long Island Rail Railroad retirees applied for and got disability payments soon after retirement, at a collective cost of hundreds of millions of dollars. The newspaper noted that, despite subpoenas of doctors, insurance companies, railroad executives and every worker who retired in 2009, the state attorney general's office brought forward just one criminal case, and that was dropped last month. Also involved in the investigation was the U.S. Government Accountability Office, which reported that, as of last April, LIRR retirees applied for disability at a rate 12 times of other railroads; that only three doctors handled most of the claims; and that 64 of 66 claims were approved. (from New York Times via WEEKLY RAIL REVIEW via Ed Mayover)
Officials overseeing the conversion of Manhattan's Farley Post Office Building into Moynihan Rail Station announced that they had engaged the architecture firm of Skidmore, Owings & Merrill to start design work on the first phase of the project, which is now funded. Phase 1 includes extending Pennsylvania Station's west-end concourse to allow access to additional tracks, making related track and signal changes, and improving platform ventilation. The project will also add two entrances flanking Farley's grand stairs on the west side of Eighth Avenue, and add new escalators and elevators. (ffd: New York Times via WEEKLY RAIL REVIEW via Ed Mayover)
Reader John Brandon reminds that the Long Island Rail Road, earlier private but now publicly operated, claims to be the oldest railroad in the U.S. still operating under its original name and charter, which was established April 24, 1834. NOTE: For my friends in Lancaster County, Pennsylvania, we all know that the Strasburg Rail Road takes the honors as the oldest railroad in the U.S. still operating under its original name and charter, being incorporated by a special Act of the Pennsylvania Legislature on June 9, 1832. (WEEKLY RAIL REVIEW via Ed Mayover)
---
SCHEDULE NOTES
Notices, announcements, schedules, etc. are provided here as a service to the members. The Chapter has no affiliation with any commercial operation, museum, or tourist line.
April 10, 2010 First Annual Volunteer Open House West Chester Yard,10 AM Have you ever wanted to work on the railroad? Are you looking for a great volunteer position that has many rewards where you can learn new skills and meet new people? The West Chester Railroad is operated by an all volunteer staff and we would like to see you become part of the team. The first annual volunteer open house will be held on April 10, 2010 at 10:00 AM at West Chester yard. This event is open to all current WCRHA members and also all of those who are interested in becoming members. Representatives from all departments will be present to answer any questions you may have about becoming involved in our operation. These departments include Train Service (how to become a Trainman), Track work, Restoration and Equipment Maintenance, Ticket Agents and more. Refreshments will be served in the morning!
April 10-11, 2010 Great Scale Model Train Show, Timonium Fairgrounds, Timonium, MD State Fairgrounds Sat. 9-4, Sun. 10-4, Admission $9, under 15 free, family $18, tickets good for both days.
April 17-18, 2010 TORONTO STREETCAR SPECTACULAR, By popular demand, we're heading back to Toronto! We'll do three charters over a two-day period. On Saturday morning we'll have a PCC for a five-hour trip along Lake Ontario, including the Harbourfront Line. Saturday afternoon will be free time. On Saturday evening we will have a downtown night charter for four hours; we have requested CLRV No. 4000 (the first one, now in service for 30 years) for the night photo trip (if it is unavailable, we'll use a PCC). On Sunday morning we'll cover the St. Clair Line (and the non-revenue connecting track) with a PCC on a four-hour charter. We'll be back around noon so you can head home. Capacity on the Toronto trip is strictly limited to 40 people, and be aware that a group from Montreal has indicated a strong interest in purchasing 15 of those tickets. Fare will be $150 for all three trips. The trips will originate from the Russell carbarn, with a passenger pick-up at the Days Inn Beaches just down the street. We will be negotiating a special rate with the hotel; stand by for details. Tickets for both trips can be ordered from the NEW WEBSITE for streetcar trips -- http://www.wilmingtonchaptertrips.com . All major credit cards are accepted. Any questions contact Steve Barry [Wilmington Chapter Streetcar Guru] Phone number is 973/222-5304. Please note that we do not conduct any retail sales via telephone
May 7-December?, 2010 History of Railroading in Delaware @ Delaware History Museum504 Market Street - Wilmington, DE 19801, For More Information: deinfo@dehistory.org or call (302) 655-7161
May 8, 2010 11:00 a.m. - 4:00 p.m National Train Day Washington, DC Philadelphia, PA, Washington, D.C. - Meet and Greet with the National Spokesperson Philadelphia, PA - Baseball Junction: The History of Baseball and the American Railroad Both - - Train Equipment Displays, Model Train Displays ,AmtraKids Depot, Go-Green Express: Eco Exhibit National Park Service Trails & Rails Exhibit, Snapshot Station, Trains Move our Economy Exhibit, Amtrak Brand Display - Enjoy the journey¨ - - for info http://www.nationaltrainday.com/
May 21, 2010 Opening of New Exhibit - Railroads of Chadds Ford PA, Community Open House Event 5:30-8:30 PM, Chadds Ford Historical Society http://www.chaddsfordhistory.org/
May 21 - 23, 2010 Conrail Days @ RR Museum of PA The Consolidated Rail Corporation arose from a federal bail out of the railroad industry in the 1970s to become a profitable and successful private enterprise. The equipment, history and spirit of Conrail will be highlighted, in partnership with the Conrail Historical Society.
June 4 - 6, 2010 Pennsylvania Railroad Pennsy Days @ RR Museum of PA Discover the rich heritage of the famous Pennsylvania Railroad, the "Standard Railroad of the World." Noted railroad artists, photographers and authors display and sell their works. Special presentations, operating layouts, memorabilia and tours of "Pennsy" equipment are featured. See here for details.
June 12, 2010 MA and PA Day @ RR Museum of PA View amazing models trains, historic photographs and artifacts on display today by members of the Maryland & Pennsylvania "MA & PA" Railroad Historical Society. 2009 Details.
June 22-26, 2010 NRHS National Convention Scranton, PA (Radisson & Hilton Hotels) "Endless Mountain Rails" hosted by Lackawanna & Wyoming Valley Chapter - www.endlessmountainrails.com
June 26-27, 2010 Great Scale Model Train Show, Timonium Fairgrounds, Timonium, MD State Fairgrounds Sat. 9-4, Sun. 10-4, Admission $9, under 15 free, family $18, tickets good for both days.
June 30 through July 5, 2010 Reading Railroad Days @ RR Museum of PA Regular Museum hours. Enjoy the remarkable Reading Railroad trains of eastern Pennsylvania history through tours of Reading Company equipment, a huge, operating model railroad and special presentations.
July 12 through July 16, 2010, for ages 9 & 10 Barons & Builders Day Camp @ RR Museum of PA
July 26 through July 30, 2010, for ages 11 & 12 Barons & Builders Day Camp @ RR Museum of PA Kids build, create, learn and play as they explore railroads and railroad history through a program of unique tours, innovative hands-on projects, field trips by train and special demonstrations. A limited number of openings are available for each day camp.
August 11 - 14, 2010 Railroad Family Days @ RR Museum of PA Great events for the whole family. Hogwarts Express parties August 13 and August 14.
Sept. 26, 2010 Members Day @ RR Museum of PA Special presentations and other events for members of the Friends of the Railroad Museum.
October 8 - 10, 2010 Model Railroading Days @ RR Museum of PA
October 9-10, 2010 Great Scale Model Train Show, Timonium Fairgrounds, Timonium, MD State Fairgrounds Sat. 9-4, Sun. 10-4, Admission $9, under 15 free, family $18, tickets good for both days.
October 10, 2010 Garden Railway Tours @ RR Museum of PA,1 pm to 5 pm Enjoy a self-guided tour of several private homes which feature beautiful garden railways, operating layouts and special model train collections. Garden Railways tour tickets are $10 per person for ages 6 and over. In cooperation with the National Toy Train Museum.
October 9-10, 2010 Great Scale Model Train Show, Timonium Fairgrounds, Timonium, MD State Fairgrounds Sat. 9-4, Sun. 10-4, Admission $9, under 15 free, family $18, tickets good for both days.
November 6, 2010 Taking The Swing Train '40s Dance @ RR Museum of PA 7 PM to 10 PM Jump, jive and swing to the popular Sound of Roses live band among the trains in the Railroad Museum's awe inspiring Rolling Stock Hall. Come in uniform or '40s clothing! Special savings combination ticket, per person, for the dance and both days of Trains & Troops: $35.00; Dance ticket only, per person: $25.00; Veterans and active duty service personnel and FRM members, per person: $20.00. Dance tickets should be purchased in advance by phone at 717/687-8628, ext 3008, in person at the Whistle Stop Shop museum store or on line, using a printable ticket request form. Dance tickets may be ordered online. 2009 Details and tickets.
November 6 & 7, 2010 Trains & Troops @ RR Museum of PA, Regular Museum hours. Greet our guys and gals in uniform, experience many splendid railroad and military archival displays, enjoy the patriotic spirit. Ride the troop trains on the Strasburg Rail Road with living history re-enactors on both days of the Railroad Museum's Trains & Troops program. Troop train tickets are sold separately by the Strasburg Rail Road on line at www.strasburgrailroad.com.
December 4, 2010 Home For The Holidays @ RR Museum of PA Saturday, December 11, 2010 Home For The Holidays @ RR Museum of PA Regular Museum hours. Take a nostalgic glimpse at holiday rail travel. Meet costumed engineers, conductors, ticket agents and passengers representing the past century and enjoy seasonal music, festive decorations, Jack Frost Station and a Polar Express party for young children among our world-class collection of trains. Included in the regular Museum admission
---
CHAPTER EVENTS
Thursday April 15, 2010 7 PM Chapter Meeting program by Mike Burkhart
Thursday May 20, 2010 7 PM Chapter Meeting program by special guest John Meisea member of the Chesapeake Railway Association will present a program about "Railroading on the DelMarVa Peninsula" program arranged thanks to the personal efforts of Ed Thornton
Thursday June 17, 2010 7 PM Chapter Meeting program by TBD?
Thursday July 15, 2010 7 PM Chapter Meeting program by TBD?
Thursday August 29, 2010 7 PM Chapter Meeting program by TBD?
Thursday Sept. 16, 2010 7 PM Chapter Meeting program by TBD?
Thursday Oct. 21, 2010 7 PM Chapter Meeting program by TBD?
Thursday Nov. 18, 2010 7 PM Chapter Meeting program by TBD?
Sunday Dec. TBD , 2010 5 PM Holiday Dinner in lieu of normal monthly meeting
The Wilmington Chapter of the National Railway Historical Society (NRHS) meets at 7:00 PM on the third Thursday of each month [except August & December] in the Darley Room at the Claymont Community Center on Green Street in Claymont, Delaware. Visitors are always welcome. Admission to regular meetings is free. Check out our Website (thanks to Russ Fox) at:
---
The Transfer Table is published six to ten times per year as the newsletter of the Wilmington Chapter of the National Railway Historical Society. Items in this publication do not represent the official position of either Officers or Members of the Wilmington Chapter or the Editor of this publication.
Permission to reprint articles and news items appearing herein is granted to NRHS Chapters and other newsletters provided appropriate credit is given.
Contributions are always welcome and should be sent to the editor at SD40GMA@aol.com or send to:P.O. Box 1136, Hockessin, DE 19707-5136.Deadline for entries is the 25th of the month.
Chapter OfficersPresident: Mike BurkhartVice President & Historian: Ron CleavesTreasurer: Dave WarnerSecretary: Dan FrederickNational Director & Trip Director: Steve BarryEditor: Greg AjamianEvent Photographer: Ron CleavesWeb Master: Russ Fox