NOTE: The Lite Version is our electronic version which is available for free from this web site. It has limited content but gives you a taste of what is offered in our Full Version.
The Full Version is our printed newsletter which is mailed to you. It contains everything in the Lite Version along with many other reprinted pages from other NRHS newsletters, railroad publications, and flyers that contain photographs, drawings, and maps. The full version is just another benefit of joining our chapter.
THE TRANSFER TABLE
The Wilmington Chapter NRHS Official Newsletter
Internet Edition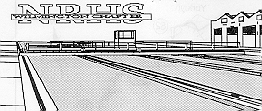 | | |
| --- | --- |
| VOLUME 32 NUMBER 3 | JULY 2009 |
Back To Wilmington Chapter Web Site
APRIL 16, 2009 MEETING NOTES
President Phil Snyder called the meeting to order at 7 PM. By the end of the evening we had 16 members and guests present. The Treasurer's report was approved as read by Dave Warner. The minutes were not read, but were discussed by President Phil Snyder, Vice President Ron Cleaves, and Secretary Dan Frederick. There was National Director's report as Dave Watterson is still recovering, as were members Ed Thornton and Richard Hall. In other news, a special thank you to Joe Reed for his contribution to the newsletter.
After the break the program for the evening was presented by program by Dave Warner entitled "Cross Country Figure Eight." He indicated that the figure eight pattern he traversed in 1979 covered 9,000 miles. The equipment that we saw included models such as E-8, F-40, P30, SDP-45, F3, and even an Alco RS-11. Road names included Conrail, CNW, BN, UP, SP, WP, BART, and Milwaukee. We saw UP #3985 "stuffed and mounted" in Cheyenne and a Centennial in Laramie, WY. There were views of McCloud River and Portland Terminal and the absolute dead end of the Milwaukee Road. We also saw the Tacoma Museum. Other roads that we got to see included the Butte Anaconda & Pacific, the Minnesota Terminal Railroad, L&N (SCL/LN), Southern, the Autotrain, RF&P, Chessie, and Washington Terminal. An excellent program enjoyed by all.
---
MAY 21, 2009 MEETING NOTES
This reporter was unable to attend the May meeting. The program was scheduled to be by Phil Snyder program entitled "25 Years Ago."
---
JUNE 18, 2009 MEETING NOTES
This reporter was unable to attend the May meeting. It was our first "Railroad Related Hobby Night" in quite a few years.
---
From The Editor
This month, I present to you a CHALLENGE!
If your name isn't Hall, Smith, Thornton, Cleaves, or Mayover, then you probably have not contributed anything to your Chapter's newsletter in the last year (or more) ((or ever?)). Your Editor is certain that you must know about or have something that someone in the Chapter would like to read. So why not make a contribution to the newsletter and your fellow Chapter members. Contact your Editor ASAP with anything you have or you can type up!
Contributions are always welcome and should be sent to the editor at SD40GMA@aol.com or send to:P.O. Box 1136, Hockessin, DE 19707-5136.Deadline for entries is the 25th of the month.
---
NEWS BITS
New Jersey breaks ground on nation's largest transit project. Federal funding agreement announced for tunnel construction. Officials broke ground June 8 on the Mass Transit Tunnel project, the largest transit public works project in America.
The $8.7 billion Mass Transit Tunnel (MTT) project, being built in partnership with the Port Authority of New York & New Jersey, is expected to generate and sustain 6,000 jobs through the construction phase of two new rail tunnels under the Hudson River, an expanded New York Penn Station and other key elements, reinvigorating the link between New Jersey and New York and benefiting the regional economy with improved mobility. It is expected to create 44,000 permanent jobs.

The Early Systems Work Agreement (ESWA) provides $1.35 billion in funding for the early phases of the project, about half of which is from federal sources including the American Recovery and Reinvestment Act (ARRA). The $1.35 billion agreement includes a down payment of $400 million of funding from the Federal Transit Administration (towards a $3 billion FTA commitment), $130 million in federal stimulus funds, and $125 million in Federal Highway congestion mitigation funds.

The Mass Transit Tunnel project will double trans-Hudson River rail capacity by adding two new single-track tunnels – supplementing the existing two tracks that opened for service in 1910 and now are pushed to their functional limits each commuting day – as well as expand New York Penn Station with a new facility specifically designed to meet the high-ridership needs of a modern commuter rail system.Doubling the number of tracks for trains operating between New Jersey and New York will increase service capacity to 48 trains per hour during peak periods from the current 23 trains. Twice as many passengers will be able to be accommodated, from 46,000 each morning peak period now to 90,000 in the future.

Fifteen years of study starting with 137 project alternatives, numerous public meetings and input in conformance with federal regulations, produced the finished plan. The project has been designed to allow for expansion in Manhattan to the east in the future as conditions and funding permit. [NJT News Release via Ed Mayover]
New Jersey Transit's board approved purchasing nine additional electric locomotives and spare parts from Bombardier Transportation for $72 million. In December 2007, the agency awarded a $245 million contract to Bombardier for 27 ALP-46A electric locomotives. The total order of 36 locomotives will enable NJ Transit to replace a large portion of its aging ALP-44 locomotive fleet.
NJ Transit currently operates a fleet of 32 ALP-44 and 29 ALP-46 electric locomotives. The new locomotives will offer better acceleration than the older power and be able to pull 10 multi-level cars vs. the six cars the current locomotives can pull, NJ Transit said. The first locomotives are scheduled to arrive early next year, with delivery expected to conclude in mid-2011. [From Progressive Railroading Daily News via Ed Mayover]
A Norfolk Southern Railway executive said his company is exploring the potential to eventually electrify some freight rail lines in connection with passenger rail corridors, but the chief executive of Union Pacific Railroad said he is not considering freight electrification. Earlier this year, BNSF Railway's chairman, president and CEO, Matthew K. Rose, said he was in talks with transmission line companies that want to install new power lines in the railroad's right of way. And he said BNSF was exploring whether that could help the railroad convert large parts of its sprawling western network to electricity. Industry sources indicated other large carriers were looking at the same options, as Congress and the Obama administration push to upgrade the capacity of the U.S. electricity grid and tie in more alternative power sources including wind energy farms. Some observers also say the Obama administration's push to jumpstart high-speed passenger rail lanes could push freight lines to electrify some of their trains, since true high-speed trains run on electricity and their most likely corridors might be in lanes now owned by freight railroads. [from Journal of Commerce via American Rail Link for June 10, 2009 via Ed Mayover]

The dramatic drop-off in freight traffic has driven Class Is to store locomotives in droves. As of May 20, Union Pacific Railroad had stowed away 2,100 locomotives, or 25 percent of its 8,400-unit fleet. A bullet point on a PowerPoint slide in BNSF Railway Co.'s Q1 presentation ("Near-term Initiatives") read thusly: "Over 900 locomotives stored or returned." Meanwhile, CSX Transportation had parked 600 or 15.8 percent of its 3,800-unit fleet. Norfolk Southern Railway had stored 400 locomotives or 11 percent of its fleet. Canadian Pacific had stowed 350 road and yard locomotives, or 23 percent of its fleet. Kansas City Southern had stored 360 units; CN, 281 units. That's nearly 5,000 mothballed units. Needless to say, Class Is won't be ordering any locomotives this year. But most will continue to take delivery of units ordered in 2008 and 2007. Even so, deliveries won't come close to the 900 or so that Class Is have received annually the past five years. Perhaps 500 or 600 will be delivered in 2009, power prognosticators told us during the "Fleet Stats" information-gathering process. Expect even fewer — 300 to 400 — in 2010. Beyond that? It's anybody's guess. [from Progressive Railroading via American Rail Link for June 10, 2009 via Ed Mayover]

POCONO-NEW YORK TRAIN GETS KEY APPROVAL: A proposal to reactivate the "Lackawanna Cutoff" and launch commuter service between New York and Scranton can now seek funding, the Allentown ( Pa. ) Morning Call has reported. The boost to the project comes as the Environmental Protection Agency found it would have "no significant impact."The proposed line would use the abandoned ex-Delaware, Lackawanna & Western route via the Poconos to connect Scranton and Allentown to Hoboken , N.J. , and New York . It's got the backing of key politicians, including Pennsylvania Sen. Arlen Specter and New Jersey Sens. Frank Lautenberg and Robert Menendez.The EPA finding means the project's backers can now apply for Federal Transit Administration funds, which could provide a 50-percent match. If it's successful, backers say initial Pennsylvania service from Delaware Water Gap, Pa. , could begin in four years.New Jersey Transit would operate trains on the line as the plan stands now. Construction has already begun on the first seven miles between Port Morris and Andover , N.J. (Trains News Wire)

CSX Transportation (CSXT) and PSEG Power unveiled new ultra-low emission GenSet locomotives to be operated in New Jersey. The GenSet locomotives, manufactured by National Railway Equipment Company, reduce nitrous oxide and particulate matter emissions by 80 percent and can create carbon dioxide emissions savings of approximately 50 percent by monitoring engine idling and switching to "sleep" mode after a period of inactivity. A total of three GenSet locomotives will be purchased in partnership by PSEG Power and CSXT. Instead of a large, single diesel engine and generator, the units have two smaller, EPA certified, ultra-clean diesel generators which automatically power up to produce only the force needed to pull the required load. The GenSet locomotives will be used to switch cars within CSXT's yards in New Jersey and can also be utilized for road switching service. GenSet locomotives are significantly quieter than existing locomotives; they achieve the most stringent noise level requirements for off-road capital equipment. [CSX News Release]

On the 10th anniversary -- June 1, 1999 -- of Norfolk Southern Corporation's acquisition of nearly 60 percent of Conrail, CEO Wick Moorman today thanked customers, suppliers, stockholders, communities, and employees for their hard work and support. Since Day One, when Norfolk Southern added 7,200 miles of Conrail routes and 10,000 former Conrail employees to its system, the railroad has moved 3.5 trillion gross ton-miles of freight. A single train of every carload NS hauled in the last decade could stretch to the moon and back twice -- and then some. In order to meet increased demand and better serve customers, NS over that period has invested nearly $10 billion in capital expenditures to improve track, equipment, facilities, and technology. In new rail alone, NS installed the equivalent of a brand new transcontinental railroad. NS' industrial development activities since Day One resulted in the location or expansion of 1,115 industries along the railroad's lines, representing customer investments of $23.6 billion and creating nearly 55,000 customer jobs in the territory served by the railroad. The Conrail transaction returned competitive rail service to the Northeast for the first time in 20 years. [from American Rail Link, June 3, 2009 via Ed Mayover]

It's not every day that a steam locomotive makes its way through the streets of Toronto. At midnight. In the wee hours this Thursday, a moving job 50 years in the making is set to roll on a downtown route that includes a tight squeeze through the Princes' Gate at Exhibition Place. "The railway-museum folks wanted us to bring it through there, so that's what were going to do," said veteran specialty mover Laurie McCulloch. "With eight inches to spare." Canadian National 6213 - a "Northern-type" steam engine - has idled in the parking lot at the last refuge for orphaned objects of affection, Exhibition Place, since 1960. That's when the railway company donated it to the city. The funereal black iron horse with white pin striping and a red window frame has been lovingly cared for by volunteer rail buffs who greased its wheels and polished its brass fixtures while waiting to find it a more suitable home. The Toronto Railway Heritage Centre will open in July at Roundhouse Park at the foot of the CN Tower, and that's where the locomotive is headed on its final journey. The move is scheduled in two stages: the coal tender will go early Thursday morning, just after midnight. The engine will follow the next night. Each move is expected to take about two hours. The cost of the move is estimated at $150,000, which Leon 's Furniture Store will donate as part of a deal with the city to sell sofas in the old CP roundhouse. [from Globe and Mail via American Rail Link, June 3, 2009 via Ed Mayover]

When a new railroad company prepares a high-tech rail yard in southern Saratoga County , it will be building on land that has held tracks for 174 years. It will also be building on the memories of the older generations that worked the trains for decades. Mechanicville has been a train town for much of its history. City Historian Paul Loatman said Mechanicville's relationship with railroads began in 1835, with the Saratoga and Rensselaer Railway. Today, it's the Pan Am Southern Railway that is planning to build a $40 million "intermodal and automotive rail facility," projected to cover more than 200 acres in Halfmoon, Stillwater and Mechanicville. The new company is a joint venture by Norfolk Southern and Pan Am Railways.The facility will have space for 371 trailers and 690 automobiles, most of which will be hauled away by trucks heading to the Northway. Construction is expected to begin later this year and be completed by 2012, with some rail traffic beginning next year. [from Daily Gazette Mail via American Rail Link, June 3, 2009 via Ed Mayover]

Canadian National has agreed to sell three Mississippi line segments to Grenada Railway, LLC and Natchez Railway, LLC both non-carrier affiliates of V&S Railway and A&K Railroad Materials. This deal transfers ownership of 252 miles of track and preserves rail service on the two longest of these rail lines for at least the next two years. The longest piece is a 175-mile segment of the ex-IC main between the Tennessee-Mississippi state line and Jackson via Grenada, but only as far as a point just north of Canton MS where CN serves the Nissan auto assembly plant. This is the line that served such name trains as the City of New Orleans and the all-Pullman Panama Limited. It is now the Grenada sub and will become the Grenada Railway, along with the 11-mile Water Valley Spur, which peels off at Grenada and goes as far as Coffeeville (it used to go all the way to Jackson, TN). The third segment is the 66-mile Natchez Branch out of Jackson, MS that will become the Natchez Railway. A check with the V&S website reveals that the company shares leadership with A&K Railroad Materials of Salt Lake City. [from The Railroad Week In Review, May 22, 2009 via Ed Mayover]

Standing at the at the corner of Main Street and Maryland Avenue a visitor to Ellicott City Station can gaze up at a wooden post supporting the walkway across the B&O Railroad's Oliver Viaduct and see markings documenting the height of various floods through the Patapsco River Valley. The greatest of them all, rising 21.5 feet, came roaring down the evening of July 24, 1868.
In the memory of many, however, is the Great Flood of 1972 (marked on the post just below the cross beam) that rose to 14.5 feet. Pounding rain washed over Maryland on the morning of June 21, 1972 as Hurricane Agnes crept up the East Coast. Throughout the morning the Patapsco River rose at a relatively moderate rate. The rain kept coming, however, almost with a vengeance until the River began to spill over its banks. Tributaries throughout the valley began to fill fields and low lying areas adding more and more water to the Patapsco. Between about 8 PM and 9 PM that sultry summer evening the river rose more than 10 feet reaching its crest sometime in the early morning hours of June 22nd. The waters would nearly reach the main waiting room of the Ellicott City Station at track level.

Ellicott City Station and its adjacent bridge positioned at the junction of the Patapsco River and the Tiber River flowing down Main Street witnessed a backwash of water filled with dangerous debris that would threaten the Station that had survived the devastating deluge of 1868. Eight people would die that night-swept away by the raging waters. Automobiles, trucks, large chunks of buildings, telephone poles and twisted railroad track would wreak havoc on anything in their path. Years would pass before Ellicott City and the other communities in the Patapsco Valley would recover.

Two interesting outcomes of the 1972 flood, silver linings to dark storm clouds, have left legacies of B&O history. Rushing water across the railroad tracks entering and leaving Ellicott City Station unearthed some of the B&O Railroad's early engineering. Granite stone stringers that supported iron strap rail from the 1831 rail bed construction were exposed to the light of day for the first time in more than 125 years. Examples of these along with pieces of original iron strap rail were extracted and brought into the Museum's collection while others were left in their original position.

Still in occasional use by the Chessie System Railroad as a freight depot, the flood damaged historic station was under threat of sale and/or demolition. In 1974 a group of local preservationists led by Roland and Enalee Bounds gathered up the resources to take possession of the Station, restore it and open it to the public as a museum. They established an organization named Historic Ellicott City Inc. that operated the Oldest Railroad Station in America for more than 30 years and has tackled numerous important preservation projects in the old town. [by Courtney B. Wilson, Executive Director, from http://borailroad.blogspot.com/
Stimulus Funds Accelerate Wilmington Station Restoration [from AMTRAK INK May 2009 – AMTRAK Employee's Magazine] On May 4, Vice President Joe Biden and Delaware Sen. Thomas R. Carper , along with a contingent of other elected officials and Amtrak executives launched the restoration of the train station in Wilmington, Del., one of the oldest and busiest stations in the system. The project, slated for completion by February 2011, is among the company's capital projects to receive funding under the American Recovery and Reinvestment Act. Construction is scheduled to begin later this summer includes installing new concrete curbing, glass stairwell enclosures, canopies, an ADA-compliant raised platform on Track 1, replacing track bed waterproofing, exterior building restoration, sidewalk brick repair and repairs to the platforms' underside. Per an agreement with the Delaware Department of Transportation, Amtrak will provide 60 percent of the funds for the project, with the remaining 40 percent — approximately $12 million — from DelDOT.
The Wilmington station project is expected to preserve or create 84 jobs over the next two years, primarily construction-related. Providing a facelift for the Wilmington station has both historical and economic implications. Listed on the National Register of Historic Places, the 100-year-old station is one of three railroad buildings in the area designed by renowned architect Frank Furness, along with the adjacent Pennsylvania Building and the Baltimore & Ohio Water Street depot. Extensive work is going into maintaining Furness's Victorian-style vision while adding all of the required upgrades and repairs.

Concurrent with the renovation of the exterior of the station, Amtrak will renovate the interior of the station. This work includes the refurbishment of the first and second floors, installation of a new heating and air conditioning system, and new plumbing and electrical systems. Second floor waiting rooms and other spaces on the second floor will also be restored.
Operation RedBlock Turns 20 - Developed in 1988 by the labor unions that represent Amtrak employees, Operation RedBlock is a program that encourages employees to aid co-workers in confidentially seeking assistance for substance abuse problems. According to ORB procedures, employees impaired by drugs or alcohol and who cannot report for work are encouraged to call a toll-free number 1- 800-44-RBLOC and "mark off" as "Operation RedBlock." If an employee is observed on the job as unfit to work, co-workers should advise the employee to mark off. If the impaired worker places the call or requests a co-worker to mark them off, the reason provided is an Operation RedBlock procedure. No further action is taken by the company. The ORB procedures were created for the common welfare of all employees and to provide a safe workplace. [from AMTRAK INK May 2009 – AMTRAK Employee's Magazine]

CN's Algoma Central Railway acquires Colorado's Ski Train - The Ski Train has taken it's last run. On March 29, the train that shuttled skiers 56 miles between Denver's Union Station and Winter Park, Colo., ceased operations. Ski Train owner and operator the Anschutz Co. has sold the service's equipment to CN subsidiary Algoma Central Railway Inc. Anschutz had been operating the Ski Train — which served the Colorado region for decades — at a "consistent loss over the past 21 years," said company spokesman Jim Monaghan in a prepared statement. "Profitability had never been the controlling issue with the Ski Train," he said. "However, more recently it has faced additional, serious challenges, including escalating costs — particularly liability coverage, operating conflicts with [Union Pacific] freight train traffic, substantial uncertainties posed by the redevelopment of Union Station, as well as long-term impacts resulting from this nation's economic crises." [from Progressive Railroading via Tom Smith]

Major NEC Schedule Changes Beginning in May, Amtrak, CSX Transportation, Metro-North Railroad and New England Central Railroad will begin performing extensive track maintenance in the Northeast, resulting in several schedule changes from April through September that will affect Acela Express, Northeast Regional, Adirondack, Empire Service, Ethan Allen Express, Maple Leaf, Keystone Service, Pennsylvanian, Lake Shore Limited and Vermonter services. Accordingly, information for station employees, call center agents, On-Board Service and Train and Engine crews will be distributed this week in the form of an Operations Service Advisory (OSA) and Arrow message. Schedules printed in the Fall 2008-Winter 2009 System Timetable and individual schedule cards for most trains operating in the Northeast will no longer be valid due to the magnitude of the track work and the extent of necessary service changes. In addition, schedules for many trains operating throughout the Northeast will not be published in the 2009 Spring-Summer System Timetable, which becomes effective May 11, 2009. However, up-to-date schedules will be available for download and printing at Amtrak.com. [AMTRAK News Release]

A federal grant of nearly $1 million will rehabilitate 12 miles of Salem County shortline trackage in southern New Jersey, NJ.com has reported. The grant will upgrade the line from the current 5 mph restricted running speed to 25 mph. The grant money, totaling $950,000, came as part of the Fiscal Year 2009 omnibus spending bill, which President Obama signed in January. New Jersey's Congressional delegation trumpeted the grant at a press conference today. Southern Railroad Co. of New Jersey operates the 18-mile Salem County branch line linking Salem and Swedesboro. The line serves agricultural and manufacturing interests in southern New Jersey. With the money, it will install new rails, ties, and ballast. [TRAINS News Wire via Ed Mayover]

New nonprofit organization to operate East Broad Top Railroad. Published: Thursday, May 07, 2009
Rockhill Furnace, Pa. - A new nonprofit organization has signed an agreement to operate the East Broad Top Railroad for three years, and the organization hopes to attract enough grant money during that time to buy the Pennsylvania narrow gauge from its longtime owners, Joe and Judy Kovalchick. The railroad, designated a National Historic Landmark in 1964, has had a precarious existence in recent decades, with each operating season rumored to be its last.

The new organization, the East Broad Top Railroad Preservation Association, was put together by Larry Salone, who took over as executive director of the Altoona Railroaders Memorial Museum in 2007. Salone is a restaurant- and engineering-company owner who says he took his first train ride as a kid on the East Broad Top, which the Kovalchick family has operated as a tourist railroad since 1960. Joe Kovalchick's father, Nick, was a salvage dealer who bought the railroad after its last common-carrier runs, in April 1956.

Salone, who scheduled a press conference at the railroad Friday, said during a visit to the EBT last Saturday that the railroad's current employees would remain on the payroll, and that the schedule for the coming year would remain largely unchanged. But he said he hoped that riders would begin to notice small improvements as soon as the EBT opens, on June 6. The railroad will accept credit cards for the first time, he said, and shuttle buses will run between the East Broad Top and the Altoona museum during the museum's annual railfest weekend, June 27-28.

He said he planned to begin seeking money to reopen about six miles of track from the current end of operations into Mount Union, where the railroad transferred coal and other freight to the Pennsylvania Railroad in a dual-gauge yard. Salone also discussed putting a second EBT steam engine back in service - most likely No. 14, a 1912 Baldwin Mikado that is nearly identical to the only engine currently operating, No. 15. In addition, he talked about converting additional freight cars for passenger service so that the line's 19th-century coaches could be reserved for special occasions.

The East Broad Top began operating in 1873 along a main line roughly 33 miles long, of which about five miles are currently in service. The rest of the railroad is almost entirely intact but is badly overgrown. In addition to six narrow-gauge 2-8-2s in three sizes, the EBT has a unique 1927 Brill gas-electric car in operating condition, a standard-gauge 0-6-0 in Mount Union, and a sprawling machine-shop complex that is being restored by a volunteer organization, the Friends of the East Broad Top. The Rockhill Trolley Museum operates on a portion of the railroad's old Shade Gap branch.
A new nonprofit organization has signed an agreement to operate the East Broad Top Railroad for three years, and the organization hopes to attract enough grant money during that time to buy the Pennsylvania narrow gauge from its longtime owners, Joe and Judy Kovalchick. The railroad, designated a National Historic Landmark in 1964, has had a precarious existence in recent decades, with each operating season rumored to be its last. The new organization, the East Broad Top Railroad Preservation Association, a 501c 3 non profit, was put together by Larry Salone, who is also executive director of the Altoona Railroaders Memorial Museum. Mr. Salone announced the preservation association's creation during a May 8 press conference at the railroad. For additional information on this new non-profit, please click on the link. http://www.ebtrr.com/news/newoperator.html The big news is that the track crew volunteers have been able to complete the tamping for the spring tack work project over the weekend of May 9 and 10. On Saturday the crew completed tamping 650 feet of track in one day using the tamper acquired in 2008! This involved setting the jacks to bring the track into proper level and super-elevation for the curve in the area many of the ties were replaced at. In some areas the track was raised 6 inches to bring it into proper elevation. [via Ed Thornton]

First construction contract awarded for transit tunnel project -The NJ TRANSIT Board of Directors advanced the nation's largest new public transportation project into the construction phase by unanimously approving the first of numerous contract packages for the multi-billion-dollar Mass Transit Tunnel initiative.The board action sets the stage for a MTT groundbreaking ceremony in the coming weeks and green-lights construction of a railroad underpass at Tonnelle Avenue in North Bergen. The underpass will be adjacent to where the $8.7-billion project goes underground, allowing the MTT's two new rail tracks to begin their descent under Palisades Mountain. The Board's approval of the project's first construction contract follows last week's announcement that President Barack Obama is including $200 million in additional funding for the project in the FY 2010 federal budget, bringing the total federal commitment to date to $378 million. Of even greater importance was the announcement that the Mass Transit Tunnel project is being recommended for an Early Systems Work Agreement, which formalizes the federal government's long-term funding commitment.
The Access to the Region's Core Mass Transit Tunnel project will more than double the number of trains that can travel between New Jersey and New York to 48 per hour, from the current 23. This will eliminate a bottleneck along the existing two rail tracks, which are pushed to their functional limits during every peak travel period. The additional capacity will create one-seat (transfer-free) rides to and from New York for thousands of customers on ten existing NJ TRANSIT commuter rail lines and future lines as the statewide commuter rail system is expanded.NJ TRANSIT and its partner, the Port Authority of New York & New Jersey, have committed $5.7 billion to the project and are seeking federal participation of $3 billion. The underpass contract is being funded with a portion of NJ TRANSIT's ?$424 million share of the American Recovery and Reinvestment Act. Future contracts will build the tunnels that will carry NJ TRANSIT trains under the Palisades, under the Hudson River and to and from an expanded New York Penn Station. The $13.6 million construction contract will be awarded to Ferreira Construction Co. Inc. of Branchburg. In addition to the Tonnelle Avenue underpass, the contract calls for relocation of utilities and construction of a new railroad embankment immediately west of Tonnelle Avenue. The Board also authorized amendments to existing construction management, construction assistance design services and insurance contracts for services and coverage associated with the underpass project. Tonnelle Avenue's four traffic lanes will remain open during construction, except for some night-time periods when traffic volumes are low. [From Railway Track and Structures - May 14, 2009 via Ed Mayover]
THE STREAMLINER is published by the Friends of Philadelphia Trolleys, a Pennsylvania non- profit corporation. FPT Founding Members: Harry Donahue, Dave Horwitz, Bill Monaghan, Matt Nawn FPT Web address: UPDATED!http://mywebpages.comcast.net/trolleydriver/FPT.htm E-Mail: FPT2799@Comcast.net Mailing Address: P.O. Box 33397, Philadelphia PA 19142-0397 The Friends of Philadelphia Trolleys Encourage You to Visit and Support Trolley Museums Dedicated to the Preservation of Philadelphia's Trolley Heritage, including the following: • Baltimore Streetcar Museum http://www.baltimorestreetcar.org/
Pennsylvania Trolley Museum http://www.pa-trolley.org/

Rockhill Trolley Museum www.rockhilltrolley.org

Seashore Trolley Museum http://www.trolleymuseum.org/

New York Museum of Transportationhttp://www.nymtmuseum.org/

Shore Line Trolley Museum http://www.bera.org

Electric City Trolley Museum Associationhttp://www.ectma.org/

NEXT ISSUE OF THE STREAMLINER IS IN THE WORKS! We're happy to report that the next issue of The Streamliner is already being compiled. This issue will focus on the status of the FPT-sponsored restoration of car #2168 at Baltimore Streetcar Museum, and the overhaul of car #2743 at Rockhill Trolley Museum, a project that FPT has made significant contributions to. Great progress has been made on both of these projects and we cannot wait to share the news. Thanks for your patience and support. We are accomplishing great things with your help! [via Ed Thornton]
MTA Long Island Rail Road 175th Anniversary MTA Long Island Rail Road, "The Route of the Dashing Commuter," is only two years younger than Railway Age's earliest ancestor, The American Rail Road Journal (1832). Privately owned by the Pennsylvania Railroad until 1966, when New York Governor Nelson Rockefeller struck a landmark deal with the PRR to buy the LIRR and fold it into the New York MTA, the LIRR is the nation's largest, busiest commuter railroad and the oldest U.S. railroad still operating under its original name and charter. LIRR transports around 81 million passengers each year (280,000 rides per day) over more than 700 miles of track. [from Railway Age Advertiser Alert - June Issue via Ed Thornton]

Plans to revitalize two railroad freight lines in the heart of Union County, NJ, are suspended, according to county officials, local media report. The downturn in the nation's economy, combined with state funding cutbacks for vital sections of the 14-mile project, left the county with little choice but to recommend to the state Department of Transportation that the project be temporarily suspended, said Al Faella, Union County's director of economic development. [from Railway Age via High Green via Tim Moriarty]

Amtrak will make that summer trip affordable with new, lower fares including 25 percent off the lowest published coach fare ont Northeast Regional service between Washington, DC, New York, and Boston and extending the current lower fares on Acela Express. These fares are available for purchase today for travel June 2 through September 3, 2009. Reservations are required and must be made 14 days in advance of travel. Amtrak has posted six consecutive years of growth in ridership and revenue, carrying more than 28.7 million passengers in the last fiscal year. Amtrak provides intercity passenger rail service to more than 500 destinations in 46 states on a 21,000-mile route system. For schedules, fares and information, passengers may call 800-USA-RAIL or visit Amtrak.com. [AMTRAK News Release]

Amtrak is beginning to put into place the last piece of a multi-year plan to bring increased convenience, improved service and more station amenities to passengers who ride our popular Auto Train. The new, larger and up-to-date passenger station being built in Sanford, Fla., fulfills our vision for the Auto Train which added new passenger equipment in the 1990s, new car carriers in July 2005 and built a new station and mechanical facility at the northern end of the route near Washington, D.C., in 2000. It's a plan that is working. During fiscal year 2008, ridership on the Auto Train increased 7.8 percent over the previous year. Amtrak's Sanford Auto Train Station
The Sanford Auto Train Station serves as the southernmost terminus of Amtrak's Auto Train, a unique service that allows passengers to travel with their personal vehicles between Lorton, Va. (near Washington, D.C.) and Sanford, Fla.

The station was built in 1971 when the Auto Train operation was a private enterprise. Amtrak began operating the service in October, 1983 and renovated the station in 1995.• In addition to cars, vans and SUVs, the Auto Train also transports motorcycles, small boats, U-haul trailers and jet-skis.

In fiscal year 2008, 234,839 passengers traveled on the Auto Train, an increase of 7.8 percent over the previous year.

Last fiscal year, the Auto Train carried 112,188 cars and 1,757 motorcycles, resulting in a gasoline savings of about 5,048,460 gallons (20 mpg at 900 miles)

With more than 40 passenger rail cars and auto carriers, the Auto Train is the longest passenger train in the world.Plans for Renovation

The $10 million renovation of Amtrak's Sanford Auto Train Station will be funded by the American Recovery and Reinvestment Act.

The current 2,500 sq. ft. station configuration of three separate structures will be replaced with a 10,000 sq. ft. facility with a passenger waiting area, ticket counter, gift shop, cafe and restrooms.

The new, larger station will include a waiting area with seating for 600, an increase of 370 over the current waiting area, which is partially housed in a tent.

A new traffic flow will provide easier access for passengers as they drop off their vehicles under a large canopy prior to boarding the train.Passenger Impact During Construction

During construction, the station will remain open.

The current tented waiting area will be relocated from the north end of the station to the south end to make way for the new building.

The existing gift shop will be demolished and the current station will be renovated to accommodate administration offices.

The renovation project is scheduled to begin in mid-June 2009 and is targeted for completion in the fall of 2010. [AMTRAK News Release via Ed Mayover]
Southern Pacific 4-8-4 No. 4449 won't make an appearance in Duluth , Minn. , the National Railway Historical Society has confirmed to TRAINS News Wire. The society announced it would appear last week, but the group said it had to cancel the appearance after Train Festival 2009 asked for $25,000 as part of the deal. No. 4449 is making its cross-country trek to appear at Train Festival in Owosso , Mich. , in July. Train Festival's backers are paying $400,000 to bring the engine eastward, and as a result, asked the society to contribute $25,000 to help defray that cost. But Carl Jensen, chairman of the society's national convention committee, said his group can't afford to pay that cost. He noted the trips were announced before 4449 became part of the picture as diesel-powered excursions, and said it was too late to adjust ticket prices. Jensen said the current trips will run as scheduled, but with diesel power as originally planned. He said the group hasn't yet discussed whether to refund ticket prices to passengers who bought tickets in response to the 4449 appearance. Fundamentally, Jensen said the society didn't know it would have to pay Train Festival as part of using the engine at the time it announced the engine would appear. For those looking to ride behind 4449 in Minnesota this fall, plans remain in place for it to pull fall color excursions from Minneapolis to Winona, Minn., Oct. 10-11. Sources indicate the group behind those excursions, the Friends of the 261, did pay Train Festival's fee. For more information on Train Festival, visit www.trainfestival2009.com . For more information on the society's convention in Duluth , visit www.steamontherange.com . For more information on SP 4449, visit www.sp4449.com . (from Trains News Wire via American Rail Link via Ed Mayover)

Disney's touring train for "Disney's A Christmas Carol" will visit 40 cities as it tours the country promoting the upcoming movie. The train's schedule is available at www.disney.go.com The train, which Disney is operating through Amtrak, will begin its tour May 22 in Los Angeles and conclude Nov. 1 in New York . Its stops include Amtrak stations and museums, including the Baltimore & Ohio Railroad Museum in Baltimore , the North Carolina Transportation Museum in Spencer, and the California State Railroad Museum in Sacramento. Disney's animated remake of the Charles Dickens classic stars Jim Carrey as Scrooge and the ghosts of Christmas past, present, and future. Equipment for the train will include three coaches that formerly constituted the Art Train, plus a baggage car and heavyweight observation car Lamberts Point. Four of the five cars will be decorated to evoke 19th Century London; Amtrak diesels will pull the train. (from Trains News Wire via American Rail Link via Ed Mayover)

Duke Energy will attempt to reopen eight miles of former Pennsylvania Railroad trackage in southern Indiana to serve a new coal gasification plant. The route, part of PRR's Indianapolis-Vincennes, Ind., line, will connect with Indiana Southern Railroad near Sandborn, Ind. Duke is converting the Edwardsport Station, an unused coal-fired power plant near Edwardsport, to a coal gasification plant. The site is close to coal mines, and the company said it would have the option to ship coal in either by rail or truck. However, it wants the rail line to ship out sulfur byproducts of the gasification process. The company said the new route will "generally run along" the PRR line. Duke purchased the right-of-way last fall, but will need to buy some additional land near the route. It plans to begin construction in 2010 and begin operating the plant and shipping cars in 2012. [From TRAINS News Wire via Ed Mayover]

NRHS National Dues Rates Adjusted [from the May 2009 Issue of the NRHS Telegraph by Greg Molloy] On April 19, the Board of Directors approved new national dues rates starting with the 2010 membership year. The following dues rates will change: • Chapter primary member dues will increase by $3from $33 to $36 per year. • At-Large primary member dues will increase by $3from $34 to $37 per year. There will be no change to the current Family, Student and Youth dues rates. This action does not in itself change any chapter dues rates. Historically, however, many chapters have preferred to change their own dues rates in the same year that national rates change. Chapters that decide they want to change their own dues rates should notify the NRHS national office of the dues rates using the Chapter Information Update electronic form. New dues rates should be submitted by August to insure that they will be included on 2010 dues bills. In making these adjustments to dues rates, the Society recognizes that in order to continue the improvements made in the last few years, we must not allow our dues rates to again fall seriously behind inflation. Many of the things the NRHS must purchase (like postage, printing and telephone) are growing steadily more expensive, and others (like paper and travel) are expected to rise quickly as soon as the economy starts to turn around. Failure to stay ahead of inflation will result in a need to cut back services and will curtail our ability to make planned improvements to the libraries and websites. While the NRHS is adjusting the dues to offset inflation, we continue to work on short-term projects that will improve efficiency and delay future increases

Dave Watterson called to report that April 30th this year marked the 109th anniversary of Casey Jones's famous train wreck.
A repair facility for Amtrak's Acela trains is coming to Delaware, and the state is investing in the 24 new jobs it will provide, The News Journal reported. Alstom Train Life Services, with service centers in Chicago, Boston and Washington, D.C., will move operations from the nation's capital to Riveredge Industrial Park at 42 Lukens Drive north of New Castle. The new facility is expected to be ready in May. (from an article by Aaron Nathans was published April 7, 2009, by The News Journal via Ed Mayover)

New Jersey Transit's planned, $9 billion Hudson River rail tunnels do not connect to Penn Station but moved forward with inclusion of up to $1.5 billion in the economic recovery law. In a week of early-February Capitol Hill meetings, NARP Vice-Chair Al Papp and NARP staff found key Members and staff unaware of the problem. The new tunnels also could not be used by the half of NJT's Manhattan service that would continue to serve Penn Station after completion of the new tunnels and their 34th St. terminal. NJT would give Amtrak two more peak hour slots—for a total of six—but, as NARP said in a Feb. 18 letter asking DOT Secretary Ray LaHood to fix the problem, "these slots will be worthless whenever service is interrupted in the existing, 1910 vintage tunnels." Interruptions are frequent; Mar. 3 saw 60-90-min. AM peak delays due to single tracking (NARP News: May, June, Dec 08, Feb 09;Mar 09 see also www.narprail.org/arc via Ed Thornton).

The defunct GrandLuxe Rail Journeys luxury passenger cars have been sold to Xanterra Parks & Resorts, owner of the Grand Canyon Railway, the Associated Press has reported. The purchase includes 25 passenger cars. Xanterra President Andy Todd wouldn't say exactly where the cars would be deployed, but said his company would use the cars to "enhance the national parks experience." Xanterra owns resorts at seven national parks in the western U.S. in addition to the GCR. (from Trains News Wire via AMERICAN RAIL LINK - JUNE 17, 2009 via Ed Mayover)
---
Fast Work on Halsted Street
(Chicago, IL) July 30, 1906
"I am in a hurry," declared Mrs. S.H. Chidester. "I want to get to Evergreen Park. I have to catch the Grand Trunk (commuter train) at 49th Street."
So she spoke to the motorman when she boarded the Halsted Street (electric trolley) car at 39th Street after a day of visiting friends in the city. She had a very definite late afternoon suburban train in mind and she was determined to be on it.
The motorman did not seem to heed her concern. After only two blocks the car caught up with a team and wagon on the track. There was a delay while the teamster pulled over to the side.
Standing by the track at 43rd Street were some people waiting to board the streetcar. The car stopped for them. That was too much for Mrs. Chidester's patience. She returned to the front platform to remind the motorman of her plans.
"Running cars is my profession," opined the uniformed gentleman. "I require no advice." The lady decided that the Chicago City Railway Company should no longer sponsor such an unhelpful employee. It would be better if he was out of a job and out on the street. "I will get your job if it takes me a month!"
It did not take her a month. It required only a few seconds. Within that short span of time the man found himself on the street looking down the track at a trolley which continued without him, Mrs. Chidester firmly at the controller.
She proved to be a much faster streetcar driver than the functionary whom she had so swiftly deposed. Coal wagons encroaching on the track slowed her down not at all. Along her flight she scattered debris from three of them. She wasted no time for passengers to board or alight, either. She even showed the usual safety stop for the streetcar crossing at 47th Street to be an unnecessary tradition. Car service on Halsted Street had not been so fast in many moons! The car arrived at the grade crossing with the Grand Trunk at 49th Street. There it halted just as it always did. She was on time for her train.
But by that time, Mrs. Chidester was having an interview with the streetcar conductor and some of the passengers. Shortly the scene of the interview was relocated to a nearby police station.
Was she charged? No, she was not. The city's finest were prepared to detain her for insanity, but eventually they concluded that she did not qualify. But when she went home to Evergreen Park it was by a later train. Mrs. Chidester's notoriety went further than Evergreen Park! This saga appeared the following day in the Toronto Star and the Denver Post!
[From the pages of First & Fastest the magazine of the Shoreline Interurban Historical Society: www.shore-line.org from the collection of Steve von Bonin with the permission of the editor, Norm Carlson.]
---
The following reprinted from the December 1921 issue of the "North Shore Bulletin", the magazine of the Chicago, North Shore, and Milwaukee Railroad
The Bitter Bitten
Not long ago a traveler came
To visit and to ride.
He jumped on a Milwaukee city car
And stood by the motorman's side.
Being somewhat of a joker
He thought he'd have some fun.
So asked the motorman questions
After his friendship had been won.
The motorman was not so very dense,
But alert to joke and story.
Thought, he too, would have some fun
Which would put him in his glory.
The motorman's name, we'll say, was Bill; The stranger's we do not know, But for asking all kinds of questions He certainly was not slow.
One of the question he asked of Bill,
Just to see if Bill would know,
Was, "What is this electricity stuff
That makes these cars all go?"
Bill smiled to himself when he heard it
And thought he had caught a Tartar,
And to turn a joke on his unknown friend
Needed this only for a starter.
"You see those supposedly wires overhead?
They're only a hollow tube." Said Bill to his questioner,
Whom he thought might be a rube.
"The electricity, commonly known as juice,
Is a liquid flowing through
Those tubes you see up over us
Till it's furnished to the crew."
"It runs along till it hits a wheel
At the end of the trolley pole.
It is the deflected from it's course
And drops through a little hole.
It makes it's way down through the car
Through some machinery into the ground,
So that is called electricity,
Which makes the wheels go 'round."
The stranger appeared to be satisfied,
But to him the joke was hard,
So he handed Bill the championship.
Likewise, his business card.
Bill laughed softly to himself,
Thinking he'd taught the rube a lesson,
But the laugh was turned to a look of surprise-
The card read: "Expert of Thomas Edison".
From the pages of First & Fastest the magazine of the Shoreline Interurban Historical Society: www.shore-line.org [from the collection of Steve von Bonin with the permission of the editor, Norm Carlson.]
---
AMFLEET CARS
NOTE: The information below is from an Amfleet I service manual dated August 1979. The Amfleet II cars had yet to be delivered. The original Amfleet I cars have gone through many changes and renumberings in their thirty plus years. Contributed by Ed Thornton
CAR BASICS
The Amfleet cars constructed by the Budd Company for the National Railroad Passenger Corporation are of several types:
1. Amcafe 20000-20053 53 56CS/Cafe (20022 Scrapped) Corridor
2. Amclub 20113-20131 19 18PS/Cafe/28CS Corridor
3. Amclub 20137-20146 10 18PS/Cafe/28CS Corridor
4. Amlounge 20110-20112 3 22PS/Cafe/28CS Long Distance
5. Amdinette 20200-20036 37 32TS/Cafe (28CS (LR) Corridor
6. Amclub (Full) 20670-20677 8 32PS/Cafe Corridor
7. Amcoach 21000-21270 270 84CS (21173 Scrapped) Corridor
8. Amcoach 21800-21889 88 60CS (21867-21882 converted to Ampad) Long Distance
9. Ampad 22900-22901 2 48CS (2 Rooms) Long Distance
Those familiar with the Metroliner Coach will note that arrangements are very similar. Major differences are the absence of the streamlined nose and cab and the fact that cars are locomotive-hauled. All power is derived from the locomotive and trainlined between cars.
The Amcafe Food Service Car has a large bar at the center of the car. The telephone booth and telephone equipment locker are provided in the car, although complete equipment installation is in the future. The Amclub and Amdinette layouts have similar center bars.
The trucks supplied with these cars will be discussed in detail in Section 3. These trucks are Budd Pioneer III type, especially designed for this high-speed service. They use combination stee1-coil-and-air springs and ride on in-board bearings.
The air conditioning equipment is supplied by the Safety Electrical Equipment Corporation and the York Air Conditioning Co. Twin units are used in each car so that failure of a unit will not totally disable the system. Temperature controls for the air conditioning are provided by the Vapor Corporation. Electric door engines and the door control system are also provided by the Vapor Corporation.
CARBODY DETAILS
Car Exterior, Sides and Ends
The car structure, with the exception of the end underframe, is constructed entirely of stainless steel. The car cross-section is a duplicate of that of the original Metroliners, with the exterior skin being formed in corrugations for strength and appearance. Only in the window area are flat formed panels used. This area is covered with the AMTRAK color scheme of red, white and blue "Scotchlite."
Safety Appliances, Coupler & Draft Gears
Sill steps are provided on all four corners of the car, with a vertical handhold directly above. A horizontal handhold on the end sheet at the buffer sill height is also provided on each corner. Two vertical handholds are mounted on the collision post door frame and two on the body end door frame at both ends of the car.Each trap door, in the raised position, provides a vertical and a curved handhold for assist up the steps. A matching curved handhold is mounted on the inside end sheet at each step. A short vertical handhold is provided on each corner post, inside of the vestibule, adjacent to the side entrance door.In each toilet room, a grab handle is located adjacent to the hopper, although in the Food Service Cars, this handle is replaced by a special assist bar for the convenience of handicapped persons.
Couplers & Draft Gear
Couplers are Type H Tightlock as manufactured by National Castings Corp. The Waughmat draft gear units are supplied by Dresser.
Faceplates & Diaphragms
Faceplates are stainless steel faced with a sound-deadening material manufactured by Gatke. Faceplates are bonded to a polyurethane foam diaphragm, which is covered by a urethane skin. It is of prime importance that any repairs be made promptly. Tears in the skin allow water to penetrate into the foam which will form ice during freezing temperatures. Complete instructions on making repairs are detailed in the Maintenance Manual.
Vestibules
Vestibules at both ends of the car are identical except for the handbrake wheel, the P.A. and Switch Locker which are at the "B" end only, the opposite end of car from the toilet rooms. Each vestibule has a door control panel on each side of the car, a means for emergency opening of the side entrance door and access panels in the ceiling for servicing the door engines. Each vestibule receives conditioned air from two distributor plaques, and has a speaker for the P.A. system. A communicating signal push button is located in the ceiling of each vestibule. When pressed, it energizes and sounds a buzzer in the locomotive cab.Toilet Rooms, "A" End
Two toilet rooms are provided at the "A" end of the car, on opposite sides of the aisle. Both rooms are similar in appointments, with a retention toilet, a wash basin set into an enclosure, and a combination towel and liquid soap dispenser. In addition, one toilet room per car is provided with a sanitary napkin-tampon dispenser and a disposal unit.
---
OXFORD AREA TRANSIT SERVICES
C. John Stevenson, Chairperson c.john.stevenson@oatrains.org
M. Walter Saranetz, Vice-Chair <m.walter.saranetz@oatrains.org>
Oxford Area Transit Services, 5 Mt. Vernon Street, Oxford Pennsylvania 19363 (610) 932-9670
From the website: http://www.oatrains.org/ The website welcomes your comments and has many maps and documents.
OATS is working toward the realization of a functional and economic revitalization of the Pennsylvania Railroad's Octoraro Line (USRA Line 142) which runs through southern Chester County, Pennsylvania. Our ultimate goal is the economic revitalization of the region by attracting rail-serviced businesses and industries (and therefore jobs), along with the return of the Freight Line-supported Commuter Rail Passenger Service, to the region.
Feel free to investigate our site, leave a comment, question, or suggestion, or just a note to say 'Hi!'. If you are a resident of the region, please take a moment to complete our survey.
Current Effort Primary Routes Program
Southern Chester County Line - Former Octoraro Line - East and West
Freight Carrier Improvements First ....then Commuter Trains
Route No. 1 - OATS - WEST Nottingham, Pennsylvania to Oxford to Lincoln University to Elk View to West Grove to Kennett Square to Chadds Ford, Pennsylvania 1,2
Route No. 2 - OATS – NORTH Chadds Ford to Coatesville - Downingtown...Connection to the Philadelphia to Pittsburgh Main Line and beyond
Route No. 3 - OATS – EAST Interstate Routes Planned - Pennsylvania to Delaware. Chadds Ford, Pennsylvania to Newark / Wilmington, Delaware - North to South2
Route No. 4 - OATS – SOUTH Interstate Routes Planned - Pennsylvania to Maryland. Nottingham, Pennsylvania to Aberdeen, Maryland
Nottingham, Pennsylvania to Sylmar to Rising Sun to Colora to Port Deposit to Perryville to Aberdeen, Maryland
Future Routes Planned Central Chester County Line - North and South ..West Bank of the Brandywine RiverEastern Chester County/Delaware County - Chadds Ford to WawaFootnotes: 1. Phase 1 is planning for Seven ( 7 ) Commuter Rail Stations2. Existing Rail to be up graded for Future Additional Freight Service and prepared for Future Regularly Scheduled Commuter Services .....Freight and Commuter Excursions etc exist nowFuture Goals
Oxford Area Transit Services ( OATS )
OATS Mission Statement and Goals: The purpose of OATS, a nonprofit group, is:
Phase One:
Part A: To assist Oxford Borough and the Oxford Region and East Penn Rail Road in the improvement of the quality of the East Penn Railroad Line, formerly known as the Octoraro Line, for Freight Rail Service in the Oxford Region including the railroad from Chadds Ford to Nottingham and possibly beyond. • Part B: To improve the quality of the Freight Service and quantity of Freight Customers in such a manner that the Line will be improved and well maintained and provide an Economic Improvement to the Region.
Once Phase One of our mission is accomplished: Phase Two:
Part A: To revitalize and provide Commuter Rail Service over the entirety of this Railroad line.
Part B: To pursue extending the Commuter Railroad Line to the east and south to Newark and Wilmington Delaware, and also further due east to Media and Philadelphia, Pennsylvania. And, to pursue Commuter Railroad Line connections northward from Chadds Ford to Coatesville and Downingtown, Pa.
Part C: To pursue Revitalizing and once again Extending the Freight and Commuter Railroad Line southward to Rising Sun, Port Deposit, Perryville, and eventually to Aberdeen, Maryland.
Part D: To pursue the southward extension of this Railroad Line as an optional alternative for a Freight and Commuter Railroad Route as a part of the Homeland Security Network.
---
OATS Octoraro Line Pipe Dream
Comments by Richard E. Hall
OATS is the Oxford Area Transit Services, basically the pipe dream of two well intended men in Oxford to restore the old P&BC with increased freight service and eventually Passenger service from a connection on the old WC&P, through Wawa to Perryville and eventually, to Aberdeen. I don't think anyone would like to see the full length of the old P&BC returned to service anymore than I would, but the proposal presented by OATS just don't seem realistic. To be carried out in phases, first increased freight service Chadds Ford to Nottingham, then passenger service Nottingham to Chadds Ford with the eventual rebuilding and reopening of the line from Chadds Ford to Wawa. They say they intend to rebuild and restore freight and passenger service on the line in Cecil County and provide passenger service to Aberdeen. They have presented their grand plans to the Colora Civic association, but from what they say there has not been any dialog with any officials in Cecil County. There is also mention of a possible tourist train operation, but there already have enough of them in the area and adding another would be a bad move for all concerned.
Bridge work needed before full line could be opened between Wawa and Rock junction with old C&PD. There may be other bridges needing repairs or replacement in addition to the following bridges. an interesting point is several of the bridges on the line are so old the drawings note they were originally designed to carry the old PRR class H3 freight engines.
At least one two span UG Br. south of Wawa over the Chester Creek has both spans washed out and will require new bridge pier in creek and the spans replaced.
UG Br. 26.47, just north of Chadds Ford Station, UG highway bridge dating to 1908 has been removed, new bridge required with increased width and height for roadway under track.
UG Br. 26.92, series of deck girder spans across meadow, all are a mix of second hand spans salvaged and placed there in 1915 from various locations and divisions, including the Baltimore Div., Philadelphia Div., Bel Del Div, Middle Div. and Pittsburgh Div. They are of various ages and girder designs, some have been modified to fit there, they all need inspection and repairs before being returned to service.
UG Br. 44.75, viaduct across the valley of Big Elk Creek which dates to 1897, the base of the 11 towers supporting the deck girder spans are in need of repairs. (It is a great ride crossing this high viaduct and I have crossed it at least 14, maybe 16 times, behind PRR steam and diesel, in the cab of PRR BS10 #5550 on the local freight, riding in coaches, an open baggage car door, W&W gas electric #4662 and even crossed it once at night. You have a view up and down the Big Elk Creek Valley and on a clear moonlit night is an interesting view with the moonlight sparkling off the creek down below.)
UG Br. 56.30, pre cast cement slab dating to about 1915 over what is now known as Stevens Road has been removed and a new and larger UG Br. would be needed.
UG Br. 56.39, girder span which replaced the 1891 brick arch which failed in a 1933 flood has been removed, a new span is required. (The original wooden trestle was replaced with fill and two 48" iron pipes for the stream in 1885, in turn the pipes were replaced with a stone faced brick arch in 1891 Cut between East Main St. and Queen St. was filled in when new supermarket was built, must be cleaned out to rebuild the track. OH Br. 57.42 was removed and cut filled in for road, cut needs to be cleaned out and new OH high Br. built for roadway. No data available for that old timber highway bridge.
UG. Br. 59.71, pre cast skewed cement slab bridge dating to about 1915 over Liberty Grove Road has been removed and a new and larger UG Br. would be needed for today's highway. Like all of the other out of service bridges remaining on the line, two through girder spans crossing Basin Run, UG Br. 60 dates to 1895 and UG Br. 61 dates to 1899. I do not know the status of UG Br. 60.65 placed in 1906 using old Trenton Division Br. 49.13 from the Belvidere RR, located one mile west of Colora.
UG Br.62.11, the 124.5 over portals, 122.5 CtoC end pins through truss bridge crossing Basin Run and Basin Run Road was built in 1899 by the New Jersey Steel & Iron Co. and has not been maintained for well over 60 years, it needs a through inspection and possible repairs before passenger traffic could be permitted to use it.
MP 63.13+/-, the Rowlandville Cut had been used as a dump, reportedly has had logs, garbage and general trash and animal carcasses dumped in it. The cut would have to be cleared of such debris to rebuild the track. The cut is narrow, was reportedly widened enough during WW-II to clear the cylinders of L1s and K4s going into Bainbridge. (Going through there in a PRR class P70 coach, the rocks looked as if they were only inches from the side of the car.)
The two deck girder bridges crossing the Octoraro Creek also require new bridge timbers. The two Octoraro Creek bridges, two spans each, Br. 63.28 was built in 1899, one span 99'9", one 87'7-1/4", Br. 63.55 was built in 901, two spans each 97'9". both built by the Pencoyd Iron Works, are not identical in the deck girder design.
MP64 to MP66, the line from original the end of the P&BC at Octoraro on part of the old C&PD and new ROW up to the junction with the C&PD at Rock, might be legal problems where property owners have cut through abandoned ROW to lower grade in driveways.
The OATS material on the internet describes the various phases of their great plan for restoring service on the old P&BC. They also have a very brief history of the P&BC which is disappointing. It was written by Ralph Denlinger of Oxford who has been interested in the P&BC for years, but the brief history does not does not reflect Ralph's knowledge of the P&BC, either by making it too brief or by someone condensing it. here is no mention of the original "Southern Route" survey, the origin of the two companies which formed the P&BC, the planned 3,300 foot bridge to cross the Susquehanna at an estimated cost of $177,450, or the surveys for the line to Baltimore and why support for the line was lost in Baltimore and Harford Counties. They also show a photo of what they call a P&BC stamp on a rail. It actually was rolled in the rail at the mill indicating it was a 85 lb. section rolled by the Pennsylvania Steel Co. The P&BC originally was laid with 50 lb. iron section of Phoenix rail, same section as was used on the C&A. Next was 56 lb. iron rail, replaced by a 56 lb. steel Bethlehem in 1868 and a slightly higher 56 lb. steel Penna. Steel section, then 60 lb. Penna. Steel #PS60-244 in 1876 with gradual increases in weight over the years.
---
SCHEDULE NOTES
Notices, announcements, schedules, etc. are provided here as a service to the members.The Chapter has no affiliation with any commercial operation, museum, or tourist line.
MUSEUMS AND EXCURSIONS: [from American Rail Link for June 10, 2009 via Ed Mayover]
DELAWARE & HUDSON GRAVITY RAILROAD DEPOT MUSEUM : Located at 118 South Street , Waymart , PA , is open for the 2009 season. The museum plans to be open on Tuesday's and Thursday's from 1:00 pm to 3:30 pm and on Saturdays in July and August.

DELAWARE RIVER RAILROAD EXCURSIONS WITH NYSW STEAM ENGINE 142: Saturdays and Sundays, 11 am, 12:30, 2:00, 3:30 pm. Station located at 100 Elizabeth St. , Phillipsburg , NJ . Tickets available at www.877trainride.com "Day Out With Thomas" runs July 3, 4, 5, 10, 11, 12th. Train operated by the New York , Susquehanna & Western, Technical & Historical Society.

LEHIGH VALLEY DEPOT: 86 Long Street, Williamsville , NY . Open each Sunday until September, noon to 4:00 pm. 716-662-7002. Operated by the Western New York Railway Historical Society. www.wnyrhs.com

BUFFALO, ROCHESTER AND PITTSBURGH DEPOT: 395 South Lincoln Avenue , Orchard Park , NY . Open Wesnesdays and Saturdays until September, 8:00 am to noon. Operated by the Western New York Railway Historical Society. 716-662-7002. www.wnyrhs.com

UPPER HUDSON RIVER RAILROAD: 3 Railroad Place, North Creek , NY . Open May through October. Minutes from I-87, the Adirondack Northway. Over 40 miles of real railroad fun. (518-251-5334) www.uhrr.com

NEW YORK CENTRAL MARTISCO STATION MUSEUM : Located off NY Route 174, between Camillus and Marcellus , NY . Original NYC on the " Auburn Road ," now operated by the Finger Lakes Railway. Open Sundays through October 25th. Hours: 2:00 to 5:00 pm. Museum plus rail yard attractions. Free admission. Operated by the Central NY Chapter, NRHS. Herb and Fran Meinking curators. www.cnynrhs.org
First Sunday of Each Month NOW thru November 2009 Steamin' Days at Auburn Heights1/8 scale steam train, Stanley Steamer cars, 1920s steam popcorn wagon Admission $10/$7Auburn Heights Preserve, Yorklyn, DE www.auburnheights.org
May 16 thru December 31, 2009 - Trains in Motion Pictures at Railroad Museum of PA Exhibit on starring role of trains and railroads in motion pictures with video clips, photographs, and amazing artifacts.
June 27-28, 2009 Great Scale Model Train Show, Timonium Fairgrounds, Timonium, MD State Fairgrounds Sat. 9-4, Sun. 10-4, Admission $9, under 15 free, family $18, tickets good for both days.
June 27-28, 2009 Railfest Weekend at Railroaders Memorial Museum, Altoona, PA Enjoy first class ($50) or coach ($30) accommodations from Harrisburg, Lewistown or Huntingdon to Altoona on Saturday, June 27; return trips happen Sunday, June 28. The locomotives will appear at Railfest as PRR 5809 and 5711, their original locomotive numbering. Many thanks to Bennet and Eric Levin for their gracious support of our annual event. Don't miss this unique opportunity to view Central Pennsylvania via rail from these rolling pieces of American history. Railfest guests or local enthusiasts will enjoy an on-board view of the Horseshoe Curve from either first class ($50) vintage equipment or modern coach ($30) seating. These 45-minute excursions depart from the Altoona station at three designated times on Saturday and Sunday: 10:20 a.m., 12:30 p.m., and 2:45 p.m. Passengers will travel around the Horseshoe Curve, up the mountain through the Gallitzin and Portage Tunnels, and loop around to return to the Altoona station via the slide and Bennington Curve, the location of the famous Wreck of the Red Arrow. FREE shuttles will run on Saturday and Sunday to and from the East Broad Top Railroad. EBT passengers will enjoy short excursions on passenger cars built in the 1880s, steam locomotives from the 1910s, and speeders from the 1920's while on these historic narrow gauge rails. http://www.railroadcity.com
July 1-5, 2009 Reading Railroad Days at Railroad Museum of PA The Museum will again host Reading Railroad Days this weekend. Special activities for the entire family will focus on the Reading Railroad, one of the most important historical transportation systems in eastern Pennsylvania. Exhibits typically include an enormous and detailed HO scale model railroad depicting operations on the Reading Railroad, displayed by the Reading Company Technical & Historical Society. Museum visitors can view the famous and familiar Reading Company trains of history speed through scale model villages and countryside. Special interpretive tours of some of the Railroad Museum's collection of Reading Company equipment will be held. Demonstrations of the 1928 Reading Company turntable (seen at right) and guided tours of the outdoor Restoration Yard will take place, conditions permitting.
July 9, 2009 Delmarva Rail Passenger Association Monthly Meeting Sat 9-4, Sun 9-1, Hosted By The Williams Grove (Pa) Historical Steam Engine Association Steam train rides, model train display, steam and air compressor train horn and whistle blowing, stands with collector items to purchase. Total of $15 to rent a table for both days. Free parking. For more information call W. Medlin at 570-473-5659 or e-mail: wlm643@yahoo.com Directions: Rt. 15 to Rt. 74N, Rt. 74N 1.2 mile to Williams Grove Rd. (at Shillito's Oil) 0.8 mile to Williams Grove Steam Engine Show Grounds entrance on left, or see web page http://wghsea.org [via Ed Thornton]
July 9 -12,2009 Mountain State Railroad & Logging Historical Association regrets to announce that the Steam Train to Elkins and Beverly, scheduled for July 9-12, has been CANCELLED.
July 18-19, 2009 TRAIN DAYS TOY AND MODEL TRAIN FLEA MARKET Sat 9-4, Sun 9-1, Williams Grove, PA, Steam train rides, model train display, steam and air compressor train horn and whistle blowing, stands with collector items to purchase. Free parking. Rt. 15 to Rt. 74N, Rt. 74N 1.2 mile to Williams Grove Rd. (at Shillito's Oil) 0.8 mile to Williams Grove Steam Engine Show Groundsweb page http://wghsea.org
July 23-26, 2009 Train Festival 2009 Steam Railroading Institute in Owosso, Michigan. 8 Steam Locomotives to be Operating at Festival plus HUGE Model Train Layouts, a Miniature Railroad and More. This quaint American Town is located in the central region of Michigan just outside of Lansing. All the charm of Owosso will welcome tens of thousands of visitors from all over North America and other regions of the world to TrainFestival 2009. The theme of the weekend will be Trains, Trains, Trains! The Steam Railroading Institute has an award winning collection of railroad equipment and railroad artifacts. The museum is an interpretive experience for visitors of all ages. During the weekend of July 23-26, 2009, visitors to the museum will experience an even greater museum. Steam and Diesel Locomotives from around the country will be on display for visitors to tour the cabs, take photos, watch demonstrations and much more. Huge model train layouts will be on display including a massive all-Lego model train. Railroad vendors from around the globe will have unique items for purchase that you won't find any where else. Families will be able to take an all day excursion or shorter one-hour train ride behind various vintage locomotives. For the thrill seeking visitor, you will even be able to pull the throttle and blow the whistle on one of these steam locomotives. Scaled down miniature trains will be hauling passengers around the grounds of the event as well http://www.trainfestival2009.com./
August 2, 2009 - Train Meet at NUR Temple on Rt. 13 Wilmington, DE
October 3-4 Railfest Steam Days at B&O Railroad Museum Saturday, 10 a.m. - 4 p.m., Sunday, 11 a.m. - 4 p.m. Programs & demonstrations highlight steam power & celebrate the Museum's historic steam engine collection, which includes oldest operating steam locomotive William Mason, The Tom Thumb, and Lafayette
October 10-11, 2009 Great Scale Model Train Show, Timonium Fairgrounds, Timonium, MD State Fairgrounds Sat. 9-4, Sun. 10-4, Admission $9, under 15 free, family $18, tickets good for both days.
October 17 & 18, 2009 Railfest Steam Days at B&O Museum Baltimore Sat. 10-4, Sun. 11-4 Programs and demonstrations highlight steam power and celebrate the Museum's historic steam engine collection, which includes icons such as the oldest operating steam locomotive William Mason, The Tom Thumb, and Lafayette. America's Railroad Museum with America's most important, historic and comprehensive collection lives to tell the story of railroading every day. Forty acres of heritage and a world class collection await your discovery!
October 3-4 Railfest Steam Days at B&O Railroad Museum Saturday, 10 a.m. - 4 p.m., Sunday, 11 a.m. - 4 p.m. Programs & demonstrations highlight steam power & celebrate the Museum's historic steam engine collection, which includes oldest operating steam locomotive William Mason, The Tom Thumb, and Lafayette
September 12-20 Day Out with Thomas at Strasburg Rail Road
November 1, 2009 Train Meet at NUR Temple on Rt. 13 Wilmington, DE
November 27-28 Veterans Day Weekend at the B&O Railroad Museum Sat., 10 a.m. - 4 p.m., Sun., 11 a.m. - 4 p.m. Salute the military and veterans at the B&O! Special living history presentations by members of the 4th Infantry Division Military Police Unit on our WWII Troop Sleeper. Vintage military vehicles will also be on display.
November 4 - December 30, 2009 Holiday Festival of Trains at the B&O Railroad Museum Monday - Saturday, 10 a.m. - 4 p.m. Sunday, 11 a.m. - 4 p.m. Holiday celebration of toy trains and model railroading layouts. Please note: The Museum is closed on Christmas Eve, Christmas Day, New Year's Eve and New Year's Day.
December 4 - 6, 2009 Day Out with Thomas at Strasburg Rail Road-
June 22-26, 2010 NRHS National Convention Scranton, PA (Radisson & Hilton Hotels)
---
CHAPTER EVENTS
Thursday June 18, 2009 7 PM Chapter Meeting "Any Railroad-Related Hobby Night"
Thursday July 16, 2009 7 PM Chapter Meeting "Do-It-Yourself Night"bring lots of prints and up to 25 slides [Note for July = you must arrive BEFORE 7 PM to get in]
Thursday August 20, 2009 7 PM Chapter TRIP SEPTA to Doylestown in lieu of Meeting
Thursday Sept. 17, 2009 7 PM Chapter Meeting program by TBD?
Thursday Oct. 15, 2009 7 PM Chapter Meeting program by TBD?
Thursday Nov. 19, 2009 7 PM Chapter Meeting program by TBD?
Sunday Dec. TBD , 2009 5 PM Holiday Dinner in lieu of normal monthly meeting. Program by TBD?
The Wilmington Chapter of the National Railway Historical Society (NRHS) meets at 7:00 PM on the third Thursday of each month [except August & December] in the Darley Room at the Claymont Community Center on Green Street in Claymont, Delaware. Visitors are always welcome. Admission to regular meetings is free. Check out our Website (thanks to Russ Fox) at:
---
The Transfer Table is published six to ten times per year as the newsletter of the Wilmington Chapter of the National Railway Historical Society. Items in this publication do not represent the official position of either Officers or Members of the Wilmington Chapter or the Editor of this publication. http://www.WilmingtonNRHS.com
Permission to reprint articles and news items appearing herein is granted to NRHS Chapters and other newsletters provided appropriate credit is given. Contributions are always welcome and should be sent to the editor at SD40GMA@aol.com or send to: P.O. Box 1136, Hockessin, DE 19707-5136. Deadline for entries is the 25th of the month.
Chapter Officers:President: Phil SnyderVice President & Historian: Ron CleavesTreasurer: Dave WarnerSecretary: Dan FrederickNational Director: Dave Watterson Editor: Greg AjamianEducation Fund: Ed ThorntonPublic Relations: Frank Ferguson, Jr.Trip Director: TBDEvent Photographer: Ron CleavesWeb Master: Russ Fox