NOTE: The Lite Version is our electronic version which is available for free from this web site. It has limited content but gives you a taste of what is offered in our Full Version.
The Full Version is our printed newsletter which is mailed to you. It contains everything in the Lite Version along with many other reprinted pages from other NRHS newsletters, railroad publications, and flyers that contain photographs, drawings, and maps. The full version is just another benefit of joining our chapter.
THE TRANSFER TABLE
The Wilmington Chapter NRHS Official Newsletter
Internet Edition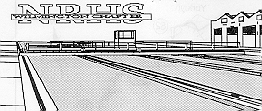 | | |
| --- | --- |
| VOLUME 32 NUMBER 4 | AUGUST 2009 |
Back To Wilmington Chapter Web Site
July 16, 2009 MEETING NOTES
The meeting was called to order at 7 PM by Vice President Ron Cleaves. Secretary Dan Frederick's minutes were approved as read. Treasurer Dave Warner's report was also approved as read despite the picking of a minor nit. President Phil Snyder later arrived to remind the members that the August Chapter Trip will leave from Marcus Hook and there would be NO MEETING in Claymont in August. He also reported that National Director Dave Watterson was recovering at home.
Ron Cleaves brought an album full of great prints that were available for viewing on this Do-It-Yourself Program night. After refreshments, when the sun began to set (finally!) we viewed a wide assortment of slides on many topics that were provided by Dan Frederick, Richard Hall, Dave Warner, Mike Burkhart, and Frank Ferguson. Evidently the meeting format was deemed successful as plans for TBD meetings for the rest of the year include consideration of a repeat of this Do-It-Yourself Program night.
---
NEWS BITS
Operation Changes: Due to ongoing track work in the Northeast, schedule changes beginning July 13 will affect Acela Express, Northeast Regional and Springfield Shuttle services. In addition, Empire Service and Maple Leaf schedules will change due to CSX track work. Adirondack, Empire Builder, Ethan Allen Express and Lake Shore Limited schedules will be adjusted with the completion of Metro-North track work. [from AMTRAK This Week Employee Newsletter]

First Stimulus-Funded Car Returning to Service On July 13, 2009, President and CEO Joe Boardman, U.S. Senator Tom Carper (D-Del.) and other elected officials were in Wilmington, Del., as the first car refurbished with funds from the American Recovery and Reinvestment Act departs Bear Car Shops on its way back to the active fleet.
"The real story today is about people - the Amtrak passengers who will ride in these rehabilitated cars and the workers who are doing a great job bringing them back to life," said Boardman, noting that the additional seating capacity on its trains will help connect families, further business relationships, and position Amtrak for expected future growth in ridership. The car, Amfleet II Coach 25103, was built in 1982 but has been out of service since April 2005, when it was damaged in a rail yard accident in Florida. It is the first of 60 Amfleet cars that will be returned to service by early 2011.

The Amfleet I and II cars in the project are either being converted, rehabilitated from wreck status or undergoing a Level 3 overhaul. The cost per unit ranges from $615,000 to $1.4 million depending on the level of work being done.

Two additional ARRA-funded projects will put 15 diesel locomotives and 21 long-distance cars back in the fleet over the same time period. The combined cost of the three projects is $91 million. "An expanded fleet is a critical part of our ability to grow," said Vice President of Policy and Development Stephen Gardner. "We need these cars as we pursue new service in partnership with states and also to increase capacity along existing routes where demand exceeds what we can currently offer."

To meet the labor needs of refurbishing and overhauling nearly 100 cars in under two years, the Mechanical department has expanded its force by adding 160 new positions between facilities in Wilmington and Beech Grove, Ind. Competition was extremely high, as the company received 3,200 applications and conducted more than 400 interviews to fill the 160 positions.
---
RIO GRANDE RECOLLECTIONS by Tom Smith
The Denver & Rio Grande Western is one of the most beloved names among railfans, offering something for everyone, except maybe the electric traction fan. Its colorful history included robber barons, railroad wars, spectacular scenery, tunnels, helper districts, a motive power roster including the last steam locomotives in revenue service on a Class I railroad along with Alco PA's, a striking color scheme, legendary passenger trains, and 300 miles of anachronistic narrow gauge track along with modern unit coal trains. When you think of Colorado, D&RGW is THE railroad you think of, and it dominated railroading in the western part of the state.
Until the building of the Moffat Tunnel and the Dotsero Cutoff in 1934, D&RGW passenger service wasn't particularly significant, with trains following a long, circuitous route used only by travelers in no hurry. But when the Dotsero Cutoff linked the former Denver & Salt Lake line with the Royal Gorge route, the D&RGW moved into position to be a major player in transcontinental rail travel, and launched one of the most revered passenger trains in railroad history, the California Zephyr.
My first encounter with the Rio Grande occurred on a family vacation to the West Coast in 1954 when we boarded the Royal Gorge in Denver after arriving aboard the California Zephyr. I quickly claimed a seat in the dome observation vista dome car built originally for C&O's Chessie, where I stayed until we arrived Colorado Springs, where we would get off to spend a couple of days.
After visiting local sights, we reboarded the Royal Gorge, and occupied a Drawing Room in a heavyweight Pullman car. I wish I knew which one, but I didn't keep records of such things then, nor did I bother to photograph the motive power, since no railfan would waste Şlm on diesels!. However the 1954 timetable showed that the through Pullman car between Denver and Salt Like City was a 10 section-1 Drawing Room-2 Compartment car. Unfortunately, the dome car wasn't on the train that day. We stopped for 10 minutes at the bottom of the Royal Gorge so passengers could get off and view the Hanging Bridge and raging waters of the Arkansas River. At Salida later that afternoon, we saw 3-rail track and some narrow gauge steam locomotives. We continued westward and arrived Grand Junction that evening about 1030PM. Our through car would then be consolidated with the Prospector leaving Grand Junction at 1:20AM, and arriving Salt Lake City at 8:30 the next morning. We would resume our westward trek aboard the California Zephyr that night via the Western Pacific.
The next time I boarded a Rio Grande train again was after the 1963 NRHS Denver Convention. It was a special train of mostly former Northern Pacific ski train coaches with a pair of heavyweight diners pulled by F7's, and would take us through Moffat Tunnel and the Dotsero Cutoff to Grand Junction, then south to Montrose. We were met by Trailways buses for a wild night ride over the Million Dollar Highway to Duranago for 2 nights in the Strater Hotel next to the Durango depot.
The future of the narrow gauge lines was pretty bleak at that time. Although the daily Silverton train was routinely sold out, freight traffic had nearly evaporated. A speaker at the Convention banquet had outlined a plan that would become known as "Rio Grande Land" to develop the area around the station, increase capacity and promote ridership on the Silverton train. We all recognized that the only reason Rio Grande was doing this was because they realized the ICC would not approve abandoning the narrow gauge as long as the Silverton line was profitable. Events would prove that was a valid assumption.
I had heard and read so much about the D&RGW narrow gauge that I was eager to see it. I expected my first look would probably also be my last. In those days, we could wander around the roundhouse and yard and photograph the steam locomotives and cars without armed guards to block access. Later we would board the passenger train for the ride to Silverton, which was everything I thought it would be.
The next morning we boarded the same consist, and pulled by a K36 Mikado, headed eastward. We passed over several miles of new trackage built by the Army Corps of Engineers to relocate the right of way for a dam project. Laid with heavy rail and ballast, the smooth ride contrasted sharply with what we had been experiencing. After lunch at Chama, we departed with a second K36 2-8-2 helper for the grade up to Cumbres. Unfortunately, the weather then deteriorated and it was dark and rainy when we arrived Antonito, and joined the 3-rail track for the remainder of the run to Alamosa. At Alamosa, our special train was waiting, and we boarded Pullmans (I was in the B&O car Gull) for the overnight trip over LaVeta Pass and an early morning arrival in Denver. Before we departed Alamosa, another K36 2-8-2 coupled onto our consist for an overnight deadhead back to Durango so the equipment could be used on the Silverton run. Watching the crew get the train ready and storm out of down in the darkness was a fascinating glimpse of steam railroading .
The next D&RGW encounter was motivated by two factors: it was obvious that the D&RGW's only local trains, the Yampa Valley and Royal Gorge were not long for this world, and both trains were entrusted to Rio Grande's fleet of 4 Alco PA's. I arrived Denver Union Station aboard UP's City of Denver and transferred to the Yampa Valley. A single Alco PA adorned a heavyweight baggage car and one of the ex-Chessie coach-dome-observations. Just a handful of passengers were aboard, so there was plenty of room in the dome. The PA had no trouble with the long climb up the Front Range, and the darkness of Moffat Tunnel. We would follow the original D&SL line to its dead end terminus in Craig, which was as far as it ever got. The train was turned, and returned to Denver the next day, working its way in among the unit coal trains which have come to dominate the branch.
All the hotels in Denver were booked that night, so I had to take a FW&D/ATSF train to Colorado Springs for lodging. Next day, was a repeat on the Royal Gorge, but this time the train would only take us to Salida, as service had been discontinued west of there. An Alco PA and EMD F7 pulled a baggage car and a single heavyweight coach. At Pueblo we met the eastbound train behind another PA. The train still made the 10 minute stop in the Gorge, even though just a few passengers were still aboard.
The return trip was the next day, and at Colorado Springs I transferred to the Chicago Pullman car which was added to the train and would join the Denver Zephyr in Denver. The DZ connection would provide the Royal Gorge with most of its passenger revenue in its last years.
In the late 1960's the weak financial condition of the Western Pacific threatened the existence of the California Zephyr, operated in partnership with D&RGW and CB&Q. Realizing what was coming, I made a trip on the CZ from Oakland to Chicago in 1968. Although cars and dining car crews were pooled among the 3 owners, each railroad supplied its own motive power, and we had a quartet of D&RGW F7's out of Salt Lake City. I rode eastbound as I had not seen the Utah portion of the run in daylight. The CZ may have lacked the elegance of the UP City Streamliners, but its all stainless steel consist from the same builder, Budd, was a commanding sight. It was a train for tourists and vacationers, scheduled through the best scenery in daylight, and offering passengers 5 dome cars, 3 for coach passengers and 2 for Pullman passengers.
By that time the only passenger trains in the D&RGW timetable were the CZ and the Silverton train, which was hanging on by ICC edict, even as the rest of the narrow gauge railroad was abandoned. The loss of the Western Pacific leg of the CZ dealt what we thought would be a fatal blow to D&RGW passenger service. Although the California Zephyr was dead, an abbreviated service remained running just 3 days a week over the CB&Q (later the BN) from Omaha to Denver, and then on the D&RGW to Ogden. It was called only the "California Service" on the Burlington and a through sleeping car continued to operate from Chicago to Ogden, where westward passengers transferred to the SP on onetime rival City of San Francisco. The D&RGW called their portion of the train the Rio Grande Zephyr.
When Amtrak was created, their original plan was to route their Chicago-San Francisco through train on the BN-D&RGW-SP route as shown in their first timetable. However at the last moment D&RGW decided not to join Amtrak, which compelled them to continue operating the Rio Grande Zephyr for at least five more years. Amtrak then rerouted their California train via the longer but faster UP route, and it was not possible for the D&RGW's orphan train to connect at both ends. Because Amtrak's Chicago-Denver service was daily, but the Denver-Oakland train only operated thrice weekly, D&RGW rescheduled the Zephyr to maintain the western connection. Passengers to or from eastern points would have to spend a night in Denver.
Unlike its downgrading of the truncated Royal Gorge, D&RGW maintained its pocket streamliner Rio Grande Zephyr to high service standards and it developed a cult following of its own. D&RGW's contribution to the CZ pool included one sleeper-dome-observation, one diner, one "Cable Car Room" coffee shop car, and several dome coaches, enough to equip a classy little train. It developed a loyal following, mostly among Denver area residents who used it to travel to Glenwood Springs. I was able to make several trips on the RGZ, accompanied by Wilmington Chapter member Bob Reilly, who lived in the Denver area. Most of the dining car crew were former CZ veterans, and provided delicious dining car meals, including the famed Rocky Mountain Trout. The RGZ with its traditional equipment was a welcome respite from the psychedelic colors then sweeping Amtrak. After the mandatory 5 years were up, D&RGW continued running the RGZ until 1981, at which time they finally joined Amtrak, and the San Francisco Zephyr began plying the Moffat route.
Amtrak may have taken over the Zephyr, but D&RGW continued to operate the popular Ski Train between Denver and Winter Park, and the Silverton. The former was re-equipped with Hawker-Siddley cars built in the 1960's for Canadian National's Rapido trains. The Silverton line was isolated when the Durango-Antonito main line was abandoned in 1968. The states of Colorado and New Mexico finally managed to acquire the Chama-Antonito segment to preserve it as the Cumbres and Toltec. It's too bad the rest of it couldn't have been saved too, but the 108 miles between Durango and Chama, including the new section built by the Army Corps of Engineers, was ripped up, with the right of way east of Durango used for a freeway.
The Rio Grande eventually divested itself of the Silverton line to a private operator who made numerous improvements to the right of way, increased capacity, and operated it under the name Durango & Silverton Narrow Gauge Railroad. The D&RGW itself went through a series of corporate convolutions before becoming part of the Union Pacific. Were it not for the heavy coal traffic, it seems likely UP might seek to downgrade or eliminate the D&RGW, since they have easier routes. They have already abandoned service over the Royal Gorge and Tennessee Pass.
GHOSTS OF THE RIO GRANDE TODAY
Fast forward to 2001. I had never ridden either the C&TS or D&SNG since the D&RGW withdrew from their operation, and lured by low fares offered by Southwest Airlines, decided to rectify that situation. It is hard to believe that what was thought to be the most threatened part of the Rio Grande 50 years ago has not only survived mostly intact, but has outlasted the D&RGW itself. I planned my visit in late August to coincide with the D&SNG Railfest. Railfest featured the visit of 3 Galloping Geese, and the Eureka & Palisade 4-4-0 Eureka as well as the regular excursion trains.
I flew to Albuquerque and after some Route 66 exploring, drove to the former AT&SF Santa Fe, NM depot, used by shortline Santa Fe Southern. SFS has taken over the 18-mile branchline that connected Lamy with the railroad's namesake city and offers passenger excursions using a pair of exATSF Cleburne GP7's, coaches, and one of the former Super Chief Turquoise Room Pleasure Dome lounge cars. The train left at 1030 with the dome car (they actually charge EXTRA to ride in the dome, one of the most uncomfortable and poor visibility dome cars ever built!) open car and exGN coach.
We stopped and switched a Budweiser warehouse, picking up a couple of empties. This appeared to be the major, (and probably only) shipper, so the train operated as a mixed, just as ATSF passenger service on the branch did. It's a trip for mileage collectors, but is not too great on scenery except for the last mile or two before Lamy. Upon arrival in Lamy, (rhymes with Amy) the GP7 set out the 2 boxcars, and shoved us into the stub track at the Lamy depot, shared with Amtrak. After an hour or so for lunch, with no Santa Fe traffic, passengers reboarded for the return to Santa Fe. I then piloted my Escort up US84 to Chama.
The Chama yard is a glorious sight with lots of equipment sitting around. Steaming side by side outside the roundhouse were the two classes of D&RGW Mikados I had never seen steamed up, the K27 Mudhen 463 and K37 497, illustrating the smallest and largest of narrow gauge 2-8-2's. I registered at the old Shamrock Hotel across the street from the yard, a nice old place, where from my window I could see the locomotives in the yard. In the morning I was awakened by steam whistles and the sweet aroma of coal smoke.
Three engines were fired up in the Chama yard, and the passenger train was preparing to leave doubleheaded with the 497 as helper to road engine 489. I followed the train up the hill to Cumbres, which is an easy chase. The 497 cut off and the train continued on toward Osier where it met the train from Antonito. I turned around and followed US160 and 550 to Durango.
Durango was crawling with tourists, but I had no trouble getting a room at the Caboose Motel. Most of Railfest's exotic equipment had migrated to Silverton that morning. I drove to Rockwood and shot the 2 excursion trains returning, and also the special Presidential train, with former UP President John C. KeneŞck aboard, powered by K28 478 and consisting of the private cars Nomad, Alamosa and General Palmer.
I set out in the morning toward Silverton where the sun was still behind the mountains when I arrived. Eureka & Palisade 4-4-0 No. 4 was beside the station, and a gaggle of Galloping Geese was in front of it. In order they were the Casey Jones, a railcar that once ran on the Silverton Northern; RGS Goose 1, a replica of the original; RGS Goose 2; then 2 small railcars from the Midwest Central RR, one of which was from Argent Lumber built on a Ford Model T chassis, and another from Westside Lumber. They were followed by RGS Goose 5. Passengers could ride these cars to Elk Park, although capacity was limited. I could still buy a ticket to ride in Goose 5 as it is the most comfortable of the Galloping Gooses, having a school bus body. At 0830 the Geese waddled out of town, followed by the Eureka at 0900.
At Elk Park, the Geese cleared in the wye while the Durango-bound Eureka passed, then returned to Silverton. Goose 5 was really flying on the return trip! These cars seat only a few passengers in the car body. I think No. 2 can only seat 4, and No. 5 can seat about 10. Both have additional seats in the freight compartment. It must have been a long and very tiring ride on these cars when they were in regular service on the RGS, but I would make the trip gladly if I still could!
After the first excursion train arrived with 482, the Geese set out for a second trip, minus the Casey Jones which had developed mechanical problems. The Geese met the second excursion train with 481 at Elk Park. Later that afternoon at Rockwood I caught the excursion train returning to Durango, and followed it to Home Ranch Siding by the airport where it met the afternoon Railfest Romp extra cocktail train powered by 478.
On Sunday I arrived at the depot about 0745 in time to see the 0815 excursion departure. The Eureka would follow at 0825 with a one car train to Rockwood, followed by a round trip from Rockwood to Cascade Wye. I bought a ticket to ride this train since I had never ridden behind a wood burning locomotive. There were only 16 people on the train. That little 4-4-0 worked pretty hard to get her train up the hill. A bus took us back to Durango after the second excursion train arrived, followed by the departure of the Eureka. I again returned to Rockwood after lunch to shoot the return of the Eureka, and the Geese as they returned to Durango from Silverton.
Late that afternoon I returned to Chama, and Monday morning boarded the bus that would leave for Antonito at 0830, where I would catch the train back to Chama.
We arrived Antonito about 0940. The train was waiting for us behind engine 489 with several coaches, an open air gondola, and a "Parlour" car on the rear, a recent addition to the consist to accommodate those who want to pay more.
The equipment used on the Antonito and Chama trains is different. The cars are roomier than one would expect, because they were built on underframes from standard gauge freight cars. Cars 500-506, used from Antonito are a flat roof boxy design resembling a New York subway car while cars used on the Chama side were designed with a more traditional clerestory roof. Neither design is very attractive, and is the only negative aspect of a visit to the C&TS. All seats are reserved and assigned, so I boarded and found my seat which was conveniently located next to the open air car.
There was evidence of extensive trackwork to overcome years of neglect by the previous operators, and we found at least two section crews out working. Proceeding to Osier and lunch, we found the Chama train already waiting for us behind the 487. It would take the train from Antonito back, while our engine, 489, tied onto the Chama consist to take it down the hill. Passengers went into the big dining hall for a hearty lunch after which passengers returning to their point of origin reboarded their original train while those riding through changed trains. Although the Chama cars look different from the outside, they are about the same inside. We arrived Chama in late afternoon, in plenty of time to do more exploring.
Next morning the 463 was switching and the excursion train was readying for departure with the 489, which, like most of the locomotives was lettered "Rio Grande." No helper today. I followed the train to Cumbres, and then returned to Santa Fe via Antonito and US285, from which can be seen much of the right of way of the long abandoned Chili Line. It must have been a long, lonely train ride. From Albuquerque it was Southwest Airlines to Portland.
The Rio Grande flavor still lives on these narrow gauge railroads. I know they are among the best known tourist railroads in the country and haul thousands of passengers each year and it is easy to dismiss them as unreal. But if you haven't been there yet, you should go. You can still get up close and personal with steam era railroading, especially on the C&TS. Although the Colorado narrow gauge lines may appear to have a secure future, they are still fragile, with the original equipment nearly 100 years old (at least one of their cars was built in Wilmington by Jackson & Sharp).
---
SCHEDULE NOTES
Notices, announcements, schedules, etc. are provided here as a service to the members.
The Chapter has no affiliation with any commercial operation, museum, or tourist line.
MUSEUMS AND EXCURSIONS: [from American Rail Link for June 10, 2009 via Ed Mayover]
DELAWARE & HUDSON GRAVITY RAILROAD DEPOT MUSEUM : Located at 118 South Street , Waymart , PA , is open for the 2009 season. The museum plans to be open on Tuesday's and Thursday's from 1:00 pm to 3:30 pm and on Saturdays in July and August.
DELAWARE RIVER RAILROAD EXCURSIONS WITH NYSW STEAM ENGINE 142: Saturdays and Sundays, 11 am, 12:30, 2:00, 3:30 pm. Station located at 100 Elizabeth St. , Phillipsburg , NJ . Tickets available at www.877trainride.com "Day Out With Thomas" runs July 3, 4, 5, 10, 11, 12th. Train operated by the New York , Susquehanna & Western, Technical & Historical Society.
LEHIGH VALLEY DEPOT: 86 Long Street, Williamsville , NY . Open each Sunday until September, noon to 4:00 pm. 716-662-7002. Operated by the Western New York Railway Historical Society. www.wnyrhs.com
BUFFALO, ROCHESTER AND PITTSBURGH DEPOT: 395 South Lincoln Avenue , Orchard Park , NY . Open Wesnesdays and Saturdays until September, 8:00 am to noon. Operated by the Western New York Railway Historical Society. 716-662-7002. www.wnyrhs.com
UPPER HUDSON RIVER RAILROAD: 3 Railroad Place, North Creek , NY . Open May through October. Minutes from I-87, the Adirondack Northway. Over 40 miles of real railroad fun. (518-251-5334) www.uhrr.com
NEW YORK CENTRAL MARTISCO STATION MUSEUM : Located off NY Route 174, between Camillus and Marcellus , NY . Original NYC on the " Auburn Road ," now operated by the Finger Lakes Railway. Open Sundays through October 25th. Hours: 2:00 to 5:00 pm. Museum plus rail yard attractions. Free admission. Operated by the Central NY Chapter, NRHS. Herb and Fran Meinking curators. www.cnynrhs.org
Now through August 29, 2009 from 1:00 pm to 3:00 pm Railroad Museum of Pennsylvania The Pennsylvania Past Players interpret the Civil War era and the Underground Railroad for visitors on Saturdays.
First Sunday of Each Month NOW thru November 2009 Steamin' Days at Auburn Heights 1/8 scale steam train, Stanley Steamer cars, 1920s steam popcorn wagon Admission $10/$7 Auburn Heights Preserve, Yorklyn, DE www.auburnheights.org
NOW thru December 31, 2009 Trains in Motion Pictures at Railroad Museum of PA Exhibit on starring rolee of trains and railroads in motion pictures with video clips, photographs, and amazing artifacts.
September 12-20 Day Out with Thomas at Strasburg Rail Road
September 20, 2009 Chapter Trip
The Wilmington Chapter NRHS is pleased to announce the "I've Been Working On the Trolley" trip scheduled for September 20, 2009. The featured attraction will be PCC line car No. 2174, resplendent in fresh orange paint. Riders will be transported in a Kawasaki LRV, and we'll pick a good one -- the one with the electronic roll sign or one that might be in an attractive wrap.
We'll depart from the Elmwood Depot at 10:00 and spend five hours on the trip. We'll try to get to Route 15 for unique shots -- not only does the work car seldom get up there, but K-cars on Girard Avenue aren't that common, either. Route 15, as some of you know, has been pretty hit-and-miss for streetcar operations lately, but we'll give it a try!
Fare for the trip will be $45. You can order tickets on-line at the website at http://www.daylightimages.com/streetcar . The word is just now getting out in the magazines, but as a rider of past trips I wanted to give you a heads-up on ordering tickets. Info = 973-383-3355 weekdays 9AM-5PM. Make checks payable to "Wilmington Chapter NRHS" and send to: Wilmington Chapter NRHS c/o Steve Barry 117 High Street Newton, NJ 07860
October 3-4 Railfest Steam Days at B&O Railroad Museum Saturday, 10 a.m. - 4 p.m., Sunday, 11 a.m. - 4 p.m. Programs & demonstrations highlight steam power & celebrate the Museum's historic steam engine collection, which includes oldest operating steam locomotive William Mason, The Tom Thumb, and Lafayette
October 10-11, 2009 Great Scale Model Train Show, Timonium Fairgrounds, Timonium, MD State Fairgrounds Sat. 9-4, Sun. 10-4, Admission $9, under 15 free, family $18, tickets good for both days.
October 17 & 18, 2009 Railfest Steam Days at B&O Museum Baltimore Sat. 10-4, Sun. 11-4 Programs and demonstrations highlight steam power and celebrate the Museum's historic steam engine collection, which includes icons such as the oldest operating steam locomotive William Mason, The Tom Thumb, and Lafayette. America's Railroad Museum with America's most important, historic and comprehensive collection lives to tell the story of railroading every day. Forty acres of heritage and a world class collection await your discovery!
November 1, 2009 Train Meet at NUR Temple on Rt. 13 Wilmington, DE
November 27-28 Veterans Day Weekend at the B&O Railroad Museum Sat., 10 a.m. - 4 p.m., Sun., 11 a.m. - 4 p.m. Salute the military and veterans at the B&O! Special living history presentations by members of the 4th Infantry Division Military Police Unit on our WWII Troop Sleeper. Vintage military vehicles will also be on display.
November 4 - December 30, 2009 Holiday Festival of Trains at the B&O Railroad Museum Monday - Saturday, 10 a.m. - 4 p.m. Sunday, 11 a.m. - 4 p.m. Holiday celebration of toy trains and model railroading layouts. Please note: The Museum is closed on Christmas Eve, Christmas Day, New Year's Eve and New Year's Day.
December 4 - 6, 2009 Day Out with Thomas at Strasburg Rail Road-
June 22-26, 2010 NRHS National Convention Scranton, PA (Radisson & Hilton Hotels)
---
CHAPTER EVENTS
Thursday August 20, 2009 7 PM Chapter TRIP SEPTA to Doylestown in lieu of Meeting
Thursday Sept. 17, 2009 7 PM Chapter Meeting program by TBD?
Thursday Oct. 15, 2009 7 PM Chapter Meeting program by TBD?
Thursday Nov. 19, 2009 7 PM Chapter Meeting program by TBD?
Sunday Dec. TBD , 2009 5 PM Holiday Dinner in lieu of normal monthly meeting. Program by TBD?
The Wilmington Chapter of the National Railway Historical Society (NRHS) meets at 7:00 PM on the third Thursday of each month [except August & December] in the Darley Room at the Claymont Community Center on Green Street in Claymont, Delaware. Visitors are always welcome. Admission to regular meetings is free. Check out our Website (thanks to Russ Fox) at:
---
DO-IT-YOURSELF PAY-AS-YOU-GO CHAPTER TRIP TO DOYLESTOWN, PA
Thursday, August 20, 2009 in lieu of the normal monthly Chapter Meeting
LV MARCUS HOOK PA 6:02 PM
AR 30TH ST. STA. PHILLY 6:35 PM
LV 30TH ST. STA PHILLY 6:45 PM
AR DOYLESTOWN, PA 8:09 PM
LV DOYLESTOWN, PA 8:50 PM
AR 30 TH ST. STA. 10:19 PM
LV 30TH ST. STA. PHILLY 10:37 PM
AR MARCUS HOOK PA 11:09 PM
Thanks to Ron Cleaves for arranging this excursion
---
The Transfer Table is published six to ten times per year as the newsletter of the Wilmington Chapter of the National Railway Historical Society. Items in this publication do not represent the official position of either Officers or Members of the Wilmington Chapter or the Editor of this publication. http://www.WilmingtonNRHS.com
Permission to reprint articles and news items appearing herein is granted to NRHS Chapters and other newsletters provided appropriate credit is given. Contributions are always welcome and should be sent to the editor at SD40GMA@aol.com or send to: P.O. Box 1136, Hockessin, DE 19707-5136. Deadline for entries is the 25th of the month.
Chapter Officers:
President: Phil Snyder
Vice President & Historian: Ron Cleaves
Treasurer: Dave Warner
Secretary: Dan Frederick
National Director: Dave Watterson
Editor: Greg Ajamian
Education Fund: Ed Thornton
Public Relations: Frank Ferguson, Jr.
Trip Director: TBD
Event Photographer: Ron Cleaves
Web Master: Russ Fox