NOTE: The Lite Version is our electronic version which is available for free from this web site. It has limited content but gives you a taste of what is offered in our Full Version.
The Full Version is our printed newsletter which is mailed to you. It contains everything in the Lite Version along with many other reprinted pages from other NRHS newsletters, railroad publications, and flyers that contain photographs, drawings, and maps. The full version is just another benefit of joining our chapter.
THE TRANSFER TABLE
The Wilmington Chapter NRHS Official Newsletter
Internet Edition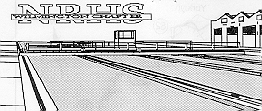 | | |
| --- | --- |
| VOLUME 28 NO. 5 | JUNE 2006 |
Back To Wilmington Chapter Web Site
MAY 18, 2006 MEETING NOTES
The meeting was called to order by President Phil Snyder and the minutes approved as read Vice President Ron Cleaves. The Treasurer's Report was approved as read by Ralph Stevens. Phil indicated that Chapter Member Chris Kovacs had been accepted for RailCamp this year. Phil Snyder reported on the recent Chapter Do-It-Yourself Trip to Danbury, CT attended by seven members. The annual August Chapter Trip (in lieu of the regular meeting) will leave from Marcus Hook headed for Bryn Mawr.
---
PUBLIC NOTICE
Richard E. Hall of the Wilmington Chapter of the National Railway Historical Society has prepared a book of over 160 pages on Company Service Cars of the PW&B, PB&W, and PRR.
The work presents a selection of car numbers and history with many drawings representing the work train, wreck train, cabin, and other company service equipment of the PW&B, PB&W, and PRR which were maintained at the Wilmington Shops and / or saw service in our general area, primarily on the PW&B, PB&W main line, Media Division (the old P&BC which later became the Octoraro Branch), Delaware Division, and the former Norfolk Division (NYP&N).
Detailed lists include: Car Numbers, Tools For Maintenance Of Way Tool Cars, Supplies For Camp Trains, Materials to Equip a Pay Car, Tools & Supplies for Cabin Cars, & more. Drawings include: Pay Cars, Business Cars, Maintenance of Way Equipment, Dynamometer Cars, Cranes, Clearance Car, hand cars, & more.
Proceeds support the Wilmington Chapter. Price only $ 16.00 Plus $3.95 Postage (for each copy) Please make checks payable to: G. Ajamian and send orders with your complete mailing address to: Wilmington Chapter NRHS, P.O. Box 1136, Hockessin, DE 19707-5136.
---
NEWS BITS
Chapter Development Help Needed - Ed Thornton, NRHS Director of Chapter Development, has asked to step down from that position after many years of service. Ed will be available to provide training and support the transition. The Director of Chapter Development promotes the formation of new NRHS chapters, provides information on forming new chapters to interested individuals and organizations, and supports these organizations through the chartering process. If you or someone you know has an interest in this position, or would just like to find out more about it, please contact the NRHS national office (info@nrhs.com or (215) 557-6606). This and other national NRHS volunteer opportunities are posted on the NRHS national website (www.nrhs.com), and the list is updated regularly.
New Unit Promotes Rail Service Norfolk Southern Railway Company, a subsidiary of Norfolk Southern Corporation, has established a marketing and operating unit in Delaware and Maryland to improve customer service, increase operating efficiency and develop new business. The Delmarva Business Unit began operations on April 1, with headquarters in Wilmington, Del.
Norfolk Southern announced that it expected to complete its "daylighting" project that will allow its double-stack intermodal trains to operate between the Midwest and Hampton Roads, VA by 2009. An NS spokesman said that the improvements will allows a reduction of a day and a half in transit time between Chicago and the Hampton Roads-Norfolk ports, compared with the current and longer route via Harrisburg, PA. The project will cost $311 million to complete, $140.4 million of which will come from SAFETEA-LU federal funding and $22.3 million of which will come from Virginia state funding. The project includes relocating the line through Portsmouth, VA and Chesapeake, VA to the median of Interstate Route 664 and Virginia Route 164. (from RT&S via Weekly Rail Review - Week Ending 11FEB2006 - Dave Mears via Ed Mayover)
The New York City Transit Authority announced that it had created the new position of "subway platform conductor" A NYCTA spokesman said that the new conductors will perform duties including directing riders in case of an emergency and notifying train operators when it is safe to depart, signaling to them that all passengers are on board or are standing away from the platform's edge. The spokesman added that 96 of the new conductors will be deployed to the system's 20 busiest stations. (from New York Daily News, wire services via Weekly Rail Review - Week Ending 11FEB2006 - Dave Mears via Ed Mayover)
Genesee & Wyoming announced that it and Wesfarmers Ltd. would sell their Western Australia rail operations to Queensland Rail and Babcock & Brown Ltd. for $956 million. Concurrent with the sale, Genesee & Wyoming will purchase Wesfarmers' 50 percent stake of Australian Rail Group's Adelaide-based South Australian rail operations. The latter will be renamed Genesee & Wyoming Australia Pty. Ltd. & 100 percent owned by G&W. (from G&W Corp.& Railway Age via WeeklyRailReview-WeekEnding11FEB2006via Ed Mayover)
The Surface Transportation Board granted final approval to Dakota, Minnesota & Eastern's plans to serve Wyoming's Powder River Basin coal fields. DM&E's plans including building 263 miles of new line through western South Dakota and eastern Wyoming, and upgrading 600 miles of existing line in South Dakota and Minnesota. The STB initially approved DM&E's plans in 2002, but project opponent appealed the decision. A U.S. appeals court ruling required the STB to re-review the plans' environmental, noise and vibration impacts, which it has now done. A DM&E spokesman said that it would now await the Federal Railroad Administration's decision on the railroad's application to obtain a $2.5 billion Railroad Rehabilitation and Improvement Financing (RRIF) program loan to finance the project and other trackwork. (from Progressive Railroading via Weekly Rail Review - Week Ending 11FEB2006 via Ed Mayover)
Hulcher Services, famed for assisting railroads in clearing derailed and wrecked trains, announced that it had completed its acquisition of North American Recovery Services, which provides emergency and non-emergency transfer, salvage recovery and load adjustment services. (from Progressive Railroading via Weekly Rail Review - Week Ending 11FEB2006 via Ed Mayover)
The New York Civil Liberties Union announced that New York's Metropolitan Transportation Authority had agreed to stop threatening people with arrest for taking pictures in New York area subway and train stations. A NYCLU spokesman said that, additional to threatening arrest, MTA police had told photographers that they must obtain a permit and have insurance in order to film or take pictures, despite the fact that MTA has no permit scheme or insurance requirement for noncommercial photography. "Neither a legal ban nor an unwritten rule should stop New Yorkers from exercising their first-amendment-protected right to take photographs on the MTA system," commented NYCLU Executive Director Donna Lieberman. (from NYCLU via Weekly Rail Review - For The Week Ending 25MAR2006 via Ed Mayover)
UNION PACIFIC INVENTION STILL TAKES SKIERS TO THE TOP: The 2006 ski season marks the 70th anniversary of the world's first chair lift operation at Sun Valley, Idaho. Where was the chair lift invented? Omaha, Nebraska. And the company that invented the chair lift? Union Pacific Railroad. Why would a railroad invent a chair lift? To provide a service, a "transportation" service, for its customers. Union Pacific passenger trains brought skiers from across the country to Sun Valley and a new, convenient way for them to get to the top of the slopes was the next logical step in the design of a premier ski resort. During the 1930s, Union Pacific Railroad Chairman W. A. Harriman saw Americans beginning to embrace winter sports. Harriman's railroad operated through some of the most scenic and mountainous territory in the western United States. His vision - develop a world-class winter sports facility served by Union Pacific. Harriman enlisted Austrian sportsman Count Felix Schaffgotsch to find such a location. In the winter of 1935, Count Schaffgotsch found the area that would become Sun Valley in south central Idaho, about 100 miles northeast of Boise. "Among the many attractive spots I have visited, this [location] combines more delightful features than any place I have seen in the United States, Switzerland or Austria, for a winter sports resort, " Schaffgotsch wrote to Harriman. The original 4,300 acres, adjacent to the Sawtooth Mountain National Forest, was the perfect spot. The Sawtooth Mountains, running east and west, protected the future resort area from northern winds. The mountains surrounded a small basin, with the hills and slopes largely free of timber. Snowfall and sunshine were abundant. And natural hot springs would provide outdoor swimming year round. (from UP News release via American Rail Link for March 8, 2006 - George Read via Ed Mayover)
The East Japan Railway debuted its latest generation Bullet train. A railway spokesman said that the new trains, called "Fastech 360" would be capable of reaching speeds of up to 224 miles per hour. The spokesman added that the trains would be tested on weekends for about two years before being put into commercial service. (from international wire services via Weekly Rail Review - For The Week Ending 08APR2006 via Ed Mayover)
Guilford Rail System announced that it was changing its name to Pan Am Railways and that its parent company, Guilford Transportation, was changing its name to Pan Am Systems. A company spokesman said that the parent company had bought the Pan Am name in 1998 for a brief venture into commercial air service and had recently begun repainting its boxcars blue with the famous Pan Am globe logo. Pan Am Airways originally operated from the beginnings of commercial aviation until it filed for bankruptcy in 1991. (from Trains via Weekly Rail Review - For The Week Ending 08APR2006 via Ed Mayover)
South Korea-based railcar building Rotem announced that it would open a new railcar assembly facility at the former Philadelphia Navy Yard in Philadelphia, PA. Rotem is a subsidiary of Hyundai Automotive Group. A company spokesman said that the new facility would begin work in the third quarter this year on a 32-car order for North Carolina's Triangle Transit Authority. The spokesman added that it has also recently secured orders for 87 cars for Los Angeles area commuter rail operator Metrolink and for 104 cars for Philadelphia commuter rail operator SEPTA. (from Railway Age Trains via Weekly Rail Review - For The Week Ending 08APR2006 via Ed Mayover)
Union Pacific announced that it had granted temporary trackage rights for BNSF eastbound trains over approximately 542 miles of line and for BNSF westbound trains over approximately 526 miles of line, both between near Fort Worth, TX and near Memphis, TN. The purpose of the trackage rights is to allow BNSF to bridge its trains while its neighboring line is temporarily out of service for track maintenance. BNSF granted Union Pacific temporary trackage rights over approximately 6 miles of line between Lake Yard, OR and North Portland Jct., OR. The purpose of the trackage rights is to allow UP to bridge its trains while its neighboring line is temporarily out of service for track maintenance. (from STB Trains via Weekly Rail Review - For The Week Ending 08APR2006 via Ed Mayover)
FIRST RAILROAD BRIDGE OVER MISSISSIPPI RIVER OPENED 150 YEARS AGO: 50 years ago, transportation history was made in the Quad-Cities with the opening of the first railroad bridge across the Mississippi River. With bridge workers aboard, the locomotive Fort Des Moines, of the Chicago and Rock Island Railroad, crossed the bridge between Rock Island and Davenport at dusk on Monday, Apr21, 1856. At about 21:00, another locomotive pulling 10 heavily loaded freight cars bound for Iowa City crossed the bridge. The next day, the first passenger train - a locomotive, baggage car and one passenger car - made the crossing. "The church bells of the twin-cities rang out their joyous notes in honor of the achievement, and cheer upon cheer went up from the crowds along the line," the Rock Island Argus reported on Apr23, 1856. The opening of the bridge was a significant achievement. In addition to opening up the West, the bridge signaled a shift in the nation's transportation system from water to rail. The Quad-Cities achieved the distinction of getting the structure through the efforts of railroad developer Henry Farnam. Although several railroads were interested in crossing the Mississippi River in their race to reach the West, Farnam figured the Rock Island Line had the best shot because of the location of its route. It extended from Chicago to Rock Island, a distance of 181 miles, the shortest distance between Chicago and the Mississippi River. In addition, the Rock's route was through a gentle valley free of hills and other obstructions. In the fall of 1852, the Rock Island Line hired Farnam to build the railroad. On Feb22, 1854, the completion of the railroad to Rock Island was celebrated with a gala dinner in Rock Island. In June of that year, dignitaries from the East Coast rode the rails to Rock Island for a gala steamboat excursion up the Mississippi River to St. Paul, MN, an event known as the Grand Excursion. Just two weeks after the bridge opened to rail traffic, the steamboat Effie Afton struck a bridge pier, setting off a fire that destroyed the wooden structure. In a lawsuit filed by the steamboat's owners, future president Abraham Lincoln represented the railroad. After lengthy litigation, the U.S. Supreme Court ultimately ruled in favor of the railroad. The original bridge was repaired, with replacements built in 1866, 1872 and 1896. The 1896 structure still operates as the Arsenal Bridge. The completion of the original bridge will be celebrated Sep14-18 during "RiverWay 2006, Celebrating the Mississippi River in the Quad-Cities: Bridging the river, connecting the continent." Plans call for excursions aboard a passenger train drawn by a vintage steam locomotive, a Mississippi River "ghost bridge" created by light reflected off sprays of water, and other special events. (from Quad-City Times, 4/22 via American Rail Link for April 26, 2006 via Ed Mayover)
MORE CHINESE STEAM COMING TO THE U.S.: Mainline steam in China is finished, but two Chinese locomotives will have a second life in U.S. in 2006, with three more possibly coming later. Railroad Development Corp. of Pittsburgh said Friday it has acquired a pair of Chinese class QJ 2-10-2 locomotives, including No. 7081, which had the distinction of hauling the world's last regularly scheduled mainline steam passenger train. The other is No. 6988. RDC (www.rrdc.com) is a privately held railway management and investment company which owns or has financial interests in rail properties in the U.S. and six other countries in Latin America, Africa, and Europe, including the Iowa Interstate Railroad linking Chicago, Des Moines, and Omaha. According to RDC Chairman Henry Posner III, the two locomotives were overhauled in China by the Jinzhou 701 Works to meet U.S. Federal Railroad Administration standards, under the supervision of steam consultant Dennis Daugherty and under contract with U.S. company Multipower International. They were being shipped through the Chinese port of Dalian, and upon arrival in the U.S. will be shipped to the Iowa Interstate on special eight-axle flatcars. Once in Iowa, the pair will be fired up and operated once, to demonstrate that they are FRA compliant and operate properly. Posner says the locomotives will probably be tested in regular freight service on the Iowa Interstate. Why bring Chinese steam to the U.S.? "It's a test of the market, without any preconceived notions," Posner said. "I didn't see anyone else putting their hands up to buy these engines in the last year." Ideally, there would be a market to resell the engines to regional or tourist railroads. Absent that, other methods of generating revenue would be examined, such as serious photo charters or renting them out. If there is a market for the locomotives, RDC has an option to buy three more QJs. The QJ (a derivation of the Soviet LV class) was the last Chinese steam design to go into production and was the most numerous steam class to run in China. The first prototypes were introduced in 1956. Eventually more than 4,700 QJs were built, the majority between 1964 and 1988. The Datong Locomotive Works built No. 7081 in 1986, while No. 6988 was built in 1985. Two Chinese-built steam locomotives, both 2-8-2s built in 1988, currently operate in the U.S., hauling tourists. A class JS runs on Iowa's Boone & Scenic Valley, and a class SY, built for Connecticut's Valley Railroad, was sold to the New York, Susquehanna & Western, which transferred the engine to the NYS&W Historical Society, which operates it on the Bel-Del line at Phillipsburg, N.J. A third 1988 Chinese 2-8-2, also class SY, is in storage in Pennsylvania, having worked on the now-embargoed Knox & Kane tourist line to Kinzua Viaduct. (from Trains News Wire, 4/24 via American Rail Link for April 26, 2006 via Ed Mayover)
Explore Amtrak with the New Interactive Route Atlas Interactive Route Map The Route Atlas is an interactive map that allows travelers to explore all the places Amtrak goes. Travelers can search by station or route; or by plotting custom routes to see the various options Amtrak offers between any two stations. Stations and routes can be searched alphabetically, or by state or region. Each station and route shown on the map links to pages containing detailed information, including stations served, addresses, hours of operation and facts about each route. http://amtrak.bfi0.com/W3RT03365203C9684EA3D32B5C0D20
Kansas City Southern and Norfolk Southern announced May 1, 2006 that they have closed on the joint venture to increase capacity and improve service on KCS' Meridian Speedway between Meridian, Miss. and Shreveport, La. On Dec. 2, 2005, KCS and NS announced an agreement to form this joint venture on KCS' Meridian Speedway between Meridian, Miss. and Shreveport, La. This rail line is an important direct rail connection moving rail traffic between the southeast and southwest U.S. The joint venture involves the contribution of KCS' 320-mile line between Meridian, Miss. and Shreveport, La. to the joint venture company and an NS investment of $300 million in cash, substantially all of which will be used for capital improvements to increase capacity and improve transit times over the line. The transaction was subject to regulatory review from the U.S. Surface Transportation Board (STB), which was completed April 10, 2006. (E-mail press release)
The Williams Grove, PA Historical Steam Engine Association announced that it had successfully test-run its Pennsylvania Railroad steam engine, No. 643. An Association spokesman said that the locomotive, an 0-6-0 type originally built in 1901, is one of the few surviving PRR steam locomotives and the only one presently operable. The spokesman added that it plans to have the locomotive fully operational in time for the Association's annual steam show August 27 through September 4. (from Weekly Rail Review - For The Week ending 29APR2006 via Ed Mayover)
Officials of Hasbro Company, makers of the famous Monopoly game, announced that the game's new "Here and Now" edition would replace the game's four railroad landings: Reading, Pennsylvania, B&O, and Short Line with airports. The new edition will also replace Atlantic City locales with noted streets, neighborhoods, and national monuments nationwide. A Hasbro spokesman said that the original version of the game will continue to be produced and will include the railroads. (from: Trains, USA Today via Weekly Rail Review - For The Week ending 29APR2006 via Ed Mayover) [ed. Is this progress ? ]
Officials of the Massachusetts Bay Transportation Authority announced plans to more than double the concourse size of Boston, MA's North Station. An MBTA spokesman said that the 20,000-square-foot expansion would be financed entirely by the Delaware North Companies, which owns and operates the New Boston Garden arena that sits atop the station. The spokesman said the expansion should be completed by this November and will help relieve crowded station conditions. The station serves 5 former Boston & Maine commuter rail lines now operated by MBTA, as well as Amtrak's Downeaster service to New Hampshire and Maine. (from: Boston Globe via Weekly Rail Review - For The Week ending 29APR2006 via Ed Mayover)
A new design, the fourth, was unveiled for Manhattan's new Moynihan Station, which is to be built out of the existing Farley Post Office Building, which locates across 8th Avenue from Pennsylvania Station. The new design includes a barrel-vaulted glass skylight built over the building's central court, which would then serve as the main train hall. The new station will primarily serve NJ Transit trains. A spokesman for the Moynihan Station Development Corporation noted that the project's cost is now expected to total $818 million. (from: New York Times via Weekly Rail Review - For The Week ending 29APR2006 via Ed Mayover)
Tour train operator American Orient Express has changed its name to GrandLuxe Rail Journeys. A company spokesman said that the change was designed to better describe its product and distinguish itself from the U.K.-based Venice-Simplon-Orient-Express train. The company operates its own train of luxury rail cars to various North American destinations, using Amtrak and host freight railroads for motive power and route access. (from: Trains via Weekly Rail Review - For The Week ending 29APR2006 via Ed Mayover)
Miller Brewing announced that it would operate a specially outfitted passenger train to promote the Miller Lite brand. The train, dubbed the Miller Lite "Taste Revolution Express," will start in Los Angeles, CA May 18 and make stops in 9 cities before arriving in Milwaukee, WI in early June. A Miller spokesman said that winners of a national sweepstakes will be allowed to ride the train for a portion of the trip. (from: Miller Brewing Co. via Weekly Rail Review - For The Week ending 29APR2006 via Ed Mayover) [ed. Reminds one of a certain Marlboro promotional train some years back that never materialized]
Shortline and regional railroad conglomerate RailAmerica reported net income of $15.0 million, up from $6.2 million the previous first quarter. Revenues were $115.0 million, up from $101.7 million the previous first quarter. RailAmerica's North American operating ratio was 87.6 percent, improved from 90.3 percent the previous first quarter. RailAmerica's North American system of railroads consists of 42 short line and regional railroads operating approximately 7,800 track miles in 26 states, three Canadian provinces. Our operating railroads own or lease approximately 450 locomotives and 7,400 rail cars. Our North American Rail Group serves more than 1,600 rail customers and employs approximately 2000 people. RailAmerica's North American Rail Group is comprised of six major operating regions. (from http://www.railamerica.com)
Lone Star BXNR - DGNO - KRR - KYLE - MNAR - MSTR - PCNR - RSRR
Heartland CERA - CIND - CFER - IORY- ISRR - TPWR
North/Eastern OVRR - CBNS - SORR - MMRR - MS - GR - HESR - GEXR
Atlantic NECR - CSO - NCVA - CARR - VSRR - SCRF - CPDR - EARY - AGRR
Northwest CSCD - ENRR - OTVR
Sunset ARZC - CFNR - CORP - LKPR - PSAP - SDIV - SJVR - VCRR
Genesee & Wyoming Inc. (GWI) is a provider of rail-freight transportation and its supporting services. GWI functions as a holding company with subsidiaries that own and operate regional freight railroads. They own or have interests in 49 railroads in five countries (United States, Canada, Mexico, Bolivia and Australia), and operate over 9,300 miles of owned and leased track and more than 3,000 additional miles under track-access arrangements. Their revenues are generated primarily from the movement of freight over track owned or operated by our railroads. Their subsidiary, Rail Link, Inc., provides freight car switching and rail-related services to 30 industrial customers and operates 26 of our short line railroads. Rail Link railroads serve 11 U.S. ports. They have more than 3,350 employees and ship more than 110 million tons annually and celebrated their 100th anniversary in 1999. (from http://www.gwrr.com)
Genesee & Wyoming Inc. (GWI) is a leading owner and operator of regional freight railroads in the United States and internationally. In the United States and Canada, we are the second largest operator of regional freight railroads. In Australia, our 50% owned joint venture owns and operates the second largest privately owned railroad in the country. In Mexico, we own and operate the nation's fourth largest freight railroad. In Bolivia, we are a strategic investor and operator of the largest railroad in the country. In these five countries, we own or have interests in 49 railroads and operate over 9,300 miles of owned and leased track and more than 3,000 additional miles under track-access arrangements.
Genesee & Wyoming has a disciplined acquisition-driven strategy that is committed to increasing shareholder value by building regional rail systems. We seek to make acquisitions that are contiguous with our existing rail lines or to acquire properties in regions where we foresee the opportunity for follow-on acquisitions. For example, our New York-Pennsylvania Region is a 700-mile system of railroad that is composed of seven major acquisitions. Similarly, in Australia, our operations were formed by combining the adjacent rail systems of the states of Western Australia and South Australia--both of which we acquired through successful privatization bids. Following any acquisition, we seek to enhance shareholder value by increasing revenue through intensive sales and marketing efforts, by cutting costs through GWI best practices, and by improving asset utilization through equipment rationalization.
Union Pacific plans to hire 5,000 new workers this year. A UP spokesman said that "our hiring is really across our whole system, |it's not only train and engine crews, |it's really across the board, in all of our ranks." The spokesman added that UP, which currently employs 50,000, expects half its workforce to turnover by 2013. (from: Salt Lake Tribune via Weekly Rail Review - For The Week Ending 6MAY2006 via Ed Mayover)
Penn DOT's Bureau of Rail Freight, Ports, and Waterways - Mission: * Preserve and improve rail freight infrastructure and service.* Promote economic development through the rail freight properties directory and the grant programs.* Provide financial and technical assistance to railroads and businesses.* Facilitate the integration of rail freight movement with other modes of transportation.* Facilitate the resolution of issues between the railroads and the public.
The Rail Freight Assistance Program (RFAP) provides financial assistance for investment in rail freight infrastructure. The intent of the Program is to (1) preserve essential rail freight service where economically feasible, and (2) preserve or stimulate economic development through the generation of new or expanded rail freight service.
The Bureau of Rail Freight is charged with the administration of monies allocated from the Commonwealths General Fund to the RFAP. Financial assistance is available on a matching grant basis to owners and users of rail freight infrastructure whose proposals, at a minimum, meet certain project eligibility requirements. Because the dollar value of request for state financial assistance usually exceeds available funding, not all grant applications can receive funding assistance or the full amount requested. The Bureau is responsible for the evaluation of grant applications and the awarding of state financial assistance based upon an objective process that serves the legislative intent of the RFAP and promotes the public interest.
All grant applicants receive a site evaluation to confirm the validity of the proposed project and estimated costs. During the performance of the site evaluation, Bureau staff may reduce the scope of the project and/or the estimated costs. Upon completion of the site evaluation, all projects are scored and ranked for selection of funding based on the scoring criteria reflecting the intent of the program and the initiatives of the Commonwealth. Once the projects are selected, the Bureau presents its selections to the Program Management Committee (PMC) and the State Transportation Commission (STC) for approval.
Eligible Projects and Funding Limits
Maintenance Projects: Consist of the replacement of ties, rails, plates, turnouts, and other track materials, structural materials and additional ballast to be sufficient functionally to restore, improve, or maintain an existing railroad line to the level necessary for safe operation or use and has an estimated useful life of at least five years but does not include acquisition cost of land, rights of land, buildings, or building materials to construct a new building.
Construction Projects: Consist of the cost to purchase ties, rail, ballast, other track materials, and structural materials in sufficient quantity to construct a railroad line (where none exists) or a rail associated facility to a level necessary for the operation or use, and has an estimated useful life in excess of five years, but does not include acquisition cost of land, rights of land, buildings, or building materials to construct a new building.
Combination Maintenance/Construction Projects:
This is a combination maintenance/construction project as described previously.
The maximum state funding for any project is $250,000, or no greater than 70% of the actual total project cost, whichever is less.[from http://www.dot.state.pa.us/Internet/Bureaus/pdBRF.nsf/RailFreightHomepage?OpenFrameset]
2005 Capital Budget Awards & 2005 RFAP Grant Awards
Beaver Valley Slag Inc. - $345,000, for construction of a siding to connect with CSX mainline in Hopewell and Center townships.
Bessemer and Lake Erie Railroad Company - $540,000, for rehabilitation of the mainline between Beaver, Hempfield and Conneaut.
Brandywine Valley Railroad Company - $481,500, for track rehab. to allow 286K rail cars within Modena Yard, East Fallowfield Township.
Buffalo and Pittsburgh Railroad Inc. - $1 million, to rehabilitate track between Punxsutawney and Eidenau.
Delaware and Hudson Railway Company, Inc. - $1 million, for rehabilitation work on the mainline from Sunbury to Taylor Yard.
Livonia, Avon and Lakeville Railroad - $600,000, for a 100-mile track maintenance project in Warren, Erie and Crawford counties on the Western New York and Pennsylvania mainline between Lottsville and Meadville.
Novolog Bucks County Inc. - $520,000, will rehab. primary rail routes & yards within U.S. Steel Industrial Park,Falls Township,Bucks Cty.
Philadelphia, Bethlehem & New England Railroad Co. - $1.5 million, to construct an intermodal facility in Bethlehem, Northampton County
RJ Corman Railroad Company - $1 million, for rehabilitation of the Clearfield Cluster in West Keating, Clearfield, Cresson and Fallen Timber.
Reading, Blue Mountain and Northern Railroad Company - $750,000, for replacing crossties on the Reading mainline, the Middleport branch and the Lehigh mainline through Bucks, Schuylkill, Luzerne and Lackawanna counties.
Reading, Blue Mountain and Northern Railroad Company - $377,800, for the rehabilitation of the former CNJ Bridge.
Redevelopment Authority of Luzerne County - $260,700, to realign and rebuild track to return the Ashley Street Bridge to service.
SEDA-COG Joint Rail Authority - $1,070,000,for welded rail replacement on Nittany & Bald Eagle RR btwn Lock Haven, Milesburg & Tyrone.
Wheeling and Lake Erie Railway Company - $500,000, for mainline rehabilitation in Jefferson Hills and Clairton.
Gettysburg and Northern Railroad Company, Gettysburg, $157,132.
Wheeling and Lake Erie Railway Company, Jefferson Township and City of Clairton, $205,823.
The Everett Railroad Company, Greenfield and Freedom, $86,670.
Carbon County Railroad Commission, Jim Thorpe, and Rush and Nesquehoning (Schuylkill County), $39,361.
Oil Creek and Titusville Lines, Inc., Titusville, Oil Creek and Cornplanter Twps. (Venango County), $158,880.
Delaware and Hudson Railway Company, Scranton, and Nicholson (Wyoming County), $129,538.Delaware-Lackawanna Railroad Company, Scranton, and Tobyhanna (Monroe County), $233,610.
Gilberton Coal Company, Mt. Carmel Township, $242,000.Locust Valley Coal Company, Mahanoy Township, $238,750.[from http://www.dot.state.pa.us/Internet/Bureaus/pdBRF.nsf/RailFreightHomepage?OpenFrameset]
SECOND 'GOLDEN SPIKE' ACQUIRED BY CALIFORNIA MUSEUM: Until recently, very few people (historians included) were aware that a second gold spike was cast for the ceremony marking the completion of the Transcontinental Railroad. On Saturday, May 13 - for one day only - the California State Railroad Museum will have the recently acquired "Lost Spike," on display. On May 10, 1869, the last spike of the Transcontinental Railroad was ceremonially driven into a polished California Laurel railroad tie at Promontory, Utah. Donated by David Hewes - who would become brother-in-law of Central Pacific Railroad president and former California Governor Leland Stanford - this symbolic final spike marked the official meeting of the Central Pacific, coming from the West, and the Union Pacific, arriving from the East. Cast by a San Francisco bell foundry, W. T. Garrett & Co., the gold spike and an identical twin received finishing touches at the firm of Schulz, Fischer and Mohrig. The original Schulz invoice of May 4, 1869, survives in the archives of Stanford University. It itemizes "Finishing 2 Gold Spikes" and "1 Velvet Box." One of the spikes traveled to Promontory in Leland Stanford's care. It was returned to Hewes after the ceremony, and he presented it, as well as his considerable art collection, to Stanford University in 1892. The spike remains at Stanford and has traveled only for very special occasions. The "other " gold spike, however, was quietly held for 136 years by the Hewes Family and descendants. Historians assumed that the "2 Gold Spikes" referenced in the Schulz, Fischer and Mohrig invoice were really just one. In spring 2005, fifth-generation descendants of Hewes decided to place the second spike and other items on consignment with a southern California dealer. California State Railroad Museum, in Sacramento, acquired the second spike in November 2005. The May viewing will mark the first time that the second spike has been seen publicly. Plans call for it to be displayed in a permanent exhibit slated to debut during Old Sacramento's Gold Rush Days living-history event in September. (from Trains News Wire, 5/9 via American Rail Link for May 10, 2006 via Ed Mayover)
FAST-TRACK PLANNED TUNNEL URGED: Two U.S. senators on Monday called for federal assistance in the push for a new tunnel under the Hudson River to increase commuter train traffic from New Jersey into Manhattan. Sens. Charles E. Schumer, D-N.Y., and Frank Lautenberg, D-N.J., said federal approval should be sped up for the first stage of engineering on the proposed Trans-Hudson Express Tunnel. The $6 billion "THE Tunnel" would increase the number of train passengers between New Jersey and Manhattan and help relieve traffic, the senators said.
"We are making a bistate, major effort to push this tunnel, which is good for New York, good for New Jersey, good for jobs and future prosperity and less congestion in the whole metro region," Schumer said at Penn Station, surrounded by transportation officials from the two states.
Lautenberg said the project, which advocates contend would double rail capacity between the two states over the next two decades, is critical for the region. "If we continue on the path that we're on, we're headed for trouble," he said. They also said the project would create jobs and help commuters in New York's Rockland and Orange counties. Construction could begin as soon as 2009 and be complete by 2016, said Kris Kolluri, New Jersey's transportation commissioner. Earlier this month, the four U.S. senators from New Jersey and New York wrote to U.S. Transportation Secretary Norman Mineta urging financial backing for the project.
Even though the big-ticket project has support from politicians, it still needs money. New Jersey Gov. Corzine last week said that the state would contribute $500 million for the tunnel. Transportation officials are seeking 50 percent of the $6 billion price tag from the federal government. Paul Griffo, a spokesman for the Federal Transit Administration, said the agency has been providing NJ Transit guidance about the project and is reviewing the application for preliminary engineering. NJ Transit would pay about $1 million, and the Port Authority of New York and New Jersey would pay an additional $1 billion to $2 billion, said Anthony Coscia, chairman of the Port Authority board. He said the agency's board could approve the money by the end of the year. (from AP, 5/15 via American Rail Link for Wednesday, May 17, 2006 via Ed Mayover)
HISTORIC DOME CAR RETURNS TO ITS ROOTS: Milwaukee Road Super Dome No. 53, one of the first full-length dome cars ever built, has returned to its roots after many years and many names. One of 10 full-length domes the Milwaukee ordered from Pullman Standard in 1951, No. 53 served on the Chicago-Seattle/Tacoma Olympian Hiawatha, as well as the Morning and Afternoon Hiawathas between Chicago and Minneapolis/St. Paul, until 1964-65, when it was one of six cars sold to Canadian National for use on the Super Continental and Panorama between Winnipeg or Edmonton and Vancouver. CN renamed the car Athabaska.
Through the intervening years, Athabaska made its way to VIA Rail Canada and in 1985, to the Chicago & North Western for service on the road's business train under a new name, Powder River. After Union Pacific bought the C&NW, the North Carolina Department of Transportation acquired the car and renamed it Mount Mitchell. But after a few years, North Carolina officials decided an all-lounge dome car was impractical and put the car up for sale. The Friends of the 261, owner and operator of Milwaukee Road 4-8-4 No. 261, bought the car in early 2005, and debuted it in excursion service on a May 2005 run between Duluth, Minn., and Minneapolis. In May 2006, the group repainted the car into its original orange and maroon and restored its original number. (from Trains News Wire, 5/15 via American Rail Link for Wednesday, May 17, 2006 via Ed Mayover)
Alexander Cassatt built the Hudson River Tubes and Pennsylvania Station in 1910. But long before that he had created the nation's most audacious float railroad, still in operation after 120 years. See a new history of Virginia's Eastern Shore Railroad published by Arcadia. (from http://www.arcadiapublishing.com)
NJ Transit Passenger Cars for Sale - Power Source Supply (Calgary, Alberta, Canada) has recently purchased 34 Low Level Platform Cars from NJ Transit. These Pullman Standard (AMTRAK certified) cars came out of regular service at the end of 2005 and are in excellent condition. These are likely the best cars on the market today according to a rep from Georgia Rail during their recent inspection. GA Rail was further quoted as saying "we could actually put most into service without doing anything to them". These cars are ready to roll and are available for inspection in two locations. One passenger car will be located in South Central Canada for inspections and the remainder of the fleet will be located in North Eastern USA. Their Web Site has all the specifications and color photos of the cars. The specification sheets and cross section are for the 1700 series cars, but they also have three 1600 series cars with restrooms. www.PowerSourceSupply.com (from Ed Thornton)
BNSF and Union Pacific announced that they would construct more than 40 miles of third and fourth main on their joint line serving Wyoming's Powder River Basin coal fields. A spokesman for the two companies noted that this new project is in addition to the construction of 14 miles of third main completed in the spring of 2005 and also additional to 19 miles of third main currently under construction. The spokesman added that the cost of these projects is expected to total $200 million, which will be split between BNSF and UP. (from wire services via Weekly Rail Review - For The Week Ending 13MAY2006 via Ed Mayover)
The chief executives of three national electric utility associations told the Federal Energy Regulatory Commission that poor rail service is threatening to disrupt the nation's supply of electrical energy. The executives told regulators that coal stockpiles were "seriously depleted" as a result of the railroads not being able to keep pace with demand. The executives asked that FERC hold a public forum on railroad coal delivery challenges and their effect on electrical energy reliability. (from Traffic World via Weekly Rail Review - For The Week Ending 13MAY2006 via Ed Mayover)
16 cars of a BNSF freight train crossing Kansas were blown off the tracks by high winds. The incident, which occurred just east of Belle Plaine, KS, was covered by national news programs. The cars blown off the train, which was enroute to Lubbock, TX, were empty double-stacks. The BNSF line temporarily closed by the incident was reopened the next day. (from wire services via Weekly Rail Review-Week Ending 13MAY2006 via Ed Mayover)
The Chicago Transit Authority governing board approved the first phase of a $933-million contract for new subway-elevated transit cars. The board approved the initial acquisition of 406 cars, with an option to buy as many as 706 cars. A CTA spokesman said that the first cars should be delivered by early 2009 and noted that the deal was largest single contract the CTA has ever awarded. (from Weekly Rail Review - For The Week Ending 13MAY2006 via Ed Mayover)
Utah state officials announced that the design of the U.S. commemorative 25 cent coin for Utah would honor the 1869 driving of the golden spike at Promontory Point, UT that completed the nation's first transcontinental railroad. Utah Governor Jon Huntsman announced the selection of the design, which Utah residents were earlier polled about. The quarter continues the U.S. Mint's program of crafting a commemorative quarter for each state. (from AAR via Weekly Rail Review - For The Week Ending 13MAY2006 via Ed Mayover)
BNSF announced that selections from its archival photo collection were now available online. A BNSF spokesman said that the photos are organized by predecessor railroad and era, and include images taken as far back as the 1870s. The collection may be viewed at photos.bnsf.com. (from BNSF Corp. via Weekly Rail Review - For The Week Ending 13MAY2006 via Ed Mayover)
The "lost" second golden spike was exhibited for one day only at the California State Railroad Museum. A spokesman for the museum said that this second spike is the twin of the known golden spike used at the May 10, 1869 ceremony completing the U.S. transcontinental railroad and that is kept at Stanford University. The spokesman added that this second spike, which has been authenticated as having been cast at the same time as the known spike, had been quietly kept by the family of David Hewes, a relation of Central Pacific Railroad President Leland Stanford, and was sold by them to the museum in 2005. Plans call for the second spike to be on permanent display at the museum beginning in September. (from: Trains via Weekly Rail Review - For The Week Ending 13MAY2006 via Ed Mayover)
The House Appropriations Subcommittee on Transportation, by a voice vote on May 25th, proposed funding Amtrak to the tune of $900 million, which is the same figure being proposed by President Bush, and cuts the current budget by one-third, down from $1.3 billion this year. That figure would represent a shut down budget for Fiscal Year 2007 if enacted. However, the legislative process has a long way to go and that figure is expected to rise when the Senate and full House consider the measure. Chairman Joe Knollenberg, R-Mich. acknowledged as much when he told reporters "Obviously, we're going to have to find an increase in funding down the way." Knollenberg would have Amtrak reduce operating subsidies on some long distance routes. (from Friends of Amtrak via Ed Thornton)
A spokesman for the New York City Transit Authority said that weekday subway ridership hit a record high in March, 2006. The spokesman said that the 4.9 million passengers who rode the subway each weekday in March represented the largest average weekday ridership since NYCTA began keeping records in 1970. "A continued strong economy and major investments in our transit system are paying significant dividends," said New York Metropolitan Transportation Authority Chairman Peter Kalikow. (from New York Post via Weekly Rail Review - Week Ending May 20, 2006 via Ed Mayover)
Starting next year, motorists who drive around lowered gates at railroad crossings or stop on the tracks could have photos taken of their license plates, generating a ticket for $250 or 25 hours of community service, under a law signed Tuesday by Gov. Rod Blagojevich. Supporters of the law hope it will prevent incidents like one in Elmwood Park on Thanksgiving eve last year. That night, a Metra train crashed into several cars trapped at a Grand Avenue crossing during rush hour. Sixteen people were injured, but no one was killed. "It's not a final solution but it goes a long way in making our crossings safer," said Elmwood Park Village President Peter Silvestri, who hopes to have the photo enforcement system installed at the Grand Avenue crossing and one at Harlem Avenue. "It enhances enforcement but it also serves as a deterrent to many who will be aware that there is a camera watching them." Under the law, the cameras would take pictures of the vehicle, license plate and driver. Tickets would be mailed to the registered owner of the vehicle within 30 days. Repeat offenders could face a $500 fine and a six-month suspension of their vehicle registration. The law expands a state-sponsored pilot program in DuPage County that set up so-called cop-in-a-box programs in Naperville and Wood Dale that have significantly reduced crossing violations, according to Steve Laffey, a rail safety specialist with the Illinois Commerce Commission. In Naperville, the number of monthly violations at the River Road crossing dropped to about 40 a month from 315 during the first year the system was operating, Laffey said. In Wood Dale, monthly violations at the Irving Park Road crossing dropped to 81 from 243, he added. While the systems are effective, they also are expensive. In Naperville, the system cost $296,200 to install and maintain for the first two years. In Wood Dale, it cost $302,000 to build and maintain the system for the first two years, Laffey said. The law does not commit state funds to pay for the systems. Illinois Department of Transportation spokesman Mike Claffey said revenue generated by the tickets should eventually cover the costs. (from Chicago Tribune, 5/17 via American Rail Link for May 24, 2006 via Ed Mayover)
An Amtrak train crashed into a semi-trailer truck sitting at a railroad crossing Thursday on the outskirts of West Palm Beach, authorities said. Seven people were hurt. Those injured were all occupants of nearby vehicles struck by flying parts of the smashed trailer. The train, bound from Miami to New York, was carrying 104 passengers and 12 crew members, said Amtrak spokesman Marc Magliari. No one aboard was injured. Nor was the truck driver, who apparently was stopped at a red light with his trailer on the tracks, said Palm Beach Fire Rescue Deputy Chief Steve Delai. As the train passed, it "knocked the semi into at least five vehicles," Delai said. The train engineer said the crossing signal was working, Magliari said. "These kinds of incidents are always avoidable if operators of vehicles, cars or trucks, heed the warning signals and, in this case, make certain that they can clear the crossing before proceeding over it," he said. (from AP, 5/19 via American Rail Link for May 24, 2006 via Ed Mayover)
May 25th became a notably challenging day for Amtrak. At approximately 4:00AM, its "Capitol Limited " passenger train was rear-ended by freight train as it stood in the Pittsburgh, PA station. The colliding train was the Allegheny Valley Railroad's, which has trackage rights over Norfolk Southern through the station. The Amtrak train did not derail and a few of its 183 passengers were treated for minor injuries. Then at approximately 8:00AM, a power outage stopped all Amtrak, NJ Transit, and SEPTA trains operating on the Northeast Corridor line. The outage resulted in some trains having to be evacuated, and some trains in the Hudson River and Baltimore tunnels having to be towed out by diesel locomotives. Power was restored later in the morning and train service returned to normal by later in the day. Trains Magazine reported that substations in Chester, PA, Queens, NY and Jericho Park, MD had tripped off due to extreme power swings, although Amtrak officials said later in the week that they were still searching for the root cause of the outage. And then later in the afternoon, the House Appropriations Subcommittee with jurisdiction over Amtrak voted it only $900 million in Fiscal Year 2007 funding, matching the Bush Administration request and down from the $1.3 billion in federal funding Amtrak will receive in the current fiscal year. The appropriation amount now goes to the full House Appropriations Committee and then the full House for debate and possible increase, after which it will go through similar considerations in the Senate. (from NARP & Trains via Weekly Rail Review - Week Ending May 27, 2006 via Ed Mayover)
BNSF TO TAKE DELIVERY OF GE'S 1000TH EVOLUTION SERIES LOCOMOTIVE: General Electric Corporation announced that it is preparing to ship its 1,000th Evolution Series locomotive. The milestone will be achieved just 17 months after GE began commercial production of Evolution locomotives. The 1000th unit, an ES44DC model which bears road number 5972, will be delivered to BNSF Railway. It is one of nearly 750 Evolution locomotives ordered by BNSF, which is aggressively adding capacity to meet the growing demand for rail transportation. "The rail industry is experiencing remarkable growth, due to increased demand for raw materials and consumer goods," explained John M. Dineen, President and CEO of GE Transportation. "While railroading is widely recognized as an environmentally responsible way to ship freight, Evolution Series locomotives help further improve that environmental performance while giving GE and its customers a new, reliable platform for future emissions reductions and fuel savings. The locomotive features a new 12-cylinder engine, an innovative hybrid cooling system and a brand new control system. GE expects to manufacture more than 850 locomotives in 2006, about 700 of which will be Evolution Series models. Compared to locomotives manufactured 20 years ago, many of which are still in use, the GE Evolution Series locomotive reduces pollution by producing 67 percent fewer particulates and 60 percent fewer nitrogen oxide emissions. (from Railpace Hot News, 5/25 via American Rail Link for May 31, 2006 via Ed Mayover)
OFFICIALS INVESTIGATE FIRE AT CONNECTICUT RAILROAD MUSEUM Police and fire officials are investigating a blaze that destroyed a World War II-era Pullman troop sleeper and damaged two other cars in a storage area of The Railroad Museum of New England late Tuesday, according to a story in The Hartford Courant. A caller notified the 911 emergency dispatch center shortly after 11 p.m. that there was a fire at the museum at 47 Bokum Road. Minutes earlier, the police department had received a complaint of suspicious noises in the area of the museum. Town police and the Old Saybrook Fire Marshal's Office are investigating the blaze. The state fire marshal's office is assisting in the investigation. (from Trains News Wire, 5/25 via American Rail Link for May 31, 2006 via Ed Mayover)
The great Johnstown Flood occurred on 05/31/1889: More than 2,000 people perished when a dam break sent water rushing through Johnstown, Pa. On 06/01/1886: Norfolk & Western Railroad converted track gauge from 5 foot gauge to the standard gauge of 4 feet, 8-1/2 inches and then on 06/01/1982: the Norfolk and Western Railway was merged with Southern Railway to form the Norfolk Southern Corporation. On 06/01/1999: Conrail split up with 58% going to Norfolk Southern and 42% going to CSX. (from This Week In Railroad History - Phil Houle via American Rail Link for May 31, 2006 via Ed Mayover)
---
Results of the National Railway Historical Society's Wilmington Chapter's Annual Doug Weaver Memorial Photo Contest held at the regular Chapter meeting on May 18th, 2006
CATEGORY
PRINTS
SLIDES
STEAM
Ralph Stevens - WM in Cumberland
Alan Patterson - Western Maryland #734
DIESEL
Chris Kovacs - GN in Brooklyn Yard
Mike Burkhart - YorkRail Poorhouse Yard
HEAVY ELECTRIC
Greg Ajamian - AMTRAK in Newark, DE
Mike Burkhart - AMTRAK in Crumlynne
TRACTION
Ron Cleaves - 2006 SuperSat.Chap.Trip
Mike Burkhart - Scranton Trolley Museum
GENERAL
Ron Cleaves ** Best Print For 2006 **
Mike Burkhart - Susq. In Phillipsburg, NJ
VINTAGE
15 or more years ago
Paul Fortin - 614 in Wilsmere 1981
Dan Frederick - Alexandria
2006 SPECIAL CATEGORY
"RR Bridge w/RR Equip"
Ron Cleaves - AMTRAK Perryville, MD
Alan Patterson - New Hope & Ivyland
---
SCHEDULE NOTES
Second Sunday each month from April to Nov. Chesapeake & Allegheny Steam Preservation Society from 11:00am to 3:30pm, Leakin Park, Baltimore, MD, http://calslivesteam.org/ The rides are free and there are picnic tables nearby for those who wish to make a day of it.
Now through July 9, 2006 GRAND CENTRAL TERMINAL - RAILROAD WORKERS PHOTOGRAPHY - A photography exhibition focusing on railroad work, "Many Hands: Representations of Railroad Workers," is on view in Grand Central Terminal in New York City. The exhibition was developed by the New York Transit Museum and curators John Gruber and Michael Zega of the Center for Railroad Photography & Art. (Both men are frequent contributors to TRAINS and CLASSIC TRAINS magazines.) This is the Center's fifth exhibit in its three-year program, "Representations of Railroad Work, Past and Present," funded by the North American Railway Foundation. The display location in Grand Central is the transit museum's gallery annex in the Shuttle Passage next to the Station Master's Office.
June 25, 2006 MAYWOOD STATION MUSEUM OPEN HOUSE: 12 noon to 3 pm. Located in the historic New York, Susquehanna & Western Railroad Station at 269 Maywood Ave., Maywood, NJ will feature a special exhibit by the Maywood Volunteer Fire Department including their superbly restored 1938 Ahrens-Fox Fire Engine, which will be on display on the station grounds.
June 25, 2006 Pennsylvania Live Steamers Regular Run Day Graterford, PA. Open to the Public 11 AM - 3 PM, (Rain Date July 2), 468 Gravel Pike, SR 29 0.5 mile N of SR 113/SR 29 intersection
July 1 - 4, 2006 RAILROAD HERITAGE DAYS Railroad Museum of PA, Strasburg. Regular Museum hours and admission fees, the amazing and diverse heritage of the industry that built our nation, see historical and contemporary displays and presentations on Pennsylvania's many remarkable railroads, operating model train layouts, railroad art, music, stories, special photo opportunities, interpretive tours and much more. http://www.rrmuseumpa.org/visitors/calendar.htm
July 2-9, 2006 Independence Junction 2006 Philadelphia, PA NMRA Convention The convention will be held at the Pennsylvania Convention Center in center city Philadelphia. An entrance to the center is the beautiful Headhouse of the ex Reading Railroads' Center City Passenger Terminal.
July 8-9, 2006 The National Train ShowĘ Philadelphia, PA NMRA Convention10 AM - 6 PM, 10 AM - 5 PM, 180,000 sq. ft of trains, layouts, and more; www.nationaltrainshow.com
July 18-23, 2006 Buckeye Rails New Philadelphia, Ohio 2006 NRHS Convention - NRHS annual convention will be held in New Philadelphia, OH. Info on www.buckeyerails2006.org
July 22-23, 2006 Model Train & Collectors Show Williams Grove, PA9 AM - 4 PM, 11 AM - 4 PM, Williams Grove Historical Steam Engine Show Grounds, www.williamsgrovesteam.com
July 23, 2006 Pennsylvania Live Steamers Regular Run Day Graterford, PA. Open to the Public 11 AM - 3 PM, (Rain Date July 2), 468 Gravel Pike, SR 29 0.5 mile N of SR 113/SR 29 intersection
Aug 27, 2006 Pennsylvania Live Steamers Regular Run Day Graterford, PA. Open to the Public 11 AM - 3 PM, (no Rain Date), 468 Gravel Pike, SR 29 0.5 mile N of SR 113/SR 29 intersection
November 19, 2006 Auburn Heights Hunters Moon Trains, Museum & Grounds Open6:30 - 9:00pm Auburn Heights, Yorklyn, DE, http://www.auburnheights.org
November 24-30, 2006 Holiday Festival of Trains at the B&O Museum Baltimore, MD Monday - Friday, 10 a.m. - 4 p.m., Saturday, 10 a.m. - 5 p.m., Sunday, 11 a.m. - 4 p.m. Holiday celebration of toy trains and model railroading layouts beginning with the arrival of Santa by locomotive on Friday, November 24, 2006. The festival features many different layouts including the Museum's "HO" model train layout in the C&O #725 passenger car and the outdoor "G" scale layout. Children can visit with Santa on Saturdays and Sundays throughout the Festival. Museum closed Christmas Eve, Christmas Day, New Year's Eve and New Year's Day. http://www.borail.org/
---
CHAPTER EVENTS
Thursday June 15, 2006 7 PM Chapter Meeting program by Phil Snyder entitled "25 Years Ago"
Thursday July 20, 2006 7 PM Chapter Meeting program by Dave Warner entitled "That (July) 70's Show"
Thursday Aug. 17, 2006 6? PM Chapter Trip in lieu of normal meeting probably SEPTA Trip to Bryn Mawr
Thursday Sept. 21, 2006 7 PM Chapter Meeting program by Dan Frederick entitled "Touring Europe"
Thursday Oct. 19, 2006 7 PM Chapter Meeting program by Chris Kovacs entitled "Rail Camp 2006"
Thursday Nov. 16, 2006 7 PM Chapter Meeting program by Frank Ferguson entitled "???"
Sunday Dec. 3 or 10 5 PM Holiday Dinner in lieu of normal monthly meeting
The Wilmington Chapter of the National Railway Historical Society (NRHS) meets at 7:00 PM on the third Thursday of each month [except August & December] in the Darley Room at the Claymont Community Center on Green Street in Claymont, Delaware. Visitors are always welcome. Admission to regular meetings is free. Check out our Website, thanks to Russ Fox at: http://www.WilmingtonNRHS.com
---
The Transfer Table is published six to ten times per year as the newsletter of the Wilmington Chapter of the National Railway Historical Society. Items in this publication do not represent the official position of either Officers or Members of the Wilmington Chapter or the Editor of this publication.
Permission to reprint articles and news items appearing herein is granted to NRHS Chapters and other newsletters provided appropriate credit is given. Contributions are always welcome and should be sent to the editor at SD40GMA@aol.com or send to: P.O. Box 1136, Hockessin, DE 19707-5136. Deadline for entries is the 25th of the month.
Chapter Officers
President: Phil Snyder
Vice President & Historian: Ron Cleaves
Treasurer: Ralph Stevens, Jr.
Secretary: Dan Frederick
National Director: Tom Posatko
Editor: Greg Ajamian
Education Fund: Ed Thornton
Public Relations: Frank Ferguson, Jr.
Trip Director: Ralph Stevens, Jr.
Event Photographer: Ron Cleaves
Web Master: Russ Fox