THE TRANSFER TABLE
The Wilmington Chapter NRHS Official Newsletter
Internet Edition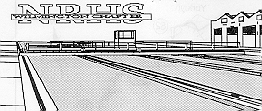 | | |
| --- | --- |
| VOLUME 24 NO. 2 | FEBRUARY 2002 |
Back To Wilmington Chapter Web Site
JANUARY 17, 2002 MEETING NOTES
Called to order at 7 PM, the meeting began with the minutes being approved as read by Secretary Dan Frederick and the Treasurer's report as read by Ralph Stevens. Ralph indicated that we made $389 on our last trip and even prepaid some of the SEPTA fee for our next trip.
Sadly, President Phil Snyder had to report that although his heart valve operation had gone very well, long time Chapter Member Ernie Barry had passed away. The following obituary appeared in multiple newspapers:
Obituaries
Ernest Barry, 71, of Upper Pittsgrove, died on Sunday at Our Lady of Lourdes Hospital, unexpectedly. Mr. Barry was born in Millville and had lived Upper Pittsgrove since 1965. He was retired as a drafting and CAD instructor for the Cumberland County Vo-Tech Center. Mr. Barry was an Air Force veteran of the Korean War. He was a member of St. Joseph's Roman Catholic Church of Woodstown. Mr. Barry was a member of the Elmer Masonic Lodge #160 and Shekinah Lodge #58 of Millville, and was a past Grand Chaplin of the Grand Lodge of New Jersey in 1993. He was very active in numerous railroad, canal, lighthouse and historical associations. He was a model train enthusiast and had a large HO operating layout. Mr. Barry enjoyed studying World War 2 history, and just recently returned from Europe, where he visited WW 2 battlefields. He loved spending time and traveling with his family.
He is survived by his wife of 46 years, Janis; 2 sons, Steve and his wife Genie of Newton, Bruce and his wife Kimberly of Woodstown; daughter, Diane Harrell and her husband Thomas of Glassboro; 2 sisters, Agnes Duffy of California and Elizabeth Gant of Florida; granddaughter, Mallory, and his beloved dog, Bucky. A Mass was held at 11 AM in the St. Mary Magdalen RCC follow in Holy Cross Cemetery. Memorial donations may be made to the Historic Red Clay Valley Inc., PO Box 5787, Wilmington, Del 19808.
[Including Steve and Bruce Barry, a total of eight Wilmington NRHS Chapter Members were in attendance for the Masonic service on Wednesday, January 15 in the Rocap Shannon Memorial Funeral Home in Milleville, NJ.] Phil also had to report on the passing of Chapter Member Len Arcus's mother on the same weekend. Our sincere sympathies go out to all of their the families and friends.
National Director Tom Posatko reported that the next Board of Director's meeting will be in the Harrisburg, PA area on April 12-14, 2002.
Guests at the meeting were David Haring and his mother, Pamela Haring. In late November, we were contacted by David Haring, age 14, ninth grade, from Newark, DE. It was immediately apparent that he was railroad-oriented from his e-mail address: "steamtrain844". Since the members of the RailCamp Tuition Assistance Committee were present, an impromptu meeting to consider the recipient of our tuition assistance for 2002.
Phil also reported on the recent meeting of our Chapter's Board of Directors. He noted that our meetings would still start at 7 PM, but that the break for refreshments would be reduced to just 15 minutes. Programs would run from 7:45-9:00 PM so that we can be out of the room by 9:15 PM. Possible "things to do in 2002" were mentioned including possible trips to Harrisburg, PA and Bayhead Jct., NY and another circle trip in August in lieu of the normal meeting. It is possible that we will have local Boy Scouts and Girl Scouts as guests at our Chapter Meetings. As noted in last month's newsletter, the Special Category for this year's Annual Doug Weaver Memorial Photo Contest will be "Railroad Personnel While They Are Working"
Dan Frederick reported on the reopening on January 21 of Enola as a classification yard by NS. Frank Ferguson reported that railroad cars were used to ship snow (yes, the white stuff!) from Buffalo to Rochester, NY.
Bruce Barry was originally scheduled to give the evening's program slide program. Instead, Frank Ferguson presented a program on Short Lines in, as he put, "no particular order." Starting in 1985 in Texas, we also saw the Batten Kill, the Belfast & Moosehead Lake, and a Chesapeake & Western T-6. There was the Davenport, Rock Island & Northwestern in 1995, the Eastern Shore (MD) and the Great Western. With shots from many states including Texas, Colorado, California, and Pennsylvania, we saw a Whitcomb locomotive at Lehigh Cement, the Norfolk, Portsmouth & Belt Line, an NW-5 at Phoenix Steel, the Short Fast Line, and Baldwins at Trona. There was a Green Bay and Western "alligator", a Janesville & Southern BL-2, a Wisconsin & Southern E-8, and a C&IM RS-1325. We got glimpses of the Copper Basin Railway, the Philadelphia, Bethlehem & Eastern, the DM&IR, the Fox River Valley, and a Fairbanks Morse from South Western Portland Cement. Everyone enjoyed another one of Frank's excellent shows.
---
NOTICE: IN CASE OF BAD WEATHER
If our normal "THIRD THURSDAY" NRHS meeting is canceled due to inclement weather, it will be postponed and held on the FOURTH THURSDAY. If it must again be canceled, it will NOT be rescheduled. We will simply wait for the next month's normal "third Thursday" meeting. If the weather looks bad or is predicted to be bad, you may telephone the Claymont Community Center to see if it will be open that evening for our meeting.
---
NOTICE: MEMBERSHIP DUES
Reminder: If you have not yet done so, please send your membership dues check to Treasurer Ralph Stevens or this could be the last issue of the newsletter that you receive.
---
SCHEDULE NOTES
Notices, announcements, schedules, etc. are provided here as a service to the members. The Chapter has no affiliation with any commercial operation, museum, or tourist line.
Until Feb. 24, 2002. The High Line - A City Divided, A City United; The Construction of Elmira's Railroad Elevations, 1932 - 1937 an exhibit at the Crossroads Gallery in the New York State Museum
Sunday, February 17, 2002 Doodlebug Day on the Wilmington & Western
10:30 AM - 3:30 PM, photo stops, $32, box lunch extra $8, only 50 tickets, for info 301-990-1117
Saturday & Sunday, March 2-3, 2002 175th Celebration Kick-Off
Smithsonian Institution's National; Portrait Gallery to fill special exhibit space at B&O Museum in Baltimore, MD with paintings, drawings, and images of important American railroad figures. info = 410-752-2490
Sunday, March 3, 2002 16th Annual Harrisburg Chapter's Railroad Show & Collectors Market
9 AM-3 PM, new location I.W.Abel Union Hall, 200 Gibson St., Steelton, PA 17113, admission $4
Saturday, March 23, 2002 EastRAIL 2002
10 AM - 6 PM, Warren Hills Regional High School, Jackson Valley Rd., Washington, NJ, $10 advance, $15 at door, tickets www.urhs.org, info call 7 PM- 9 PM only 732-671-9644 , E-Mail RPnews@worldnet.att.net

Saturday & Sunday, May 11-12, 2002 Cass Spring Photo Special
8 AM Sat Cass > Spruce, Big Cut, & Beaver Creek, Sun. Cass > Bald Knob, Fare $195 for adults,
Call Carl Franz for info evenings and weekends only at 301-942-6197
August 18 - 26, 2002 2002 NRHS Convention
Williams, Arizona (near Grand Canyon) with inbound and outbound steam powered trains planned from Los Angeles. Host Chapter(s) - Grand Canyon Chapter Web Site is www.canyonrails2002.com
---
NEWS BITS
CSXT train X-200-02, a Unit Snow Train, arrived in North Jersey Terminal with 86 loads of snow from Frontier Yard in Buffalo = 2,952 tons of snow in a 5,401 foot long train. This was the second move of snow from Frontier Yard. Train X-401-30 already took 88 loads totaling 3,035 tons to Jacksonville, FL [from Conrail Technical Society via http://www.railfan.com/ via Dan Frederick]
SEPTA to get $25 Mil to Move Metrorail Project Forward - Federal transportation officials have given SEPTA the go-ahead to begin preliminary engineering on the proposed Schuylkill Valley Metrorail. The project would link Philadelphia to King of Prussia and Reading. The metrorail has been talked about for years, but now the Federal Transit Administration says it is an idea worth studying further. The feds are giving SEPTA and Reading's transit agency more than $25 million to begin drawing up actual plans. SEPTA spokesman Richard Maloney said, "It's a definite signal from the federal government that it is a worthwhile project. They want to see more. They want to see exactly how its going to look. This twenty five million dollars in preliminary engineering will show them exactly what kind of railroad this is going to be." Washington's thumbs-up is also crucial because the feds are expected to pay 80 percent of the total price tag, estimated at nearly $2 billion. [from KYW's Mike Dunn via John Dunn]
AAR News - President Bush signs Railroad Retirement into Law - WASHINGTON - The AP reports that President Bush signed legislation Friday that would allow, for the first time, a $15 billion railroad retirement fund to be invested in stocks and bonds. Bush signed the Railroad Retirement and Survivors Improvement Act of 2001 with neither fanfare nor comment. The bill would cut payroll taxes for rail companies; allow workers with 30 years of service to retire at age 60, down from 62; and increase benefits for surviving spouses of railroad retirees by an average of $300 a month, according to the Association of American Railroads. [from http://www.aar.org ]
o Terrorist or Railfan? At some point, the Association of American Railroads allegedly put together a list of "indicators of terrorism" to help railroad security efforts in light of recent events. Although there is nothing on the AAR website currently, numerous sources cited the following information:
The Association of American Railroads is asking for the understanding and indulgence of railfans during the present national situation and the need for increased security. Putting together a list of "indicators of terrorism", the AAR cited the following list of activities:
25-35-year-old males who are interested in specific railroads and their resources.
Persons soliciting detailed information of railroad activities in casual situations.
Persons showing up immediately prior to a train's arrival and then leaving immediately after the train's departure.
Persons in the "wrong place" or dressed inappropriately along rail lines
Suspicious vehicles at crossings and along right-of-way.
Automobiles that move with trains along their route.
What DOES show up currently on their website: [from http://www.aar.org ]
Association of American Railroads statement on "Indicators of Terrorism"
WASHINGTON, October 19, 2001 -- In order to assist in the defense of our homeland, the railroad industry has -- in consultation with the federal government -- stepped up efforts to patrol and secure our properties.
While the AAR has not asked its member railroads to "profile" individuals near or around railroad property, railroad fans should be aware that the rail industry -- along with the rest of the nation -- is operating at a heightened state of alert that recognizes the dramatic change Sept. 11 brought to our nation. That includes more scrutiny of activities and people in and around rail yards and tracks. We appreciate and value railfans' interest and support, and sincerely hope railfans understand that everyone is experiencing inconveniences as a result of the war on terrorism.
And, they are even supporting the formation of a new group:
Calling All Railfans! - The AAR joins railfans worldwide in their passion and love for trains of all kinds. The AAR is developing a new members-only club for a select group of railfans. AAR believes that railfans realize the importance of railroading's future, so our RailFanClub will stress looking at the tracks in front of us, rather than a nostalgic look at the road already traveled. Our RailFanClub will keep railfans informed about recent innovations in freight railroading, and will offer fun games, savings on merchandise, and eye-catching photos and discussion boards. Do you want to find out more? Email us and we will send you information and announcements about AAR's upcoming RailFanClub. email: tpalmer@aar.org or call: Tom Palmer (202) 639-2540
AAR About AAR - The Association of American Railroads - one of the nation's oldest and most respected trade associations - represents the major freight railroads in the United States, Canada and Mexico. Amtrak and some commuter railroads are also members of the AAR. In addition, the AAR has two categories of associate members, one for smaller railroads and a second for railway suppliers and others with an interest in railroads. Links to all of our members can be found on this web site. The AAR serves as the joint representative of its individual members in matters requiring cooperative handling to better enable railroads to be an efficient, safe, interlinked system. It is governed by a board of directors that includes the CEO of each Class I railroad in the U.S. Amtrak, smaller railroads, Mexican railroads and the Railway Association of Canada are also represented on the AAR Board. One CEO serves as AAR Chairman for a one year term which rotates among the Class I railroads. The AAR includes seven departments and two wholly-owned, for profit subsidiaries
Steamtown Reduces 2002 Excursions - The bad news is that instead of the normal beginning of excursions on Memorial Day, the Scranton-Moscow roundtrips will NOT begin until July 4. The good news is that Steamtown has LOWERED their admission and excursion prices: admission from $8 to $6, the trip from $12 to $10, and the combo down to $14. They hope to have two operating steam locomotives this year: ex-Canadian Pacific 4-6-2 #2317 and ex-Canadian National 2-8-2 #3254. For info, you can NOT use the website for the National Park Service, so call 1-888-693-9391 [from Philadelphia Chapter's CINDERS]
Dakota, Minnesota & Eastern Wyoming Coal Line Construction Approved By Surface Transportation Board (January 30, 2002 ) The end of a long battle for permission to build over 250 miles of new trackage, plus the rehabilitation of existing connecting lines, is at hand for the DM&E. On January 30, the STB approved the plan - the largest railroad construction project since Abraham Lincoln was president - subject to 147 conditions laid out mostly in the environmental impact statement submitted to the board a few months ago. For the project to proceed, DM&E must now secure the necessary building permits from the Forest Service, the Army Corps of Engineers and others. In addition, several groups and communities opposing the expansion have vowed to keep fighting. [from LaCrosse Tribune via http://www.railfan.com/]
BNSF Sets New Annual Coal Record (January 30, 2002) The Burlington Northern Santa Fe Railway handled a record 245.4 million tons in 2001. What's amazing is that it was handled with 3% fewer coal train starts (575 trains operated) than it its previous record year in 1999 in which the road hauled 236.8 million tons. With the addition of new, higher-capacity coal cars, the average car carries 2.3 percent more than in the past and the average train handles 3.6 more cars when compared with 1999 figures. [from BNSF Today via http://www.railfan.com/]
Norfolk Southern Enola Yard Reopens (January 21, 2002) The former Pennsy freight yard at Enola, Pennsylvania, reopened as a flat-switching facility on Monday, January 21. NS missed its projected November startup when it discovered that the slope of the yard allowed kicked cars to roll out toward the main line. The problem was solved by undercutting the yard tracks to form a "bowl" to keep cars from rolling out. Enola will classify about 600 cars a day, most on north-south routings. About 14 daily trains will be worked at the yard, running to Roanoke, Virginia; Linwood, North Carolina; Binghamton, New York; Baltimore, Maryland; Allentown, Pennsylvania and Toronto, Ontario. [from http://www.railfan.com/]
A task force examining the feasibility of rail service between Dover [DE] and Wilmington [DE] found no "fatal flaws" that would make service impossible, but also reported the endeavor would have a start-up price between $303 million and $447 million. The draft of the results by Wilmington-Dover Rail Service Task Force indicated the task force will likely conduct a second study this year to determine exact ridership numbers and environmental impact. The study estimated 3,500 people would use the service each weekday, but that was a general estimate, said Nathan Hayward III, Delaware's Secretary of Transportation. The dollar figures vary based on the exact route the trains would take. Rep. Nancy H. Wagner, R-Dover, chairs the task force. The initial costs would cover capital improvements to train tracks such as improving bridges and crossings. Once the service is in place, the study forecast an annual cost of $12.3-13 million for operation and maintenance depending on the exact route. The study based its findings on four-car trains making seven daily roundtrips. Each trip would cost the state $11.44 to $15.54 per passenger which does NOT indicate what fare would be charged. The cost to passengers will be determined later. Numbers were also offered for a route that went only from Middletown to Wilmington. That service would have a start-up cost of $236-378 million, with an annual price tag of $6-7.1 million.
Sen. Harris B. McDowell, D-Wilmington North, pledged support for rail service but warned that coming up with dollars would require special approaches. Sen. McDowell proposed incentives be developed to encourage state workers that commute from Wilmington to Dover to use the train and an array of funding mechanisms be explored. A Wilmington-to-Dover train was used during the NASCAR race weekends at Dover Downs last year. Those trains, running very close to capacity, carried about 400 passengers to each race. A similar service was offered during the state fair in Harrington. Rep. Wagner said. "People are going to move here and we don't have any more land to build highways on. People don't want to sit in traffic jams forever. People in my part of the state definitely want this."
---
Donations Sought For Rail Camp Scholarship Fund
It is time, once again, for our Chapter to identify a candidate for Rail Camp 2002.
We now wish to solicit donations from our members and friends for our "Rail Camp Scholarship Fund". Approximately $550 is needed to send one student to camp. This amount covers tuition, room and board. Transportation cost is usually borne by the student. We feel that this is a worthy project. If you would like to contribute, make checks payable to "Wilmington Chapter, NRHS" and let Ralph know that the donation is specifically for the "Rail Camp Scholarship Fund"..
Please send donations to:
Ralph Stevens, 8 Colony Blvd., Apartment #315 Wilmington, DE 19802-1459
Make your gift count twice! You may be able to double the value of your gift if you or your spouse are employed by one of the many area businesses that generously match employee contributions. Please check with your employer to see if they have such a program.
We hope that you will want to support this project and we much appreciate your kindness!
---
The National Railway Historical Society's Wilmington Chapter's Annual Doug Weaver Memorial Photo Contest
will be held at the regular Chapter meeting on Thursday, May 16th, 2002.

Here are the guidelines for entering images in this year's contest:
As usual, there will be two separate contests; one for prints and one for slides. Each contest will have the same SEVEN categories. Prizes will be awarded for winners in each category (that is fourteen winners in all), plus additional awards for the best print and the best slide in the show.
Each member can have up to three entries per category
(that's 42 total photos if you are really ambitious: up to 21 total slides and 21 total prints!).
Photos for the five normal, standard, REGULAR CATEGORIES #1-#5, as always in the past,
must have been taken within the LAST FIVE (5) YEARS (anywhere on this planet).
For the VINTAGE CATEGORY #6 ONLY, the photos can be of any railroad related subject but must have been taken 15 OR MORE YEARS AGO, that is before May 1, 1987. As voted on at the January 1998 meeting, the time frame was changed from "more than 25 years old" to "more than 15 years old".
For SPECIAL CATEGORY #7 ONLY, designed to get people out to take new pictures; photos must have been taken in the LAST TWO (2) YEARS; that is, between May 1, 2000 and May 16, 2002 and must be of Railroad Personnel While They Are Working.

CATEGORIES [note timeframes]
STEAM - Photos with a steam locomotive as the primary subject within the last 5 years.
DIESEL - Photos with a diesel locomotive as the primary subject within the last 5 years.
This category also includes gas-electrics, Doodlebugs, RDCs, and FL9s north of Harmon, and the like.
HEAVY ELECTRIC - Electric power on big railroads within the last 5 years.
TRACTION - Trolleys and light rail including streetcars, all subways, etc. within the last 5 years.
GENERAL - Any photo that does NOT include one of the above as the primary subject within the last 5 years. Passenger and freight cars, stations, signals, railfans, and the like go here.
VINTAGE - Any railroad-related subject photographed 15 or more years ago.
SPECIAL CATEGORY for 2001 = any photo of Railroad Personnel While They Are Working and taken within the last two (2) years.
---
THE ROCKVILLE LIMITED
SATURDAY, APRIL 13, 2002
A Special Train Sponsored by the Harrisburg Chapter,
National Railway Historical Society, to Celebrate the Centennial of the Rockville Bridge

The Harrisburg Chapter, National Railway Historical Society is sponsoring a chartered train excursion to recognize the 100th anniversary of the completion of the world-famous Rockville Bridge. The trip will leave the Harrisburg Transportation Center (Amtrak station) at 7:30 am on April 13, 2002 and return at approximately 3:00 pm. The train's route goes east from Harrisburg through scenic Lancaster County farmland and continues to downtown Philadelphia, where the train will enter Amtrak's high speed Northeast Corridor toward Wilmington, DE. After a swift run down the Corridor to Perryville, MD, we will turn north onto Norfolk Southern freight-only trackage and travel along the banks of the Susquehanna River through several tunnels and the Borough of Columbia. North of there, the train will cross the Susquehanna for the first time on Shocks Mill Bridge, entering York County. We will proceed on the west bank of the river and pass through Enola Yard, where we can observe the recently-reconstructed hump yard. The highlight of the trip will come near the end as the chartered train crosses the Susquehanna River a second time, this crossing on the renowned Rockville Bridge, before a quick return to the station in Harrisburg.

Other special features of this excursion include the use of a pair of beautifully-restored E8 locomotives owned by the Juniata Terminal Company and wearing new paint in their original Pennsylvania Railroad scheme. Numbers 5711 and 5809 were built in the 1950's for the Pennsylvania Railroad and also were used to power Conrail's executive train. There will be coach seating available for $85 per seat, which includes a box lunch and beverage. In addition, there will be 48 first-class seats offered on two privately-owned, restored business cars at $250 per seat. First class service will include a meal served in grand railroad tradition on linens and china. As an added attraction, it is planned to sell commemorative T-shirts and other souvenir items noting this memorable occasion on the train.
Parking is available near the Harrisburg Station on nearby streets (no meters on weekend) or in the Walnut Street Parking Garage, Court and Walnut Sts. (about three blocks from the station). Tickets for the train may be ordered from:

Harrisburg Chapter NRHS, Ticket Agent, 637 Walnut Street, Harrisburg, PA 17101-1924

Checks must accompany an order and are to be made payable to "Harrisburg Chapter NRHS." Please include a stamped, self-addressed envelope for mailing of your tickets. There are no refunds given on purchased tickets. The trip will run regardless of weather. The answering machine for the chapter may be called at 717-232-6221. Information requests made to that number will be answered as soon as possible. There is no smoking permitted anywhere on the train, and no alcoholic beverages are permitted.
[cut here and mail along with check; keep information above]
= = = = = = = = = = = = = = = = = = = = = = = = = = = = = = = = = = = = = = = = = = = = = = = = = = = = = =

Ticket Order Form
______ Coach Tickets @ $85.00 each = $ _______________

______ First Class Tickets @ $250 each = $ ____________

Make checks payable to "Harrisburg Chapter NRHS" and mail to: 637 Walnut Street, Harrisburg, PA 17101-1924.
No credit card orders accepted. All tickets include round trip train transportation and lunch. In coaches, lunch consists of a boxed lunch and beverage. The lunch in First Class is a served meal. Ticket orders must be received by April 6, 2002.
Name (print) ___________________________________________
Street ___________________________________________
Town, State, Zip ___________________________________________
Area Code and Phone _______________________________
E/mail _________________________________________
---
Update On OOPS! Bridge Article
By Richard E. Hall
This copyrighted article was written for the "Transfer Table", the newsletter of the Wilmington Chapter of the National Railway Historical Society by Chapter Member Richard E. Hall © Richard E. Hall 2002
When the "Cranes-OOPS!" article in the January 2002 issue of "The Transfer Table" was written, I was somewhat disappointed because at the time, I had been unable to identify which of the bridges was involved. It was too late to revise the article when additional information was found, and the span was identified. The 1889 incident with the crane boom failure occurred at the old P&BC Bridge #47, which was later identified by the PRR as Octoraro Branch U.G. Br. 46.99. I also found some additional information regarding the latter U.G. Br. 46.99 span which replaced the one placed there in 1889.
The old 1889 rolled iron girder span over the West Branch, Big Elk Creek was replaced in 1917 with a new fabricated 71 foot four inch long ballasted deck, plate girder span placed on new abutments. PRR drawing number 16462 for PB&W (PRR) Br. 46.99 (old #47) was found in the Pennsylvania State Archives in Harrisburg. The new abutments were required because the new fabricated span is just over twice as deep as the old rolled beams. The weight of 82,724 lb. was marked on the plan as the weight for the new span, not including the cement deck. The American Bridge Company fabricated the girders at their Ambridge Plant and the ballasted cement deck girder span was placed over the Big Elk Creek in 1917.
The PRR drawing for the 1917 replacement span shows a four plank walkway with a pipe railing supported by brackets attached to the side of the cement deck. The railing was the PRR standard two rail type shown on PRR drawing 61170-E, measuring three feet to the center of the top pipe. The top pipe was one and one half inch standard galvanized pipe, the lower pipe was one and one quarter inch. The pipe stanchions were cast with a style "C" base for mounting on the bracket.
Although the railing for this bridge had two pipes, there was a three rail version for locations such as stations and on some bridges. There were also standard screen sections available to place under the pipes at such locations as they might be required for safety.
The cement sections forming the ballasted deck were pre-cast in standard sections with two outside sections used on single track spans. There was seven inches of ballast placed between the cement deck and the bottom of the ties. The cast deck sections to be placed on top of girders had a recess cast in the underside to fit over the top of the girder and restrict any lateral shifting of the slab. There were also cast in drain holes so water would not build up in the ballast on top of the cement slab.
Bridge 46.99 actually was two spans, the 71 foot four inch ballasted deck plate girder span and a short pre-cast concrete slab span at the south end. The short span carried the tracks over Wilson Mill Road. The southern span consisted of two 22 foot long outside slabs as per PRR standard plan #11403. Such relatively short pre cast cement spans which did not require the placement of a supporting girder were of a much deeper section then the slabs placed on girders. The short span at the south end of this bridge is slightly skewed to the girder span's center line to maintain the four degree curvature in the track crossing the spans.
PRR plan #10634 was also found for bridge 47.29, the next span to the south. It was a 28 foot open deck girder span with the rails on 9" x 10" x 9' ties. It had been fabricated at the American Bridge Co. Pencoyd Plant, weighed 15,125 lb. and had been placed in 1907. The PRR track charts list bridges 46.99 and 47.29 as being over the West Branch Big Elk Creek, but U.G. Br. 47.99 is actually over one of the smaller streams feeding into the West Branch of the Big Elk Creek.
An interesting but unrelated item relating to the small stream feeding the west Branch Big Elk Creek. Back when the Wilmington street car system was being expanded, they were planning to build a line from either Stanton or Elsmere to Elkton. The line was to go through Newark and Iron Hill to Elkton and eventually extend the line on to Perryville. It was not explained how they were to "meet" the line to be built from Baltimore to Havre de Grace with the wide Susquehanna River separating the two proposed lines.
There was to have been a junction in Newark for a branch line. A line to Oxford, and possibly later extended to Rising Sun, was to have left the Elkton line at Newark. There were plans made to dam the above mentioned small stream and build a powerhouse near the PW&B's Central Division tracks. A water powered turbine was to be installed and drive a dynamo for generating the electrical power needed for the street car line from Newark to Oxford.
© Richard E.Hall, 2002
---
History Was Repeated
By Richard E. Hall
There is an old and often heard saying, "History repeats itself". It often seems there is no end to incidents which support the validity of that time honored saying.
The January 2002 issue of the "Transfer Table", page 11, gave an account of the fire in the CSXT railroad tunnel which occurred in Baltimore on July 18, 2001. During that time we all read several news stories which were printed regarding the unfortunate derailment and fire in the tunnel and the partial collapse of the tunnel roof. Not one of the reports which I saw mentioned one interesting sidelight about the tunnel collapse in Baltimore. Except for the name of the railroad and there being fire involved, it was history repeating itself in 100 years, plus three weeks. The following is copied just as it appears in my bound copy of the "Railroad Gazette" for 1901, July 12 issue, Page 505.
"Tunnel Accident at Baltimore,
On the night of June 28 a portion of the roof of the tunnel of the Philadelphia, Wilmington & Baltimore Railroad at Central avenue and Hoffman Street, Baltimore, fell upon the track below and derailed a train, and two of the express cars in the train were buried by the mass of earth which fell upon them. No person was seriously hurt, but the road was blocked for ten days. The train which was derailed was the second section of No. 78, eastbound, and the time was about 2 o'clock in the morning. The mass of earth above the roof of the tunnel is about 42 ft. deep. The cause of the failure has not been clearly decided. Water from a street main ran down with the sand, but there appears to be no evidence that the water caused the rupture. There is some quicksand near the tunnel and some timbers above the brick-arch roof were found very rotten. The clearing of the tunnel involved digging down from the street above, an opening about 60 ft. square being made. The work of getting out the derailed cars and the rubbish which covered the track was very troublesome and severe. The temperature where the men worked was 130 degrees, and gas from broken pipes frequently compelled them to go out for air every 15 minutes.
During the blockade trains were run through the city over the Baltimore & Ohio. The Mount Royal station of that road is not far from the P.W. & B. station. Replying to questions from reporters, President Loree, of the B. & O. said that this use of the B. & O. line by the Pennsylvania trains might be made permanent if the people of the city so desired."
A couple of stray comments on the above incident. First is the PW&B being able to reopen the line in only 10 days. It has never ceased to amaze me how they were able to accomplish such feats in the past eras when they lacked our sophisticated machinery and technology. The relatively cheap labor, long working days, and the mandatory hard work which was then taken for granted, certainly accomplished a lot.
As to the PW&B trains using the B&O tunnel, the B&O would have had no choice, they would have received orders from the PRR offices in Philadelphia to do it since the PRR controlled both the PW&B and B&O at the time. The tunnel incident was not the only time the B&O was to receive such an order from the PRR. President Loree was a former PRR official the PRR sent to Baltimore to fill the job shortly after they gained control of the B&O. Most likely because he came to the B&O from the PRR, President Loree seems to have not received sufficient credit for the improvements to the B&O system which came about from his initiative during his term there. After the PRR relinquished it's control over the B&O to avoid antitrust action by the U.S. Government, Mr. Loree was replaced as President and he then moved on to further accomplishments on the D&H.
Once again circumstances have given credence to the time worn old expression "History repeats itself". There is also another old saying about history being repeated in cycles. In this case, it was repeated in 100 years plus three short weeks. Since we can't foresee the future, we may only ponder if history will repeat this incident again, and if it does, will it be on the 100 year cycle? Of course there are also the two other related questions to ponder. Will there still be railroad tunnels in Baltimore, or even railroads in Baltimore and elsewhere, in 100 years from now?
---
CHAPTER EVENTS
Thursday Feb. 21, 2002 7 PM - Chapter Meeting program by Bruce Barry - program not known at this time.
Thursday March 21, 2002 7 PM - Chapter Meeting program by Dan Frederick - program not known at this time.
Fri-Sun April 12-14, 2002 National Director's Meeting - Harrisburg, PA
Friday April 12 Middletown & Hummelstown Excursion
Saturday April 13 7:30 AM THE ROCKVILLE LIMITED = Port Road + Rockville Bridge
Thursday April 18, 2002 7 PM - Chapter Meeting program by Frank Ferguson & Kermit Geary - program not known at this time.
Thursday May 16, 2002 7 PM - Chapter Meeting Annual Doug Weaver Memorial Photo Contest - 2002 special category: Railroad Personnel While They Are Working.
Saturday ? , 2002 11 AM - Chapter Picnic probably at Perryville, MD.
The Wilmington Chapter of the National Railway Historical Society (NRHS) meets at 7:00 PM on the third Thursday of each month [except August & December] in the Darley Room at the Claymont Community Center on Green Street in Claymont, Delaware. Visitors are always welcome. Admission to regular meetings is free. Check out our >>NEW Website <<<, thanks to Russ Fox at: http://www.WilmingtonNRHS.com
---
The Transfer Table
The Transfer Table is published six to ten times per year as the newsletter of the Wilmington Chapter of the National Railway Historical Society. Items in this publication do not represent the official position of either Officers or Members of the Wilmington Chapter or the Editor of this publication.
Permission to reprint articles and news items appearing herein is granted to NRHS Chapters and other newsletters provided appropriate credit is given. Contributions are always welcome and should be sent to the editor at SD40GMA@aol.com or send to: P.O. Box 1136, Hockessin, DE 19707-5136. Deadline for entries is the 25th of the month.
Chapter Officers
President Phil Snyder
Vice President & Historian Ron Cleaves
Treasurer Ralph Stevens, Jr.
Secretary Dan Frederick
National Director Tom Posatko
Editor Greg Ajamian
Public Relations Frank Ferguson, Jr.
Event Photographer Bruce Barry