THE TRANSFER TABLE
The Wilmington Chapter NRHS Official Newsletter
Internet Edition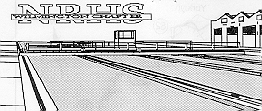 | | |
| --- | --- |
| VOLUME 23 NO. 4 | JUNE 2001 |
Back To Wilmington Chapter Web Site
MAY MEETING NOTES
Sixteen members and one guest attending the May meeting heard the minutes approved as read by Secretary Ron Cleaves and the Treasurer's report by Ralph Stevens. National Director Tom Posatko reported on the recent Director's meeting. President Phil Snyder reported on the recent celebration at National Headquarters and the "whole bunch a lotta o'stuff" in the Society's library. He also suggested that we might have a "round robin" trip instead of the normal meeting in August.
Many people talked about the Cape May trip which was enjoyed by 13 Chapter members despite the 85° heat in the RDC. Dan Frederick reported that the crew never did return to move the cars for the night photo session, so they did the best that they could under the circumstances. Dan also reported on the restoration work on the B&O Station in Wilmington. Although the second floor is mostly original and being restored, the first floor is practically a complete rebuild with new materials.
With hardly a pause, Trip Director Bruce Barry has lined up another trip for us. See details for the June 9 trip. The evening activity was the Annual Doug Weaver Memorial Photo Contest. Some categories had barely enough entries to vote on while others had quite a few. See results table.
---
NEW BOOK AVAILABLE SOON
Chapter Members Phil Toman & Richard Hall were on the committee that recorded the story of Hurricane Floyd and the W&W RR and its come back. See ad for details.
---
REQUEST FOR INFO
Chapter Member Richard Hall is seeking information and diagrams of the B&O in Cecil County, MD.
---
REQUEST FOR INFO
Chapter Member John Iwasyk is seeking information and diagrams on any and all abandoned rail lines in the state of Delaware.
---
Cape May Seashore Lines Railfan Day By Bruce Barry
On May 12, 2001, the Chapter sponsored a Railfan Day on the Cape May Seashore Lines with two round trips between the 4-H Fairgrounds Station just North of Cape May Court House to Cape May, NJ using two former Pennsylvania Reading Seashore Lines RDCs.
Plenty of photo stops were provided including stops at Cape May Court House, Whitesboro, Wildwood Junction, Cold Spring Village, Cape May and the bridge over Cape May Canal.
The trip started with a quick run to Wildwood Junction and the recreation of the splitting of the RDCs. This practice ended in the early 80s when passenger service to Wildwood and Cape May was discontinued. After this, the photo line was setup to photograph the regular train passing Wildwood Junction Station followed by a stationary shot of the RDCs next to the station.
It was off to Cold Spring Village where photo opportunities included shots of the station and Woodbine tower. The trip also offered two different stops to photograph the RDCs on the bridge over the canal in Cape May.
That evening, a night photo sessions was provided using the two RDCs at Cold Spring Village. Cape May Seashore Lines has done fantastic restoration work on the two RDCs. They have put a tremendous amount of work in to rehabilitating the track, bridge and the cars. All of this provides another opportunity for the public and railfans to again ride Budd cars to Cape May.
The trip provided a good opportunity for Chapter members to get together and enjoy a day of railfanning with over 15 members making the trek to South Jersey.
Thanks goes to Tony Macrie and Cape May Seashore Lines for allowing us to provide a Railfan Day on their railroad. Another thanks goes to Steve Barry for organizing and preparing the day.
---
SPS #700 by Tom Smith (via E-mail April 25)
SP&S 700 made its trip to Spokane last weekend, but it was not a smashing success. Steve and Bruce Barry and dad Ernie arrived here Thursday to stay with us, then we all chased 700 eastbound on Friday. The trip got off to a late start, and we stood in the rain at Cape Horn until 1030 for the quintessential SP&S shot until it finally showed up. They had a train of 15 revenue cars, including 4 domes, 3 service cars, and the 4449's auxiliary tender, with NO diesel helper. They appeared to have a good passenger load on board. Meets with other trains and several unscheduled stops to inspect the engine, caused them to get later and later, and they arrived Pasco about 1800, about 3 hours late. Bad weather and heavy overcast dogged the whole trip, but there was an awesome double runby west of Wishram and the sun did come out for that. BNSF dispatchers appeared to give the special as much priority as they could, but its tardiness tied things up.
Saturday's Pasco-Spokane run was virgin territory for this engine since its restoration. It would be running on exNP track, but 700 is a carbon copy of one of the NP 4-8-4 classes, and a big Spokane homecoming was planned for the triumphal return of 700 after 46 years of absence. Again the 700 was running solo, and got away from Pasco in good shape. There was a lot of freight traffic that day, and 700 appeared to have priority over everything. Things deteriorated quickly as the engine had to stop a couple of times for inspection. This was not a good sign, and traffic was getting tied up while the dispatcher was becoming increasingly agitated. As they started the long climb up Providence hill, the engine died completely north of Cunningham. Fortunately they were on the main with a clear passing track beside it. BNSF commandeered an ATSF yellow bonnet SD40-2 from a nearby freight, and it towed the whole train into Spokane hours late. Exactly what went wrong we haven't been able to ascertain, but it sounded like a case of bad lube oil and a damaged piston ring. Trains were backed up everywhere.
Sunday's return to Pasco found the 700 leading, with a BNSF C44-9 in Heritage II paint cut in behind to do the work. 700 blew the whistle and made smoke and steam noises, but did very little work. Weather was beautiful, there was little opposing traffic, a spectacular runby was held at Ritzville, and the train rolled into Pasco at 1345, over an hour early. It was the best day of the trip, nothing went wrong. I returned home after Steve departed.
Monday I was going to try to grab a couple shots on the Pasco-Vancouver last leg of the trip. Although the weather was again gloomy, I headed for the classic shot at Horsethief Lake. But nobody was there. After waiting a bit, and having heard nothing on the scanner about 700, I drove into Wishram, where BNSF folks informed me there would be no train. Apparently, two service cars derailed while the train was being made up in Pasco, and passengers were bused back to Vancouver.
I suppose the train is still in Pasco; it wasn't back in Vancouver or Brooklyn today. Too bad. They tried so hard to put on a first class trip and salvage the engine's reputation with BNSF. In retrospect, they probably should have tried something less ambitious for their first shot, like a Wishram or Longview turn, or at least asked for a diesel helper for insurance. I sure hope this doesn't end her mainline career. [from Tom Smith]
Follow-up:
SP 4449 left Portland the morning of Saturday, 26 May 2001, for a 2-day trip to Yakima and Stampede Pass. I had to work last night and was able to get a few shots on my way home as it left town (on time) at 0730 and chased as far as Home Valley. The weather was gorgeous, not a cloud visible. The train was basically the same as the 700 used. NO diesel helper!! It was a typical 4449 chase, high speed train, low speed motorcade. He made it non stop to Stevenson, where he was held for a late Amtrak, then a meet with another train at Cooks, which allowed for a couple of bonus shots on the road. They do it again next weekend with two Portland/Wishram Round trips. Chasing will probably be impossible. [from Tom Smith 4/26/2001]
---
NEWS BITS
Ohio Central Railroad's #6325 underwent a test fire on 3-20-01. The CEO of the Ohio Central Railroad, Jerry Jacobson, tossed the first match(fusee) into the firebox of the Northern in 42 years. The fire spread and soon she was boiling water and making steam. After the first smoke exited the stack of the 6325 in many, many years, the locomotive got up to full working pressure, 250 psi, Mr. Jacobson opened the throttle and blew out the cylinders. They removed the pistons and valves so that the steam chest could be cleaned of any rust, scale or dirt that may have gotten into the cylinders over the years. Photos appear at http://www.ohiocentralrr.com/shop/6325.html
On Sunday June 3, Amtrak will be operating a special train named the "Monster Mile Express" to Wyoming, Delaware. it is part of a new joint venture with Rusty Wallace's NASCAR Racing Team that will also see trains to future NASCAR events. The train will operate from New York, with stops in Newark, Trenton, Philadelphia, and Wilmington. The special train #612 on June 3rd Amtrak to Dover Downs, the Monster Mile Express, will actually stop in the town of Wyoming, not at Jello Yard north of Wyoming. The train to bus to train transfers will take place just to the south of the historic Wyoming Train Station. Personnel from DelDOT Traffic Section will flag grade crossings in Wyoming to keep roadway traffic moving while the train is stopped for station work. The schedule is as follows:
| | |
| --- | --- |
| Train #935 Southbound: | Train #936 Northbound |
| 06:00 - New York City | 19:00 - Dover/Wyoming |
| 06:20 - Newark | NJ 20:40 - Wilmington |
| 06:54 - Trenton | 21:25 - Philadelphia |
| 07:25 - Philadelphia | 21:55 - Trenton |
| 08:15 - Wilmington | 22:30 - Newark |
| 09:55 - Dover/Wyoming | 22:50 - New York City |
The day should see the train stored in Wyoming Siding for the duration. Meeting shots with 12G and M2G could be possible. The siding is located outside of town, and north of the block limit station WYDEL where the train will be unloading. [From John Dunn]
Connecting service from Washington and Baltimore is available at Wilmington via Train #162 N/B. Return service to Baltimore and Washington is available at Wilmington via Train #165 S/B. *NOTES as follows:
1. - Dover Departure Time is approximately 2 hours after end of race. Return times are adjustable.
2. - Train Fare includes bus connection in Wyoming , but does NOT include raceway admission. Buses will be from a private contractor.
3. - Train consist will include food service car.
4. - Reservations are required to board this train.
5. - There will be no intermittent travel allowed. All passengers (guests) must be going to Wyoming S/B or returning from Wyoming N/B.
6. - Child's Fare IS available on these trains. 2 to 15 years of age.
7. - Rusty Wallace Coupon IS valid for these trains.
8. - Refunds prior to travel only.
9. - According to information received tickets are NOT available for purchase on the Internet or on-board.
10. - All fares are for Round-Trip only.
The train to bus to train transfers will take place just to the south of the historic Wyoming Train Station. Personnel from DelDOT Traffic Section will flag grade crossings in Wyoming to keep roadway traffic moving while the train is stopped for station work. The train scheduled to arrive in Wyoming at approximately 9:55 a.m. and depart at approximately 7:00 p.m. The Wyoming Station stop is not ADA accessible.
If anyone asks why Wyoming is the site of choice rather than Dover Station, please refer to the following list:
A. - The Dover Station is under reconstruction and will be until December.
B. - The transfer of Amtrak passengers will require no less than eight buses and no one wants that many buses trying to go through the center of town on a Sunday morning, especially along a very narrow Lookermann Street.
C. - By Using the Wyoming Station site, the buses will be able to access Webbs Lane, the Punceon Run Connector and SR-1 north to the special DelDOT bus ramps at Dover Downs.
D. - Race traffic coming from the south is very light compared to the amount of traffic from the north.
E. - Reviewing past DART First State Race Day operations it was noted that those buses make it from the Blue Hen Corporate Center park'n'ride to Dover Downs in less than 12 minutes. [From: Hdbtrains@aol.com]
GROUNDBREAKING PROMOTION IS FIRST OF MANY AMTRAK-WINSTON CUP CONNECTIONS THIS SEASON
Philadelphia - Two kings of the tracks -- NASCAR and Amtrak -- are urging race fans to leave the driving to the professionals and board Amtrak's Monster Mile Express on June 3 for the Winston Cup Series at Dover Downs Speedway in Delaware. Rusty Wallace made the announcement today during a rolling press conference held aboard an Amtrak train traveling from Charlotte, NC to Richmond, VA.
This first-ever partnership between Amtrak and NASCAR reflects a growing trend of fans taking the train to sporting events nationwide. Amtrak, which normally doesn't operate trains to Dover, DE, will run a special route on the day of the race to deliver fans to Dover Downs, the largest sports destination in the Northeast. NASCAR fans can board the Monster Mile Express in New York, Newark, Trenton, Philadelphia and Wilmington. Race fans from the Washington D.C. and Baltimore areas can make convenient connections in Wilmington.
Wallace said, "NASCAR and Amtrak have always been the fastest thing on the tracks. Now people can enjoy the speed and ease of both by riding the Monster Mile Express to Dover." He added that the Monster Mile Express is just the beginning of Amtrak's connection with the Winston Cup Series, as fans will be able to take Amtrak to 32 of the 38 NASCAR Winston Cup Series races this season.
The Monster Mile Express, complete with race stripes and special fares for riders, is promised to be a "party on wheels" as NASCAR fans from throughout the Northeast ride together and take advantage of the worry-free experience of avoiding the customary highway gridlock.
Barbara Richardson, Executive Vice-President for Amtrak, credited the Delaware Department of Transportation for assisting Amtrak with the arrangements to run a train to Dover for the first time. She said of the Amtrak-NASCAR partnership, "Rusty Wallace is a winner and Amtrak is proud to be associated with Rusty and NASCAR for this exciting Winston Cup Series. Amtrak anticipates that the Monster Mile Express will be a major success for all of the companies involved, but the big winners will be the race fans. Fans in the Northeast will have access to a convenient, efficient and festive way of getting to and from the track while Amtrak does the driving."
On the heels of his big win in Sunday's NAPA Auto Parts 500, Wallace Conducted the rolling press conference aboard Amtrak's Carolinian train as he and his crew traveled to Richmond for the Pontiac Experience 400 race. The Carolinian, which is a state-sponsored train, supported by the North Carolinian Department of Transportation, provided the perfect setting to announce Amtrak's Monster Mile Express, said Wallace.
[from National Railroad Passenger Corporation, www.amtrak.com PRESS RELEASE]
The headline in Railway Age Magazine read "History repeats itself. Low-cost, low-tech streetcar systems serve a real purpose, not only as recreational and tourist attractions, but by drawing attention to modern urban rail transit. By William D. Middleton, Contributing Editor " The item of local interest read as follows: "Philadelphia: Southeastern Pennsylvania Transportation Authority (SEPTA) is completing a $40 million renovation that will permit reopening of its 8.4-mile Route 15/Girard Avenue streetcar line by 2002. The badly deteriorated line, which connects West Philadelphia, Kensington, and Richmond, and connects with both the Broad Street and Market-Frankford metro lines, was closed and temporarily converted to bus operation in 1992. SEPTA will rehabilitate 18 PCCs for the service."
[from http://www.railwayage.com/may01/lowcost.html]
According to: http://www.steamlocomotive.com/lists/DE.html
the Surviving Steam Locomotives in Delaware are:
No. Class F.M. Whyte Gauge Railroad Line Location Status Notes
4001 4-6-4 ng LWGM&SRly museum, DE display
60 B6sa 0-6-0 4'-8 " PRR Wilmington & Western Railroad, Hockessin, DE private, stored
1 0-4-0F 4'-8 " DelmarvaP&Li Wilmington & Western Railroad, Marshallton, DE display
98 4-4-0 4'-8 " MS Central Wilmington & Western Railroad, Marshallton, DE operational
58 0-6-0 4'-8 " AB&A Wilmington & Western Railroad, Marshallton, DE operational
92 E-10a 2-6-0 4'-8 " CNR Wilmington & Western Railroad, Marshallton, DE display
37 2-8-2T 4'-8 " Sugar Pine Lumber Wilm'n & West'n RR, Marshallton, DE private, stored
3 0-6-0T 4'-8 " USNavy Queen Anne's Railroad, Nassau, DE operational
Tom Smith reported that his Twin Cities visit was fairly productive, although too short. Just for your further info and to refresh your memories, , the "Bluffs" seems to be named "Hoffman" on the railroad, and is reached by Warner Rd. off of US61. At the bottom of the hill, turn onto Childs Rd. for track access. It was a great location, quite busy, and the light is good from late morning through the afternoon. The only problem was a lack of parking or even any place to pull off except right by the signal control box. The lack of parking seemed to be a common problem at most of the better locations I visited, and I missed a few good shots since I couldn't get out of traffic.
Although the Amtrak station in Minneapolis / St. Paul seems out of the way, it is only a couple of blocks north of University Ave. which has bus service and the Twins Motor Inn and Days Inn are at University & Prior, close by. There is a Hertz phone in the Amtrak Station, and Enterprise Rent a Car is nearby on University and will pick you up and allow you to drop car at Station on return, all fairly convenient for us train travelers.
Minnesota Commercial provided lots of Alco action. An RS32 attacked the Empire Builder as soon as it arrived, yanking off and adding roadrailers. The MNNR enginehouse is just south of Amtrak Sta. at Merriam Park. There is a junction there. One can easily shoot from the periphery, but the power in the enginehouse is too crowded, with employee's cars parked around it, to get any good shots there. Transfer Yard north of Amtrak Sta. was worked by a daylight yard job of 2 C424's. Good shots from overhead bridge, but again, a long walk from nearest parking spot.
Unfortunately, due to flooding, the Empire Builder arrived Mnpls./St.P two hours late, and was held there another 3 hours for Soo Line trackwork. Local Mnpls./St.P-Chicago passengers were held, but connecting passengers such as I were bused. We were treated to an 8 hour bus ride across Wisconsin, with lunch provided by Amtrak at Burger King. Our buses arrived Chicago on time, the train eventually got there about 6 hours late.
2002 NRHS Convention Information Dates: August 18 - 26, 2002 Location - Williams, Arizona (near Grand Canyon) with inbound and outbound steam powered trains planned from Los Angeles. Host Chapter(s) - Grand Canyon Chapter Description - This will be an especially exciting convention as there are plans to an inbound and an official convention special steam trains (from/to Los Angeles) included as part of the convention. Once in Williams, AZ activities plans include Verde Canyon Railroad, shop tour of the Grand Canyon Railroad. a night photo session, a train ride to the Grand Canyon to watch the sunset, a banquet, and an additional series of Grand Canyon Railroad trips. Web Site = www.canyonrails2002.com
---
The winners in this year's National Railway Historical Society Wilmington Chapter
Annual Doug Weaver Memorial Photo Contest
CATEGORY
PRINTS
SLIDES
STEAM
Ernie Barry
SP&S #700
Columbia River Gorge
April 19, 2001
Kermit Geary
Double Header
Cass, WV
DIESEL
Ernie Barry
Marshal Canyon
Spokane, WA
April 19, 2001
Bruce Barry
Delaware River Bridge
West Trenton, NJ
HEAVYELECTRIC
Greg Ajamian
Amtrak #905 AEM-7AC
Wilmington Shops
September 9, 2000
Phil Snyder
AEM-7 in Snow
Marcus Hook, PA
TRACTION
Ron Cleaves
Chapter Trolley Trip
Philadelphia, PA
January 27, 2001
Ernie Barry
SEPTA Car Barn

** Best Slide For 2001 **
GENERAL
Kermit Geary
Christmas Scene w/#2000
Port Clinton Station
November 26, 2000
Kermit Geary
Lester, Saskatchewan
VINTAGE 15 or more years ago
William V. Russell
PC #4934 GG-1Wilmington, DE
February 23, 1974
Dan Frederick
Delaware & Hudson #412
2001 SPECIAL CATEGORY"2/3's Scenery"
Ron Cleaves
Train Q406Brandywine River Bridge
October 20, 2000

** Best Print For 2001 **
Phil Snyder
ACELA under wires Harrison, NJ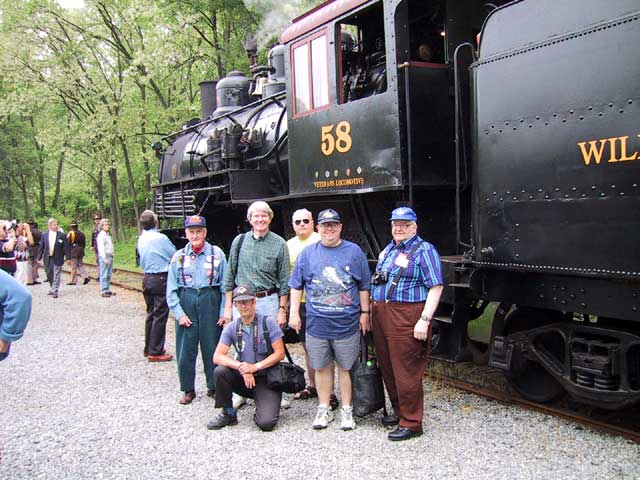 Wilmington and Western Railroad held their grand opening on Saturday, May 19. Wilmington Chapter held its annual picnic the same day so members could enjoy the celebration and festivities for the occasion. In this photo, members pose next to #58 as photographs after the ribbon cutting ceremonies continue at the front of the locomotive. [photo by Bruce Barry]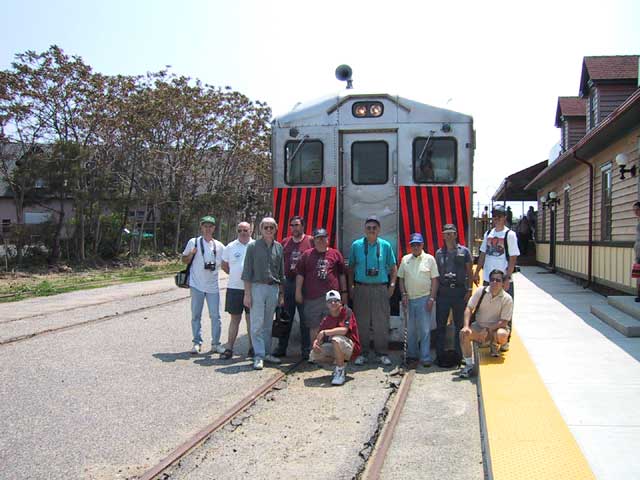 Wilmington Chapter NRHS members pose in front of a RDC Budd car during the layover in Cape May, NJ. On May 12, the Chapter sponsored Cape May Seashore Lines Railfan Day. [photo by Bruce Barry]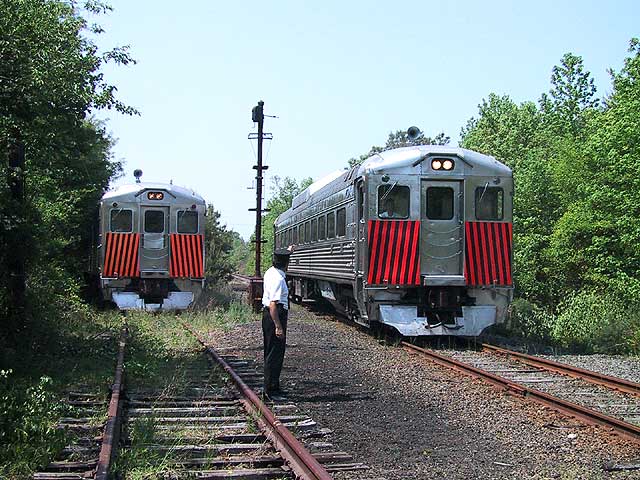 In a scene that hasn't been seen for 20 years, Budd cars are split at Wildwood Junction, NJ. The car on the right would continue on to Cape May while the car on the left would go to Wildwood. [photo by Bruce Barry]
---
The Washington Metropolitan Area Transit Authority (WMATA) excerpted from their website as their anniversary approaches
1952 July 10: Congress passes National Capital Planning Act mandating preparation of plans for movement of people and goods in the region.
1959 July 01: Congressionally funded Mass Transportation Survey presented to President Eisenhower calls for $500 million rapid rail system by 1980.
1960 July 14: President Eisenhower signs National Capital Transportation Act creating National Capital Transportation Agency (NCTA) to develop rapid rail system.
1962 November 03: NCTA submits Transit Development Program to President Kennedy proposing an 83-mile, 65-station rapid rail system.
1965 September 08: President Johnson signs legislation he had sought authorizing 25-mile, $431 million rapid transit system capable of future expansion.
1966 November 06: President Johnson signs bill creating Washington Metropolitan Area Transit Authority. Governors of Maryland and Virginia sign November 17 and commissioners of District of Columbia sign November 22.
1967 February 20: WMATA is officially born, coexisting with NCTA for seven months. NCTA expires Sept. 30.
1968 October 01: Original groundbreaking date is postponed pending release of District of Columbia Metro funds. Congressman William Natcher (D-Ky.), who chairs House Subcommittee on Appropriation for District of Columbia, withholds Metro funds in effort to ensure funding for federal highway projects in District of Columbia.
1968 November 05: Voters decisively commit to Metro in Arlington County, Fairfax City, Fairfax County, City of Falls Church and Prince George's County through bond referendums to help finance local shares of Metro costs. Voters say yes by 71.4 percent. 1969
1972 May 03: WMATA awards $91.6 million contract to Rohr Corp. for first 300 Metro cars.
1973 January 14: WMATA buys D.C. Transit, Inc. and WV&M Coach Co. for $38.2 million.
1973 February 04: WMATA buys AB&W Transit Co. for $10.7 million and WMA Transit Co. for $4.5 million, creating Metrobus system. WMATA drops transfer charges, ex-tends senior citizen discounts region-wide and begins selected fare reductions on routes formerly served by different carriers at different rates. WMATA also unifies bus appearance with red, white and blue paint scheme and purchases 620 buses.
1973 August 13: President Nixon signs Federal Aid Highway Act of 1973, authorizing up to $65 million for construction of facilities to make Metrorail accessible for persons with disabilities.
1973 August 16: President Nixon signs bill enabling U.S. Department of Transportation to pay WMATA $90.4 million for fiscal 1974, $7.5 million covering (1) design and construction of Arlington Cemetery station and (2) National Mall entrance to Smithsonian station. 1974
1975 October 10: District of Columbia begins six-year transfer of $2.2 billion of interstate highway funds for Metro construction.
1976 March 27: Six years, three months and 23 days after groundbreaking, Metrorail has its opening day. More than 51,000 persons ride free over the 4.2 miles of Metro's Phase 1. Five stations open on Red Line from Rhode Island Ave to Farragut North.
1976 March 29: On first day of revenue service, 19,913 passengers ride on 188 train trips. System is open 6 a.m. to 8 p.m. weekdays and closed on weekends.
1976 June 04: President Ford signs bill authorizing creation of Metro Transit Police.
1977 July 01: Blue Line opens from National Airport to Stadium- Armory-18 stations and 12 miles of line. Fare collection switches from exact change fareboxes to Automatic Fare Collection System (AFCS).
1978 August 16: WMATA, at request of U.S. DOT, presents financial plan for completing and operating Metrorail system to Secretary of Transportation Brock Adams. Adams says, "The federal government agrees with the goal of completing the 100-mile system over the next several years."
1978 September 25: Metrorail extends weekday hours from 8 p.m. to midnight.
1978 September 30: Metrorail begins Saturday service 8 a.m. to midnight. Service also includes three federal holidays in addition to July 4-Columbus Day, Veterans Day and Washington's Birthday.
1979 February 19: Blizzard on Washington's Birthday causes 3-day shutdown of Metrorail. Metrobuses unable to move on first day but provide partial service on second & third days. Full service, rail & bus, restored on fourth day.
1979 July 12: WMATA announces award of $75.3 million contract to Italian firm of Breda Costruzioni Ferroviarie for 94 rail cars with option for additional 200.
1979 September 02: Metrorail begins Sunday service from 10 a.m. to 6 p.m.
1980 January 03: President Carter signs Stark-Harris bill authorizing $1.7 billion in federal funds to finish Metrorail construction.
1981 June 25: WMATA orders additional 200 rail cars from Breda Costruzioni Ferroviarie for about $200 million.
1982 January 13: First Metrorail passenger fatalities occur when rail car derails at a crossover switch south of Federal Triangle and is pulled sideways into abutment separating inbound and outbound tunnels. Three are dead, 25 injured. Investigations identify human error as primary cause. Crash is preceded by a major snow-storm, early release of federal employees and crash of airliner into 14th Street Bridge and Potomac River.
1982 June 07 and 08 (Friday and Saturday): Desert Storm victory celebration on Mall generates two ridership records for Metrorail-highest ridership on a Saturday - 786,300 trips, and highest weekday ridership - 577,800 trips.
1983 May: First of new Breda Metrorail cars arrive.
1984 September 13: WMATA Board adopts plan to complete 89.5 miles of 101-mile system using Stark-Harris federal funding and local matching grants.
1985 July 17: WMATA modifies safety plan to include passenger-activated escape doors in the event of a fire emergency aboard train. Employees from all departments trained in proper evacuation procedures.
1986 July 16: WMATA and Urban Mass Transportation Administration sign full-funding agreement releasing fiscal 1985 and 1986 capital funds needed to continue building 89.5-mile system funded under Stark-Harris authorization.
1987 January 22 and 25: Two major snowstorms dump total of 25 inches of snow on region, shutting down everything including Metrorail surface operations. Within next two months, WMATA undertakes major winterization program to improve performance of rail and bus during extreme snow and ice conditions. Bulk of program is complete by year's end.
1987 June 19: At 04, 1982:27 a.m. on a Friday, 21 CSXT freight cars derail into Metro's right-of-way north of Takoma station. Metrorail is not operating at this hour. Although no injuries result, Metro suffers demolished track, ties, ballast, fencing, automatic train control equipment and communications lines. Extraordinary Metro repair efforts restore service by Monday morning, June 22.
1987 September 05: It happens again, only this time 14 derailing CSXT cars tear up Metrorail right-of-way between Takoma and Fort Totten stations at 11, 1982:23 p.m. Metro restores service Wednesday afternoon, September 9. Incident leads to intensive safety precautions and studies by WMATA and CSXT.
1990 May 18: Metro awards $6.3 million contract to Cubic Western Data to upgrade 275 of the 407 farecard vendors and 100 of the 164 addfare machines. Upgrade enables machines to accept $10 and $20 bills in addition to $1 and $5 bills.
1990 September 22: Red Line begins operating north of Silver Spring to Forest Glen and Wheaton stations, adding 3.2 miles to system.
1990 October 27: Congress gives final approval to legislation providing additional $1.3 billion in federal funding over eight years for construction of rail system.
1991 December 19: WMATA Board approves financial plan that sets schedule and funding for Fast Track program for finishing 103-mile Metrorail system by 2001. Fast Track allows Metro to build remaining 13.5 miles faster and within $2.07 billion approved by Congress and local governments.
1993 December 31: Metro completes its safest year of heavy construction. Injury rate, 0.8, is fraction of industry average, 5.8. One sprained ankle and two pulled shoulders were only injuries during 794,000 hours of Metro construction in 1993.
1995 June 06: Prototype of American Ikarus, Metrobus' newest articulated bus, debuts at White House. President Clinton and Hungarian Prime Minister Gyula Horn give it a tour. Bus is American-Hungarian joint venture.
1995 September 27: Metro unveils Passes/Farecard vendors at Metro Center. The machines dispense all rail fares, including passes and multiple farecards, accepts and updates GO CARDS and uses synthesized voice to guide sight-impaired through steps in using machine. Metro schedules installation of the machines on all station mezzanines over several years.
1995 November 16: WMATA and RF&P Corporation formally sign an agreement to build Potomac Yard station with RF&P funds. It will be first Metro station built with private funds. Station is between National Airport and Braddock Road on Blue/Yellow Line.
1997 April 01: Maryland General Assembly budgets $4.7 million in FY '98 for preliminary engineering and environmental impact study on extension of Blue Line by three miles and two stations to Largo Town Center.
1998 July 13: Metro finishes the first of 45 bumpy-tile station modifications at L'Enfant Plaza. The 24-inch strip of bumpy paver tiles combined with the existing 18-inch strip of granite creates a 42-inch wide warning strip. The modification is a federal requirement.
1999 September 18: Metro begins revenue service on the Mid City Green Line segment that includes Columbia Heights and Georgia Ave-Petworth stations in northwest Washington. Green Line now offers seamless travel between Greenbelt and Anacostia stations by way of downtown Washington, D.C.
1999 November 05: Metrorail extends hours to 1 a.m. Friday and Saturday nights as part of an eight-month experiment. 2000
2000 July 01: Metrorail extends hours until 2 a.m. Friday and Saturday nights as a one-year experiment.
2000 November 23 (Thanksgiving Day): Metrorail returns to automatic train control after 624 days of manual operation. The rail system was operated manually while Metro ordered, inspected and installed new relays after several of the original relays were found to be defective in the spring of 1999.
2000 December 16: Metrorail breaks ground for New York Avenue in-fill station, the first to be added to the 103-mile, 83-station system. Scheduled for completion in late 2004, it is to be the centerpiece of an initiative to transform an area of abandoned warehouses into a high-tech urban center that will create new jobs for city residents. It is located on the existing Red Line between Union Station and Rhode Island Ave stations.
2001 February 14: First of 364 Breda rail cars shipped from Alexandria to Hornell, New York for rehabilitation as part of the $361 million contract approved by the Metro Board on December 14, 2000 (see above). All Breda cars are to be rehabbed by the end of 2005.
2001 March 29: Celebrations of Metrorail's 25th Anniversary take place at work locations throughout the Authority. Some 1,400 employees have served Metro for at least that long. Formal cake-cutting takes place during a ceremony in the lobby meeting room of the Jackson Graham Building.
2001 April 19: Metro Board approves purchase of up to 174 more rail cars. The cars are to be allocated to the Dulles Corridor Project, the extension of the Blue Line to Largo Town Center and for service growth.
2001 May 04: Metro reports all-time highs in rail ridership for the months of March and April. April had highest ever average weekday ridership, 650,572 trips. March was runner-up with 628,380 trips.
1996 January 25-28: Metrorail keeps operating as major snowstorm shuts down federal government, all schools and most businesses for two days (25th and 26th). As transit demand returns to normal on the 26th, 100 snow-damaged rail cars are removed from service for repairs, leading to overcrowding and delays. Most cars are back in service the morning of 9 the 28th and all are back by the afternoon.
Also: Metro Board, following a policy it adopted in 1987, declined to rename its airport station from National Airport to Ronald Reagan Washington National Airport. Letters signed by 24 congressman advocated the change so Metro's signs would match the airport name change dating to 1998. Two Congressmen wrote opposing the name change.
[month-by-month Metrorail history at: http://www.wmata.com/events/25rail/full_history.htm#5]
---
SCHEDULE NOTES
Notices, announcements, schedules, etc. are provided here as a service to the members.
The Chapter has no affiliation with any commercial operation, museum, or tourist line.
The Griff Teller art work display at the Railroad Museum of Pennsylvania in/at Strasburg, Lancaster County, Pa. will continue through the end of December of this year.
Saturday, June 9, 2001 The Cape May Seashore Lines and the West Jersey Chapter of the National Railway Historical Society (NRHS) are co-hosting part two of the 50 anniversary of the second batch of RDC's that arrived at/on the old PENNSYLVANIIA-READING SEASHORE LINES (PRSL) back in 1951. The Official train to ride is the 10:00 AM train from the Cape May County Zoo/4-H Club Station (just north of Cape May Court House) to Cape May. Ceremonies start at the recently completed Cape May Transportation Center (site of the train station across from the Acme Market parking lot) at 11:00. There might be displays and sales at the transportation center then.
June 18-23, 2001 NRHS National Convention to be hosted by St. Louis Chapter
Saturday & Sunday, June 23-24, 2001 Great Scale Model Train Show - Timonium
9-4 Saturday, 10-4 Sunday, Maryland State Fairgrounds, Timonium, MD.
July 22-28, 2001 NRHS Basic Rail Camp 2001
Steamtown National Historic Site, $550 per teenager
August 10-12, 2001 LACKAWANNA & ALCO Celebration 150th Anniversary of Delaware & Lackawanna Railroad and 100th Anniversary of American Locomotive Company. Scranton, PA
August 12-18, 2001 NRHS Basic Rail Camp 2001
Steamtown National Historic Site, $550 per teenager
Saturday & Sunday, August 25-26, 2001 Great Scale Model Train Show - Gettsyburg
Gettsyburg, PA [NOT Maryland !] check their web-site www.GSMTS.com for info
Saturday & Sunday, October 6-7, 2001 Great Scale Model Train Show - Timonium
9-4 Saturday, 10-4 Sunday, Maryland State Fairgrounds, Timonium, MD. [NOTE DATE WAS CHANGED !]
Saturday & Sunday, October 6-7, 2001 350th Anniversary of New Castle Delaware
10-5 Saturday, noon-4 Sunday, New Castle, Delaware
---
Steaming Through Texas On The Texas State Railroad by Tom Smith
If you like steam action, The Texas State Railroad puts on one of the best shows you will find.
I had to take a week of vacation in April, when our son was in school and my wife had to remain at home. Wanting to view some good old low-tech steam power, I decided to visit some railroads in the South, since at that time of year there are not many tourist lines operating in other parts of the country. I knew little about the Texas State Railroad, so it became the chosen destination. A few other nearby operations added to its attraction.

After a four hour flight to Dallas, I rented a car and drove north into Arkansas to ride the all day weekly excursion train on the 100% Alco Arkansas & Missouri. After A&M announced discontinuance of their excursion train last year, and later postponed the decision, I wanted to take this trip in case it might be too late if I waited any longer. The ride recalled memories of Chapter trips on the Maryland & Delaware 20 years ago, as RS1 22 and the exB&M combine that we used are still hauling passengers, and many of the other Alcos and employees who moved with Hannold from Federalsburg to Arkansas are there, too.

I also visited the nearby steam railroad Eureka Springs & North Arkansas, where I had a great time photographing, riding, and even running, their ex-Moscow Camden & San Augustine 2-6-0 No. 201. If you're ever in that part of the country, be sure to visit this line! Although only 2.5 miles long, there are nice photo locations, the folks there are super friendly, and you will have a blast!

I then returned to Texas, and drove to the Rusk depot of the Texas State Railroad, one of the more ambitious, but lesser known, operations in the Steam Passenger Service Directory. Hauling tourists since 1976 on 25 miles of trackage between Rusk and Palestine, the railroad was built for the state of Texas in 1896 by convicts in the Rusk State Penitentiary to transport iron ore and wood fuel to an iron smelter at the prison. It reached Palestine in 1909, but after the smelter closed in 1913, and the Rusk penitentiary was converted to a State Mental Hospital, the railroad was of little commercial value, having no on-line customers and passing through only one little hamlet, Maydelle, between its two end points. Regular service ended in 1921, but the line was operated by T&NO under lease until 1962 where it provided SP competition to traffic from the Missouri Pacific-dominated city of Palestine. The line then was in danger of being converted to a linear park.

In 1972 the line was conveyed to the Texas State Park system and developed into a historical park with steam trains. Things are done in a big way in Texas, and they must have had a blank check since no expense was spared. Station facilities were developed at both Rusk and Palestine with a big depot, office, gift shop, and an adjoining campground. Engine houses, water tanks, shop buildings and wyes were also built at each end, with the main locomotive and car shop at Rusk. A turntable at Maydelle, and a wye a few miles east of Palestine allow short-turn school trips to run. The rundown roadbed was substantially improved, and again convict labor was used to accomplish much of the rebuilding. All of the line's 29 timber trestles, a constant source of problems, have since been replaced with concrete bridges. The longest is the 1115-ft bridge over the Neches River.

As a tourist operation, the TSRR is neither especially scenic or historic, but they do roster 5 oil-fired steam locomotives of Texas heritage, and it is a smooth operation where things are done right. The line passes through areas of thick pine woods, swamps, farms and ranches, and reminded me of traveling through South Jersey. The railroad runs only on weekends March through November, with Thursdays and Fridays added during June and July. A train departs at 1100 from each end, and they meet in the middle at a passing siding known as Menshaw. The train I would ride from Rusk was pulled by 2-8-0 300, one of the "Pershing" 2-8-0's built for the U.S.Army during WWI. It stayed stateside at Camp Polk, Louisiana before being sold to the Tremont & Gulf as their No. 28 in 1947. It migrated to a Pineland, Texas logging operation in 1955, and was restored in 1996 with a brand new boiler encased by a red boiler jacket. The consist included an open air car rebuilt from an Erie Stillwell coach, 3 exRock Island suburban coaches and a former Santa Fe combine that was the prototype for the AHM/Rivarossi HO model.

Departure was on the dot from the big Rusk field stone station, with a full passenger load. The train ran about 15-25 MPH during its trip, which I think is an ideal speed for a tourist railroad. The meet at Menshaw with the Palestine train was carried out with precision, neither train having to wait. The Palestine train was headed by 2-8-2 400, an engine that had been Magma Arizona RR No. 7, but before that was also a former Tremont & Gulf locomotive, No. 30. That train was similar to ours except it had one more coach for the larger crowd, and an open air car carved out of something that at one time had been a Pullman parlor car.
When we arrived at the big frame Palestine depot, the engine was uncoupled, watered and wyed, while most passengers had picnics in the nicely manicured park surrounding the depot. Texas&Pacific 2-10-4 No. 610, late of the Southern Ry. excursion program, was on display at the Palestine enginehouse with air piped to the whistle so visitors could blow it. The big Texas type is not serviceable, and may be too heavy for the track. A former Army Alco MRS1 diesel was also on hand for switching and work train use.

When the whistle blew an hour later we returned to the train. The meet at Menshaw was again carried out with precision; the Palestine train already there, we cruised right on through. Then a few miles before Rusk, our train stopped. I learned later an engine bearing was running hot. They let it cool down, and we limped in about 45 minutes late after they checked it again. The 2-8-0 was cut off and crept away light to the enginehouse, while the crew fired up an Alco RS2 and brought it down to the depot to switch the train. No. 300 was set aside, and in its place former T&P 4-6-0 201 was brought out to head Sunday's train. That little high wheeled slide valved ten-wheeler has to be one of the prettiest engines in steam today. Built by Cooke in 1901 as T&P 316, it was then sold to the Paris & Mt.Pleasant, and later reacquired by T&P as a traveling exhibit. The prospect of this engine on the point made the prospect of the next day's chase exciting. Texas State RR's biggest and best known locomotive, former Santa Fe 4-6-2 1316, was not running, but was spotted outside the Rusk shops.

I had hoped for some cloud cover on Sunday since the Rusk train with the 4-6-0 would be running against the sun, but there was a heavy overcast. My plan was to follow 2-8-2 400 from Palestine to the Menshaw passing siding and then chase 4-6-0 201 back. During the lunch break, I would drive to Rusk and repeat the process from that end. It was a good plan but didn't work out as well as I had hoped as keeping up with the train was not as easy as I thought. That 99-year old 4-6-0 is pretty fast!

Rail history-oriented visitors might dismiss the railroad's value as a state historical park. Although the railroad's construction and ownership by the state might be a bit unusual, its significance to Texas' rail network or local economy is virtually negligible. Little effort is made to explain or interpret the history of the rolling stock; the locomotives, except for T&P 610, are not painted or lettered for their original owners and don't even bear numbers under which they operated. The railroad owns quite a bit of freight and passenger rolling stock of some historical value, but it is kept at the Rusk shops, which is not visible from the depot nor open to the public. I found few staff people knowledgeable about the equipment, operation or railroading in general. I was given a summary of equipment, but it told me little beyond what was already obvious, and contained no information on the ancestry of the road's four diesels, which besides the Alco MRS1 and RS2, included a GE 70tonner and 45tonner.

But don't let those few shortcomings deter you from visiting. The railroad is about a 2-hour drive from Dallas, and east central Texas is pleasant and green in the springtime. It's a trip the whole family would enjoy. The grounds and equipment are spotless, and the train runs fast enough to keep passengers from getting bored, with plenty of stack talk and whistling. It's one of the best steam experiences around, with real road locomotives stepping out the way their designers intended. Here are some tips to make your visit more productive:
Plan to spend at least two days, riding one day, and photographing another. Riding will enable you to enjoy the whole experience, and introduce you to potential photo locations. You will find photo opportunities limited to the train you are on during its end point turn around, and if you want good action photos you will have to chase.
Scout photo locations and learn how to get to them. After my trip, I scouted the line as I drove to Palestine to find a motel.
Palestine has several cheap as well as chain motels, and numerous restaurants. There are no motels in Rusk. If you have an RV, there are excellent camping facilities with hook ups in a state park at the Rusk depot.
Two-lane U.S. Route 84 parallels the railroad between Rusk and Palestine, and its 70mph speed limit may lead you to believe a chase will be easy. However, in several places the railroad is about a mile from the main highway on local roads and you will have to drive in. Also, much of the line is heavily grown over, and some of the better locations are so close together that you will have to choose. Pick your photo locations ahead of time, the train is fast!
You will have two trains to chase with two different locomotives. Schedules of each train are identical, leaving at 1100 and arriving at 1230. Return trips leave each end at 1330 and return at 1500. The one hour lunch break allows you to get repositioned. If you end your chase at the opposite end from where you started, it will allow time for shooting switching, turning the engines, etc.

If you want to get in a little "spring training" for the railfan season, buy some film and head for the Lone Star State!

---
Wilmington Chapter NRHS
Do-It-Yourself Pay-As-You-Go Trip to NYC
With a ride on the
Bridgeport and Port Jefferson Steamship Company Ferry
Saturday - June 9, 2001

7:15 AM LV Philadelphia 30th Street Station on SEPTA R7 #1703
8:01 AM ARR Trenton, NJ

8:10 AM Photo Amtrak #657 Keystone S/B

8:15 AM LV Trenton, NJ on NJT #7816
9:37 AM ARR NYC - Penn Station

10:12 AM LV NYC - Penn Station on Long Island Railroad #8016
10:32 PM ARR Jamaica

10:55 AM Photo Long Island Railroad #6030 E/B

11:02 AM LV Jamaica on Long Island Railroad
11:45 AM ARR Huntington (for Transfer)
11:51 AM LV Huntington
12:38 PM ARR Port Jefferson

We will take bus, taxi, or shuttle to ferry boat

1:00 PM LV Port Jefferson on ferry boat $13.75/$10.50 senior
Snacks/lunch can be obtained on board the ferry.
2:15 PM ARR Bridgeport

2:31 PM Photo Amtrak #85 Northeast Direct S/B

3:20 PM LV Bridgeport on Metro-North #6741
3:53 PM ARR Stamford

4:00 PM LV Stamford on Metro-North #6341
5:06 PM ARR Grand Central Terminal

Subway to Penn Station

5:32 PM LV NYC - Penn Station on NJT #7861
6:55 PM ARR Trenton, NJ

7:02 PM Photo AMT # 57 Vermonter N/B

7:02 PM LV Trenton, NJ on SEPTA R7 #1730
7:49 PM ARR 30th Street Station, PA
TRIP IS COMPLETE!
Disclaimers/Notes
0. The only time which is definite is the 7:15 out of 30th Street Station.
1. While a schedule has been listed, we do not guarantee any of the times will be met. We may adjust our schedule depending on time, delays, or weather conditions.
2. Seniors must show Medicare card to receive discounts.
3. You will be responsible for purchasing your own tickets.
4. Combination SEPTA/NJT tickets can be bought at 30th St. Station for entire ride between Philly and NY. Look to be able to purchase them at 30th St. Station.
5. Any questions, contact Bruce at work 302-467-4000 x4405.
6. Bruce will meet up with the trip at either Trenton or Hamilton.
7. You will be responsible for your own lunch.
---
CHAPTER EVENTS
Saturday June 9, 2001 ? AM Chapter Outing Father's Day NYC-LIRR-Port Jarvis
Thursday June 21, 2001 7 PM Chapter Meeting Do - It - Yourself Program
Thursday July 19, 2001 7 Chapter Meeting program by Kerry Ann Hannah
(Chapter Member Robert O'Connor's daughter) of the Service Recovery Team in Wilmington's Consolidated
National Operations Center (CNOC) and her boss, Cindy Cole - Director of Northeast Corridor Operations
program entitled "AMTRAK War Stories"

Thursday Aug. 16, 2001 7 PM Chapter Meeting Do - It - Yourself Program (or possible trip)

Thursday Sept. 20, 2001 7 PM Chapter Meeting program by Greg Ajamian
program not known at this time (but will undoubtedly include some unusual freight cars!)

Thursday Oct. 18, 2001 7 PM Chapter Meeting program by Ken Berg
entitled "Great Lakes Tour"

Thursday Nov. 15, 2001 7 PM Chapter Meeting program by Kermit Geary
program not known at this time

Sunday Dec. 9, 2001 5 PM Holiday Dinner in lieu of normal monthly meeting
Program by Steve Barry
---
The Wilmington Chapter of the National Railway Historical Society (NRHS) meets at 7:00 PM on the third Thursday of each month [except August & December] in the Darley Room at the Claymont Community Center on Green Street in Claymont, Delaware. Visitors are always welcome. Admission to regular meetings is free. Check out our >>NEW Website <<<, thanks to Russ Fox at: http://www.WilmingtonNRHS.com
---
The Transfer Table
The Transfer Table is published six to ten times per year as the newsletter of the Wilmington Chapter of the National Railway Historical Society. Items in this publication do not represent the official position of either Officers or Members of the Wilmington Chapter or the Editor of this publication.
Permission to reprint articles and news items appearing herein is granted to NRHS Chapters and other newsletters provided appropriate credit is given. Contributions are always welcome and should be sent to the editor at SD40GMA@aol.com or send to: P.O. Box 1136, Hockessin, DE 19707-5136. Deadline for entries is the 25th of the month.
Chapter Officers
President Phil Snyder
Vice President & Historian Ron Cleaves
Treasurer Ralph Stevens, Jr.
Secretary Dan Frederick
National Director Tom Posatko
Editor Greg Ajamian
Public Relations Frank Ferguson, Jr.
Event Photographer Bruce Barry
>>> check out our NEW website >>> http://www.WilmingtonNRHS.com